Last updated on November 15, 2023
Explore intriguing ideas to transform your bathroom into a spooky Halloween haven this festive season.
I am proud to share with you my article "20 Spooky and Fun Bathroom Halloween Ideas: Innovative Decor Tips," complete with my own unique designs, and I hope you find it as inspiring and fun as I did creating them.
Transforming your bathroom into a spooky sanctuary this Halloween is an exciting project. This article will guide you through a range of creative ideas, from eerie decorations to hauntingly beautiful lighting options, that will surely give your bathroom a chilling Halloween makeover.
Dive into these suggestions and find the perfect details to create a Halloween-themed bathroom that will impress your guests and add a thrilling touch to your home. With this guide, every corner of your bathroom will scream Halloween.
Let's start this thrilling transformation journey.
Jack-o'-lantern Toilet Cover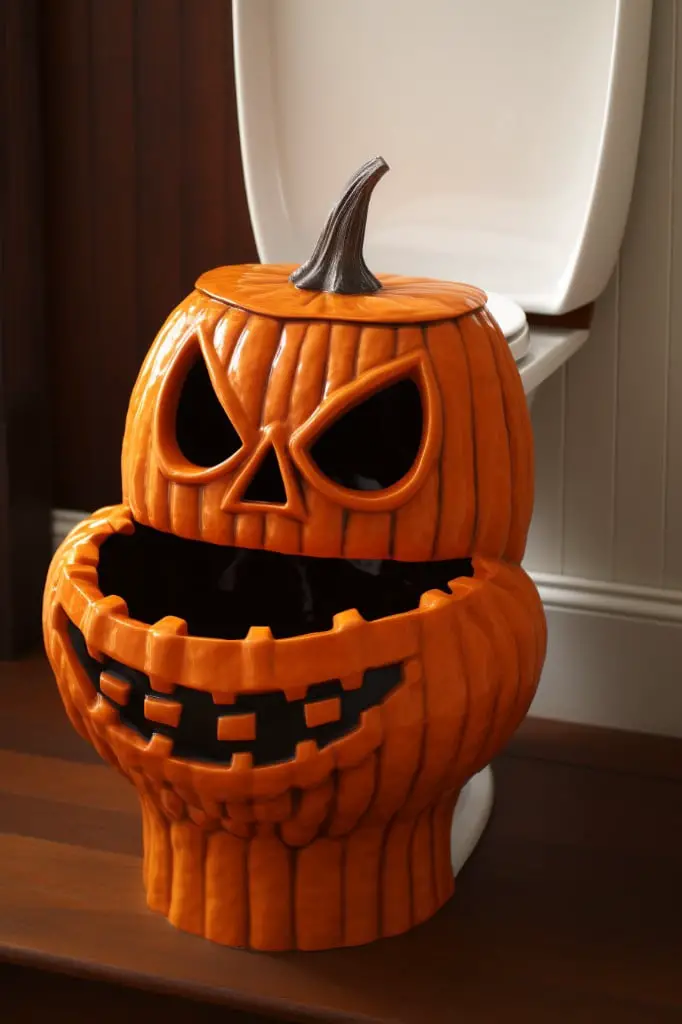 A jack-o'-lantern toilet cover can give an unexpected scare and instantly elevate the Halloween vibe in your bathroom.
1. Find a suitable cover online or in a local shop.
2. Ensure it fits your toilet lid perfectly.
3. It should be easily installable and removable.
4. The design should evoke fright but remain functional.
5. Bonus points if it glows in the dark.
Having these factors in mind will result in a desired shock factor while still maintaining the bathroom's usability.
Bat Shaped Soap Dispenser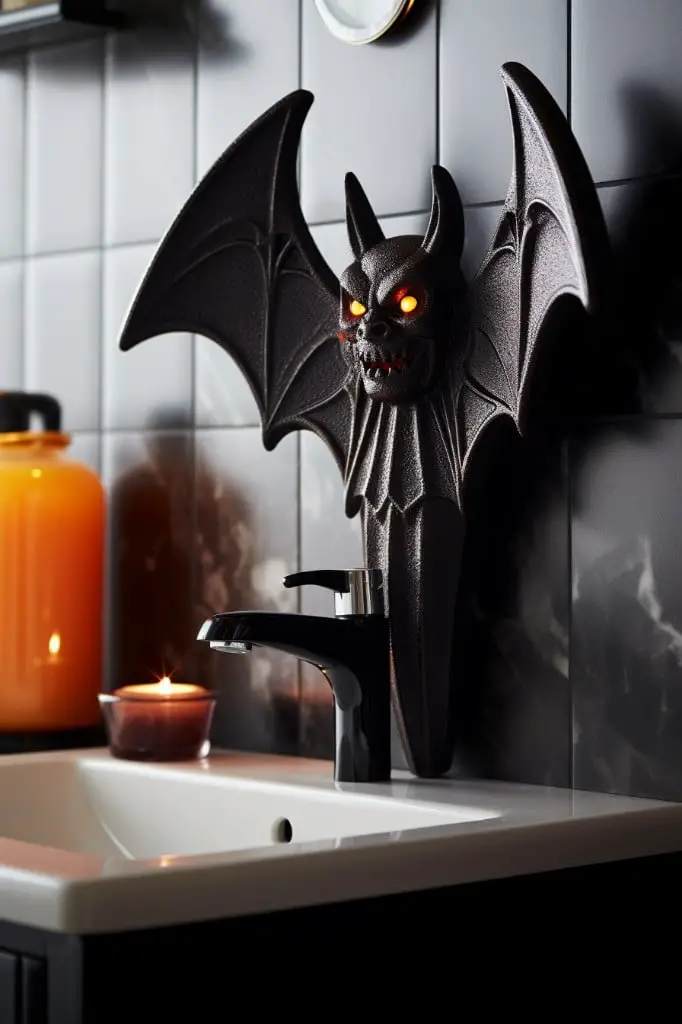 Making bat-shaped soap dispenser a Halloween bathroom centerpiece is a fun and novel idea. The aesthetics contributed by this peculiar object are largely centered around its representation of a key Halloween symbol – the bat. Coupled with the practical role it plays in hygiene, it becomes an interesting item to have.
Some key points to optimize this concept are:
Choose black or silver soap.
Use glow-in-the-dark material for the bat for a nighttime surprise.
Consider automatic soap dispensers for a touch-free, spooky experience.
Opt for an eco-friendly soap that goes with the Halloween color scheme.
If using a refillable soap dispenser, tint the soap with red or green for an added touch.
Skull Shaped Towel Hooks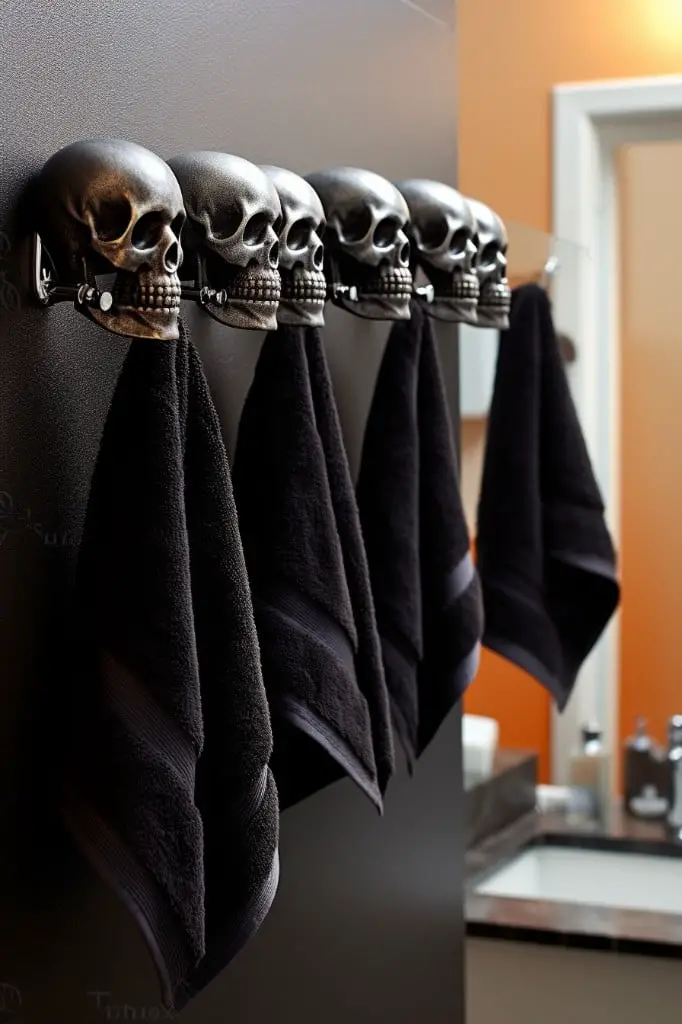 Installing these unique fixtures is relatively straightforward.
First, identify the desired sections for the skull hooks. Aim for symmetry to enhance your bathroom's aesthetic appeal, taking wall size and towel size into consideration.
Next, mark those spots with a pencil and drill. Keep your heights at a comfortable level, ensuring the towels don't touch the floor when hung.
Then, secure the skull hooks by following the manufacturer's instructions. Usually, this involves attaching them with screws which should come inside the package. Remember, proper tightening is key for stability but don't overtighten and risk damaging the walls.
Finally, hang your towels on the skull hooks. Do pick towel colors that complement the skulls, keeping in mind your Halloween color scheme. Opt for orange, black, or dark red for a festive touch.
Essentially, the skull towel hooks bring a fun, spooky twist to your bathroom, all the while ensuring your towels have a dedicated, accessible spot.
Bloody Handprint Shower Curtain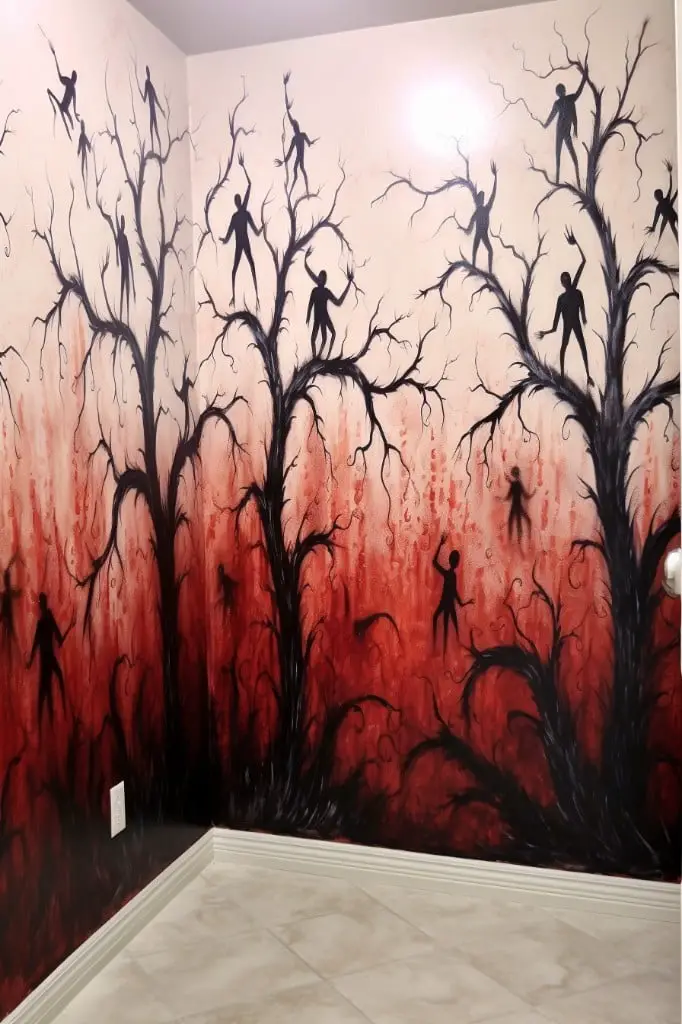 This shower curtain can effortlessly transform your bathroom into a spine-chilling setting. It's an incredibly dramatic piece.
Here's the essential to know:
1. Typically made of waterproof material, supporting its purpose and longevity.
2. The realistic crimson handprints offer a chilling visual impact.
3. Available in multiple sizes to fit a range of shower structures.
4. Easy to install; usually requires basic curtain hooks.
5. Perfect for complimenting other similarly-themed decor.
6. Can be paired with bloody bathmat for full effect.
7. Usually machine washable, ensuring easy upkeep after putting away your decorations.
Spooky Toilet Paper Rolls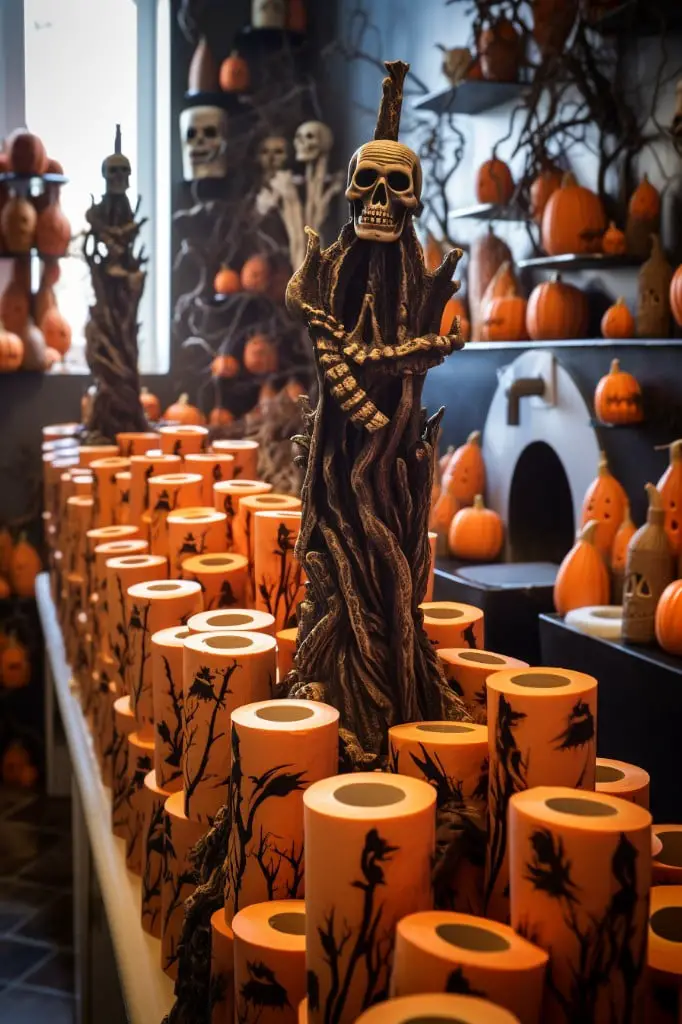 Creating these frightful additions can be as simple as utilizing some black paint markers and drawing eerie faces or quotes directly onto the rolls. Alternatively, you might consider using glow-in-the-dark markers for a spooky surprise in low light. Remember to keep designs simple to avoid messy smudging, especially when the tissue is inevitably used.
1. Choose standard white toilet paper.
2. Use black or glow-in-the-dark paint marker.
3. Draw faces, bats, or creepy messages.
4. Let the ink dry completely before use.
5. Store in an easy-to-access location in the bathroom.
Ghost Shaped Bath Mats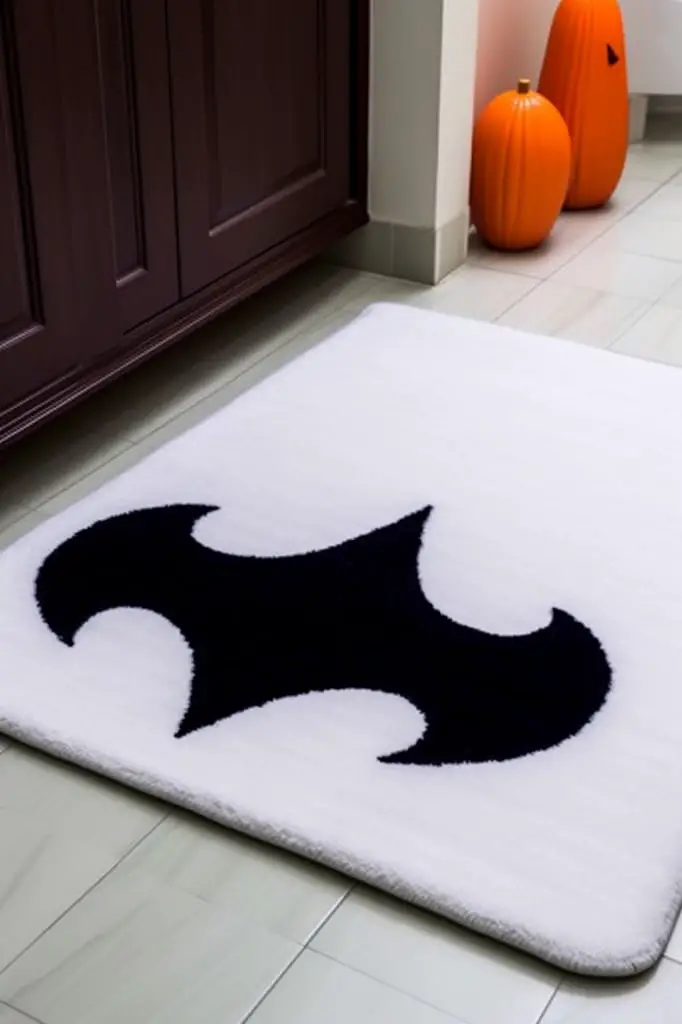 Providing both a festive touch and safety feature, these easy-to-install mats also add a touch of whimsy to your bathroom.
Consider the following points:
1. Non-slip material for safety, important for wet floors.
2. Easy to clean: simply toss in the washing machine.
3. Minimalist design: subtly speaks Halloween without screaming it.
4. Universal colors: white and grey work with most bathroom themes.
5. Size variation: Large for outside the tub and small for the area in front of the sink.
Remember, even tiny details like bath mats can be part of the overall Halloween charm in your home.
Spider Web Cabinet Decals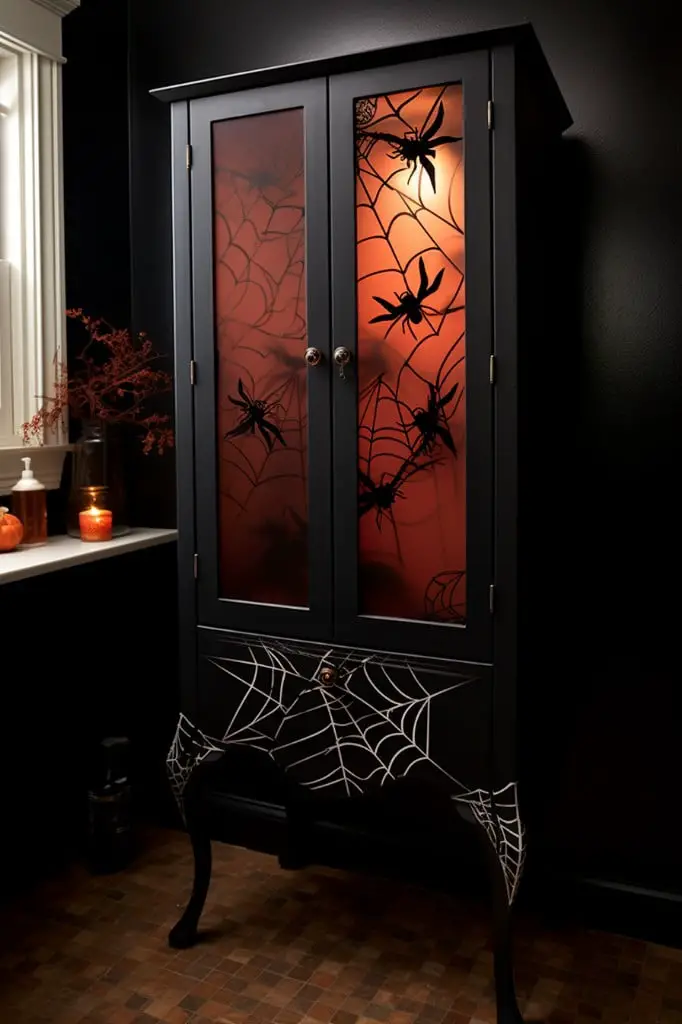 Straightaway, imagine walking into a bathroom, bathed in a soft, eerie glow. Your eyes are drawn to the mysterious patterns dancing across the cabinets. How is this achieved? Simplicity itself.
1. Choose high-quality decals, preferably glow-in-the-dark.
2. Clean cabinets thoroughly.
3. Apply decals following manufacturer's instructions.
4. Ensure the decals overlap slightly for web continuity.
5. Optimal placement – center of the cabinet doors, spreading outwards.
Accentuate the Halloween atmosphere with soft lighting, and your bathroom has achieved a subtly spooky aura. No potions or magic spells necessary.
Ghoulish Green or Red Lightbulbs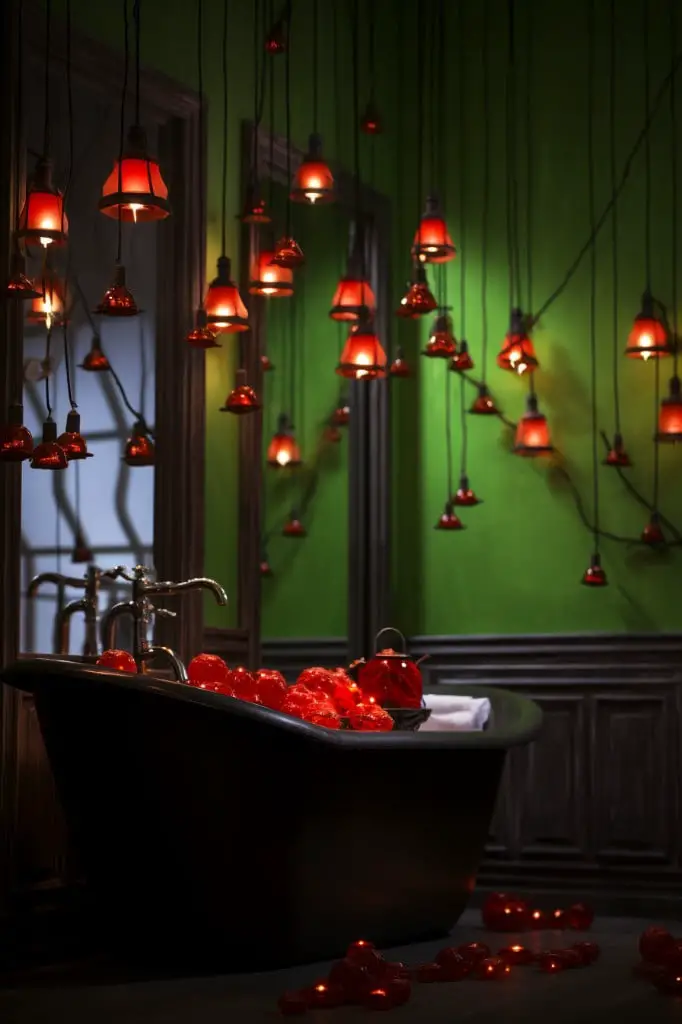 Switching out typical white lights for hauntingly colored bulbs will instantly transform your bathroom into a spook-tacular scene. Choose green or red for a truly eerie effect.
Acts as ambient lighting, introducing a spooky atmosphere.
Energy efficient and easy to install, LEDs are great options.
Use as main light source or accent light.
Suitable for various fixtures, such as vanity lights and ceiling lamps.
Available in various shades and intensities to suit your Halloween theme.
Keep safety in mind, make sure your chosen bulbs are suitable for the bathroom's damp environment.
Skeleton Bathrobe Hook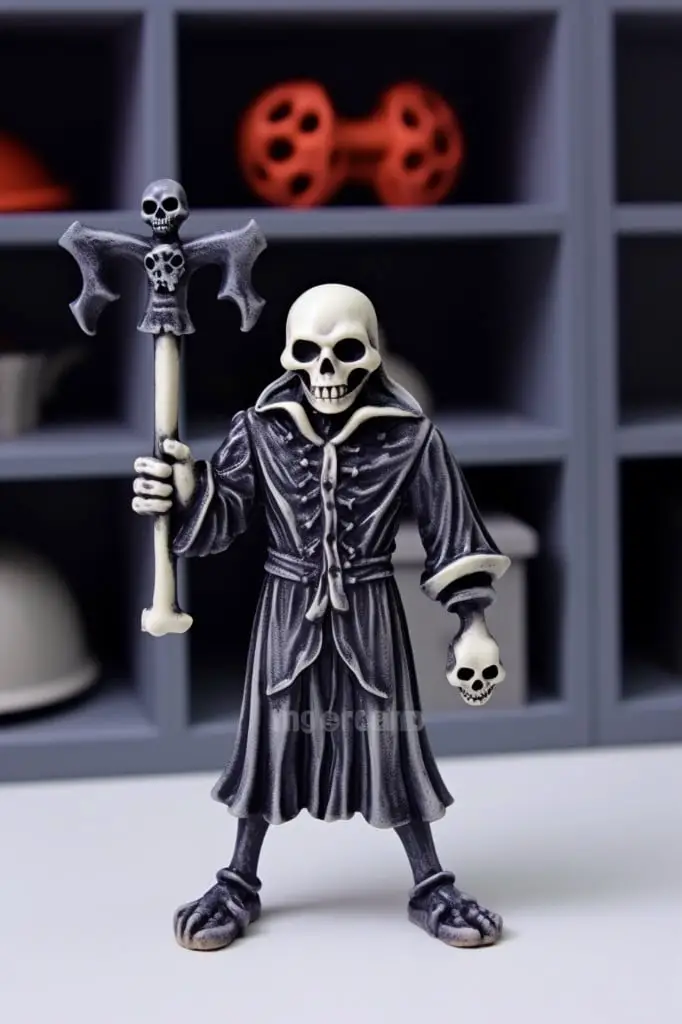 Offering both practicality and a touch of humor, the skeleton bathrobe hook is ideal. The simple installation process can add novelty to your bathroom without making major changes. The hook's arm, shaped like a bony hand, is perfect for hanging bathrobes or other items.
Key points:
Easy Installation: Many simple, effective ways for mounting are available, such as adhesive strips or screws.
Versatility: It doubles as a unique decorative piece and a functional item.
Theme Adaptability: It matches well with other Halloween or skeleton-themed bathroom items.
Space Saver: Compact size and wall mount feature make it an excellent choice for bathrooms of all sizes.
Humor Factor: A funny reminder of the holiday can lift spirits.
Witch Hat Shaped Toilet Brush Holder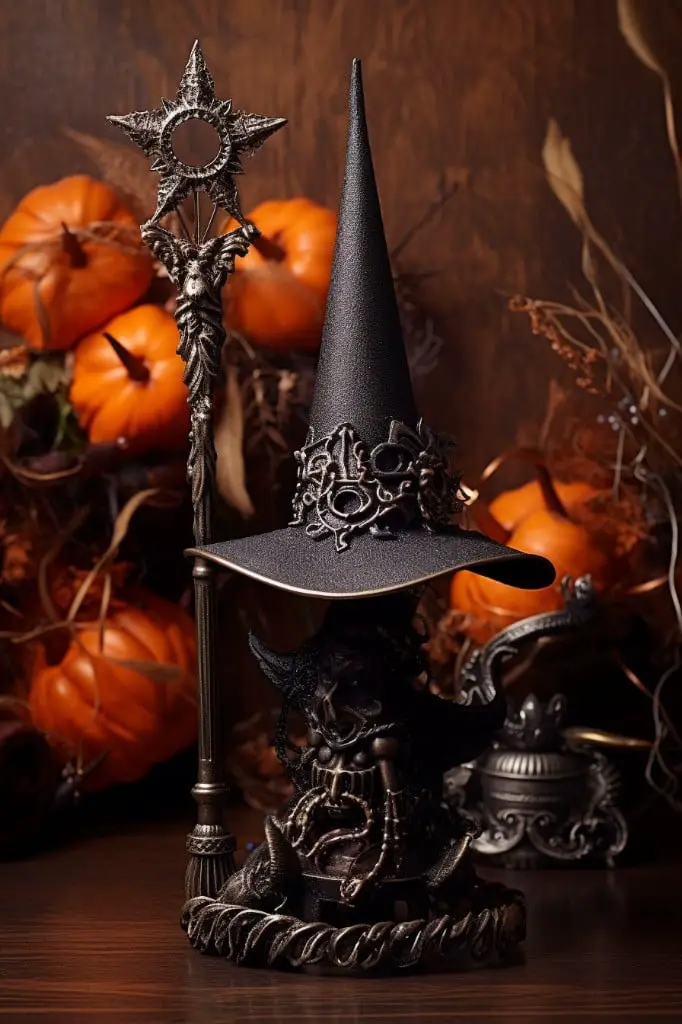 With a cheeky nod to the holiday's most notorious character, this item is ideal for those seeking a balance between festive and functional.
1. Use it to liven up a mundane object, transforming the bathroom's atmosphere.
Essential for cleanliness, now with a festive twist.
2. Essential for cleanliness, now with a festive twist.
Acts as a conversation starter, drawing guests' attention.
3. Acts as a conversation starter, drawing guests' attention.
Craft it from durable plastic, ensuring it serves a long-term purpose.
4. Craft it from durable plastic, ensuring it serves a long-term purpose.
Consider choosing one glow-in-the-dark feature for a fun, spooky effect during nighttime bathroom trips.
5. Consider choosing one glow-in-the-dark feature for a fun, spooky effect during nighttime bathroom trips.
Complement it with other Halloween witch-themed decor for a comprehensive look.
6. Complement it with other Halloween witch-themed decor for a comprehensive look.
Remember, whimsical transformations can enhance ordinary bathroom tools, contributing to an immersive holiday experience.
Haunted House Shower Curtain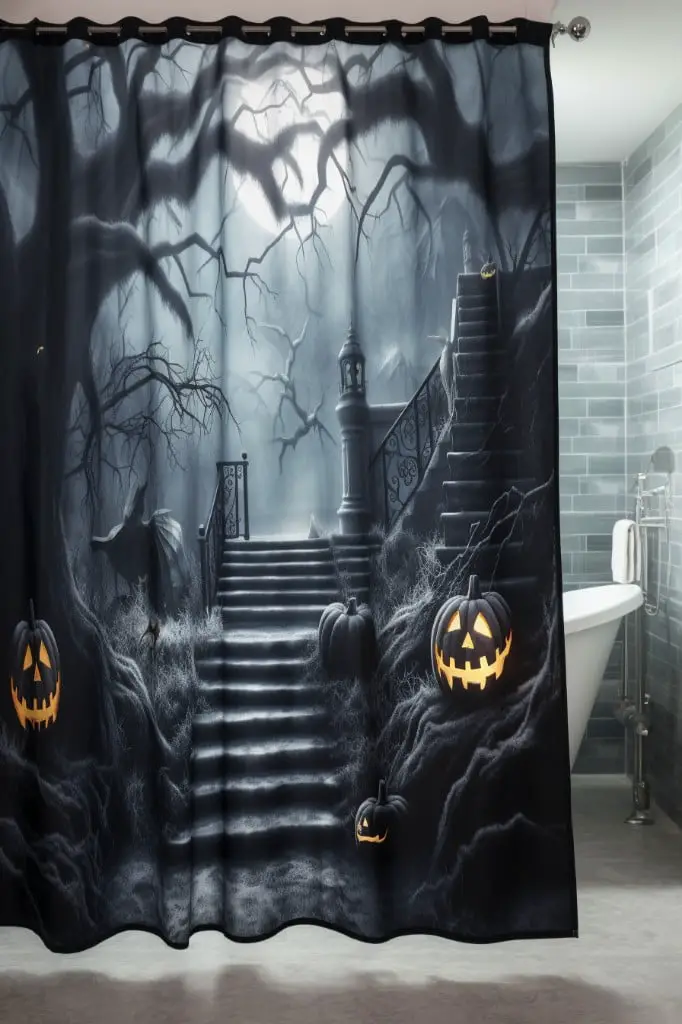 Transforming your shower into a spooky spectacle can easily be achieved by utilizing a haunted house themed curtain.
1. Adds a striking visual element. The dark and eerie design serves to establish an atmospheric Halloween mood.
2. Easy setup. It can be installed simply by hanging it on your existing curtain rod.
3. Practicality. Beyond aesthetics, it serves the functional purpose of keeping water in the shower area.
4. Variety of designs available. From ghost-infested mansions to eerie graveyards, find a style that matches your overall theme.
5. Pairs well with other bathroom decorations. Complement it with matching towels and soap dispensers for a cohesive look.
Remember to consider the material of the curtain for durability and easy cleaning. Also, ensure the installation process won't damage your existing bathroom fixtures.
Fang Toothbrush Holder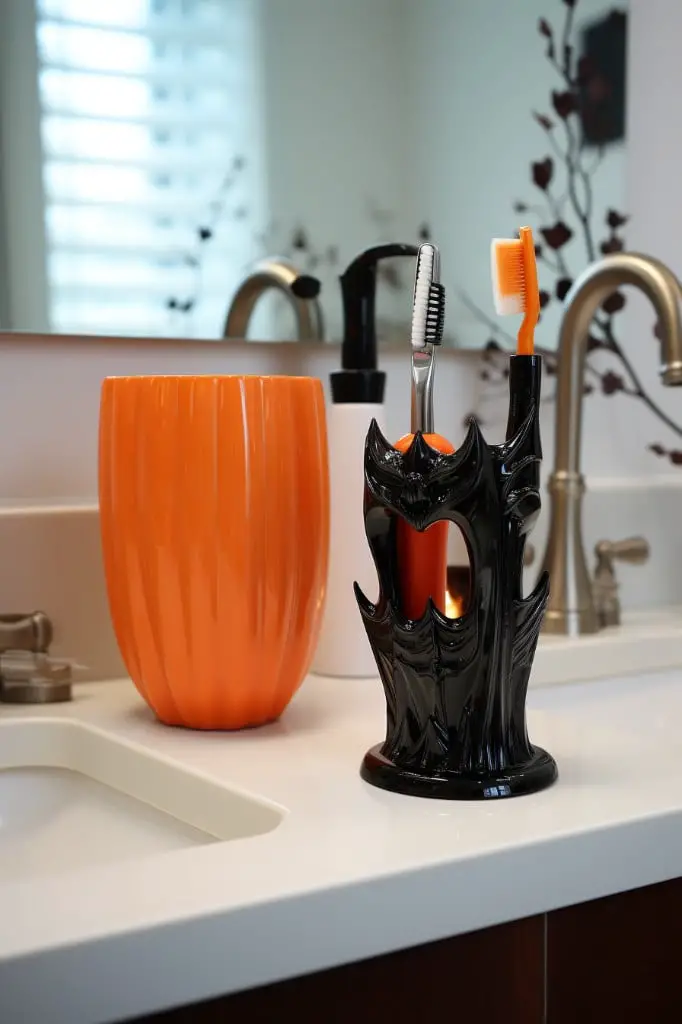 Pair function and creepiness with a Fang toothbrush holder:
Durable, practical structure ensures longevity.
Adds a unique, eerie touch to your bathroom decor.
Easy to clean, maintain hygiene.
Accommodates multiple brushes, suitable for family use.
Can be paired with matching creature or monster themed bathroom set.
Available in a variety of materials, like plastic and ceramic.
Conveniently available online or in local stores.
Pumpkin Scented Candles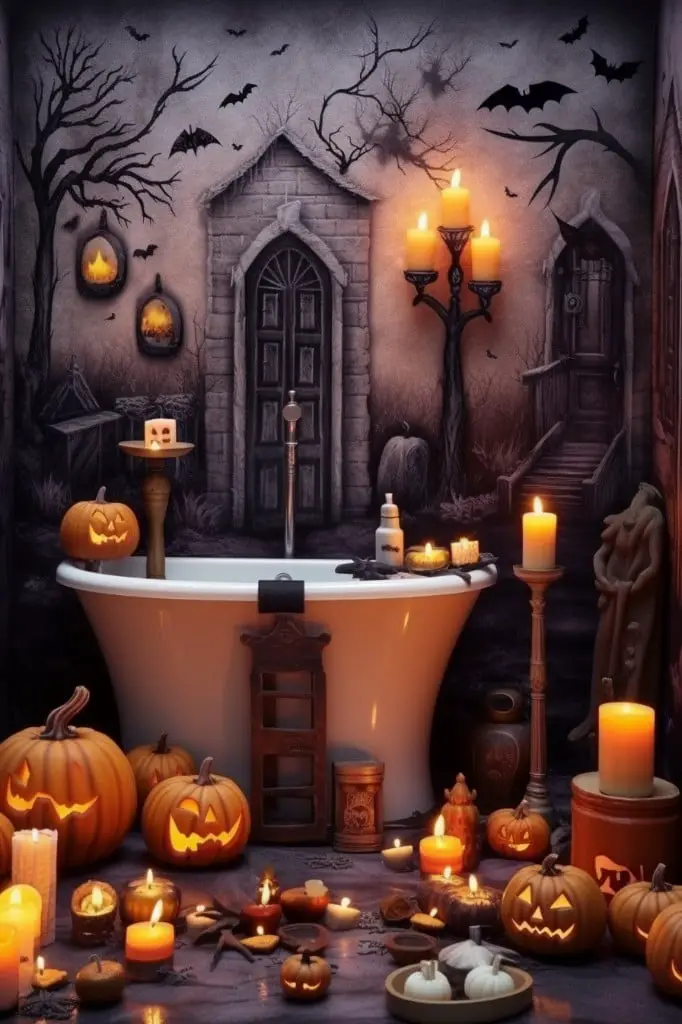 Immersive aroma immediately enchants your space; nothing beats the cozy and inviting scent reminiscent of the changing seasons.
1. Chose paraffin or soy wax candles that promise longevity and a clean burn.
2. Select deep, spice-infused pumpkin scents to cultivate a truly autumnal atmosphere.
3. Glass, ceramic or metal holders provide safety and elevate the aesthetic.
4. Placing candles in view of mirrors can amplify the warming effect.
5. Consider eco-friendly candles made from sustainable resources.
6. Check wick materials – 100% cotton wicks are smoke-free.
7. Arrange candles in groupings for a more substantial visual impact.
Black Cat Toilet Roll Holder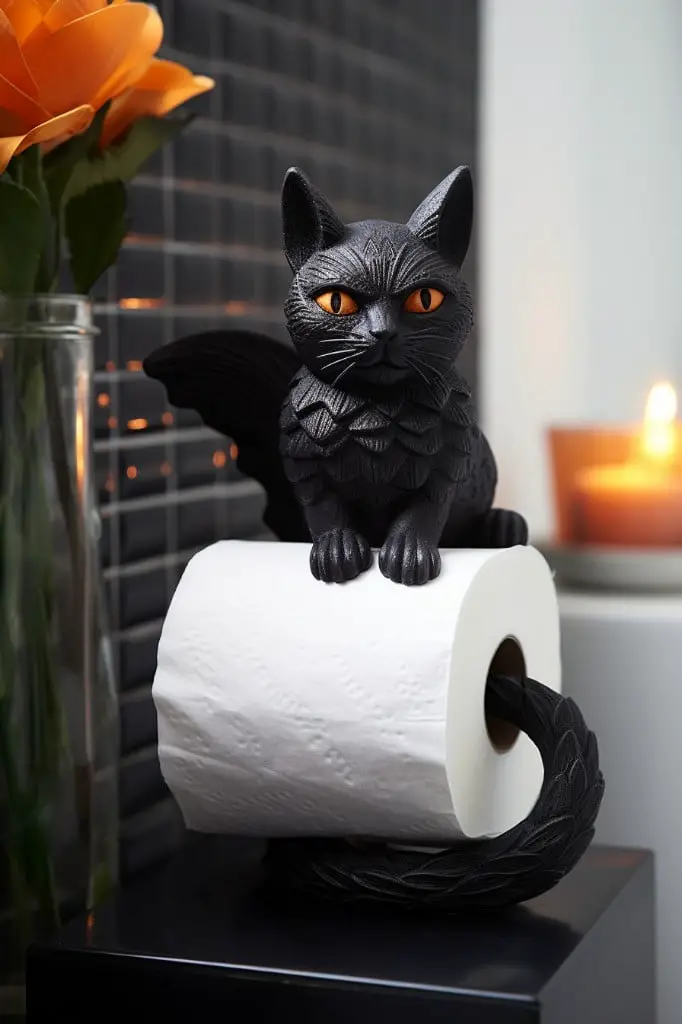 This unique holder can make a whimsical yet functional addition to your bathroom decor.
Design: A silhouette of a playful feline with its tail curving upwards.
Material: Sturdy iron or lightweight plastic options.
Installation: Easy wall-mounting.
Practicality: Tail serves as the hanger for the toilet paper.
Versatility: Suitable for both traditional and jumbo-sized toilet rolls.
Eerie Mist From a Spooky Diffuser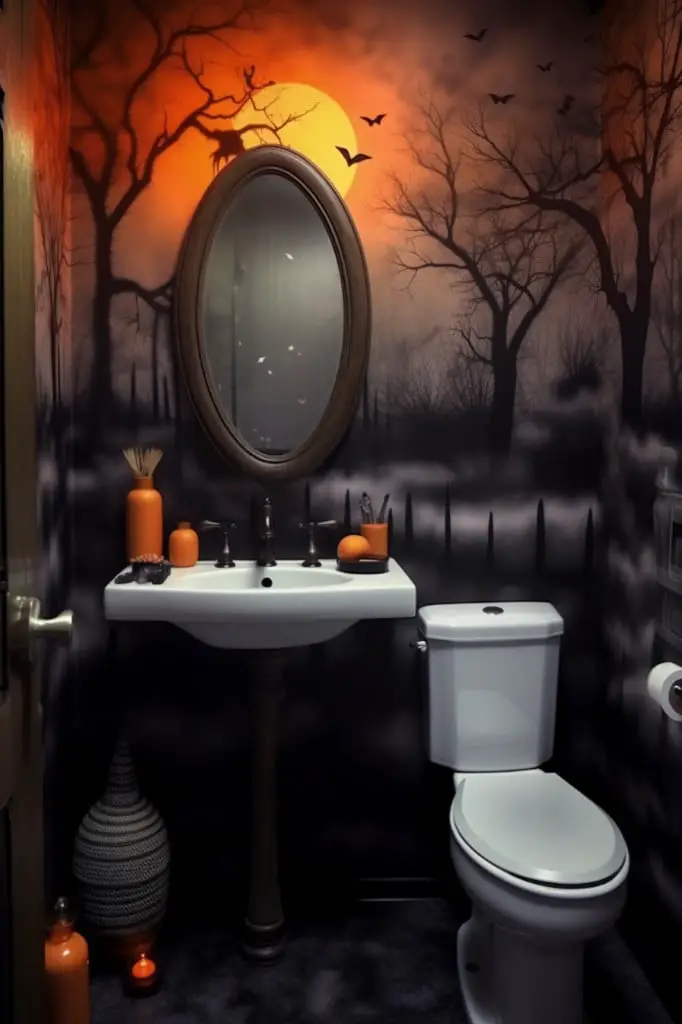 To create the eerie mist, you'll need a fog diffuser and some essential oils. Here's a quick rundown:
Choose a fog diffuser — they disperse water and essential oils into the air, creating a fog-like mist. Several options are available, from cool mist to warm mist diffusers.
Pick suitable essential oils. Opt for scents that evoke the Halloween spirit, such as cinnamon for a hint of spice, or cedarwood for a woody, earthy aroma.
Setting the mood: Position the diffuser in a prominent place in your bathroom where the mist will be visible. As the mist seeps into the air, it will create a spooky atmosphere, perfect for Halloween.
Safety first: ensure the diffuser is out of reach of small children and pets, as some essential oils may be harmful if ingested.
For an added touch of spookiness, consider purchasing a diffuser designed with a Halloween theme, they often come in shapes like skulls, pumpkins, or witches.
Glow in the Dark Bathtub Decals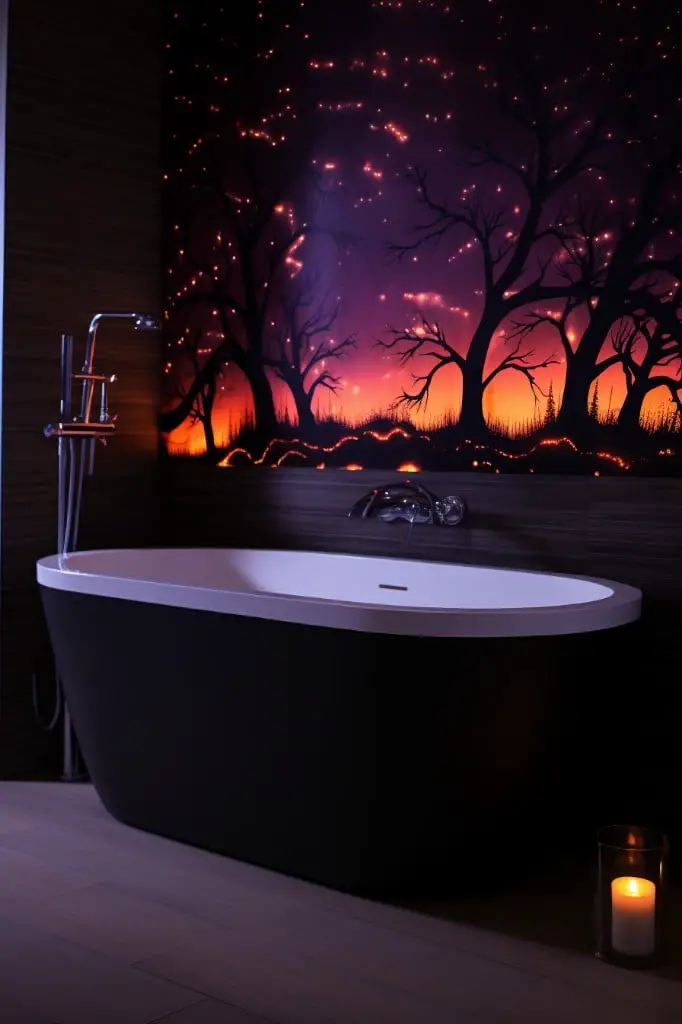 Livening up your nightly soak is as simple as adding these luminescent additions.
Select decals in shapes fitting your Halloween theme, be it witchy stars, eerie ghosts, or even creeping spiders.
Remember to clean the bathtub surface thoroughly before applying to ensure they adhere properly.
Arrange them thoughtfully, consider a thrilling reveal under water for guests using your tub.
For a spectacular glow, expose the decals to bright light before your bath.
Since they are waterproof and easy to remove, changing the design with your mood or seasonal trends is a breeze.
Keep in mind, though harmless, not to place them where they might slip underfoot.
Witch Cauldron Fillable With Bath Bombs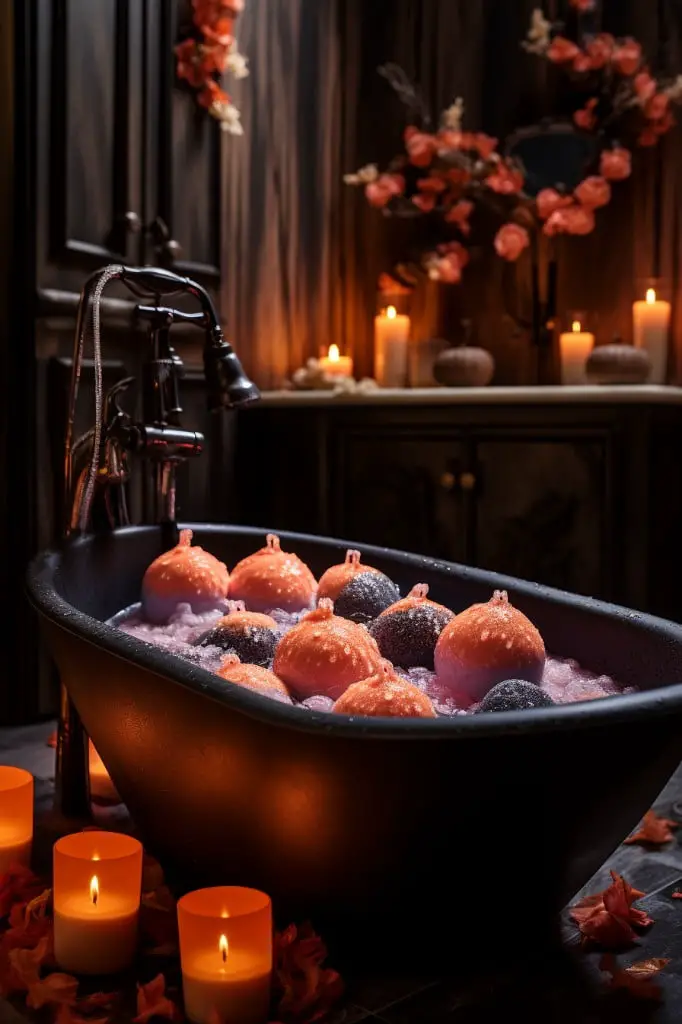 For extra charm and practicality, opt for a cauldron that's the perfect size for your bath bombs. It adds an instant touch of old world magic, especially when fashioned from rustic materials such as cast iron or hammered copper.
Size matters: Ensure the cauldron is large enough to accommodate your favorite bath bombs.
Material: Rustic materials such as cast iron or hammered copper add authenticity.
Location: Place it within easy reach of your bathtubs for when you want to relax.
Not only does this serve as a wonderfully spooky Halloween decoration, but it also keeps your bath essentials organized.
Spider Web Bath Mat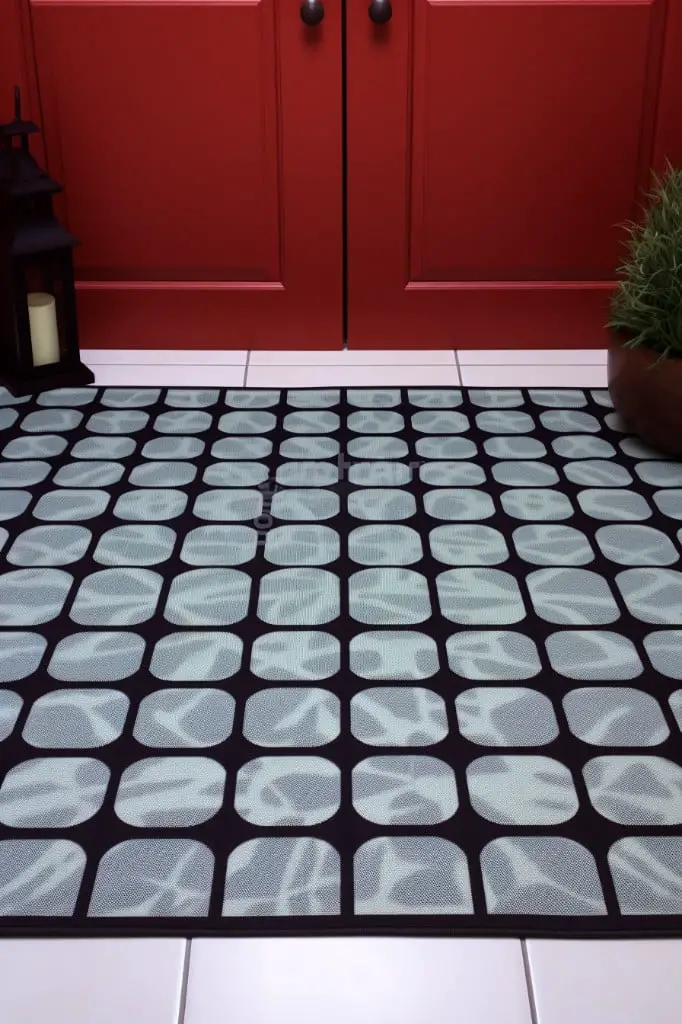 Casting a creepy vibe, this mat is the perfect blend of function and dark Halloween flair. It's functional, providing the necessary grip to prevent slips and falls. The mat's design features intricate webbing, projecting the lady of spider webs, the black widow, in your bathroom. It's crafted from absorbent materials, perfect for soaking up post-shower drips.
Key points:
Function meets festive design – no sacrificing safety or style.
Intrinsic web details, home to an iconic Halloween character – the black widow.
Absorbent material – critical for bathrooms, preventing puddle formation.
Installation – easy, blends seamlessly with the rest of your bathroom decor.
Cleanliness – simple to wash, maintaining its spooky look.
Coffin Shaped Bath Tray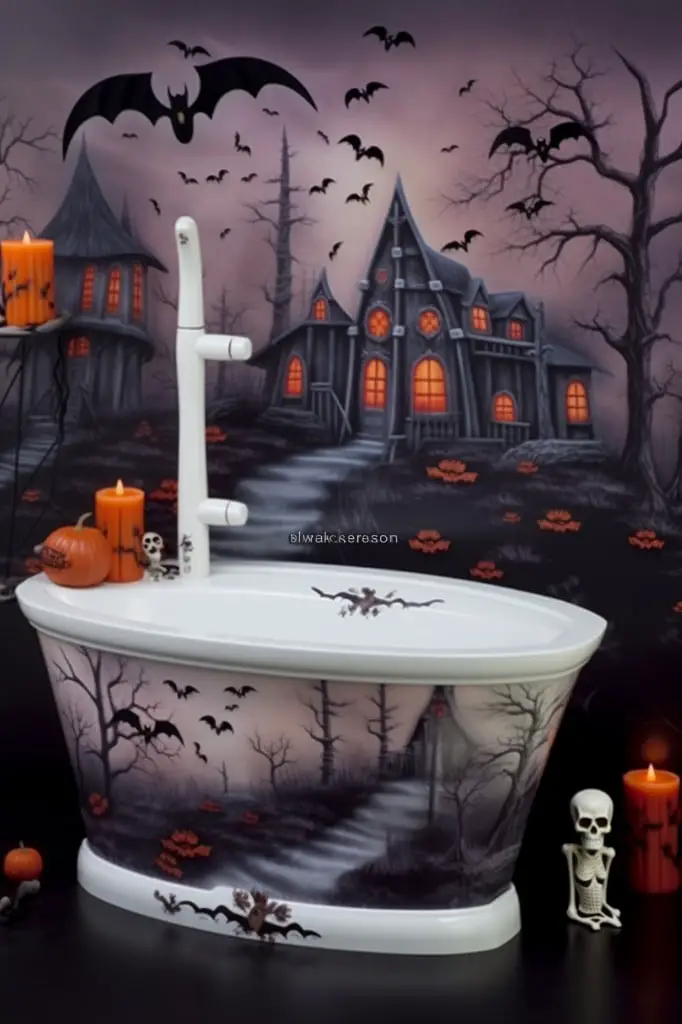 A coffin-shaped bath tray serves as both a handy holder for bath essentials and a striking decorative item. Its chic, impactful design instantly introduces a Halloween vibe into your bathroom.
Here's why it's worth considering:
Practical: It can comfortably house books, candles, drinks, and other bath items.
Versatile: You can style it with Halloween themed items or keep it minimalistic.
Unique: It sets your bathroom apart with its unconventional design.
Durable: Depending on the material used, it can be robust and long-lasting.
Easy to make: If you're into DIY, you can easily craft one out of recycled wood and paint.
Remember, visual change is the essence of transformation, and a coffin bath tray will do just that.
Halloween Themed Mini Hand Towels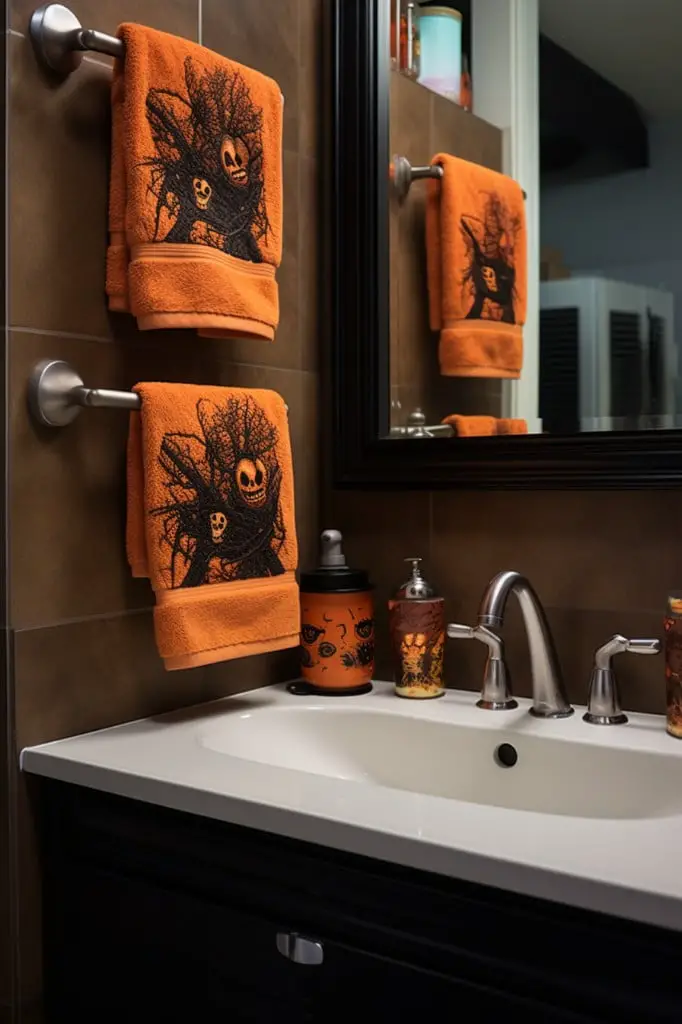 These fascinating linens are not only functional but also infuse a festive atmosphere into your bathroom.
1. Vary the designs; choose towels with printed witches, ghosts, or pumpkin faces for added variety.
2. Bold colors; work primarily with orange, black, and white to maintain the Halloween theme.
3. Material matters; ensure they're made from absorbent, durable, and soft fabric for comfort and longevity.
4. Location is key; strategically place them around the bathroom to enhance the Halloween ambiance.
5. Size diversity; mix and match with both larger bath towels and smaller hand towels each sporting a fun, spooky design.
Continue reading:
Recap