Last updated on September 20, 2023
Discover a serene oasis within your home with these twenty refreshing and elegant sage green bathroom ideas that are sure to inspire tranquility and style.
If you're looking for a way to add some natural and calming vibes to your bathroom, then you've come to the right place! Sage green is a versatile hue that can create a soothing atmosphere while still being trendy and chic.
From painting your walls in this beautiful shade to adding sage green accents through towels or decor, we've got plenty of inspiration for you.
Table of Contents
Sage Green Subway Tiles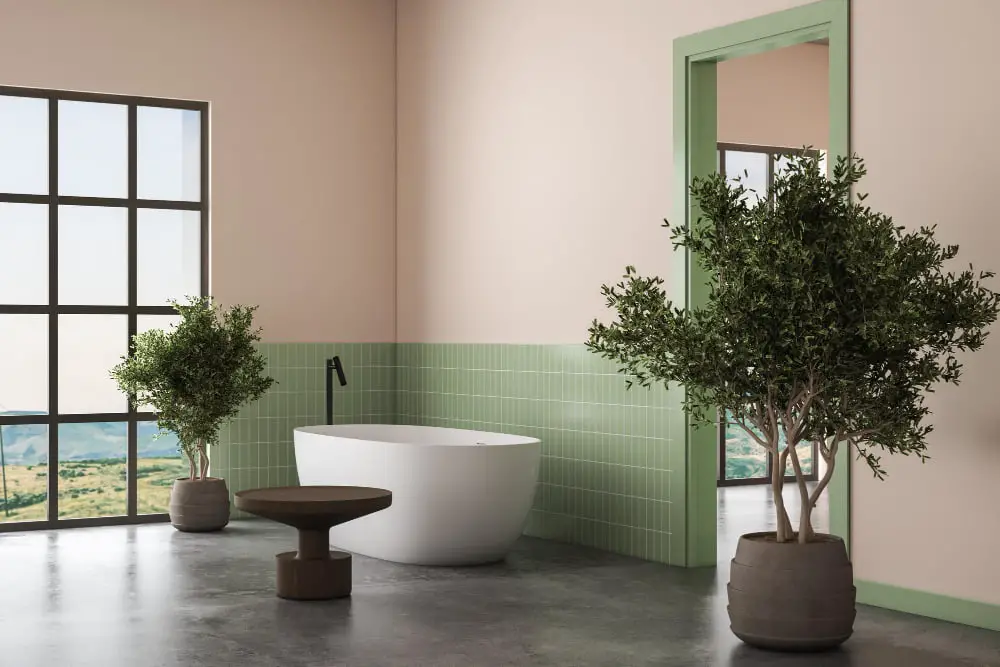 Sage green subway tiles are a great way to add color and texture to your bathroom. These tiles are perfect for creating a modern, yet timeless look that will never go out of style.
They can be used as an accent or as the main feature in your bathroom design. Sage green subway tiles work well with other natural materials such as wood and stone, making them versatile enough to fit any design aesthetic you may have in mind.
Whether you choose glossy or matte finishes, these tiles will give your bathroom a fresh and inviting feel that is both calming and sophisticated at the same time.
Sage Green Vanity Unit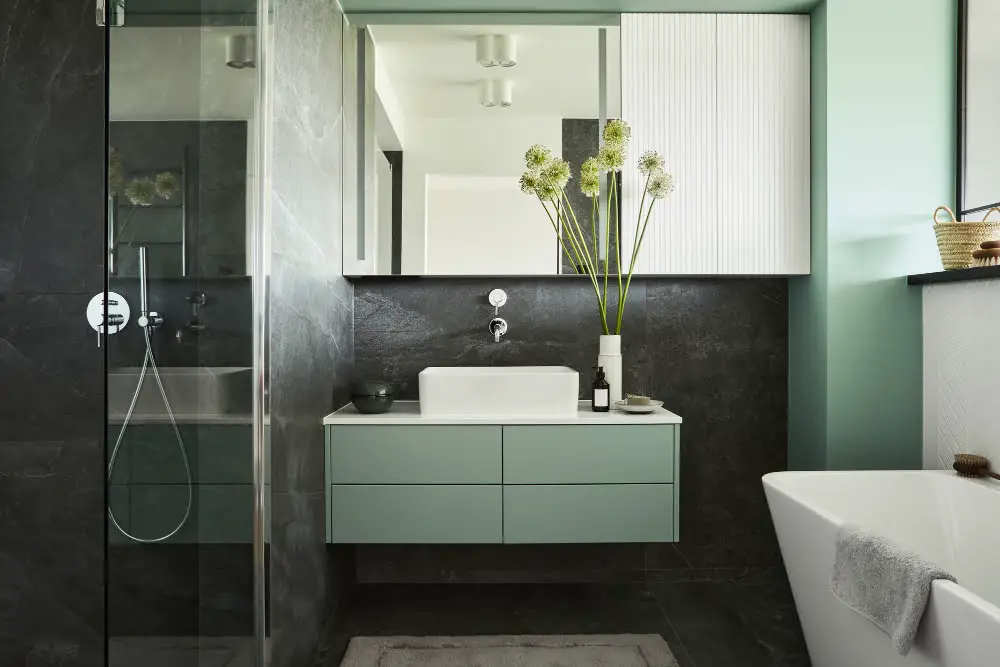 It adds a touch of elegance and sophistication while also providing practical storage space for your toiletries. You can choose from various styles, such as freestanding or wall-mounted units, with different finishes like matte or glossy.
Pairing it with brass hardware will give the vanity an extra pop of luxury that complements the calming effect of sage green color. A white countertop would create a beautiful contrast against the softness of sage green and make it stand out even more in your bathroom decor scheme.
Sage Green Paint for Walls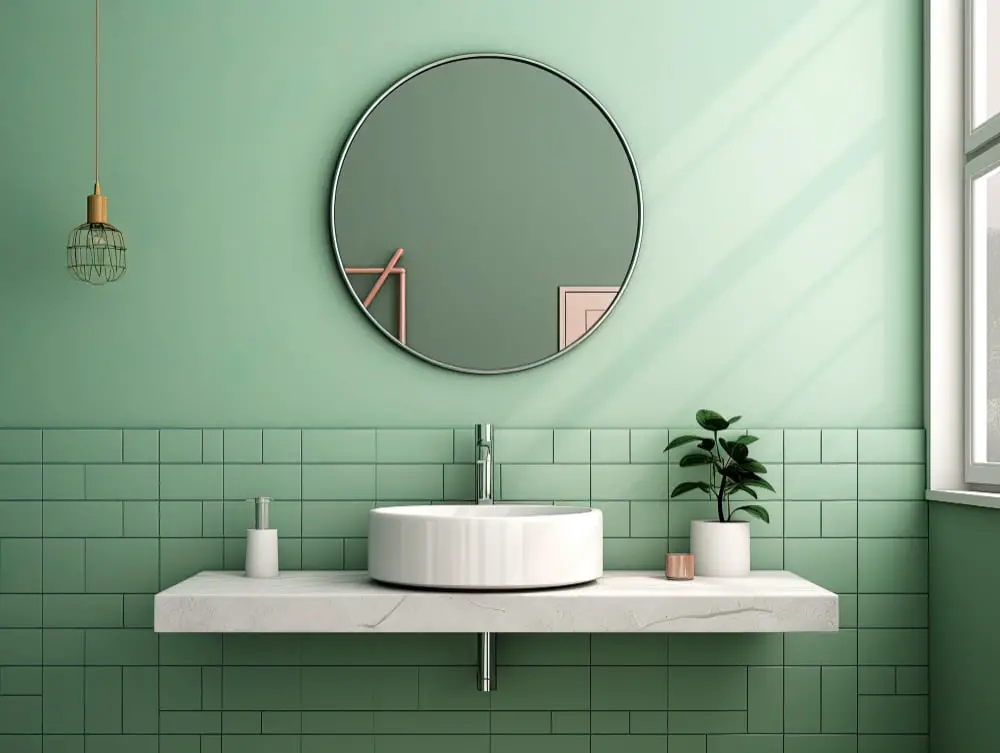 This versatile color can be paired with various materials, such as wood or stone, to create different styles ranging from rustic to modern. When choosing sage green paint, it's important to consider the undertones of the color as they can affect how it looks in different lighting conditions.
For example, some shades may have more blue undertones while others may lean towards yellow or gray. It's also essential to test out samples on your walls before committing fully since colors can appear differently depending on factors like natural light and room size.
Sage green paint is an excellent option for creating a soothing ambiance that promotes relaxation and rejuvenation in your bathroom space!
Sage Green Bath Rugs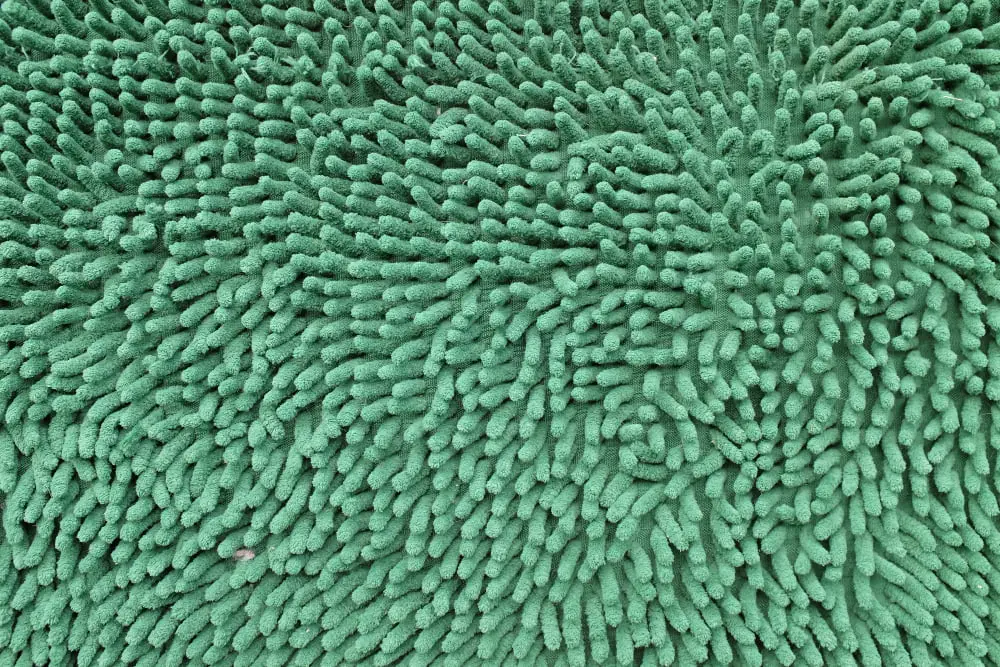 They come in various sizes, shapes, and materials such as cotton, microfiber or chenille. A sage green bath rug can complement any bathroom decor style from modern to traditional.
It is also an excellent choice for those who want a subtle pop of color without being too bold or overwhelming. When choosing the perfect sage green bath rug for your space, consider the size of your bathroom and how much foot traffic it gets daily so that you can select one that will last long while still looking good over time.
Sage Green Pendant Lighting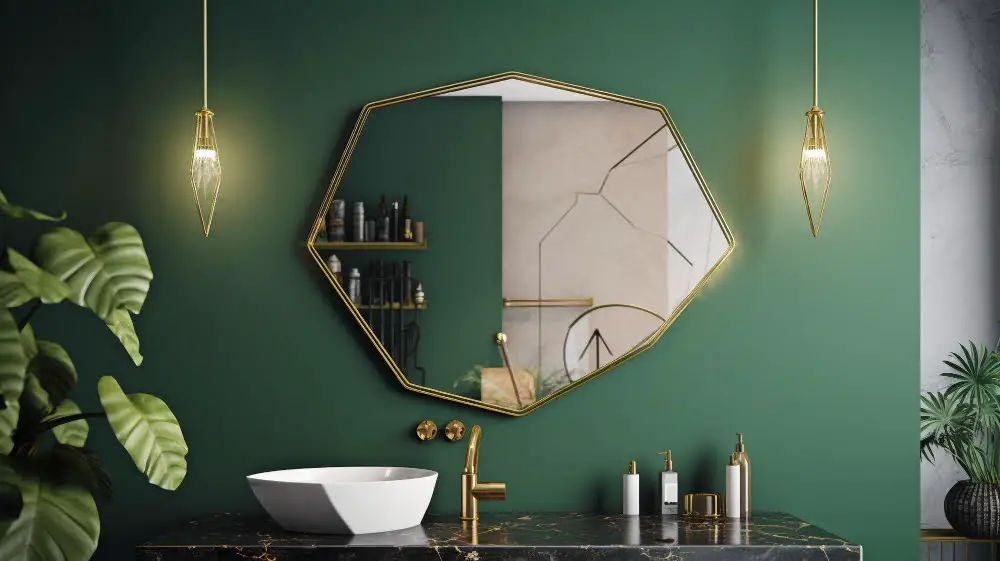 Pendant lights are perfect for creating an ambient atmosphere, especially when placed above the vanity or bathtub. Sage green pendant lights come in various shapes and sizes, from sleek modern designs to vintage-inspired fixtures with intricate details.
They can be made of different materials such as glass, metal or ceramic which adds texture and depth to the space. When paired with other sage green elements like towels or tiles, they create a cohesive look that ties everything together beautifully.
Whether you prefer bold statement pieces or subtle accents, sage green pendant lighting is sure to elevate your bathroom's design aesthetic while providing functional illumination at the same time!
Sage Green Patterned Wallpaper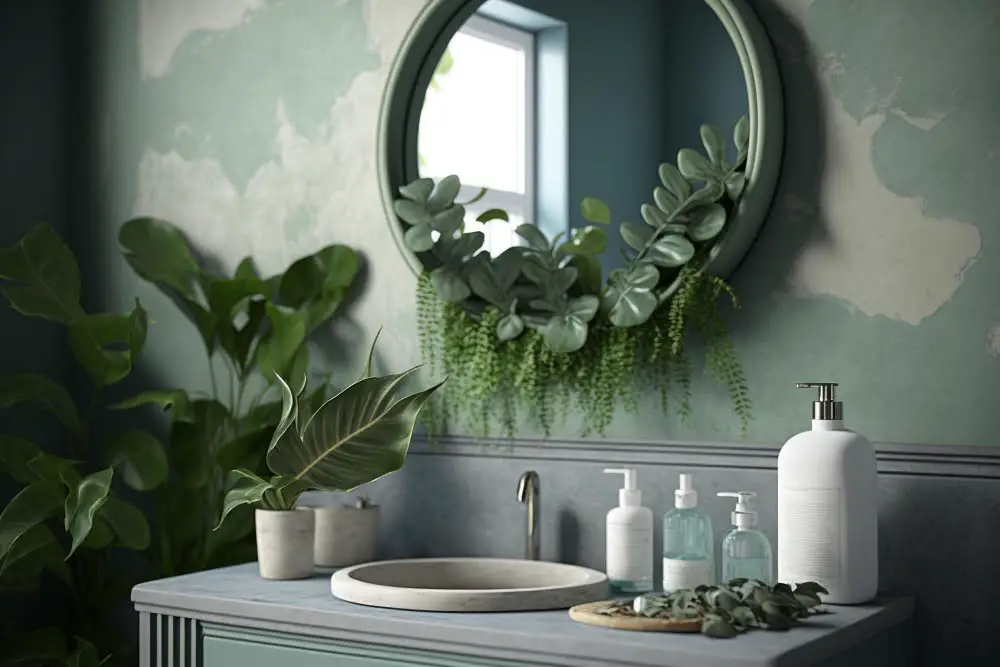 Whether you opt for a subtle geometric print or an intricate floral design, sage green wallpaper can create a calming and serene atmosphere in your bathroom. To keep the look cohesive, pair the wallpaper with complementary accessories such as white towels, natural wood accents, and brass fixtures.
If you're feeling bold, consider using sage green patterned wallpaper on just one accent wall for added drama without overwhelming the space.
Sage Green Shower Curtain
It can be used as a statement piece or as part of an overall color scheme. A solid sage green curtain can create a calming atmosphere, while one with patterns or prints can add interest and personality.
Pair it with white towels and accessories for a fresh look, or mix it up with other shades of green for an earthy vibe. When choosing your shower curtain, make sure to consider the material – opt for something durable that will withstand moisture and frequent use.
Sage Green Towels and Linens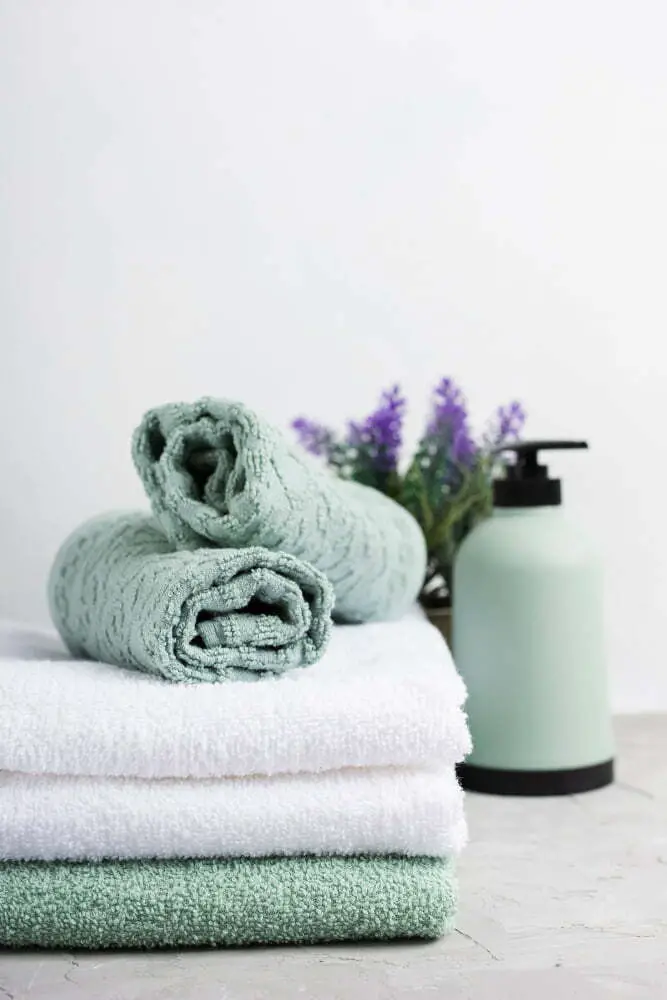 They can be used as accents or as the main feature, depending on your preference. Sage green towels and linens pair well with white or gray walls, creating a calming atmosphere that is perfect for unwinding after a long day.
When choosing sage green towels and linens, look for high-quality materials such as cotton or bamboo that will feel soft against your skin while also being durable enough to withstand frequent use and washing. Don't forget to mix in some patterned pieces like stripes or florals for added interest!
Sage Green Floating Shelves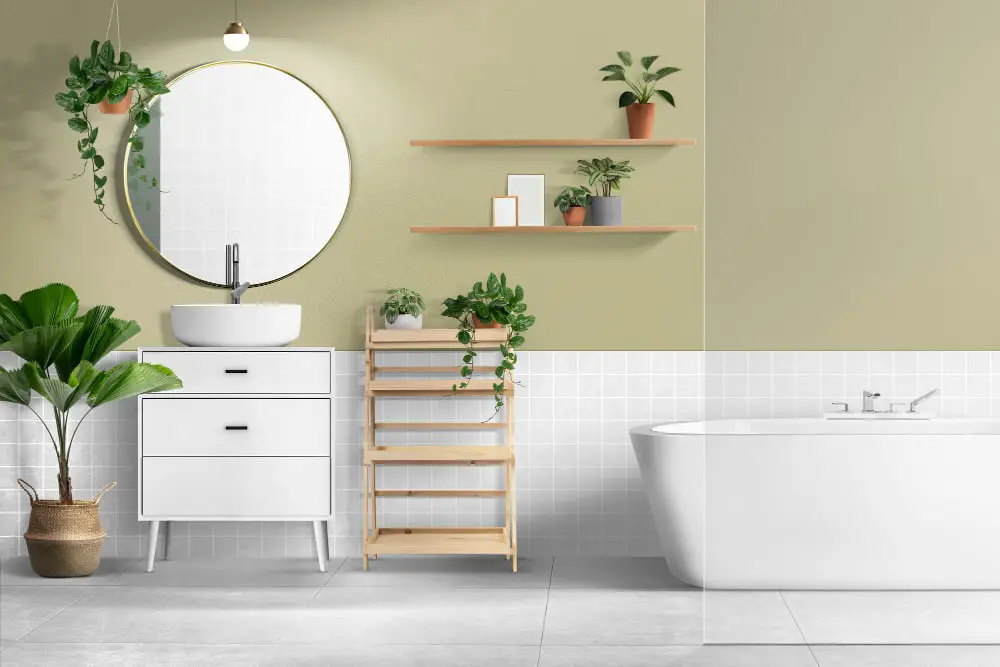 Sage green floating shelves can be used to hold towels, toiletries, or decorative items such as candles or plants. They provide a sleek and modern look while also adding a pop of color to the room.
You can install them above the toilet, next to the vanity unit or even on an empty wall for added functionality and style. Consider pairing sage green floating shelves with white walls for contrast or with other shades of green for a monochromatic look that is both calming and refreshing at the same time!
Sage Green Floor Tiles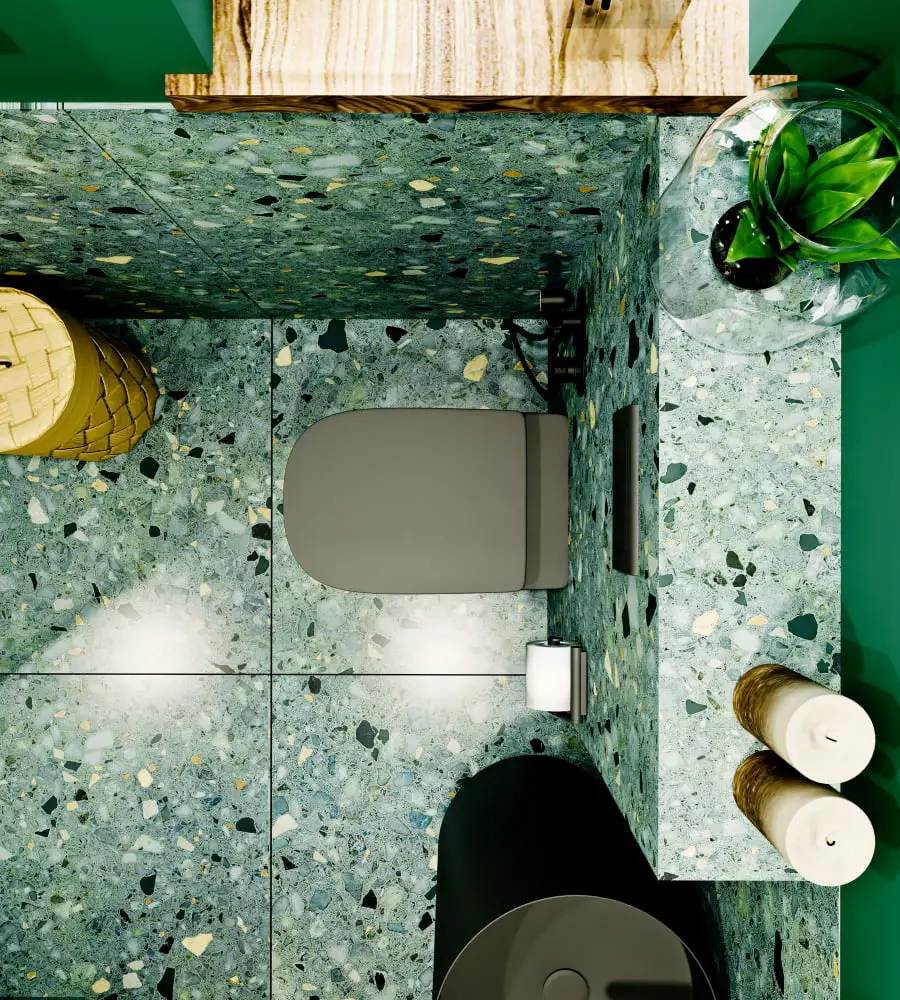 They can be used as an accent or as the main flooring material, depending on your preference. Sage green floor tiles come in various shapes and sizes, from small mosaics to large rectangular tiles.
They can also be made from different materials such as ceramic, porcelain or natural stone.
One advantage of using sage green floor tiles is that they are easy to clean and maintain. You can simply wipe them down with a damp cloth or mop them with mild soap and water.
Another benefit is that sage green complements many other colors commonly found in bathrooms such as white, gray, black or beige. It creates a calming atmosphere while still adding interest to the space.
When choosing sage green floor tiles for your bathroom renovation project consider factors like durability (especially if you have kids), slip resistance (if you want extra safety) and grout color (to create contrast).
Sage Green Mosaic Accents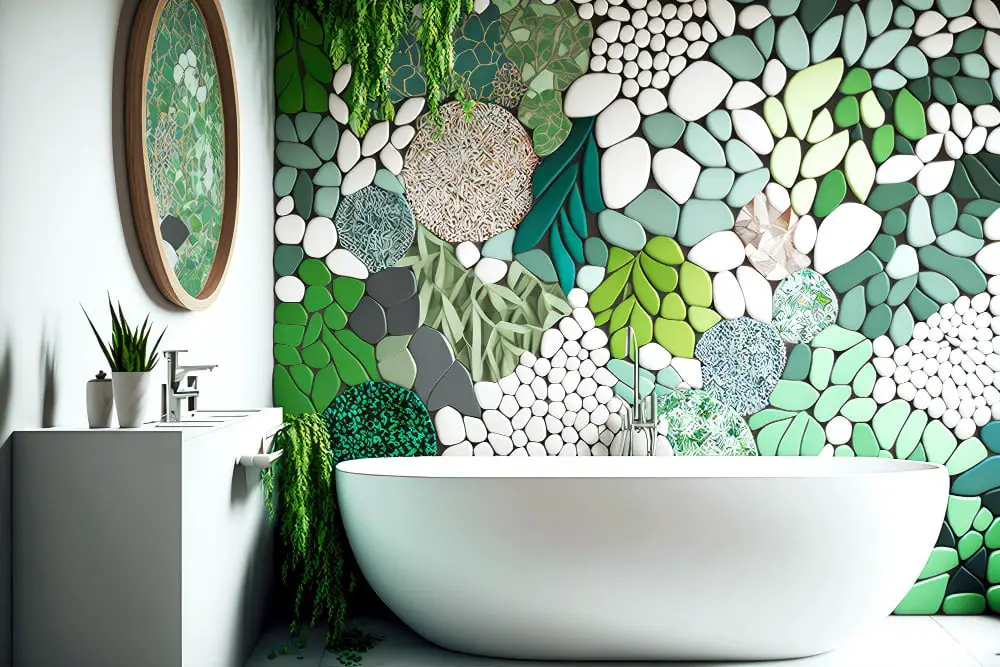 Whether you choose glass, ceramic or stone tiles, the combination of sage green with other colors in the mosaic pattern creates a unique visual interest that draws attention to specific areas of your bathroom. You can use sage green mosaics as an accent wall behind the vanity unit or bathtub, around mirrors or windowsills, on shower niches and shelves.
The possibilities are endless! To create a cohesive look throughout your space, consider using similar shades of greens in other elements such as towels and accessories.
Sage Green and White Color Scheme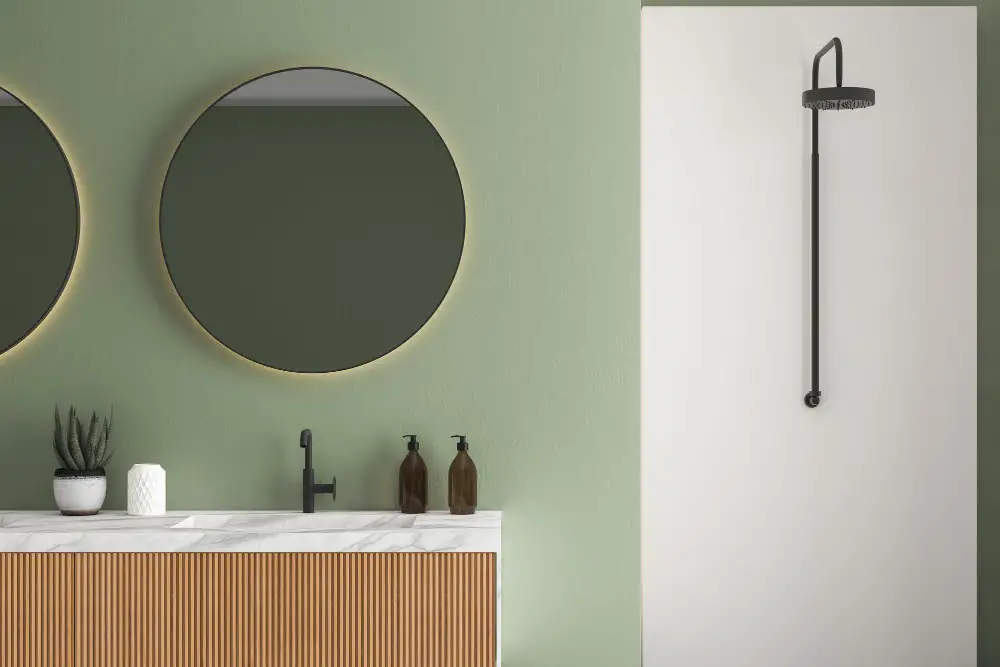 The soft, muted tones of sage green pair perfectly with the crispness of white to create a fresh and calming atmosphere. To achieve this look, consider painting your walls sage green and adding white accents such as towels, shower curtains or even a white vanity unit.
Alternatively, you could opt for sage green tiles on the walls or floor with contrasting grout in bright white for added interest. This color scheme also allows you to incorporate natural elements like wood or plants without overwhelming the space's overall aesthetic appeal.
Using Sage Green alongside White can help create an elegant yet relaxing ambiance in your bathroom that will leave you feeling refreshed every time you step inside it!
Sage Green and Gray Color Palette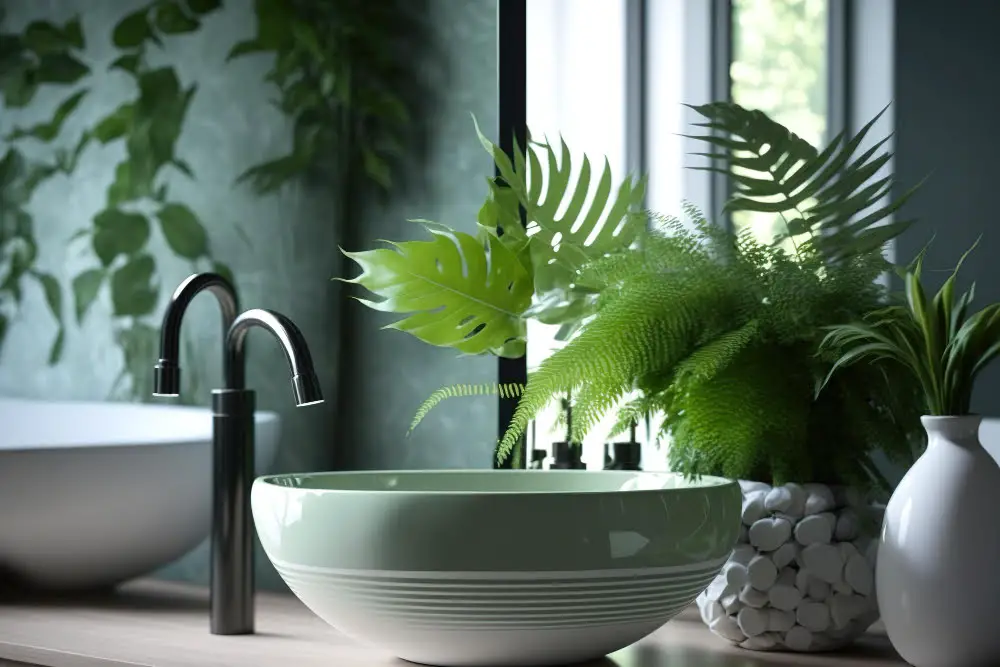 The softness of sage green pairs well with the coolness of gray, creating an elegant and calming atmosphere. You can use sage green as the main color for walls or tiles, while incorporating shades of gray through accessories such as towels, rugs or artwork.
Alternatively, you can opt for a predominantly gray bathroom with pops of sage green accents to add interest and depth to your design scheme. This versatile palette works well in both modern and traditional bathrooms alike!
Sage Green Plants (e.g., Ferns, Eucalyptus)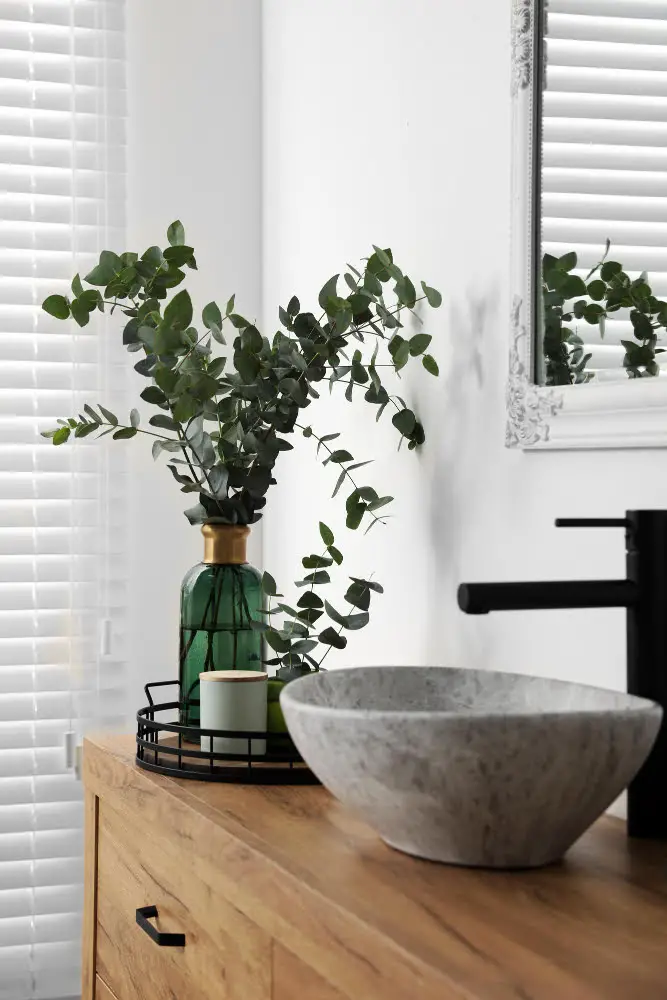 These plants thrive in humid environments and are perfect for adding texture and depth to the space. Hang a few ferns from the ceiling or place potted eucalyptus on floating shelves for an organic feel.
Not only do these plants look great, but they also have air-purifying properties that can improve indoor air quality. Just be sure to choose varieties that don't require direct sunlight since bathrooms tend not to have much natural light!
Sage Green Artwork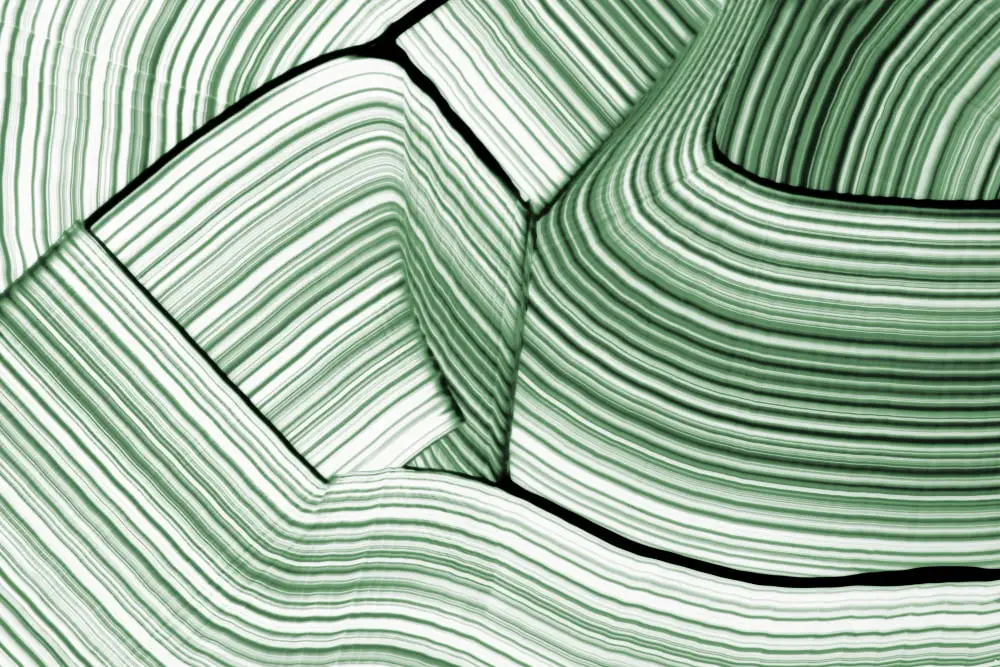 Whether you choose a large canvas or small prints, sage green art pieces can complement the color scheme of your bathroom while adding visual interest. You could opt for botanical prints featuring sage leaves or abstract paintings with hints of sage green hues.
Alternatively, you could create DIY wall art by framing pressed flowers in shades of greens and browns against a white background for an organic look that complements the natural feel that comes with using this earthy tone in your decor scheme. Whatever style you choose, incorporating some artwork into your space is an easy way to elevate its design without breaking the bank!
Sage Green Vintage Fixtures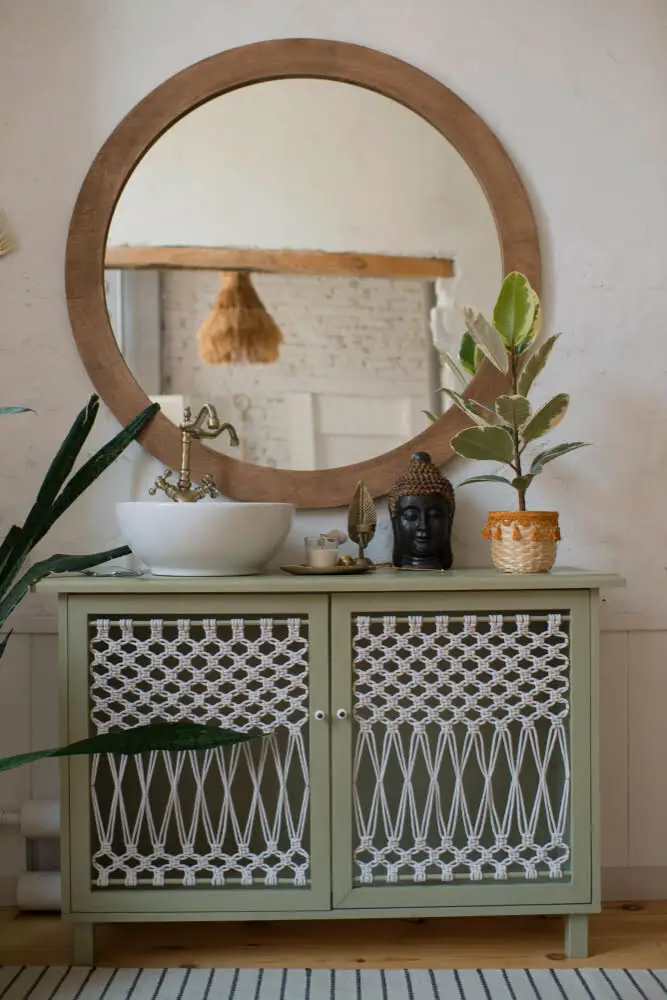 Look for brass or copper faucets and showerheads with intricate details that will complement the muted tones of sage green. You can also search for vintage light fixtures in similar finishes, such as sconces or pendant lights.
These unique pieces will not only add character but also elevate the overall aesthetic of your bathroom design. Just be sure to have them professionally installed and checked for safety before use!
Sage Green Stone Countertops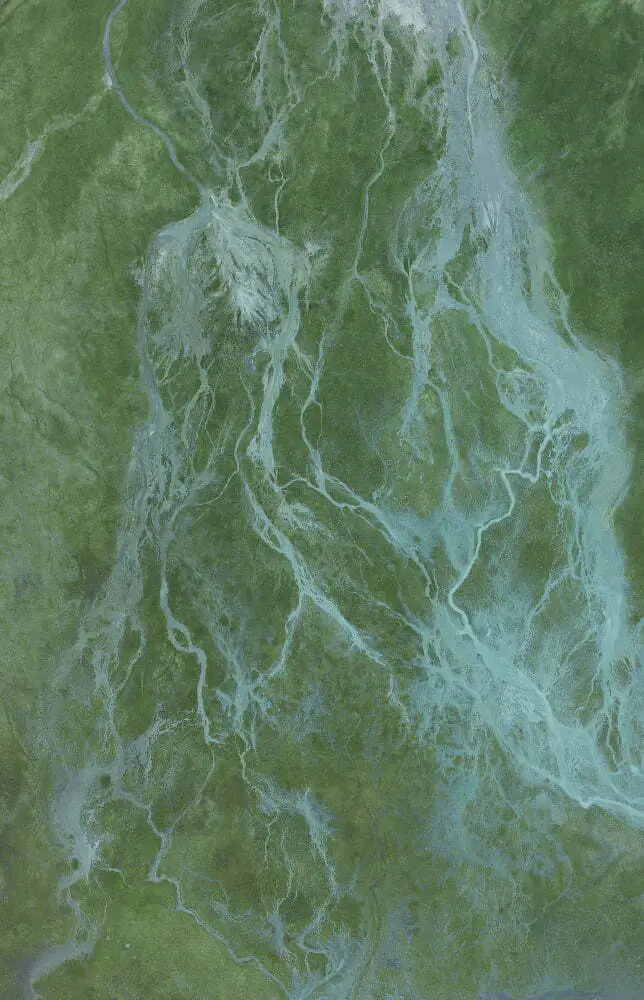 They add a touch of elegance and sophistication while also providing durability and functionality. The natural veining in the stone creates unique patterns that can complement other sage green elements in the room, such as tiles or accessories.
Some popular types of sage green stones for countertops include marble, granite, and quartzite. Marble has a classic look with its soft veining, while granite is known for its durability and resistance to scratches and heat damage.
Quartzite offers similar benefits as granite but with more color options available due to its man-made nature. When paired with white or light-colored cabinets or walls, sage green stone countertops create an eye-catching contrast that will make your bathroom stand out from the rest!
Sage Green and Wood Combination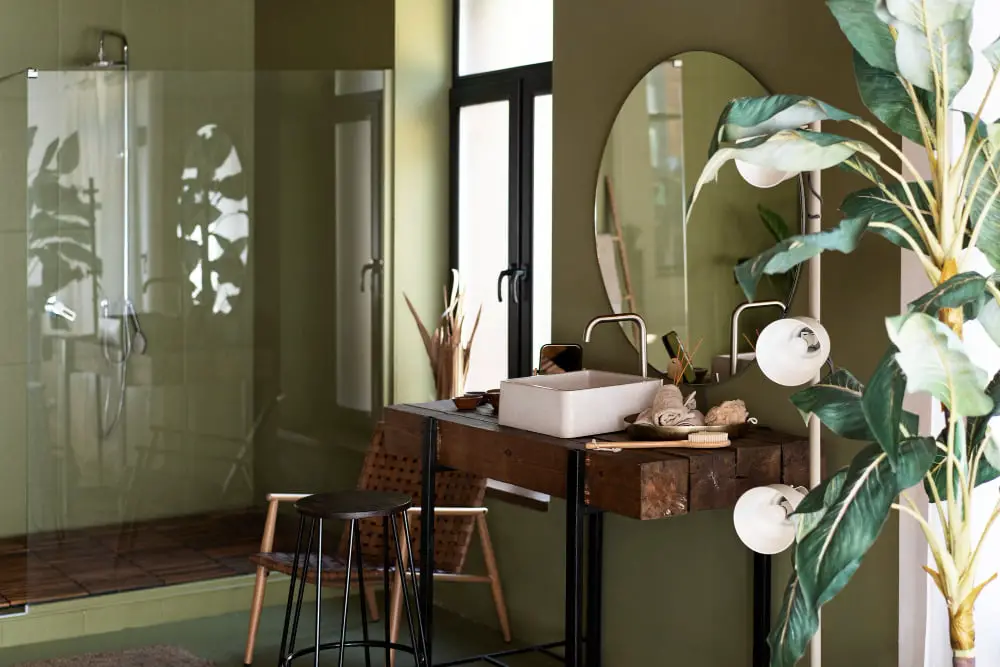 The natural warmth of the wood complements the calming effect of sage green, creating an inviting and relaxing atmosphere. You can incorporate this combination in various ways, such as using wooden shelves or cabinets with sage green walls or adding wooden accents to your vanity unit.
Another great idea is to use reclaimed wood for your bathroom floor or ceiling, which adds character and texture while keeping things eco-friendly. Whatever way you choose to combine these two elements, it's sure to create a stylish yet cozy space that you'll love spending time in!
Sage Green and Brass Hardware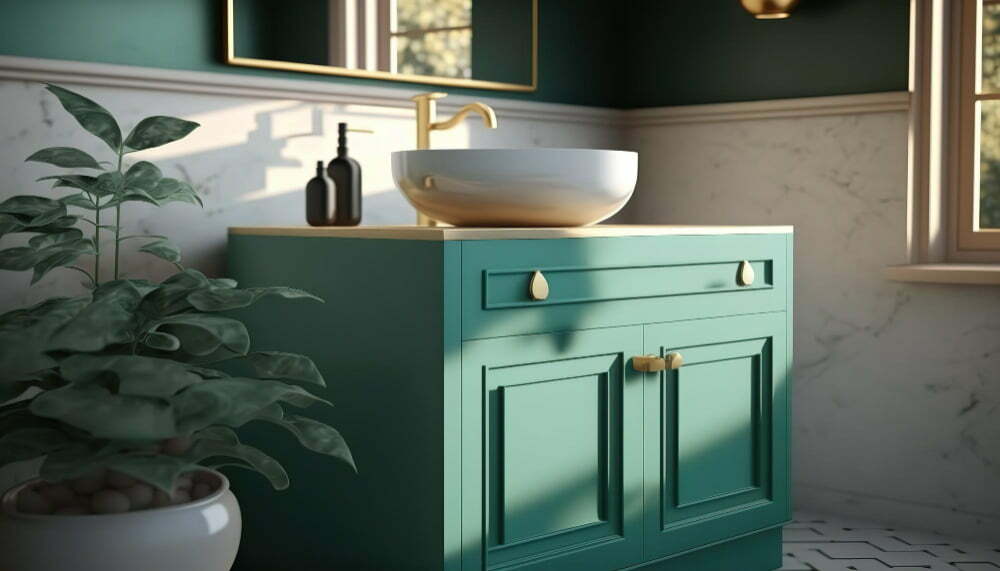 The warm tones of the brass complement the coolness of sage green, creating an inviting and sophisticated atmosphere. Consider swapping out your old chrome or silver fixtures with brass ones, such as faucets, showerheads, towel bars, and drawer pulls.
This simple update can make a big impact on the overall look and feel of your bathroom without breaking the bank. Plus, it's easy to find affordable options at home improvement stores or online retailers that offer various styles from modern to vintage-inspired designs that will suit any taste!
Sage Green Ceramic Accessories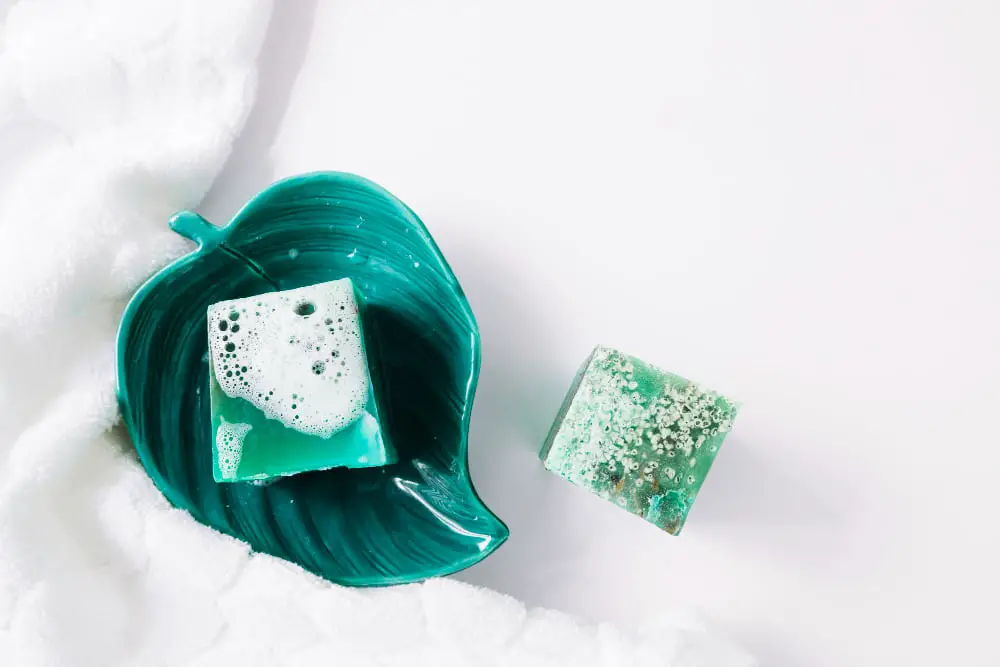 From soap dishes and toothbrush holders to vases and decorative bowls, there are plenty of options available in this soothing hue. Consider mixing different shades of sage green ceramics for added interest or pairing them with natural materials like wood or stone for a more organic feel.
These small details can make a big impact on the overall look and feel of your bathroom design while also providing functional storage solutions.
Continue reading: