Last updated on July 4, 2023
Discover stunning blue bathroom ideas to transform your personal space into a serene and stylish oasis.
Welcome to my latest blog post, where I'll be sharing some creative and stylish blue bathroom ideas that are sure to transform your space into a serene oasis. Whether you're looking for a bold statement or a subtle touch of color, blue is the perfect hue for any bathroom design.
From navy to powder blue, there are endless shades of this calming color that can create an inviting atmosphere in your home. So sit back, relax and get ready to be inspired by these 20 amazing blue bathroom ideas!
Table of Contents
Ocean-inspired Tiles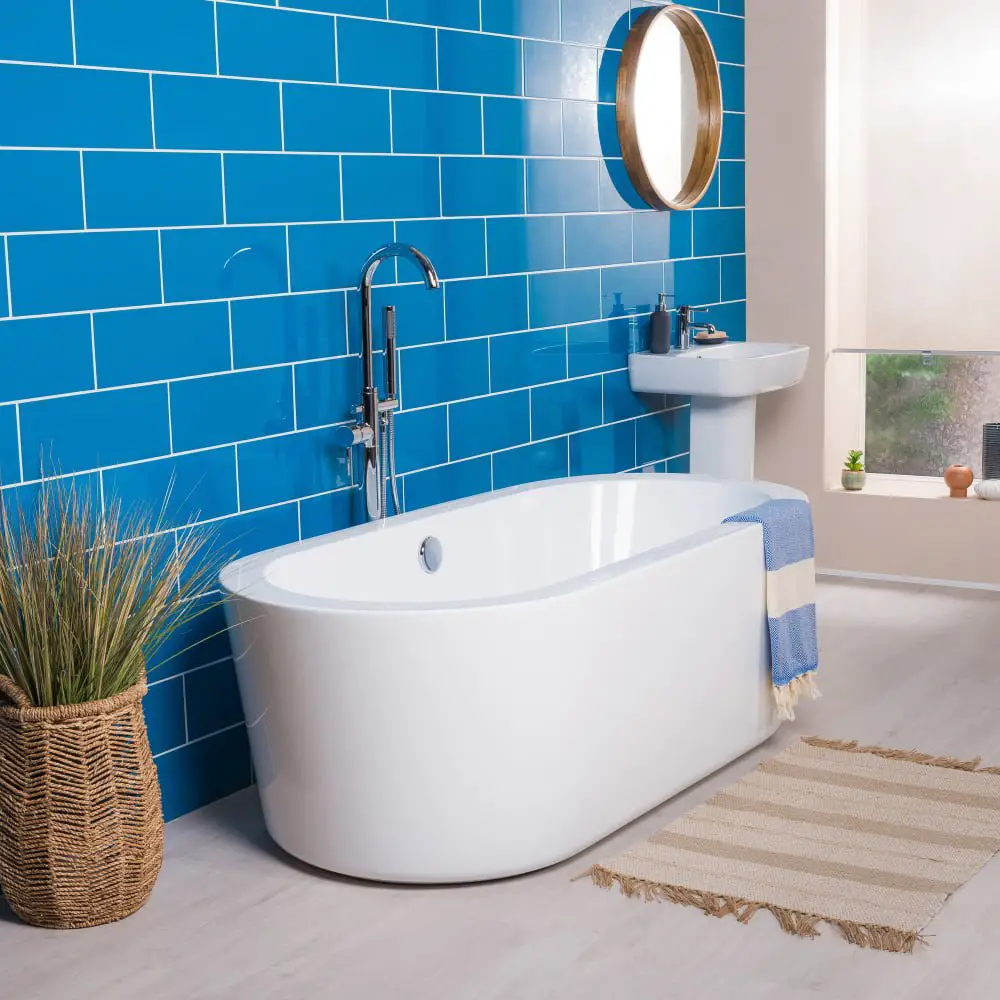 Ocean-inspired tiles are a great way to bring the calming and soothing vibes of the sea into your bathroom. These tiles come in various shades of blue, green, and white that mimic the colors of ocean waves.
You can use them on your shower walls or as an accent wall behind your bathtub for a stunning effect. Pairing these tiles with natural wood elements like bamboo blinds or teak bath mats will create a spa-like atmosphere in your bathroom that you'll never want to leave!
Cobalt Blue Sink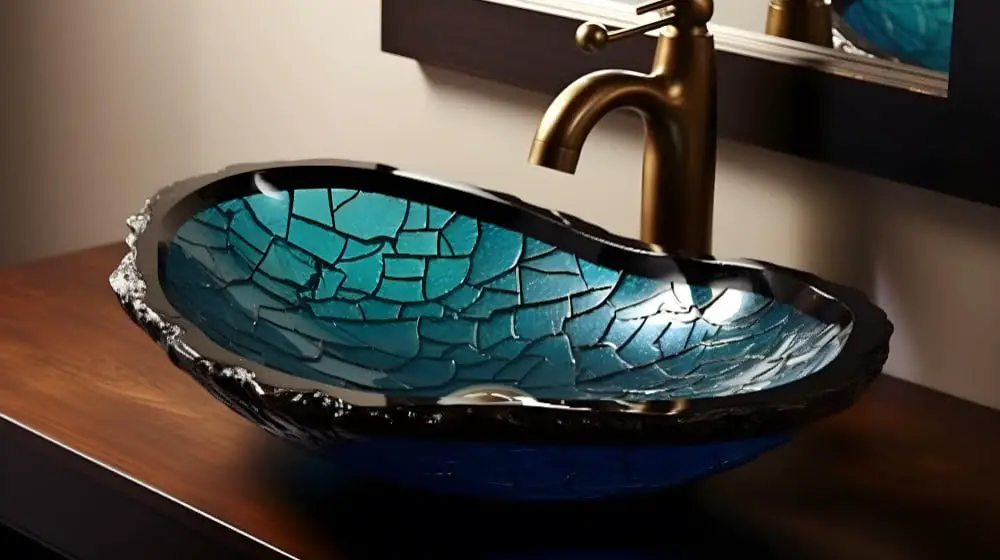 It adds a pop of color and personality to the space, making it stand out from the typical white or beige sinks. Pairing it with neutral walls and countertops will make the sink even more eye-catching.
A cobalt blue sink also works well in bathrooms with nautical or beach themes, as it resembles the deep blue sea. To complete this look, add some seashell decor or ocean-inspired tiles around your new cobalt blue sink!
Nautical Accents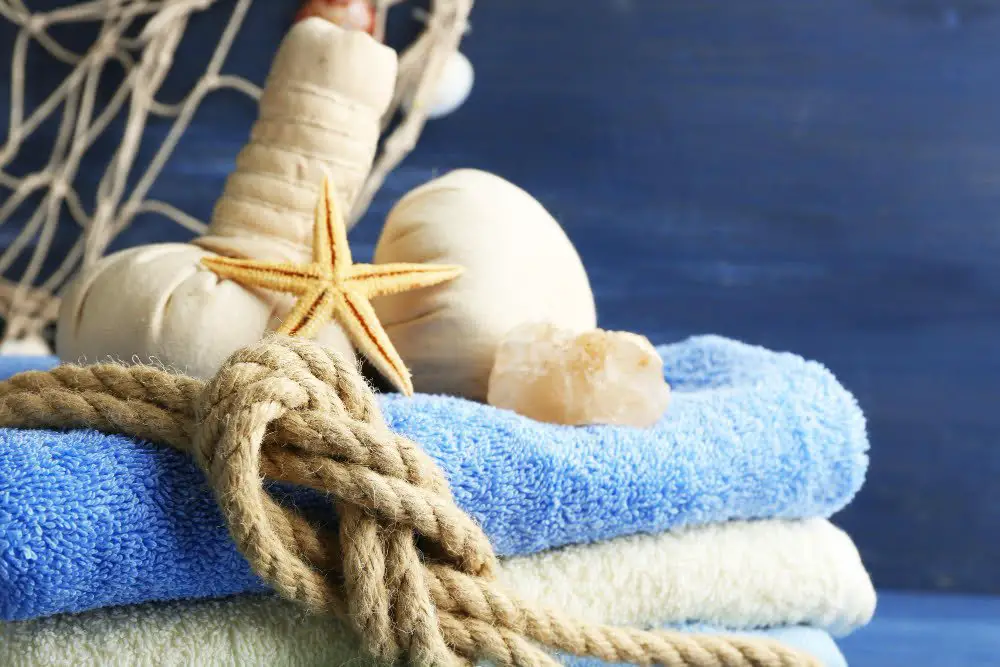 Think about incorporating elements such as rope, anchors, and sailboats into your decor. You can add nautical touches with small accessories like soap dispensers or toothbrush holders, or go all out with larger pieces like a ship wheel mirror or anchor-shaped towel hooks.
Don't be afraid to mix and match different nautical motifs for an eclectic look that's still cohesive in its overall theme. With these simple additions, you'll feel like you're sailing away on the high seas every time you step into your bathroom!
Blue Ombre Curtains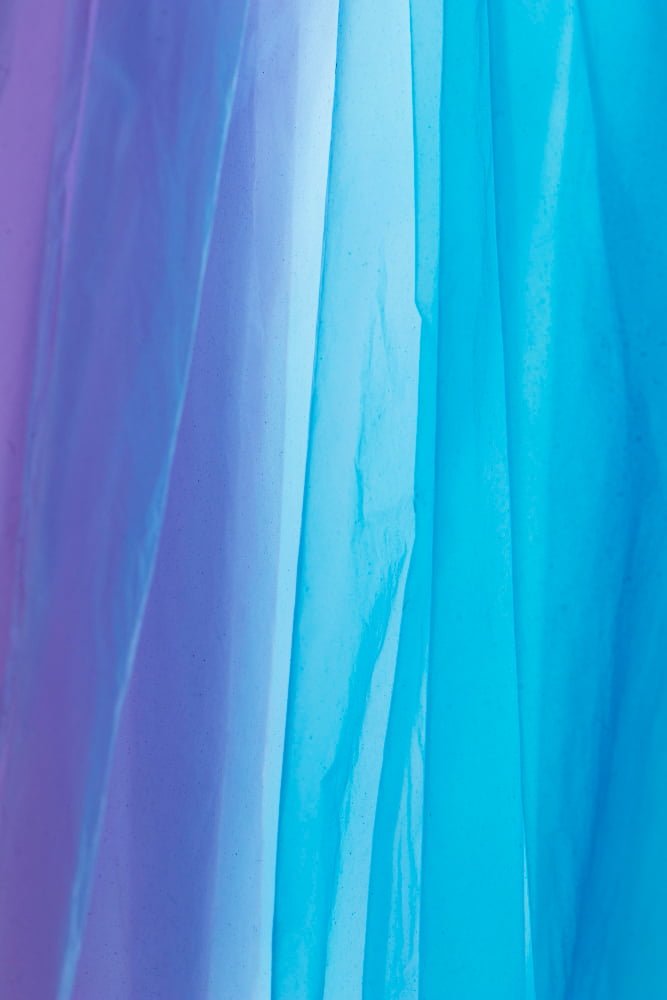 The gradual fade from light blue to dark blue creates a calming effect that is perfect for this space. Ombre curtains can be found in various shades of blue, so you can choose the one that best complements your existing decor.
They also come in different materials such as cotton, linen or silk which allows you to select the texture that suits your taste and budget. Blue ombre curtains work well with white walls or tiles but they can also complement other colors like beige or gray if used correctly.
Baby Blue Walls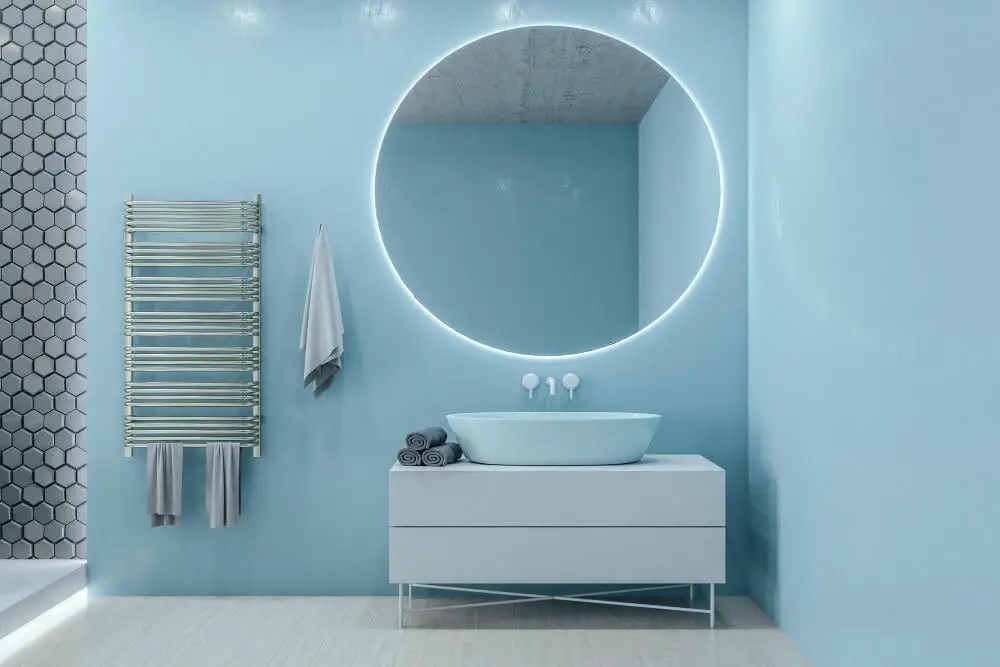 This soft shade of blue can make the space feel larger, brighter, and more inviting. Pairing baby blue walls with white or light-colored fixtures creates an airy and refreshing look that is perfect for any bathroom style.
To add some contrast to the space, consider incorporating darker shades of blue through accessories such as towels or bath mats. Alternatively, you could also add pops of color through artwork or plants to bring some life into your baby-blue oasis!
Blue Mosaic Backsplash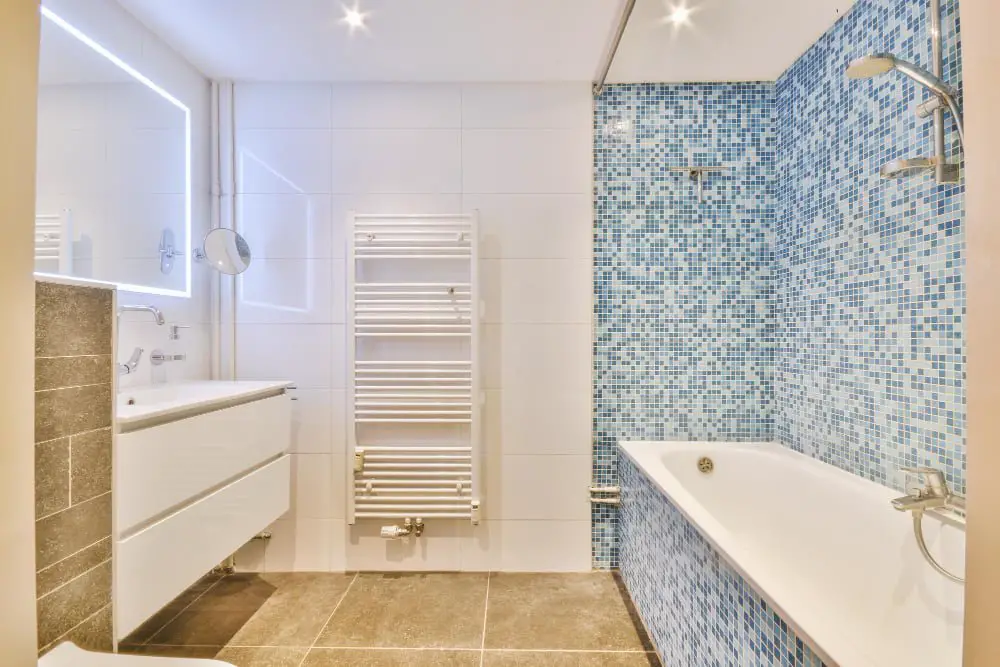 The small tiles create a beautiful pattern that can be customized to fit any style. Whether you choose shades of blue or mix in other colors, the result will be stunning.
A blue mosaic backsplash pairs well with white or neutral walls and complements chrome fixtures perfectly. It's also easy to clean, making it practical for everyday use in the bathroom.
Consider adding this unique touch of elegance as part of your next bathroom renovation project!
Turquoise Vanity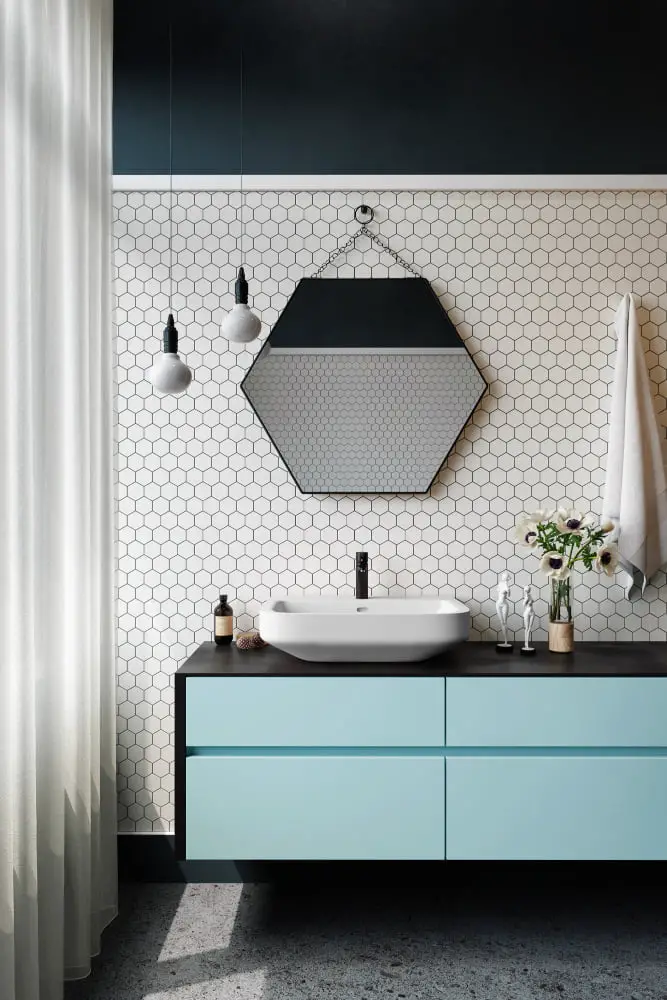 Pair it with white walls and natural wood accents for a fresh look. You can also incorporate other shades of blue in the room to tie everything together.
A turquoise vanity is perfect for those who want to make a statement without going overboard on color. It's bold yet subtle at the same time, making it an ideal choice for any bathroom style from modern to traditional or even bohemian-inspired spaces!
Blue Patterned Wallpaper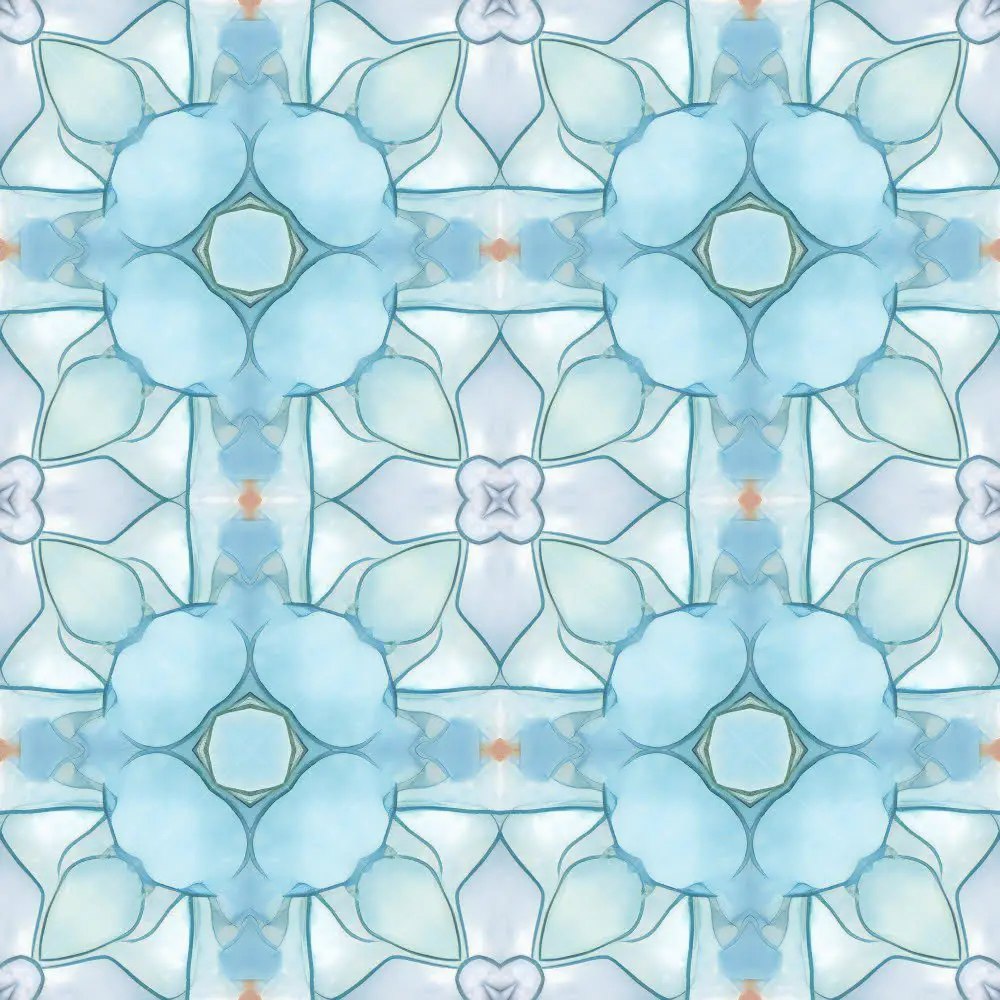 Whether you choose a bold geometric print or a delicate floral design, the right wallpaper can transform your space into something truly special. Consider pairing blue patterned wallpaper with white fixtures for an eye-catching contrast, or use it as an accent wall behind your vanity to create visual interest without overwhelming the room.
When selecting your paper, be sure to choose one that is specifically designed for bathrooms and other high-moisture areas so that it will hold up well over time. With so many beautiful options available today, there's no reason not to give this classic decorating technique a try in your own home!
Blue Glass Accessories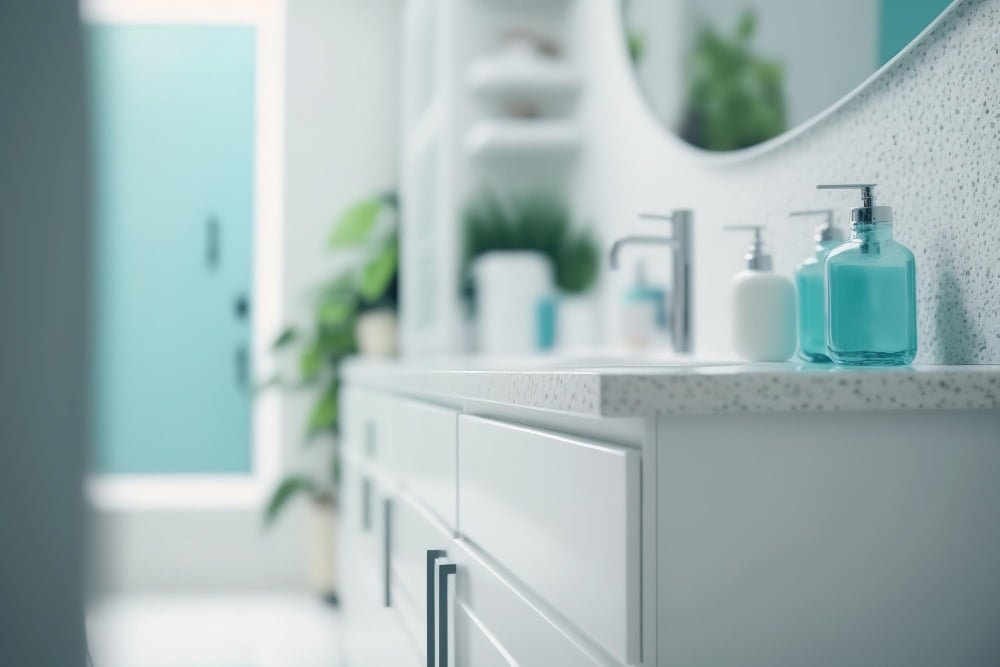 From soap dispensers and toothbrush holders, to jars and vases, blue glass pieces can be used in various ways. They come in different shades of blue, from light aqua to deep navy, so you can choose the one that best complements your bathroom's color scheme.
Blue glass accessories also reflect light beautifully which adds an extra dimension of brightness into the space. You can mix them with other materials such as wood or metal for an eclectic look or keep it simple by using only blue accents throughout the room for a cohesive feel.
Navy Blue Bathtub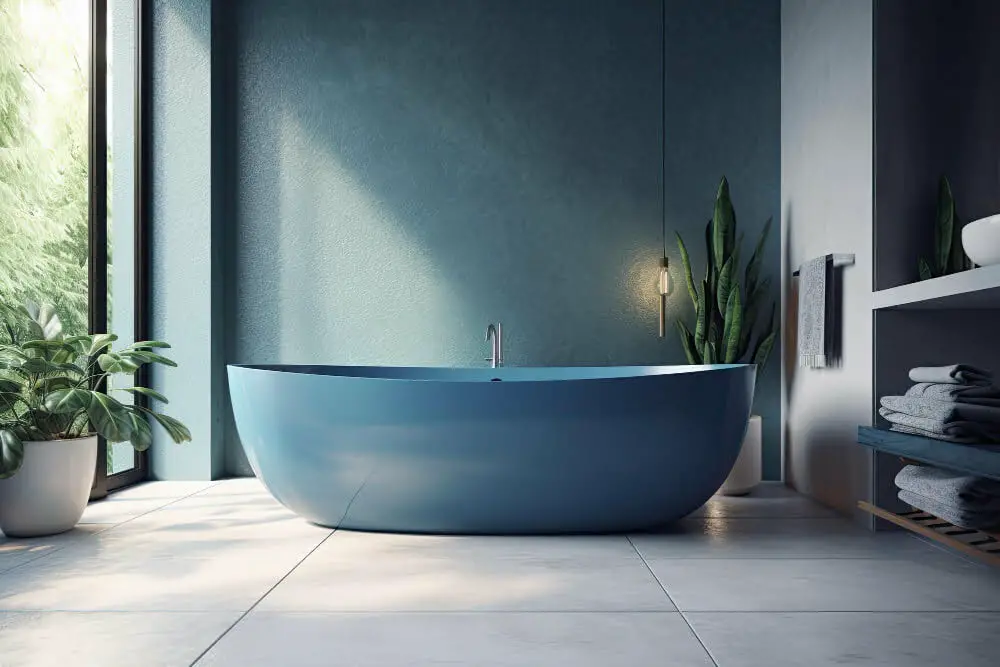 It creates a bold statement that is both modern and timeless. Pair it with white walls, gold fixtures, and marble countertops for an upscale look or go for a more eclectic vibe by adding colorful tiles or patterned wallpaper.
A navy blue bathtub also works well in bathrooms with nautical themes as it resembles the deep ocean waters. So if you're looking to make a statement in your bathroom design, consider incorporating this luxurious piece into your space!
Aquamarine Bathmat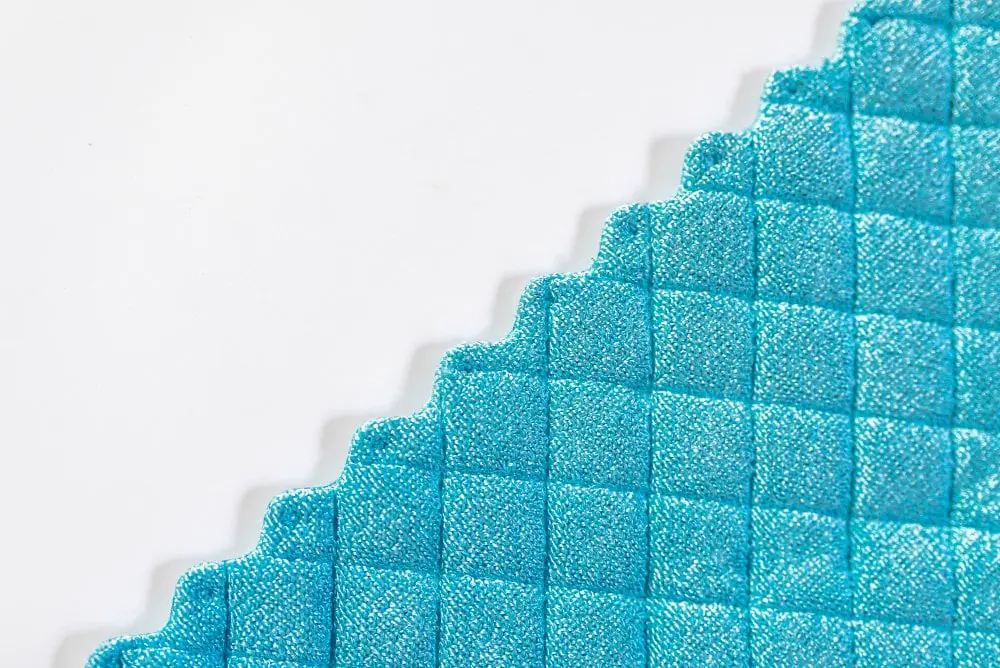 This shade of blue is reminiscent of the ocean and can create a calming atmosphere in your space. A plush, aquamarine bathmat will not only provide comfort underfoot but also serve as an eye-catching accessory that ties together the overall design scheme.
Pair it with white or light gray towels for a fresh and clean look, or mix it up with other shades of blue for added depth and dimension. The best part? An aquamarine bathmat works well in both modern and traditional bathrooms alike!
Blue-tinted Mirror Frame
It adds a touch of elegance and sophistication to any space, while also creating an illusion of depth and dimension. A simple white or neutral-colored mirror can be transformed with just a few coats of blue-tinted paint or by adding some adhesive vinyl in the desired shade.
This DIY project is easy to do and won't break the bank, making it perfect for those on a budget who still want to add some personality and style into their bathroom decor.
Painted Blue Ceiling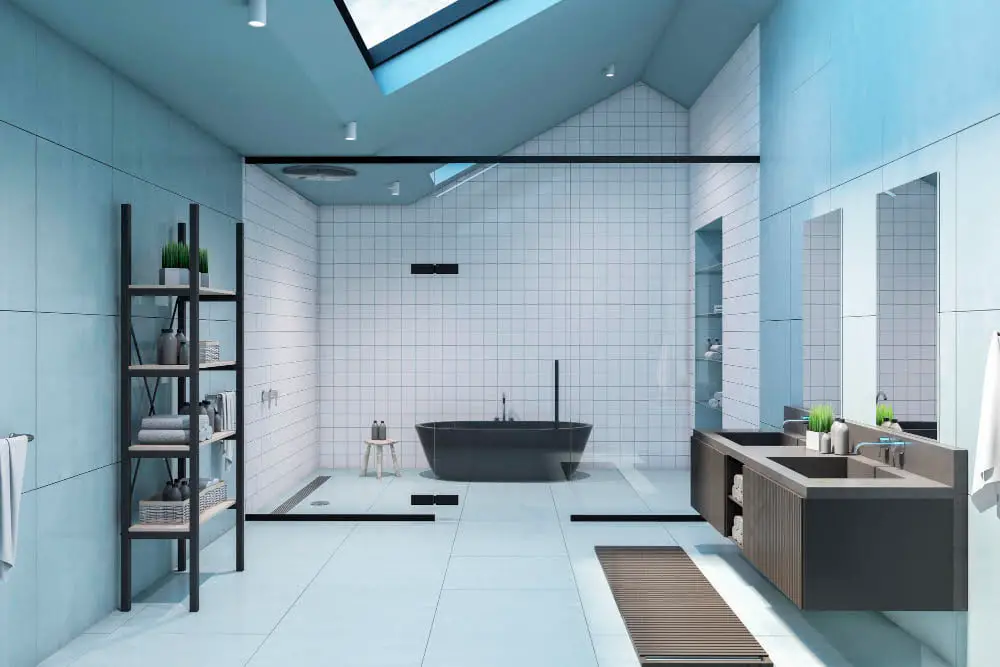 A light blue hue can create a calming and serene atmosphere, while a darker shade can add depth and drama. This technique works particularly well in bathrooms with high ceilings or interesting architectural details that you want to highlight.
To avoid overwhelming the space, keep the walls neutral or opt for white tiles. You could also add some metallic accents like silver fixtures or gold-framed mirrors to complement the painted ceiling and make it stand out even more.
Indigo Towels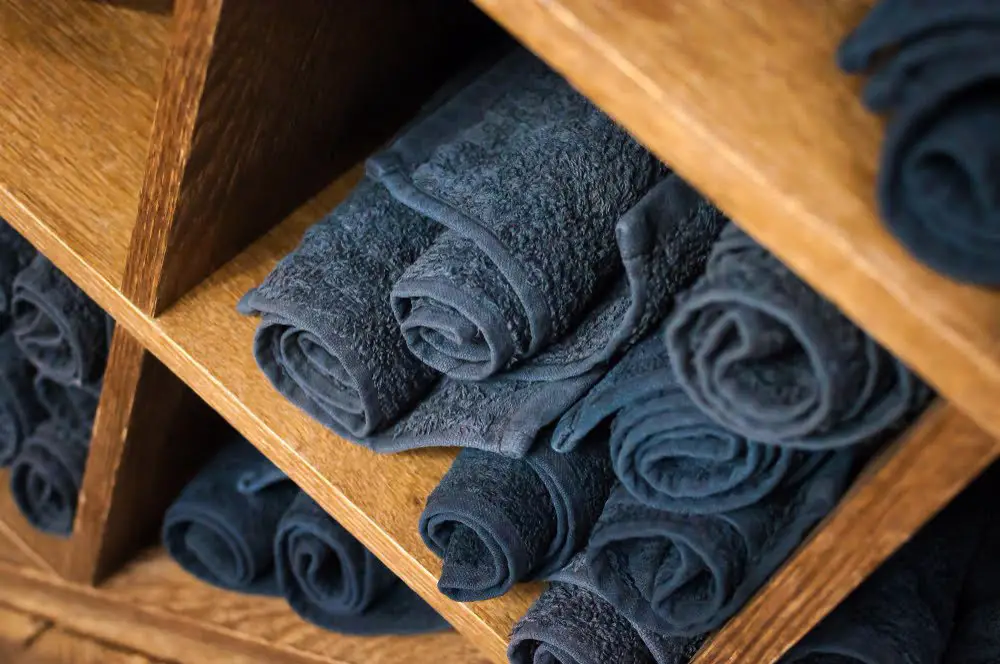 The deep shade of indigo adds richness and depth, making it an ideal choice for those who want their bathroom decor to be both stylish and functional. Indigo towels can be paired with other shades of blue or white for a cohesive look, or they can stand out on their own against neutral walls and fixtures.
They also come in various textures such as soft cotton or plush terry cloth, so you can choose the one that suits your needs best. Whether you're looking for something bold or subtle, indigo towels are sure to make a statement in any blue-themed bathroom design!
Blue and White Striped Wallpaper
It adds a touch of nautical charm to the space, making it feel fresh and inviting. The stripes can be thick or thin, depending on your preference, and they can run vertically or horizontally on the walls.
This type of wallpaper pairs well with other blue accents in the room such as towels or accessories. To keep things from feeling too busy, consider pairing it with simple white fixtures like a pedestal sink or bathtub to create balance in the space.
Coastal Blue Artwork
Whether you choose a painting of the ocean, sea creatures or beach landscapes, it will bring an element of tranquility and relaxation into your space. You can opt for one large piece as a focal point or create a gallery wall with smaller pieces that complement each other in color and theme.
Coastal blue artwork pairs well with white walls, natural wood accents, seashell decor and nautical accessories for an overall cohesive look that evokes the feeling of being by the seaside.
Sky Blue LED Lighting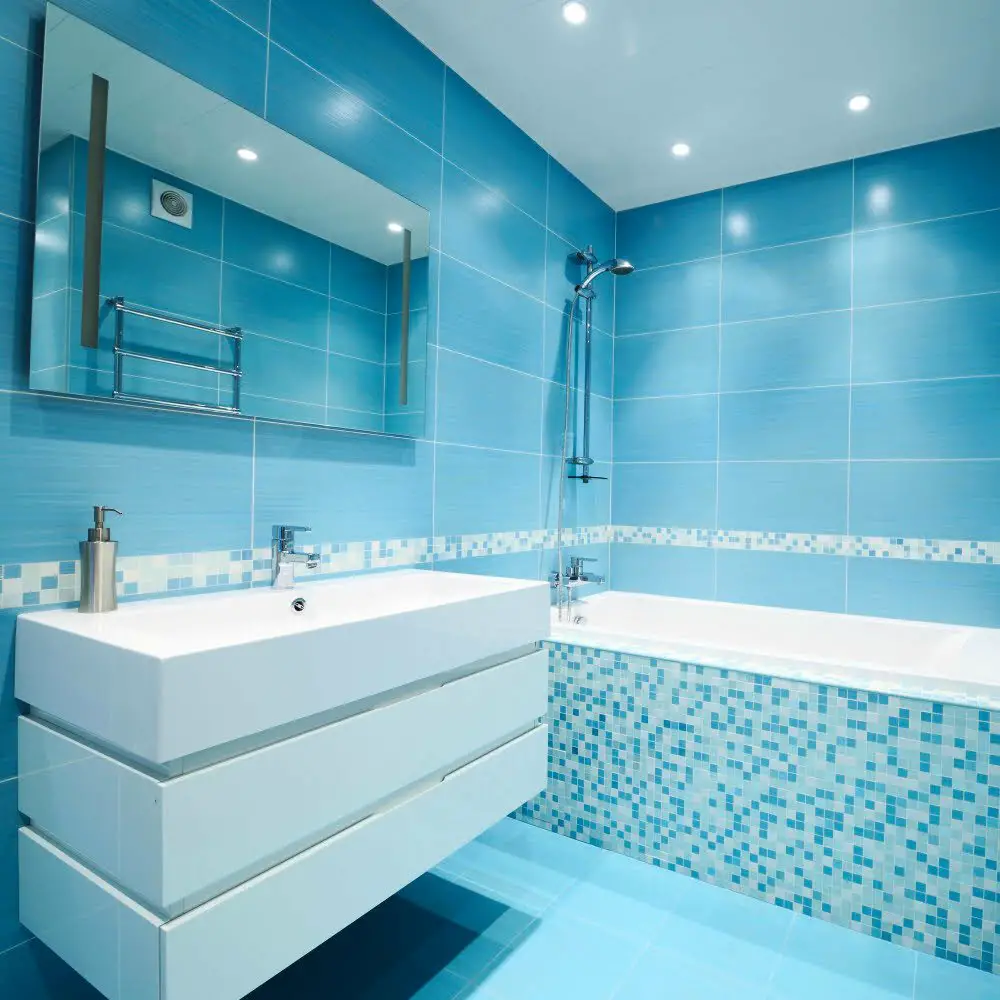 This type of lighting can be installed in various ways, such as under the vanity or behind the mirror. It creates an ethereal glow that makes you feel like you're bathing under the open sky.
Sky blue LED lights are also energy-efficient and long-lasting, making them an eco-friendly choice for your home decor needs. You can even pair this lighting with other blue accents in your bathroom for a cohesive look that will make every shower or bath feel like a spa experience!
Blue-themed Shower Caddy
Not only does it keep all of your shower essentials in one place, but it also adds a pop of color that can tie the whole room together. Look for caddies with different shades of blue or patterns that incorporate blues into their design.
You can even DIY your own by painting an old metal or plastic caddy with some blue spray paint!
Light Blue Shelving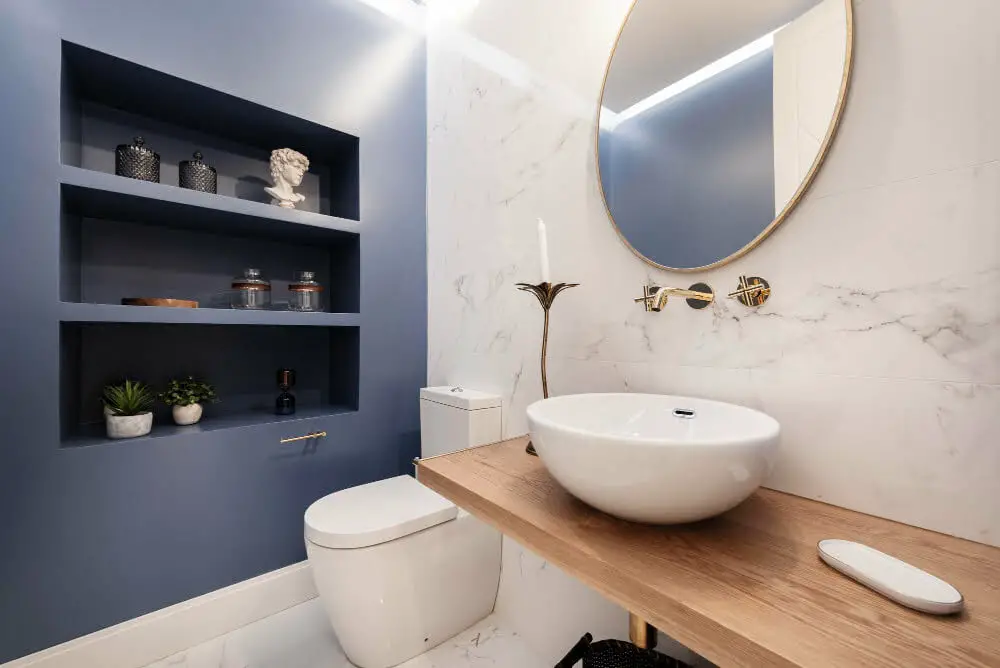 You can choose from a variety of materials such as wood, metal or plastic and select a shade of light blue that complements the rest of your bathroom's color scheme. Light blue shelves are perfect for displaying decorative items like candles, plants or towels while also providing storage space for toiletries and other essentials.
They can be mounted on walls or placed on top of counters depending on their size and design. Light blue shelving adds both functionality and style to any bathroom!
Blue-green Accent Wall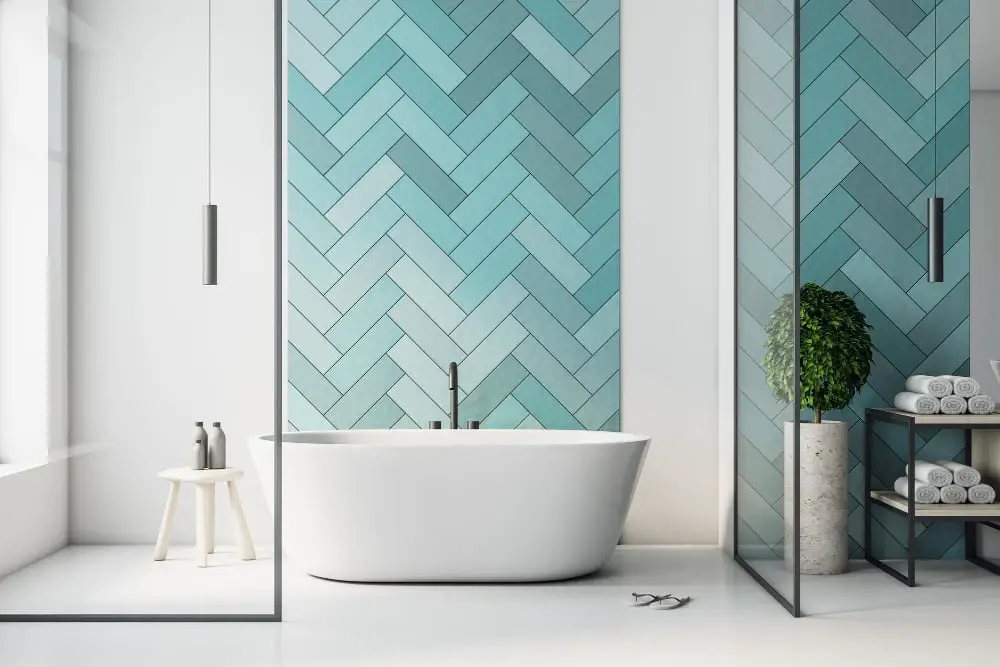 This color is perfect for those who want to create an oasis-like atmosphere in their bathroom. A blue-green accent wall can be paired with white or light-colored tiles, fixtures, and accessories to create a refreshing look that will make you feel like you're at the spa every time you step into your bathroom.
To enhance this effect even further, consider adding some greenery such as potted plants or hanging ferns near the wall. The combination of blue-green hues and natural elements will give your bathroom an organic feel that's both relaxing and rejuvenating at the same time!