Last updated on September 4, 2023
Discover a world of convenience and style with these twenty brilliant dual bathroom vanity ideas that will transform your morning routine and elevate your bathroom's aesthetic.
Are you tired of sharing a single sink with your partner or roommate? It's time to upgrade to a dual bathroom vanity! Not only does it provide ample space for two people to get ready at once, but it also adds a stylish touch to any bathroom. But where do you start? Don't worry, we've got you covered with 20 amazing ideas for dual bathroom vanities.
From sleek and modern designs to rustic and farmhouse-inspired looks, there's something for every taste and budget. So sit back, grab some inspiration, and get ready to transform your bathroom into the ultimate oasis.
Table of Contents
Modern Floating Vanities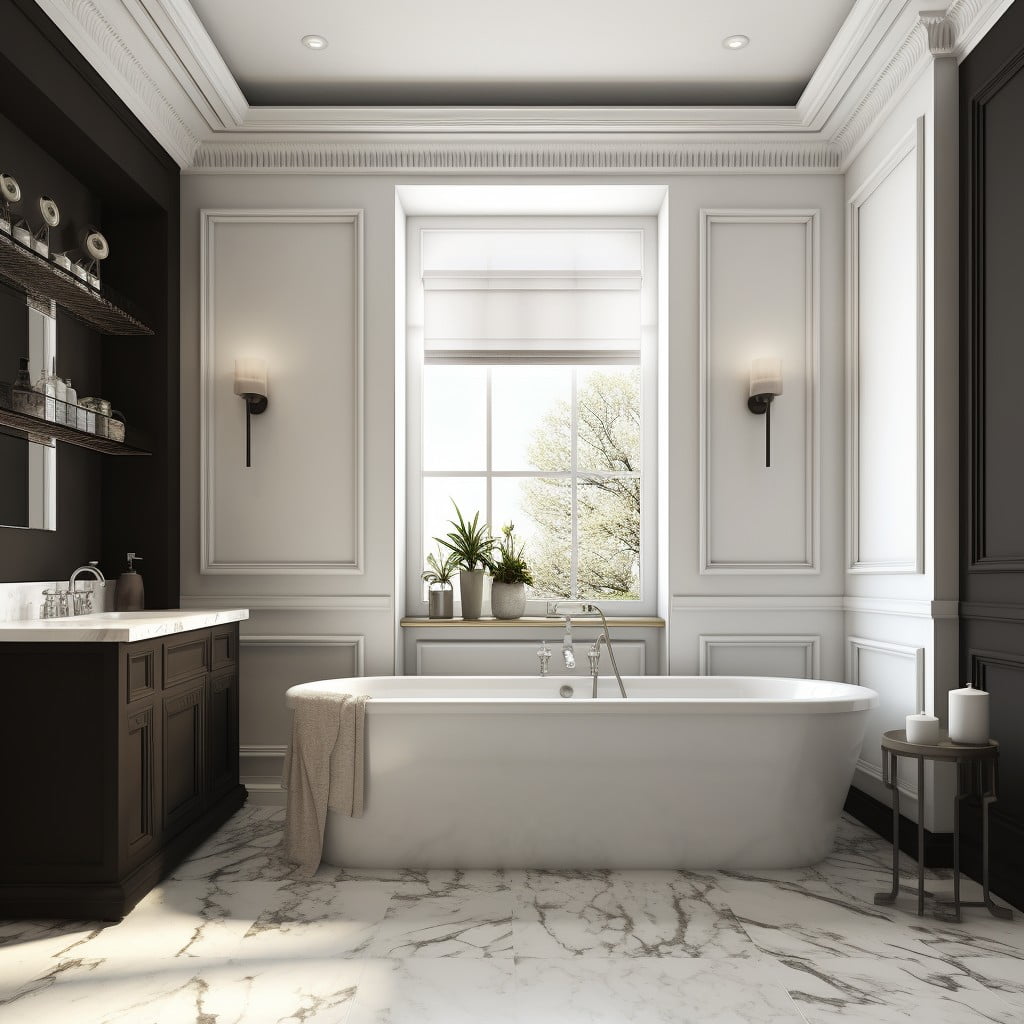 Modern floating vanities are a popular choice for those who want to create a sleek and contemporary look in their bathroom. These vanities appear to be suspended in mid-air, as they are mounted directly onto the wall without any visible support.
This design not only looks stylish but also makes cleaning the floor beneath much easier. Floating vanities come in various materials such as wood, metal or glass and can be customized with different finishes and colors to match your bathroom decor perfectly.
They also offer ample storage space while maintaining an open feel that is perfect for smaller bathrooms or spaces where you want to maximize visual impact without sacrificing functionality.
Rustic Wood and Stone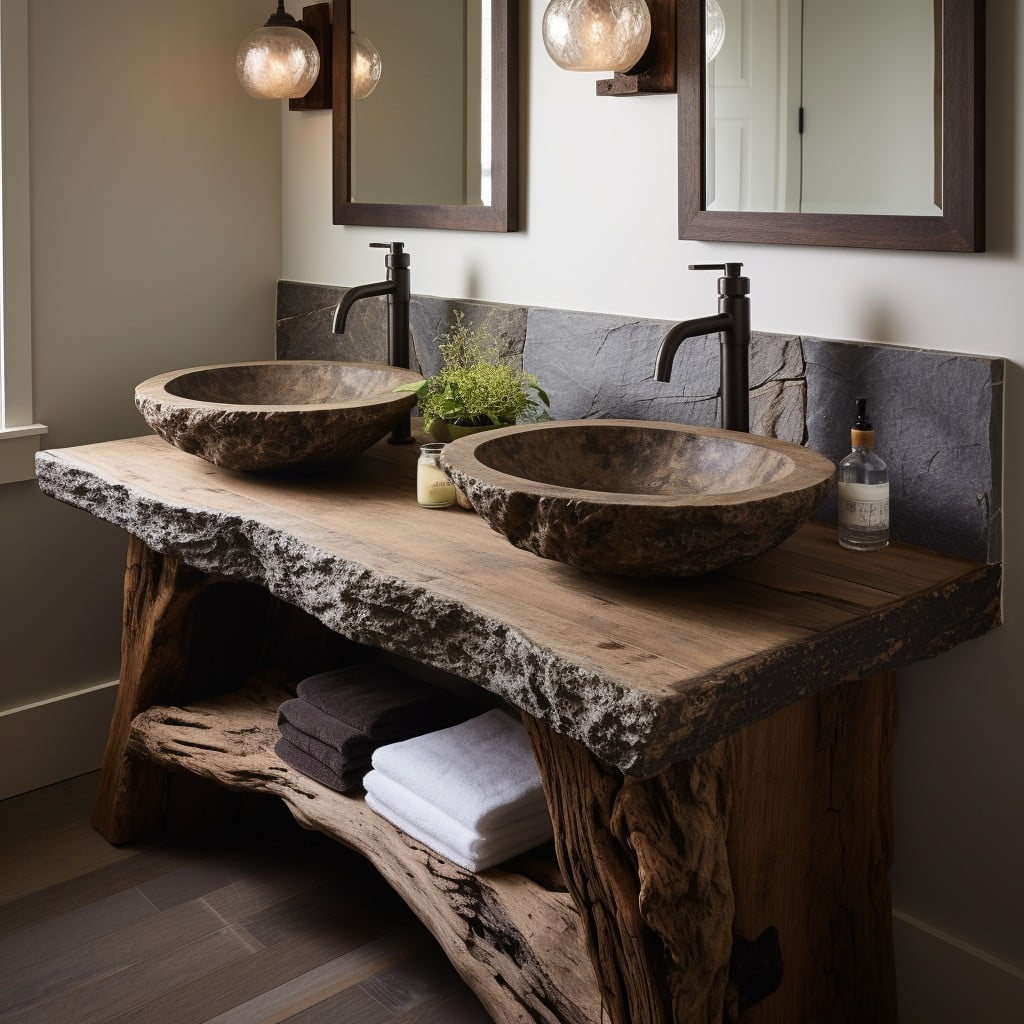 This design style creates a warm and inviting atmosphere in the bathroom, making it feel like an extension of the home's natural surroundings. The combination of rough-hewn wood with natural stone countertops adds texture to the space, while also providing ample storage for toiletries and towels.
To complete this look, consider adding vintage-inspired fixtures such as oil-rubbed bronze faucets or wrought-iron drawer pulls to enhance its rustic charm.
Double Farmhouse Sink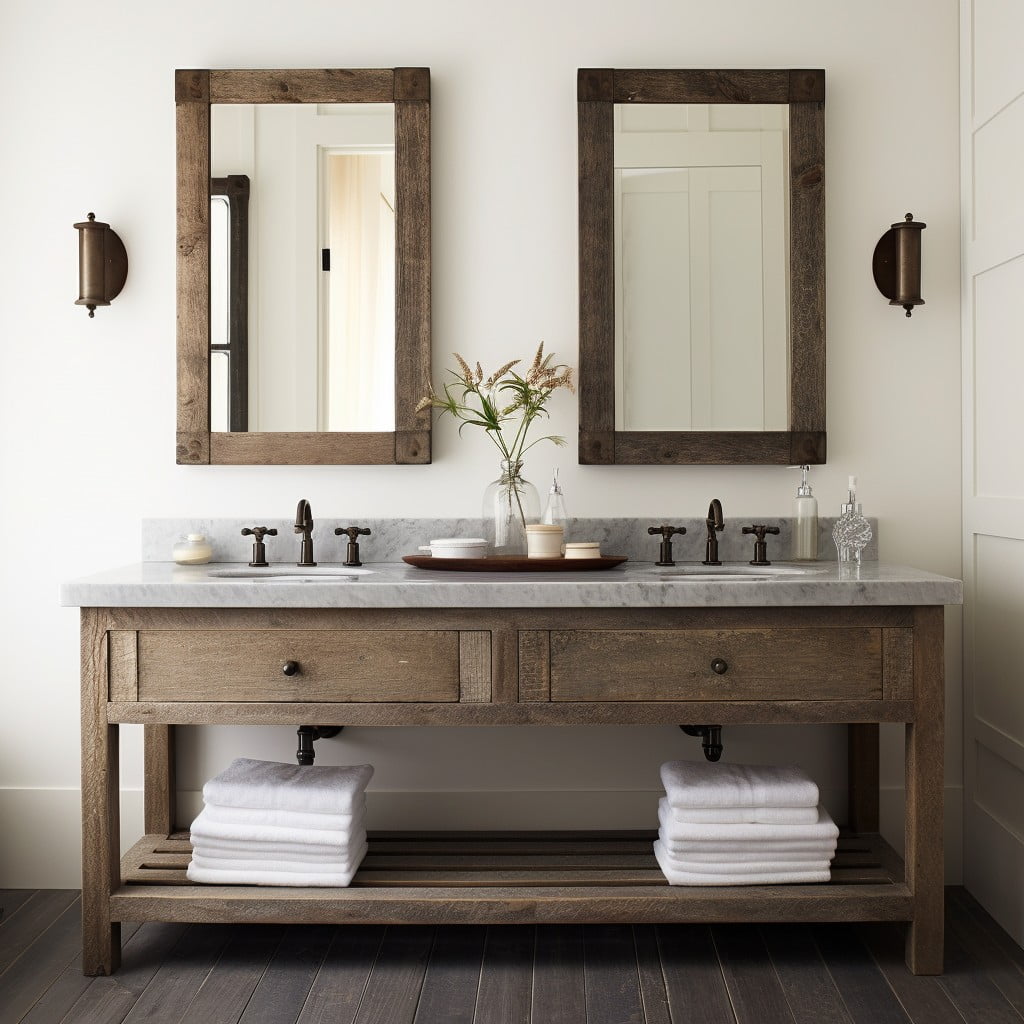 These sinks are typically made from durable materials such as porcelain or fireclay and feature two basins that can be used simultaneously. The deep, wide basin design allows for easy cleaning of larger items like pots and pans, making them ideal for families or those who love to entertain guests.
Double farmhouse sinks come in various styles ranging from classic white ceramic designs with apron fronts to more modern stainless steel options with sleek lines and minimalist features. They pair well with natural wood cabinetry, stone countertops, and vintage-inspired fixtures creating an inviting atmosphere in any bathroom space while providing practical functionality at the same time.
Monochrome Minimalism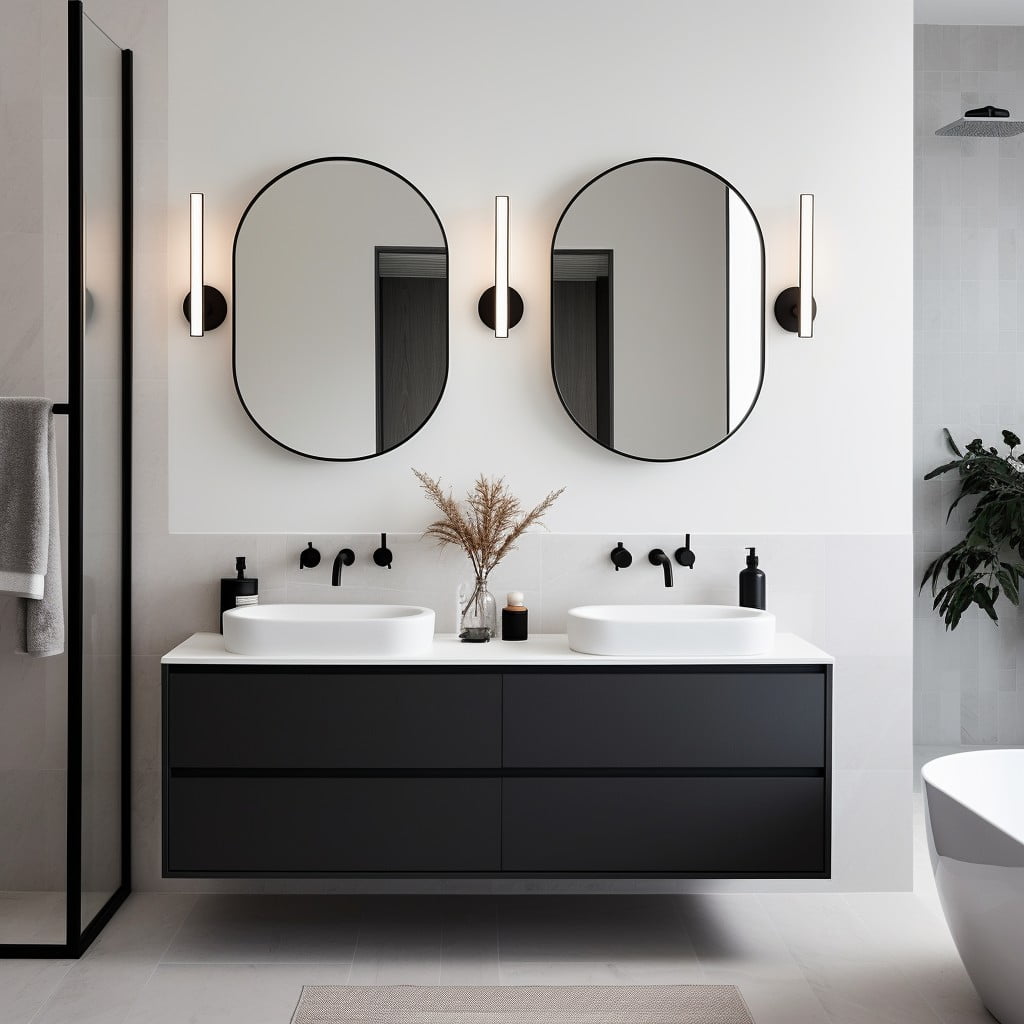 It involves using only one color or shades of the same color to create a sleek and sophisticated look. When it comes to dual bathroom vanities, monochrome minimalism can be achieved through the use of black, white or gray tones.
This style works particularly well in small spaces as it creates an illusion of more space and makes everything appear clean and uncluttered. To achieve this look, consider pairing white countertops with black cabinetry or vice versa for a striking contrast that will make your bathroom stand out from others!
Sleek Concrete Design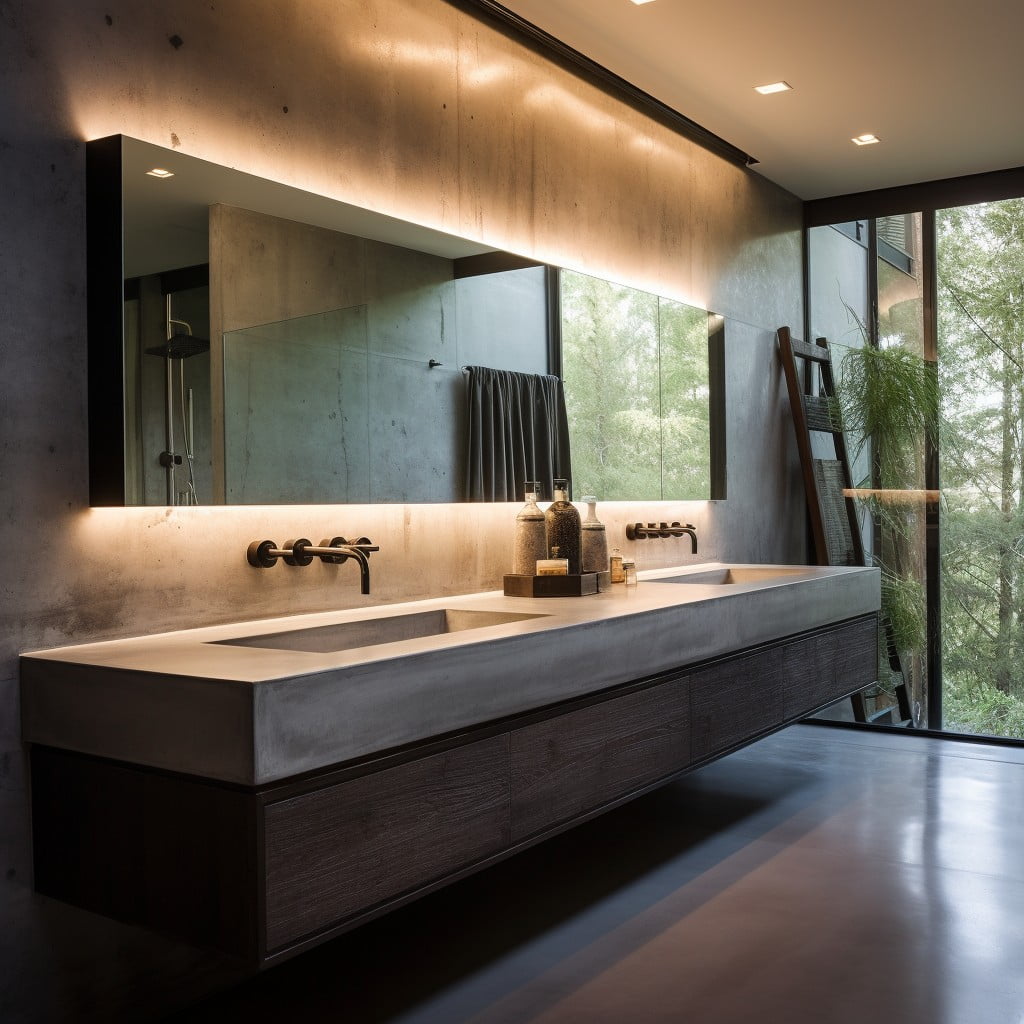 A dual vanity made of concrete can be both functional and stylish, providing ample counter space for two people while also adding a modern touch to the room. The smooth surface of concrete is easy to clean and maintain, making it perfect for busy bathrooms.
Pairing the vanity with minimalist fixtures such as wall-mounted faucets or simple vessel sinks will complete the sleek look. For added warmth, consider incorporating wood accents in shelving or accessories around your concrete design.
Contrasting Dark and Light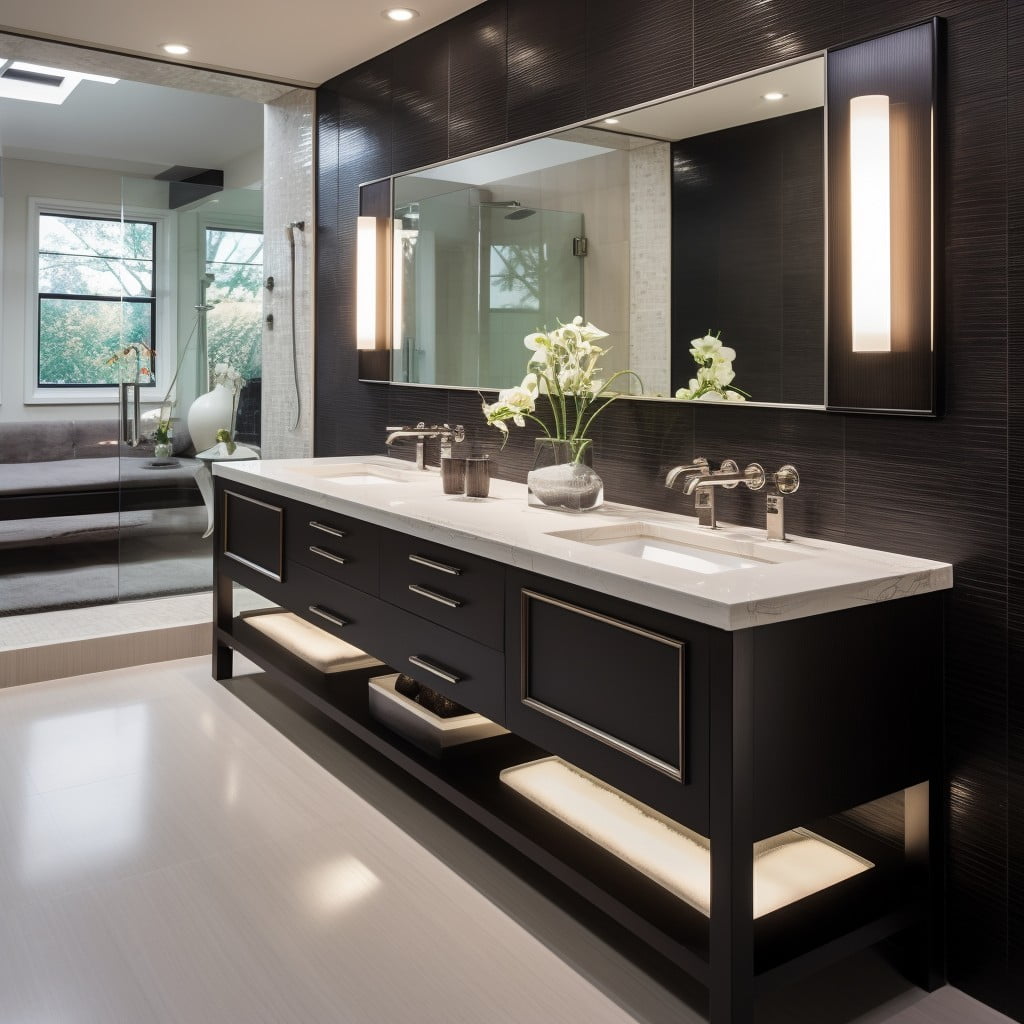 This style involves pairing dark cabinetry with lighter countertops or vice versa. The contrast creates visual interest and adds depth to the space.
To achieve this look, consider using black or navy blue cabinets paired with white marble countertops, or opt for light wood cabinetry paired with a darker granite countertop. Another option is to use contrasting tiles on the walls behind each vanity area, such as black subway tiles on one side and white hexagonal tiles on the other side of the room.
Whatever your preference may be, contrasting dark and light elements can create an elegant yet modern feel in your bathroom design scheme that will leave you feeling refreshed every time you step into it!
Industrial Style Fixtures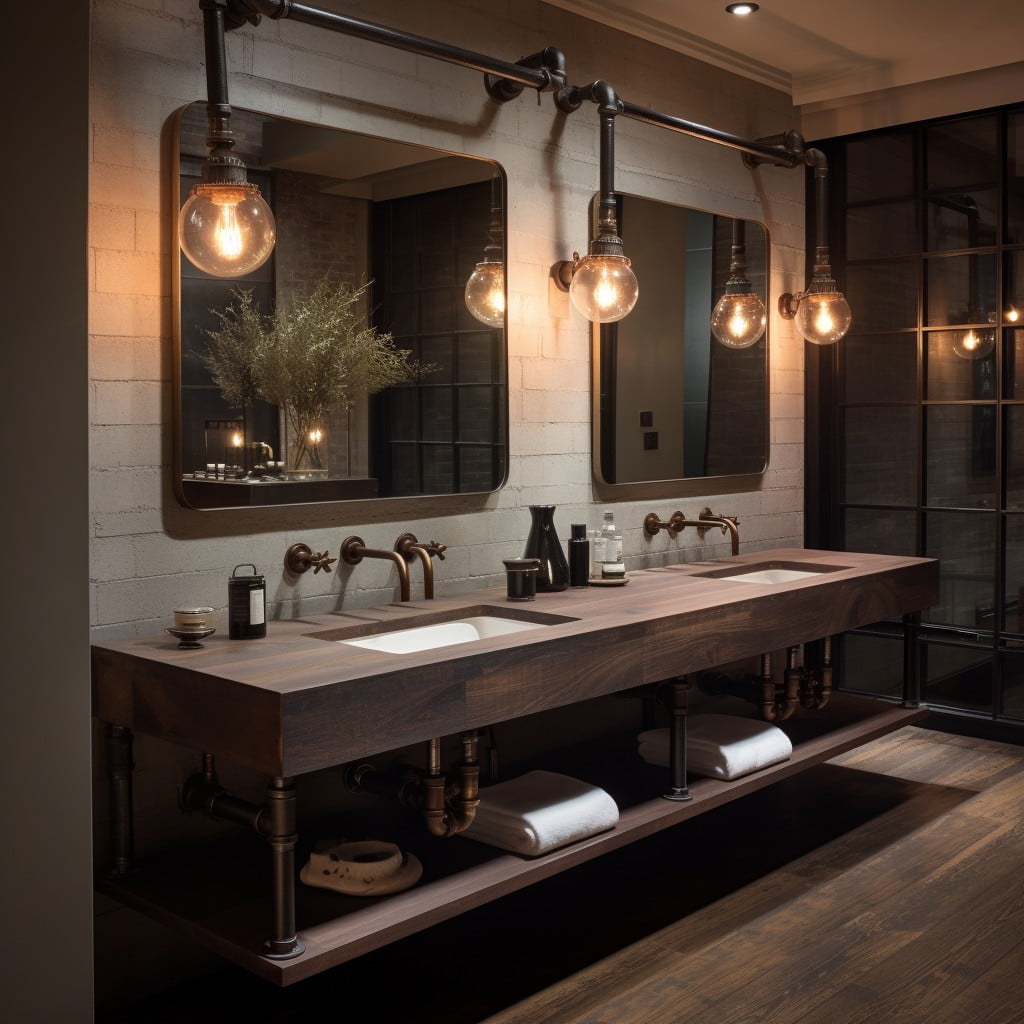 These fixtures often feature exposed pipes, metal finishes, and utilitarian designs that give the space an industrial feel. To incorporate this trend into your dual bathroom vanity design, consider choosing faucets with black or brushed nickel finishes and exposed piping underneath the sink.
You can also opt for light fixtures with cage-like designs or vintage-inspired bulbs to complete the look. Industrial style fixtures work well in bathrooms with concrete walls or floors as they complement each other perfectly by creating a cohesive aesthetic that is both stylish and functional at the same time.
Mirrored Storage Cabinets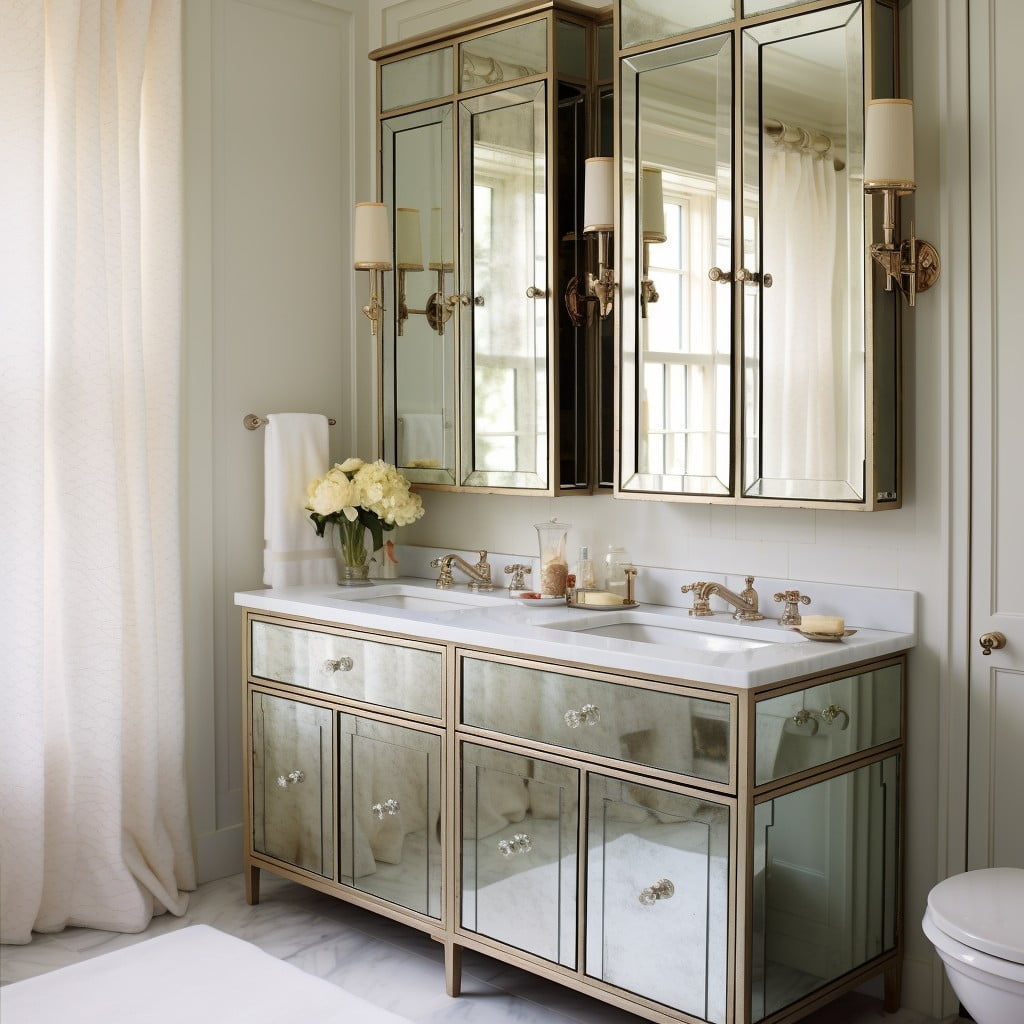 Not only do they provide ample storage space for all your toiletries, but they also reflect light and make the room appear larger. Mirrored cabinets come in various sizes and styles, from sleek modern designs to ornate vintage-inspired ones.
Some even have built-in lighting that adds an extra touch of luxury to your bathroom routine. Consider installing mirrored storage cabinets above each sink or on either side of the vanity for maximum functionality and style.
Open-shelving Storage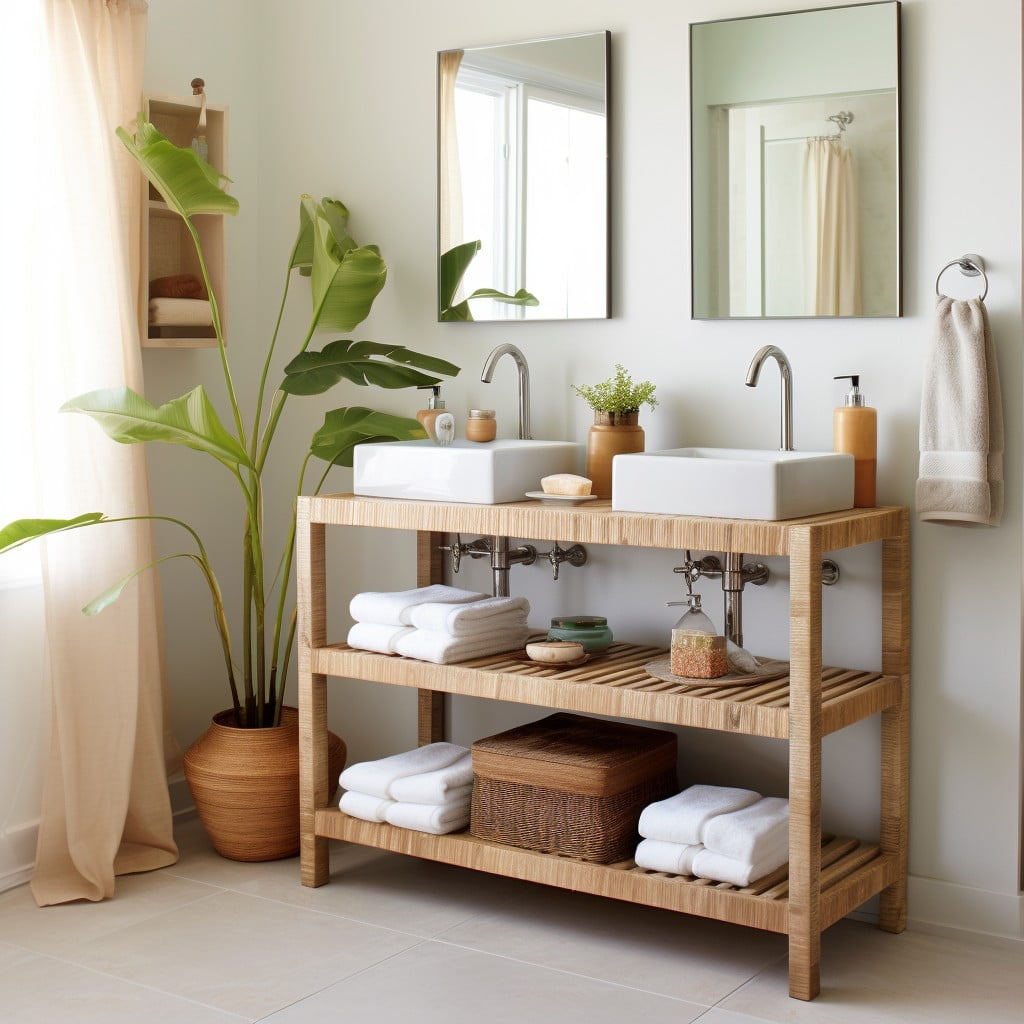 It's also perfect for displaying decorative items or storing frequently used toiletries within easy reach. To make the most of this style, choose shelves that match your vanity or wall color to create a cohesive look.
You can also mix and match different materials such as wood, metal, or glass to add texture and interest. Keep in mind that open shelving requires regular cleaning and organization since everything is on display – but it's worth it for the stylish impact it creates!
Unique Vessel Sinks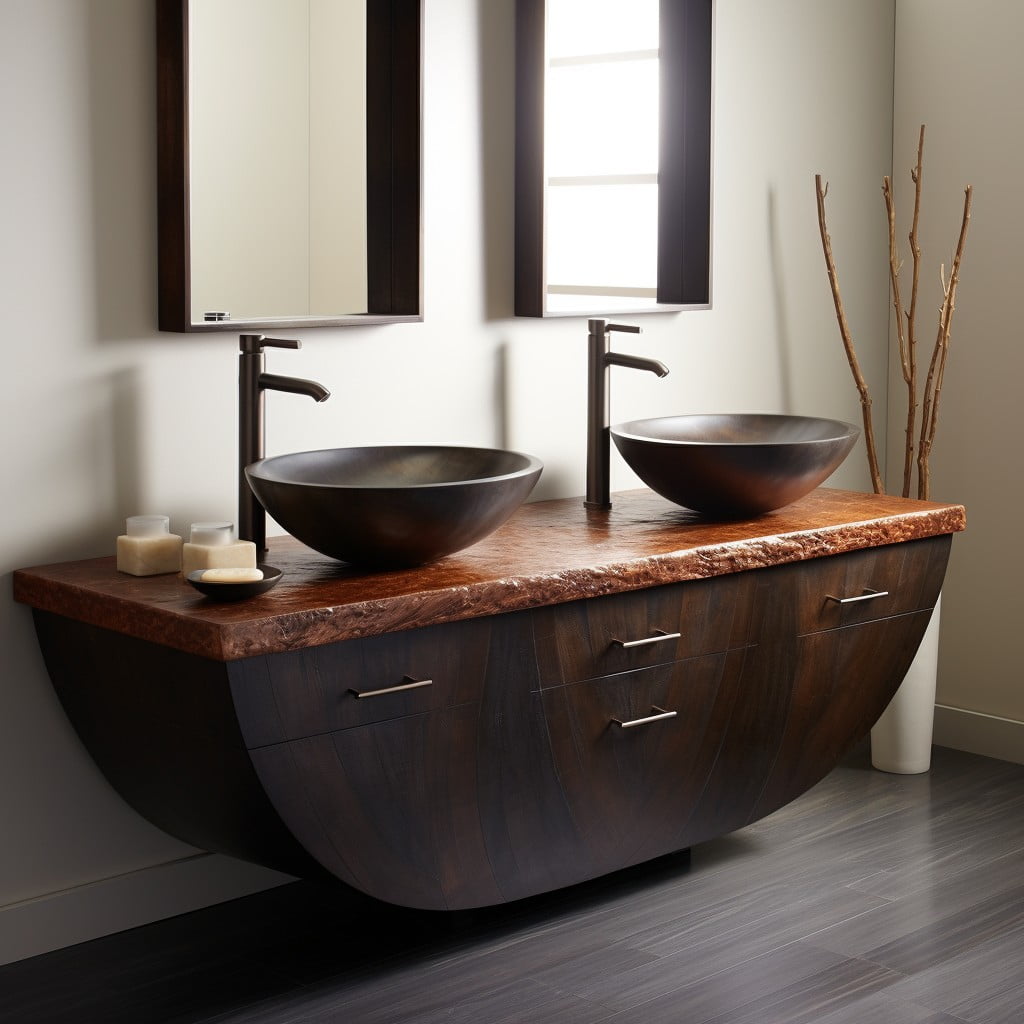 These types of sinks come in various shapes, sizes, and materials such as glass, stone or metal. They can be mounted on top of the countertop or recessed into it for a sleeker look.
Some popular options include bowl-shaped vessels that resemble natural stones like granite or marble, while others feature intricate designs with colorful patterns that make them stand out from traditional sink styles. Whatever your preference may be, incorporating unique vessel sinks into your dual bathroom vanity is sure to create an eye-catching focal point in the space while also providing functionality for everyday use.
Minimalist Wall-mounted Faucets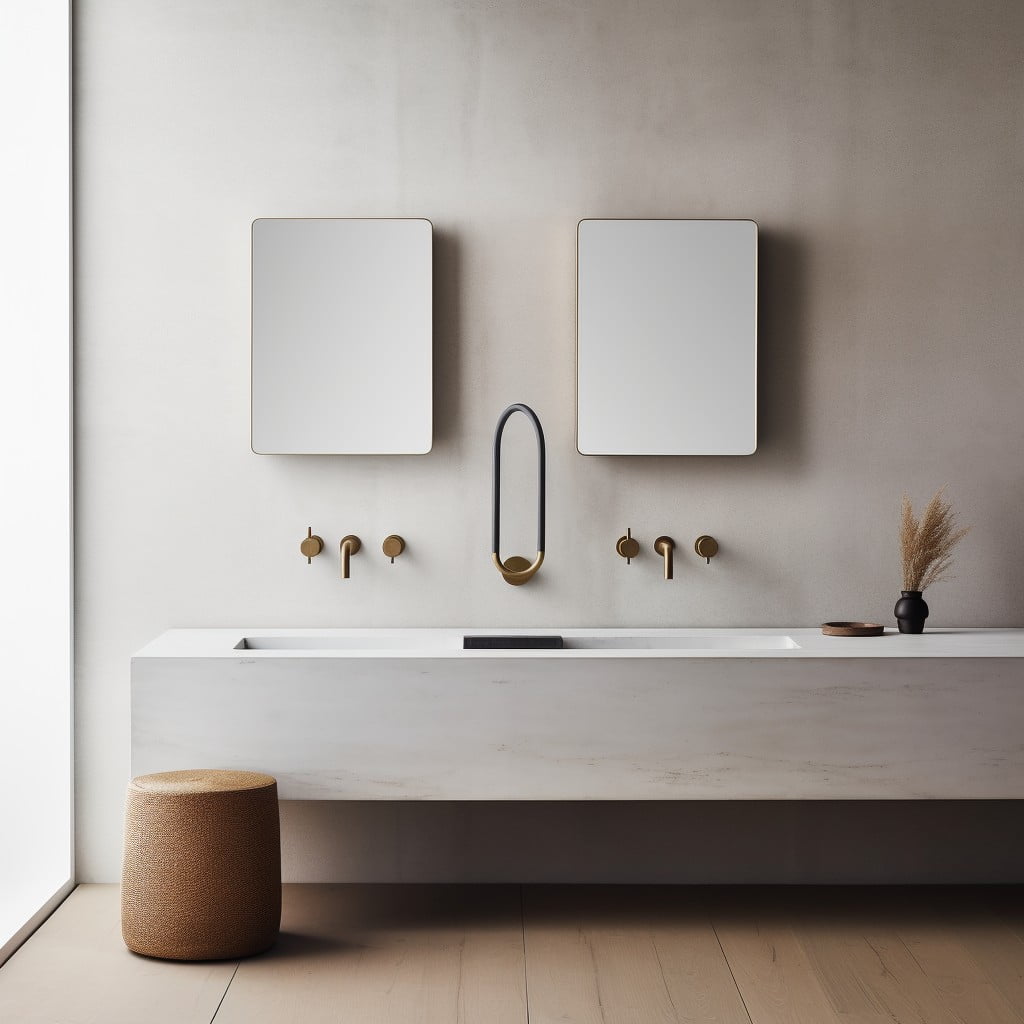 These types of faucets are mounted directly onto the wall, eliminating the need for bulky hardware or handles. This creates a clean and modern look that is perfect for minimalist design schemes.
Wall-mounted faucets also free up counter space, making it easier to keep your vanity clutter-free. They come in various finishes such as chrome, brushed nickel or matte black which can complement any color scheme you have in mind!
His and Hers Separate Spaces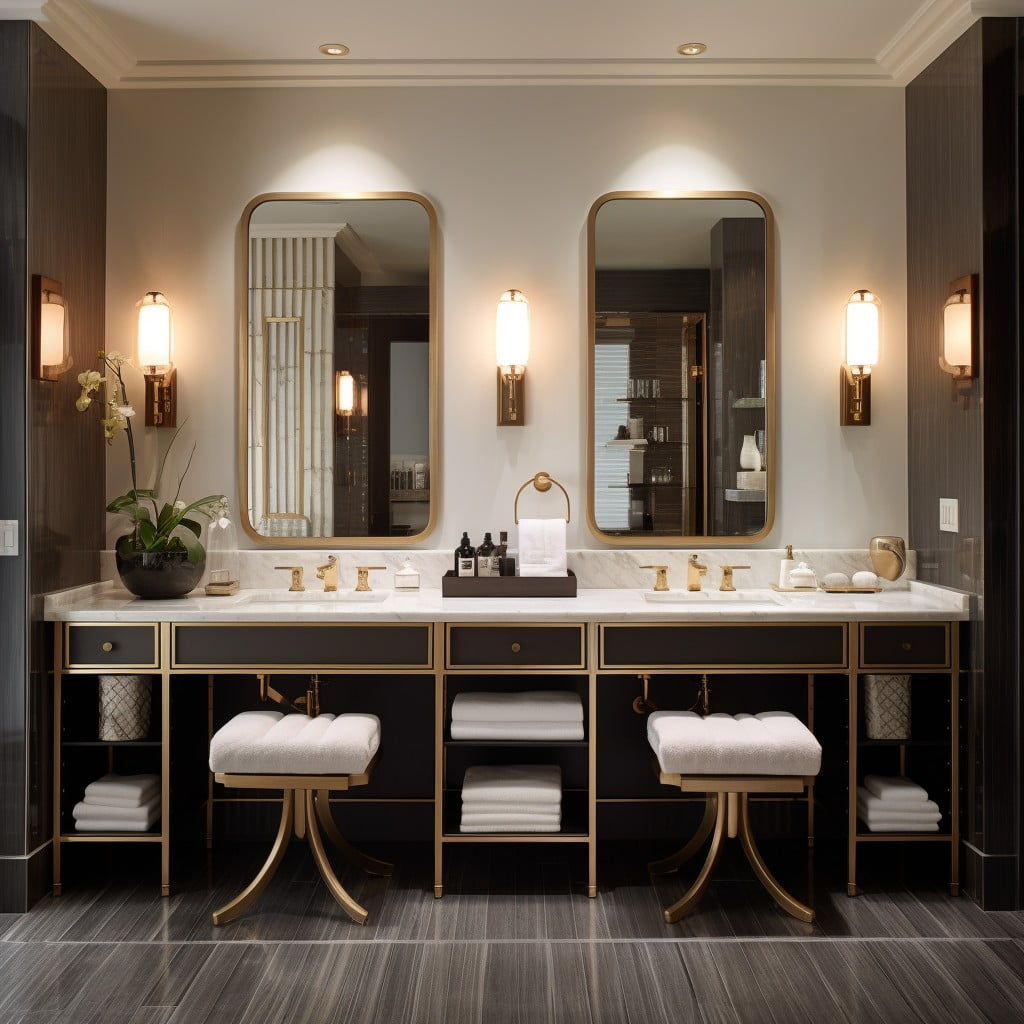 This design allows each person to have their own sink, mirror, and storage space without having to share. It also provides more privacy and eliminates any potential clutter or mess caused by sharing one vanity.
To achieve this look, you can opt for two identical vanities placed side by side or choose different styles that complement each other while still maintaining individuality. Adding personal touches such as monogrammed towels or unique decor pieces can further enhance the personalized feel of these separate spaces.
Glamorous Marble Countertops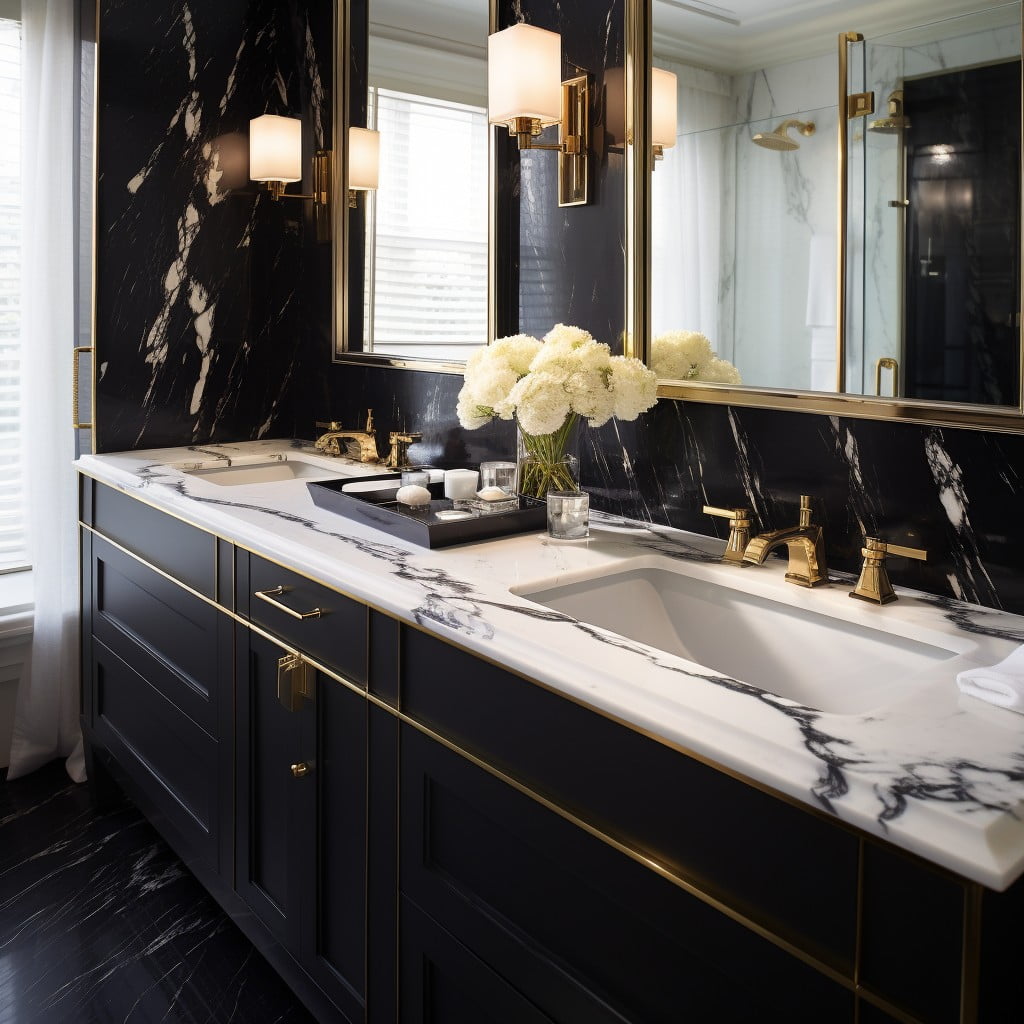 The natural veining in the marble creates a unique pattern that adds character to your space. Pairing marble with gold or brass fixtures can create an elegant and glamorous look, while pairing it with black accents can give it a more modern edge.
Keep in mind that marble is porous and requires regular maintenance to prevent staining or etching from acidic substances like lemon juice or vinegar. If you're willing to put in the effort, however, these stunning countertops will be worth every penny!
Statement Backsplash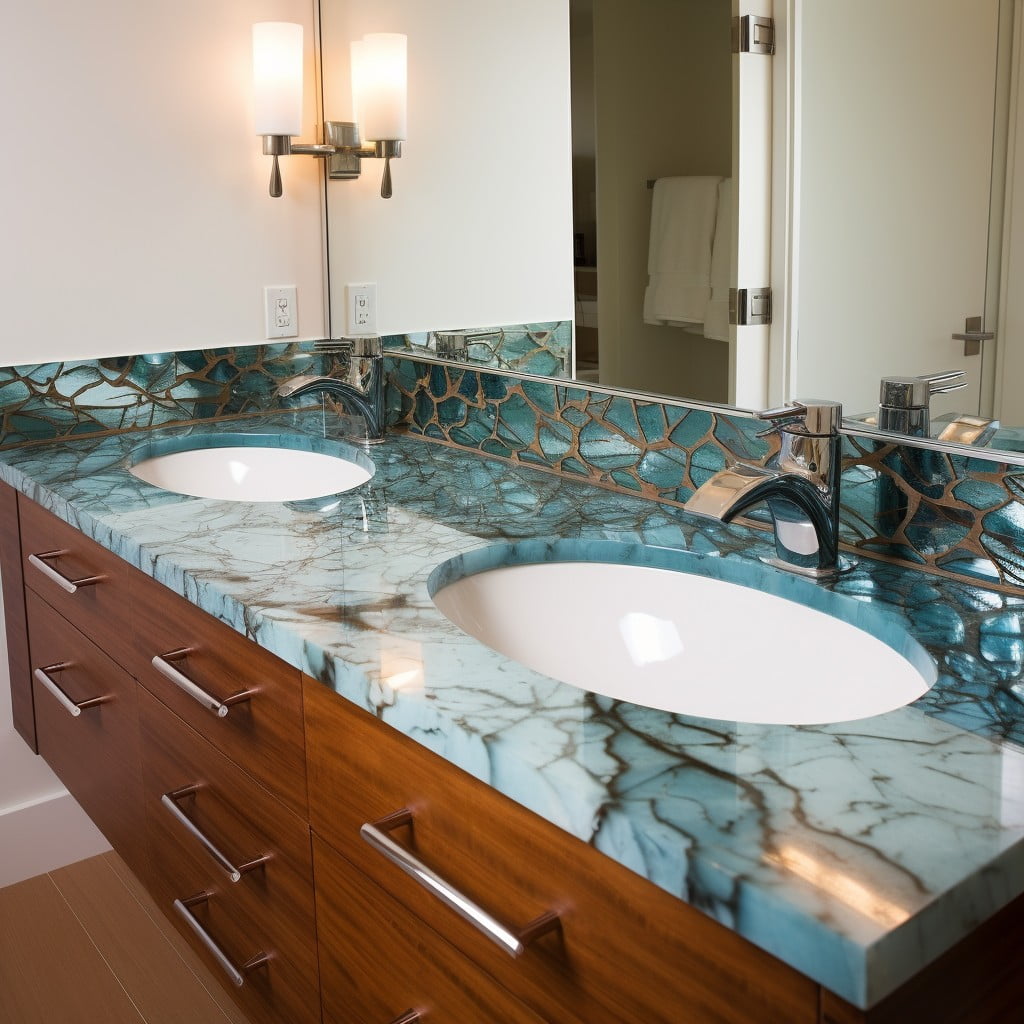 Consider using bold tiles, such as geometric patterns or colorful mosaics, to create an eye-catching focal point. Alternatively, you could opt for a unique material like mirrored glass or metallic tiles for added glamour and shine.
Whatever style you choose, make sure it complements the overall design of your bathroom while still standing out as a stunning feature on its own.
Luxurious Built-in Seating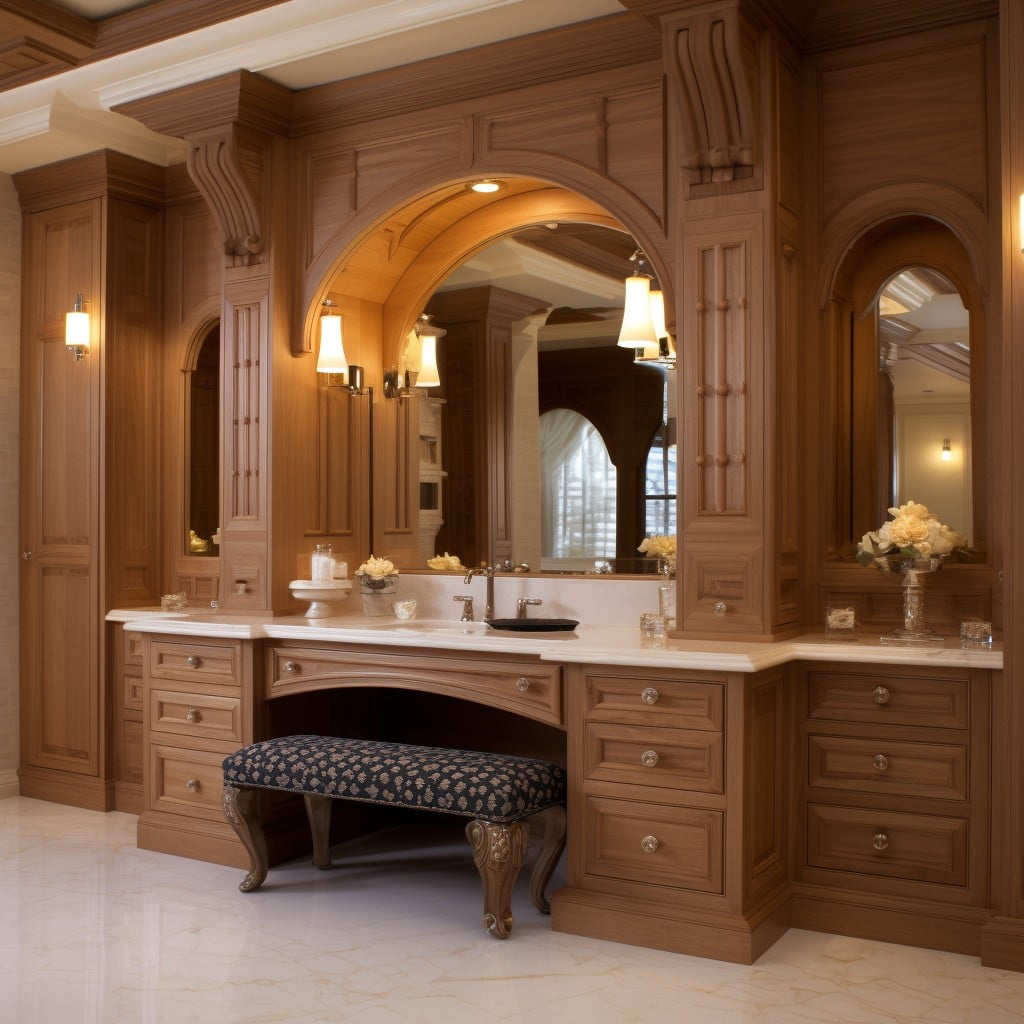 This feature not only adds an element of luxury but also provides a comfortable spot for getting ready in the morning or winding down at night. You can opt for plush upholstered benches or sleek wooden stools depending on your style preference and overall bathroom design.
Built-in seating can be customized with storage compartments underneath to keep towels and other essentials within reach while maintaining a clutter-free space.
Mid-century Modern Inspiration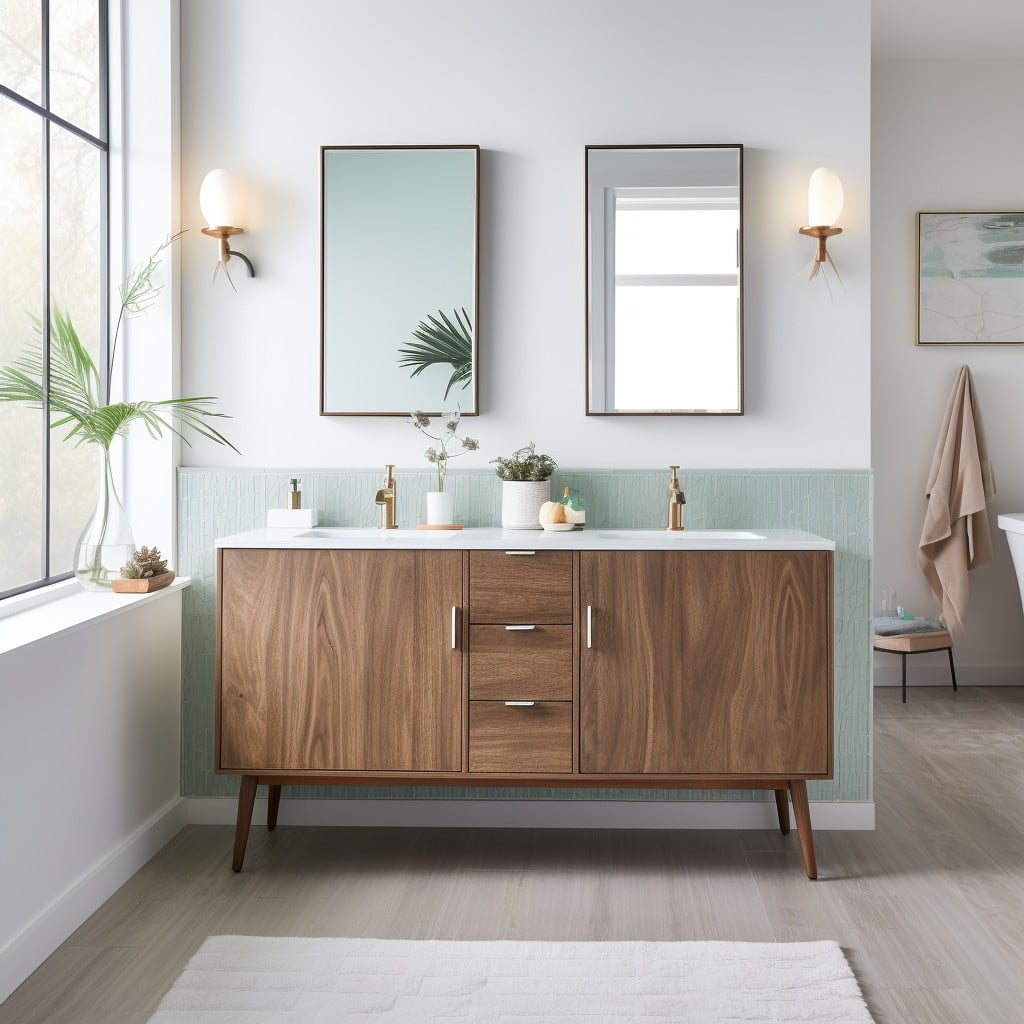 A dual vanity with clean lines, tapered legs, and warm wood finishes can create a timeless look that's both functional and stylish. Consider pairing the vanity with geometric patterned tiles or bold colored cabinetry for an added pop of personality.
Don't forget to incorporate mid-century inspired lighting fixtures such as sputnik chandeliers or globe pendant lights to complete the look!
Freestanding Dual Vanities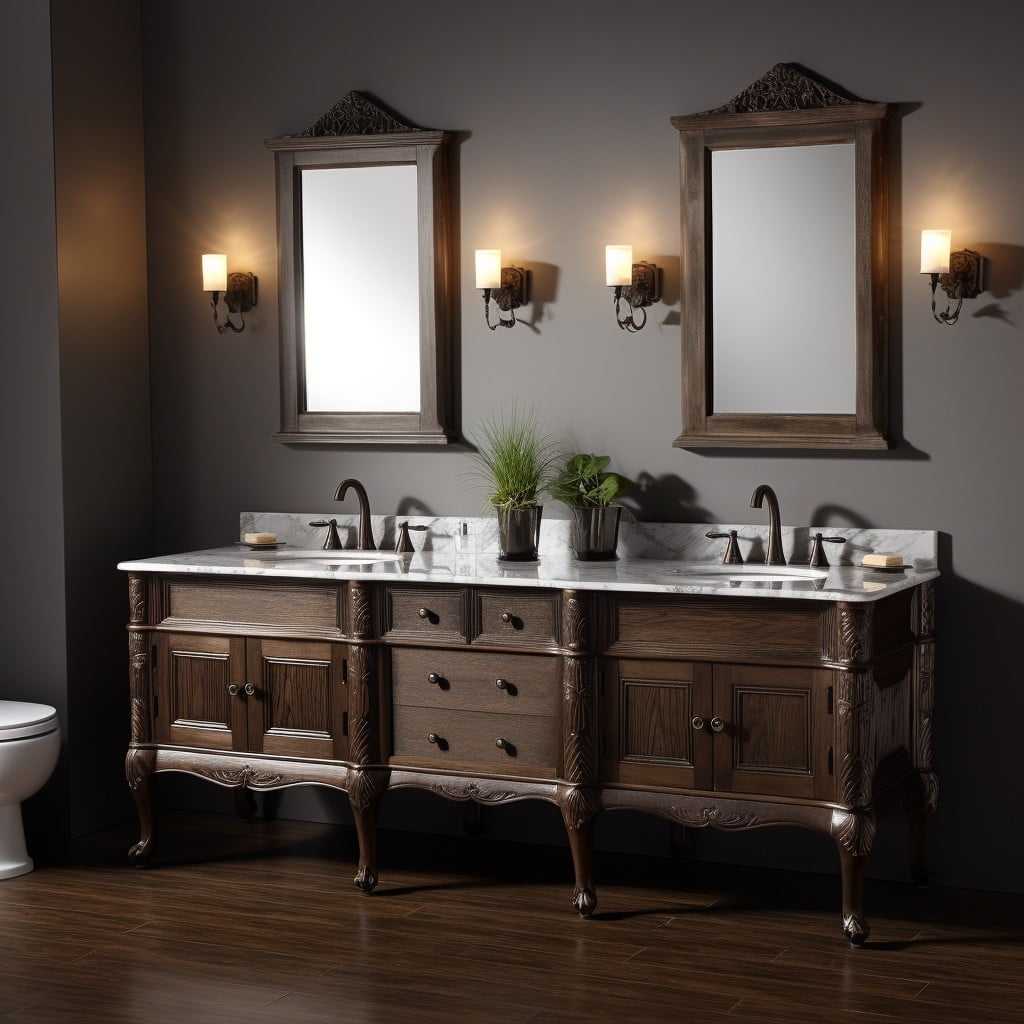 These vanities come in various styles, from modern to traditional, and can be made of different materials such as wood or metal. They offer ample storage space with drawers and cabinets that can be customized according to your needs.
Freestanding dual vanities also provide flexibility when it comes to placement since they don't need any support from the walls or floor. This means you can easily move them around if you decide to rearrange your bathroom layout later on.
Freestanding dual vanities are an excellent choice for anyone looking for a stylish yet practical solution for their bathroom design needs!
Eco-friendly Reclaimed Wood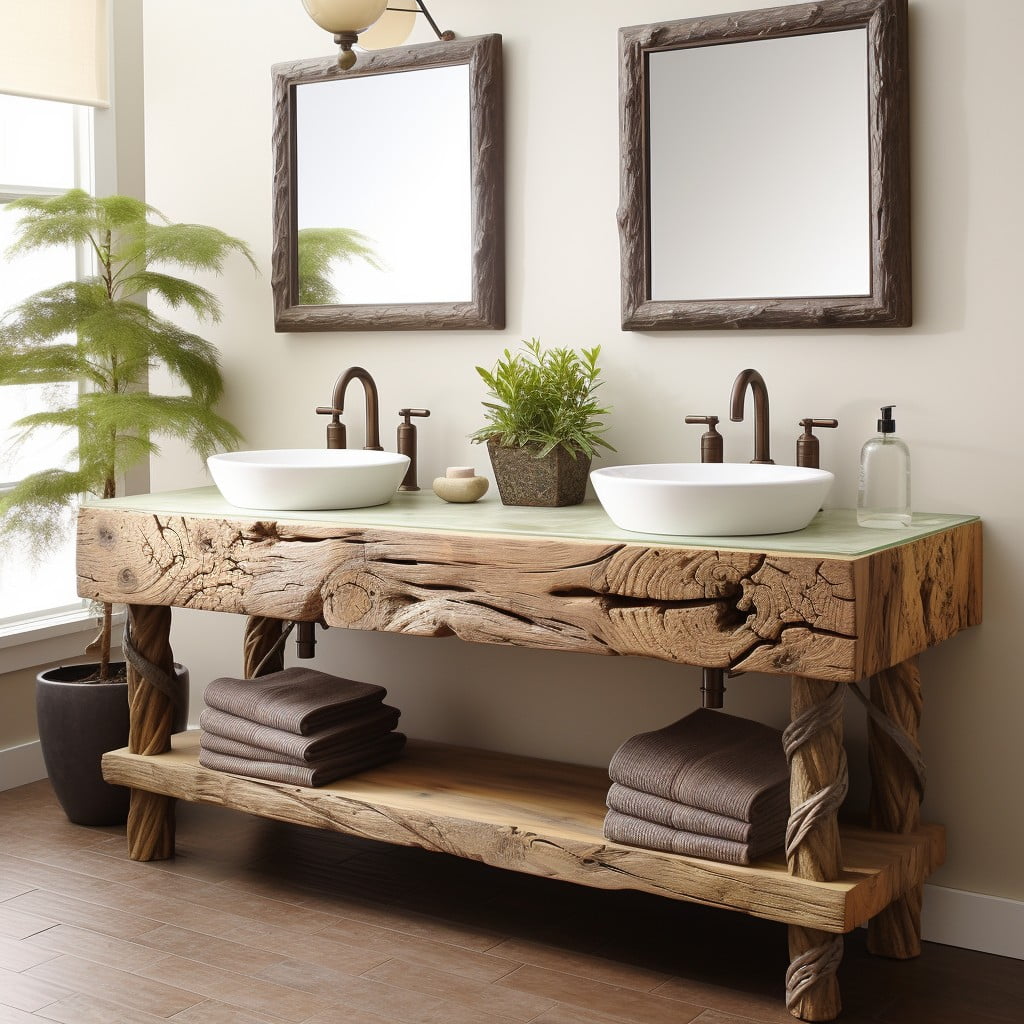 This type of wood is sourced from old buildings, barns, and other structures that are no longer in use. By using reclaimed wood instead of new timber, you can reduce the demand for virgin materials and prevent perfectly good resources from going to waste.
Reclaimed wood also adds character and warmth to any space with its unique textures and colors that cannot be replicated by new lumber. Incorporating eco-friendly materials like this into your dual bathroom vanity not only looks great but also helps protect the environment at the same time!
Geometric Tiles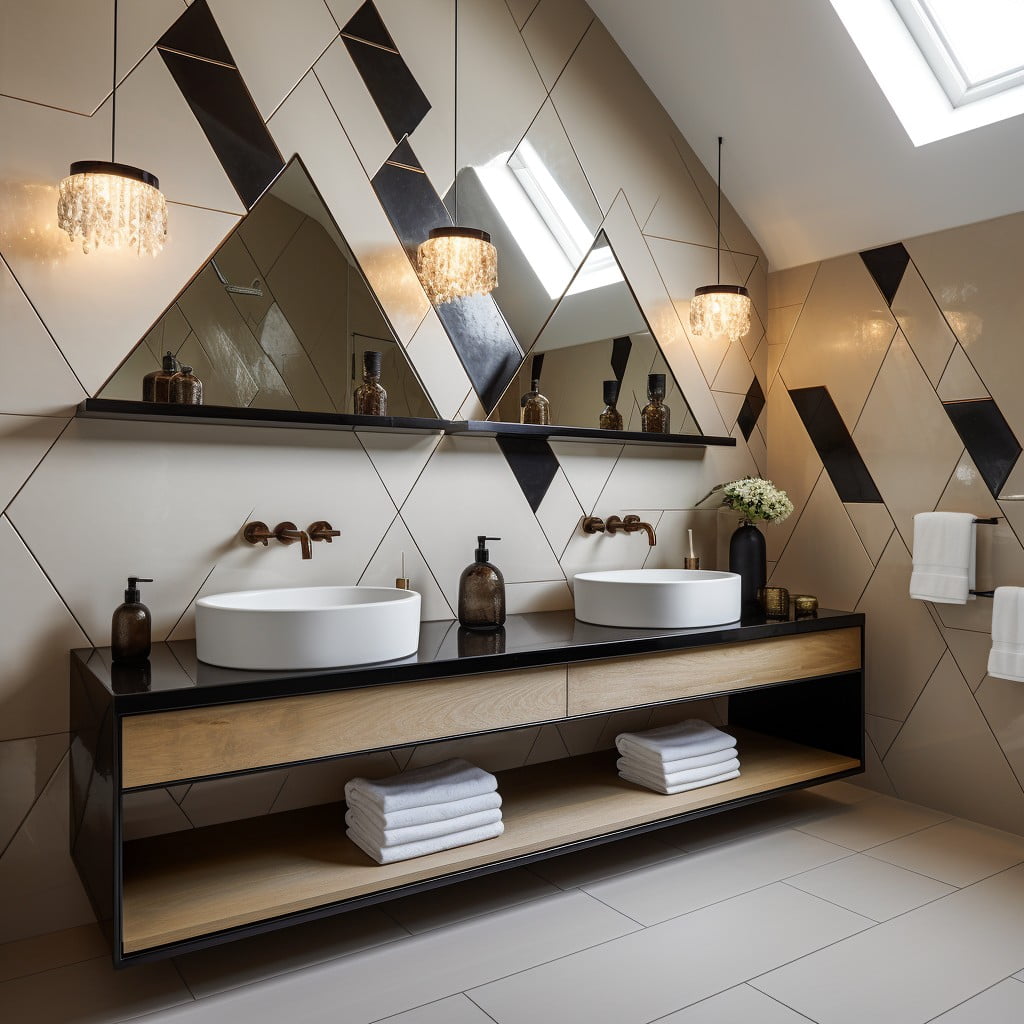 These tiles come in various shapes, sizes, and colors that can be arranged in endless patterns. You can opt for bold geometric designs or subtle ones depending on the overall style of your bathroom.
For instance, hexagonal-shaped tiles create an interesting honeycomb pattern while diamond-shaped ones give off a more classic look. Geometric tile patterns also work well with contrasting grout colors which further enhance their unique design features.
Whether you choose monochromatic or colorful geometric tile designs, they will undoubtedly make your dual bathroom vanity stand out as a stylish statement piece in any home décor setting!
Bold Colored Cabinetry
Whether you opt for a bright pop of color or a deep, moody hue, colorful cabinets can make your dual vanity stand out. For example, navy blue cabinets paired with brass hardware create an elegant and sophisticated look while emerald green adds drama and richness to the space.
If you're feeling adventurous, consider going for bold shades like hot pink or sunny yellow – just be sure to balance them out with neutral accents so they don't overwhelm the room. Bold colored cabinetry is perfect for those who want their bathroom design choices to make a statement that reflects their unique taste and personality!
Continue reading: