Last updated on November 15, 2023
Explore these fantastic hand towel gift ideas because they can effortlessly combine practicality with beauty and elevate everyday living.
Hand towels are not just a practical household item, they can also be transformed into creative gifts with a personal touch. Whether you're looking for ideas to spruce up your own home or searching for a unique gift, this article covers a variety of hand towel gift ideas.
From elegant embroidery to DIY towel origami, you'll find a wealth of inspiration here. Read on to discover how to turn a simple hand towel into a thoughtful present that anyone would appreciate.
All the details you need are right here, so let's dive into the world of hand towel gift crafting.
Monogrammed Hand Towels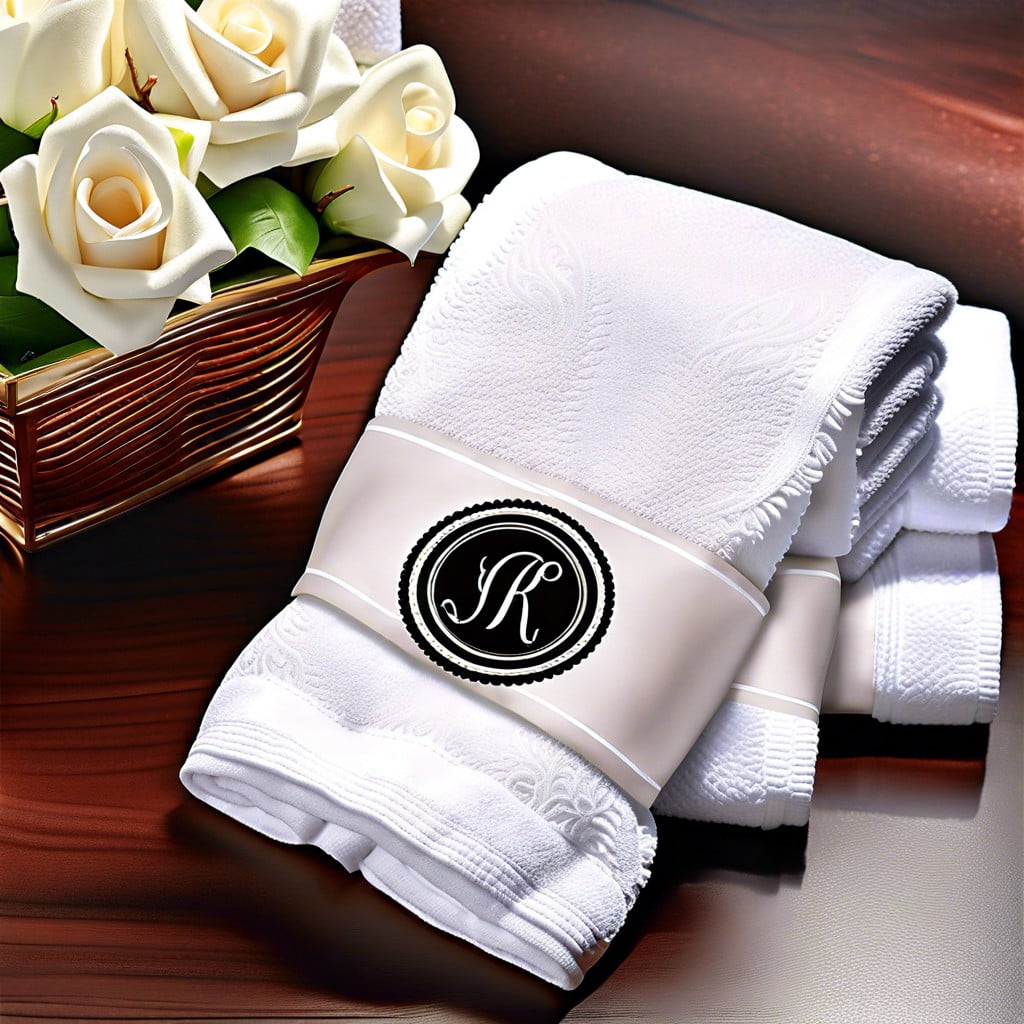 For a personal touch, consider a monogram. Stitched with care, these initials turn an everyday item into something special.
With a vast choice of typography styles and nuanced thread colors, customization can perfectly match any bathroom décor.
Whether a lavish script or bold block letters, a monogrammed hand towel adds an elegant signature.
Besides aesthetics, this touch brings practical benefits. With initials adorning each towel, household members can easily identify their own, thus promoting hygienic habits.
Consider it an upgrade from mere functionality as—through meticulous design, excellent material choice, and skillful craftsmanship—these towels exude a sense of sophistication that boosts the overall ambiance of the room it inhabits.
Spa-themed Towel Set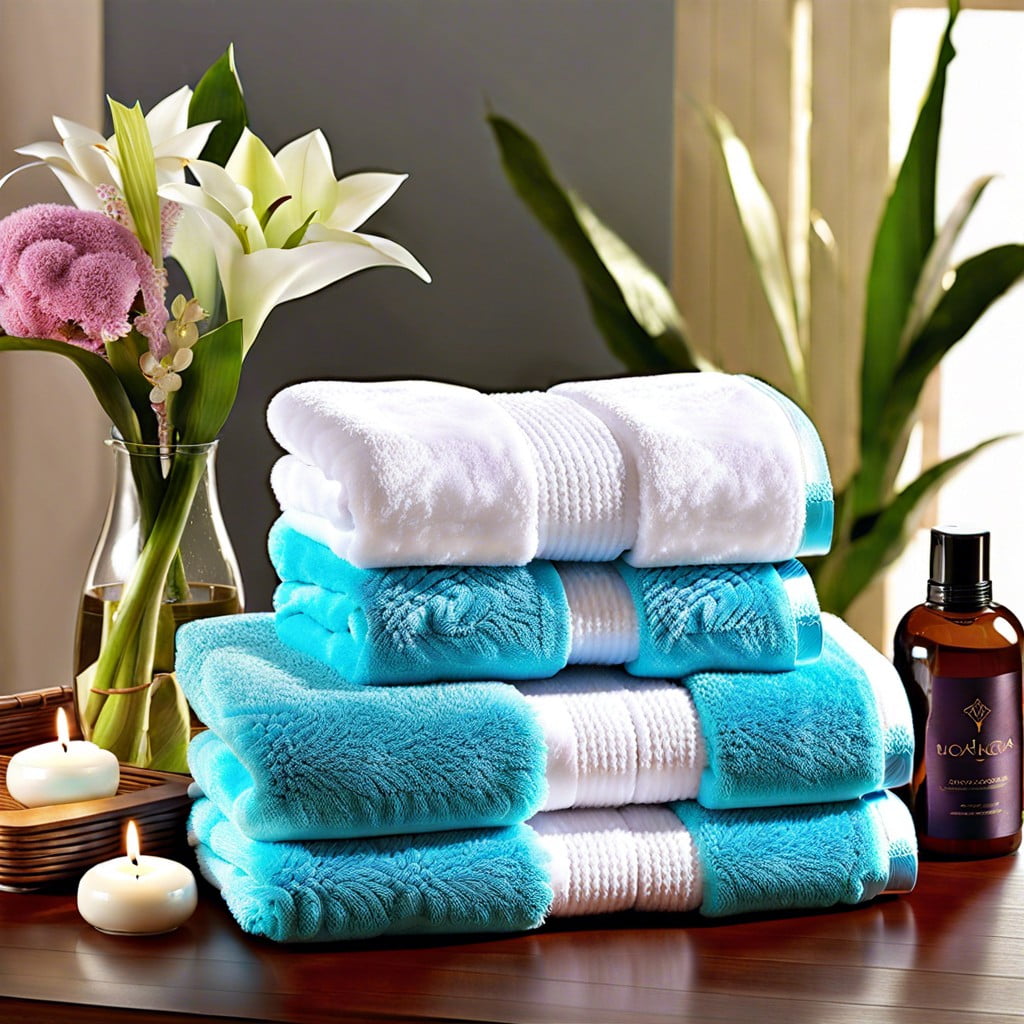 Crafting a spa-themed towel set is an art in itself. Start by selecting premium quality, super-soft bath and hand towels. Ensure they are in serene shades such as white, beige, or light blue to reflect the calming ambiance of a spa.
Next is the fragrance – think about infusing the towels with essential oils, lavender or eucalyptus are top picks for their relaxing properties.
Presentation can be equally impressive. Wrap them using natural materials like jute and accentuate with dried lavender sprigs or eucalyptus branches. Now that's a gift reminiscent of a luxurious spa day right at home!
Moreover, go a step beyond and add matching bathrobes and slippers or even spa accessories like a face towel, scrubbing mitts, or a loofah. This creates a complete package. Remember, it's all about evoking an experience, not just a useful item.
Fragrant Lavender Infused Hand Towels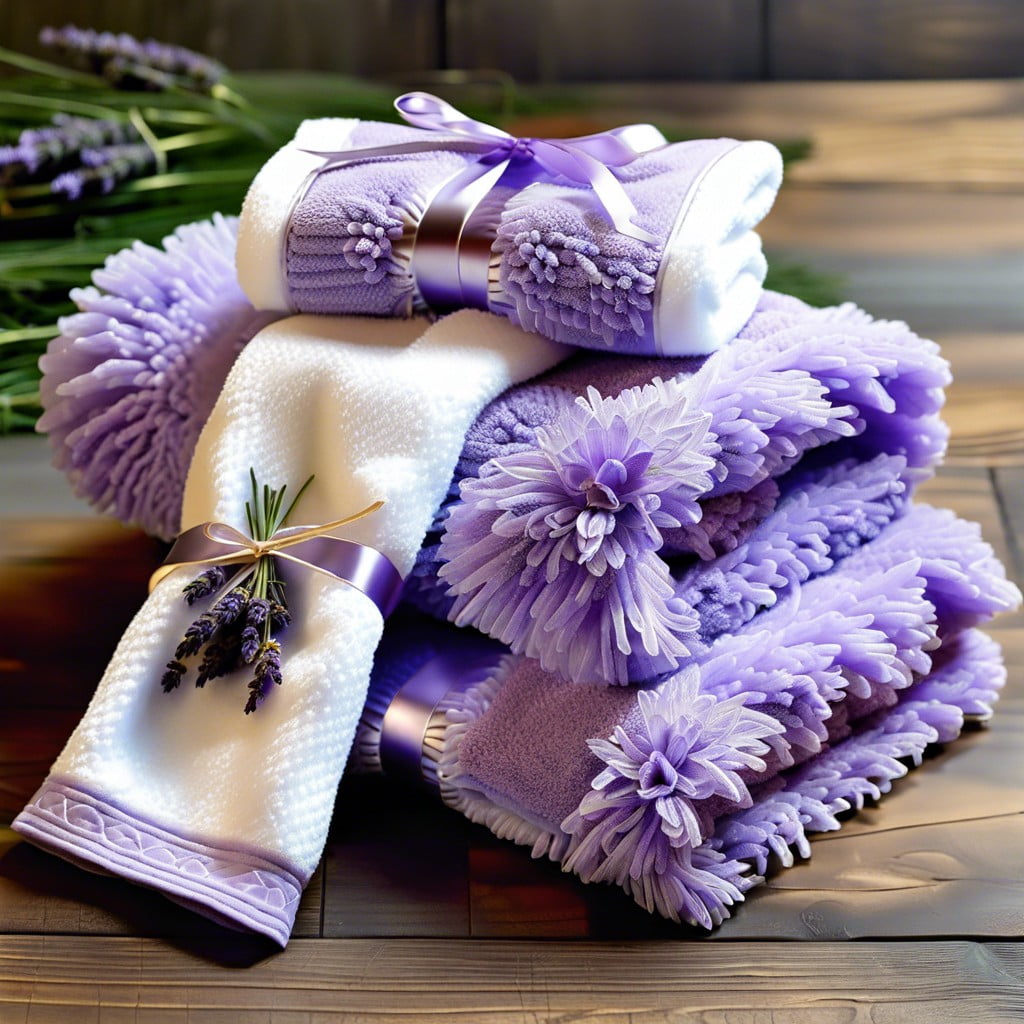 Embarking on a journey of sensory delight, let's delve into the world of scented cotton. An unexpected but positively delightful surprise, the infusion of relaxing lavender into soft, absorbent hand towels creates not only a functional bathroom staple but a way to subtly perfume your surroundings.
– Lavender-infused towels offer natural relaxing properties, making them perfect for achieving a calming ambience post-bath or during face cleansing rituals.
You'll find small pouches of dried lavender tucked within the folds of the towels, slowly releasing its fragrance with each use.
– Lavender's natural antibacterial properties double as a deterrent for towel mildew.
Since the aroma isn't strong enough to be overpowering but rather lightly diffuses around its presence, guests will be treated to a mild aromatic experience.
Use these towels as a way to elevate regular household items into something more special and thoughtful.
Pick lavender-infused hand towels for everyday luxury. They're perfect for getting that spa-like experience right at home.
Remember, these towel wonders work two-fold; they dry hands sumptuously and provide a soothing lavender aroma that lingers long after use. It's not just a towel; it's an aromatherapy experience cloaked under the pretext of a regular household item.
Designer Luxury Hand Towels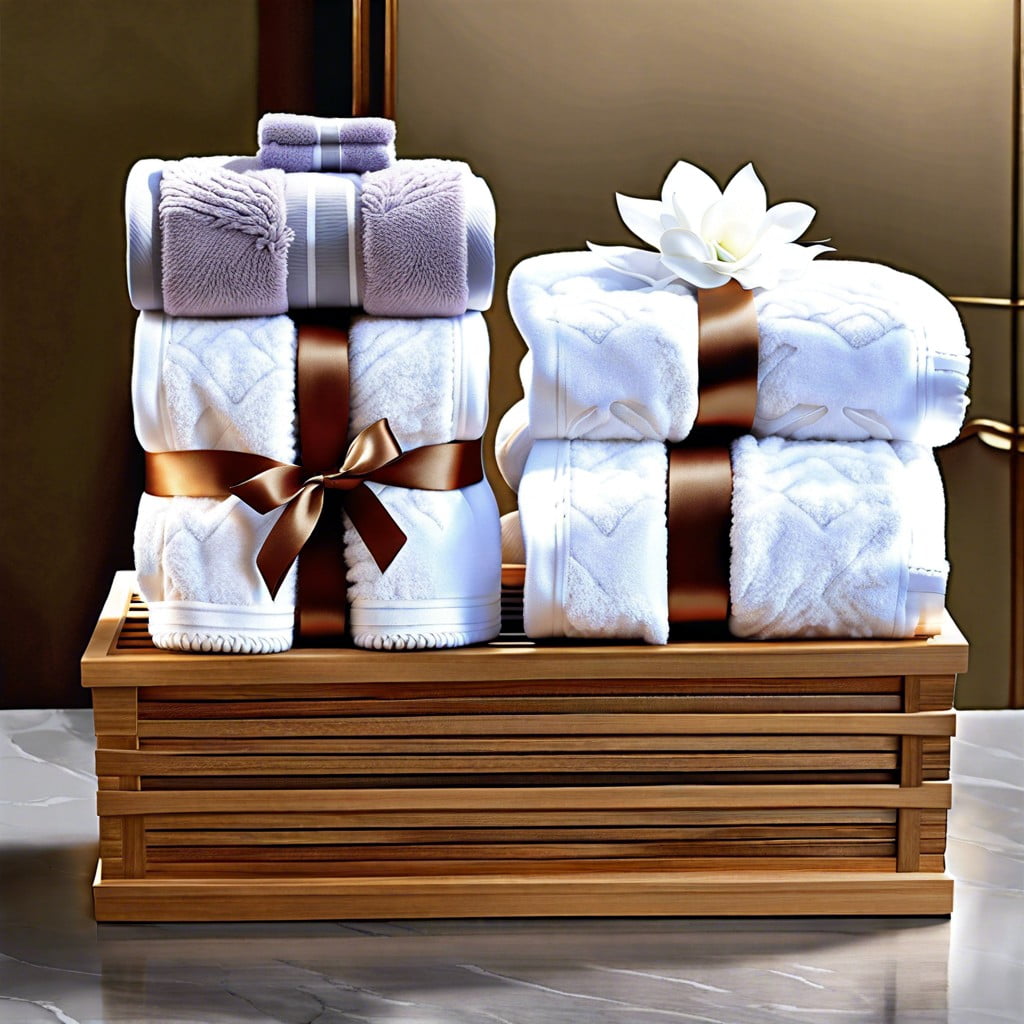 One can't help but swoon over the opulence that designer luxury towels bring to your bathroom aesthetics. These are not just any towel – they double as a stylish accessory. Brands like Versace, Gucci, and Ralph Lauren offer an exquisite line of premium quality hand towels.
With materials like Egyptian or Pima cotton, you not only get an absorbent and durable towel but a piece of decor that elevates your bathroom presentation. By choosing various patterns, colors, and styles, you can match these designer towels to your decor theme. It's indeed a splurge but worth the pinch for the class and comfort they churn out.
Remember that proper care is essential: most luxury towel brands recommend avoiding harsh detergents and fabric softeners to maintain their luxe feel and longevity.
Personalized Photo Printed Hand Towels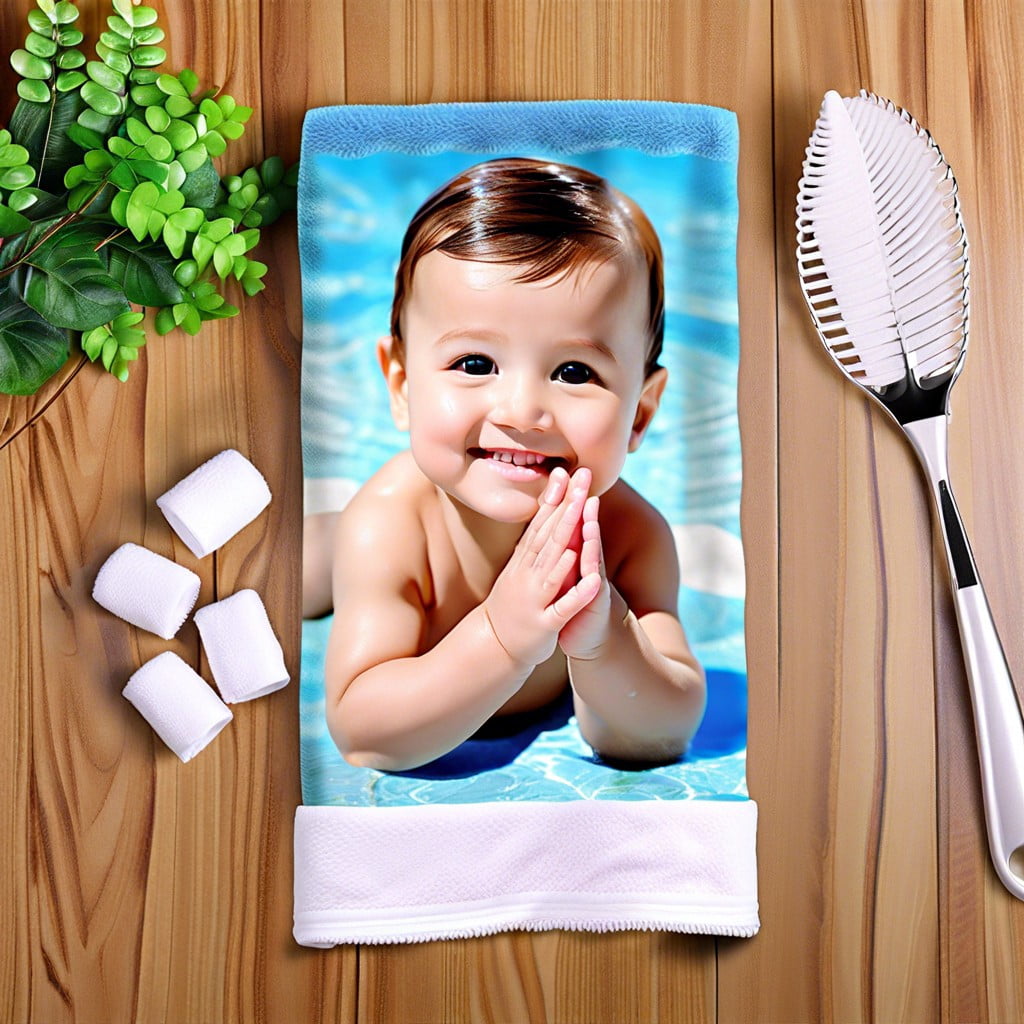 Personalized photo printed hand towels make for a wonderfully custom gift. With an array of online digital printing services such as Shutterfly and Snapfish, the process is simple and straightforward.
Start by choosing your favorite high-resolution photo — family portraits, holiday snaps, or pet images are all great options. Next, pick your desired towel size and fabric. You'll then upload your image, adjust it to fit the towel's format, and place your order.
A bonus is you can often include text as well — consider a heartfelt quote or fun phrase. The end product? A functional piece of home décor that showcases a treasured memory.
Fun and Whimsical Animated Character Towels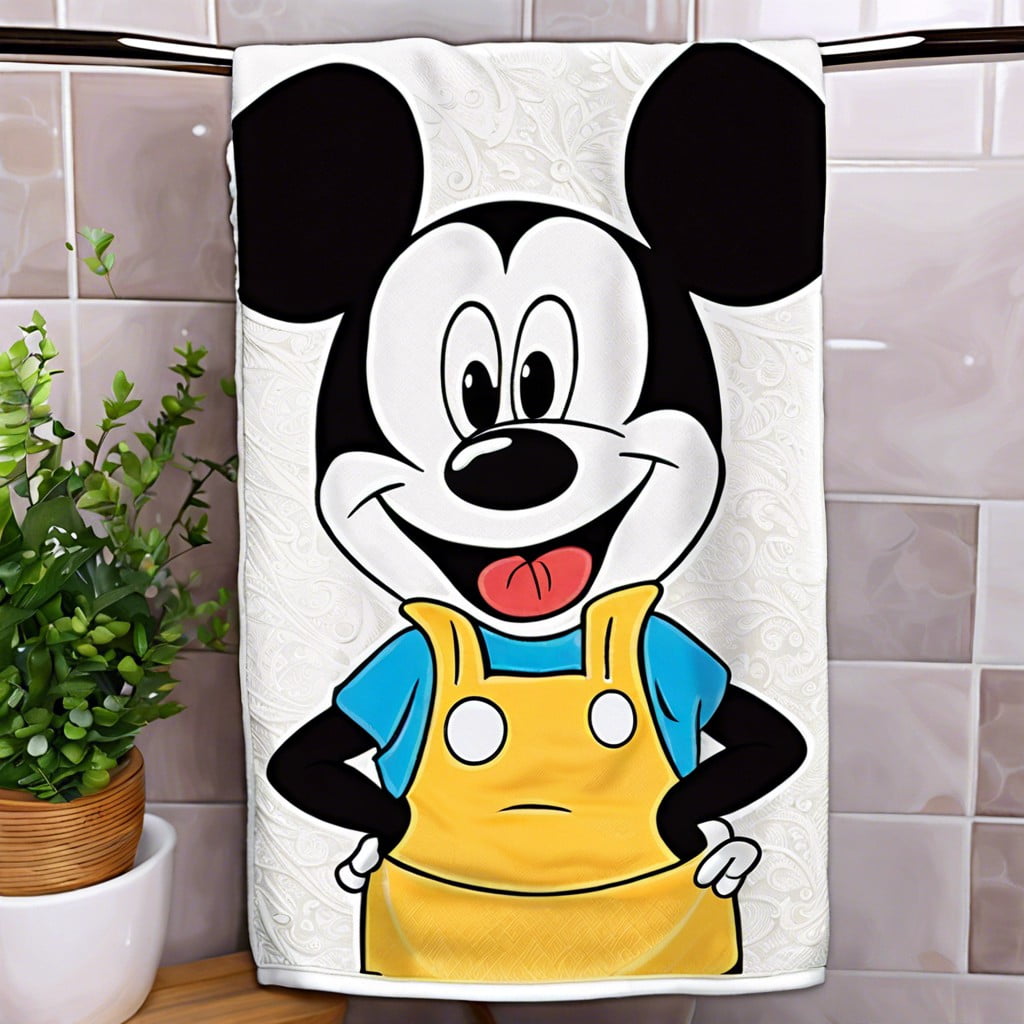 These towels can bring a touch of whimsy to any bathroom. A favorite amongst kids and adults alike, they're imprinted with a wide array of beloved animated characters. Make sure to pick ones that reflect the recipient's personal taste.
Perfect for animation lovers: Whether they're fanatic about Frozen or mad about Mickey Mouse, get a towel featuring their favorite character.
Variety of designs: These towels come in a wide range of colors and patterns to suit everyone.
Useful for all ages: They're not just for children; adults can also enjoy a bit of nostalgia with characters from classic animations.
Exciting bath times: They make bath times more fun for kids, encouraging hygiene habits.
High-quality material: These towels often have soft, absorbent fabrics for ultimate comfort, just ensure to check the material before buying.
Personal touch: If you're feeling creative, consider having the gift recipient's name added to the towel for a personal touch.
Christmas-themed Hand Towel Set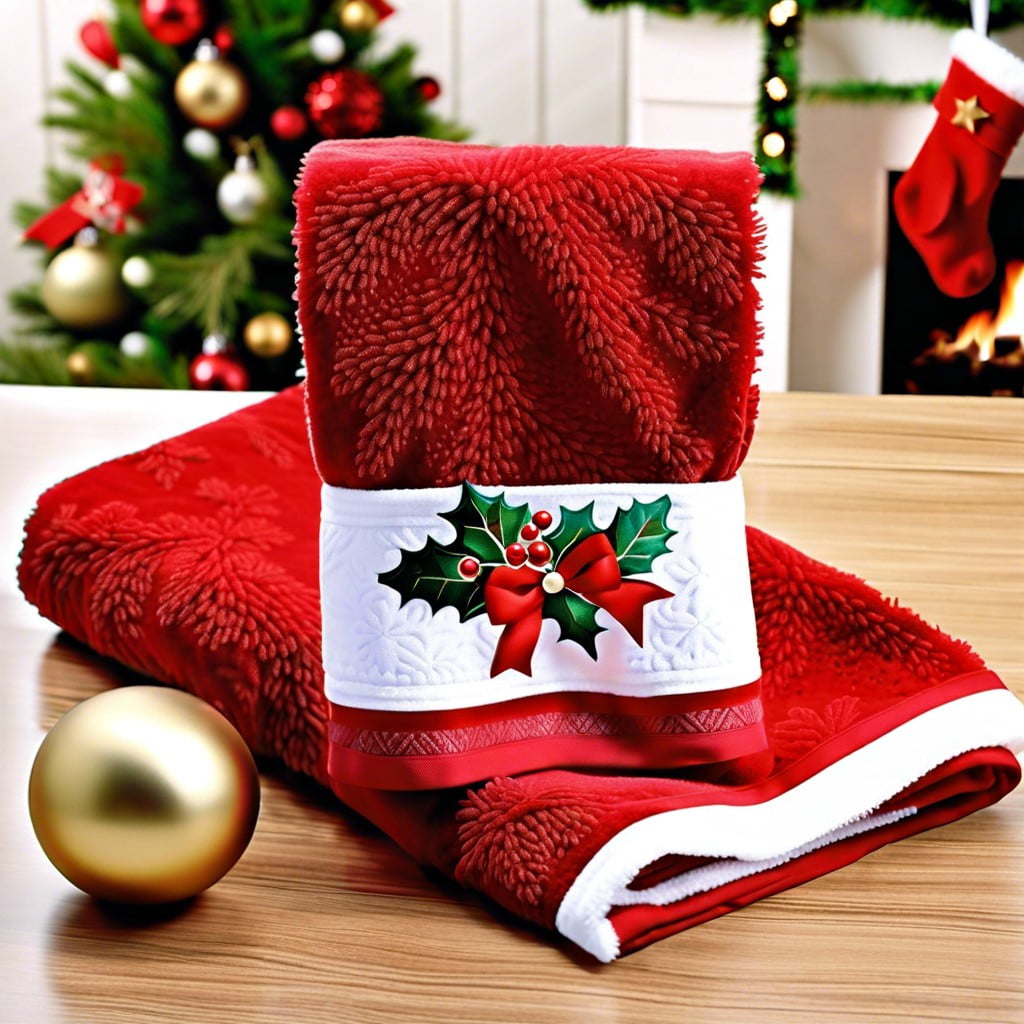 Imagine the love and warmth of the holiday season captured in a functional gift – that's what the festive set does best. This set usually features multiple hand towels, each adorned with Christmas motifs. From reindeers and snowflakes to Santa and his sleigh, these little soft pieces carry the holiday cheer right into the bathroom or the kitchen. They are usually made from an absorbent material, often cotton, to be as functional as they are attractive.
In addition to being pretty, they are practical too. One can use them to wipe hands, dry dishes, or even as festive table linen. Most are machine-washable, which makes clean-up a breeze after the holiday feast. It's a delightful gift that blends aesthetics and functionality while keeping the Christmas spirit alive in an unexpected corner of the house.
Fitness Enthusiast's Gym Towel Set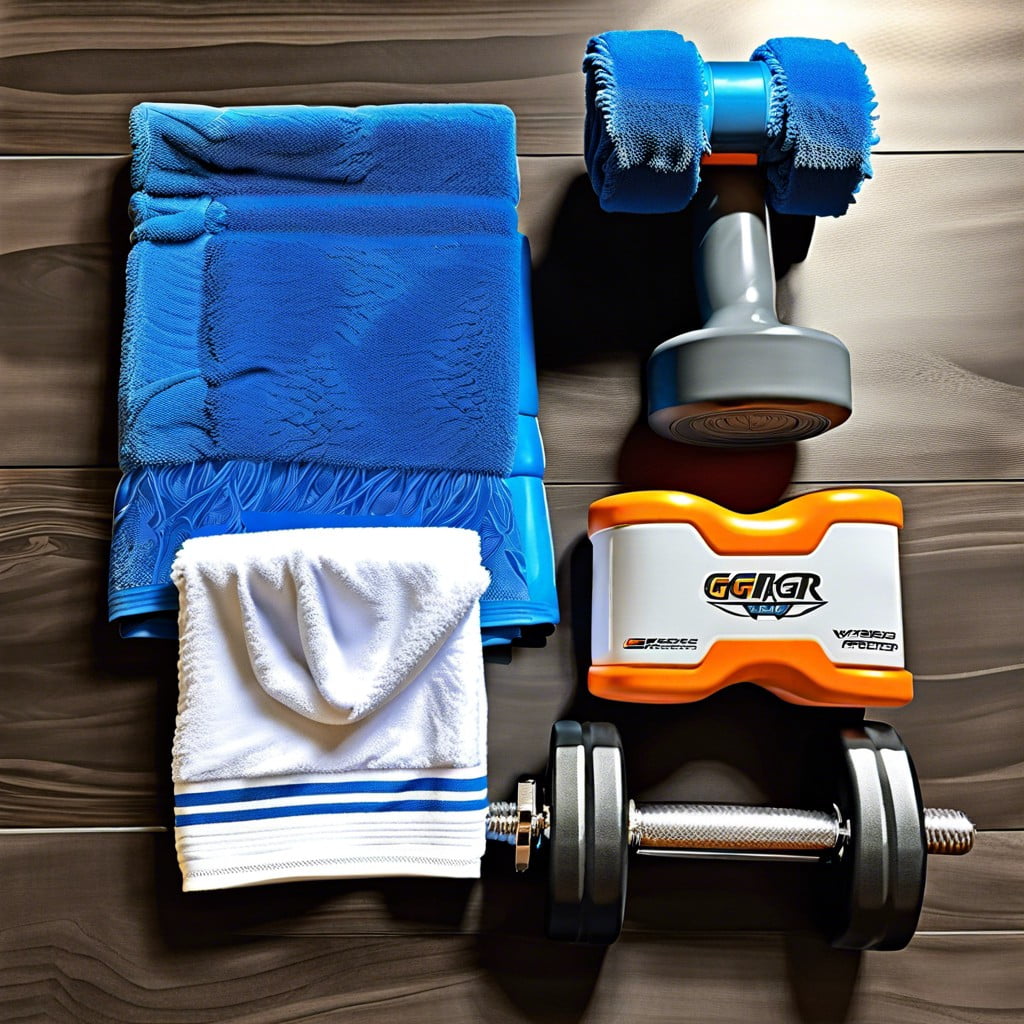 Cashmere Blend Soft Hand Towels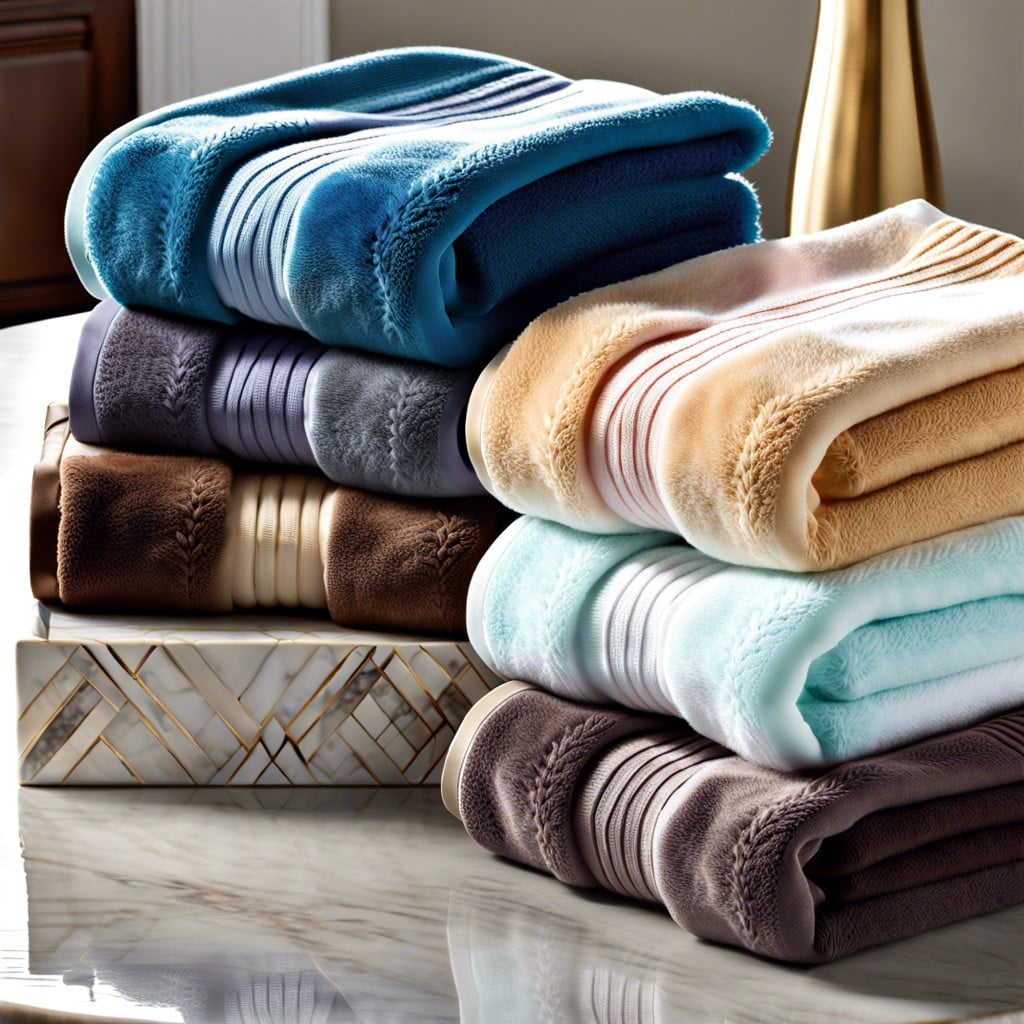 When it comes to the perfect balance between luxury and utility, the cashmere blend is the way to go. Unparalleled for their softness, these towels not only offer a plush feel but also possess an impressive ability to absorb water, making them practical as well as plush!
Here are some worth-knowing points about them:
1. These towels are a fusion of cashmere and other natural fibers, combining the finest characteristics of each.
2. They are renowned for their long-lasting softness which deepens with each wash, offering an ever cozy experience.
3. The natural fibers allow breathability, making them an ideal choice for all climate conditions.
4. The cashmere blend provides a distinctive luscious look enhancing the ambiance of your bathroom.
5. They come in various colors and designs, providing a range of aesthetic styles to choose from.
Remember, cashmere blend towels require a bit more care than regular towels, but are well worth the extra attention. Ideal as a gift, they bring a slice of everyday luxury to any home.
Travel Sized Hand Towel Set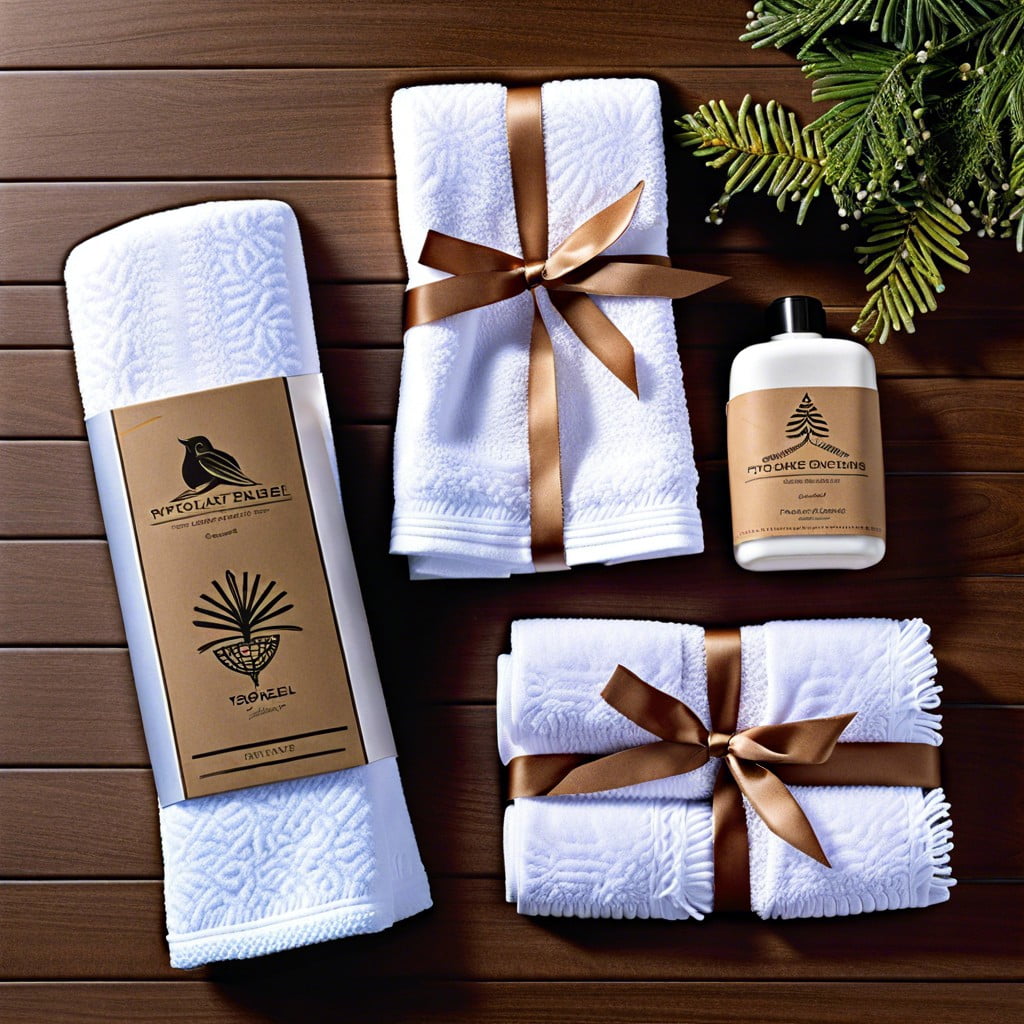 The perfect companion for any trip, these travel-sized hand towels are both practical and chic. Sucring their compact nature, they easily fit into your luggage, freeing up space for other essentials. Plus, their usefulness extends beyond trips. They are fantastic to keep in your car or day bag, ensuring you are always prepared for unexpected spills or messes.
Here are some points to consider:
Material: Always choose quick-drying microfiber or lightweight cotton for easy packability and quick drying capability.
Size: Make sure they're small enough to fit in your carry-on but large enough to be functional.
Set: Opt for a set. This allows you to have a fresh towel available even if one is in the wash.
Stylish and Personal: Fun prints or colors can brighten up your travel experience, and finding travel-sized towels with a personal touch can add that little extra comfort from home.
Easy to Clean: Towels that are machine-washable and dryable are a must.
Remember, incorporating comfort from home while on the go can exponentially improve your travel experience.
Turkish Cotton Hand Towels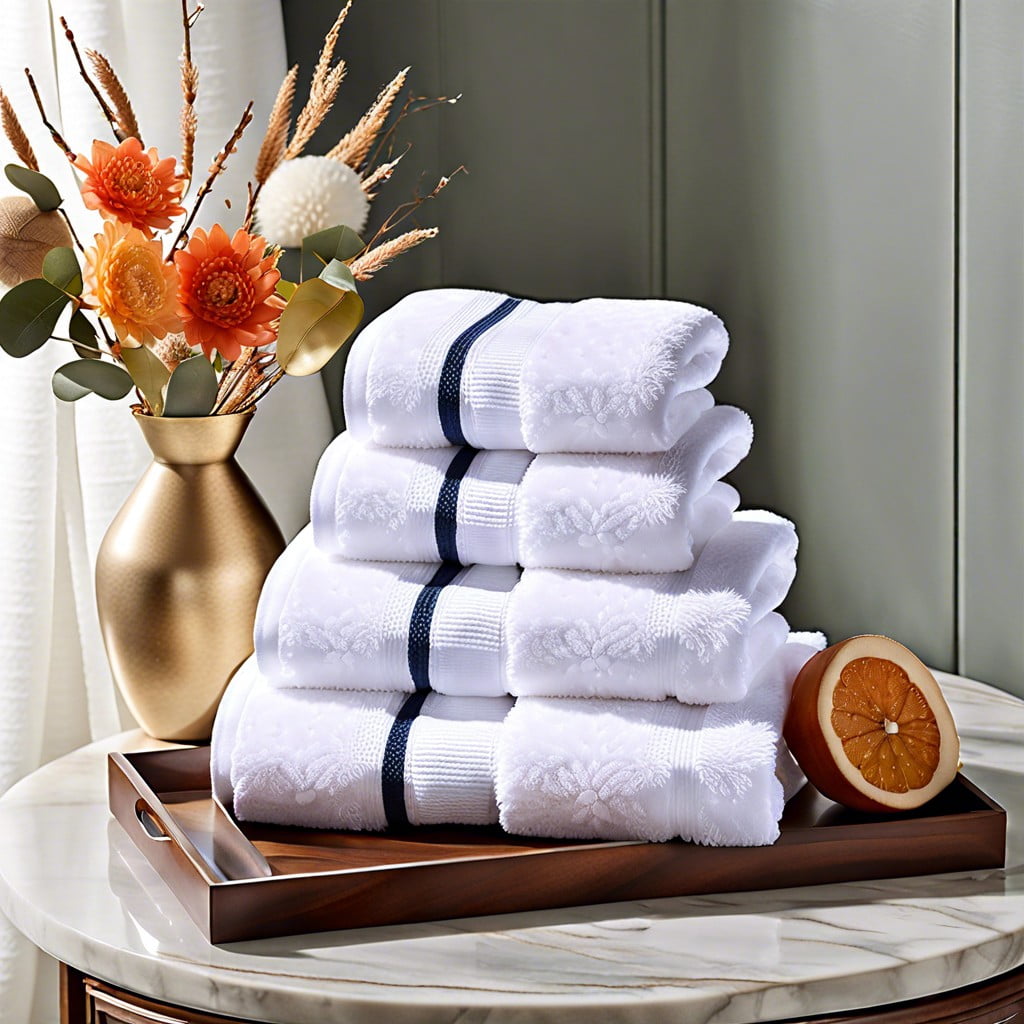 Offering a superior blend of comfort and practicality, these towels are grown exclusively in the Aegean region. The main qualities that set these hand towels apart include:
High Absorbency: Exceptionally thirsty, they absorb water quickly, allowing quick drying of the hands.
Long-lasting Softness: Even after multiple washes, their texture remains soft and luxurious.
Durable: Turkish cotton fibers are naturally long and robust, resulting in towels that endure time and frequent usage.
Luxurious Look and Feel: The natural luster of Turkish cotton lends these towels a unique appeal, while the texture pampers the skin.
Offer them as a gift and the receiver will undoubtedly appreciate the thoughtfulness of such a present. These hand towels are not just a functional item, but also a statement of elegance and luxurious comfort.
Eco-Friendly Bamboo Fiber Hand Towels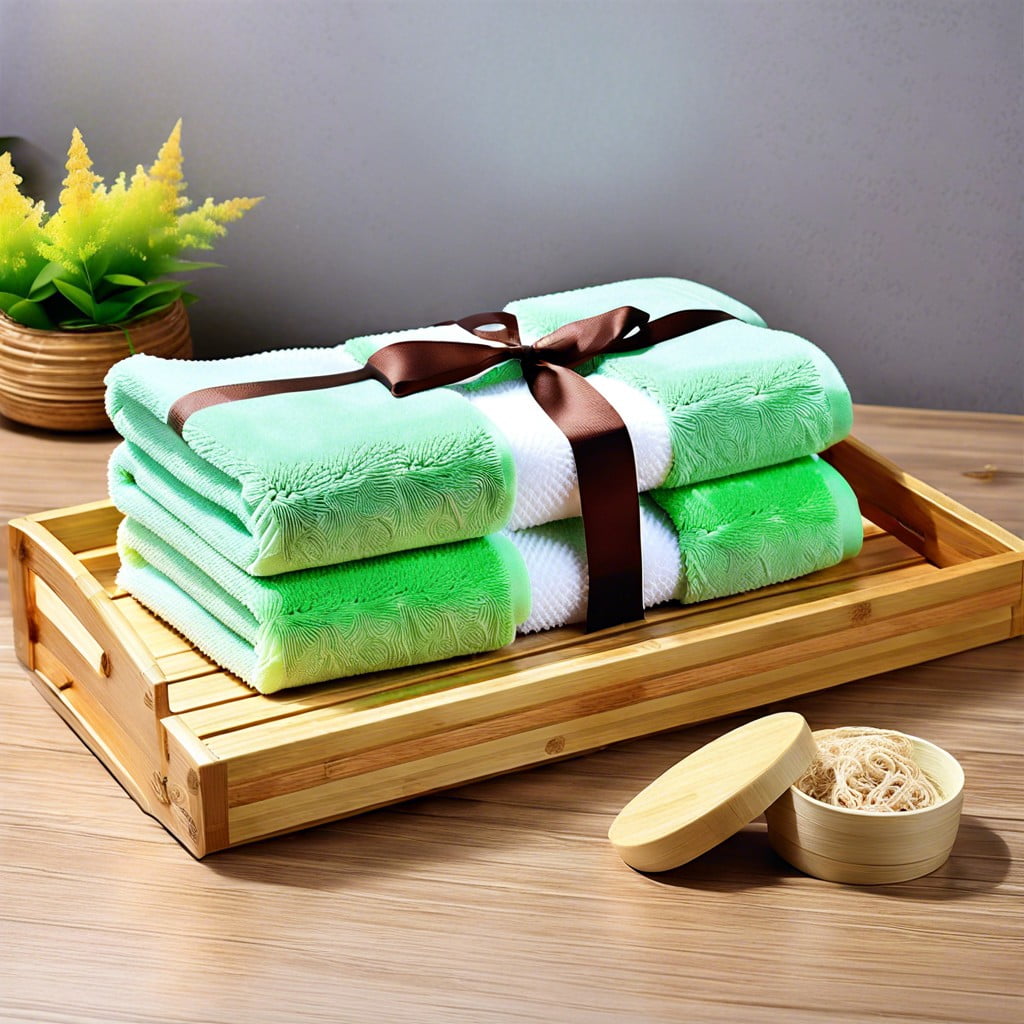 Renowned for their durability, bamboo fiber hand towels offer not only a luxurious touch but also an environmentally-friendly alternative to traditional cotton towels.
1. Sustainable Material: Bamboo is a rapid-growing plant, a renewable resource requiring minimal water, and it regrows after being harvested. Harvesting bamboo has less environmental impact than cotton or other materials.
2. Hygienic: Bamboo fiber is naturally antibacterial, anti-fungal, and odor resistant. Unlike traditional towels, you're not sacrificing hygiene for style.
3. Comfort: These towels feel incredibly soft to the touch. In fact, many compare the feel of bamboo to the softness of silk or cashmere.
4. Highly Absorbent: Despite their light feel, bamboo towels can absorb up to three times their weight in water.
5. Versatile: Perfect for the kitchen, bathroom, gym, or even as a thoughtful gift, bamboo fiber hand towels suit numerous needs while decreasing your carbon footprint.
6. Easy Care: Bamboo towels can be laundered in the washing machine, making them as easy to care for as any other household towel.
Finally, these products come in a wide range of colors and styles to match any decor theme. You can showcase your eco-friendly choices while adding a touch of luxury to your space.
Chef's Kitchen Hand Towels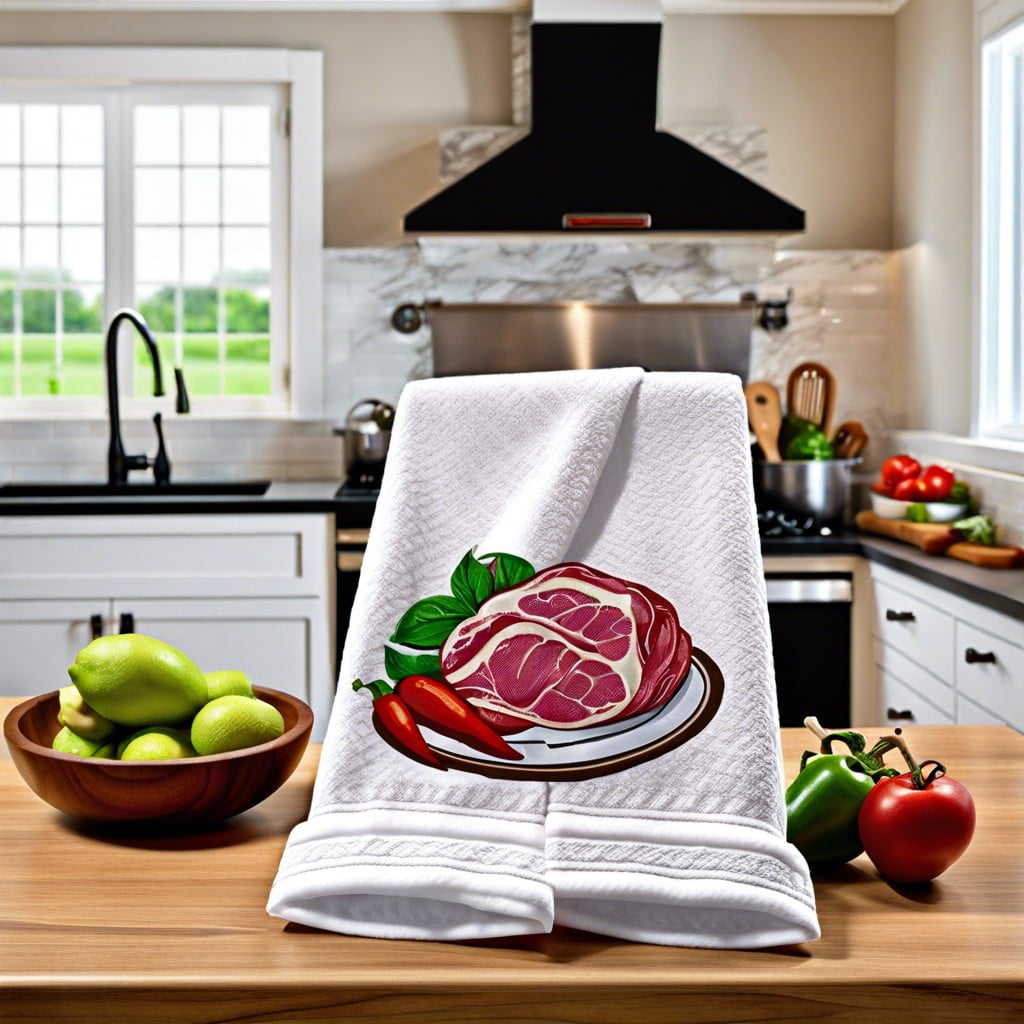 When incorporating these towels into a kitchen, consider opting for high-quality, absorbent materials, typically featuring a mix of cotton and microfiber to offer superior water absorption. A set often includes a variety of sizes and patterns, suitable for both decorative and practical uses.
A few key aspects adding to the popularity of chef's kitchen hand towels are their utility and style. These pieces often come with a hanging loop for easy access and longer shelf-life. The patterns range from classic stripes to more modern, minimalistic designs, enhancing the aesthetics of the kitchen while keeping functionality at forefront.
It's not uncommon for these sets to be color-coordinated or theme-based, effortlessly complementing the kitchen's decor. Additionally, some of these towel sets come in delightful gift boxes – making them an ideal solution for housewarming, hostess, or even wedding gifts.
Given the thorough design and attention to detail, these towel sets embody professional kitchen vibes, readily instilling a sense of culinary pride and sophistication.
DIY Hand Towel Craft Kit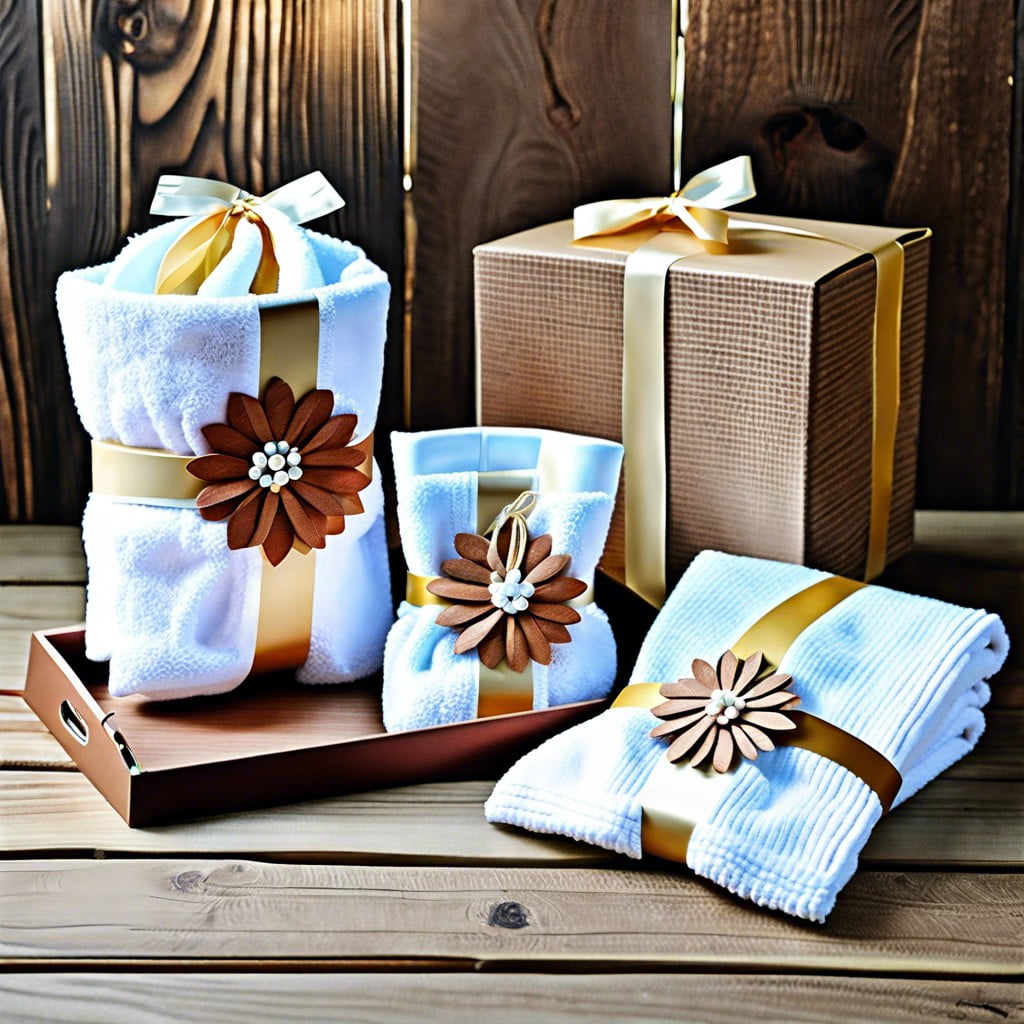 Crafting your own personalized towels not only nurtures your artistic flair but also yields a product that resonates with your personal taste. A DIY towel craft kit ordinarily comes with plain towels, fabric paint, stencils, and brushes. Some might include embroidery thread and needles for more intricate designs.
Advantages are:
1. A unique one-of-a-kind creation: You control the color palette and design, ensuring each towel fits your aesthetics to a T.
2. A fun project to involve kids: Great way to spend quality time with your loved ones sharing creativity.
3. Cost-Effective: DIY kits are comparably less expensive than premade designer towels. You not only get a hand towel but also a wholesale craft project out of it.
4. Perfect gifting option: Handcrafted gifts carry a personal touch, and expressing your sentiments through art makes it more meaningful.
Remember, no prior crafting experience is necessary. Just follow the included instructions, and you'll have stylish hand towels in no time.
Hand-painted Artisan Hand Towels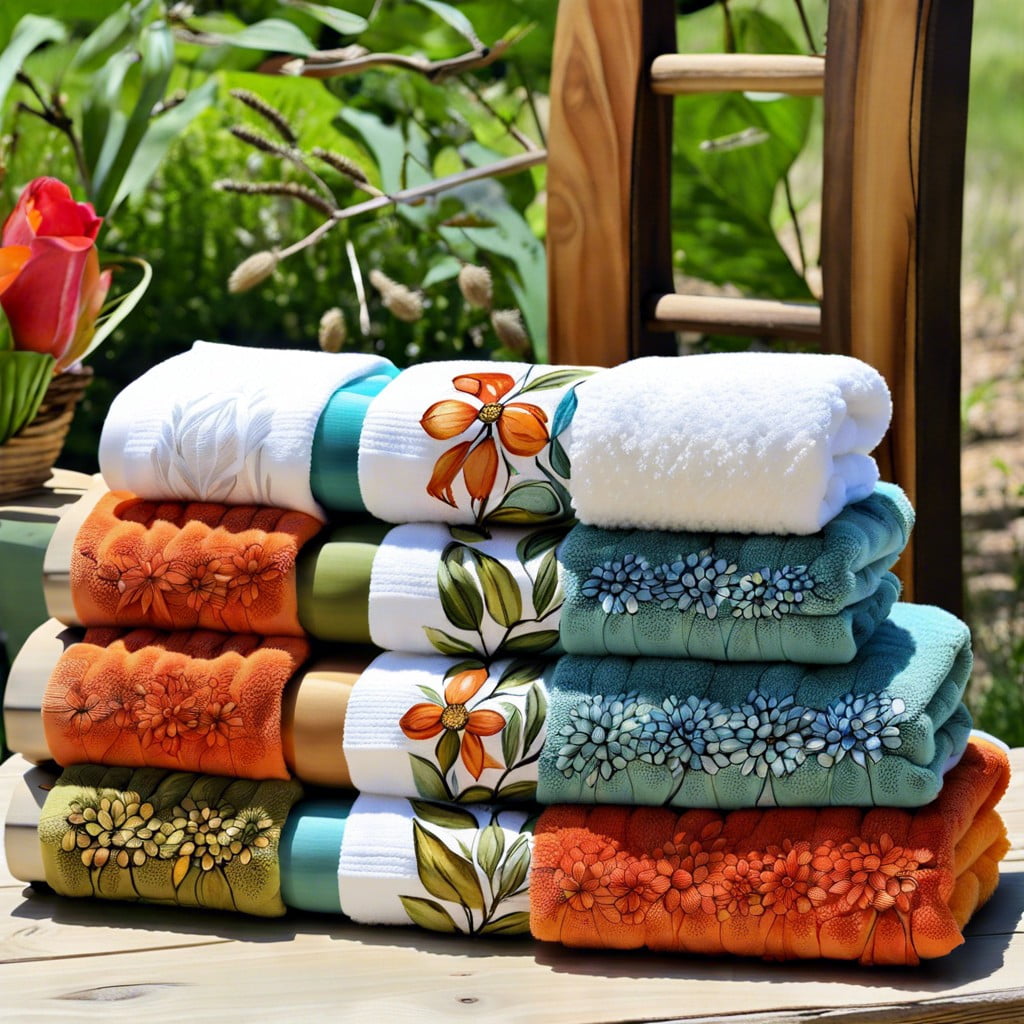 A captivating, artistic element comes into play here. Unique, these towels are meticulously crafted by skilled artists, each stroke reflective of their genius minds. These intuitively designed hand towels add a touch of sophistication, instantly transforming an ordinary space into a creative haven.
Not just visually appealing, these towels are practical too. Made with premium quality fabrics, they ensure superior absorbency. They add a dash of color and uniqueness to the bathroom or kitchen décor, being not only decorative but functional essentials.
Furthermore, purchasing these towels could support local artists and small businesses, contributing to a healthier economy and encouraging creativity. A delightful gift for anyone, they're a functional piece of art revealing a taste for the fine and aesthetically pleasing.
Finally, hand-painted designs can range from abstract patterns to realistic depictions or custom-made designs, making these towels a potential unique, bespoke gift that adds a personal touch to everyday life.
Towel-of-the-Month Club Membership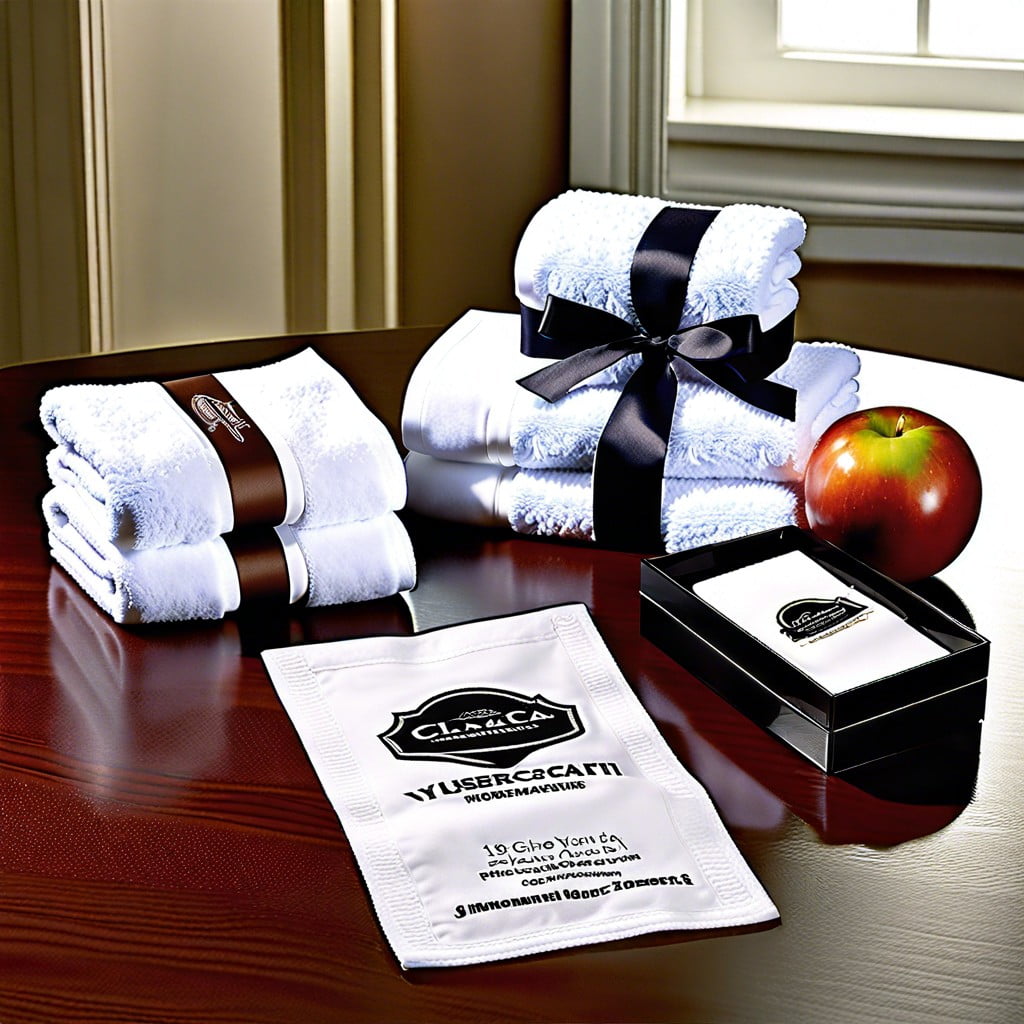 When it comes to the perfect blend of practicality and indulgence, few options compete with a Towel-of-the-Month Club membership. Imagine the luxury of receiving a fresh, plush towel delivered straight to your doorstep, each month! No more worries about wear and tear, as a brand new towel awaits.
Here are a few elements that define this delightful gift:
Surprise Element: The element of surprise that comes with each delivery adds a touch of excitement to the ordinary. Who doesn't love a good mystery?
Quality: With each delivery, you can expect top-notch quality. These towels are not just fluffy, they're incredibly absorbent and durable.
Variety: The membership offers an array of towel types – from hand towels to bath sheets, ensuring a delightful change for each month of the year.
Customizability: Some companies provide options to customize the color and style according to individual preferences.
Eco-Friendly: Most of these include 100% cotton towels, which are environmentally friendly.
With such advantages, this gift offers the ultimate convenience and comfort while promoting sustainability! Sorry for slight deviation, but don't forget, it's also a great way to try different brands which specialize in towel-making!
Novelty Message Hand Towels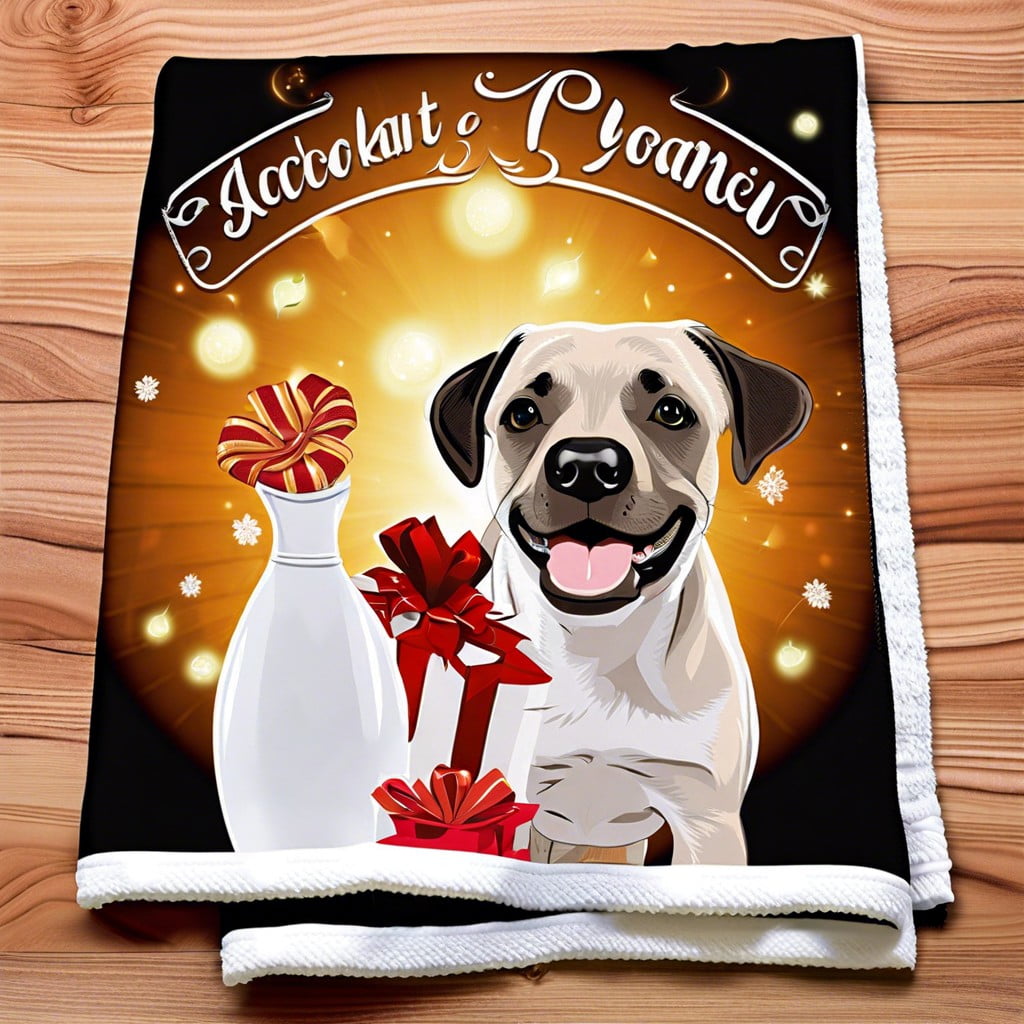 Who doesn't love a towel with a little humor or sentiment? The great thing about this variety is that they can be customized to the recipient's taste or personality. Whether it's a favorite quote, a punchy joke, or a heartwarming message, these towels serve not only a functional purpose but also a conversational one.
Bringing character into a home is as simple as incorporating these tiny detailed works of art. They prove particularly popular as guest towels, giving visitors a small chuckle or moment of inspiration while ensuring hands are dried in style. Furthermore, they're a fantastic gift for those who appreciate unique home decor.
Choosing the right design is simply a matter of knowing the recipient. For your fun-loving friend, consider a towel bearing a humorous quip or pun; a sentimental quote may be more suited to your philosophically-minded parent. The sky really is the limit when you're dealing with novelty message hand towels.
Towel and Soap Gift Set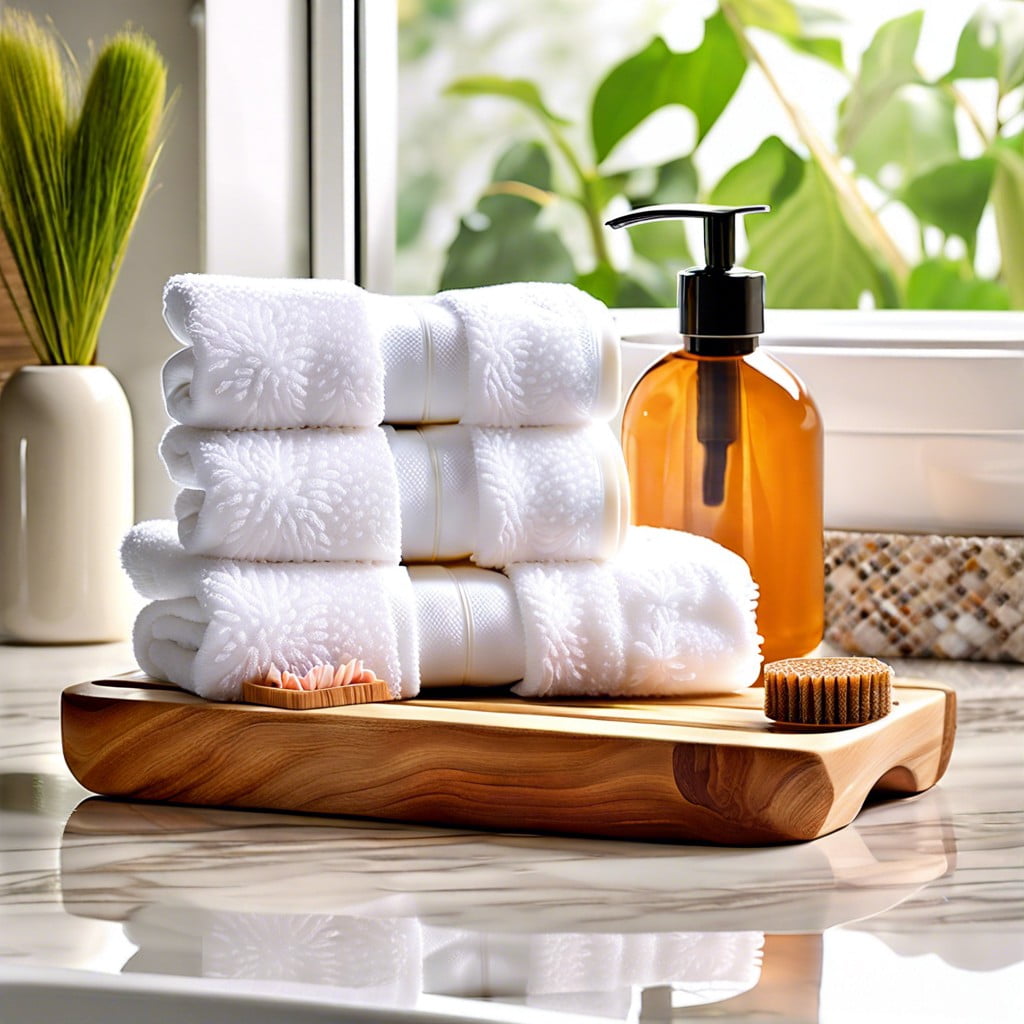 Pairing hand towels with artisanal soaps creates an enriched bathing experience that speaks volumes of your appreciation for the recipient. Choose hand towels that match the décor or personal style of the gift receiver, then match with soaps based on their preferred scents or skin needs.
1. Color Coordination: Match the color of the soap with the hue of the hand towel for a visually appealing look.
2. Fragrance Parity: Align the soap's scent with the theme of the gift. For instance, lavender infused soap for a relaxation themed gift.
3. Material Mix: Opt for a luxurious hand towel in Egyptian cotton and pair it with organic, handmade soap.
4. Pack with Panache: The presentation can amplify the appeal. Utilize a nice gift box or a reusable basket, line with the hand towel, and nestle the soap inside.
5. Add-On Aspects: Consider including a custom soap dish or soap saver pouch to round out the gift set.
Fine soaps accompanied by a plush hand towel present a thoughtful, useful, and personalized gift that exudes luxury and pampering. It's perfect for housewarming gifts, guest bathrooms, or a special treat for a loved one seeking some home-based indulgence. A right balance of practicality and luxury makes this an exceptional gift set.
Luxury Hotel Collection Towel Set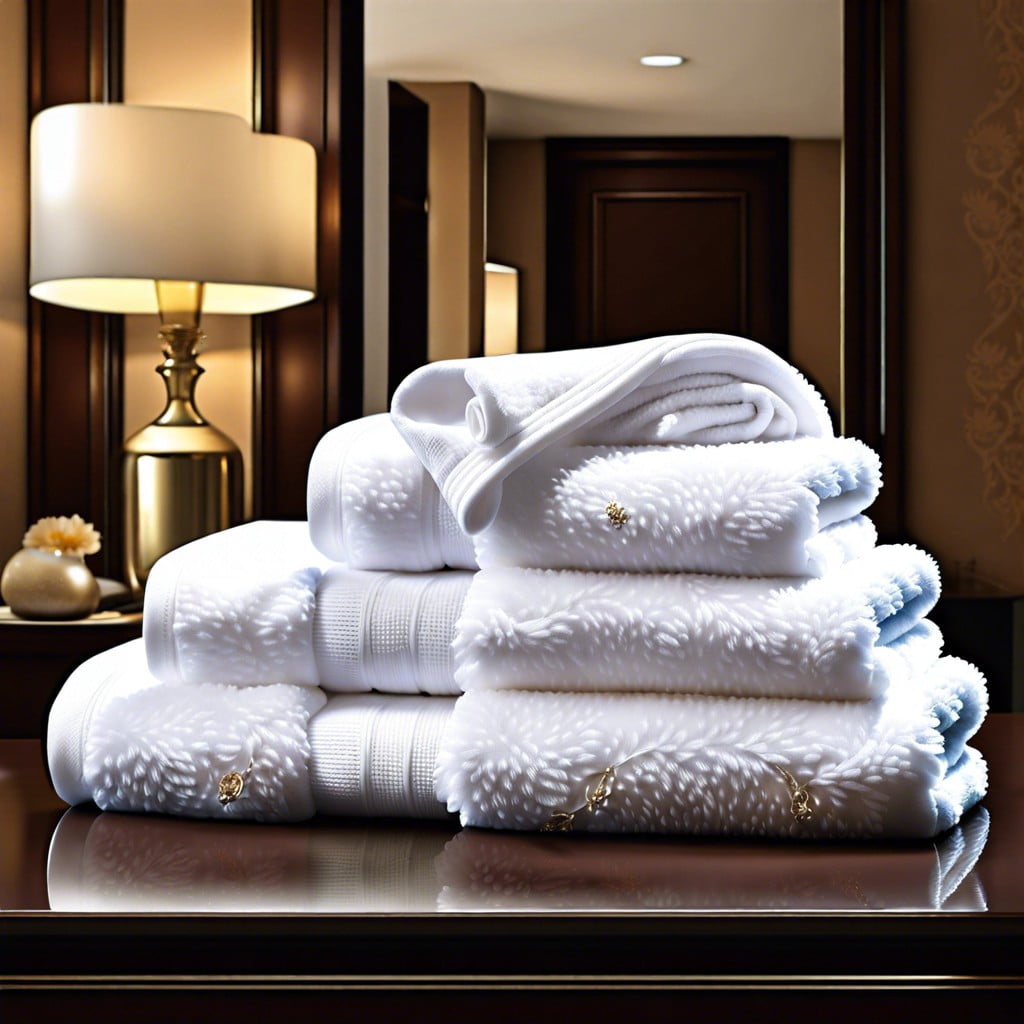 Indulge in the sophisticated touch typically reserved for fine hotels. A high-end hotel collection hand towel set might be characterized by lavish Egyptian cotton or plush Supima cotton, materials renowned for their exceptional softness and longevity.
These sets often feature minimalistic designs with clean lines and neutral colors, perfect for any interior style. They are designed to make your bathroom feel upscale and elegant, often with high thread counts for maximum absorbency.
Above all, these sets reflect quality; they're crafted to withstand frequent washing, resist lint, and maintain an inviting fluffiness. This is a practical gift for someone who deserves to feel pampered each day. It's a touch of fine hotel living, right at home.
Hand Towel & Candle Gift Basket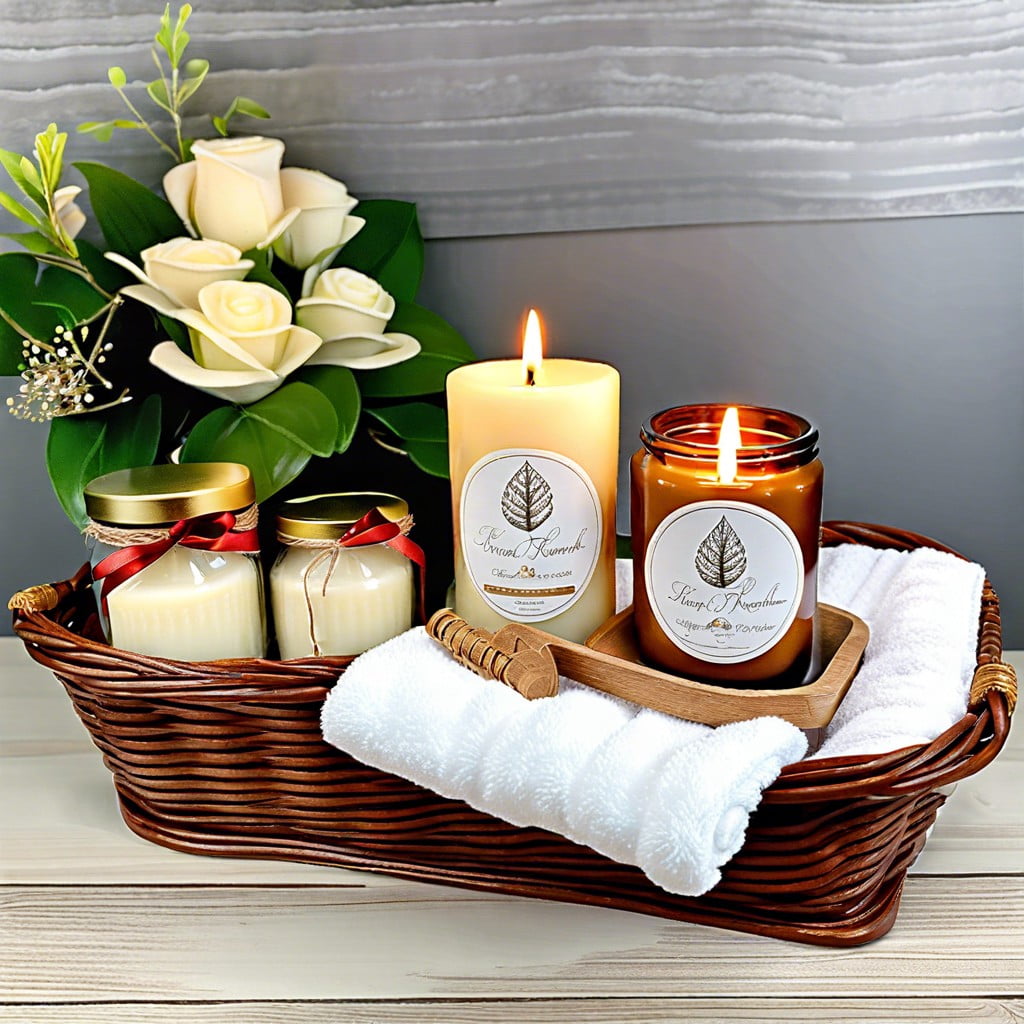 Dive into the magical combination of stunning hand towels and scented candles, a popular choice for housewarming and hostess gifts. Imagine elegantly folded towels, carefully presented alongside fragrant candles to add warmth to any space.
1. Choose towels that complement the home decor. Options include farmhouse country chic, sleek and modern, or vibrant Bohemian.
2. Pick aromas that evoke a sense of tranquility, perhaps lavender or vanilla. Alternatively, go bold with musky amber or indulgent cocoa.
3. Consider luxurious textures. Turkish cotton, bamboo, or velour provide a touch of indulgence to the everyday.
4. Opt for reusable baskets. Wicker, wire or wood baskets not only house your gifts but can be repurposed after.
5. Add finishing touches. Ribbons, tags or handwritten notes can give a personal touch and create unforgettable gifts.
Creating a hand towel and candle gift basket is a form of art, where your taste, personal style, and affection for the gifted person combine. To ensure the perfect gift, carefully consider each element, deciding on what types of towels, fragrances, and baskets to include. This thoughtful process celebrates both the giver's creativity and the receiver's character, providing a truly unique and memorable experience. So why wait? Start creating your masterpiece today!
Continue reading:
Recap