Last updated on February 19, 2022
A light frost, white snow, and fresh air – these are several reasons not to stay at home in winter, and to go on a ski trip. A ski trip is an opportunity to walk through the untouched snow, feel like a pioneer, and just relax from the city noise in the forest or in the mountains.
It takes a long time to prepare for a few-day trip, but it's much easier to go skiing in the park on the weekend – you just need to choose a route and pack a backpack. However, we recommend to attitude to the collection of equipment carefully as not to forget anything.
In order for your hike to take place and the day to go fantastically, we have prepared a list of useful things on a winter walk.
Table of Contents
Basic Equipment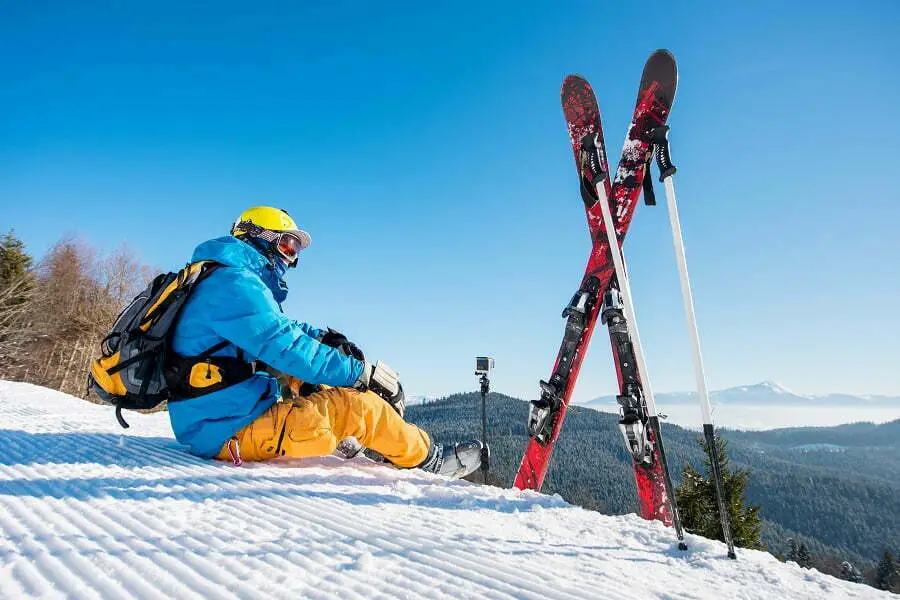 Ski
Running or hiking – depends on the route. For a walk on an amateur ski track or a snowmobile road, narrow tourist skis with a width of up to 78 millimeters are suitable. By the way, you can also go hiking on cross-country skis on a special path. The main thing is that they should be with a notch, a ledge, or treated with a holding wax so that the skis do not slip at every step, and climbing even into a small hill does not become hard. In a snow-covered forest without snowmobile roads, it is better to walk in wide tourist skis – the wider they are, the more convenient it is to ride in them. Such skis fall less into loose snow, and if they dig in, they pop up easier – you don't have to pull your leg out from the snow layer.
Boots
If the weather does not predict severe frosts on the day of the trip the choice of shoes is limited to ski mounts. Any shoes are suitable for universal ones — you can choose trekking or winter in a sporty style. For fasteners of standards NNN, NNN BC, NN 75 mm, shoes compatible with them are needed. These can be walking ski boots or full-fledged models for ski tourism. It is not necessary to wear heavy warm shoes for polar expeditions on a hike: your feet will not freeze in motion. The main thing is that the shoes be comfortable.
Ski Poles
They will be a support when walking, help to get out of the deep snow, go down into a ravine or climb up a hill. Poles can be any — trekking and skiing, the main thing is that they fit you in height: the handle should be located approximately at the level of the armpit. Pay attention, that fixed-length ski poles are tougher than 2-3-knee trekking poles, so they are easier to push off and it is more convenient to lean on them.
Backpack
For a one-day ski trip, there is enough volume from 20 to 40 liters. It will fit everything you need on the way: from a snack and warm clothes to a rescue kit. If you are going for a walk with young children, their belongings can be distributed among adults or you can take one large backpack — up to 60 liters.
Navigator or Smartphone
There can be a lot of turns on the ski track, so a map or a navigator on the smartphone is necessary. Before going out, charge your phone, check the balance, and download maps of the area.
Clothing and Shoes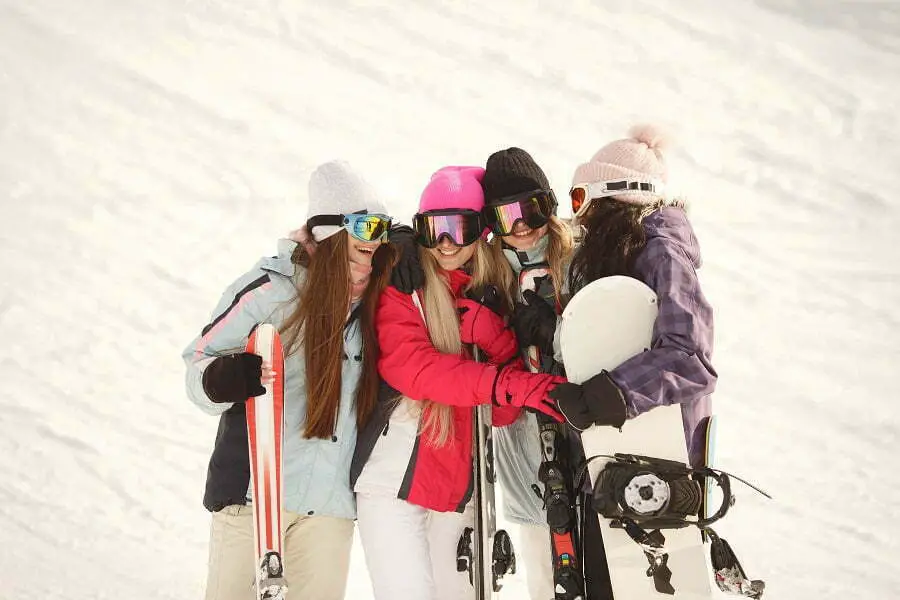 Wear these clothes:
Thermal Enderwear
The density depends on the weather on the day of the hike, and the material depends on personal preferences. The main thing is that the top and leggings remove moisture well and dry quickly.
Fleece
It is needed in frosty weather or if you like slow walkings, enjoying the views, or photographing landscapes. It will help when it's cold in the thermal underwear and in the upper layer, but it's hot in the down jacket.
Membrane Jacket and Trousers
If the weather is good, a membrane kit is enough for a walk on the ski slope, it will protect you from wind and light snowfall. Be sure that snow from the trees and under your feet does not wet your clothes.
A Warm Jacket
It will be needed at a stop while you have tea and eat sandwiches, as without moving, the body cools down quickly in the cold. We recommend paying attention to a down jacket or an analog with synthetic insulation from Fjallraven. They are lightweight, compact, and do not take up much space in a backpack.
Socks
Be sure you will be warm and comfortable. It is better to choose trekking models, as they remove moisture well from the skin and dry quickly. Take two pairs: you will put one on before going out, and leave the second one for a dress if your feet get wet.
Hat
For a walk in the forest, anyone is suitable. The main thing is that it sits well and does not slip into the eyes. Hands during the movement will be busy with poles, so it will be inconvenient to correct something constantly.
Gloves or Mittens
It is better to take both to combine on the way: go in fleece, and when it gets cold, put mittens on top.
Continue reading: