Last updated on February 19, 2022
Many men want to look fashionable and elegant without spending too much time choosing clothes and shoes. Chelsea boots for men are the perfect model that combines classic traditions. Combines with most items of the modern wardrobe. Having gone through more than 150 years of history, today it remains at the peak of popularity among men, regardless of their age and social status.
Classic Chelsea boots are ankle-high boots. They are sewn from calfskin. Suede is considered an acceptable alternative. The sole is thin, preferably leather. The toe of the product is pointed and slightly rounded. A distinctive feature of the product is the absence of any kind of fasteners or lacing – only rubber inserts on the sides. The quality of the inserts is of great importance for the shape, for the fixation on the leg, and for the durability of the pair.
Modern manufacturers sometimes deviate from the classic design. Many prefer rubber soles. For the top, suede, nubuck, patent leather, velour, and even rubber are used. In addition to classic black, designers offer other colors. These design options adapt the model to modern realities and expand compatibility with various bows.
Table of Contents
General Rules for Those Who Prefer Chelsea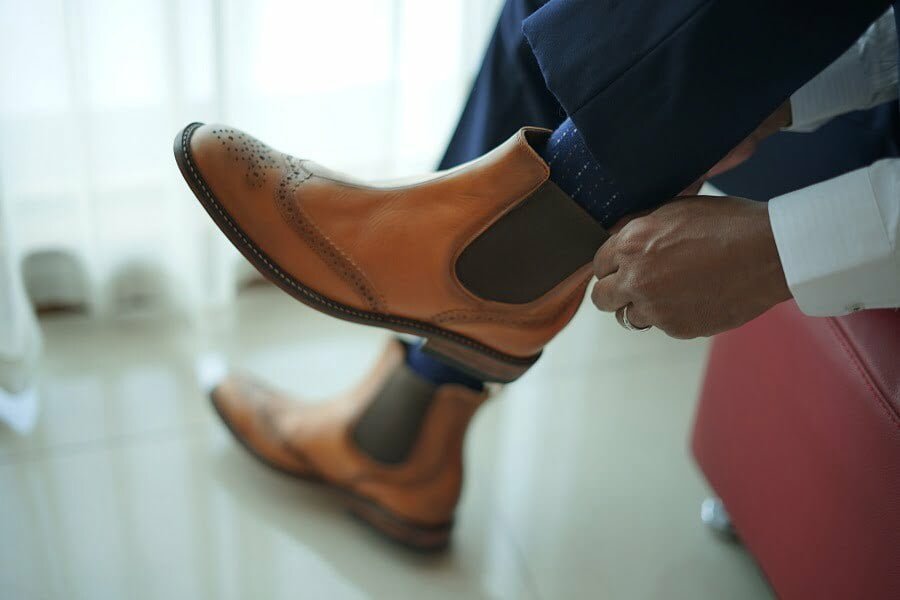 If you want to look fashionable and stylish, think in advance with what you will wear shoes. There are a few simple rules that owners of this model should listen to:
Wearing men's Chelsea boots is necessary with thin and high socks. The leg should not be exposed – this is considered unacceptable. Sports socks will simply be out of place.
Do not tuck pants into boots. In the case of Chelsea, this is considered bad manners. Jeans or trousers should hide the top of the product.
In clothes, stick to the classic style or use its individual elements.
Stretched sweaters, voluminous down jackets, wide trousers with such shoes are not worn. This combination will look ridiculous.
Fortunately, R.M. Williams Chelsea gives users complete freedom of choice in this matter. A lot of different clothes will harmoniously look in a single ensemble with such fashionable men's boots. Combinations look good in which a trench coat, a parka, a pea-jacket, a leather jacket such as leather jackets, a bomber, or a bologna vest are chosen as outerwear. Good tandems are obtained using fashionable denim jackets. Among the listed positions, simple jackets are not observed. This is because such outerwear is dissonant with Chelsea boots and does not look the best together.
Chelsea is initially considered by fashion lovers exclusively as demi-season products, so winter voluminous things look disharmonious and even ridiculous with them. We must not forget that such shoes are designed specifically for late spring or early autumn.
A Few Style Tips
Chelsea boots are versatile. They can be put on both for an official event and for a party in a club. They go with many styles of clothing. First of all, it is:
Classic. Suitable suits, trench coats, coats. Choose from traditional black or dark brown to match your style. This is perhaps the only option for boots that are worn with a business suit. In combination with black patent leather shoes, you can wear a tuxedo.
Casual. In urban conditions, not only traditional boots are suitable. Nubuck and suede models with scuffs look more attractive. The brown color scheme goes well with jeans and casual suits.
Pair with skinny ripped jeans for an informal look. Such shoes do not look very good with baggy jeans, shirts, sweaters. Chelsea boots are compatible with faded and torn skinny jeans in different colors. Skinny trousers are also suitable for boots.
When choosing a sweater or pullover for going out, opt for knitwear without a pattern or print. Motley clothes will be out of place. It is better if the texture is lightweight and the silhouette is fitted. The ideal option is a thin turtleneck or long-sleeve (long-sleeve T-shirt). Choose a plain shirt. It is tucked into jeans or worn for graduation. Jackets – single-breasted, should fit perfectly.
In winter, you can wear men's Chelsea boots with almost any outerwear. Suitable for creating an image:
Classic coats;
Trench coats;
parks;
Pea coats.
A leather biker jacket, quilted vest or bomber jacket are paired with nubuck or suede Chelsea boots.
When choosing a wardrobe, be guided by the color of your shoes. Dark and gray suits for a formal or casual style will suit black. Skinny trousers, a tweed jacket, and a tailored shirt will work well.
Several Fashionable Outfits for Stylish Men
Classic white shirt, dark V-neck jumper, black jeans and black nubuck chelsea boots;
Dark blue classic suit, light shirt, beige tie in combination with informal light beige boots;
Winter option: blue parka and dark wool trousers combined with classic shoes.
Continue reading: