Last updated on January 5, 2023
Make these DIY magnetic wine cork planters as a neat craft to repurpose wine corks. Works as a unique gift to anyone!
This project is perfect for ayone who loves wine and gardening. Or anyone who likes little cute items decorating their home (wine themed decor anyone?). I've been inspired by a pin I once saw on Pinterest for this project. A mini cork suc­cu­lent planter mag­net. Does it get any cuter? I don't think so! It's sen­ti­men­tal, com­pact, prac­ti­cal, green and stylish. A tiny planter from a wine cork is a project cool enough for Bob Vila to blog, so it's good enough for me too! Let's begin.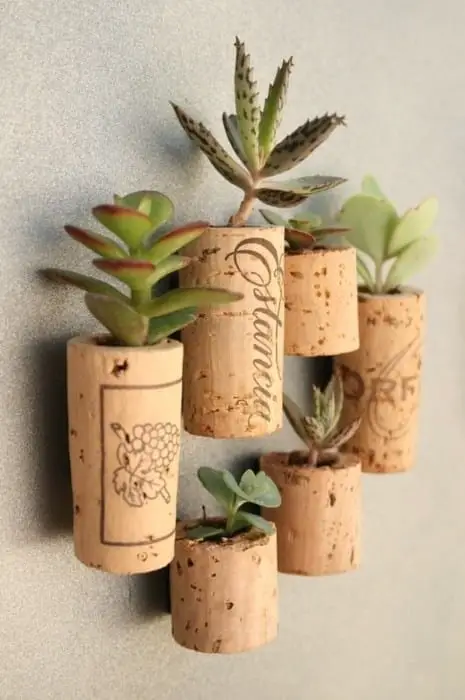 Table of Contents
Materials and Tools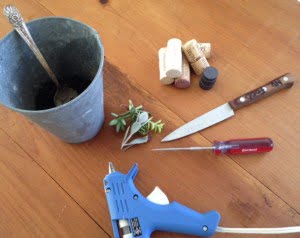 Corks made from cork not plastic (don't throw them away after you open a bottle of wine)
Mag­nets
Pot­ting soil
Very small suc­cu­lent cuttings
Puncher
Par­ing knife
Glue gun
How to Do It
CAREFULLY

, hol­low out the cen­ter of a wine cork with the puncher and knife until you've hol­lowed it out halfway.
 Glue mag­net onto cork.
 Fill the hole with pot­ting soil and add the succulent.
 Use an eye­drop­per to water.
Put on your fridge and enjoy!
WARNING: This might not be a craft for a child or a clumsy adult!
Per­fect For
Host­ess gifts
Spe­cial occasions
Wine lovers
Green lovers
Me
Thank you gifts
Green thumb friends
really, any­one!
Continue reading: