Last updated on October 31, 2023
Transform your bathroom into a truly relaxing haven with our rectangle bathroom ideas because they skilfully utilize space and design elements.
I am proud to have crafted this article and unique designs on 20 Rectangle Bathroom Ideas, and I genuinely hope they inspire you and bring as much joy to you as they did to me during their creation.
Maximizing space and style in a rectangular bathroom can be a fun challenge. This article is packed with creative ideas to transform your long, narrow space into a stylish and functional sanctuary.
From strategic placement of fixtures to the right color schemes, these tips will help you make the most of your rectangle bathroom. Whether you're looking for sleek, modern designs or a cozy, rustic vibe, you'll find a wealth of inspiration here.
So, let's dive into the world of rectangle bathroom ideas and discover the potential of your space.
Floating Rectangle Sink Design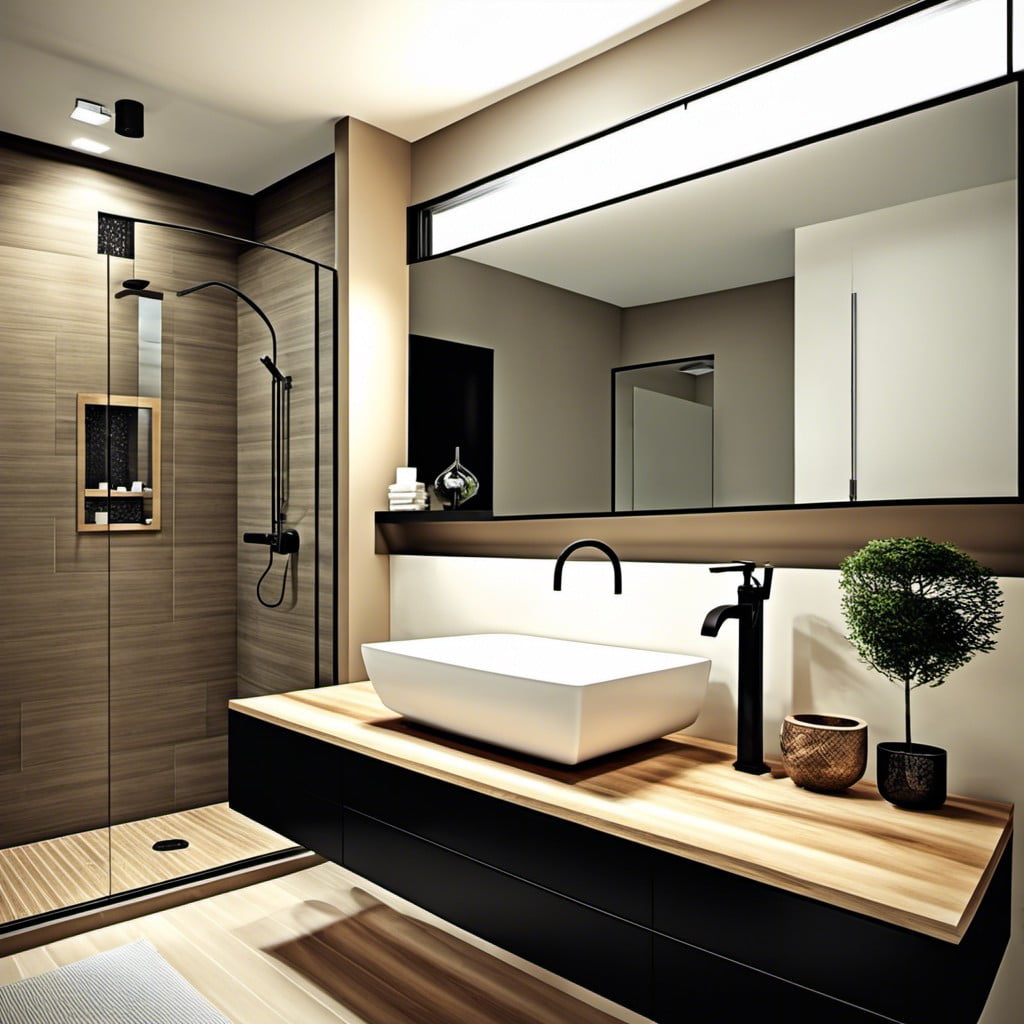 Switching to a floating rectangle sink can be a game-changer in bathroom decor. Its elegant edges and minimal structure makes this design a sure win.
Besides, it opens up floor space enhancing the illusion of a larger bathroom area. It's no fuss installation, ability to conveniently adjust the height and additional under sink storage availability make it highly flexible.
Pair this with a matching minimalist faucet for a modern, contemporary look. To keep it sleek, consider tucking away plumbing in the wall, thus elevating the aesthetics to a whole new level.
Don't forget to choose durable materials like porcelain or stone that can endure the damp bathroom environment while adding a touch of luxury.
Horizontal Rectangle Mirror Above Sink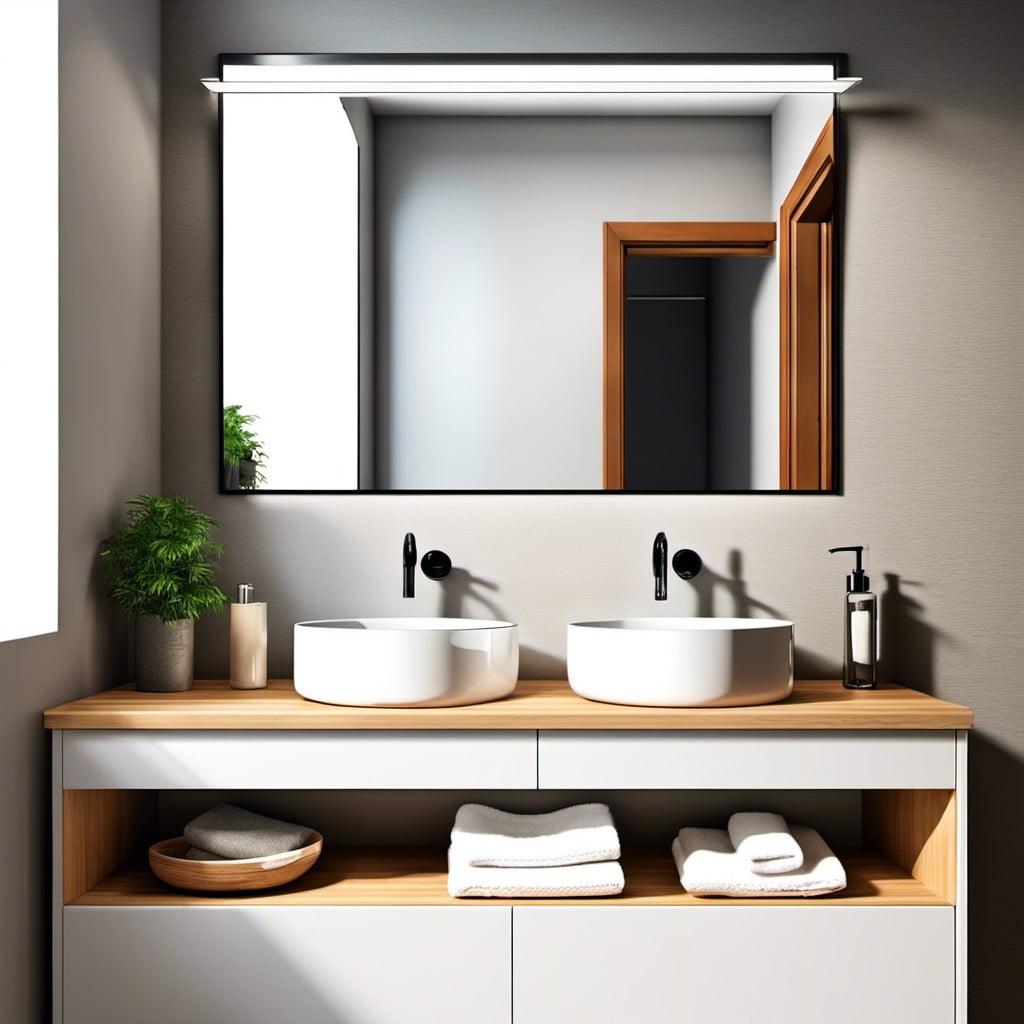 Mirrors function as more than just useful tools for personal grooming—they also play a crucial role in the aesthetic look and feel of a bathroom. The elongated shape of a horizontal mirror can stretch the perception of space in a bathroom. Oversized mirrors will dramatically increase the illumination by reflecting more light, both natural and artificial.
To maximize the use of a horizontal mirror, consider positioning it to reflect a window or an attractive element of the bathroom. This trick is particularly effective in windows-less bathrooms or smaller spaces where additional light can visually expand the room.
This decor piece can also serve as a showcase for unique lighting fixtures. Consider complimenting your mirror with wall scones on its side or dramatic pendant lights above for added style points.
Selecting a frame that complements the existing decor allows seamless integration with the overall design. From an industrial steel frame to a wooden rustic one, the choices are diverse to suit any style. Consider also a frameless mirror for a contemporary, minimalist look.
Lastly, remember functionality. The mirror height should accommodate all users comfortably—an aspect sometimes overlooked in design plans.
Maintain the balance between attractive design and practical usage when incorporating your horizontal mirror above the sink.
Rectangular-shaped Bathtub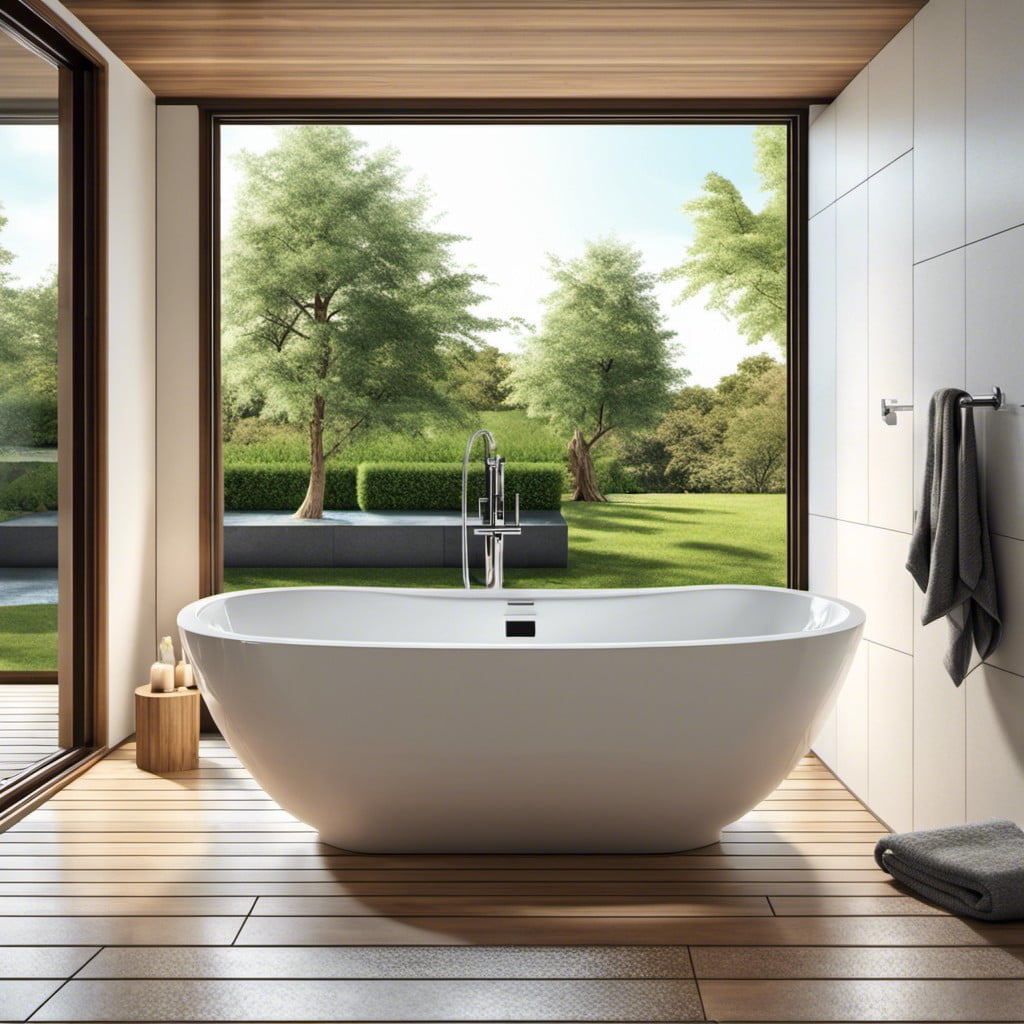 Choosing a tub with pronounced rectangular lines adds a chic, modern twist to the bathroom. Its geometric simplicity instantly creates a sophisticated aesthetic.
A freestanding tub, with its clean-lined silhouette, becomes a statement piece, while an alcove rectangle tub neatly built into a niche maximizes space efficiency.
For a luxurious touch, a whirlpool rectangular tub with built-in jets offers a private spa experience.
Always consider the size of your bathroom to ensure the chosen tub proportionally fits and enhances the overall design.
Concrete, acrylic, and cast iron are popular materials, each having its distinct advantages.
Concrete suggests industrial style, acrylic is lightweight and cost-efficient, and cast iron, though more expensive, radiates classic elegance and is exceptionally durable.
Rectangle Patterned Wallpaper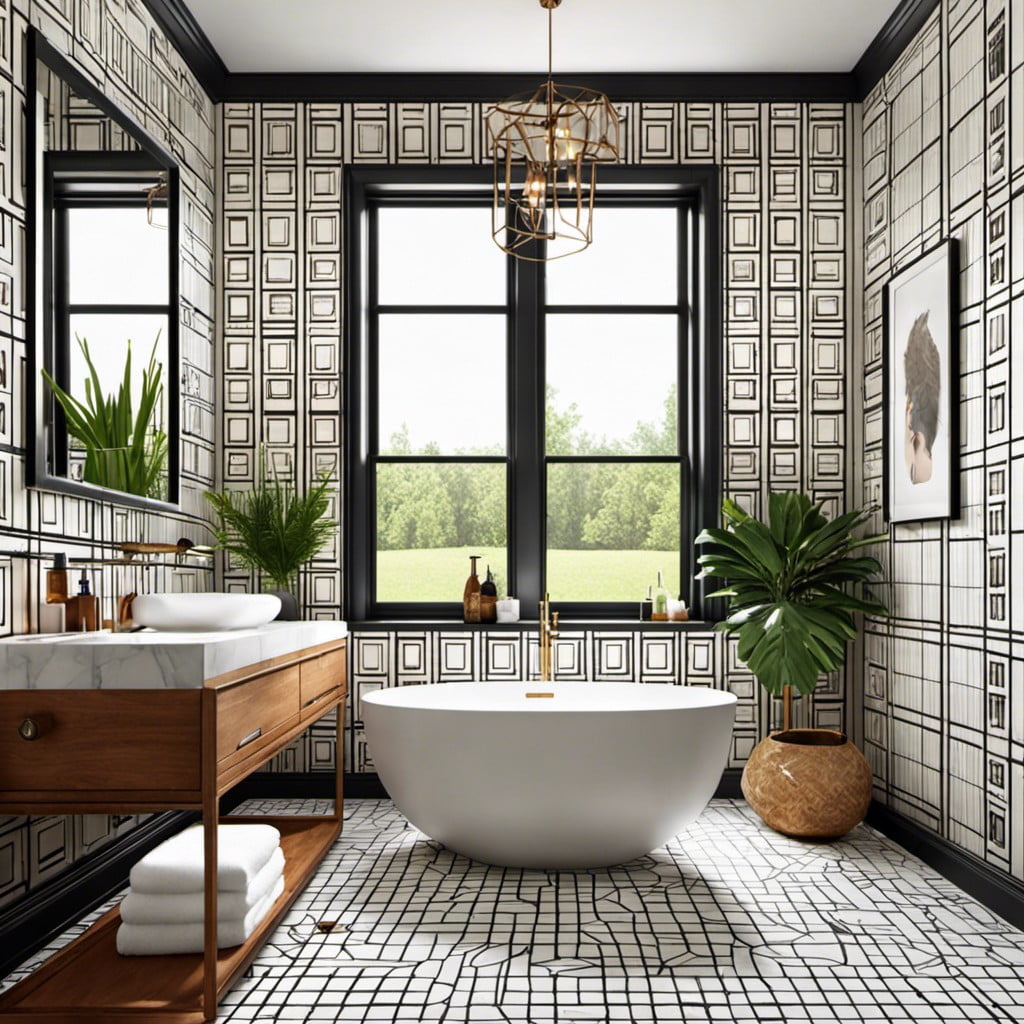 Accent walls can truly come alive with innovative rectangle patterned wallpaper. Bold geometrics or subtle tone-on-tone prints, the possibilities are limitless. Here are a few pointers to contemplate.
1. Go for larger prints in spacious bathrooms; their visual impact will open up the area even more.
2. Smaller prints work well in compact bathrooms, adding texture without overwhelming the space.
3. Pay attention to color schemes. Monochrome or pastel? The choice depends on whether you're aiming for dramatic contrast or calm synchrony.
4. Consider waterproof wallpapers, especially for those parts exposed to moisture and humidity.
5. For a stylish twist, wallpaper might just cover the upper half of the wall or only one wall, creating a captivating focal point.
6. Vertical patterns can add the illusion of height, while horizontal ones can make the bathroom appear wider.
7. Balance is key. If you're going with a loud wallpaper, keep other elements subdued.
Always ensure the paper continues the room's overall aesthetic and complements other elements, bringing a unique, personalized charm to the space.
Modern Rectangular-shaped Shower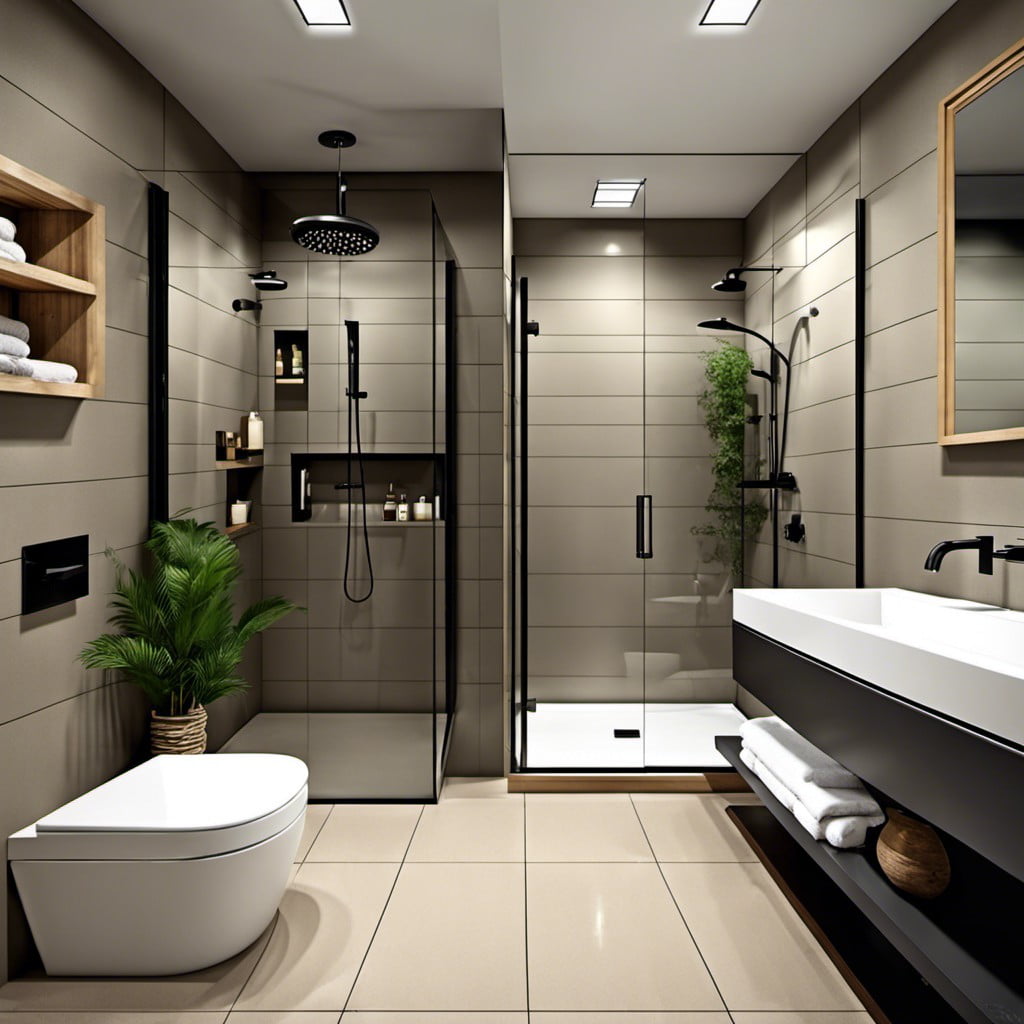 Incorporating a modern rectangular-shaped shower into your bathroom can imbue the space with a sleek, contemporary aesthetic. This design choice offers not just visual appeal, but functionality. The angular lines can effectively utilize space, maximize the bathing area, and fit neatly into corners if bathroom real estate is limited.
Glass walls surrounding the shower create an illusion of spaciousness, evoking an open, minimalist ambiance. Incorporating chrome fixtures or stainless steel accents add to the modern look while providing practicality and durability.
To personalize your shower, consider a rainfall shower head for a luxurious feel or a shower panel with body jets for a spa-like experience at home. To keep your toiletries organized and handy, built-in rectangular niches in the shower wall suggests simplicity and sophistication.
Ensure all elements within the shower, from the shower head to the drain, reflect the rectangular theme for continuity. Achieving the rectangular aesthetic in every detail brings uniformity to the overall bathroom design.
Vertical Rectangle Window for Natural Light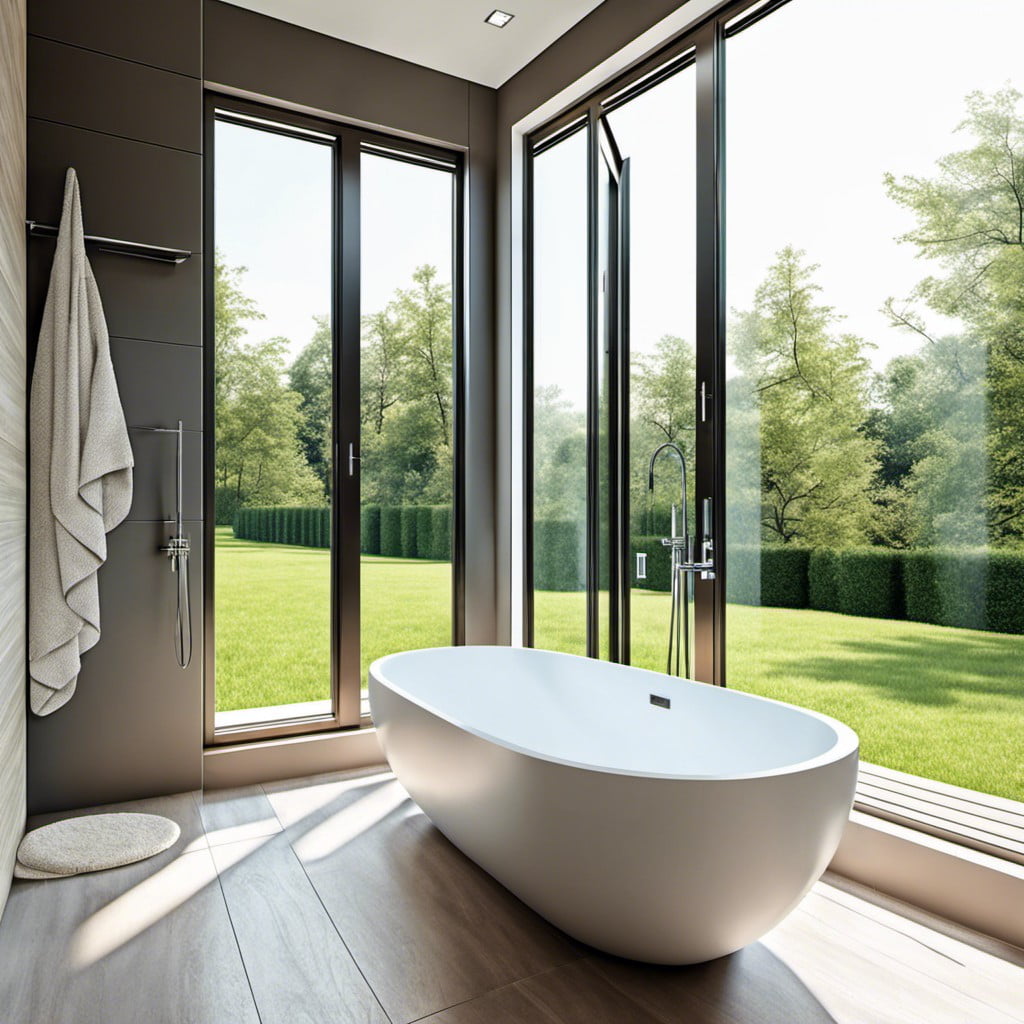 Placing it strategically can instantly brighten up the space, creating an inviting and refreshing ambiance. It also helps in creating an illusion of a bigger space especially in smaller bathroom areas.
Windows can be frosted for privacy while allowing light to flow in. An added benefit is natural ventilation, reducing the need for an exhaust fan. It's also worth considering the orientation of the window for the maximum daylight exposure at the times you use the bathroom most.
A vertical rectangular window alongside the shower area or above the bathtub can be a stunning and impactful design feature. Consider pairing it with minimalistic black frames for a sleek, modern touch.
Rectangular Storage Cabinets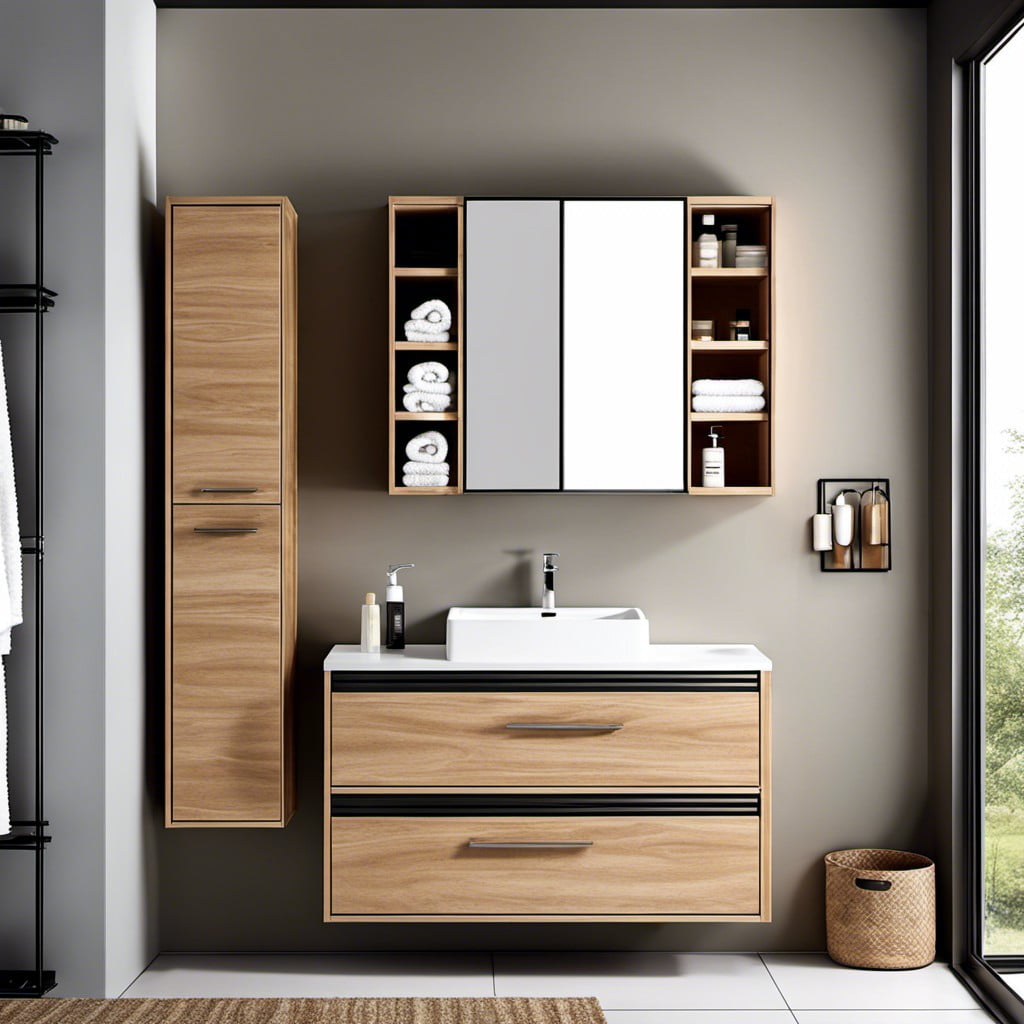 A proper utilization of space is a must, especially in a bathroom where multiple things need a place. Leveraging the corners, installing cabinets under the sink, or fixing them above the toilet are smart ways to introduce rectangular storage cabinets. Opting for cabinets that align perfectly with the walls ensures no space is left wasted.
Consider a variety of materials like wood, acrylic, or stainless steel based on your taste and the theme of your bathroom. For an updated look, go for glass front doors or open shelves. But if you prefer to keep things concealed, choose solid doors. Remember, a cabinet is not just a storage unit, it is also an aesthetic addition to your rectangle-themed bathroom.
Customize their height and width based on your storage needs. Also, think about the internal arrangement. Drawer dividers can help organize small items like make-up and skincare products while deeper shelves can store larger items like towels and cleaning supplies. A good balance of both can ensure everything you need is within an arm's reach.
Choosing matching or contrasting hardware can further elevate the look. Add stylish handles for easy access and soft-close hinges for a smooth, silent operation. Remember, these small touch-points make a big difference in creating a sophisticated, well-organized rectangular bathroom.
Slim Rectangular Pendant Lighting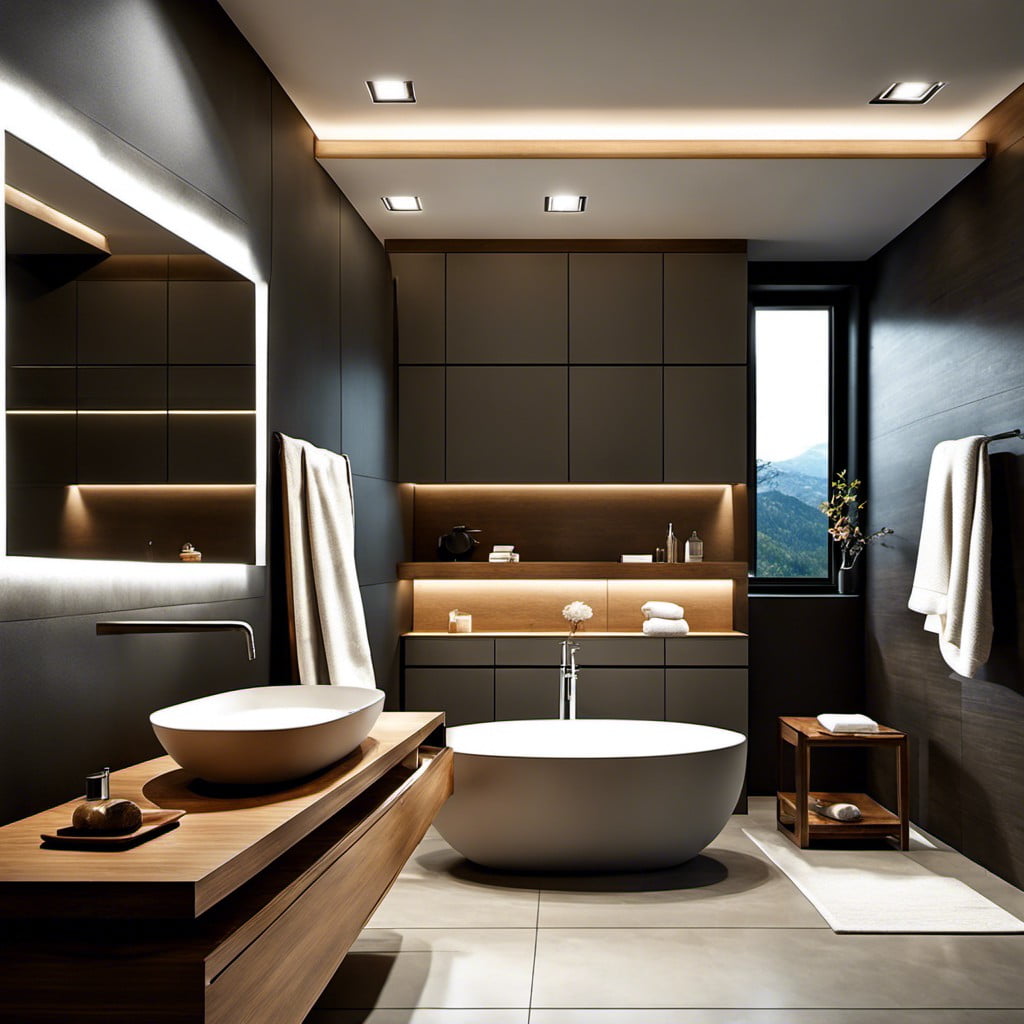 Opting for this type of lighting, remember the role of general and task lighting. Placed either side of a mirror, they work wonders at illuminating your face evenly, reducing any unflattering shadows.
For a minimalist look, select fixtures with a sleek, streamlined design. A metallic finish like bright chrome or brushed nickel can add a sophisticated touch.
Uncertain of height placement? About 60 to 70 inches above the floor should do. Always remember, the ultimate aim is to create an ambiance that feels inviting while also being functional.
Large Rectangular Floor Tiles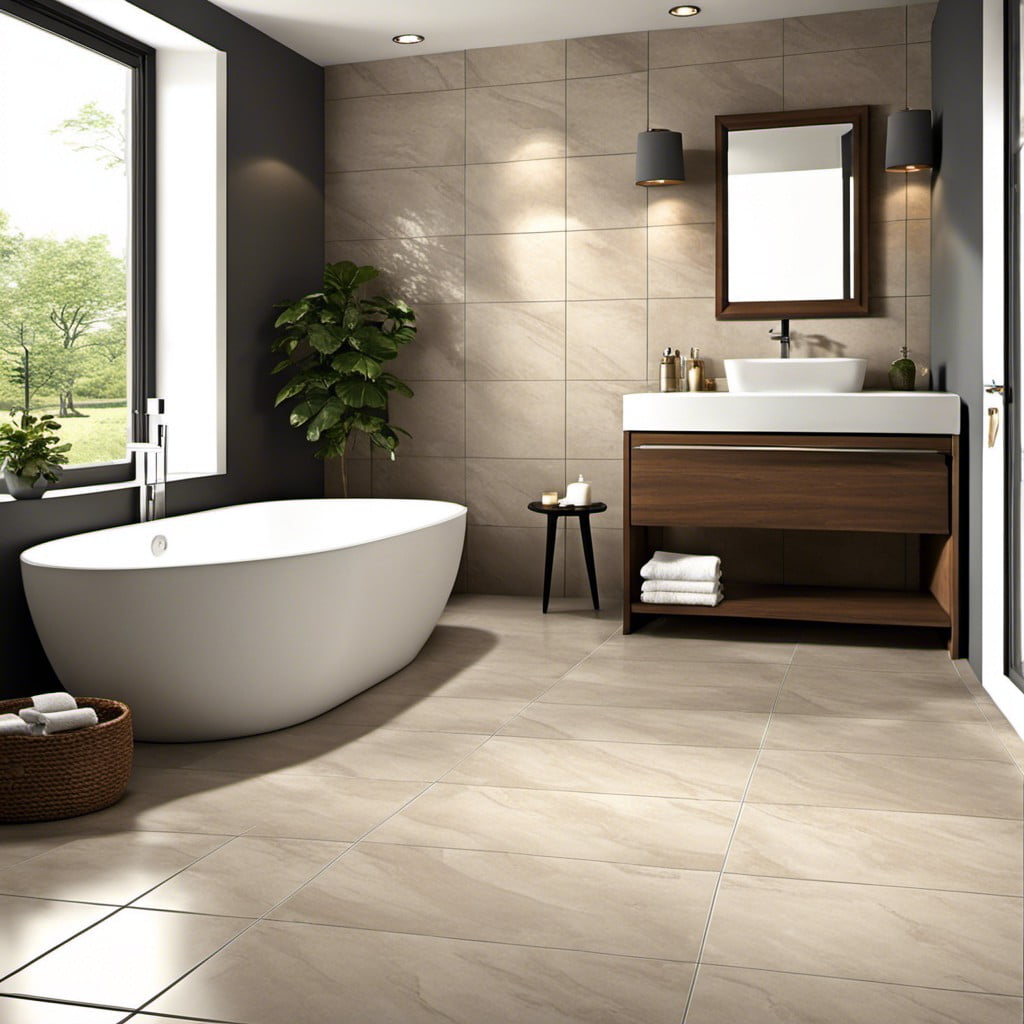 Opting for large floor tiles can bring a touch of elegance and sophistication to any bathroom. Their large format minimises grout lines, creating a seamless, luxurious look. Such tiles offer a sense of spaciousness, making even compact bathrooms appear larger.
Choices range from marble to ceramic or porcelain, each offering a unique aesthetic. Choose glossy finishes for a sleek, contemporary vibe, or matte for a timeless, natural feel. Remember, light colours can brighten the room, while dark can add drama and depth.
Consider underfloor heating – not only a practical layer of warmth for colder mornings, but also an fabulous indulgence.
And don't forget about tile orientation. Lay them diagonally for an eye-catching, dynamic pattern, or straight for a clean, classic look.
In essence, large rectangular tiles offer ultimate versatility, with the potential to frame your bathroom in style and sophistication.
Built-in Shelving With Rectangular Niches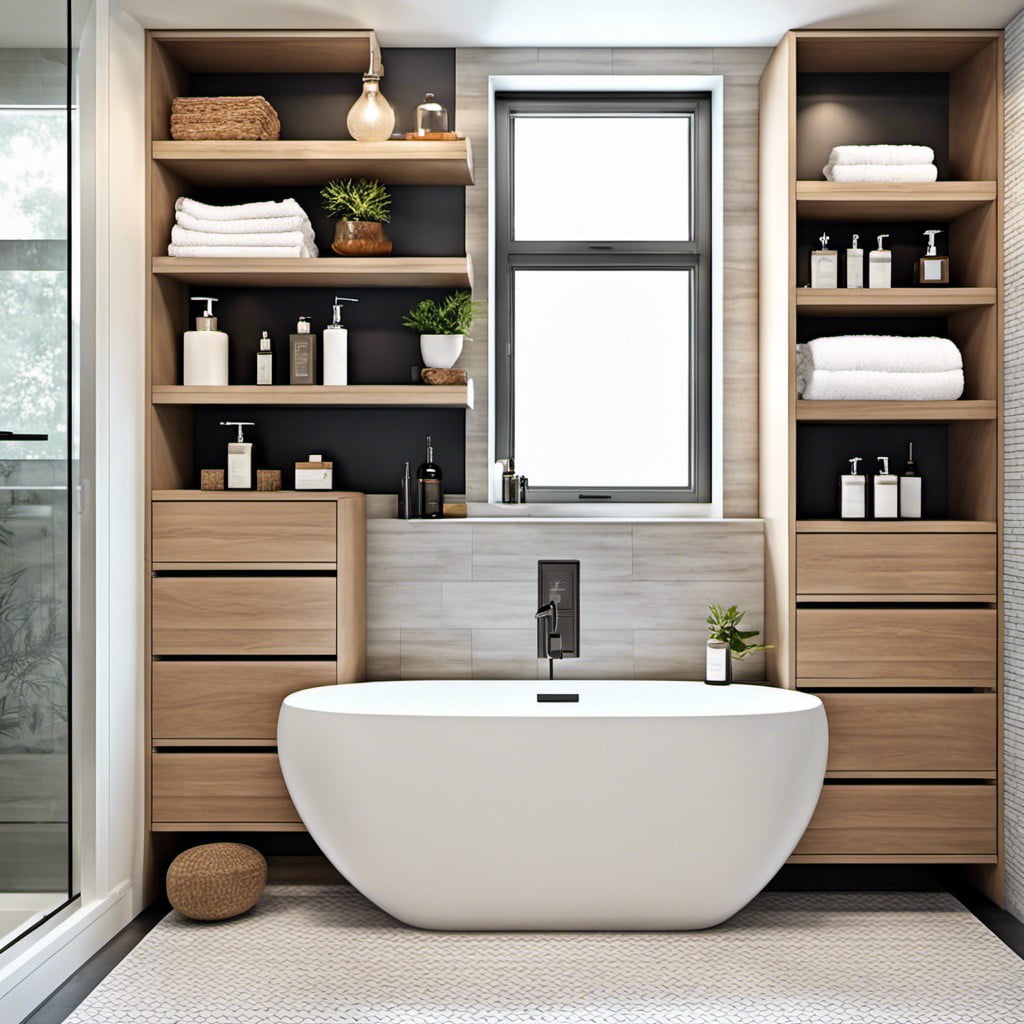 Incorporating built-in shelves provides clever storage solutions without compromising space. With sleek lines and a clean finish, they offer an organized contemporary aesthetic.
Utilize them for stowing away toiletries, displaying plants, or decor pieces.
Interior lighting can further accentuate these niches, enhancing the overall ambiance.
Opt for a seamless look with the same tile finish as the rest of the bathroom or introduce a contrasting texture or color for a touch of visual interest.
Practical yet stylish, they contribute to a minimalistic yet functional bathroom space.
Underfloor Heating for Rectangular Areas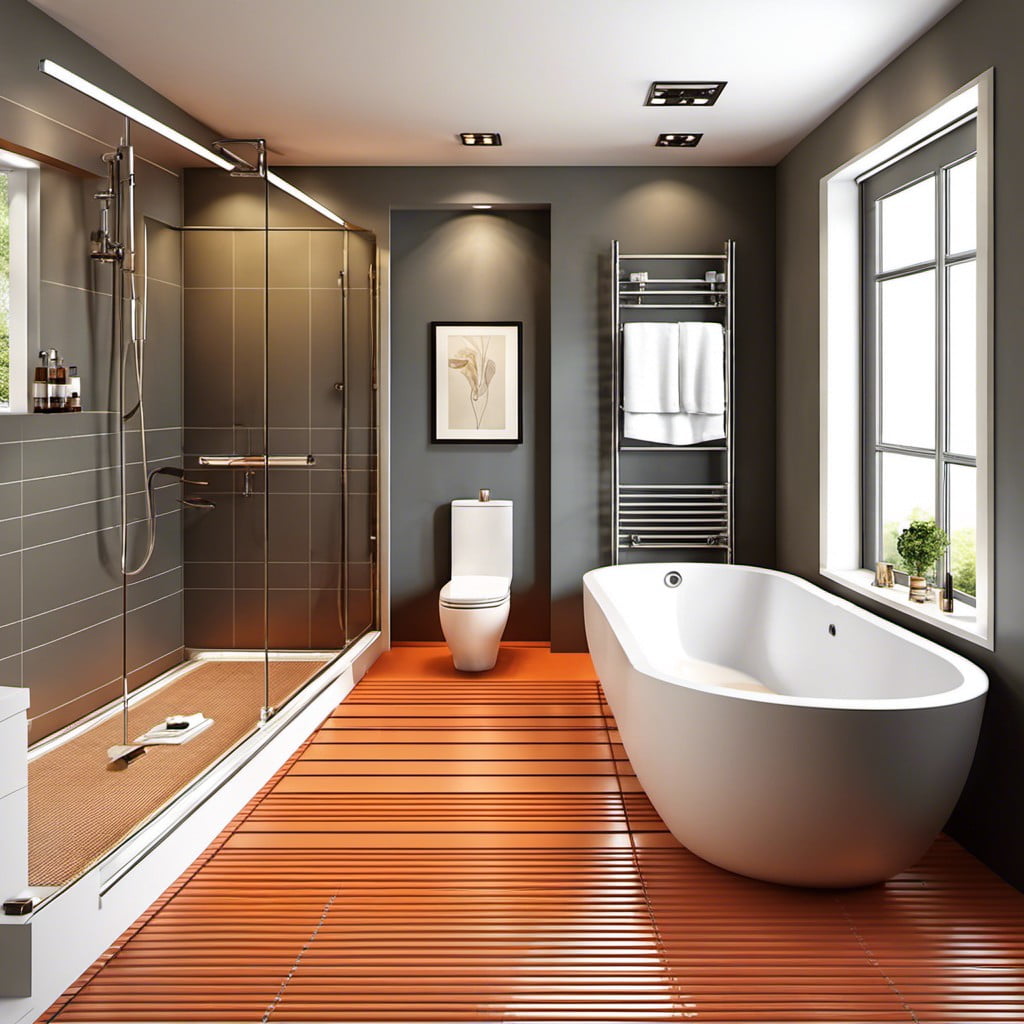 Carefully sized to your rectangular space, underfloor heating provides seamless warmth that radiators cannot compete with. It saves valuable wall space while quietly delivering a comfortable temperature throughout your bathroom. Interestingly, underfloor heating is perfectly suited for rectangular baths due to its streamlined installation process.
1. Intelligent Design: This heating approach fits perfectly in a rectangular configuration, typically laid out in a spiral or serpentine pattern to ensure even distribution of warmth.
2. Efficiency: Provides the ability to set different temperatures in different zones, ideal for large rectangular spaces.
3. Comfort: Provides steady, consistent warmth. No hot spots or cold areas, just an all-around cozy bathroom floor.
4. Easy Installation: While it might sound complex, underfloor heating can typically be installed in a single day when working in a basic rectangle configuration.
Remember, while underfloor heating is a slightly larger investment upfront, the long-term benefits in terms of functionality and added real estate value can't be denied.
Rectangular Frameless Mirrors for Minimalist Style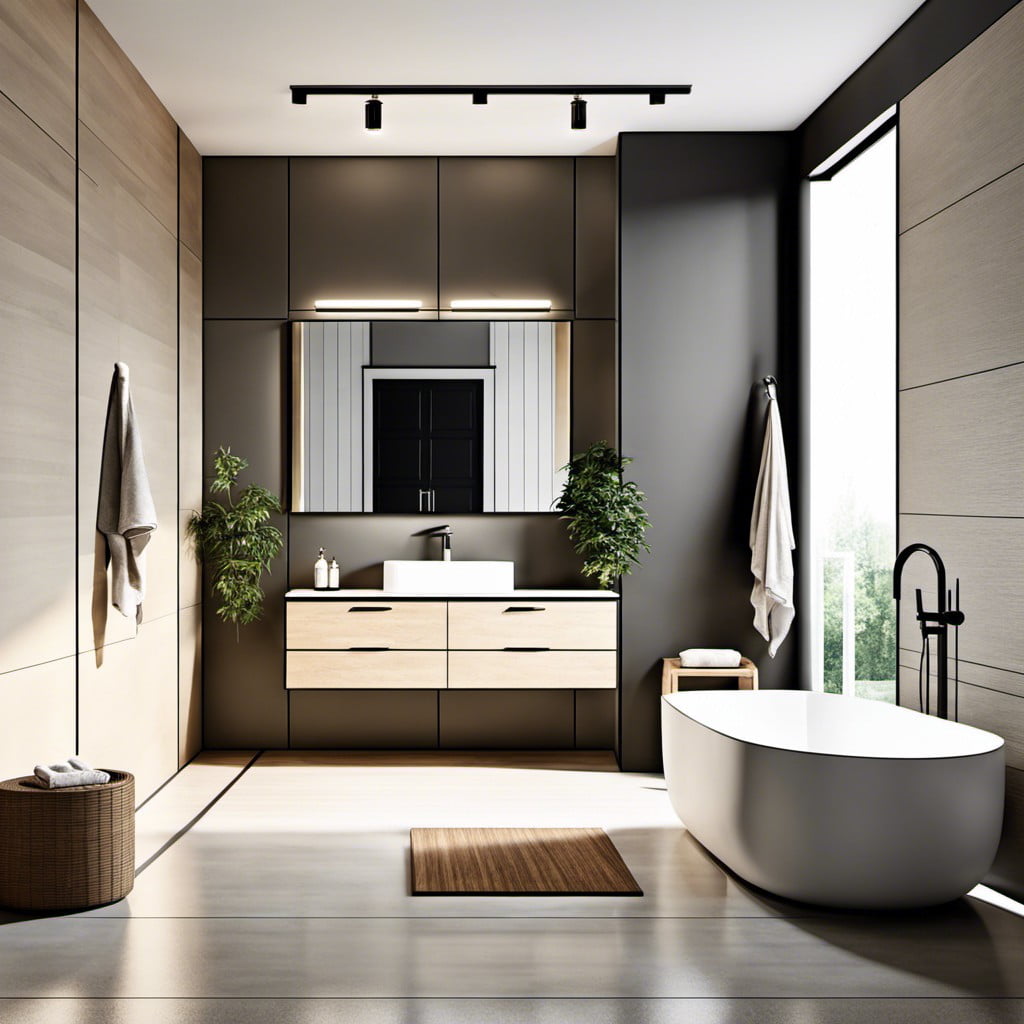 Having no frames instantly adds a touch of sleekness to your bathroom, earning its place in a minimalist aesthetic. Since they don't impose a particular style, they fit perfectly with any decor, from vintage-chic to contemporary. It's a big plus that they make your bathroom appear more spacious, reflecting more light around the room.
For the best effect, you might want to hang the mirror parallel to your longest wall. Consider also arranging multiple frameless mirrors for a unique, artistic arrangement. Lastly, keep in mind that they require thoughtful handling and installation to secure their delicate edges.
Subway Tile Walls in a Rectangular Layout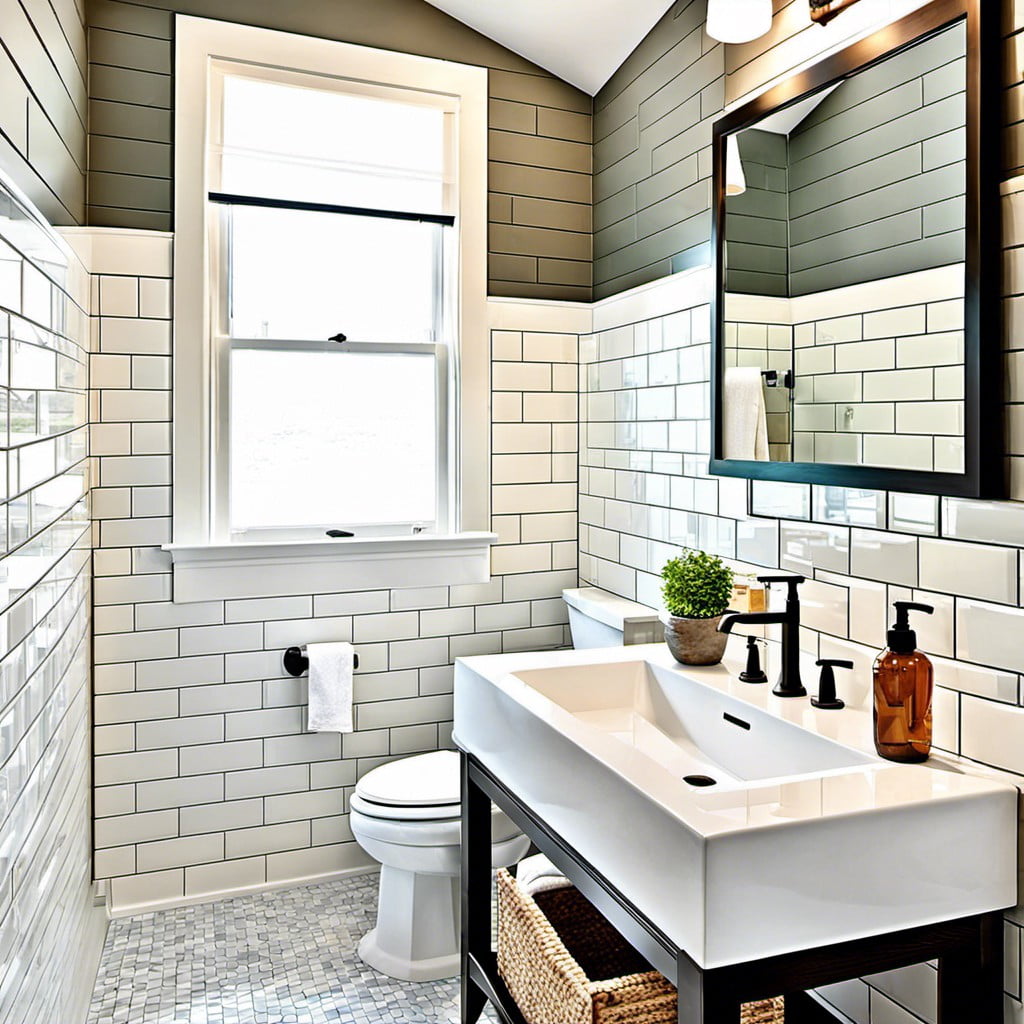 For a crisp, clean aesthetic, feel free to harness the charm of this widely adored layout. Rectangular tiles, popularly known as subway tiles, can be arranged in a variety of patterns, offering a degree of flexibility unmatched by other types. Their simple shape and varied dimensions make these tiles an ideal fit for both small and large spaces.
1. Patterns Matter: The traditional brick layout offers an understated simplicity, while a herringbone or staggered arrangement lends a modish appeal for those seeking a more contemporary look.
2. Color Carpentry: A mastery of color can create awe-inspiring atmospheres, from a tranquil sanctuary in softer hues to a bold, vibrant motif for the adventurous.
3. Grout Grit: Grout color makes a difference. Contrasting grout hues can highlight the rectangular pattern, while a matching shade offers a sleek, seamless appearance.
4. Consider Scale: While small tiles can add texture, larger formats offer a minimalist, modern look. The size of your tiles will significantly impact the overall ambiance of your bathroom.
Consider these points while choosing the placement, color, and size of your subway tiles. With orchestrated thought, the subway tile wall creates a stunning, eye-catching feature, binding the bathroom elements together.
A Rectangular Sink With Storage Underneath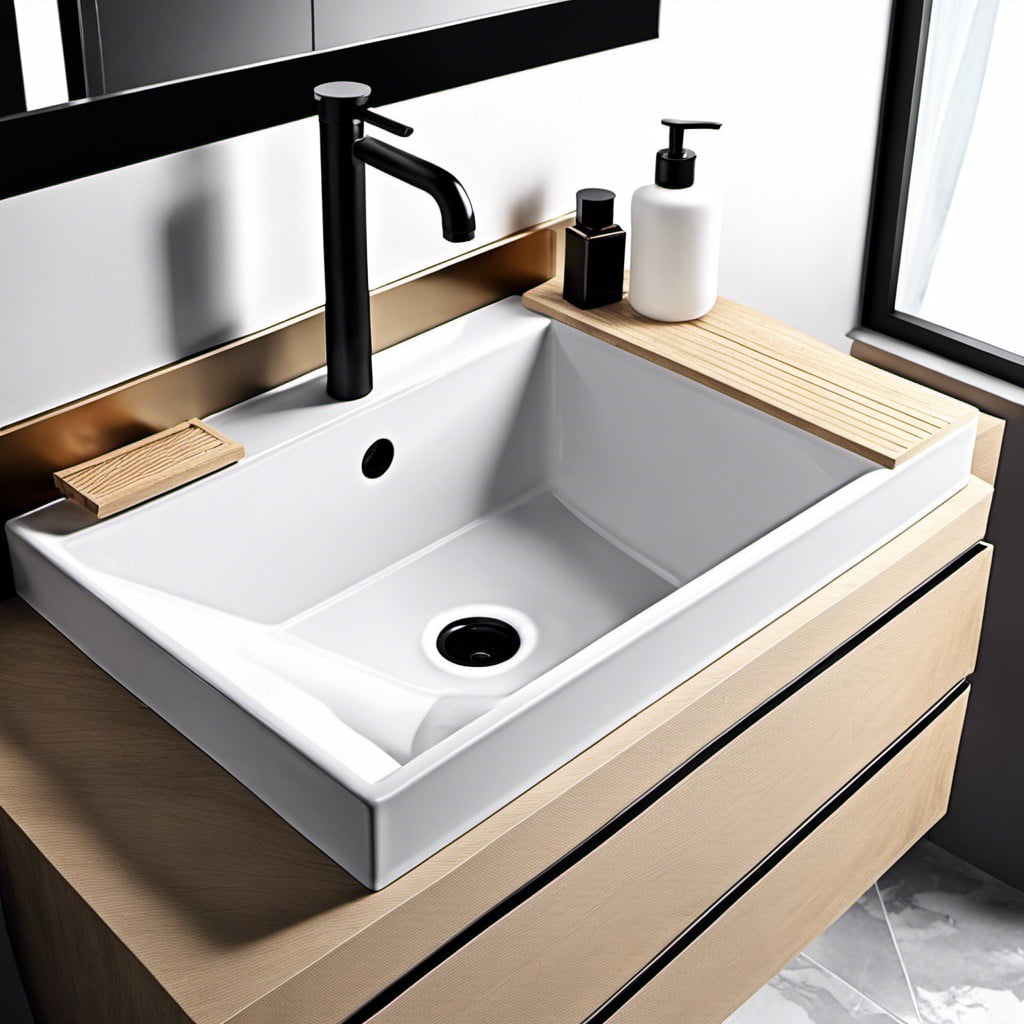 Impeccable organization and functionality can be achieved in a bathroom by pairing a sink with storage underneath. Consider a model where the cabinets or drawers fit seamlessly below the sink basin, crafting a streamlined look that is also practical.
The options could range from a single drawer system to multi-tiered arrangements depending on your storage needs. Sleek designs with clean lines can yield a sense of minimalism and elegance. Additionally, darker tones can impart a cozy, intimate feel, while lighter hues might evoke a fresh, airy vibe.
To maximize the use of space, corner models with an angular design can be a strategic choice for smaller bathrooms. Basket organizers inside drawers will keep toiletries neatly stored and easily accessible. This concept is not only functional but also a design statement that ultimately delivers a multi-purpose solution to every bathroom.
A Rectangular Skylight to Bring in Natural Light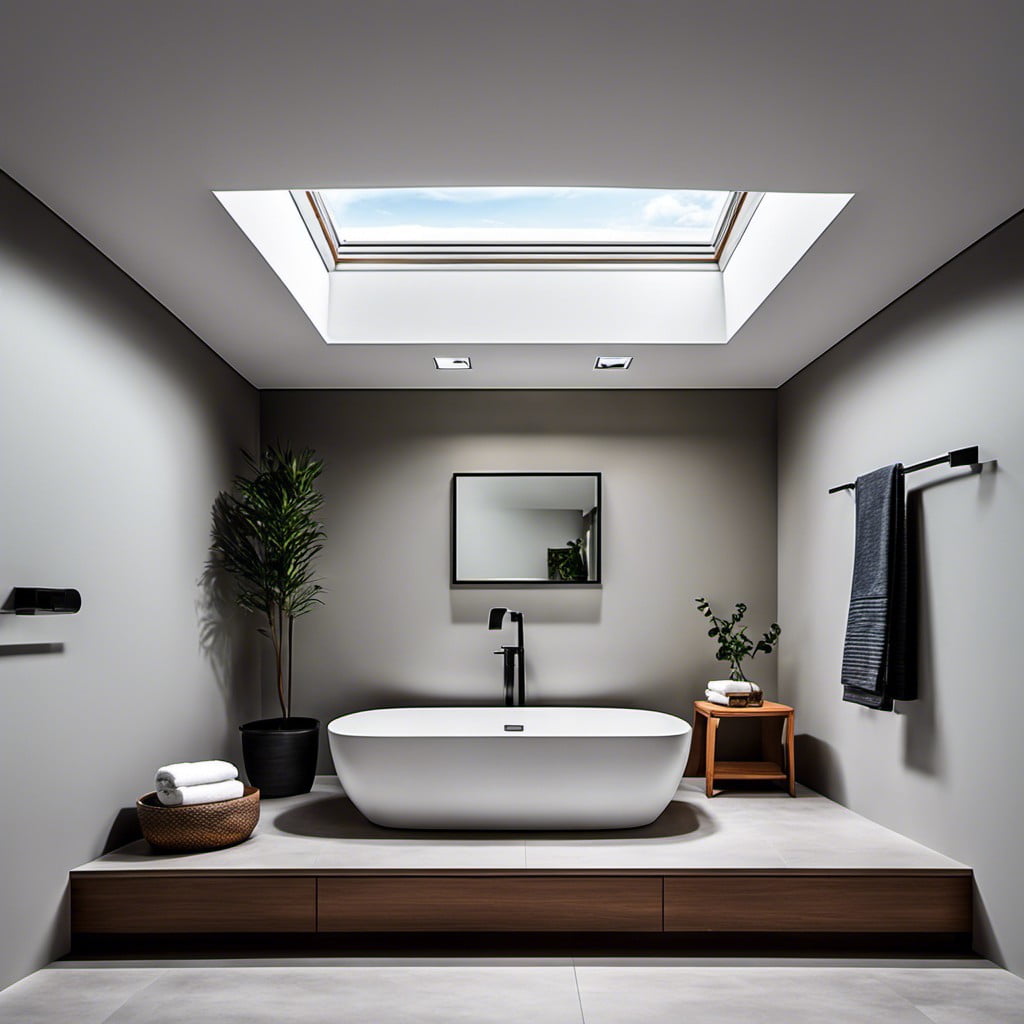 Sunlight has an incredible knack for amplifying the beauty of any space. With skylights, your bathroom will bask in an influx of natural illumination, adding an airy and spacious feel. Ensuring the skylight is rectangular not only aligns with the theme but also strikes a balance between form and function.
Let's explore some remarkable benefits of dabbing into this natural light grabber:
Energy Efficiency: Instead of relying on artificial lighting during the day, the skylight will filter in sunlight, reducing the overall energy consumption.
Privacy: A skylight allows light without sacrificing privacy, a primary concern in bathroom design.
Visual Appeal: Natural light streaming through a skylight adds dramatic flair to the ambiance.
For the best experience, orientation matters. Position it strategically to catch sunlight at the right times of day. Remember, a north-facing skylight provides cool illumination, while one facing the south brings warmth. It's a minor but impactful decision that contributes to the overall comfort level of your bathroom space.
Long Rectangular Bathroom Rug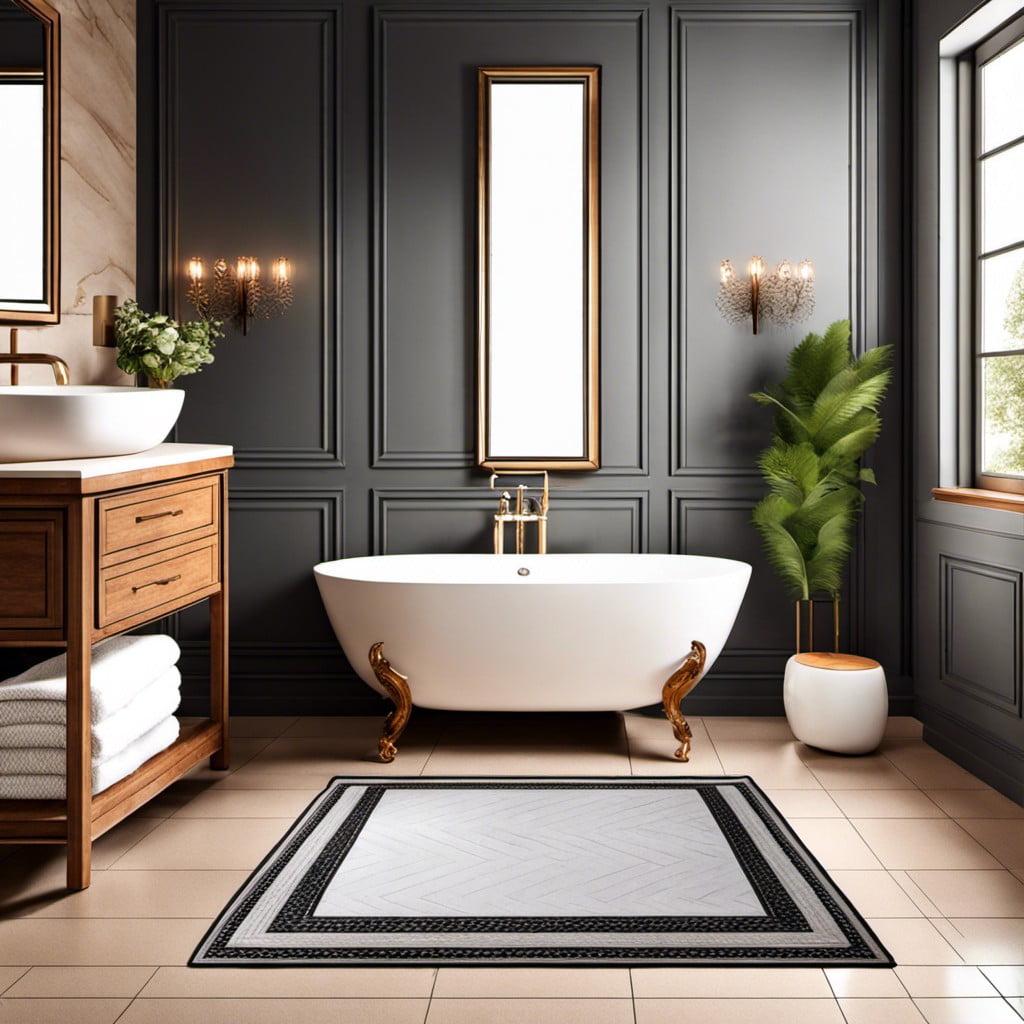 To accentuate the elongated shape of the bathroom, a long rug fits well. Not only does it bring in a splash of color, but it also has a functional purpose of keeping your feet warm on cold mornings.
Opt for a material that's both soft and water-resistant, such as microfiber or cotton. Placed in the center, it effortlessly guides one along the bathroom's length, creating a visual path.
Play with patterns and textures catering to your overall design. A typical stripe pattern could help to enhance the rectangular theme, while something abstract will add intrigue. Lastly, remember to place it on a non-slip underlay for safety.
Rectangular Marble Countertop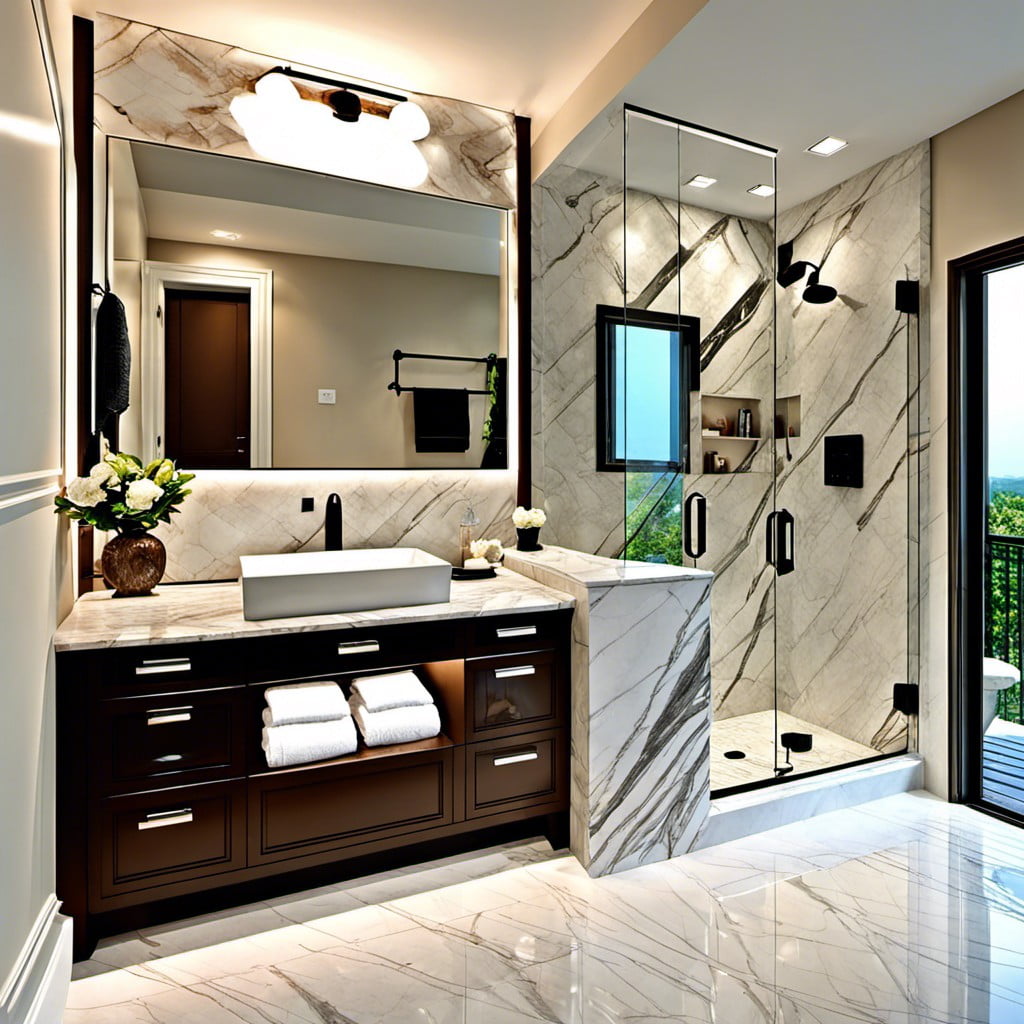 In your bathroom, the countertop is a critical component. Opting for a marble one that's rectangular immediately elevates the space. The sleek lines and sharp edges of the rectangular design provide a striking contrast to the naturally veined marble, creating a balance between modern and classic styles.
It doesn't stop there, though. Remember the following points about the benefits of this choice:
1. Durable: Marble is great at holding up against water, heat, and general wear and tear, making it a long-term investment.
2. Stylish: Marble offers an elegant appeal, instantly adding a touch of sophistication to your setup.
3. Easily Maintained: While marble does need some care, it's generally easy to maintain. Regular cleaning and sealing will keep it in top-notch condition.
4. Versatile: Available in a wealth of colors to match any color scheme. Whether you prefer striking white or deeply veined gray, you'll find a perfect fit.
5. Adds Value: A marble countertop can increase the value of your home as it's considered a high-end home feature.
Now, you're well-armed with important information regarding why a rectangular marble countertop is a fantastic choice for a bathroom upgrade.
Rectangle Recessed Lighting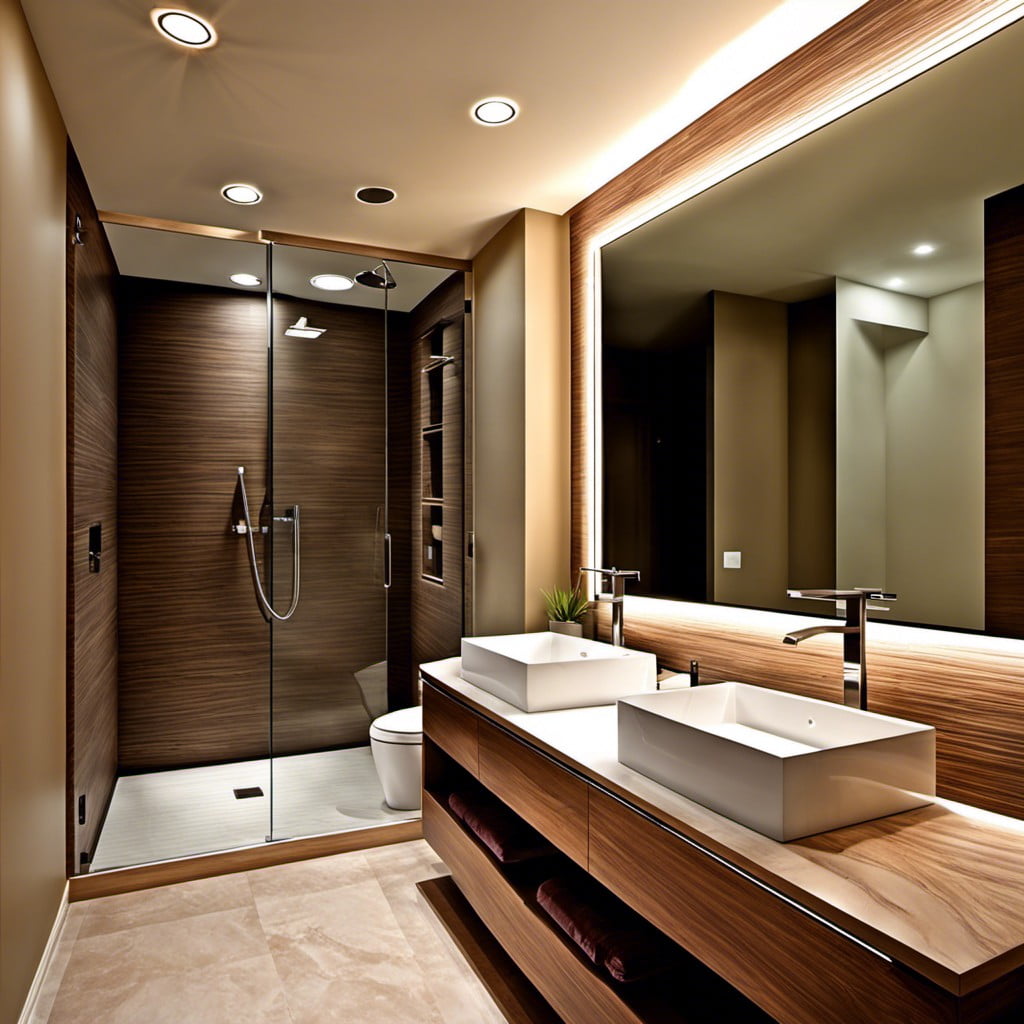 A well-thought-out lighting plan is crucial in a bathroom. Recessed rectangular lighting provides a streamlined, modern look. These fixtures are ideal for low ceilings and can evenly distribute light throughout the room.
Here's how these lights can enhance your space:
Create zones: Light above a mirror or a shower to define areas.
Concealable Source: Flush with the ceiling, it doesn't distract from other bathroom elements.
Spotlight Effect: Focus on specific areas, ideal for task lighting.
Design Flexibility: Available in varied sizes and finishes to match any aesthetic.
Energy Efficiency: Most compatible with LED bulbs, ensuring lower electricity bills.
Safety: Resistant to moisture intrusion, perfect for a wet environment like a bathroom.
Remember, the placement of these fixtures can significantly affect your bathroom's ambience. Professional advice may be needed for installation.
Hanging Rectangular Artwork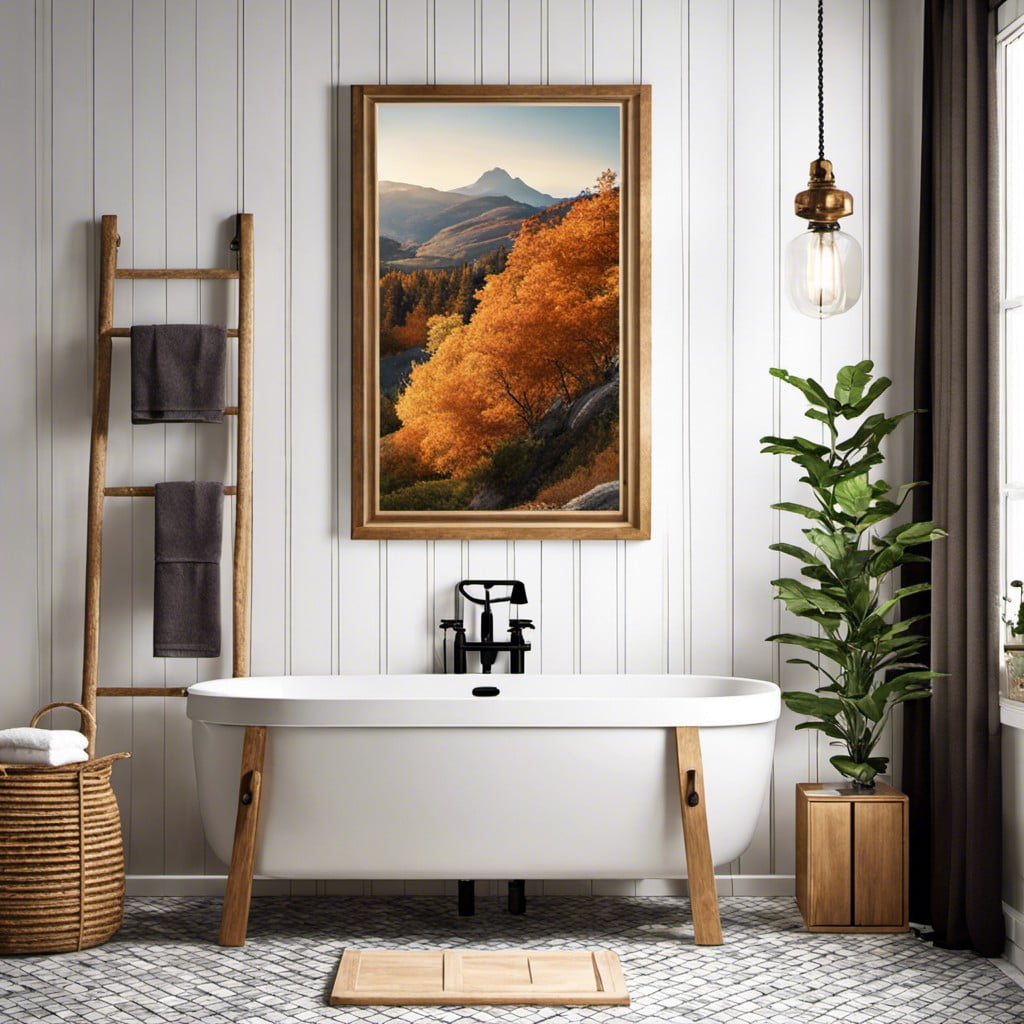 Artwork featuring linear forms emphasizes the geometry of the room, serving as a visual reference. When deciding on the perfect piece, consider the color palette of your bathroom. Opt for hues that compliment your space to maintain balance.
Ensure you position the artwork at eye level for the best visual impact. For larger bathrooms, a bold piece of abstract art or a scenic landscape in a rectangular frame will create a striking focal point. In smaller spaces, a minimalistic line drawing or an understated print can add depth without overwhelming.
Ensure your artwork is suitable for humid environments to prevent any damage, or choose professional framing that offers extra protection. By following these simple guidelines, you can enhance the aesthetic appeal of your bathroom with rectangular artwork.
A Rectangular Vanity Unit With Matching Mirror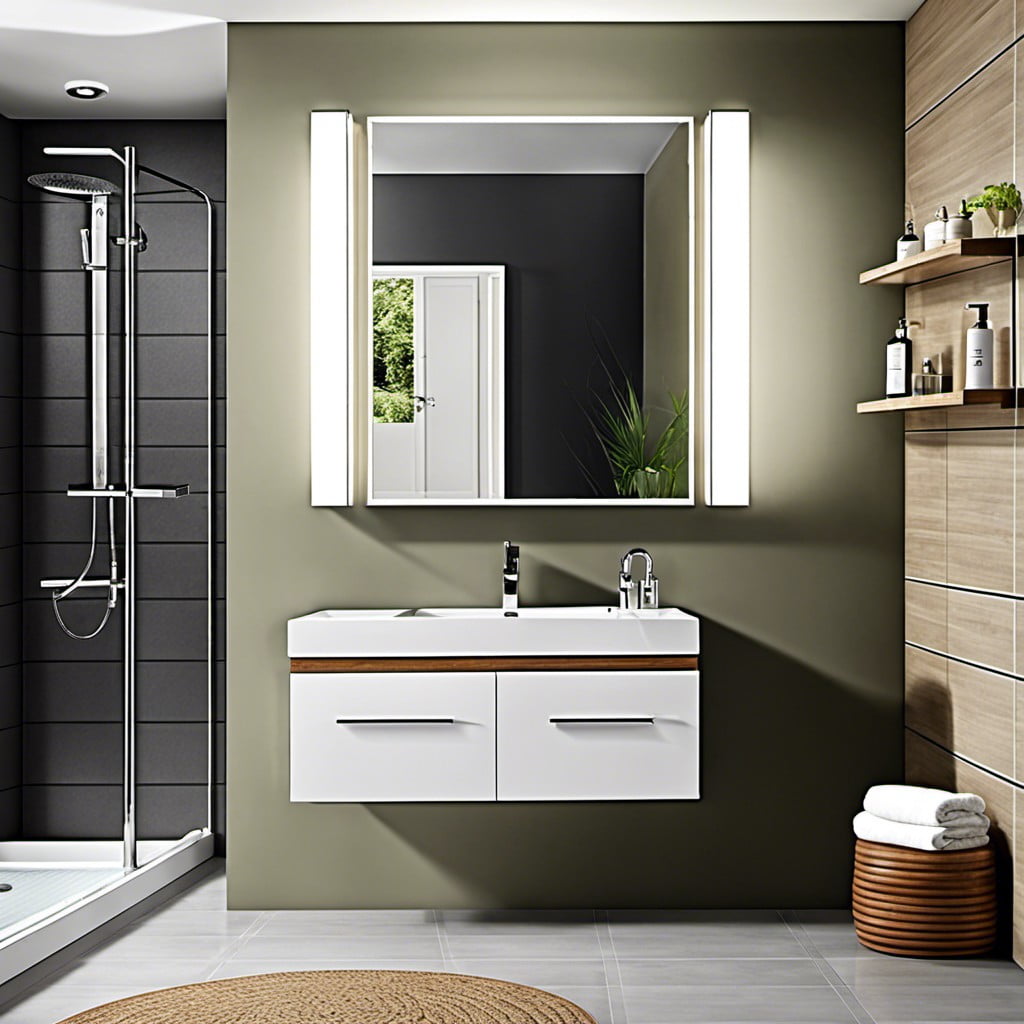 Balancing functionality and aesthetics, consider selecting a vanity unit that pairs perfectly with a similarly shaped mirror. This duo not only offers ample storage for your bathroom necessities but also forms an attractive focal point.
Shake things up with a high-contrast pairing of a dark wooden vanity against a crisp white mirror frame. Or, for a sleek, modern vibe, opt for a glossy white vanity unit complemented by a frameless mirror.
To maximize space, install your mirror to span the entire length of the vanity. This illusion of expanse will instantly give your bathroom an airy feel.
Ensure consistency in the design process by carrying the rectangular theme into the details, such as drawer pulls and faucet fixtures. Choose long, lean hardware to emphasize the linear motif.
Lighting plays a crucial role here, too. A flattering light fixture installed just above the mirror can both highlight the rectangle theme and provide excellent task lighting.
Lastly, consider positioning the vanity along the longest wall of your bathroom to maintain balance and proportion in the overall rectangle theme.
Continue reading:
Recap