Last updated on November 29, 2023
Discover creative ways to throw an unforgettable sneaker ball party, because each celebration deserves to stand out with uniquely stylish elements and innovative ideas.
If you're on the hunt for unique and creative sneaker ball party ideas, you've landed on the right page. This article is your ultimate guide to throwing a sneaker-themed bash that will leave your guests in awe.
From decorations and food to games and party favors, we've got it all covered. So, lace up your favorite pair of kicks and get ready to plan the most stylish sneaker ball ever.
Stick with us, and you'll find all the details you need to make your sneaker ball a hit.
Themed Sneaker Exhibition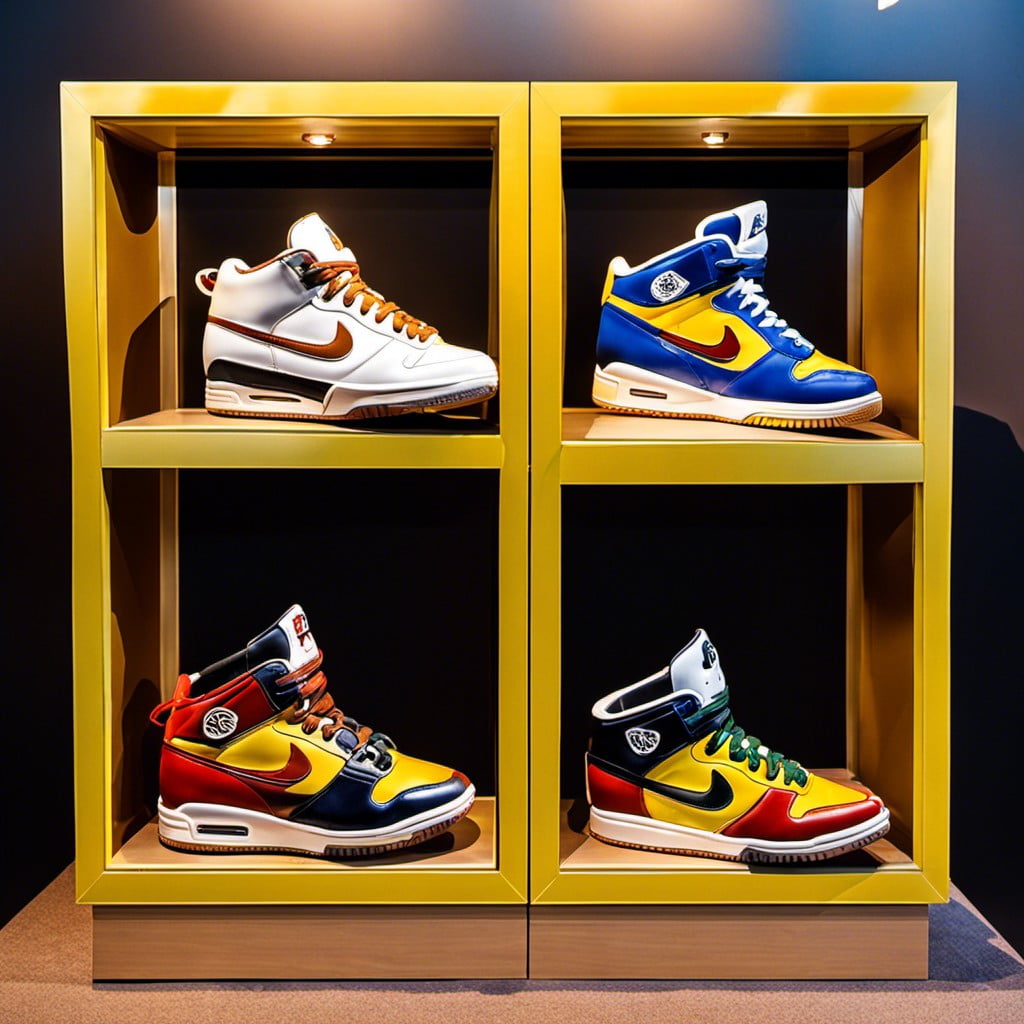 An exhibition is a great way to showcase the rich variety of sneakers available. It can include everything, from vintage editions to new releases. Such exhibitions can be made more interesting by weaving in stories behind the sneakers, underlining how each one is unique.
Don't restrict it to just brands; encourage guests to bring their own sneaker collections as well. This sense of communal sharing and discovery is sure to keep the enthusiasm high. Ensure that the exhibition remains interactive with guests allowed to touch and explore displayed kicks.
Keep handy details like origin, design inspiration, and any special features of each sneaker, turning the exhibition into a fountain of knowledge for enthusiasts. You can also consider setting up a shoemaker's corner, complete with design blueprints and resources for anyone interested in the sneaker-making process.
Custom Sneaker Designing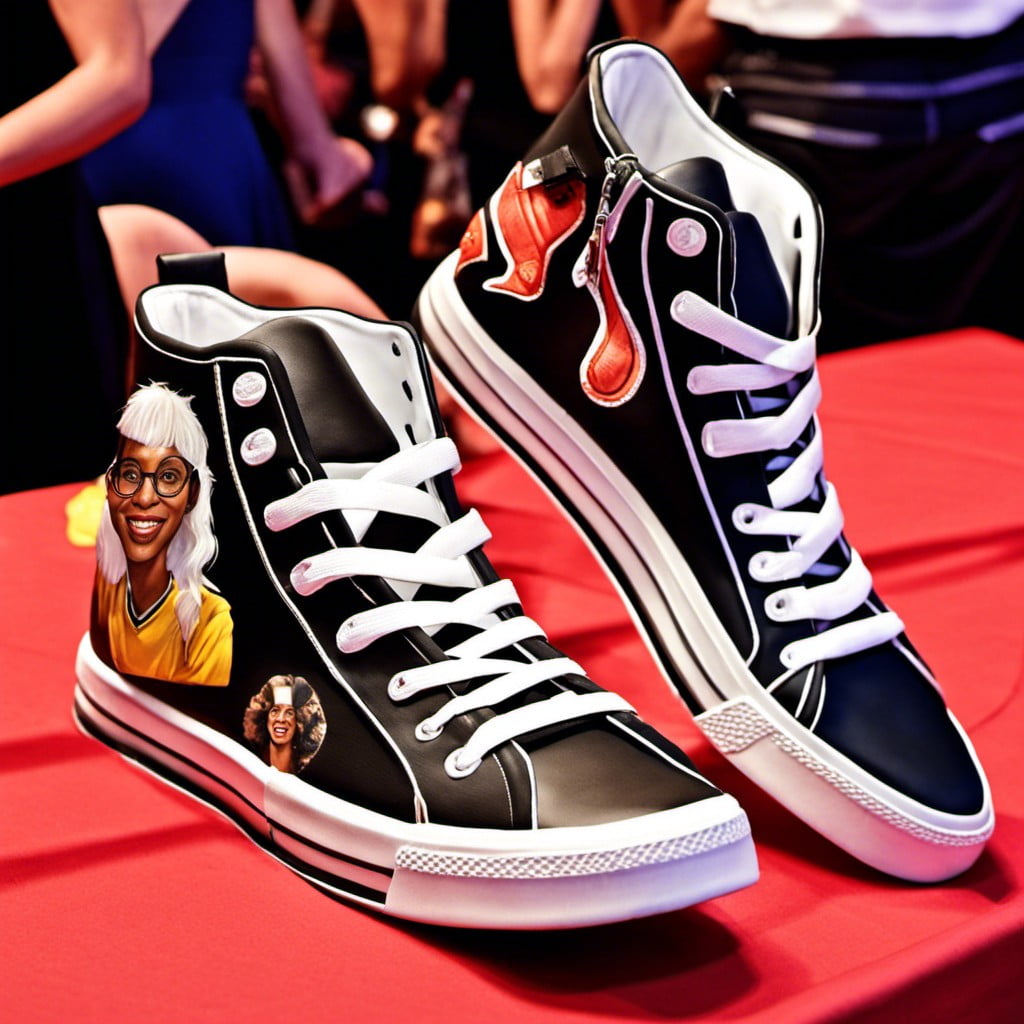 Empower your creative spirit and let your shoes be the canvas at the event. The fun lies in expressing your unique style and personality.
With just a few materials such as fabric markers, glitter, paints and adhesive jewels, watch as your plain sneakers transform into wearable art.
Guided tutorials might inspire newcomers, while free-hand designing can be a thrilling challenge for the more artistically inclined attendees.
This activity promotes interaction among guests as they exchange ideas and showcase designs.
It's an excellent way for everyone to bring home a memorable piece from your sneaker ball party.
Remember to set up a quick drying station so the masterpieces can be flaunted later on the dance floor.
Sneaker Trivia Contest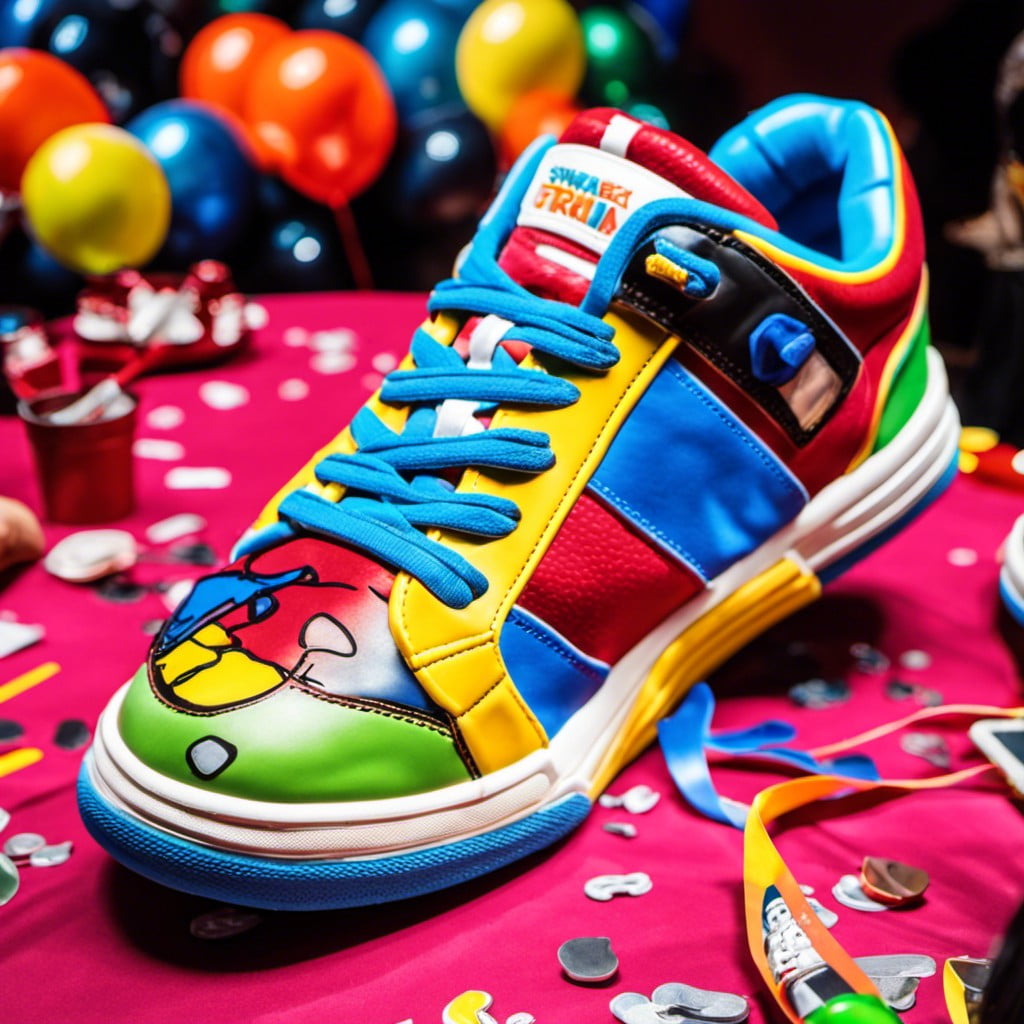 Elevating the party experience, a trivia contest brings sneaker enthusiasts together with a dash of friendly competition. Participants can test their knowledge on sneaker history, famous designs, and influential sneakerheads.
Keep the challenge diverse by adding sections like 'True or False', multiple-choice questions, and picture identification rounds. Make sure to tailor the trivia questions to your audience's knowledge level, and encourage camaraderie by forming teams among party guests.
Don't forget prizes for the winners: rare laces, sneaker cleaning kits, or even a coveted pair of sneakers. This engaging activity not only stirs excitement but also allows guests to learn fascinating sneaker facts.
Sneaker Treasure Hunt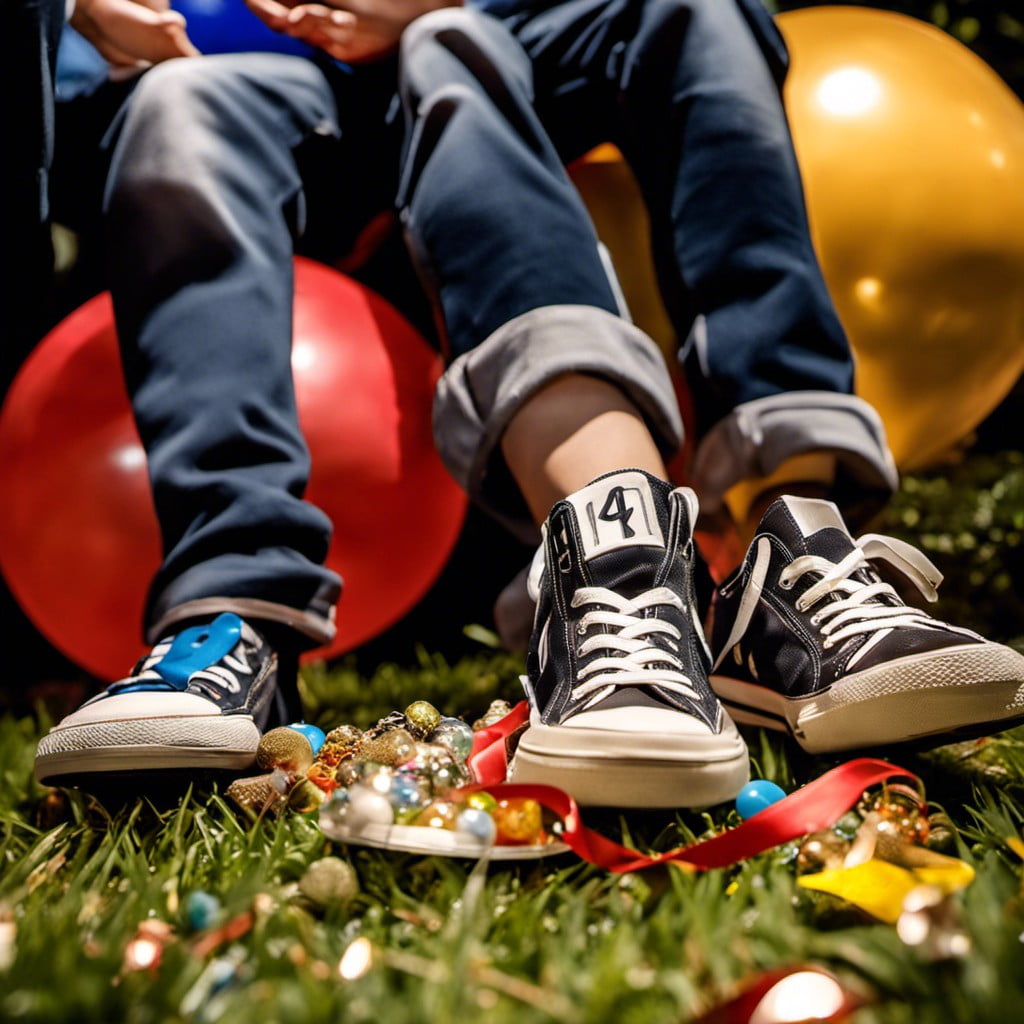 In the spirit of some friendly competition, introduce a game that challenges the guests' sneaker knowledge! Scatter hidden clues throughout the party venue that lead to a coveted sneaker prize. These clues can be based on sneaker history, famous sneaker wearers, or even sneaker designs. This not only adds a fun twist to your party but also allows your guests to show off their sneaker love.
This game can be adapted for all age groups and you can decide on the complexity of the clues according to your guest list. Ensure to throw in some multiple prize tiers to keep the excitement building. The possibilities are endless, so get creative!
DIY Sneaker Decoration Station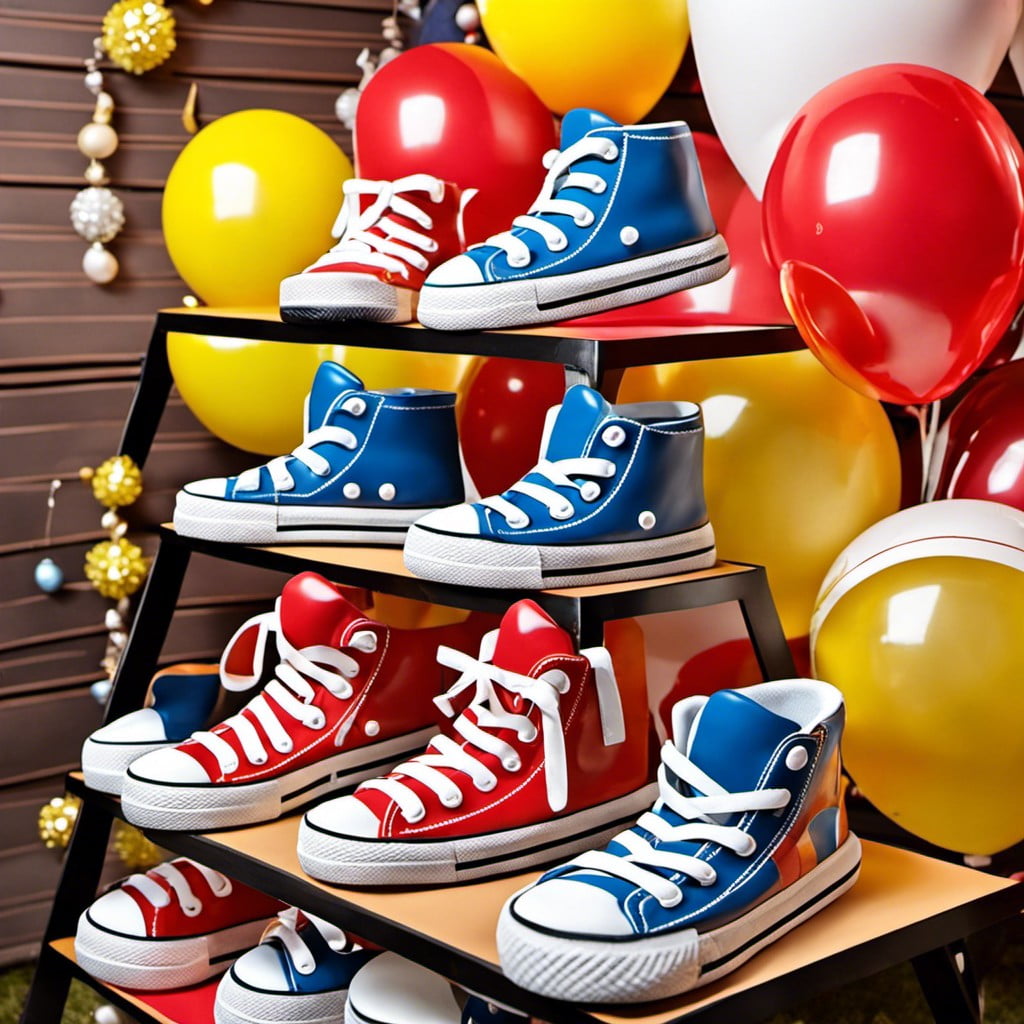 To create an engaging station, ensure you provide a variety of materials like fabric markers, glitter glue, rhinestones, fabric paint, and sticker patches. This allows your guests to show their creative side and personalize their own sneakers. It's not only enjoyable, but it also gives your guests a unique party favor to take home.
Consider using these elements:
Fabric Markers: They come in a variety of colors and are excellent for fine, detailed work or writing on sneakers.
Glitter Glue: This adds a fun, glamorous touch to any design. It's best for bold, standout features.
Rhinestones: These provide a bling factor to sneakers. An adhesive is essential to attach these sparkling beauties.
Fabric Paint: Ideal for larger designs or filling in color. A brush or a sponge can be used to apply.
Sticker Patches: A mess-free option that attendees can just stick on. They come in numerous designs, from pop culture references to beautiful florals.
Remember to provide workstations with ample space, chairs, and floor or table covers for protection against spillage. Encourage creativity and personalize the party in a way no one will forget.
Sneaker Cake and Cupcakes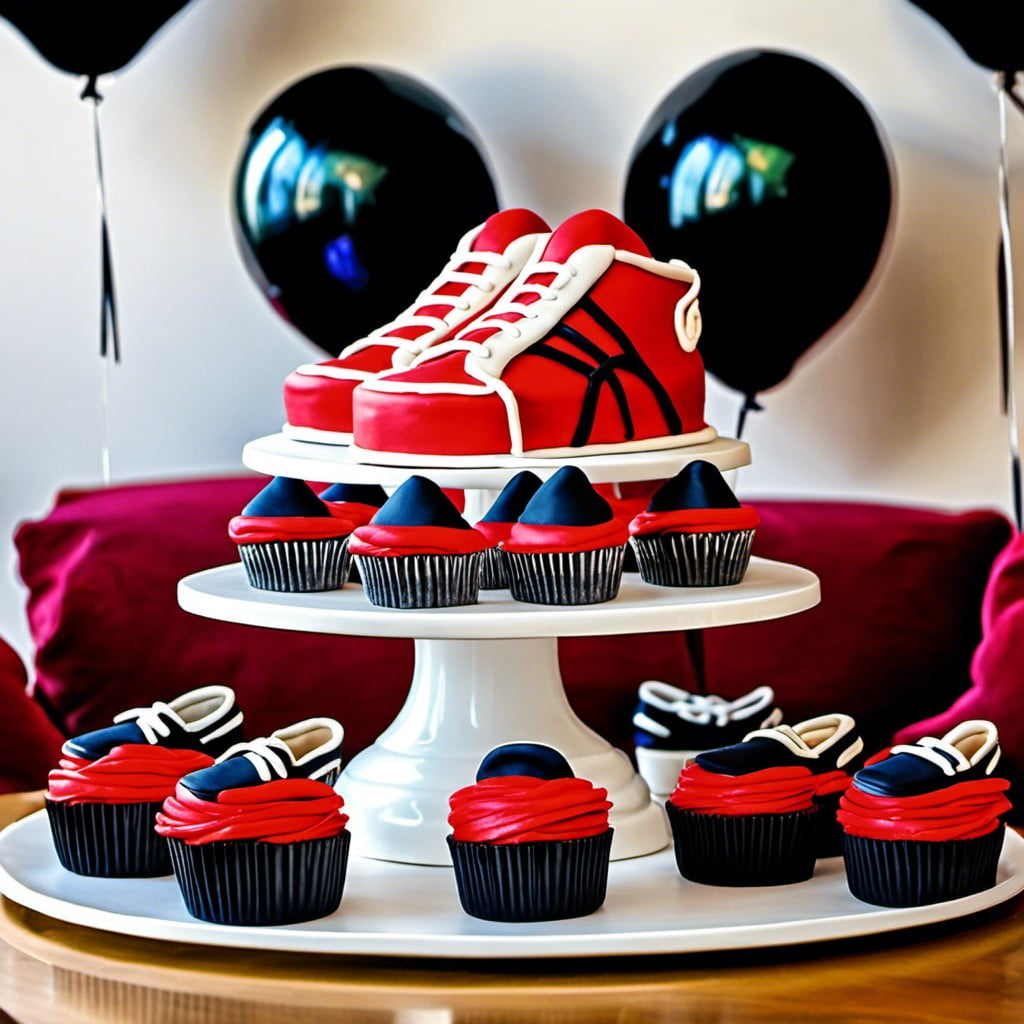 Specialized bakeries can create a masterpiece confection in the form of your favorite sneaker brand. Not only will the cake serve as a talking point, but it's also a tasty treat for your guests. For an extra fun twist, add cupcakes decorated with edible mini sneakers or logos of popular brands. Ensure the baker uses food-grade ingredients for the embellishments.
If you're on the creative side and wish to bake yourself, there are plenty of online tutorials available to guide you. It's a fun activity and adds a personal touch to your party. Just remember to start in advance to allow time for necessary do-overs.
Ordering a professional cake or making one yourself, either way, ensure it complements the theme of your party by keeping the color scheme in sync with your decor. You can even unveil the cake in the middle of the party, for an added element of surprise.
Remember that selection of flavor is just as important as the decoration. It's best to keep flavors universal, like vanilla or chocolate, to cater to all taste buds. If you're having multiple cupcakes, you could opt to have a variety of flavors to offer guests a little taste of everything.
For those monitoring their sugar intake, consider offering an alternative option, such as a fruit platter. This way, everyone gets to partake in the dessert course. Regardless of the dietary preferences, your dessert table is bound to be an instant hit with these cool shoe-shaped edibles.
"Best Sneakers" Contest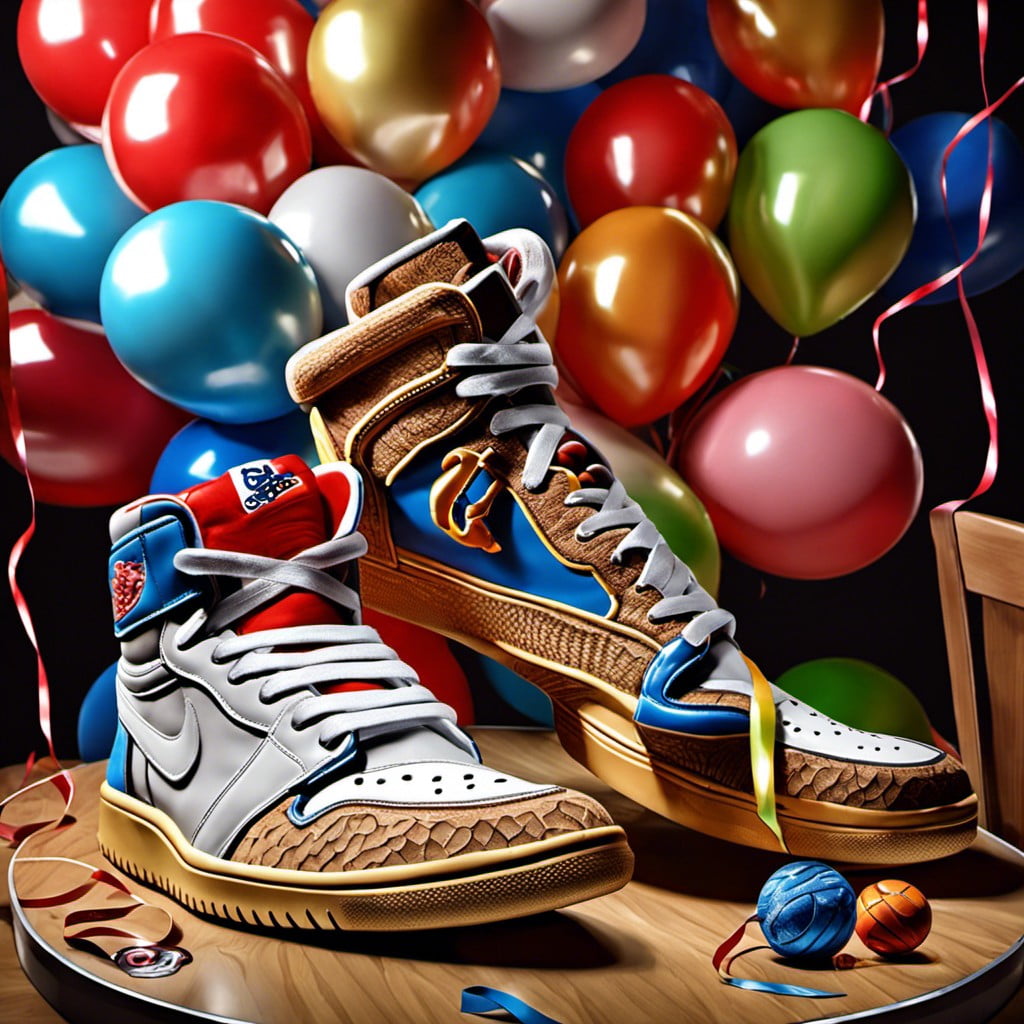 Staging a competition where attendees get to showcase their most prized kicks is a surefire way to stir up excitement. The contest can run along various lines to appeal to the different sneakerheads. Value, rarity, and design are a few criteria on which to judge.
Each participant gets a moment on the "catwalk" to flaunt their footwear, allowing others to appreciate the details which make it valuable, rare, or beautifully designed. Encourage participants to share stories and the background of their shoes – is it a limited edition, does it carry an athlete's autograph, or have a fascinating history?
To keep the proceedings transparent, welcome impartial judges from the crowd. Alternatively, utilize technology by running a live poll to allow everyone a say in the vote.
Besides bragging rights, small tokens can serve as prizes further incentivizing participation. Accessorize them with sneaker-themed decals for that personalised touch. Make sure to announce this contest early – it will not only create anticipation but also allow your guests enough time to dig out their best pair!
Sneaker Ball Dance Off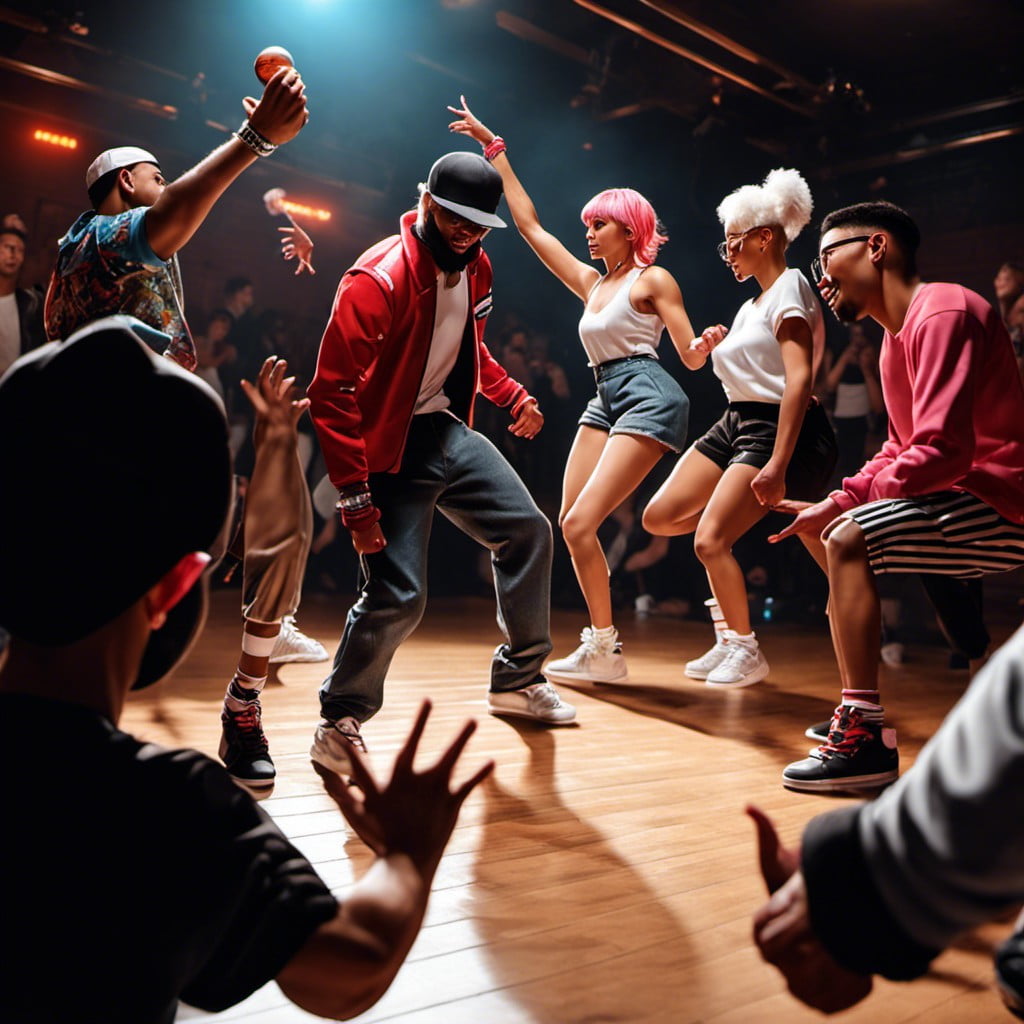 Arrange a designated dance floor where guests get to strut their stuff and show off their sneaker moves. This is not just about the dance, but also about the sneakers. Here's how to make it more interesting:
Establish dance categories: Swing, Hip Hop, Salsa, or Freestyle, each bringing attention to the participants' kicks in different ways.
Rope in a local celebrity or a knowledgeable person in your guest list to judge the dance-offs. Their decision factors in both the dance and the sneakers.
To ramp up the energy, select a soundtrack that references sneaker culture. Songs that reference the theme will keep the event lively and get more people moving.
Announce a grand prize for the winner. The prize could be a fresh pair of coveted sneakers or a sneaker care kit.
This activity brings out the best of dance and fashion, engages your attendees, and is sure to create memorable moments at your sneaker ball.
Sneaker-Themed Invitations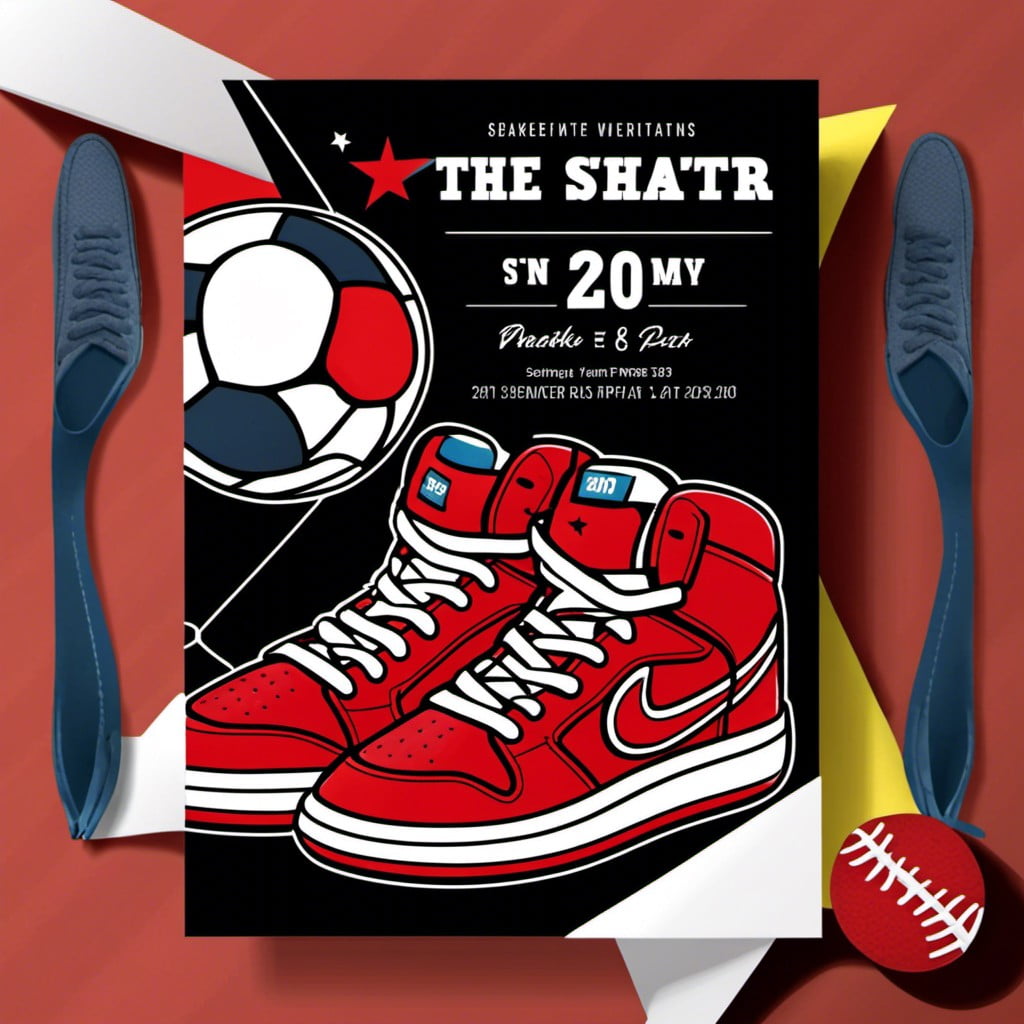 Consider the use of bold, vibrant colors, and include popular sneaker logos for a truly unique invitation.
Alternatively, aim for a minimalist design with clean lines and neutral colors – the sneakiness is all in the details.
Use shoe laces to tie up your invites or perhaps construct the envelope to resemble a shoe box.
Use images of iconic sneakers or popular shoe brands.
Digital invitations are an eco-friendly option and can easily be personalized.
Include party details on the sole of a sneaker graphic.
Whichever direction your creativity takes you, your guests are sure to be impressed and anticipate a great sneaker ball.
Sneaker Swap Stall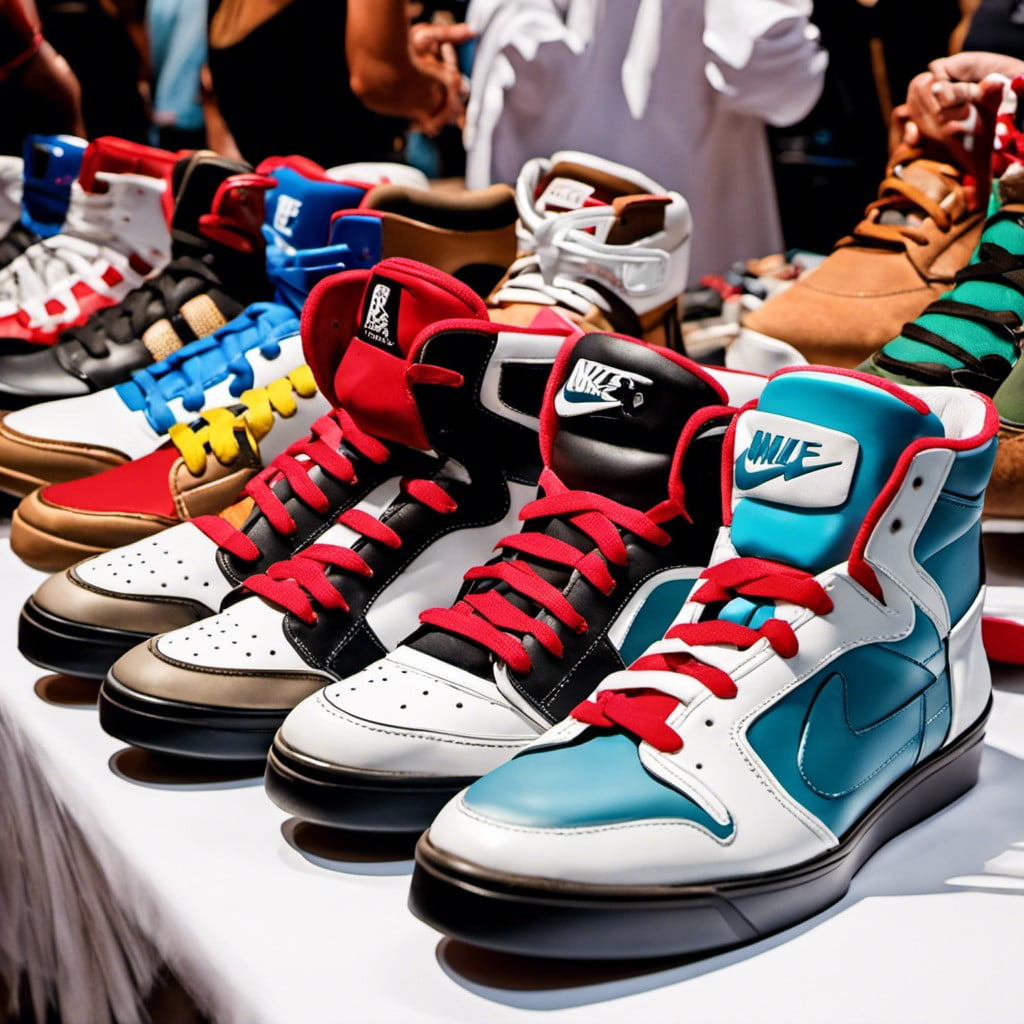 Creating a Sneaker Swap Stall offers an exciting opportunity for guests to trade their kicks. Everyone brings a pair of clean, gently-used sneakers that they no longer wear. Ensure the footwear is separated by size for effortless perusal.
Here are some essential considerations:
Clear Communication: Make sure all attendees understand the rules of the swap. Use clear signage at the stall.
Display Set-Up: Organize the sneakers in a visually appealing way, making selection easy and enjoyable.
Trading Fairness: Implement a token system to keep swapping fair. Each guest gets a token for each pair of sneakers they bring, which they can then use to swap for a new pair.
Keep it Fun: Consider a friendly 'bidding war' over a particularly coveted pair.
Donate Surplus: Any unswapped sneakers could be donated to a local charity.
By following these pointers, your Sneaker Swap Stall will become a highlight of the party, fostering interaction and laughter among your guests.
'Guess the Sneaker' Game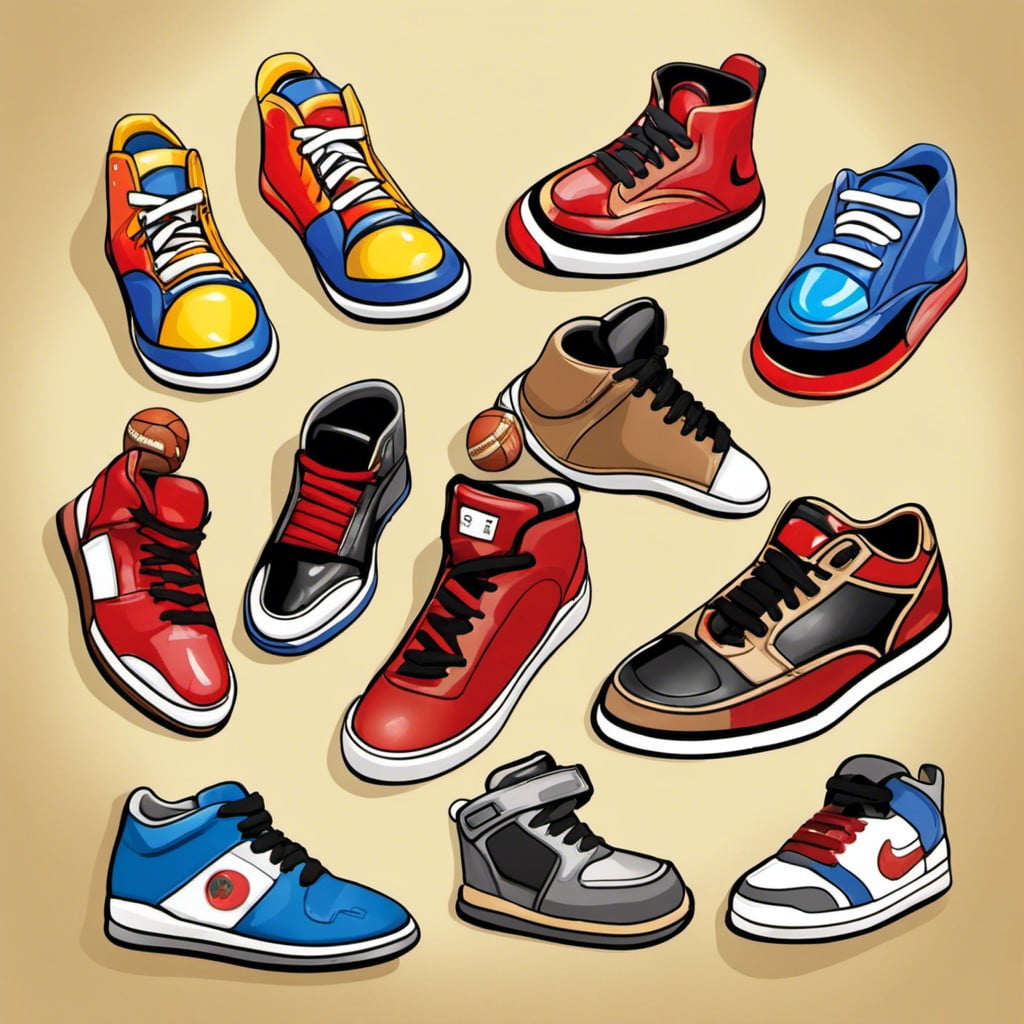 Prepare a range of different sneakers, from well-known brands to obscure, vintage, and rare. Ensure a broad spectrum – not only basketball or track shoes, but also something from the world of fashion and pop culture. Blindfold participants, then offer them the sneaker for close-up tactile examination. Points are scored for guessing the model, the brand, or ideally both. To up the ante, you could even include variants featuring different materials or an unusual colorway. Remember, the fun lies in the diversity and unexpectedness of the selection.
Sneaker Wall of Fame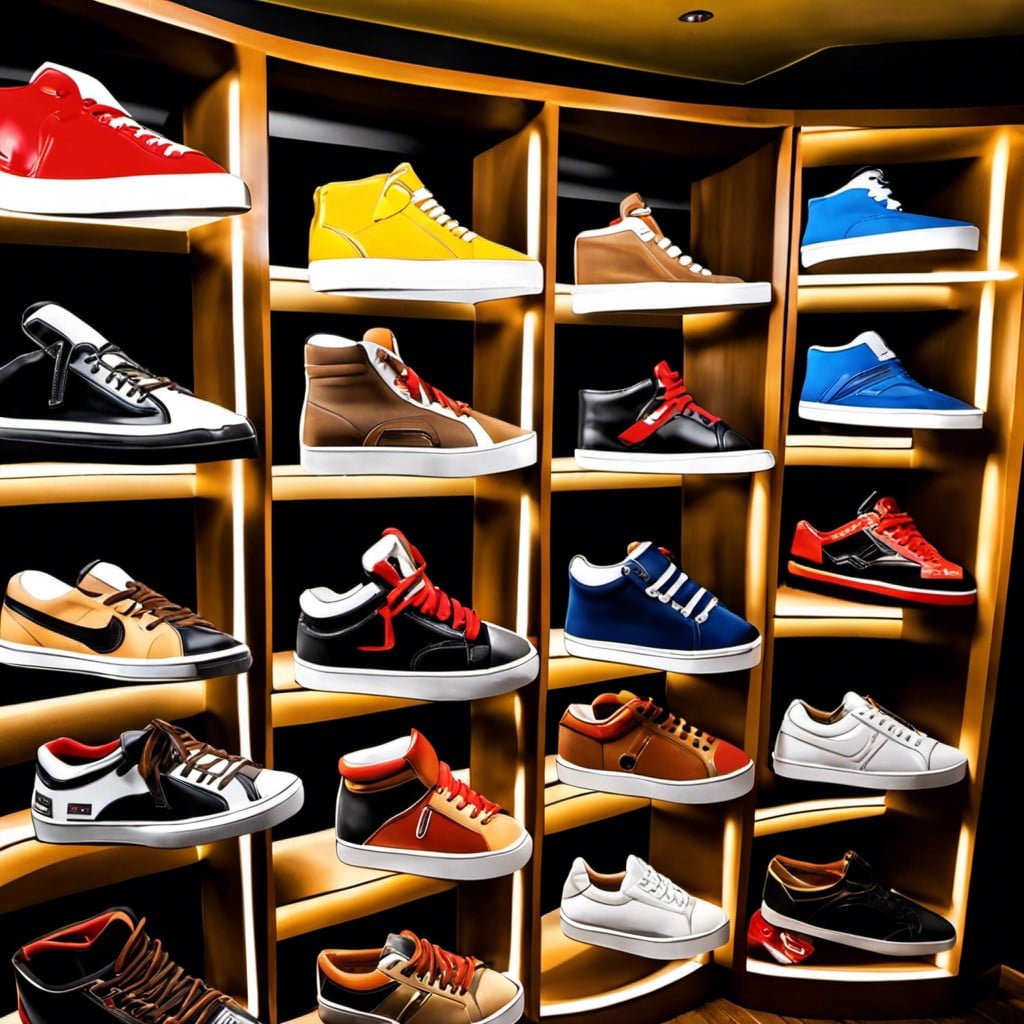 Creating a stand-out feature of your party, a unique tribute to the iconic sneaker history will surely grab your guests' attention. This exhibit showcases a variety of famous shoes that have made marks, from Michael Jordan's era-defining Air Jordans to the infamous Yeezys by Kanye West. Not only is it a feast for the eyes, but it also serves as an educational stopover, enabling guests to appreciate the evolution of sneakers over the years.
To make it more interactive, also consider adding QR codes next to each design. Guests can scan these to delve deeper into the story behind each shoe. This engaging display will ignite conversations, and guests will appreciate the thought and detail you've put into celebrating our beloved sneaker culture.
For a personalized touch, consider adding a community section, where guests can pin pictures of their own prized sneakers, making them a part of this dynamic sneaker chronicle. A Sneaker Wall of Fame can wonderfully capture and represent the spirit of your sneaker ball party, creating memorable moments for everyone present.
Sneaker Inspired Cocktails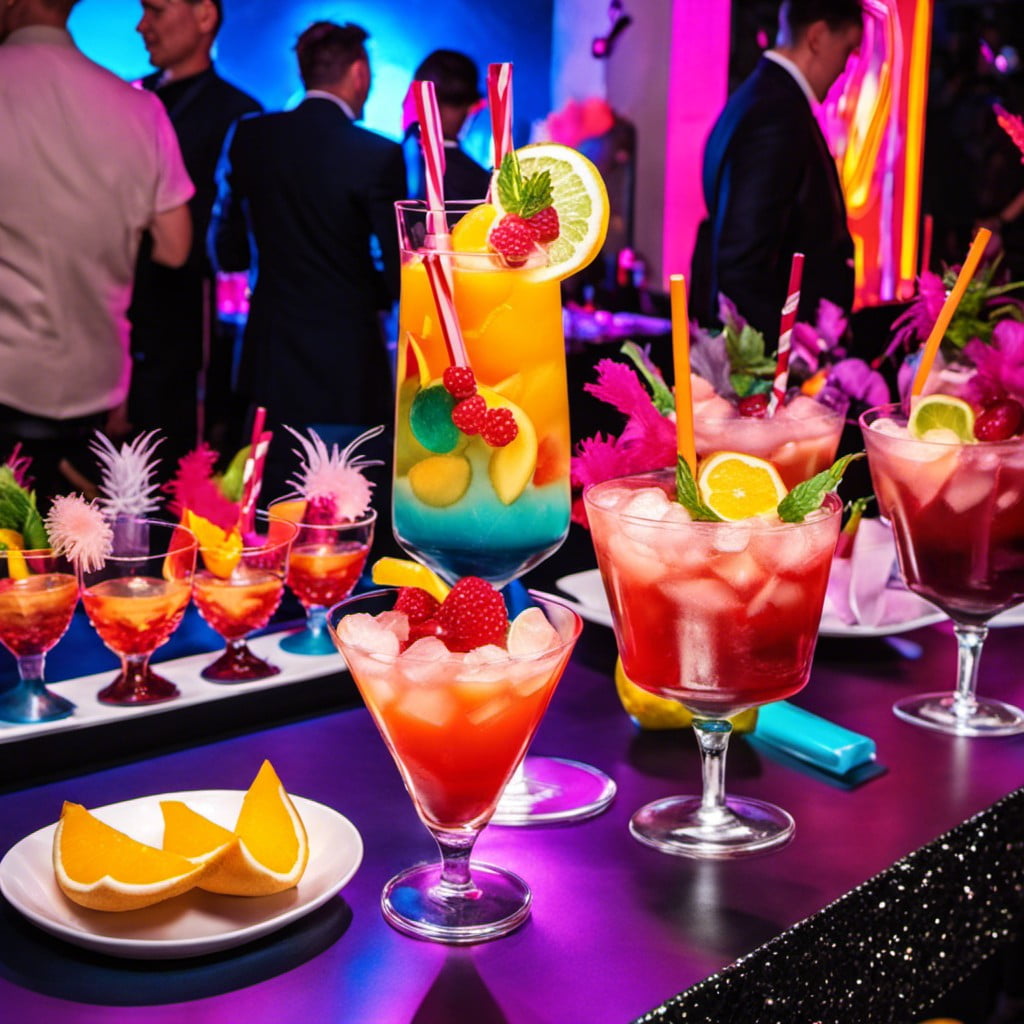 Drawing inspiration from popular sneaker brands can add an exciting twist to your drink menu. Consider colour-themed cocktails named after specific shoe models. For instance, a 'Nike Rosé Runner' could stand for a fresh rosé spritz, while 'Adidas Lemonade Stripe' could be a tangy, refreshing lemon cocktail.
You could also include non-alcoholic versions, ensuring the party caters to all attendees. Include miniature fondant shoe laces as garnishments or use food colouring to match the liquid with the sneaker's iconic look.
Attendees will appreciate the creative alignment between beverages and the party's theme. Custom cocktail menus posted at the bar can further enhance the sneaker vibe.
Remember to encourage responsible drinking while ensuring everyone is having a fantastic time at your sneaker ball party.
Sneaker Photobooth Props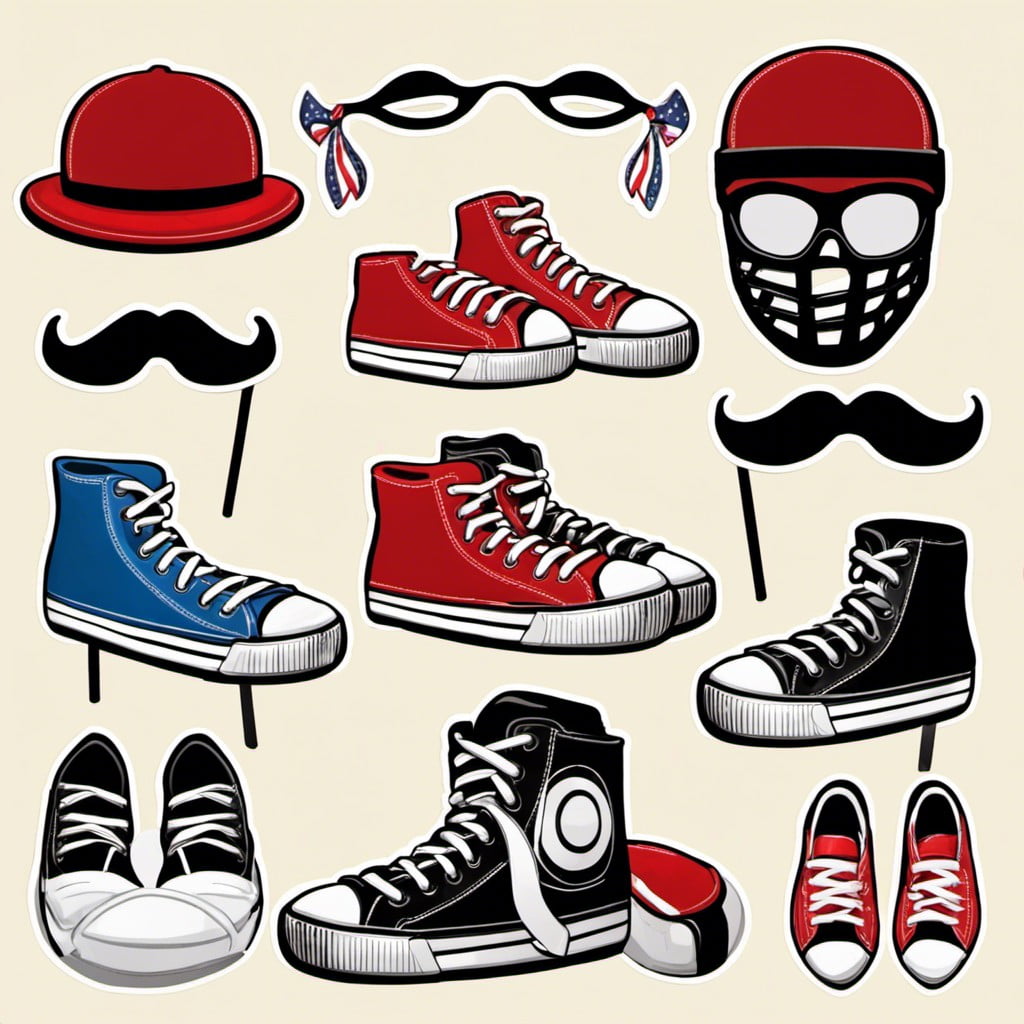 To make your party photo-worthy, props are crucial. Think oversized cut-outs of iconic sneakers like Yeezys, Air Jordans, and Converse All-Stars. Want to push the envelope further? Create prop shoe boxes of beloved brands for that touch of authenticity.
Include speech bubbles with sneaker-related puns like "Just Do It!" and "Step Up Your Game!". Don't forget to also have props of common sneaker accessories like shoe laces, shoehorns, and cleaning kits. Whether guests are selfie enthusiasts or camera-shy, these props can be a fun way to interact and break the ice.
A bit of creative effort can go a long way in making your sneaker ball a memorable event. So, lace up your creativity and get crafting!
Sneaker-shaped Cookies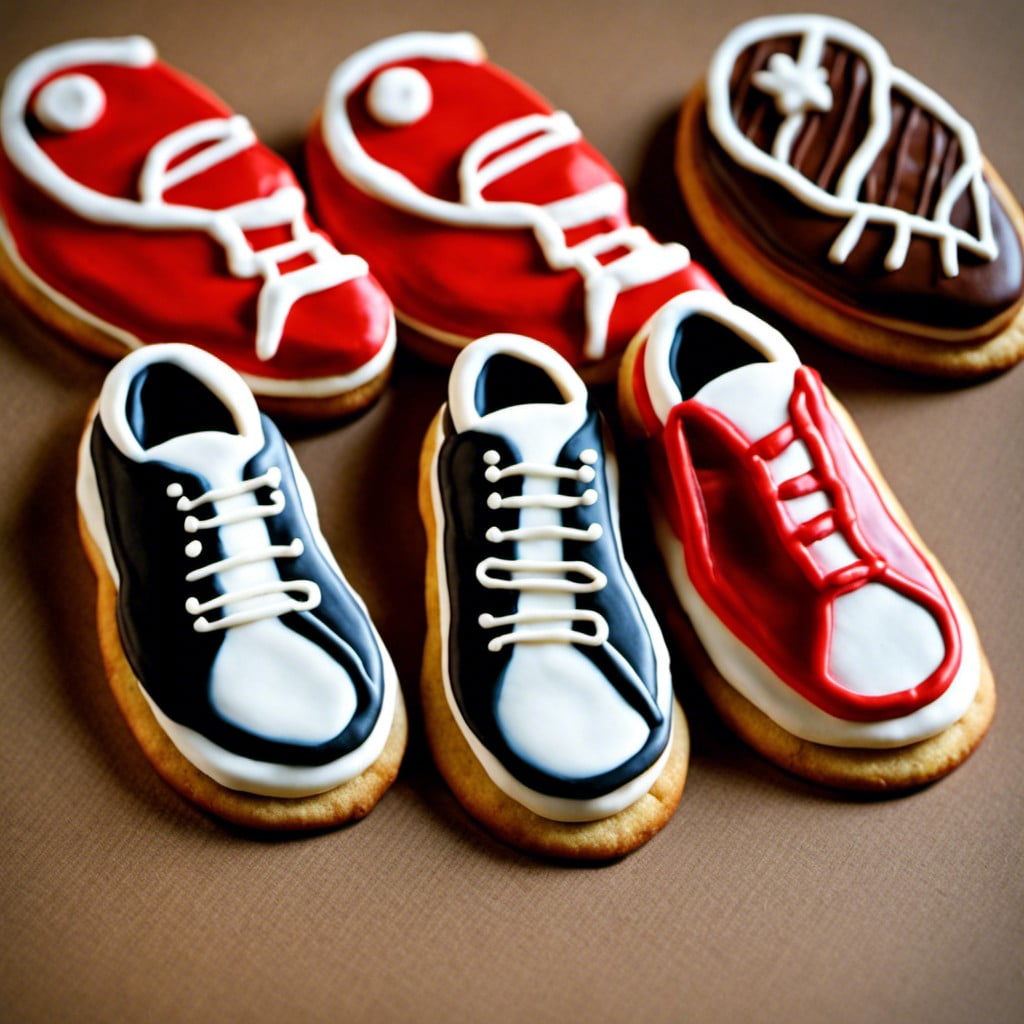 A touch of culinary creativity can elevate the party to another level. For this, utilize a sneaker-shaped cookie cutter to bake these delightfully themed treats.
Now, let's add some icing on top; imagine the end result, a table filled with cookies that represent different types of sneakers. You can take this fun idea one step further and involve guests by setting up a cookie decorating station with different colored icings, so they can 'customize' their sneaker cookies.
Not only does it provide an interactive activity but also creates a memorable party favor for your guests to take home. Remember, presentation is key – envision displaying your cookie creations on a mini shoe rack or 'cookie sneaker wall'.
This enticing edible spectacle will certainly receive raving reviews amongst your sneaker-loving guests!
Iconic Sneaker Moments Slideshow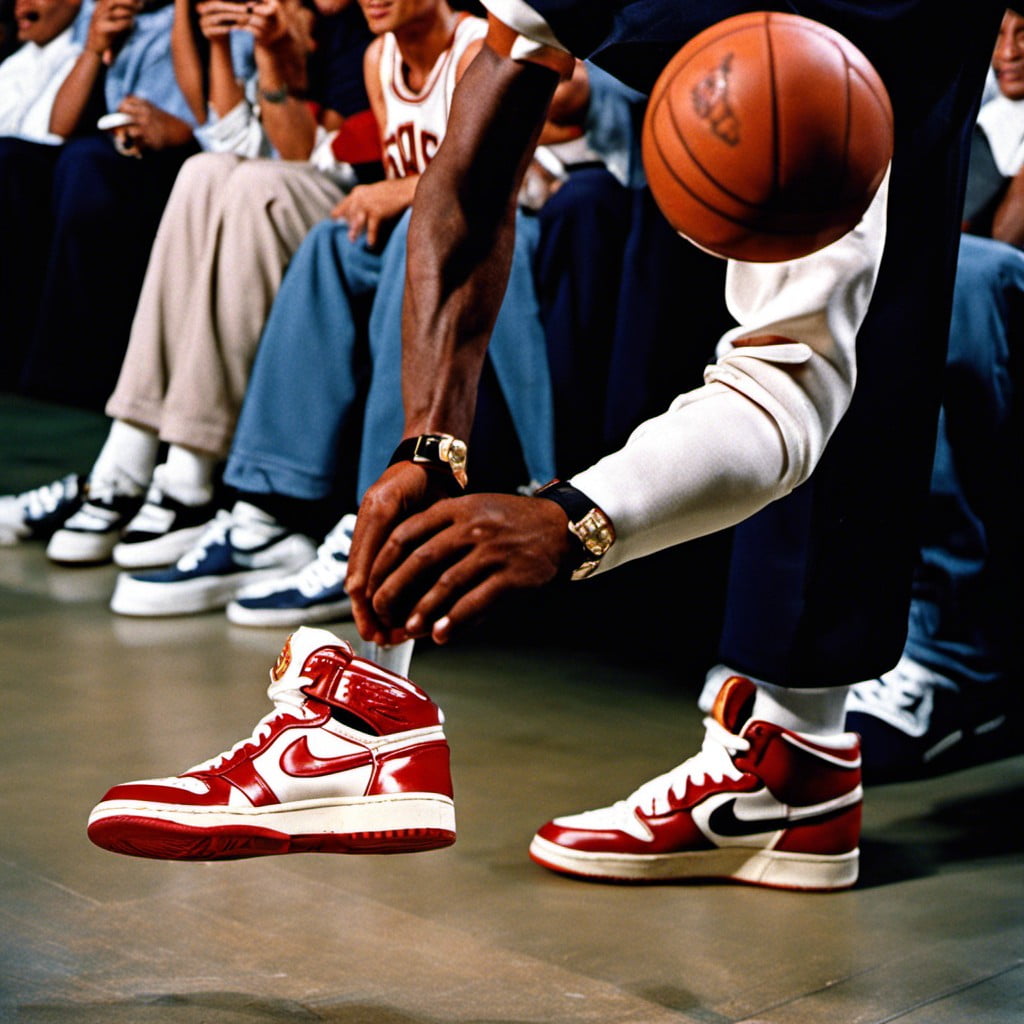 Curating a collection of memorable sneaker moments can be a real crowd-puller. Introduce instances from sports history, film, and pop culture where sneakers played a vital role.
Showcase famous basketball moments like the debut of Air Jordans, or the time when Run-DMC brought Adidas Superstars into the limelight in the music industry.
Also, don't forget to include Forrest Gump's iconic running shoes. Use a projector for a larger-than-life experience and don't forget to share the exciting stories behind these iconic moments.
This slideshow is not just about sneakers, it's about the stories they have built over the years. Make your party not only fun, but also informative and nostalgic.
Charity Donation for Old Sneakers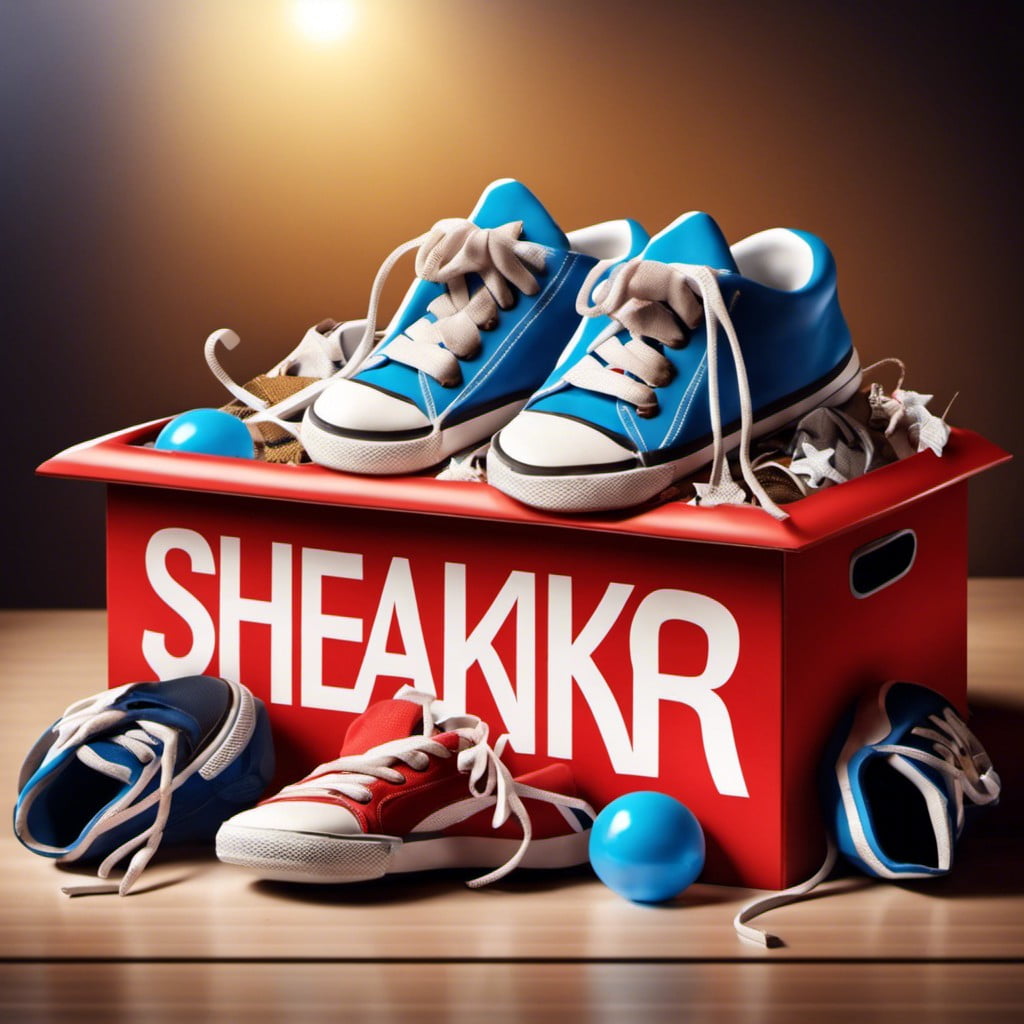 Donating used or unwanted sneakers not only frees up some closet space but also makes a positive impact on those in need.
Start by designating a zone in the party space as the donation corner. Make the area stand out with engaging signage.
Don't forget to educate the attendees on how their shoes will be cleaned, repaired, and then donated to a local charity serving underprivileged children or adults.
For assurance, provide a reputable charity that they can check out beforehand.
Remember, only donate sneakers that are still in a wearable condition, cleaned and sanitized for the charity.
This activity is a thoughtful approach to merging celebration with social responsibility, making the occasion even more special.
Inspiring Talks From Sneaker Designers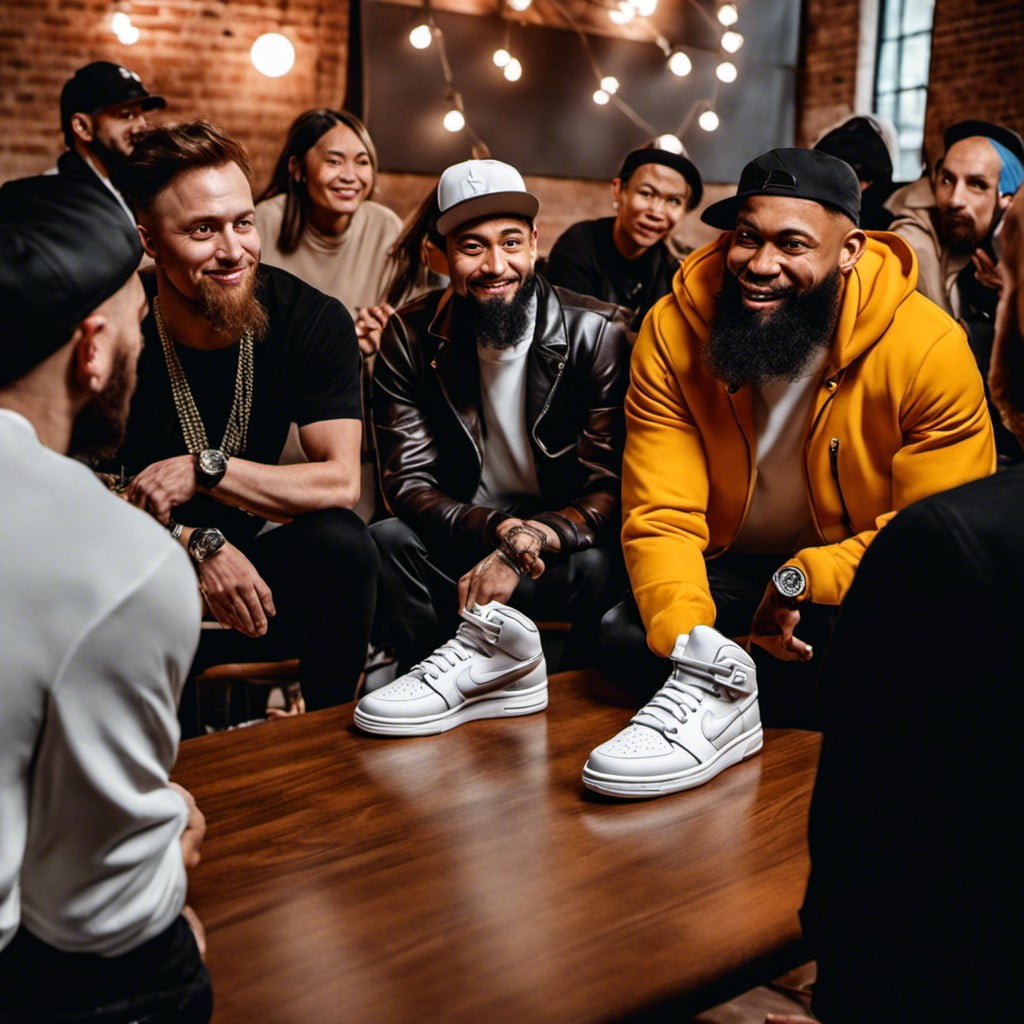 Integrating industry insights can escalate the experience of your Sneaker Ball. Imagine seasoned sneaker designers sharing their journey, the process of designing a sneaker, their inspiration, and stories behind their most iconic designs.
1. Sneaker Design Process: Sharing the creative process behind transforming a mere concept to a tangible product can be enthralling. It details how sketches evolve into 3D models, material selection, testing, and finally product rollout.
2. Inspirational Stories: Everyone enjoys a good success story. When designers share their personal experiences, struggles, and victories, it's not only entertaining but also inspiring.
3. Iconic Design Stories: Explain how legendary shoe models came to be. The story of why a certain feature was added or how a distinctive pattern stands for something powerful is enriching.
4. Outlook on Future Designs: A sneak peek into what's coming next in the sneaker world can certainly stir excitement. Discuss upcoming trends, materials, or technologies.
5. Q&A Session: This offers an interactive opportunity for those curious about sneaker design. It spices up the event as attendees can inquire about everything shoe-related from the designers themselves.
Sneaker Autograph Session With Athletes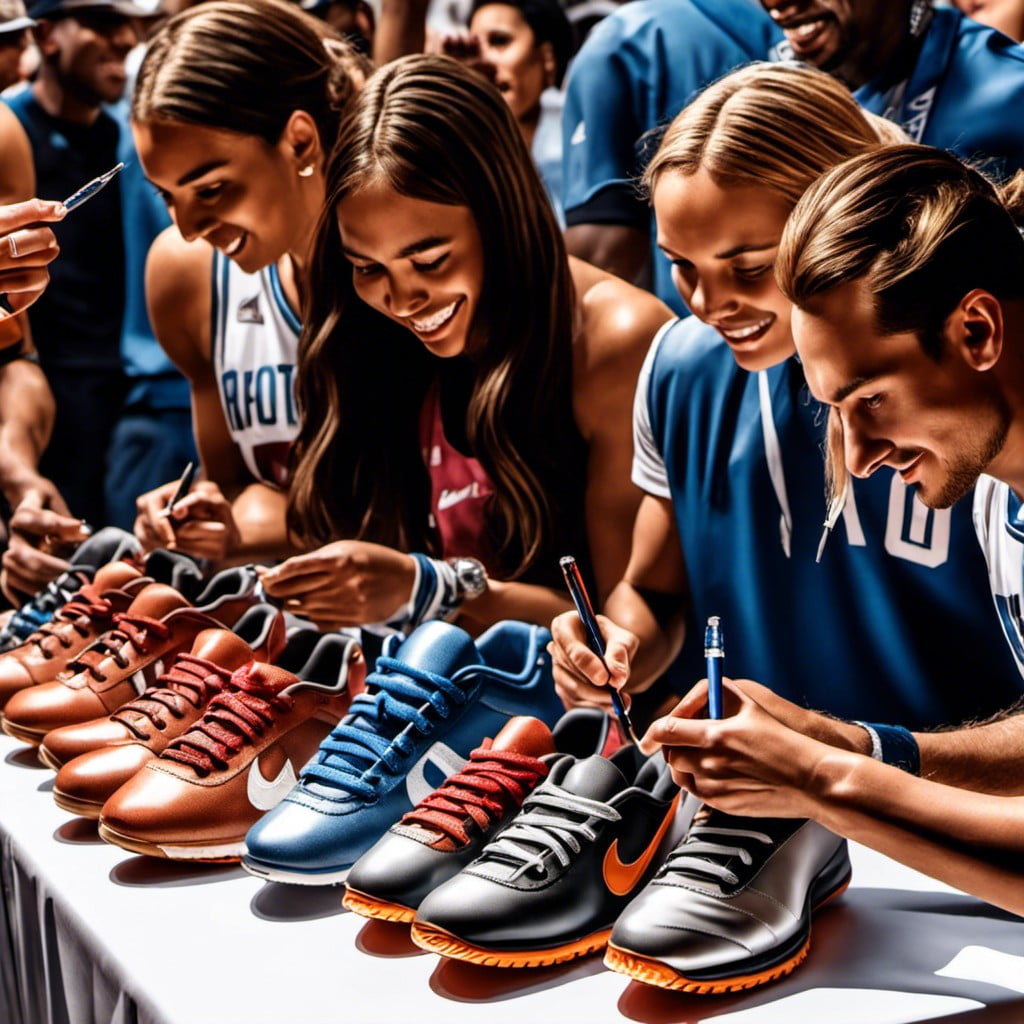 Inviting local athletes to the event greatly augments the overall experience. These professionals can sign autographs on visitors' favorite sneakers.
To organize such a session:
Reach out to local athletes or sports personalities in advance.
Set up a designated area for the autograph signing.
Create a schedule, allow enough time for everyone.
Promote the autograph session through your party invites.
Encourage guests to bring sneakers for autographs.
Remember, not all sneakers are suitable for autographing, consider the material and color. Marker pens are often a good choice for signature. Always have back-up pens ready. Consider implementing a ticketing system to manage queues. An autograph session adds a meaningful and personal touch to your sneaker ball.
Giant Sneaker Balloon Display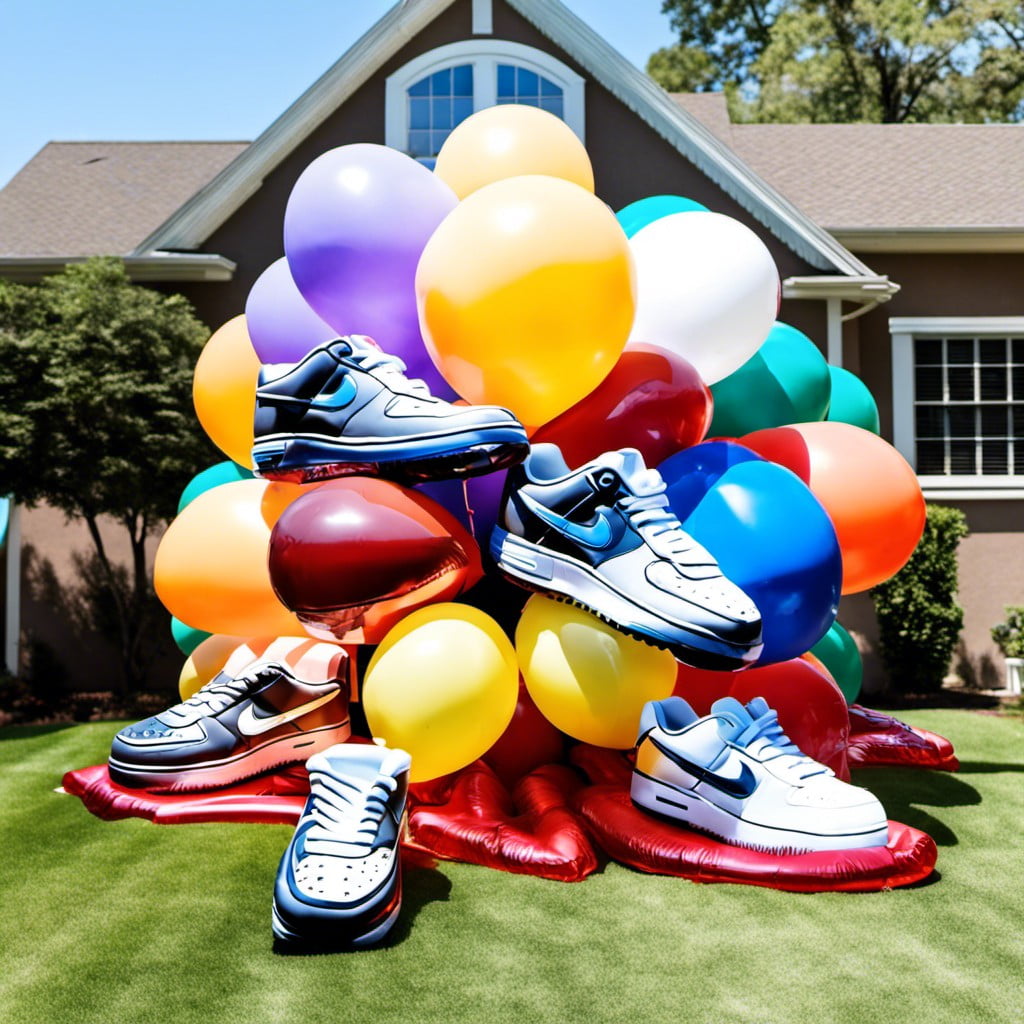 Creating a visually impactful centerpiece for your party, a giant sneaker balloon display is guaranteed to amaze your guests.
Start by selecting balloons in colors that coordinate with your party theme. Choose foil balloons for a shiny, eye-catching effect.
In terms of shape, the majority should be standard round balloons, but incorporate a few sneaker-shaped options to reinforce the theme.
An essential part of this display is the arrangement. Combine small and large balloons for variety and texture. Arrange them in the shape of a sneaker for added fun.
Consider securing them to a crafted cardboard base to maintain the shape throughout the event.
Lightweight, LED string lights, strategically intertwined among the balloons, can provide some delightful illumination.
This will highlight your display as daylight fades, ensuring it continues to draw the eye of your party attendees.
Moreover, potentially involve your guests in this display. Allow them to add their signature or a brief message on some of the balloons.
Not only does this encourage guest interaction, but it also adds a unique, personalized touch to your decoration.
A well-executed giant sneaker balloon display, without a doubt, serves as an exceptional decoration, a focal point, as well as an interactive experience for your guests.
Continue reading:
Recap