Last updated on January 5, 2023
What is there to know about the iconic small block Chevy engine? Here are some fun facts about all its models since 1955 to pique your interest. Read on!
Back in the 1950's Chevrolet revolutionized the industry by creating an engine that was much smaller and lighter than the competition but still put out plenty of power. The engine was called the small block Chevy engine, and it's been a classic ever since. In fact, the small-block Chevy engine is still one of the most popular engines in the industry.
The small-block Chevy engine is a series of V8 engines built by General Motors. The first small-block Chevy engine was introduced in 1955 for the Corvette. The engine has become a popular choice for most American muscle cars.
The Small-block Chevy V-8 Engine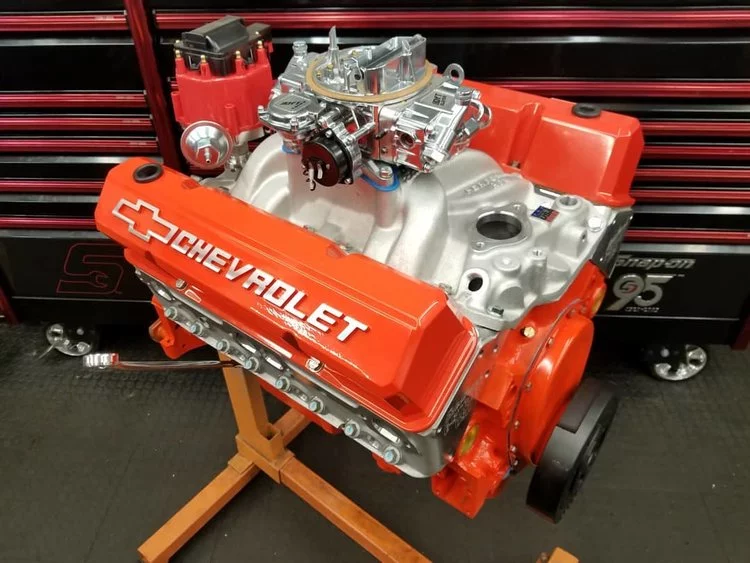 Through the years, the Chevrolet small-block V-8 has increased significantly and influenced future designs. When introduced in 1955, it became one of the most beloved car engines. The small block is found in many different types of cars — from custom motorcycles to souped-up Fords. It all started as a design to adopt more horsepower with smoother running engines that are less costly in manufacturing nearly 50 years ago.
According to Wolverine Engines, the small-block Chevy V8 has been used for many different vehicle types, but the most notable are race cars. It is interchangeable, so you can swap around heads and other pieces and still use the engine just like before. Minor upgrades are not very expensive. The aftermarket to this engine is big because there is a lot of room for improvement within it.
Turbo Fire V-8
The 265 horsepower engine (still the base engine) was increased to a 3.875-inch bore which brought it to 283 cubic inches (4.6 liters). Early 283s had an overheating problem because they used block castings of the 265, but this was found out, and subsequent block castings were made specifically to stop the problem.
The 283, also known as the Super Turbo-Fire V-8, came in various models with a choice between carburetion or mechanical fuel injection. In 1962, Chevrolets were offered with their base V8 not act as the 170 horsepower 283. Optional engines, small blocks received a 4.00-inch bore and a stroke at 3.25 inches to give them 327 cubic inches of displacement. Small blocks were available with 250, 300, or 340 horsepower, depending on the four-barrel carburetor and compression ratio options you select.
The 327 cubic inch car engine was used as the base engine in cars and continued being soldiered on for passenger cars, with an optional 300 or 350 horsepower upgrade. This continued until 1967, when the 350 cubic inch car engine replaced it and became the main performer in a Camaro.
A 302 was invented for the race car. The engine was a combination between a 327 engine and a 283 engine. The 1967 Camaro introduced the world to the first 350 cubic inches small-block Chevy V-8. This engine eventually became used in many cars and trucks of varying tune points, such as passenger cars and trucks or as found in the Corvette. Like the 302 engine, it was based on a 327 block, but with a smaller 3.48-inch stroke rather than 4.00 inches like the 327.
But some other engines surpassed the 350 horsepower that was being made. For example, L-46 had a 360 and LT-1 had 370 horsepower in 1970, but within two years, the power dropped to 255.
The Chevy 350 took a long time to get power. The L98 began this, and then GM continued slowly with the improvements. The TPI engine that came for these cars was designed to make them more powerful and was nicknamed by Chevy fans as the "Elephant Legs." There were two years where power reached 230 horsepower (L84) in 1991s Camaro or Pontiac Firebirds. The next year, power reached 250 in Corvettes without dropping at 245 horsepower on other models.
The most powerful Generation I engine made by Chevrolet was the 400 (6.6 liter). They had Siamesed cylinders for greater strength, with a large bore and longer stroke than the previous engines from Chevrolet.
LT1 Engine
The Corvette always has been known for exploring car technologies first. In 1992 Gen II engine was introduced, which had a head design that helped increased power. GM had originally wanted to redesign the Corvette with a larger engine, but the cost to increase the size of the engine was too expensive. However, gm wisely kept some of the other features from previous versions and redesigned parts with cheaper materials. This way, they could decrease manufacturing costs while still providing some of what their customers wanted.
A small group of cars powered by a limited run engine that made 330 horsepower and 345 brake horsepower is available for 1997. In 1992 the LT1 engine was introduced in the Chevrolet Corvette. From 1992 to 1996, it used a speed density fuel management system with batch-fire fuel injection. It was also upgraded in 1994 to an OBD II system for testing before the government-mandated requirement began in 1996.
LS1 and LS6 Engines
GM introduced their Generation 3 engine in the Chevy Corvette. It consisted of technology, including an aluminum block with iron capped- six bolts of the engine or head. The final retail product would be created for truck use by consumers.
GM introduced their Generation 3 engine in the new C5 Corvette. The LS1 engine, Chevrolet's F-body twins, and Corvette had a small bore and long stroke. It was a Gen III engine that changed from coil distributors to coil-near-plug ignition.
The LS6 engine was based on the LS1 engine. It had a stronger block and was also modified to have better breathing. The steam of this engine also changed in order to work well on-track experience. It was used in the Corvette Z06, and Cadillac's first-generation CTS V. The LS6 engine is based on the LS1 engine.
LS7 Engine
The new Generation IV small-block Chevy V-8 was made in 2005 as a redesigned Generation III. Unlike the Generation III, it is larger, and at 7.0 liters it is the largest factory-installed small-block Chevy V-8 ever. Its engines were redesigned so it could have variable valve timing and displacement on demand and also rendered 505 horsepower.
The LS7 engine is hand-built and has steel bearing caps, titanium in rod bearings, and hydraulic valve lifters. It also includes a dry-sump oiling system. This engine is used by the Corvette Z06 and comes to North America as either a factory-installed fuel or as a crate.
LS9 Engine
The LS9 is a 6.2-liter small-block V-8 engine topped with an Eaton four-lobe Roots-type 2300 TVS supercharger.
Generation V LT5 Engine
The engine is the LT5 with precise tuning and enhanced features. It has 755 horsepower and a great boost for efficiency in movements at speeds of more than 50 mph. The Assembly of these engines includes modifications to the throttle as well as certain safety systems. The increased power is due to a much larger air cleaner that hooks up to an upgraded direct fuel system and headers that suffuse power to the newly improved crankcase system.
Continue reading:
Recap