Last updated on August 29, 2023

Organizing our clothes efficiently takes much more than taking a handful of coat hangers and squeezing as many items of clothing as possible into our wardrobes.
From color coding to categorizing items of clothing – it takes a lot of work to find the perfect storage arrangement for our belongings!
If you're tired of dealing with cramped, lifeless wardrobe space, here are 3 foolproof ways for you to revamp your storage with ease.
Table of Contents
Organize Your Clothes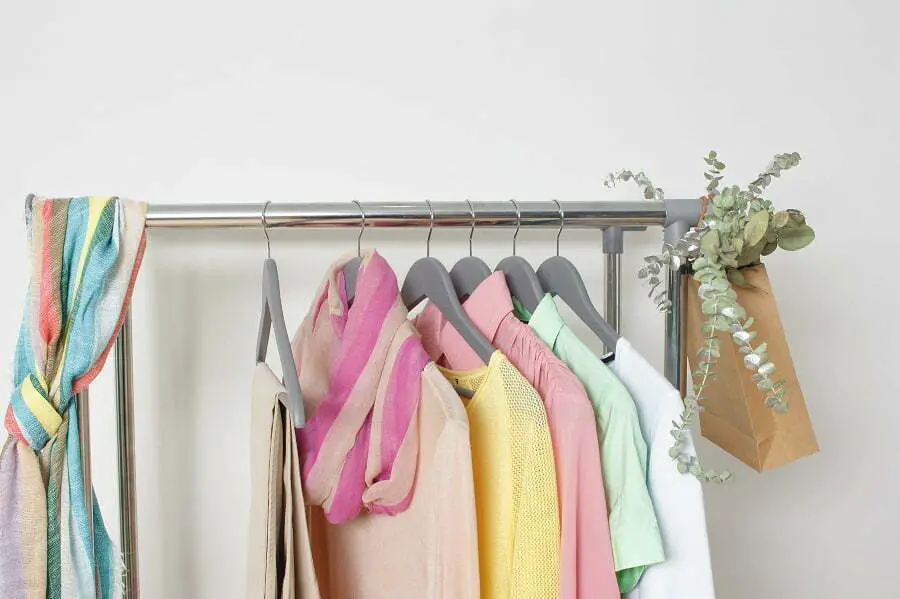 Simple, yet powerful. Organizing clothes to suit your lifestyle is the first way to make your wardrobe easier ten times easier.
The first step is to split your items into a summer wardrobe and a winter wardrobe and store the summer one away for now as it won't be needed and will take up valuable space.
Next, categorize your clothing – you can either do this by item, or by color. This makes finding specific pieces loads easier, even just at a glance when trying to figure out what to wear! If you find that your collection of chunky knit jumpers are taking up too much room, store these folded neatly in a drawer instead.
Matching Hangers
There's nothing more visually jarring than opening your wardrobe doors and being greeted with an array of contrasting hangers – from plastic to wooden, or even ones that have faded branded stickers on them. This is immediately creating a subconscious eyesore when you're looking for what to wear. Investing in beautiful matching hangers will instantly revive the look of your storage space.
Top tip: go for the slender, velvet hangers. Not only are these non-slip but as they aren't as bulky as wooden hangers you can fit tonnes more in your wardrobe with this choice. Browse online to see the large range of colors available.
Shoe Storage
For some reason, we seem to spend so much of our attention on organizing our clothing, that we often forget about our shoes entirely – despite them taking up the most room. A fitted shoe rack is a perfect installation to your wardrobe set up that will come in handy from day one. This will allow you to organize your shoes in neat rows where you can see them clearly and access them with ease – instead of them being piled up at the bottom of your wardrobe!
Lighting
If you have a large storage space such as a walk-in wardrobe, lighting will play a key part in being able to see everything adequately – particularly now that we get to the dark and dingy winter evenings. Make your time getting ready that little bit easier by investing in a stylish floor lamp or installing some ceiling spotlights to brighten up the room.
Continue reading: