Last updated on November 30, 2023
Uncover innovative bedroom storage ideas because a tidy space can also be a stylish sanctuary.
Struggling to find extra space in your bedroom? Look no further! This article is your ultimate guide to creative bedroom storage solutions, including the versatile ottoman bed.
Here, you'll find innovative ideas to maximize your space without compromising on style. From hidden storage spots to multipurpose furniture, we've got every corner of your room covered.
Whether you have a small bedroom or just a lot of stuff, these tips will help you keep everything organized and accessible. So, let's dive right in and transform your bedroom into a clutter-free sanctuary.
Ottoman Bed With Built-in Storage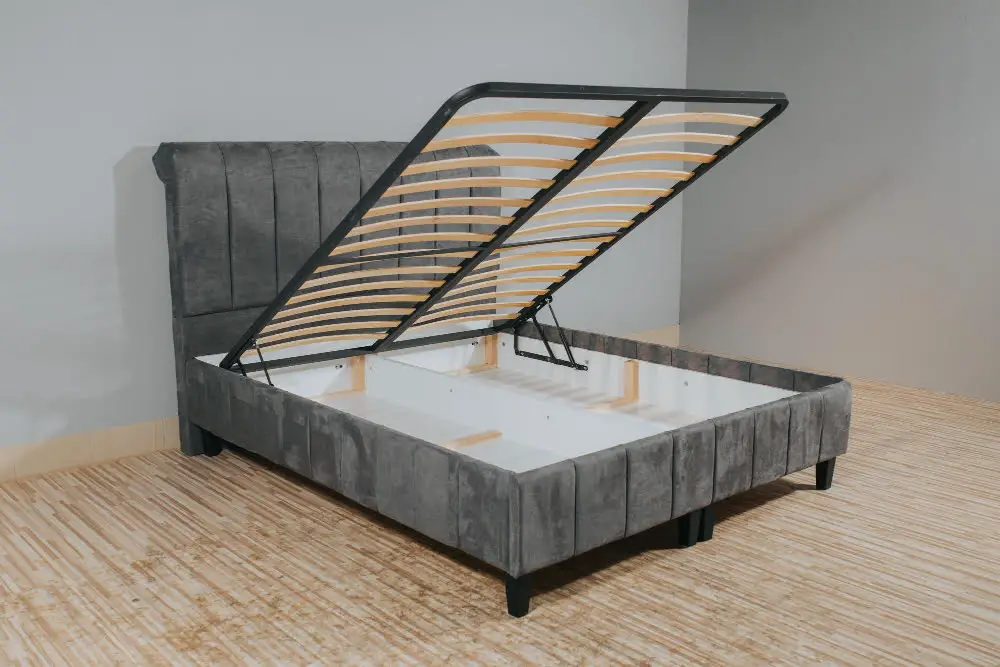 An ottoman storage bed ingeniously combines comfort with ample storage. The space beneath the mattress typically wasted becomes a hidden, easily accessible compartment for stashing sheets, blankets, or bulky winter clothing.
Lifting mechanisms allow you to raise the mattress effortlessly, unveiling a spacious storage area. This creative solution keeps items out of sight, yet close at hand; ideal for decluttering and maintaining a clean, minimalist look.
Plus, the look and feel of your bed remain unchanged – an ingenious meld of design and practicality.
Wall-mounted Shelves for Books, Decor, or Accessories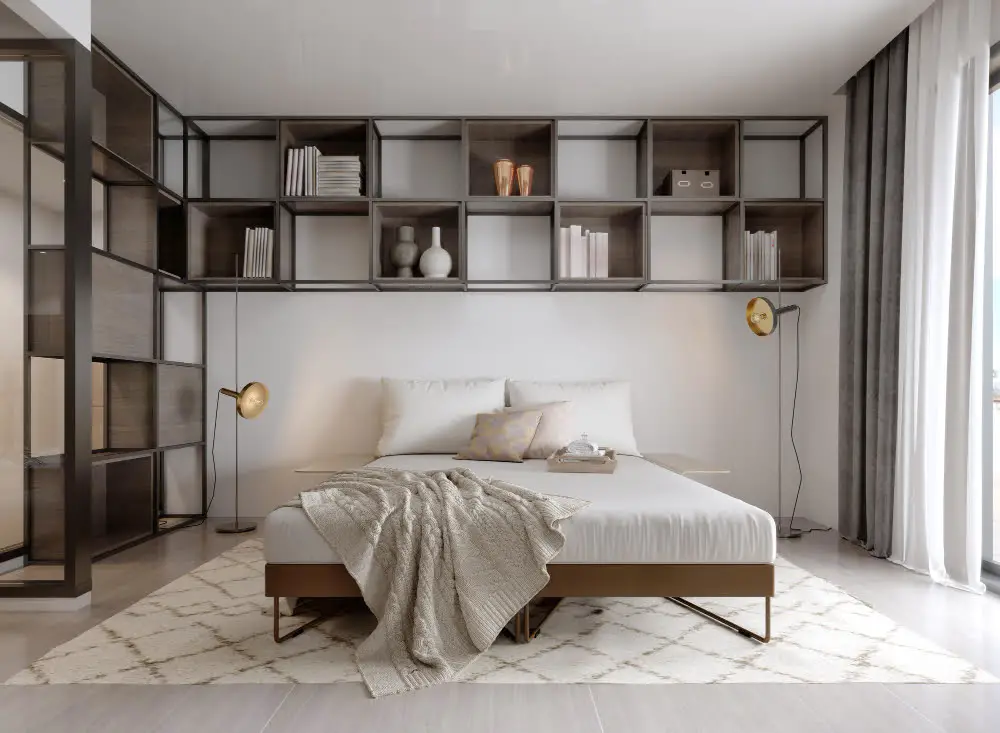 Installing a wall-mounted shelf can be an absolute game changer in terms of freeing up floor space and adding a stylish touch to the room. These sleek structures can hold anything from your favorite novels to quirky decor pieces that show off your personality.
Consider arranging your books in a color gradient pattern for an appealing visual effect. Items of decor can be clustered in groups of odd numbers, as this is more pleasant to the eye. Of course, function need not sacrifice for form. You can utilize baskets or decorative boxes on these shelves to tidy up smaller items like jewelry, watches or scarves.
Wall-mounted shelves finish off a room with not just storage, but a presentation of personal style. A well-curated shelf can serve as an interesting conversation starter or an inspiring eye-catcher as you start your day or wind down for the night.
Bedside Tables With Drawers for Small Items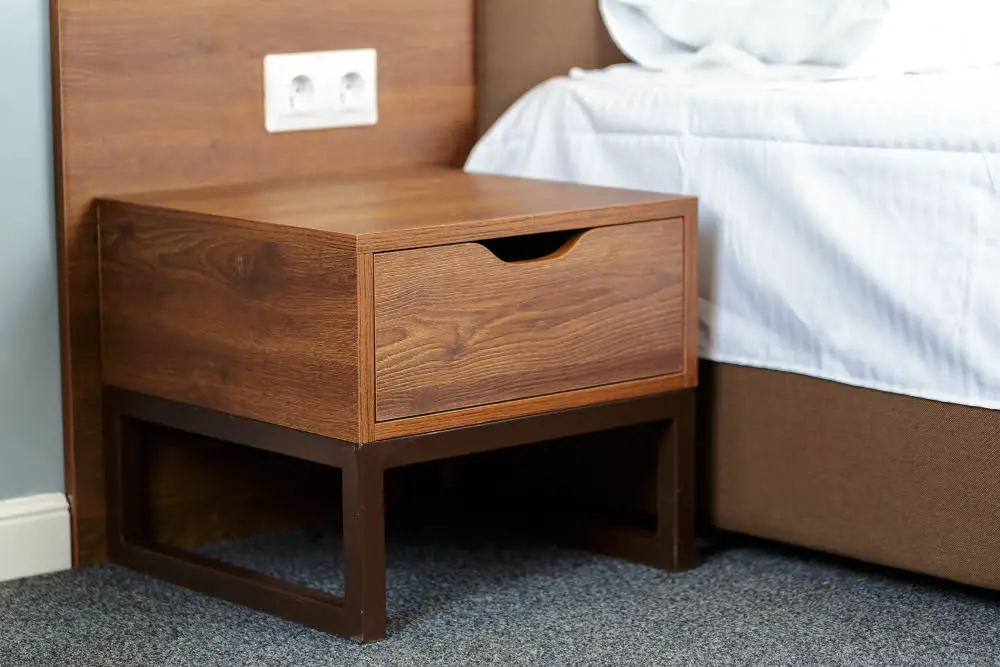 Opting for a bedside table with drawers allows for easy access to essentials such as reading glasses, notebooks or electronics, while keeping the top surface clear for a lamp or alarm clock.
Consider adding a layer of style and functionality by choosing tables with various drawer sizes. This way, items will be not only well-organized, but also hidden, contributing to a clean and clutter-free bedroom environment.
For smaller items like jewelry or spare change, petite top drawers are ideal. Deeper bottom drawers can accommodate larger items like books or winter socks.
Drawers with separators or mini storage trays within offer the ultimate organization, chunking down your stuff to smaller categories.
Having everything in hand reach and yet storing it all out of sight will aid in creating a serene bedroom atmosphere.
Under-bed Storage Boxes for Seasonal Clothes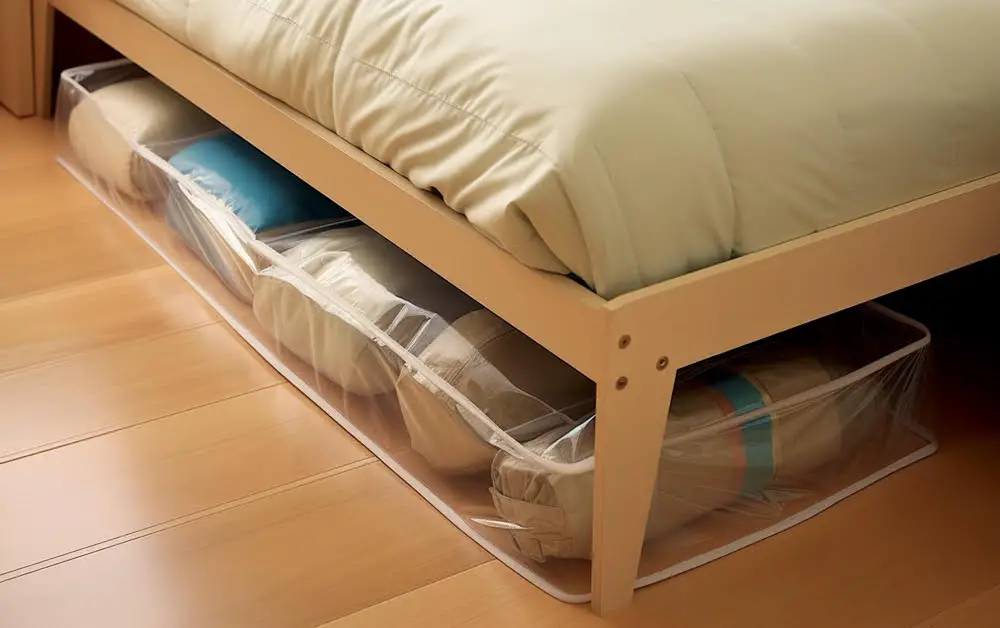 Making the most of the unused space under your bed can significantly expand your capacity to neatly stow away your off-season garments. Tidily packed away in compact, stackable storage boxes, your winter coats or summer dresses are preserved from dust and damage, and retrieval is a breeze when the seasons change.
Plastic boxes with lids are an optimal choice, offering good protection and easy visibility of contents. If aesthetics are a concern, a wide variety of sleek and stylish cloth or rattan boxes are accessible too.
Remember, ensure your boxes fit neatly beneath your bed frame by measuring the available space first. The clever use of under-bed boxes takes storage to a new height, giving your wardrobe a seasonal rotation and freeing up valuable closet space.
Over-door Hanging Storage for Shoes or Accessories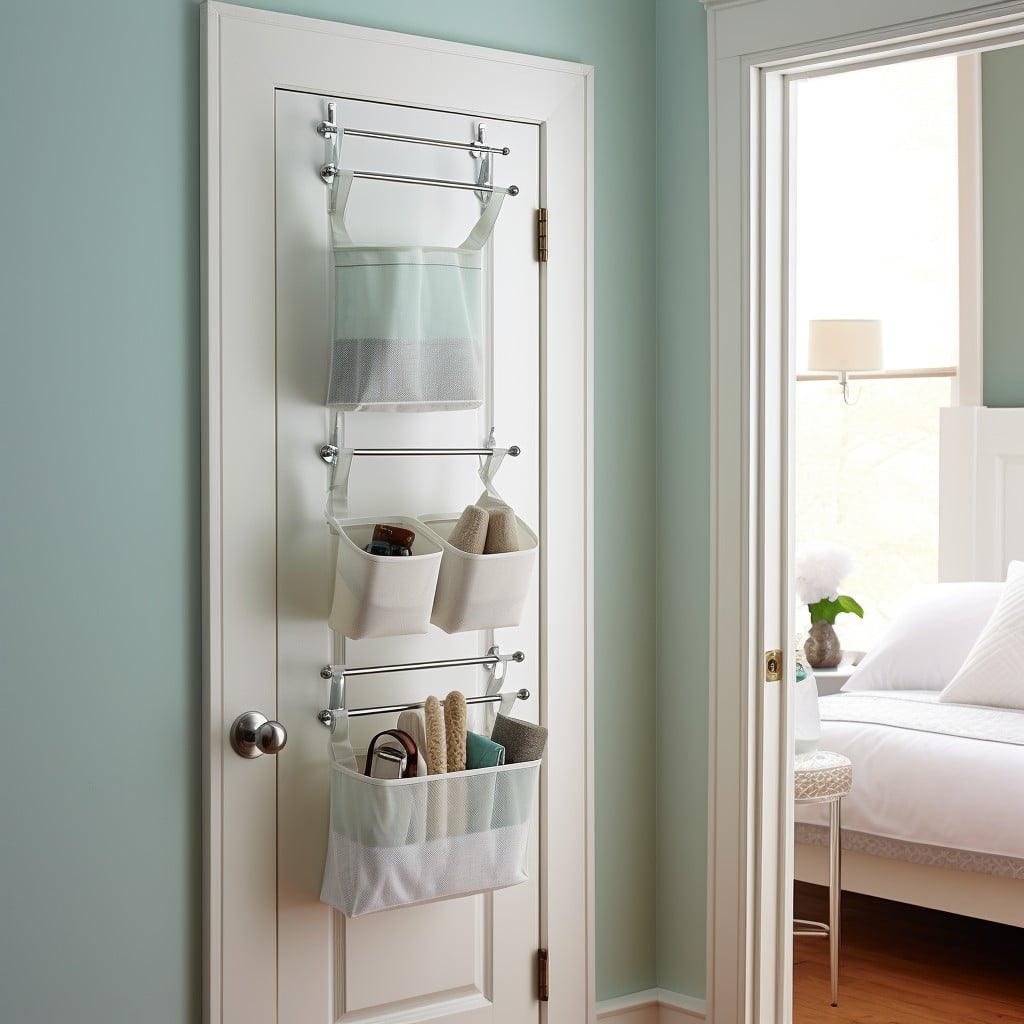 Continuing from the previous sections, this innovative solution helps maintain a clutter-free environment by maximizing often overlooked areas of your space, such as the back of the room's door.
Versatility: These organizers come in various sizes, designs and functionality, catering to a wide range of storage needs – from shoes to jewelry and scarves.
Space-saving: Essential for small bedrooms, this method will help free up ground space, giving your room a more open feel.
Easy to Install: Over-door storage kits often come with hooks that easily fit over most standard doors, requiring no tools or installations.
Accessibility: The height is adjustable according to your convenience, ensuring everything is within reach but off the floor.
With this method, you get to hold on to your prized accessories while putting those unused areas to work at the same time.
Continue reading:
Recap