Last updated on November 29, 2023
Transform an ordinary birthday party into an extraordinary celebration because these innovative ideas will ensure every eight-year-old guest leaves with a grin.
Planning an unforgettable 8-year-old birthday party can seem daunting, but with a bit of creativity, it's entirely possible to throw a bash that will be the talk of the playground.
This article provides a myriad of fun, unique, and age-appropriate party ideas, from exciting themes to engaging games and delicious treats.
Whether your child is an aspiring astronaut, a budding chef, or a fairy princess in the making, you'll find a party plan here that will make their eighth birthday truly special.
Stay tuned for a step-by-step guide to organizing a memorable celebration, complete with tips for decorations, invitations, and even party favors.
Superhero-themed Party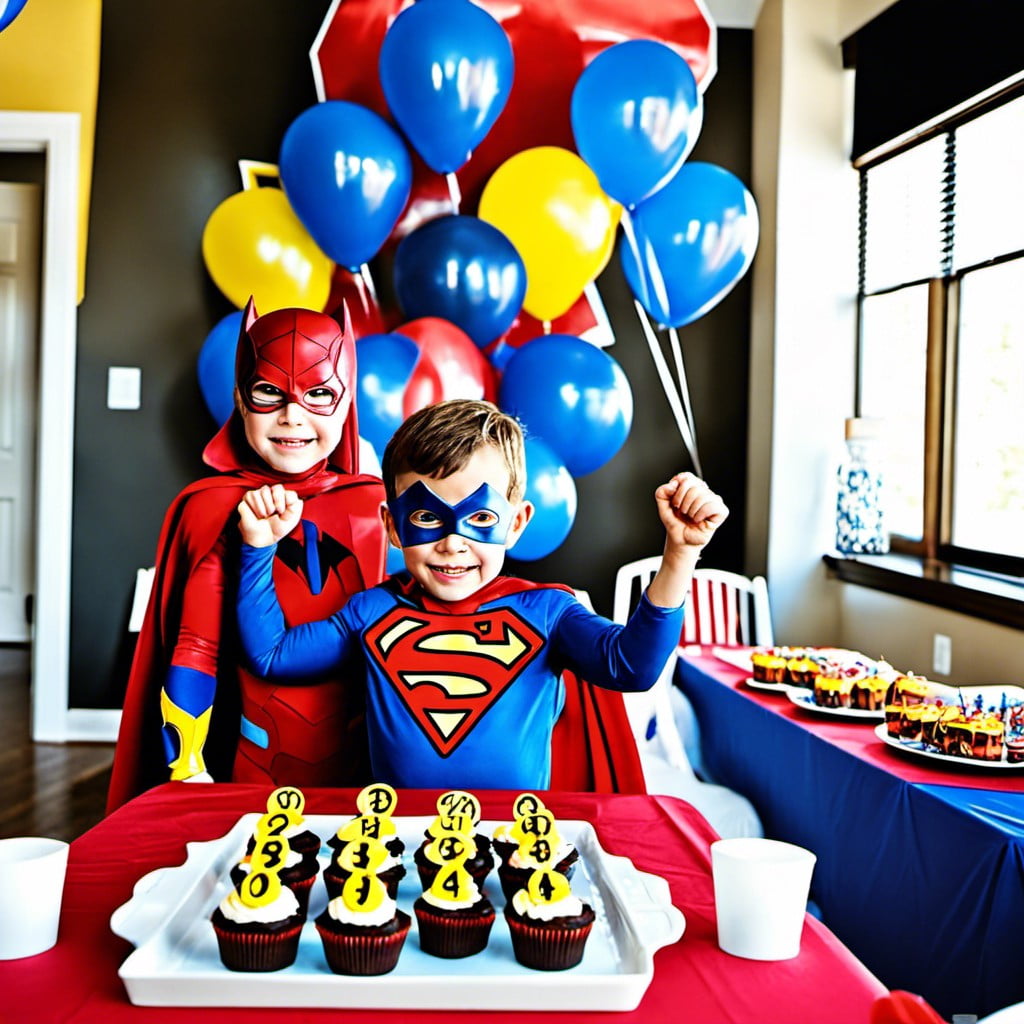 Start by creating personalized invitations integrating favorite characters. Decorate the party area with banners, posters, and stickers of superheroes. Encourage guests to dress as their favorite heroes. Tableware can also follow the chosen theme colors.
Organize games such as "Save the City" where the kids solve riddles to stop a mock disaster. Enhance creativity by providing materials for each child to concoct their own superhero persona; capes, masks, and badge-making kits work wonders. For refreshments, go for monumental sandwiches, power-packed protein balls, and multicolored fruit skewers. End the event by handing out superhero-themed return gifts.
Tea-party With Stuffed Animals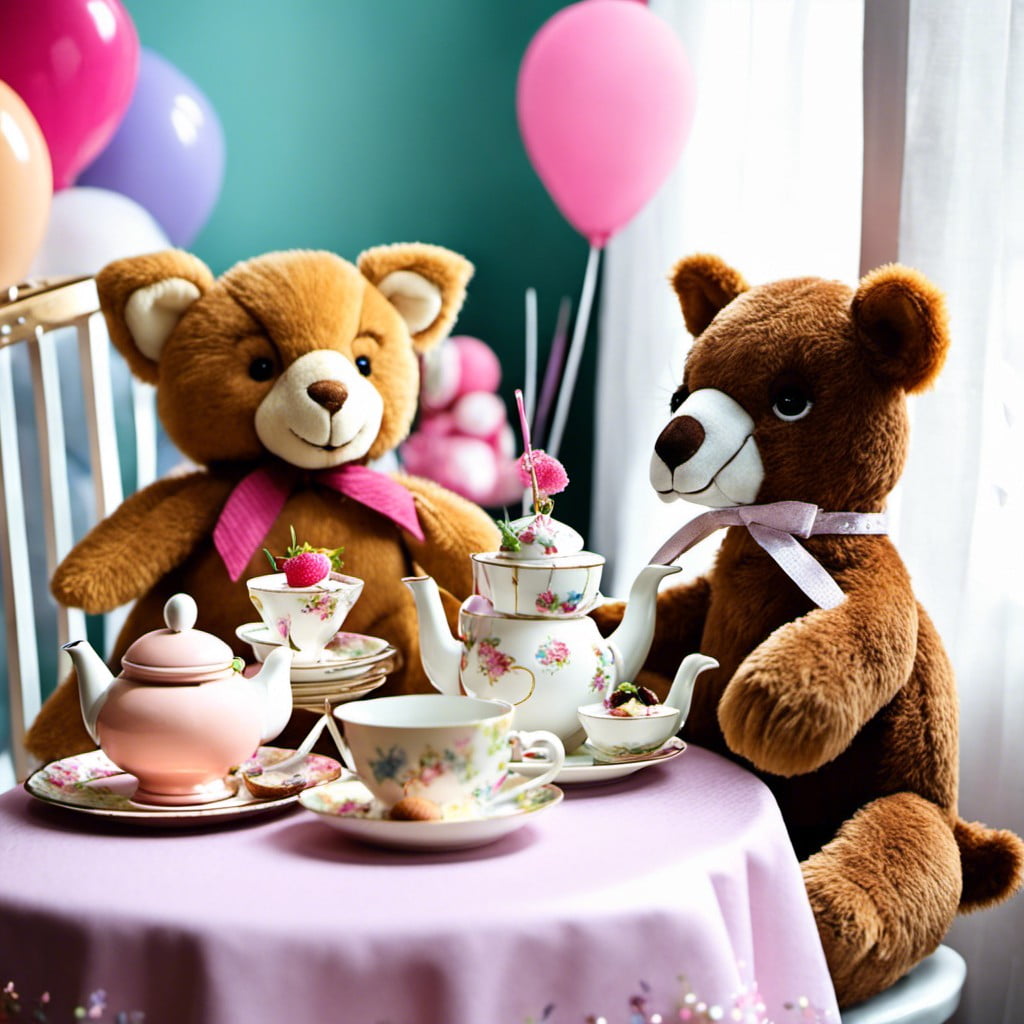 Using your child's favorite plush companions as party guests guarantees an intimate, fun-filled gathering. Prepare tiny sandwiches, mini cupcakes, and fruit skewers for the menu.
To enhance the atmosphere, consider low, kid-friendly tables and chairs. Dress-up items like fancy hats, bow ties, or fairy wings could be provided, for children and their stuffed animals alike.
For an engaging activity, organize a "teddy bear picnic" where the children and their plushies enjoy snacks on a picnic blanket. Sparkling grape juice in plastic champagne glasses brings a classy touch to the affair.
Finally, include a DIY station for tea party hats, creating a memorable keepsake for the attendees. Remember, the goal here is more about process than perfection. It's all about sparking children's imagination and having fun.
DIY T-shirt Painting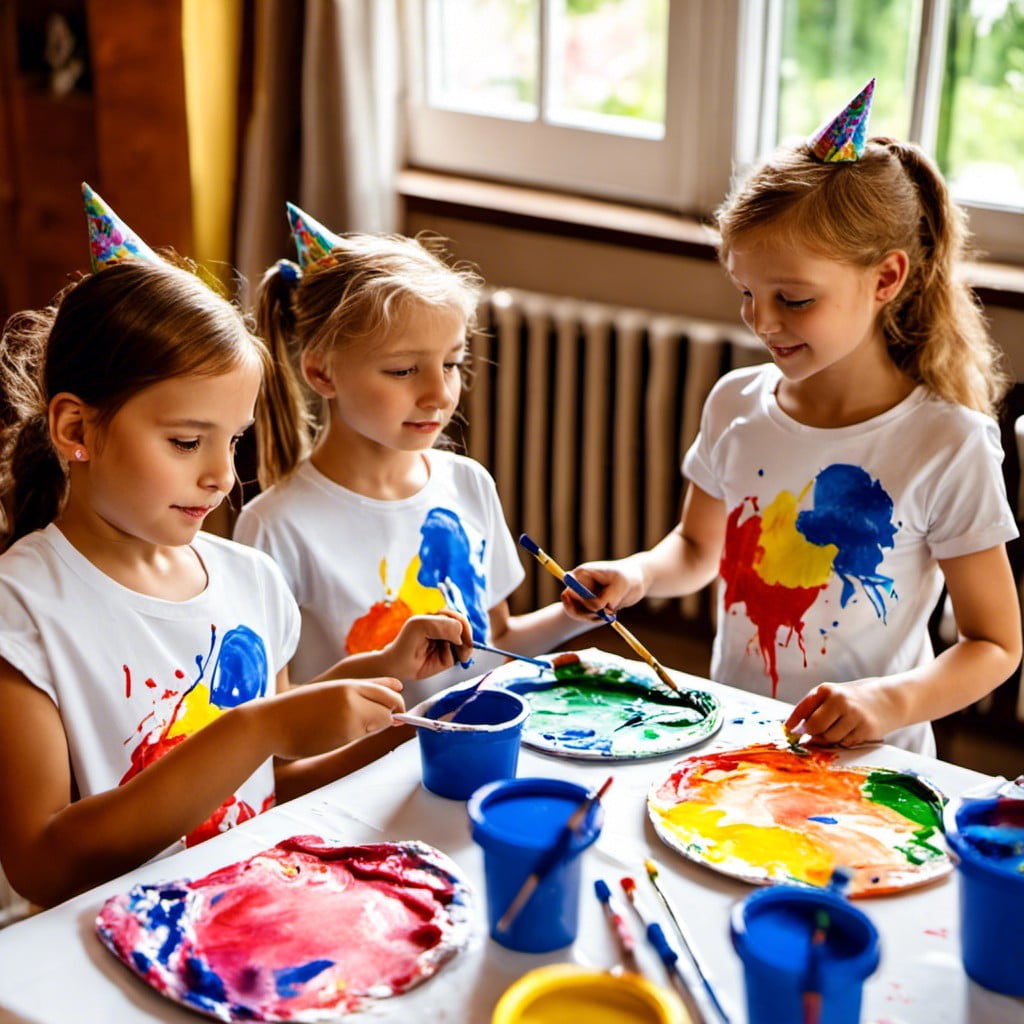 In preparing for this artistic exploration, first gather all the necessary materials. You'll need plain white T-shirts, fabric paints or markers, cardboard pieces to slide inside the shirts to prevent bleeding, and a variety of brushes. For inspiration, have a few design ideas available or let the children's imagination run wild.
1. Preparation: Wash and iron the T-shirts to ensure paint adheres properly.
2. Station Setup: Arrange a work area with newspapers or a cloth to avoid stains.
3. Design Sketching: Draw the design lightly with a pencil before, unless spontaneous creation is preferred.
4. Protection: Insert a piece of cardboard inside the shirt before painting.
5. Painting: Use fabric paint or markers to color in the design.
6. Drying: Allow for sufficient drying time, preferably overnight, to make sure the designs are set.
Remember to take photographs of the finished products and the creative process. The photographs will add to the memories of the day, and give everyone a sense of achievement. Be sure to get the parents to help, creating opportunities for bonding. This activity results in not just personalized mementos of the party, but also a fun and educational experience that promotes creativity and expression.
Space Exploration Party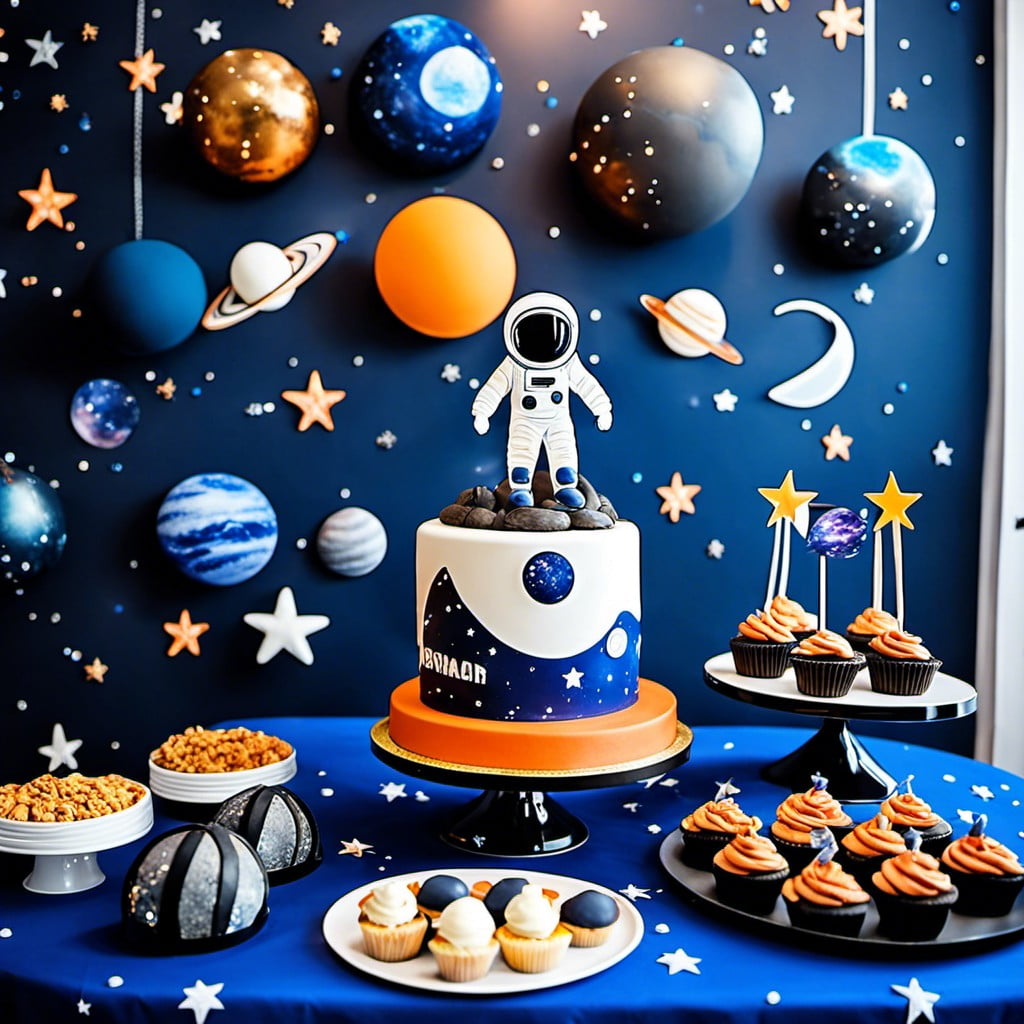 Hosting a space exploration party transports attendees right into the cosmos, providing an exciting environment rich in both adventure and knowledge. Consider the following points:
1. Decorations: Convert your living room into a space station with stars, planets, and glowing nebulae. Cardboard rockets and aluminum foil asteroids can add a touch of creativity.
2. Games: Organize a 'pin the astronaut on the moon' game or an alien scavenger hunt. Games enhance the fun quotient and keep the young guests engaged.
3. Food: Astronaut-inspired food like 'rocket dogs' and 'alien juice' can feature on your party menu. Also explore novelty items like astronaut ice cream for that extra touch.
4. Activities: Engage kids with hands-on fun like making their own miniature rockets, or simple DIY telescopes. They'll enjoy these activities and also take home something memorable.
5. Party favors: End the party on a high note. Goodie bags could include space stickers, glow-in-the-dark stars, and candy "moon rocks".
Remember, it's all about sparking their imagination and nurturing their curiosity about the universe. Happy planning and bon voyage on your interstellar birthday journey!
Pirate Treasure Hunt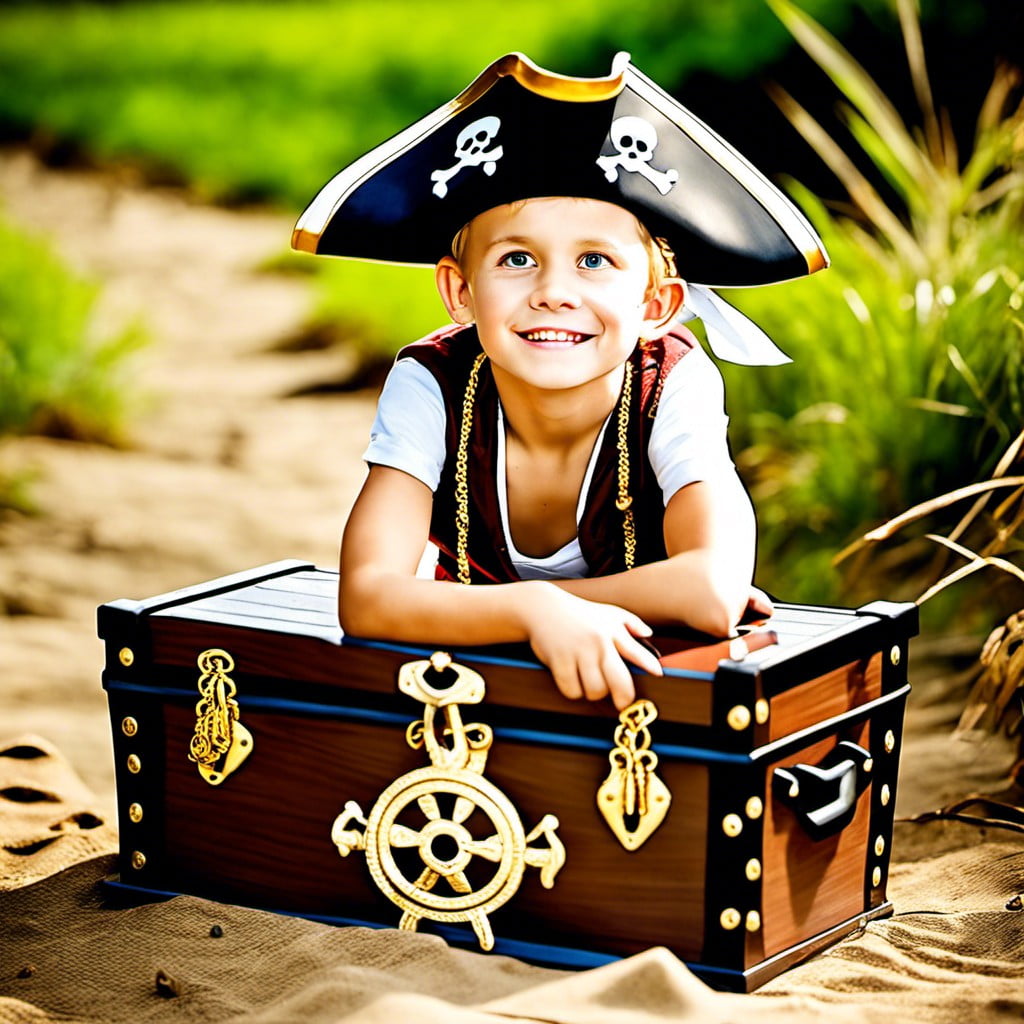 Kick off the festivities with a hand-drawn map, leading the young pirates to their buried treasure. Create an intriguing route around your backyard or inside your house with clues at each turn. Ensure the clues are age-appropriate, to keep their interest.
Using ordinary items as treasures can be fun. Think along the lines of chocolate coins, costume jewelry or small toys. Use a cardboard box or a chest to place all the "loot" in.
Setting the scene is crucial. Have bandannas, eye patches, and colorful parrot cut-outs handy. It adds the perfect touch to an unforgettable pirate-themed party.
Don't forget the pirate food! 'Cannon Ball' meatballs and 'Seaweed' pasta are guaranteed hits. Consider having a 'Walk the Plank' activity using a narrow board or marked out area.
Remember, the fun lies in the search, not just the find! So take your time in planning this part. After all, what's a pirate party without a gripping treasure hunt!
Magical Unicorn Party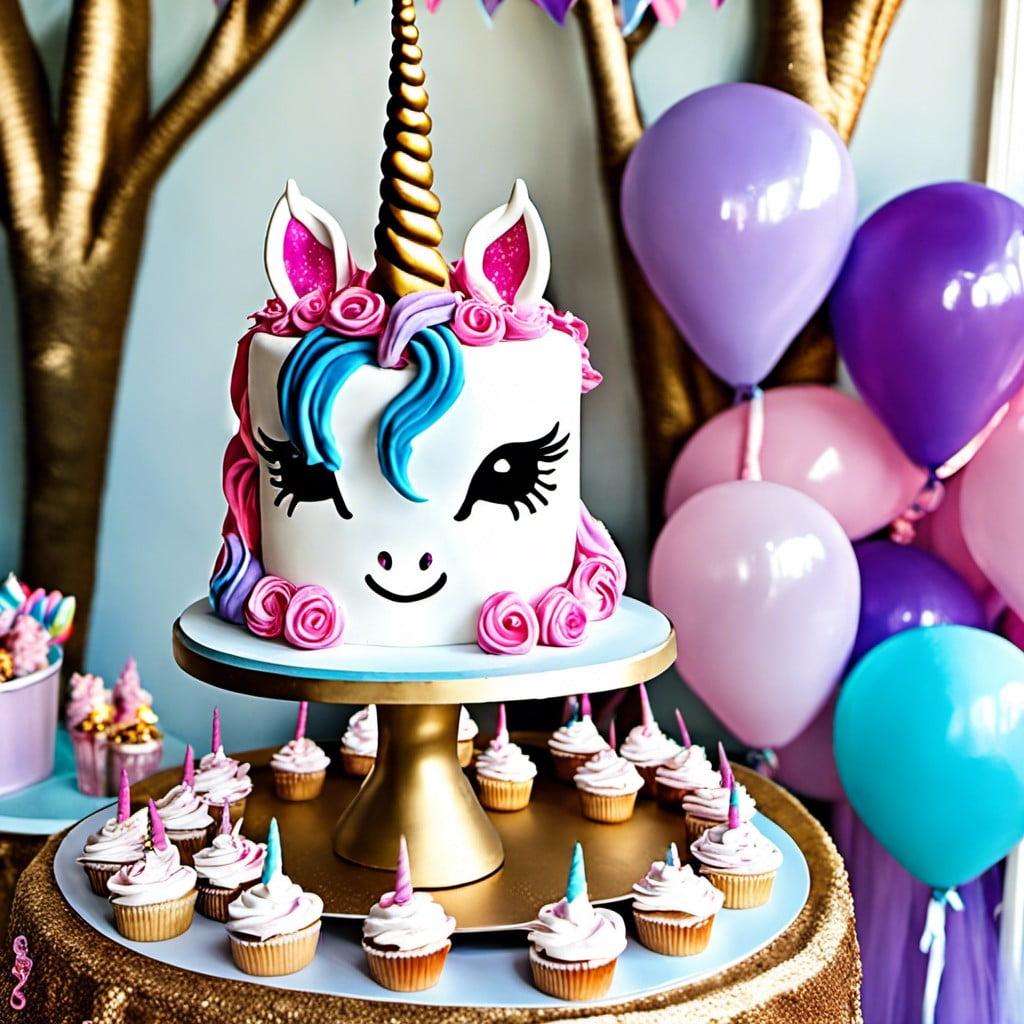 Unleash the magic with enchanting decorations such as plush unicorns, rainbow-colored balloons, and pastel streamers across the room.
Serve snacks in unicorn-themed tableware, and prepare unicorn-shaped sandwiches and rainbow fruit skewers.
Craft activities could include making unicorn horns with glittery craft paper and headbands.
For added fun, arrange unicorn piggy bank painting, where the children enjoy their creative time and take home a practical memento.
Entertainment could be a magic show or a story-telling session centered around a unicorn's adventure.
And for the perfect send-off, unicorn-inspired goodie bags loaded with a small unicorn toy, stickers or a magical storybook, promise to end the party on a rainbow-hued note.
Remember, the secret to a successful unicorn party lies in incorporating hues of rainbow colors, adding sparkling creative crafts and Unicorn-themed mementos.
Movie Theater At Home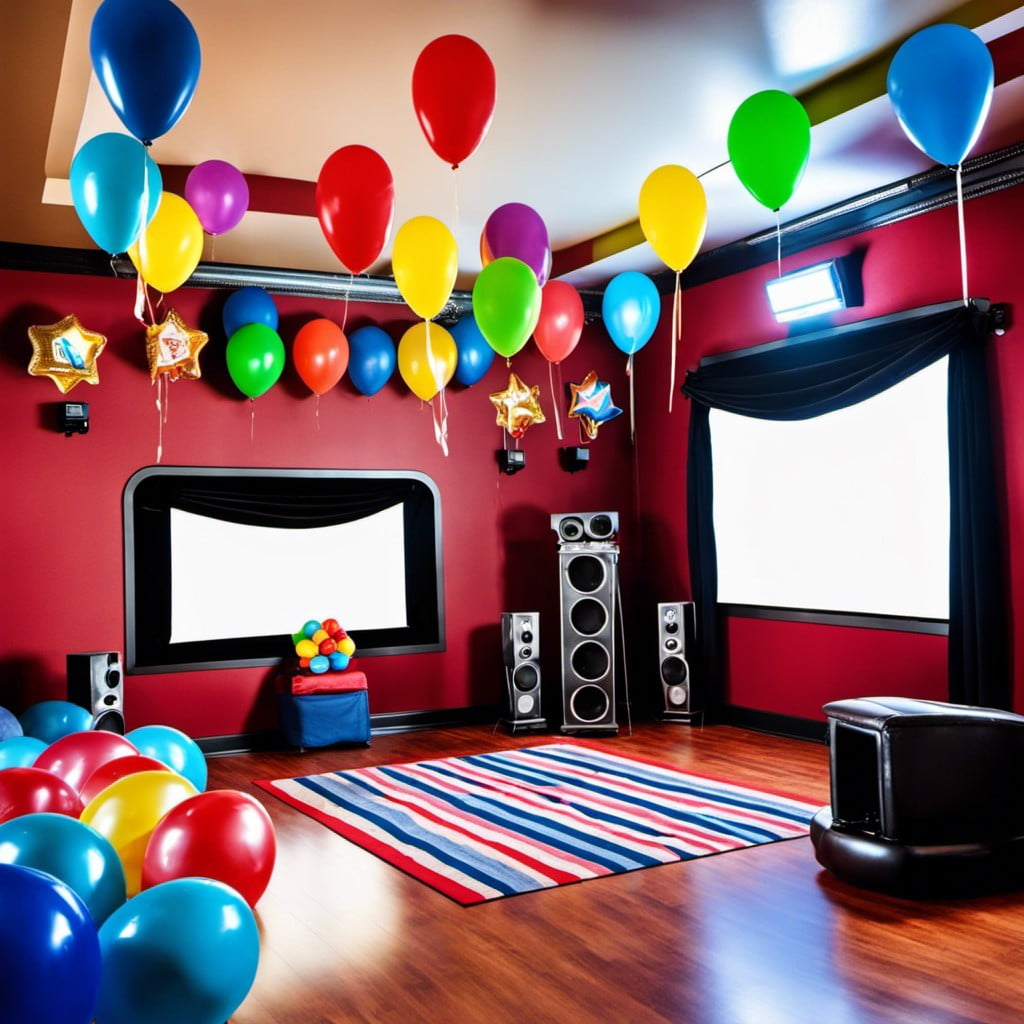 Transform the living room into a cozy cinema. Arrange comfortable seating and prepare some blankets for added warmth. Create the right ambiance with dim lighting. Choose a suitable film the kids are sure to enjoy.
Keep the snacks simple and movie-related: popcorn – the representative movie snack is a must! Add some candies and soda to the mix for an authentic cinema experience. Design 'movie tickets' for an added touch. Consider giving these tickets a purpose – exchange for popcorn or drinks.
Add an intermission halfway through the film. Move the kids around, play a short game or serve some cake. This keeps the energy levels up and ensures they won't get too restless. Keep it smooth, simple, and fun!
Science Experiments Party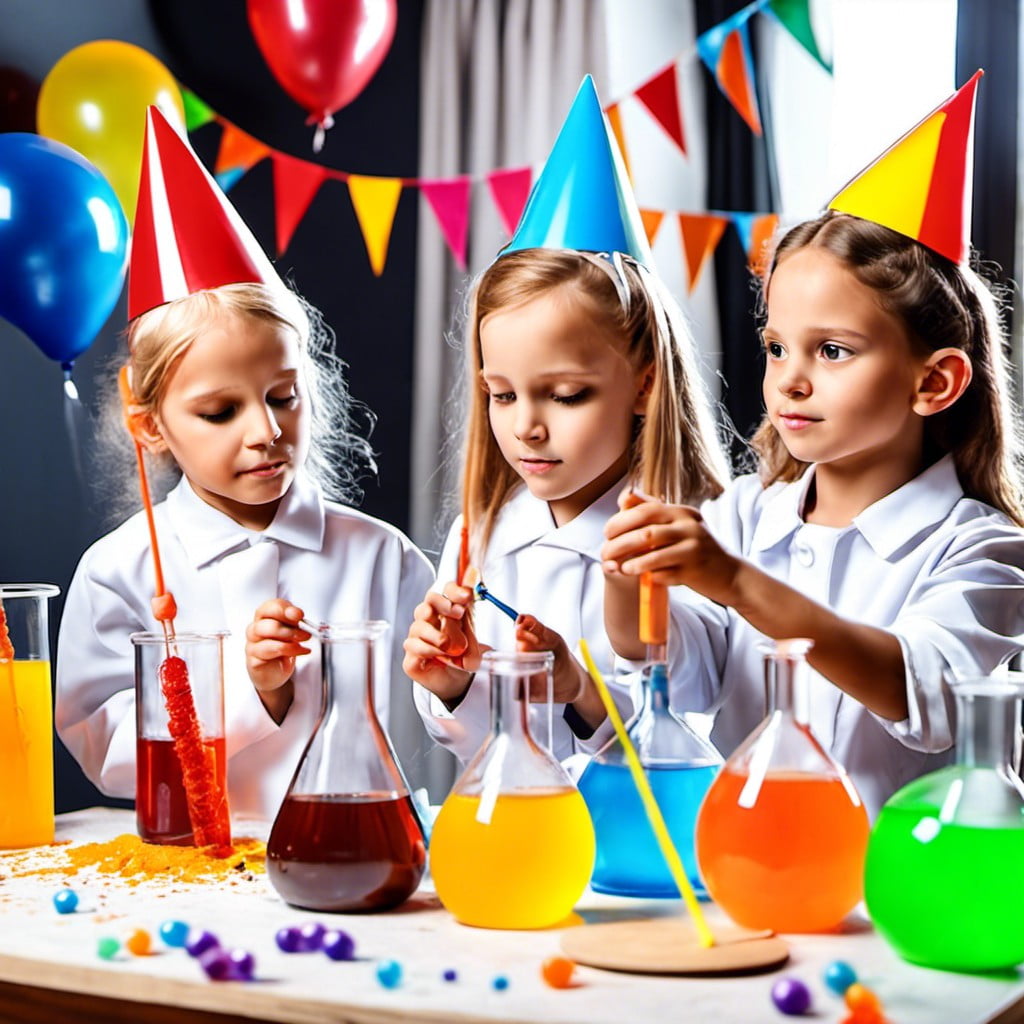 Engage the curiosity of your little innovators with an activity-packed party. Facilitate safe and fun experiments such as creating homemade slime, erupting volcanoes, DIY lava lamps or multi-colored milk eruptions. These hands-on activities not only entertain, they also introduce basic scientific principles, such as reactions, density, and color mixing.
For a splendid visual finale, consider launching rockets using effervescent tablets, or setting up a rainbow walking water project on a long table. Remember, the key to a successful science experiment party is a combination of simple household items, easy-to-follow instructions, and a dash of surprise. Safety measures must be prioritized, so provide lab goggles or glasses and clear instructions for each activity. This is bound to keep the excitement high and the knowledge flowing.
Toy Car Racing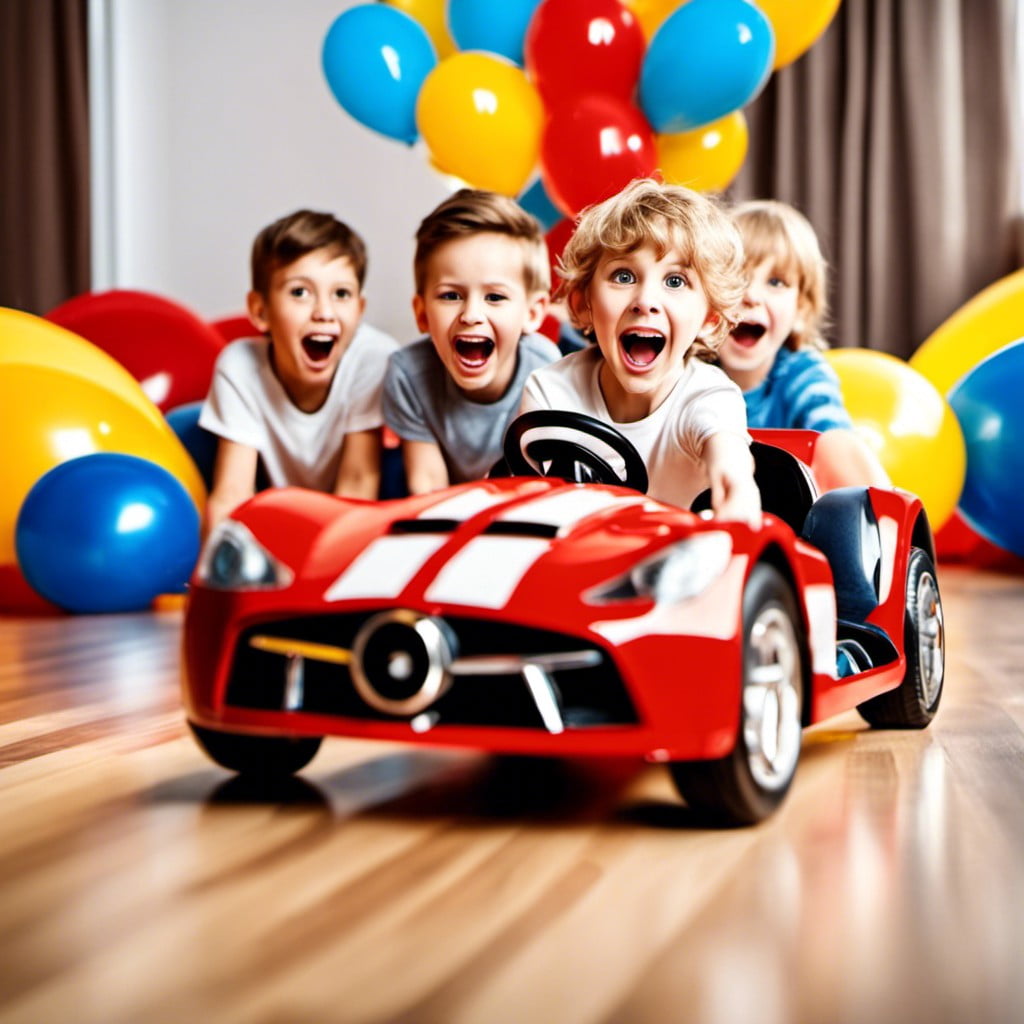 First off, pick a suitable open floor area to set up this creative and fun race track. You can use colored painter's tape on your floor to create different lanes and race circuits which add to the excitement.
Remember to create spots for pit stops; kids can have a blast pretending to be a racing car mechanic. They can even use toy tools for the pit stops making the experience more holistic.
If you want to make things even more interesting, consider small ramps, tunnels made from cardboard or even dinky obstacles they have to steer around.
Then, let the kids choose their favorite toy cars, or you can provide a variety to add some extra fun. They can even conduct a race and keep scores.
Lastly, consider giving a small prize at the end, like toy car-themed stickers or model cars, to all participants to round off the event. The idea is to have a ton of fun while burning off excess energy.
Outdoor Camping Party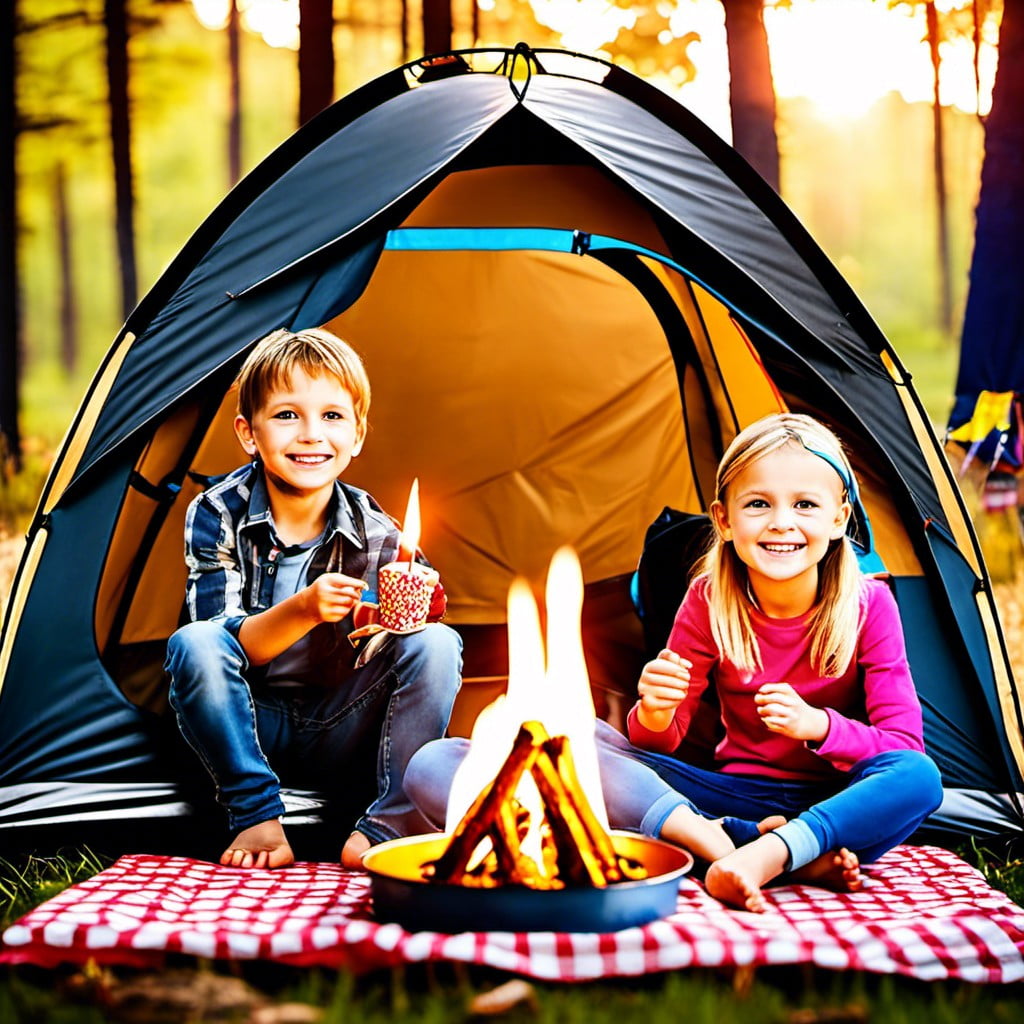 Creating a sense of adventure is key. Set up a tent in the backyard and fill it with comfy pillows for a cozy indoors-outdoors feel.
Organize a scavenger hunt to involve kids in the exploration of nature. Let them gather their finds to create a mini indoor campfire.
For snacks, consider portable picnic favorites – sandwiches, trail mix, homemade granola bars. As a special treat, mimic the outdoor camping experience by setting up a S'mores station. Provide marshmallows, chocolate, graham crackers and let kids assemble their own.
Don't forget to include some camping-themed games and tell a captivating bedtime story under the backyard stars using a flashlight for the authentic camping vibe.
DIY Craft and Scrapbooking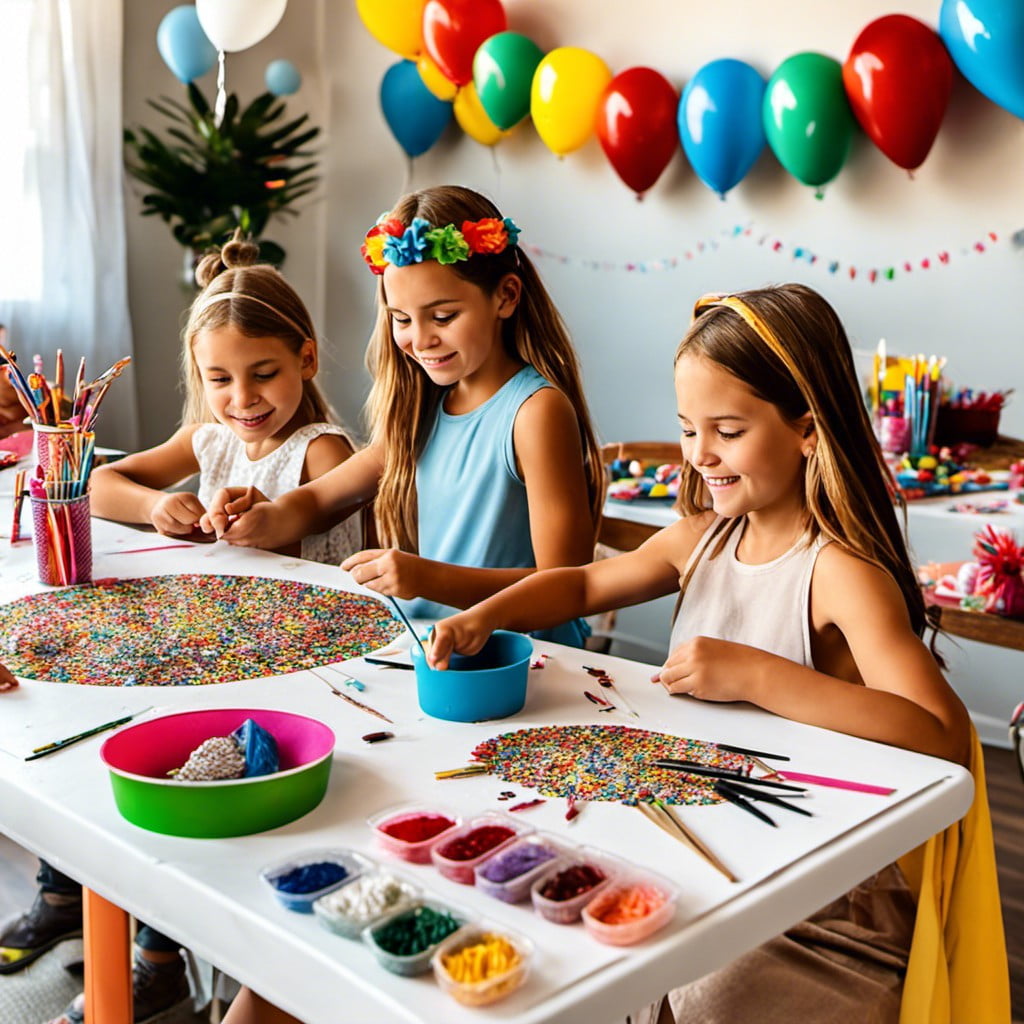 Moving on, make sure to prepare a variety of materials such as colorful paper, stickers, glitter, scissors, glue, ribbons, and many more for the kids to get creative. They can cut out shapes, create collages, or design their own photo frames.
Each child can have their own scrapbook to fill with their favorite memories of the party. Involve them in fun, theme-based craft activities like creating their own superhero masks or decorating tiaras, allowing for a personal touch and hours of fun.
It's not only an entertaining activity, but also helps enhance the children's creativity and motor skills. Plus, they get to take home a unique souvenir from the party!
Make Your Own Pizza Party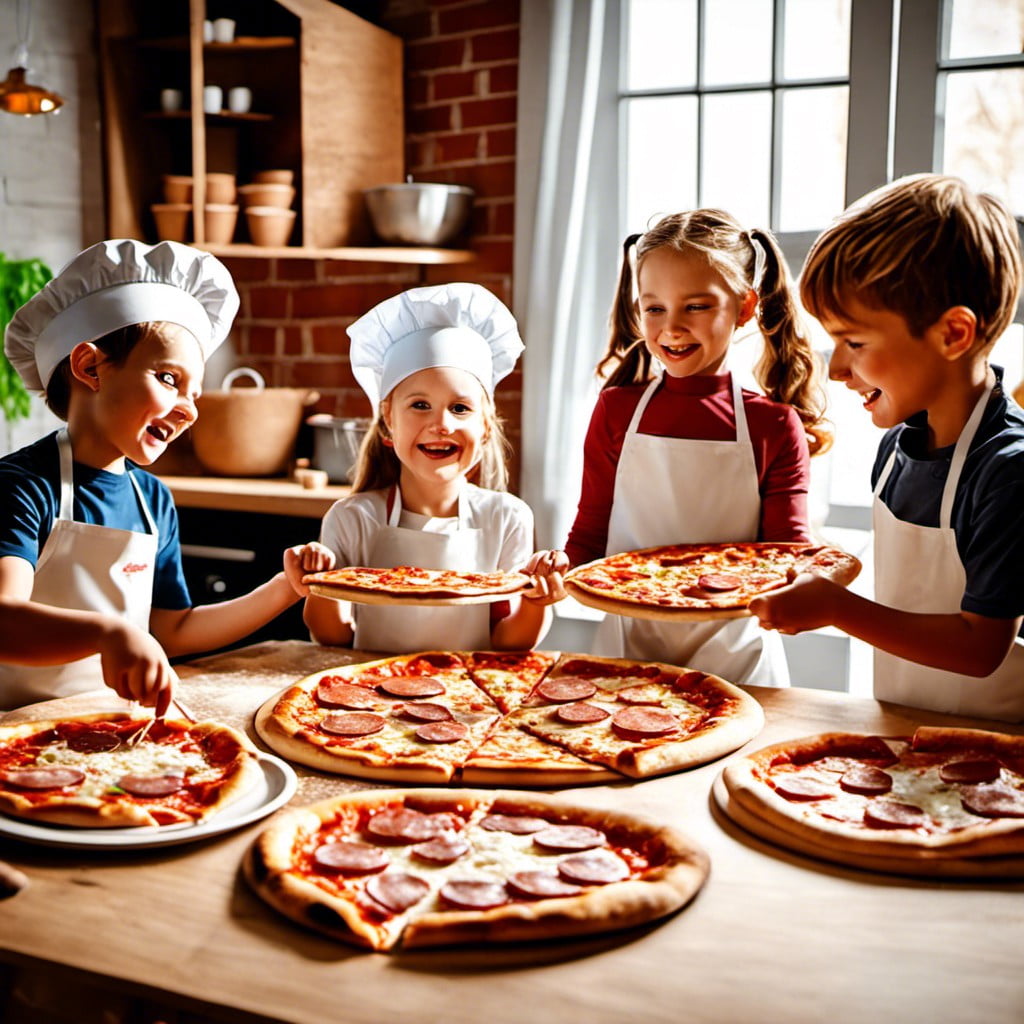 Stock up on pizza bases, an array of fresh toppings, and a variety of cheeses. Let the little chefs' creativity flow as they assemble their pizza masterpieces from scratch.
They can experiment with the varied ingredient options and create distinctive flavors. For a healthier twist, offer whole wheat bases and plenty of veggies for toppings.
This activity is fun, interactive, and results in a delicious self-made meal. Pop the creations into the oven under your watchful eye, ensuring safety at all times.
To enhance the experience, consider giving out mini chef hats and aprons, making it an unforgettable culinary celebration.
Following these steps, an ordinary party evolves into a remarkable culinary adventure.
Under the Sea Aquatic Party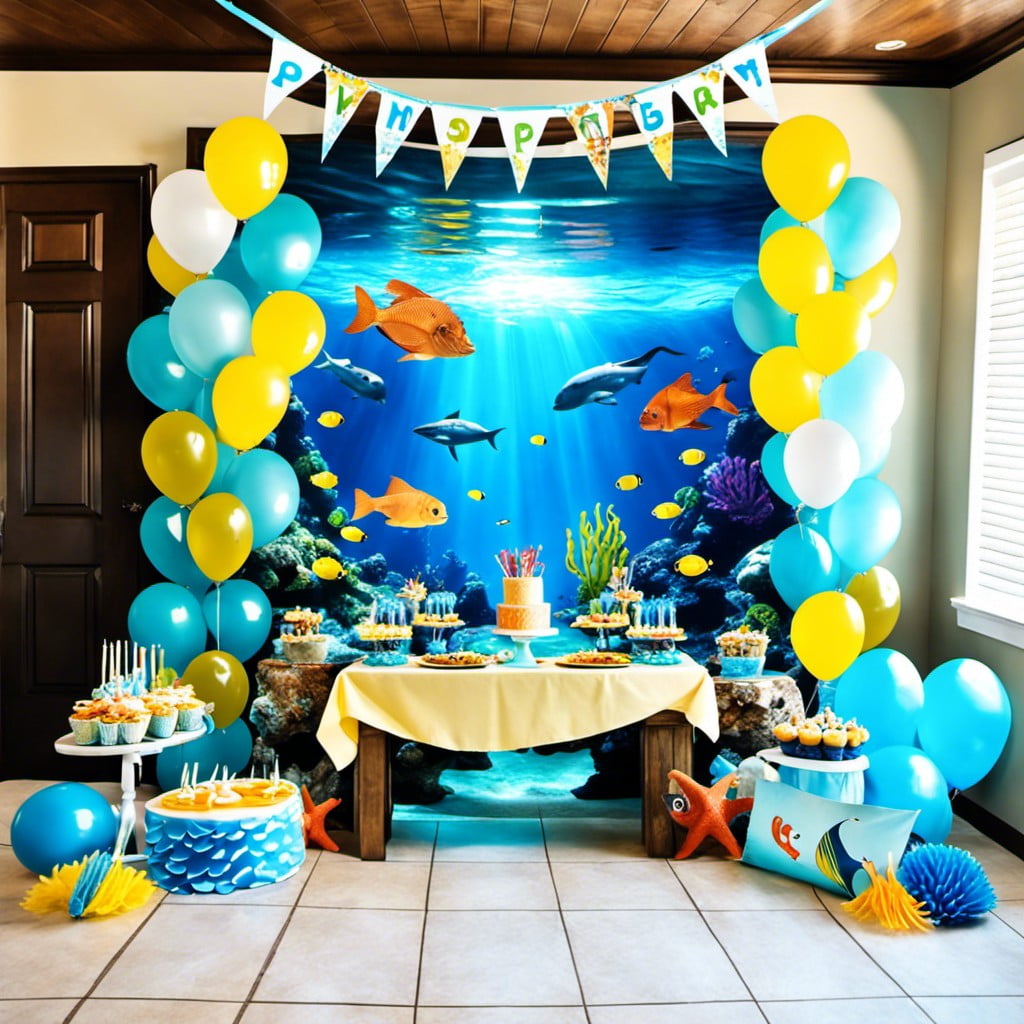 For a watery wonderland inside your own home, start with transforming the decor into an underwater scene. Hang blue streamers and inflate sea creature balloons. Create jellyfish using colorful paper lanterns with long tissue paper tentacles. Use a bubble machine to mimic the ocean currents.
Food and drinks can match the theme. Blue lemonade or punch makes great 'seawater,' while cut fruits can serve as 'coral reef treats.' Sea creature-shaped cookies and cupcakes are a sure hit amongst the young guests.
Plan fun activities to keep your little sea explorers entertained. Initiating a 'Find the Treasure' game with little guests diving into a pool of plastic balls to find the 'pearl' can be great fun. Or you could arrange for an in-house screening of a popular under-the-sea based animation film.
Party favors could include cute sea creature masks, sand art kits, or starfish-shaped bath bombs. With these ideas, any home can transform into a charming underwater world.
Jungle Safari Adventure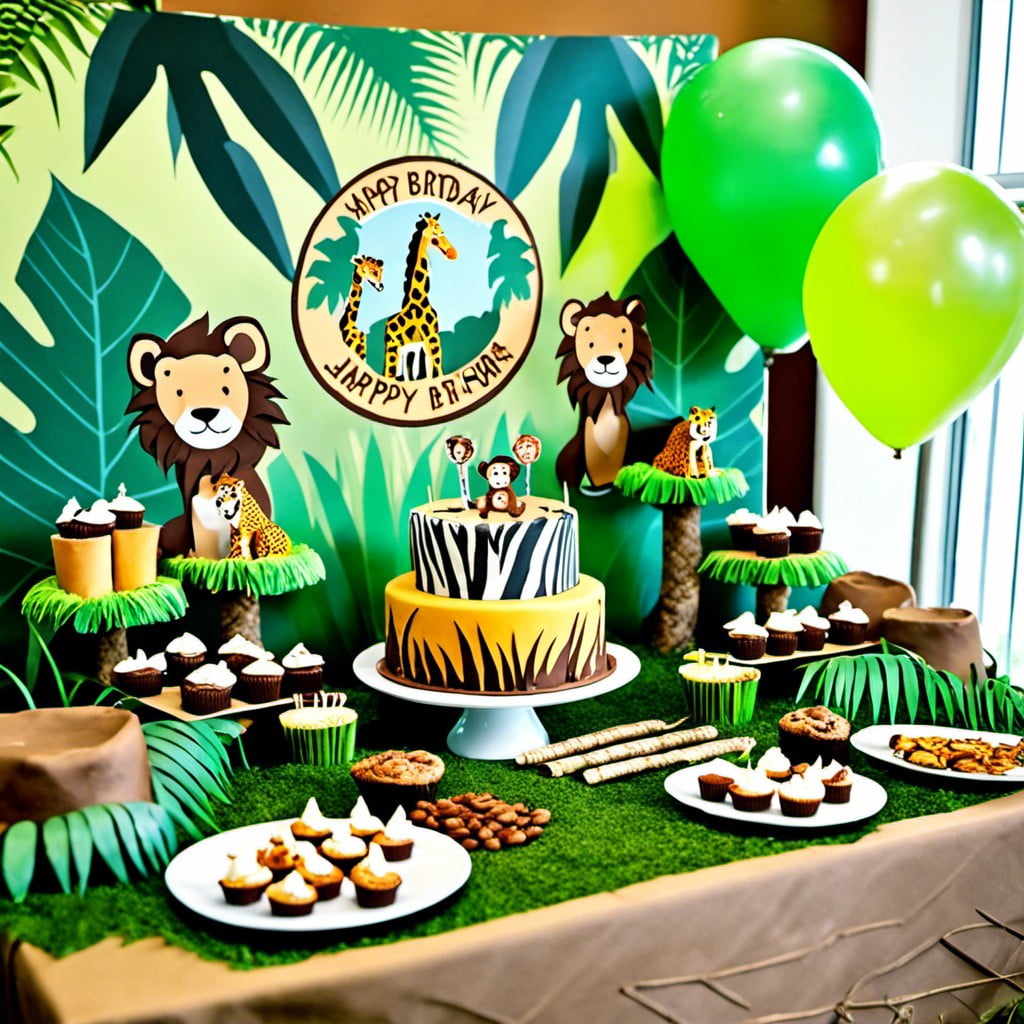 Craft a wild escapade right in your backyard with an array of jungle-themed decorations. Consider using ferns, vines, animal cutouts, and even inflatable palm trees to create the right atmosphere.
Plan an engaging Jungle Safari Scavenger Hunt. Create clues about various animals, incorporating knowledge and thrill. Add different 'animal stations' where kids can learn short fun facts about the species associated with each clue.
For games, consider a 'pin the tail' version with jungle animals or a safari-themed sack race.
Transform party food into jungle-fare. Serve sandwiches cut into animal shapes or decorate cupcakes to resemble safari animals.
For party favors, mini binoculars or safari hats would add a delightful touch, providing kids with a memorable takeaway from an unforgettable jungle adventure.
Remember, the key is in the details – photo props with animal masks, footprints leading up the path, and maybe even ambient jungle sounds playing in the background would take the experience to the next level.
Princess or Fairy-tale Theme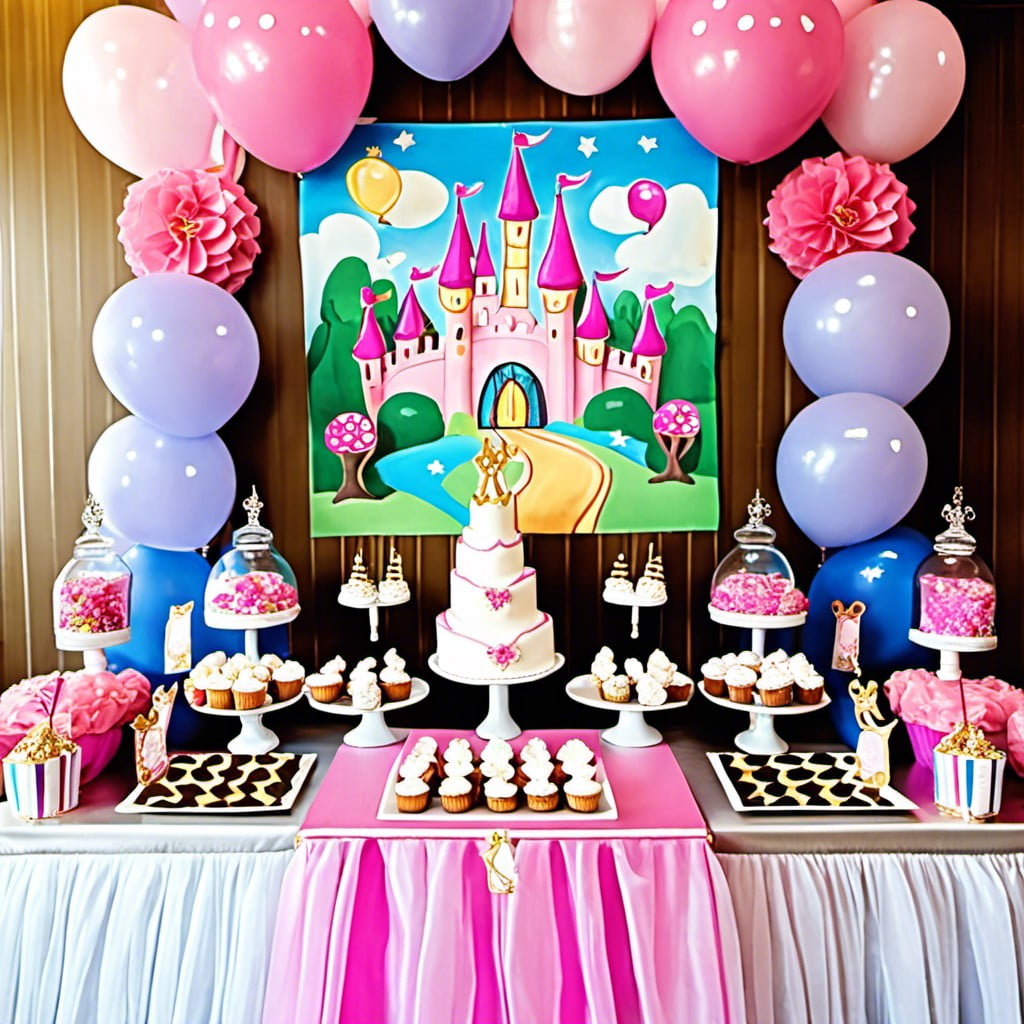 After selecting an enchanting fairy-tale, transform your home into a magical castle. The secret lies in choosing the right decorations; glimmering fairy lights, balloons in pastel colors, and even homemade cardboard cutouts of favorite characters can add to the ambience.
Remember to consider the refreshments; beautifully decorated cupcakes and finger sandwiches are great, and opt for a sparkling fruit punch to provide the children with a fairy-tale elixir.
For costumes, encourage the little ones to dress as princesses, princes, or even as their favorite mythical creatures.
Prepare themed party games, such as a treasure hunt with a magic 'wand' as the prize, or perhaps a creative activity, like decorating their own paper crowns.
All these can work together to make the day as captivating as any fabled story. It's not only about the decorations or costumes, but creating experiences that transport children into a world of fantasy, making this a truly charming gathering.
Bake a Cake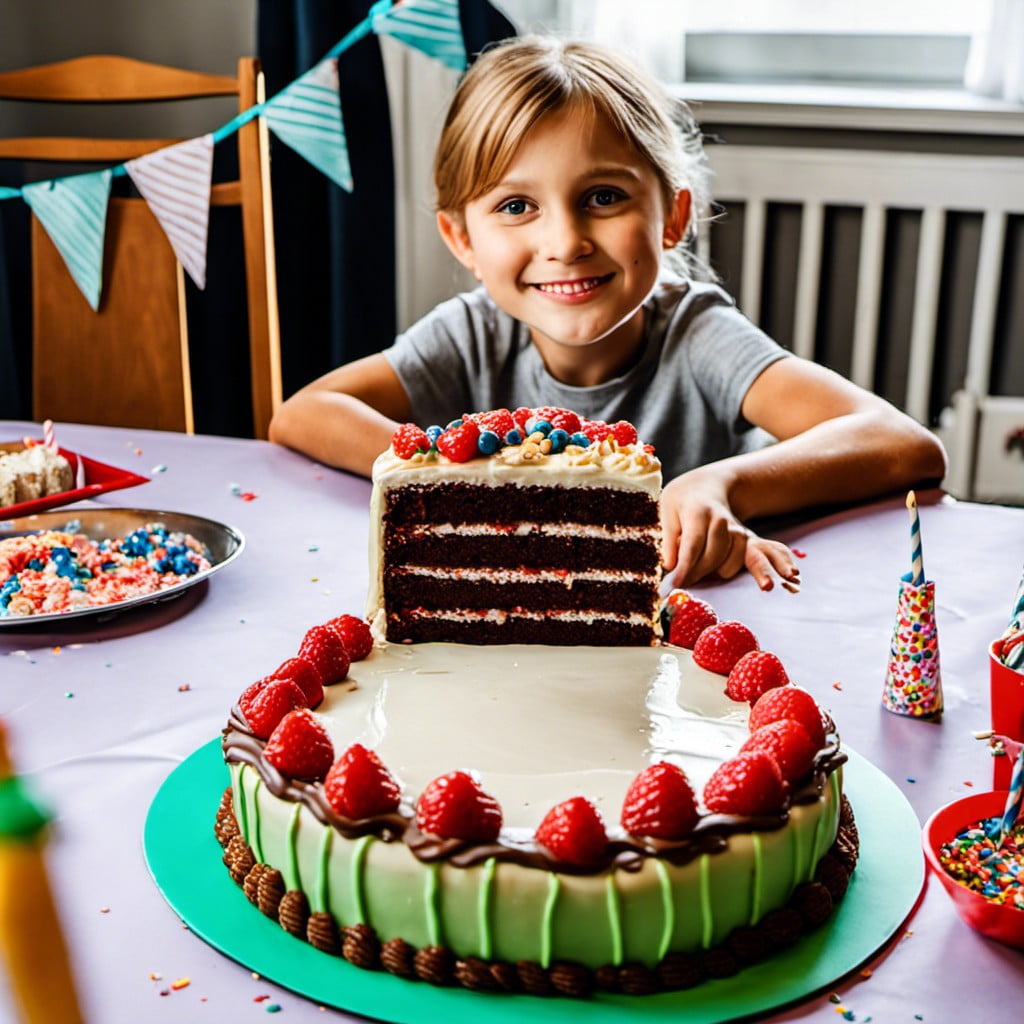 Baking a cake can bring joy and create lasting memories. To get started, select a simple kid-friendly recipe – be it chocolate, vanilla, or rainbow. Supervise and guide children to measure and mix the ingredients, fostering their culinary skills. Make sure to keep safety precautions in mind like handling hot ovens and sharp utensils.
Once baked, the cake serves as a blank canvas for decoration. Provide colorful frosting, sprinkles, and edible decorations. This will draw out their creativity as they experiment with different designs and patterns. Remember, it's all about having fun and enjoying the process together.
Lego-building Contest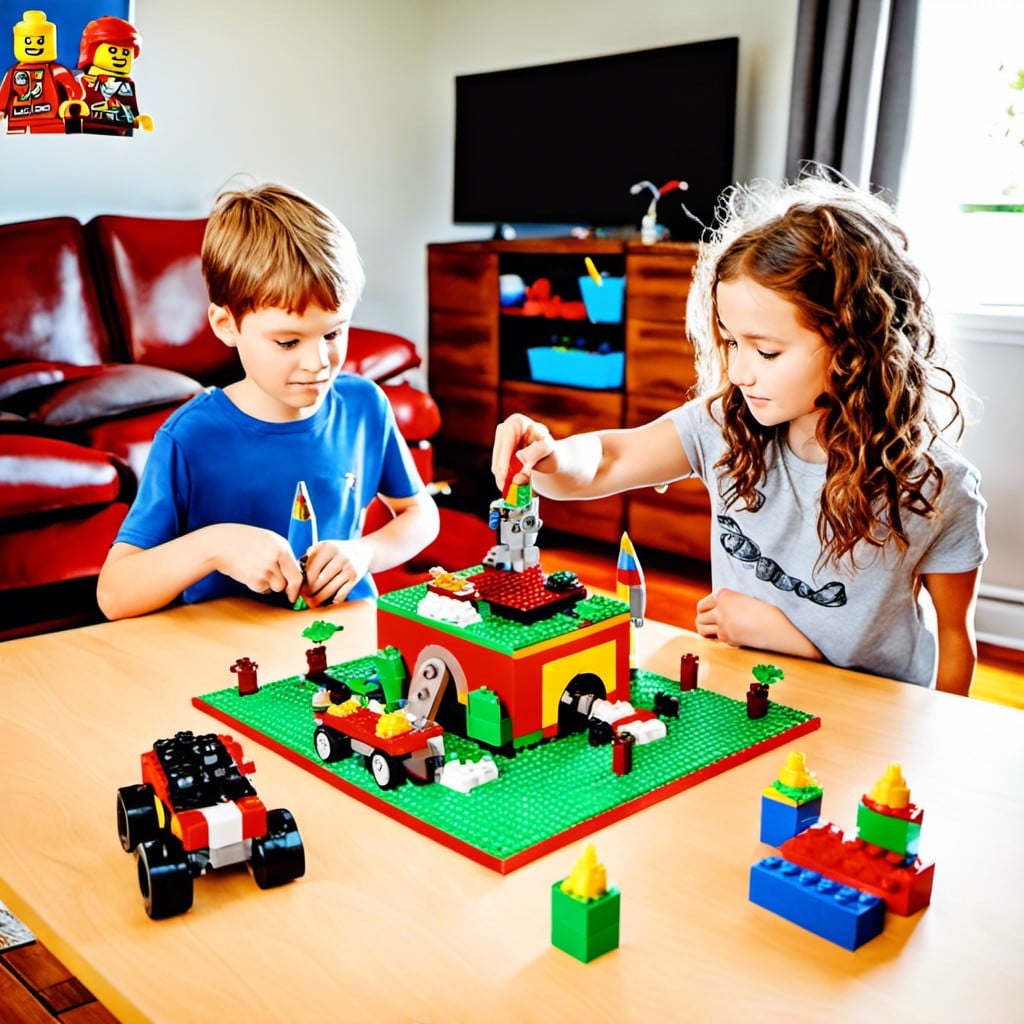 In this high-energy activity, children's creativity comes to life as they brainstorm, build, and showcase. As an added bonus, there's something refreshing about a break from digital screens. Here are some key things to remember about this activity.
1. Setup: You'll need an ample collection of Legos. Consider different sizes, shapes, and colors to get the most out of the builds. Don't forget baseplates for a solid foundation!
2. Guidelines: Establish some rules for the contest. This could be a thematic build relating to a favorite book or movie, or a free-form where imaginations run wild.
3. Timing: Keep it fair and exciting with timed rounds. You might run multiple rounds allowing for different categories of creations.
4. Judging: It's not about winning, but celebrating creativity. Ensure the judging focuses on fun aspects like 'most futuristic design' or 'best use of colors'.
5. Display: Dedicate a space for everyone to display their creations. It's not just about the competition. It's also about acknowledging the hard work each participant puts in.
Note: Always remind participating children and parents that the goal is to have fun and interact with each other. Encourage everybody to be respectful of others' creations.
Mini Olympics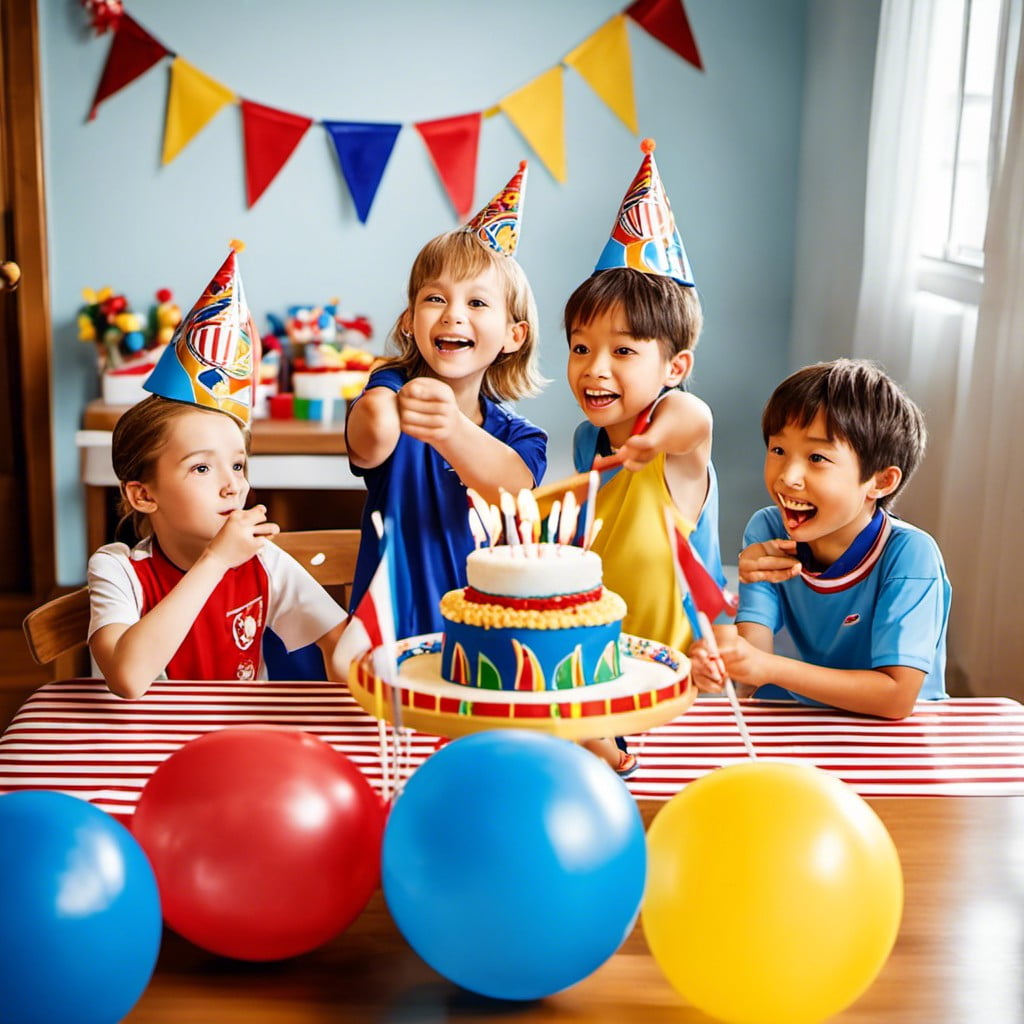 Creating mini events that mirror real Olympic games, you can ignite a world of excitement and healthy competition among the kids. Prioritize games that promote teamwork, critical thinking, speed, and agility.
1. Torch Relay: Start with a DIY torch made of paper and a flashlight, passing it on marks the beginning of the games.
2. Mini Soccer: A favorite among many kids. Maintain an inclusive environment, encouraging every participant, not just skilled players.
3. Sack Race: A simple, fun, and classic game where kids jump towards the finish line in large sacks.
4. Water Balloon Toss: A fantastic way to cool off if it's a summer party. Pairs throw a water balloon back and forth, stepping backward after each successful toss.
5. Spoon Egg Race: Balancing the egg on the spoon while racing requires focus and speeds motor skills.
6. Medal Making: Incorporate a crafty session where kids get to design and make their medals using glitter, stickers, and ribbons.
7. Award Ceremony: Reward every child for their participation, not just winners. This fosters a sense of accomplishment and boosts self-esteem.
Remember, the ultimate goal is to ensure every child has a fun, unforgettable experience. Keep the spirit of sportsmanship high and make this a birthday party to remember!
Minecraft-themed Event
To immerse the attendees in the pixelated world of Minecraft, start by transforming your home into various classic Minecraft location with cut-out green block posters to represent the infamous 'Grass Block' or blue and white balloons for 'Water Blocks'.
The food can follow the theme as well; imagine serving sandwiches cut into the shape of Creepers or cookies shaped like Pickaxes. Don't forget a cake with the Minecraft logo or Steve's blocky face.
The activities are where the adventure really begins. Crafting competitions could allow guests to let their creativity flow while "Creeper Tossing," aiming for cardboard Creeper targets, would provide loads of fun.
Ensure to have some Minecraft-themed music playing in the background. If possible, you could also set up screens where guests can play Minecraft together.
Last but not least, favors could include Minecraft-themed mini toys, stickers, or even pixelated sunglasses. Always remember, the key is to build upon the element of creativity and teamwork that makes Minecraft so unique.
Animal Petting Zoo Visit
Entering the fascinating world of animals, a petting zoo visit entertains all ages while adding an educational spin to the party. Music to a parent's ears are statements like "I never knew that" or "look at this," buzzing all around.
Organize for the children to touch or feed alpacas, goats, rabbits, or ducks. This tactile experience enhances learning and creates an intimate encounter with nature, fostering respect for animals and a wonder for the variety of species.
Take the party to a local farm, public zoo, or hire a mobile petting zoo to come to the backyard. Ensure to check animal welfare certifications and animal hygiene to maximize safety and minimize risks. Factor in the party size to ensure an optimal experience for every child – overcrowding can intimidate both animals and children.
Remember to include hand sanitizers for after-animal contact, and perhaps theme your party food – animal-shaped sandwiches or cookies can continue the animal zoo theme even to the menu.
And lastly, let the memories sail home with the children. Animal figurines or a small stuffed animal could make wonderfully themed party favors.
Continue reading:
Recap