Last updated on January 5, 2023
Okay, this sounds com­pli­cated right? I promise it's not. I found myself want­ing to make a recipe with a pea puree. What is pea puree you ask? (okay, you're prob­a­bly ask­ing what brodetto is too, but that will have to be another post down the road) Good ques­tion and one I wanted an answer to recently. I'm addicted to watch­ing "cook­ing shows" and it seems like some­body is always mak­ing a pea puree. (Remem­ber the Top Chef scan­dal when Alex was accused of steal­ing Ed's pea puree?) So I decided I was up for the chal­lenge of mak­ing one. To my sur­prise there is noth­ing fancy or hard about mak­ing one.  Although there are many ver­sions of pea puree, it is basi­cally what the name implies, fresh or frozen peas and mint, then pureed (not mashed). Of course most recipes add a lit­tle more than that.
Table of Contents
Hal­ibut with pea puree recipe:
Ingre­di­ents for the entire meal: (makes 4 servings)
4 hal­ibut filets (cen­ter cut and skinless)
olive oil
1 shal­lot diced
1 lemon juiced
1 lemon zested
1 1/2 cups chicken broth
1/4 cup mint leaves (extra for gar­nish as well)
2 cups frozen peas
1 gar­lic clove
kosher salt and pepper
french baque­tte
Mak­ing the pea puree:

Com­bine 2 cups of peas, 1/4 cup mint, gar­lic clove, few gen­er­ous dashes of kosher salt and few grinds of fresh black pep­per in a food proces­sor and puree. With the machine on, slowly add 1/2 cup of olive oil into the puree. Taste to see if you need more s & p. If happy, trans­fer to a bow, cov­erl and set aside.
Mak­ing the Lemon Brodetto:
Heat a pan over medium heat with 2 table­spoons of olive oil. Add the shal­lots and saute until ten­der, about 5 min­utes. Add the lemon juice, lemon zest and chicken broth. Cover it and let it sim­mer over low heat.
Hal­ibut:
turn your broiler on
line a bak­ing sheet/pan with foil and place the hal­ibut on it
driz­zle olive oil on the filets and gen­er­ously salt and pep­per them
broil on each side for approx. 4 min­utes (ovens vary so much so don't leave unattended)
remove and set aside
Putting it all together:
Get out four clas­sic white shal­low bowls. First, ladle a scoop of the lemon brodetto into the bowl. Then add a gen­er­ous dal­lop of the pea puree in the cen­ter of the bowl (swim­ming in the mid­dle of the brodetto) Next care­fully place a hal­ibut filet on the top of the pea puree. To gar­nish add a few sprigs of mint either chopped or one whole leaf. Finally place a slice of  french baguette bread on the side. (it's so good for sop­ping up the brodetto sauce!)
Voila'!  You have a beau­ti­ful, gourmet meal that wasn't hard to make. More impor­tantly you can finally taste and see what all the "pea puree hype" is all about! Delicious!
Tips:
buy fresh hal­ibut if possible
grow mint at home so you always have some on hand (easy/cheap to grow too)
keep frozen pea bags stocked in your freezer then you will always be able to whip up a batch of pea puree when you're look­ing for a quick side dish to make (with­out hav­ing to run to the gro­cery store for the 10th time this week)
Buon Appetito! I hope you enjoy this dish as much as I did…so fresh and clean!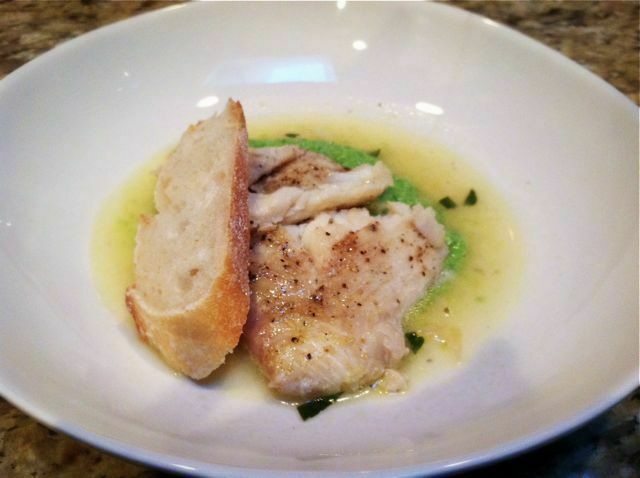 Continue reading: