Last updated on November 20, 2023
Explore these heart-shaped shadow box ideas because they provide a unique way to display cherished mementos in a visually pleasing manner.
I'm proud to present my own designs in this article about 20 Unique Heart Shaped Shadow Box Ideas, confident you'll find them as inspiring and fun to create as I did.
Dive into the world of DIY with heart-shaped shadow box ideas that will add a touch of personal charm to any living space.
This article will guide you through various creative concepts, from sentimental keepsakes to artistic home decor.
Whether you're looking to display cherished memories or create a unique gift, these heart-shaped shadow box ideas are sure to inspire.
Each design is elaborated with step-by-step instructions and tips to ensure your DIY project is a success.
So, prepare your tools and let's get crafting!
Wedding Keepsakes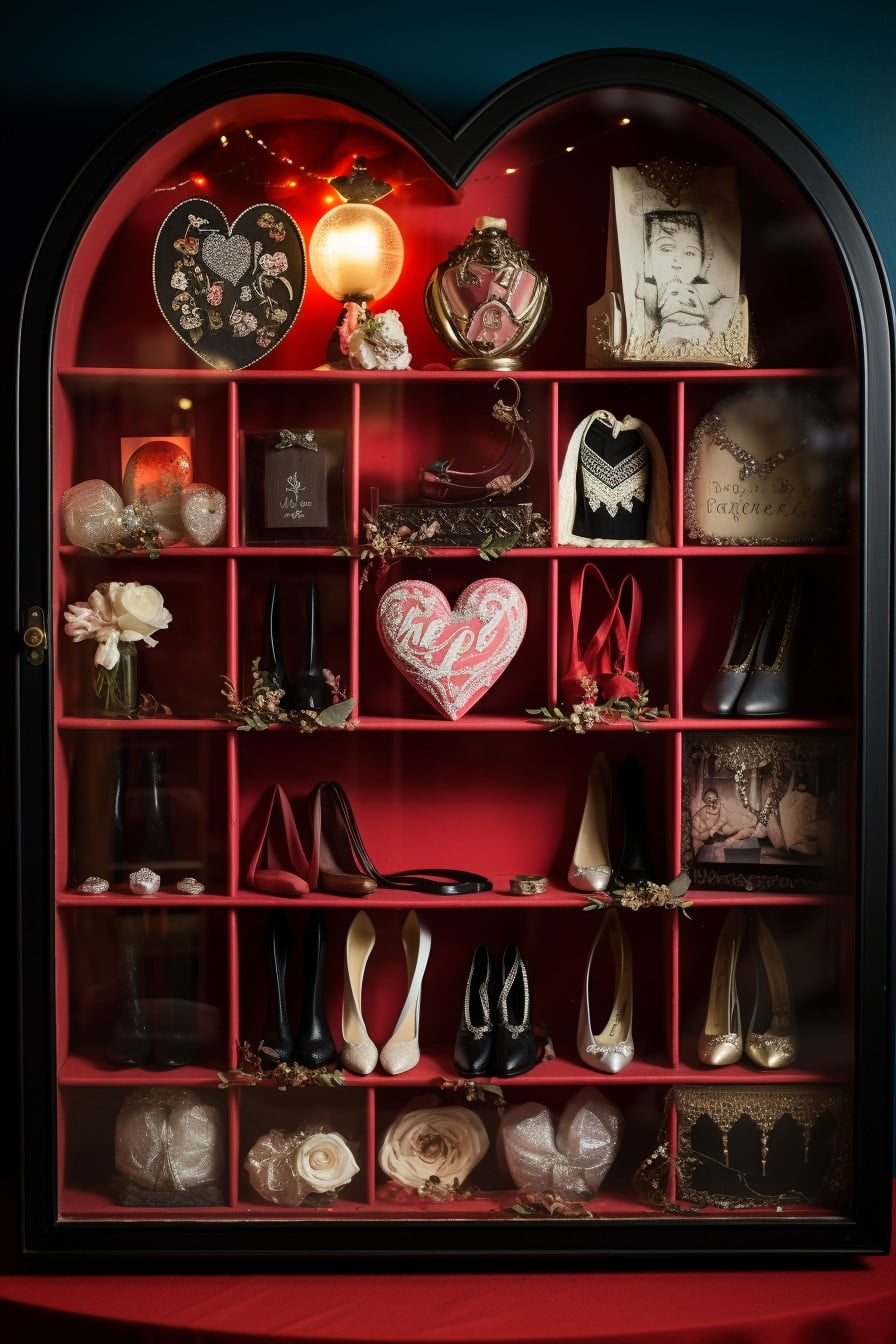 An empty heart-shaped shadow box can be a beautiful vessel for preserving wedding essentials. Consider featuring small items like dried bouquet petals, a piece of lace or satin from your wedding gown, the groom's boutonniere, or decorative items from your wedding cake.
You can also include keepsakes like written vows, dinner menu, or event invitations. To make it more personal, you could add a snapshot or two from the big day. Arrange these items thoughtfully within the box to create a visual timeline of your wedding, a keepsake to treasure!
Ensure each item is secured well to maintain the longevity of the display. This storied shadow box not only captures the best day of your life but also adds a personal and sentimental touch to your decor.
Vintage Love Letters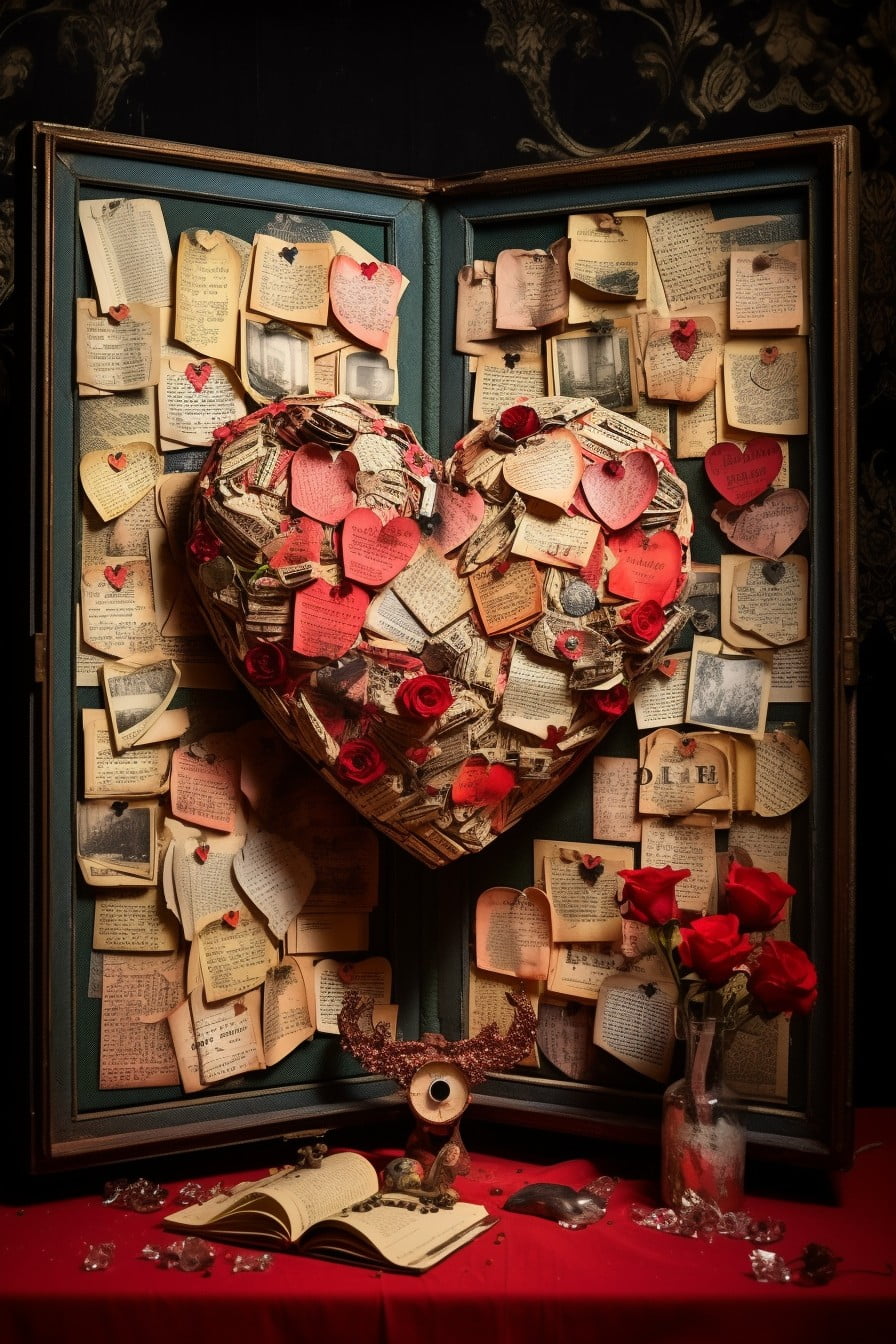 Harnessing the allure of past romances, the display of vintage love letters can become an expressive focal point. These letters may hold personal significance or just inspire with their timeless charm.
To begin with, find antique letters that resonate with you, either in second-hand book stores or online. Letters written with ink are rich with character, and the natural weathering of paper over time creates a beautiful patina.
Next, arrange your letters in a way that is both aesthetic and easy to rearrange – variety is the spice of life after all. Ensure each letter is seen; overlap them only slightly or roll them up and bind with a ribbon.
The end product? A captivating assemblage of yesteryear's love tales, a heart shaped box filled with stories waiting to be told.
Valentine's Day Surprises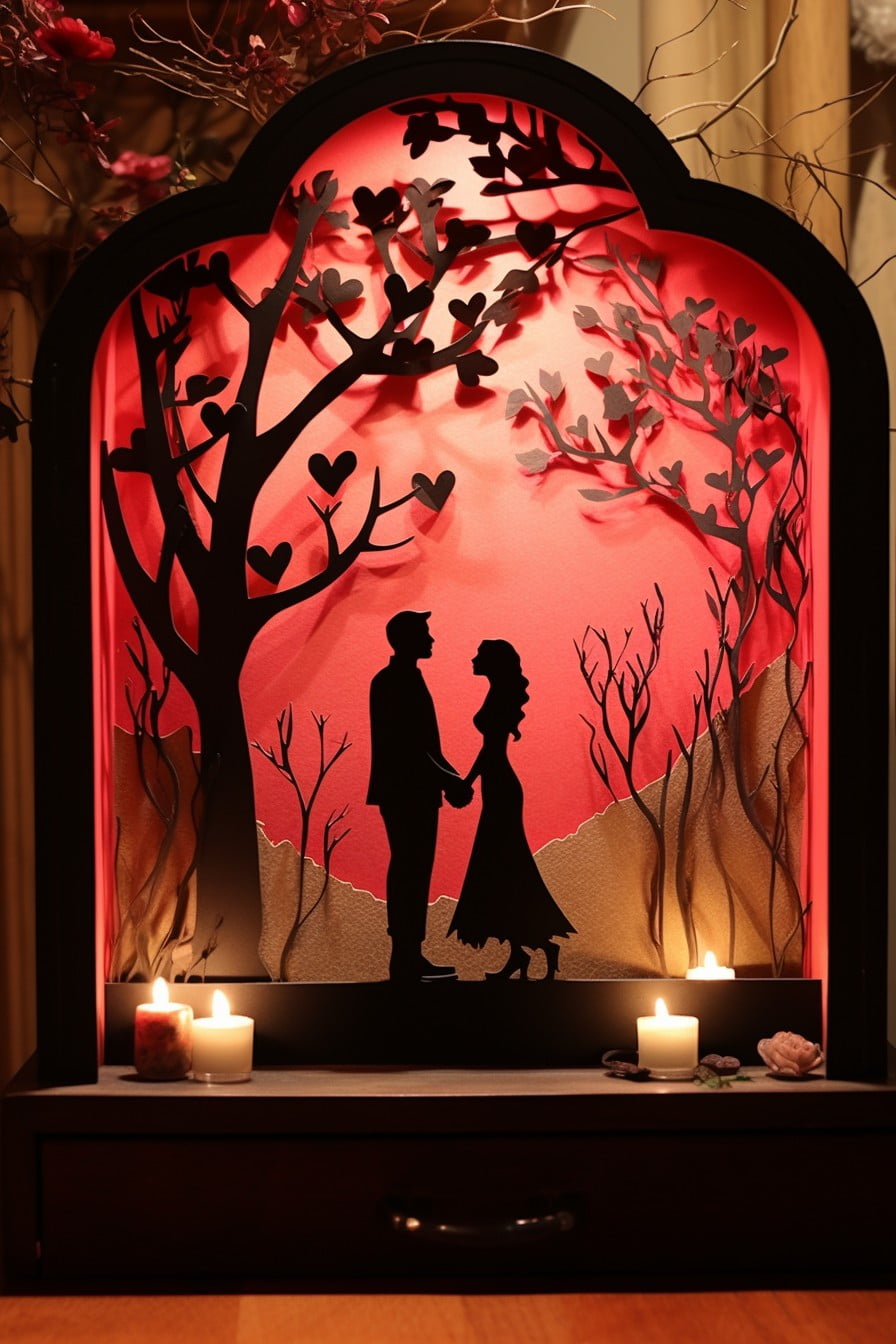 Seize the moment to dish up a touch of whimsy. A heart-shaped shadow box laden with trinkets and tokens from Valentine's Days past brings nostalgia home.
Think tiny stuffed bears, miniature roses, and heart-shaped chocolates. Perhaps a parchment paper bearing the sweet nothings from a love letter.
Strive for creativity; imagine embedding a sugar heart candy with your favorite endearing statements. Look beyond the conventional.
You might want to include the ticket stubs from the movie you watched together, or a cocktail napkin from the restaurant you dined at.
Each element reflects a story of romance and reminisce – subtle surprises that unfold a love story in an elegant frame.
Couple's Memento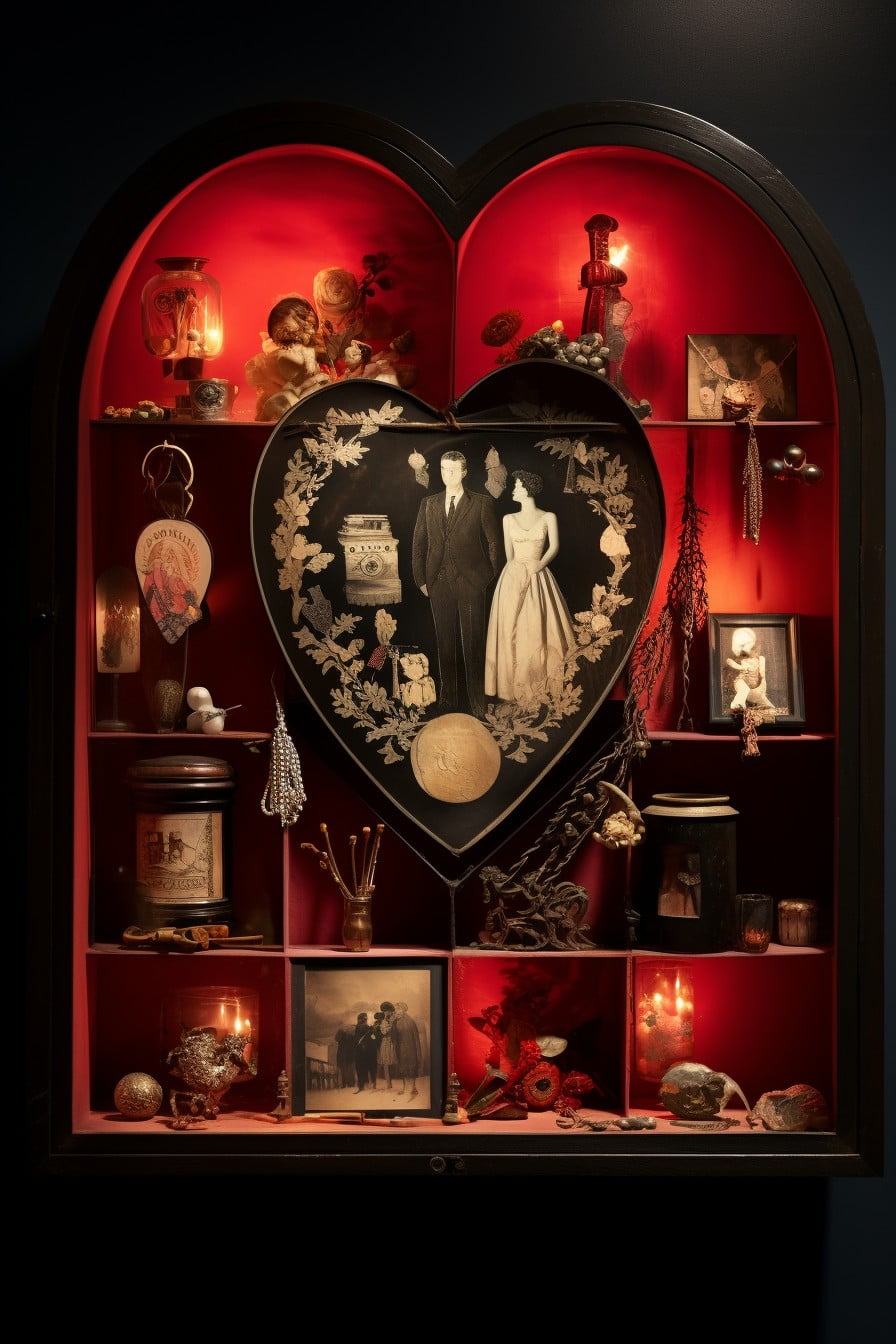 A heart-shaped shadow box filled with meaningful items shared between two people serves as an elegant display of love and affection. Here's how you can transform everyday items into a striking creative showcase.
Choose tokens that represents the bond you share. It could be concert tickets from your favorite band's show attended together, matchbox from your first dinner date or small souvenirs from travels. These items bring back precious memories every time you glance at the shadow box.
Postcards or little love letters can also find their place in this heartfelt montage. If you both have a hobby, maybe a piece symbolizing that shared interest can be included, like a tiny brush for painters, or a small, lifeless camera for photographers.
Jewellery plays a big role too. The bracelet or necklace that saw many of your adventures can be a beautiful addition. You can also include fragments of fabric from an important dress or shirt, adding textural interest to the display.
Remember, the goal is to create a heartfelt visual story of your journey together, inviting warm smiles every time you pass by.
Dried Rose Display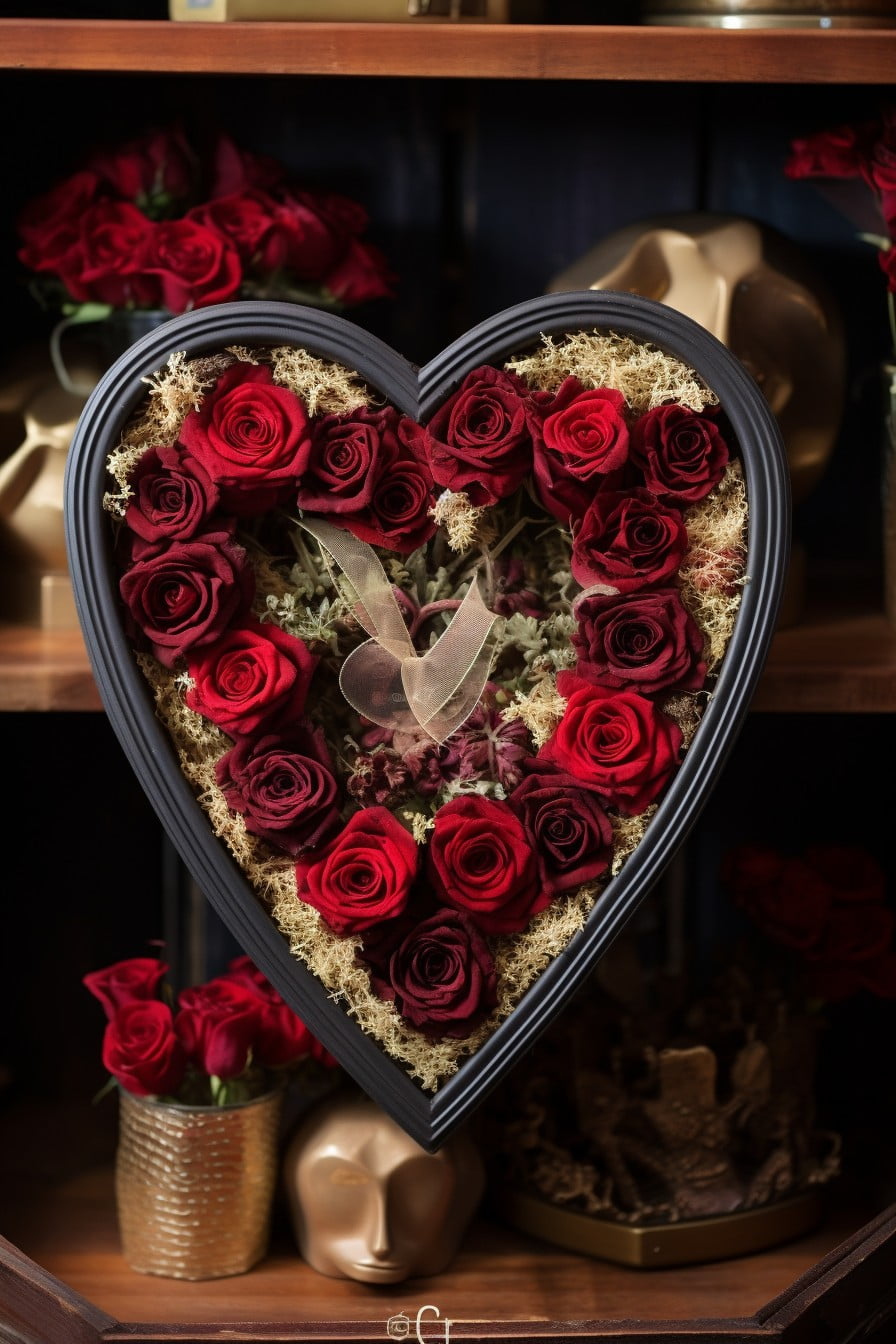 Start off with choosing roses that hold a special meaning to you. After they have dried, arrange them carefully inside the heart-shaped shadow box, they could be of a single color or multiple hues to make a visually appealing design.
If you prefer an artistic touch, create a background for the roses. Use a thin sheet of recyclable paper painted with soft pastels or an old map that strikes a personal chord. Secure the roses onto the background using strong glue; consider gently curving the stems to add depth to your display.
Do remember, balance is key. Avoid overcrowding the box, the idea is to focus on each rose's individual beauty rather than creating a spectacle. Finally, enjoy an everlasting symbol of love that can be hung anywhere in your home!
Baby Clothes Memorabilia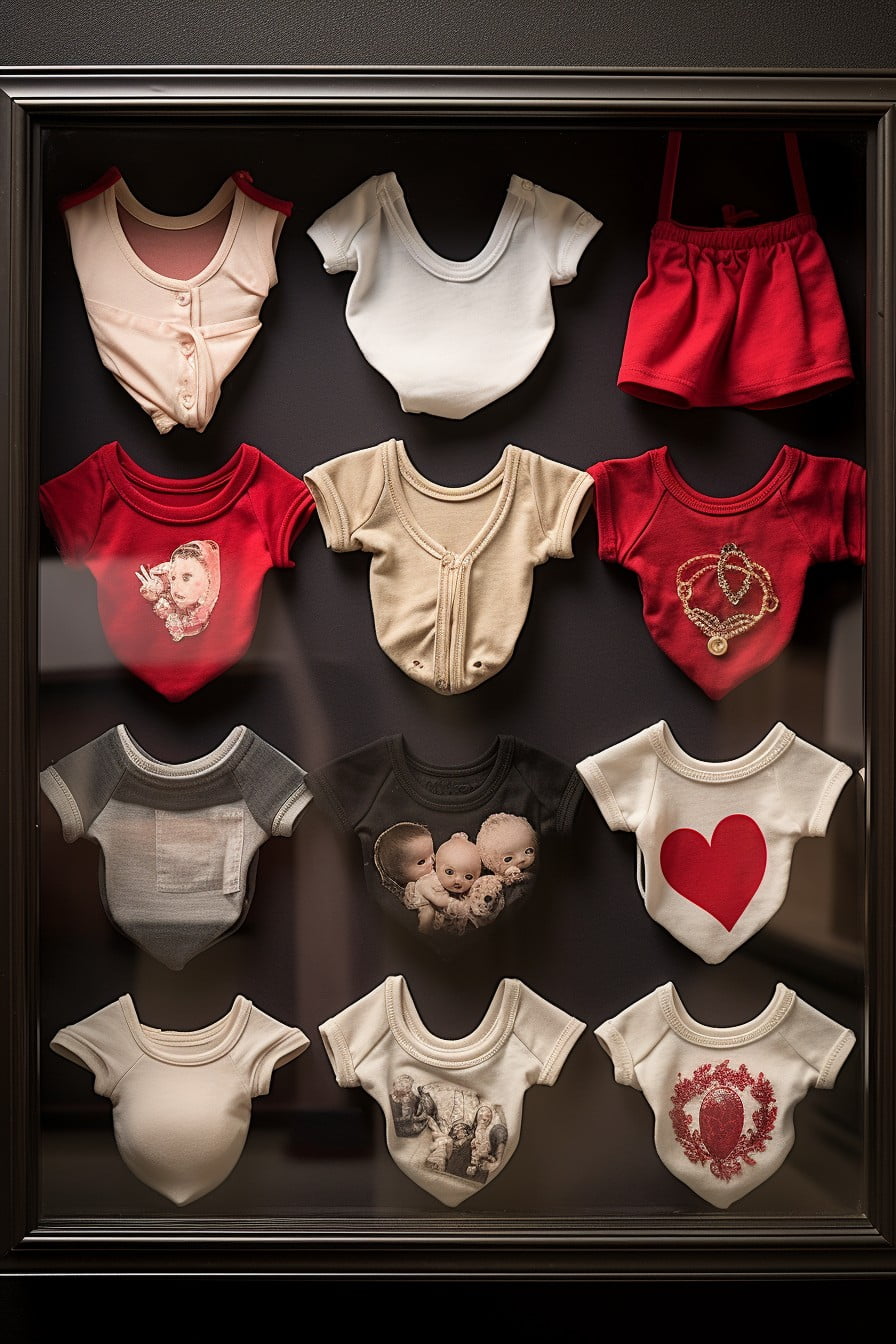 Transforming those precious first clothes your baby ever wore into a visually arresting display can be a heart-touching way to hold on to those fleeting early moments.
1. Choose a heart-shaped shadow box that complements your decor style.
2. Select the baby clothes you wish to display. These might include the first outfit, a favorite onesie or hat, or a special occasion outfit.
3. Wash and iron each piece gently to ensure they look their best.
4. Consider arranging by color or theme for a visually appealing layout.
5. Fold and position clothes to highlight special features or designs, making sure each piece is visible and judge what looks best.
6. Lastly, secure the items using shadow box-friendly adhesive to keep them in place.
By following these steps, your little one's outfits become a unique, sentimental home decoration that captures a sweet piece of their childhood.
Heartbeat Ultrasound Display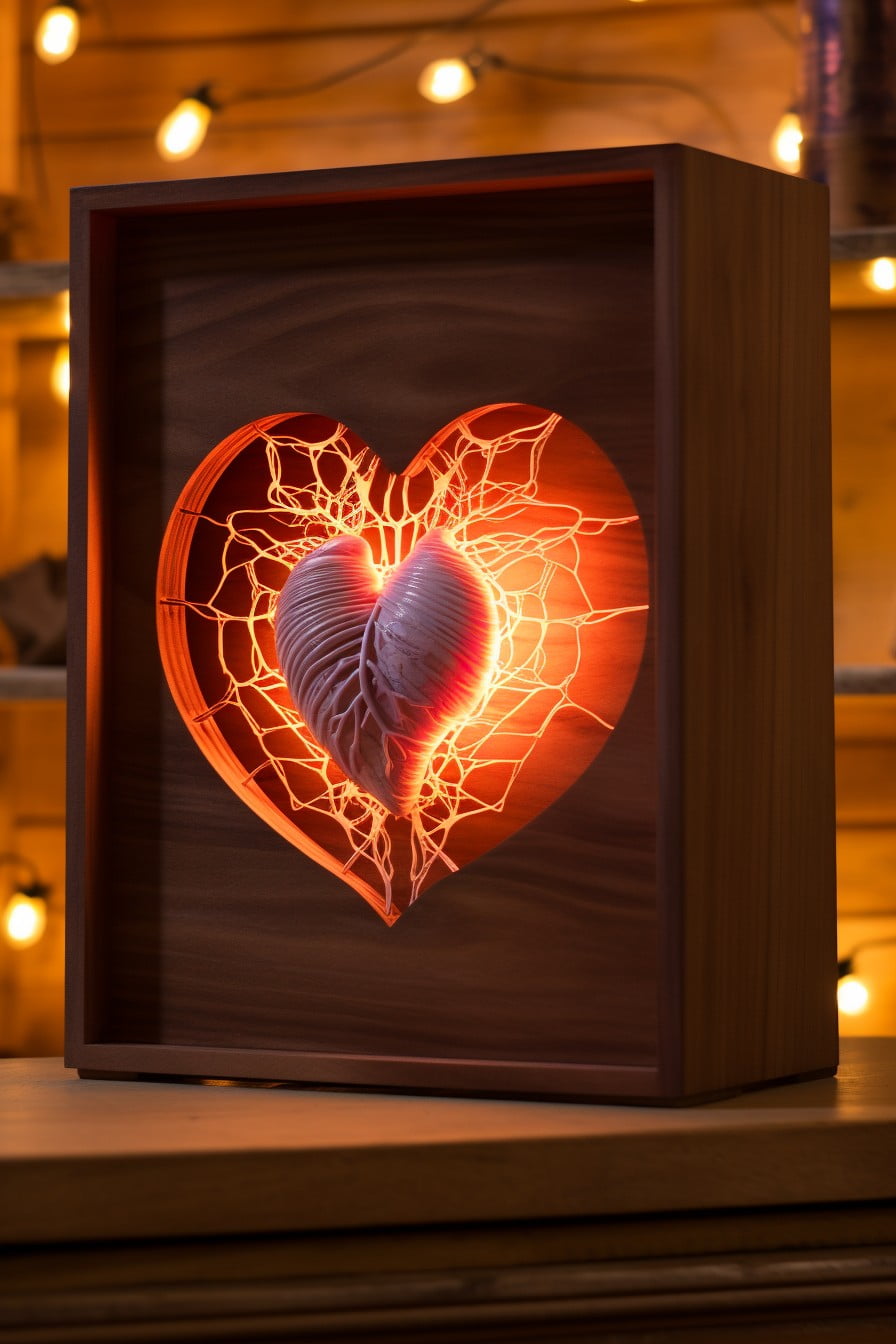 To create a captivating display, you'll need a copy of the ultrasound image and a sturdy shadow box. Do not fret about the technicality as the process is quite straightforward.
Start by choosing a background color that complements the image, then precisely cut out a heart shape. The goal is to ensure the ultrasound image stands out distinctly.
In case the ultrasound image is black and white, a bold color like red or pink could be an excellent fit for the background.
Next, adhere the ultrasound image within the heart shape and mount it within the shadow box. Positioning is essential – make sure it's framed perfectly in the centre.
This unique display not only holds sentimental value but also becomes a conversation piece in your home. A silver or gold pen can be used to write the baby's due date or a heartfelt message on the corner of the shadow box, adding that extra personal touch.
Exploring embellishments to the shadow box such as little baby shoes or a teddy can create a more visually stimulating effect. Stick to minimal and delicate items to not overwhelm the ultrasound image.
This makes your shadow box not only a piece of art but also a cherished memory showcasing the initial heartbeat of your loved one. Now, you have a physical reminder of the incredible moment you first heard that heartbeat.
Origami Love Notes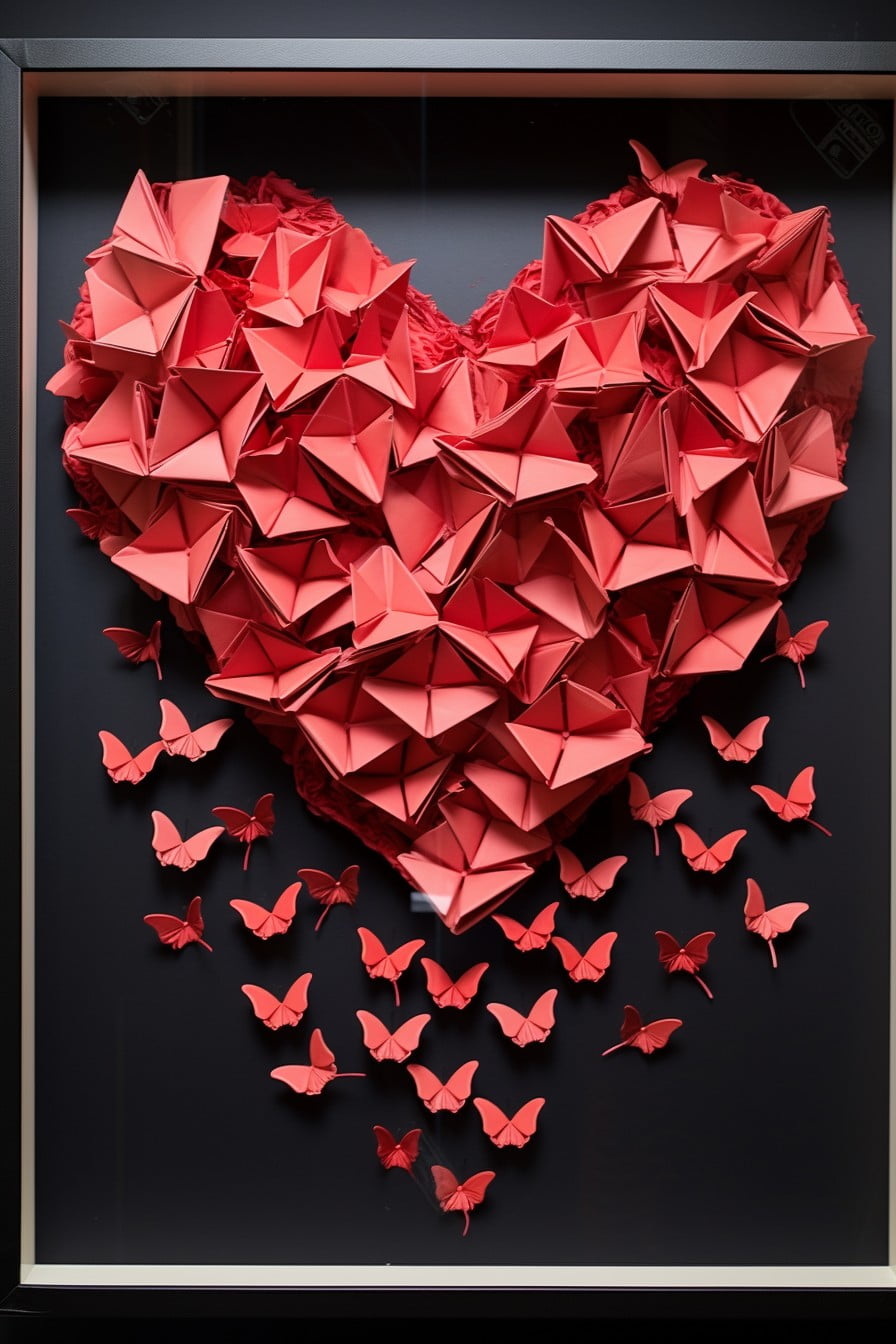 Let's dive right into crafting origami love notes. Step one; create tiny, intricate origami hearts. Choosing colorful papers adds an extra touch of charm. Be careful with folds and crease well to achieve a crisp look. Write tiny love notes on additional strips of papers, fold them neatly and slip them inside your origami heart.
Experiment with a variety of origami designs, not just hearts. Cranes symbolize longevity and good fortune, while butterflies represent joy and transformation. Go wild with a mix and match approach to showcase your creativity.
Don't worry about it being perfect, the handmade feel adds a personally crafted touch to this display. Small twine, mini clothespins or even a dab of glue can secure these pieces to the shadow box.
Remember, each piece in your shadow box represents a special sentiment. As a whole, they carry a sweet testament to your affection. Display it proudly, because this shadow box, filled with a fluttering variety of origami love notes, is truly a labour of love.
Seashell Collection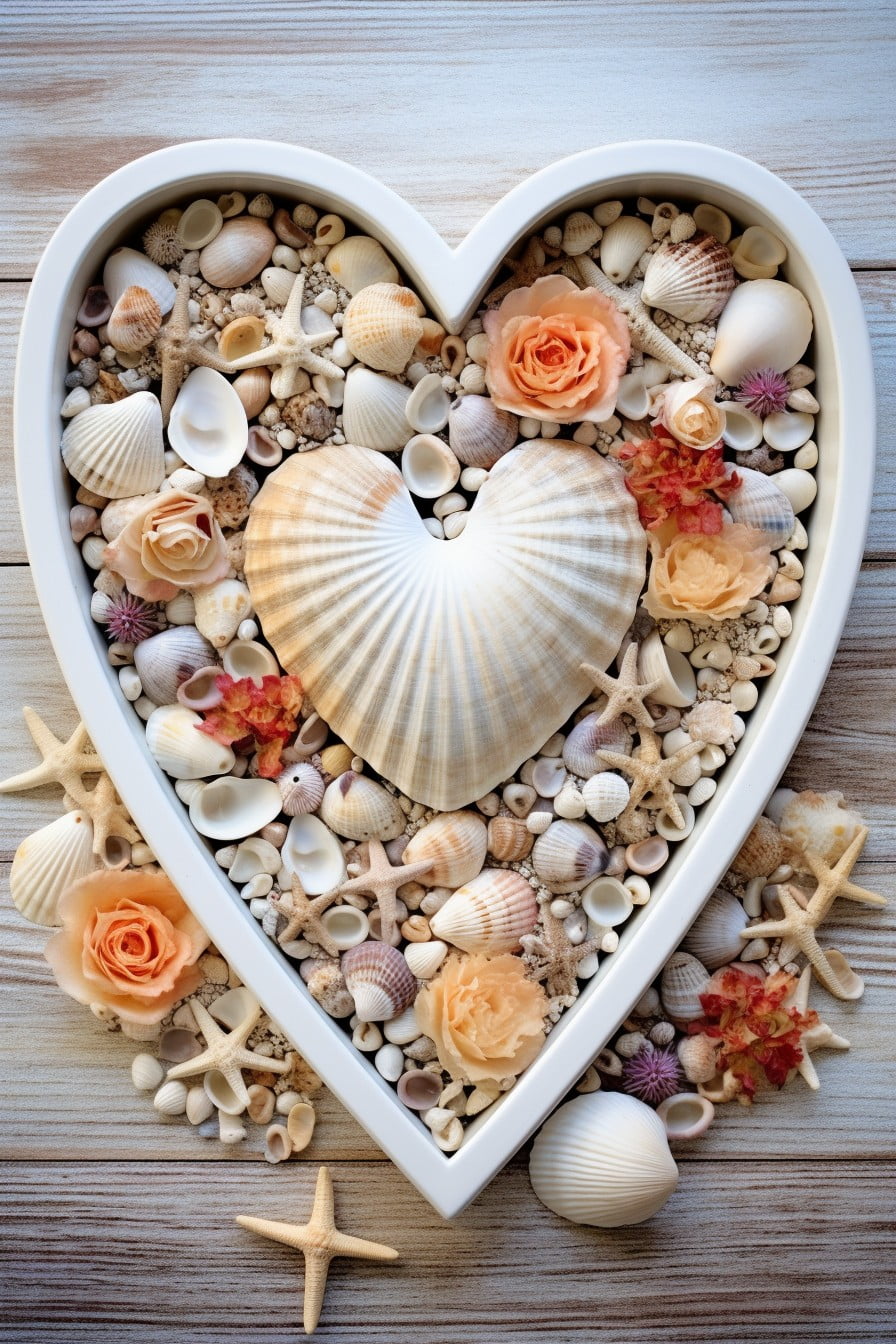 To start your seashell collection display, first arrange your shells by size, shape, and color. Ensure the shells are clean and dry; a mild soap solution should do the trick.
Next, decide the placement. Consider placing larger, unique shells in areas where they'll stand out, and utilize smaller shells to fill in gaps.
You can also emulate the feel of the sea by arranging the shells in a wave pattern using lighter-colored shells at the top, fading to darker ones at the bottom.
For a touch of elegance, use a background fabric like velvet or silk. Adhere the shells using a strong, clear crafting glue, ensuring each one is secure. Regularly inspect your work from a distance to make sure the overall appearance is balanced. With these tips, a beautiful ocean-inspired shadow box is within your reach.
Mini Love Figurines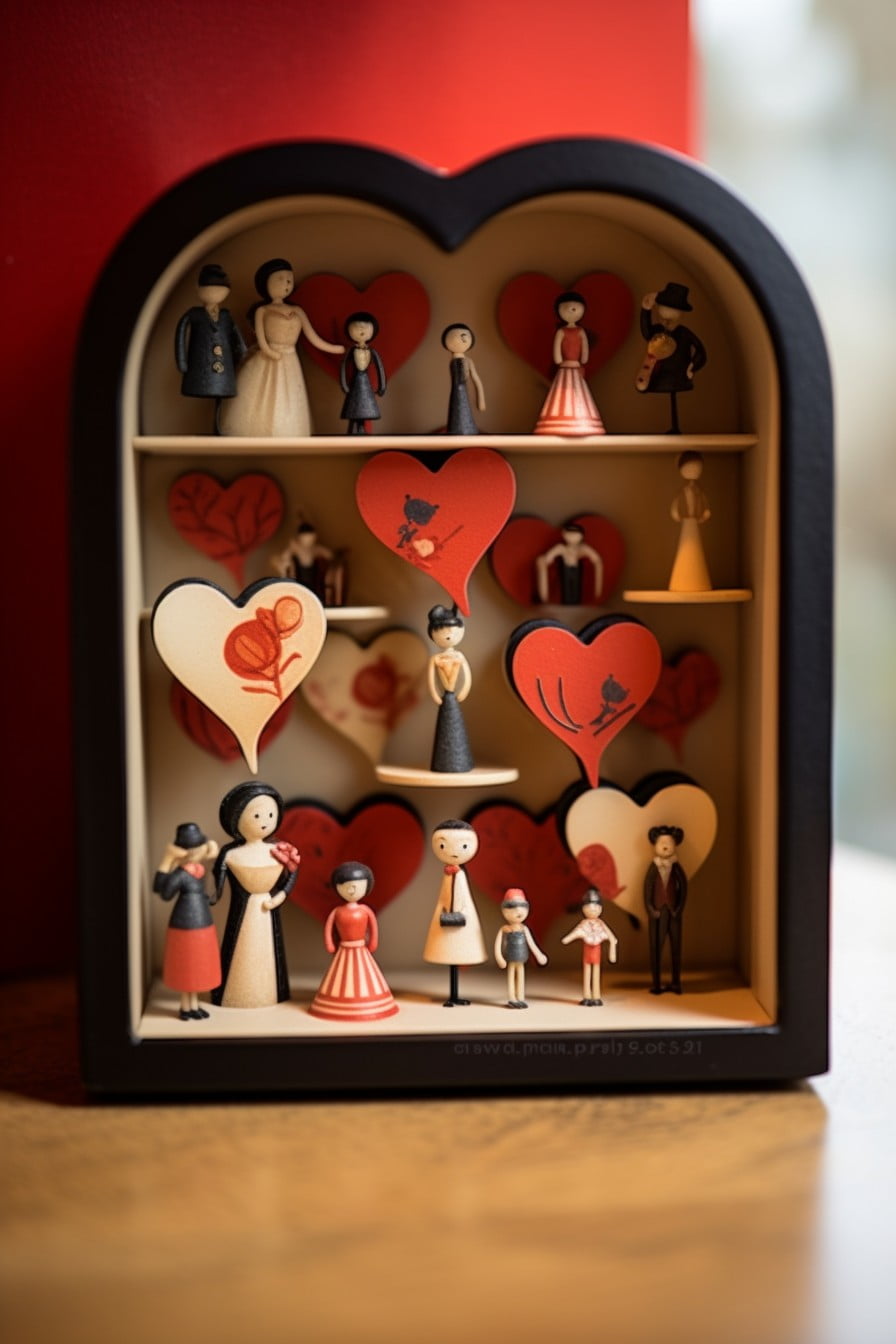 Popular culture produces countless figurines symbolizing love, from iconic couples like Mickey and Minnie Mouse to whimsical cherubs and heart-themed trinkets. Using mini love figurines in your heart-shaped shadow box is a great way to personalize your display.
1. Select figurines that are sentimental or of symbolic value to you. These might be souvenirs from a special event, characters from a favorite film, or tokens from precious shared experiences.
2. Arrange the figurines carefully in your shadow box, creating a concentrated, visually pleasing array.
3. Experiment with positioning. Some figurines could be leaning against the shadow box frame, while others could be standing alone in the middle.
4. Consider minuscule accenting – tiny faux pearls, glitter or miniature flowers can add a dash of color and contrast.
5. Figurines should not overcrowd your shadow box; remember, less is more. Allow each piece its moment to shine – a cluttered box can lead to a visually chaotic display.
6. Mind the background color. Neutral tones like white, beige or soft pink can help your figurines stand out better.
Embrace the process as a creative exercise and a labor of love. The end result will be a bespoke piece of decor, abundant in personal meaning.
Handmade Lace Heart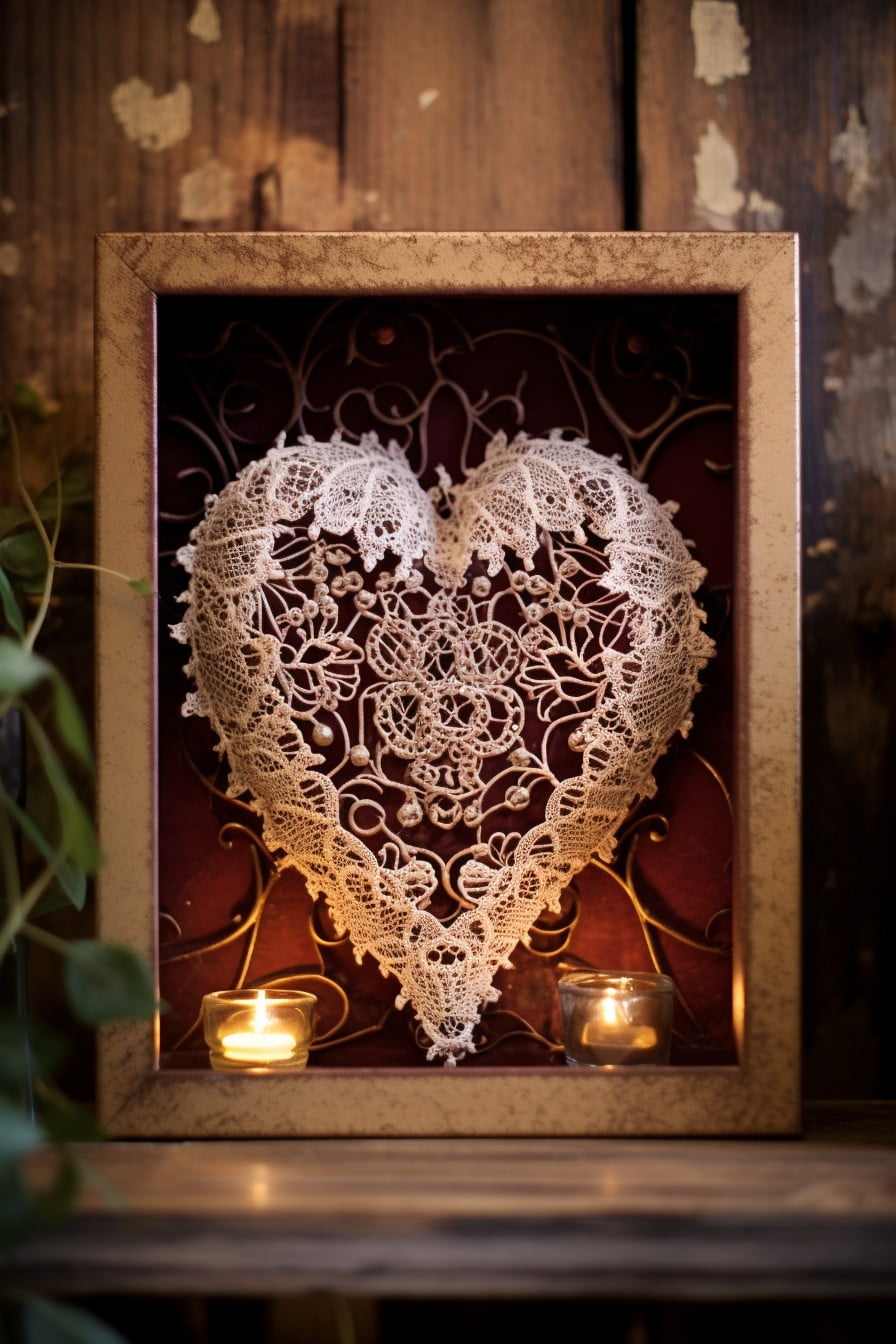 Utilizing delicate materials lends a charming vintage flair to the heart-shaped shadow box. If you favor this aesthetic, consider incorporating handmade lace hearts into your design.
Begin by either creating or sourcing a few small lace hearts. An intricate lace pattern can provide a visual treat for the eyes, especially when contrasted with the simplicity of the shadow box.
To add interest, vary the sizes of the hearts and consider using different hues of thread for each. Keep overall harmony in mind and opt for colors that complement each other.
Attach the lace hearts using craft-friendly adhesive, ensuring a secure fit. For added dimension, layer some hearts on top of each other, creating a more textured, deep appearance.
Remember, the beauty resides in the bespoke nature of making your own decorative contents for the shadow box. Truly, there are no wrong ways to do it, just let your creativity guide your hands and watch as your handmade lace heart display comes to life.
Ticket Stub Collection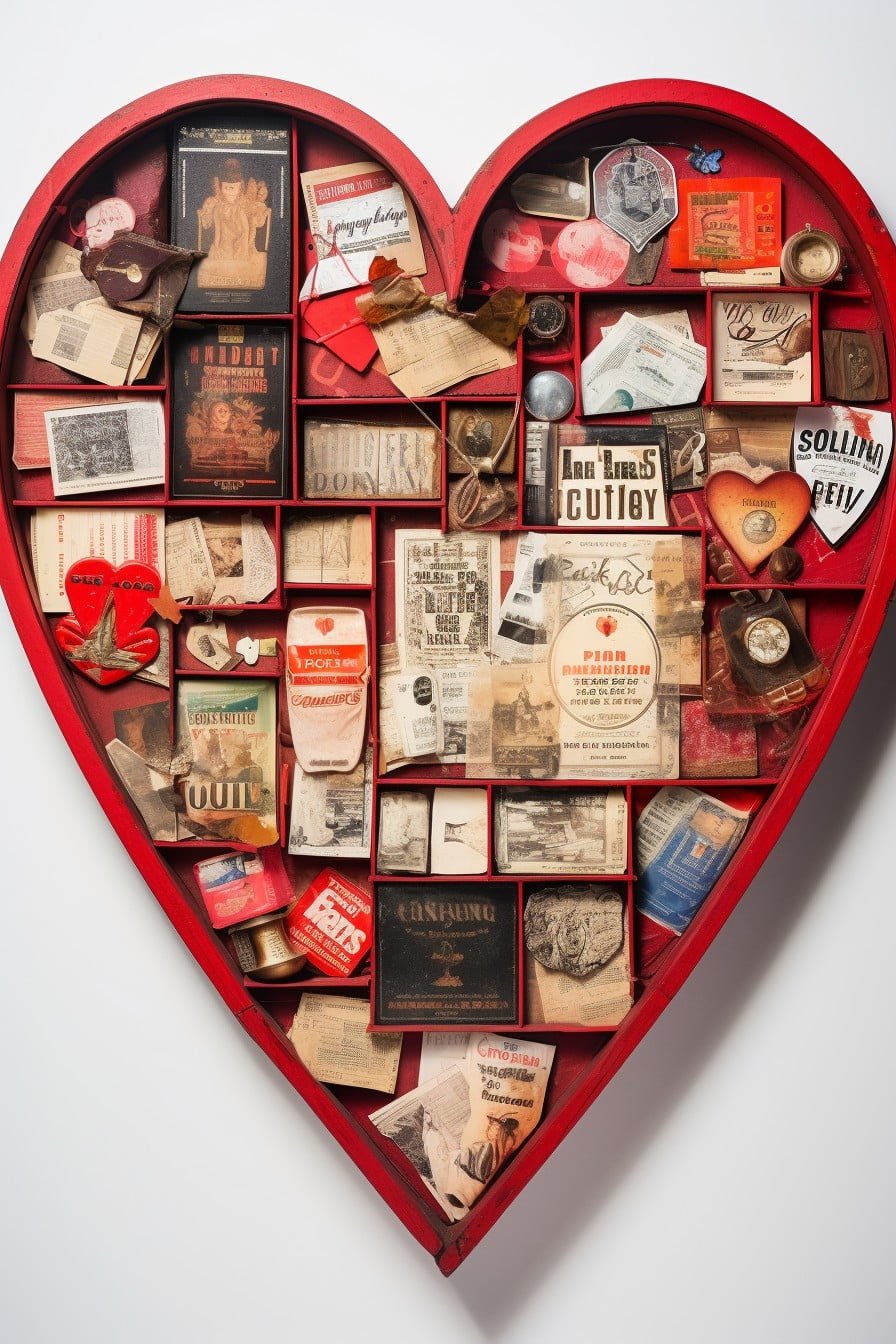 Storing all your precious event memories may seem daunting, but it doesn't have to be. Those ticket stubs piling up in the junk drawer can be a delightful highlight in your interior design. A heart-shaped shadow box gives a perfect organized home to keep everything in place elegantly.
Follow these simple steps to start:
Arrange by Date: Create a chronologically captivating swirl starting from the center outward, allowing you to appreciate the milestones in your journey.
Group by Event: Section the tickets by entertainment types, like concerts, sports, or theater, to give each genre recognition.
Color Coordination: Love a particular band or team with a distinct color theme? Utilize that to build a visually satisfying pattern.
Pair with Memorabilia: Did you catch a guitar pick at that one concert, or kept the autographed playbill? Put it on display next to the related ticket.
Add Highlights Labels: Use small labels to note special events – the first concert you attended or the playoff game where your team won.
By continuously adding and rearranging, your heart-shaped shadow box will grow and evolve, just like your life story. It's a unique way to showcase shared experiences and bring back precious memories with just a glance.
Swarovski Crystals Display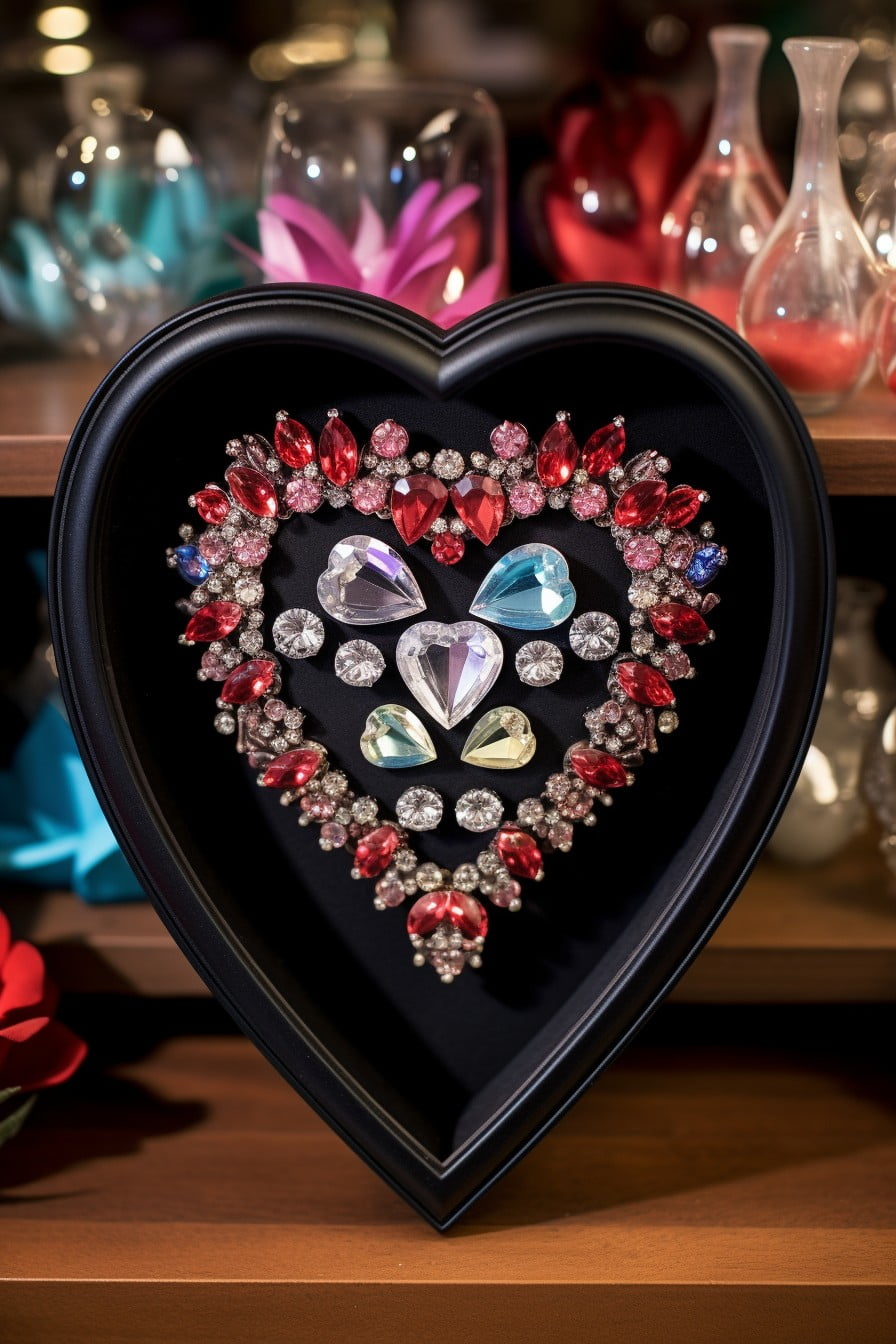 To create an opulent yet romantic display, you'll need a selection of Swarovski crystals. An assortment of shapes and sizes ensures a dynamic aesthetic. You could choose a color theme that suits your preference, or opt for the timeless clear crystals, mimicking the beauty of diamonds.
Arrange these gorgeous gems in the shape of a heart within the shadow box. A swirling pattern can add motion and liveliness to your display, while a cascading pattern might evoke the feeling of a crystal waterfall. You can also consider incorporating other elements like fine silver or gold chains for an added touch of luxury. Secure your design with strong adhesive to make sure your beautiful creation stays in place.
The shimmering Swarovski display will not only catch everyone's eye, but it's also a chic representation of precious moments and love. You'll be thrilled to find any wall that's graced by it instantly gain a sophisticated luster. By combining art with sentiment, you create a truly unique and sparkling home decor piece.
Pressed Flower Artwork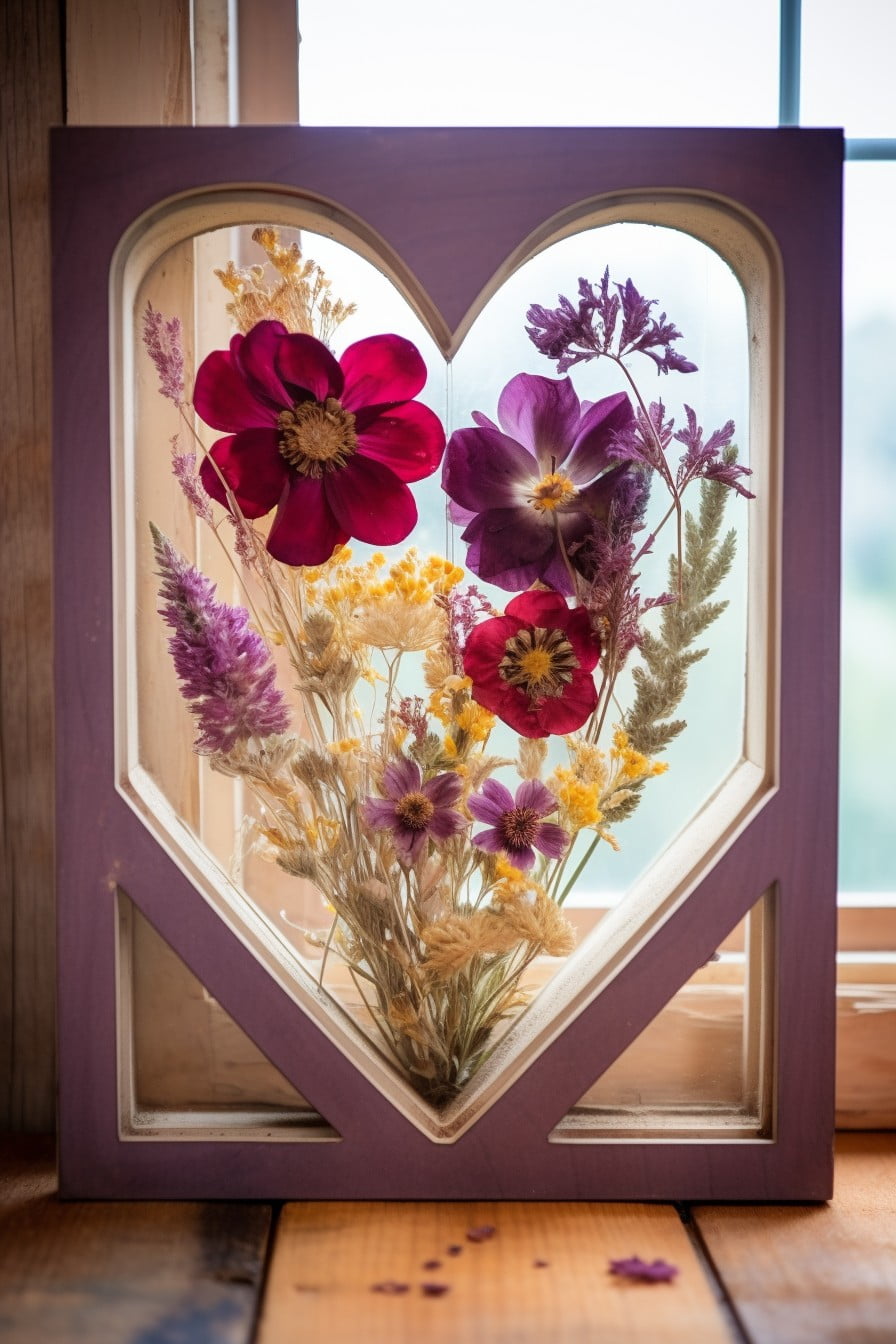 Utilizing pressed flowers gives a natural and colorful touch to your shadow box. Begin by elegantly arranging your chosen flowers within the heart shape. Focus on variety to add depth and visual interest. For more prominence, choose vibrant flowers like tulips, pansies, or gardenias. Leafy greens also make an excellent contrast against more vibrant colors.
You'll need to press these flowers in a flower press or a heavy book. After a few weeks, the flowers are ready to be delicately placed. A little tip: use tweezers for precision and to prevent damage to the fragile blooms. To secure your arrangement, use craft glue applied with a small brush.
For an added personal touch, consider including miniature tags inscribed with the names of the flowers, or even the dates and places they were picked. This will add a narrative element to your shadow box and make it even more special and unique.
Creating art with pressed flowers gives your shadow box an appealing, three-dimensional look that cries out Spring, love, and life.
Origami Butterflies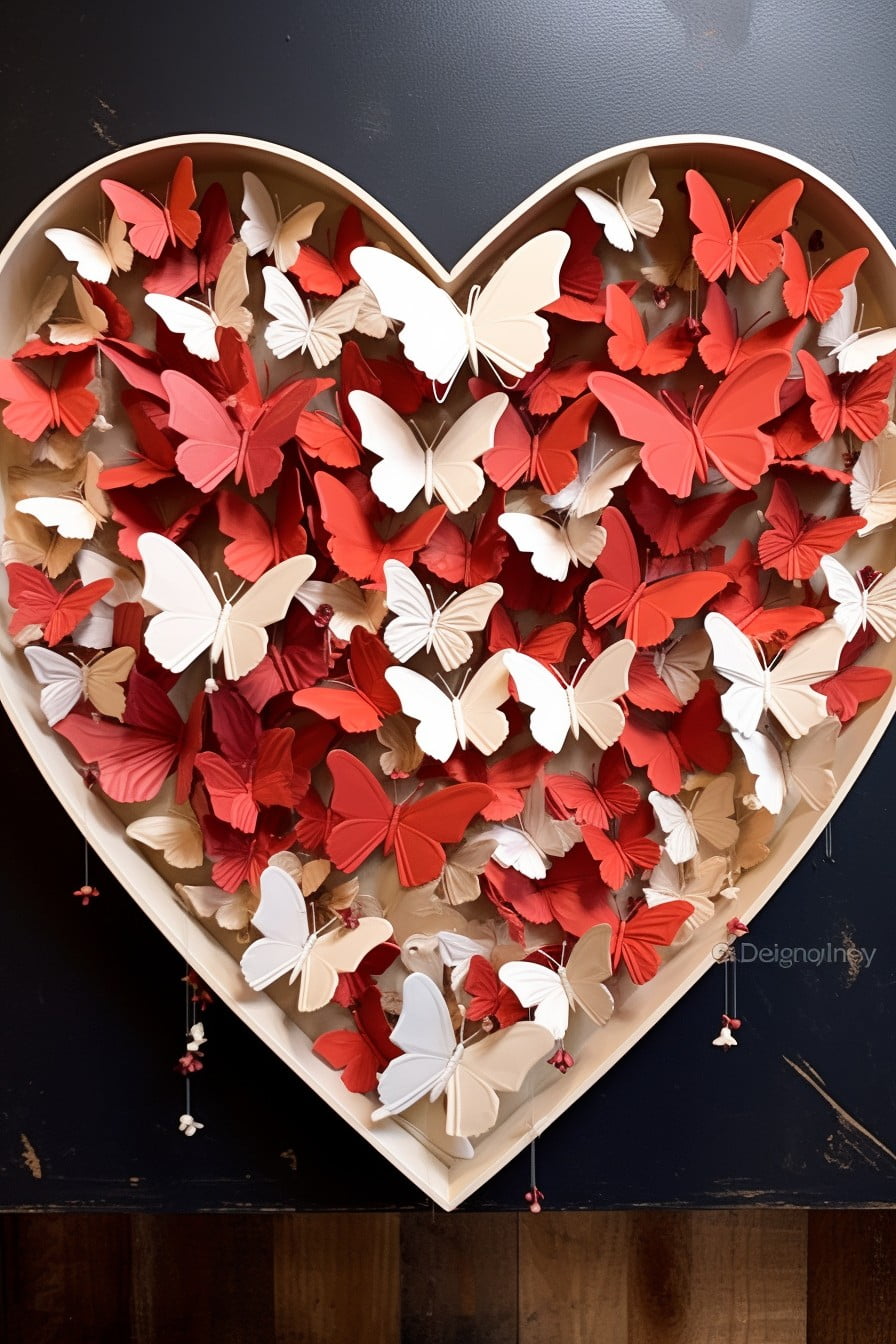 Origami butterflies bring a delicate and whimsical touch to your heart-shaped shadow box. This charming idea is all about showcasing the beauty of these exquisite and thin folds of paper, often seen as a symbol of transformation and hope.
To get started, choose a selection of origami paper that complements your interior design. Remember, your butterflies don't have all to be the same pattern or color- play with contrasts and harmonies.
Follow a simple origami butterfly tutorial – they don't have to be complex to be beautiful. Then, arrange them inside the shadow box as if they were mid-flight. This will add dynamism to the ensemble.
If preferred, you can add a few details like beads or small crystals to catch the light and add sparkle to your shadow box. Finally, place your box in a well-lit area and watch your butterflies bring life to your space. Whether it's in your living room, hallways, or bedroom, this beautiful box is sure to add an enchanting touch.
Small Charms Collection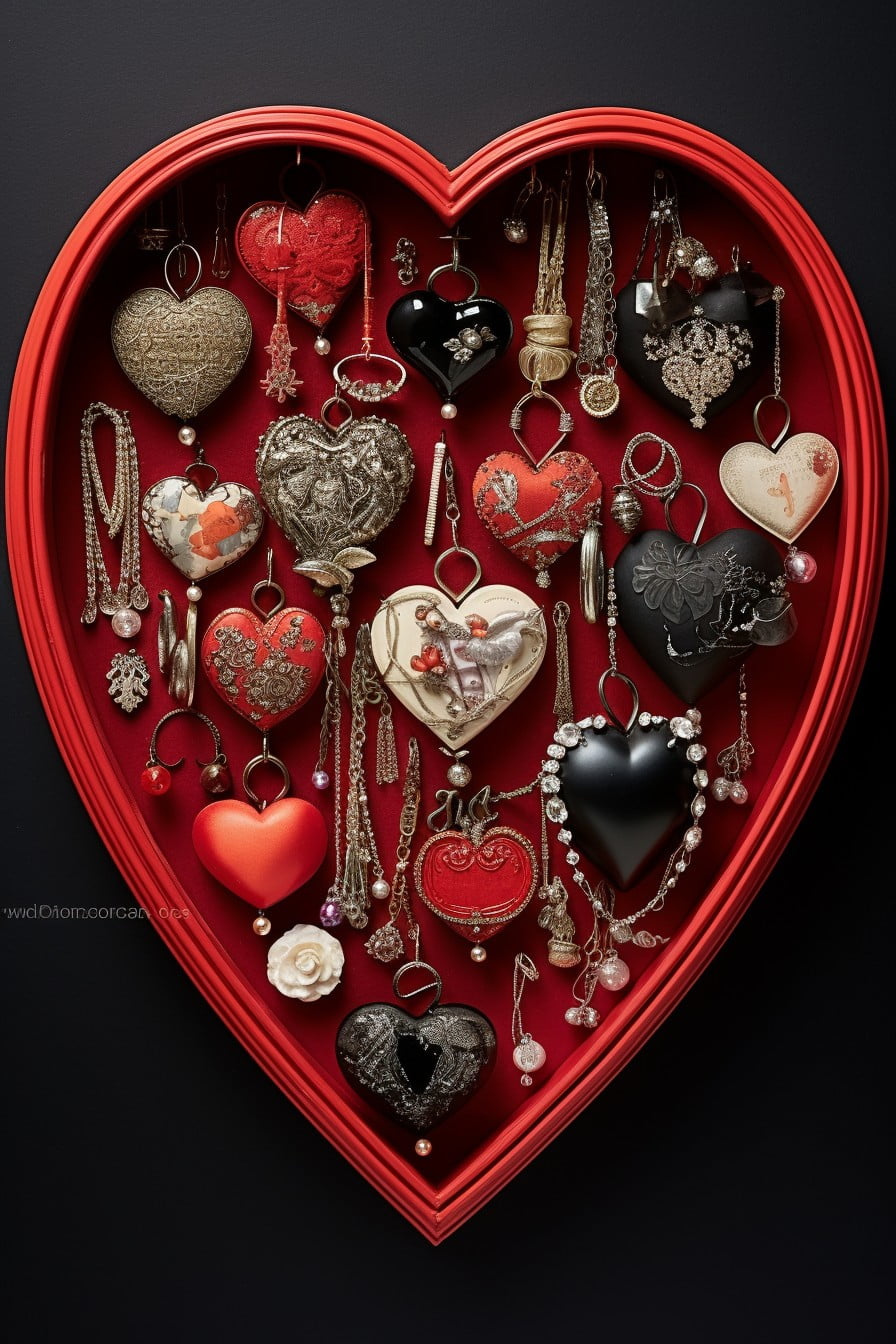 Discovering a new hobby can be quite exciting, right? Collecting small charms, for instance, can bring joy and also become a meaningful décor element when thoughtfully displayed.
To create this heart-shaped shadow box idea, you'll need an assortment of little charms – each might be representative of cherished memories, adventures, or personal interests. You can start off with anything from travel souvenir charms to tiny vintage trinkets.
Remember, your shadow box should reflect your unique journey. By arranging these charms within a heart-shaped shadow box, not only do you have a visually appealing display, but each charm serves as a window into heartwarming stories and fond memories.
A neutral toned or velvet-lined backing within the shadow box can make a profound difference! It enhances the charms' features while adding a sophisticated touch. Overlay the charms to evoke a sense of depth and to accommodate more pieces.
Let your creativity flow and consider embellishing the exterior of the box with a delicate ribbon or a metallic paint to accentuate the charms' colors.
This is sure to captivate visitors' attention, invoking a curiosity about each individual charm and the stories they tell. Your living space will be embellished with visual snippets of your life journey, creating a charming and sentimental focal point.
Love Themed Badges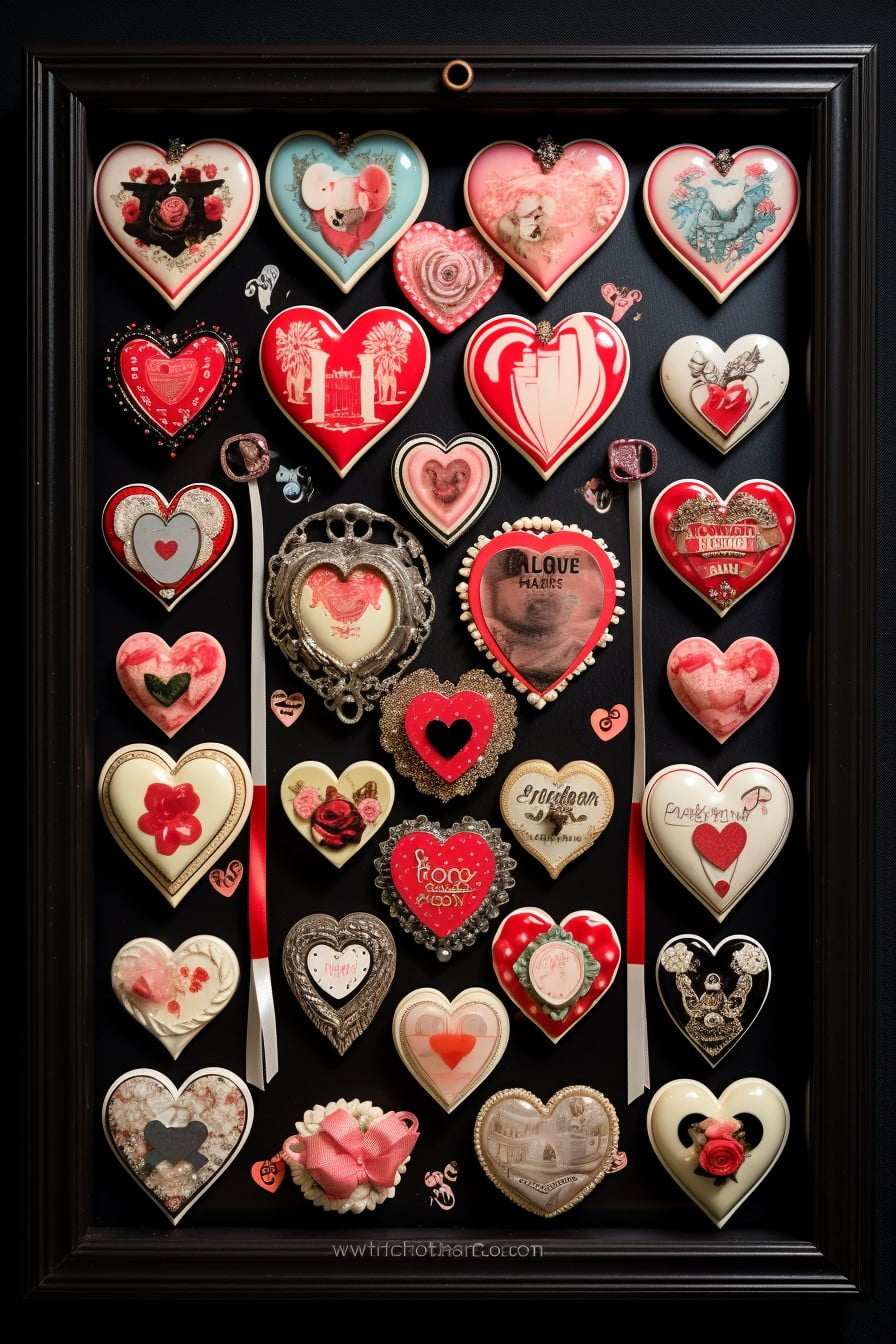 Collecting love-themed badges can be a unique way to express your affection in a shadow box. Badges collected from travels, concerts, or various events can serve as reminders of shared experiences.
Find badges that reflect moments of love – perhaps a badge from a significant location, like the site of your first date or a shared favorite coffee shop.
Consider incorporating badges from concerts or music festivals you both enjoy. These can embody your shared love for music.
Make sure to arrange badges in a visually pleasing manner. You might want to stick to a color theme, or arrange them in a specific pattern.
Lastly, feel free to personalize your heart-shaped shadow box further by adding captions or small notes under each badge, detailing the significance of that particular moment.
Remember, this is a cherished visual representation of your love journey, so let it reflect who you are as a couple. Each badge can tell a heart-warming story of shared moments and love celebrated.
Wine Cork Collection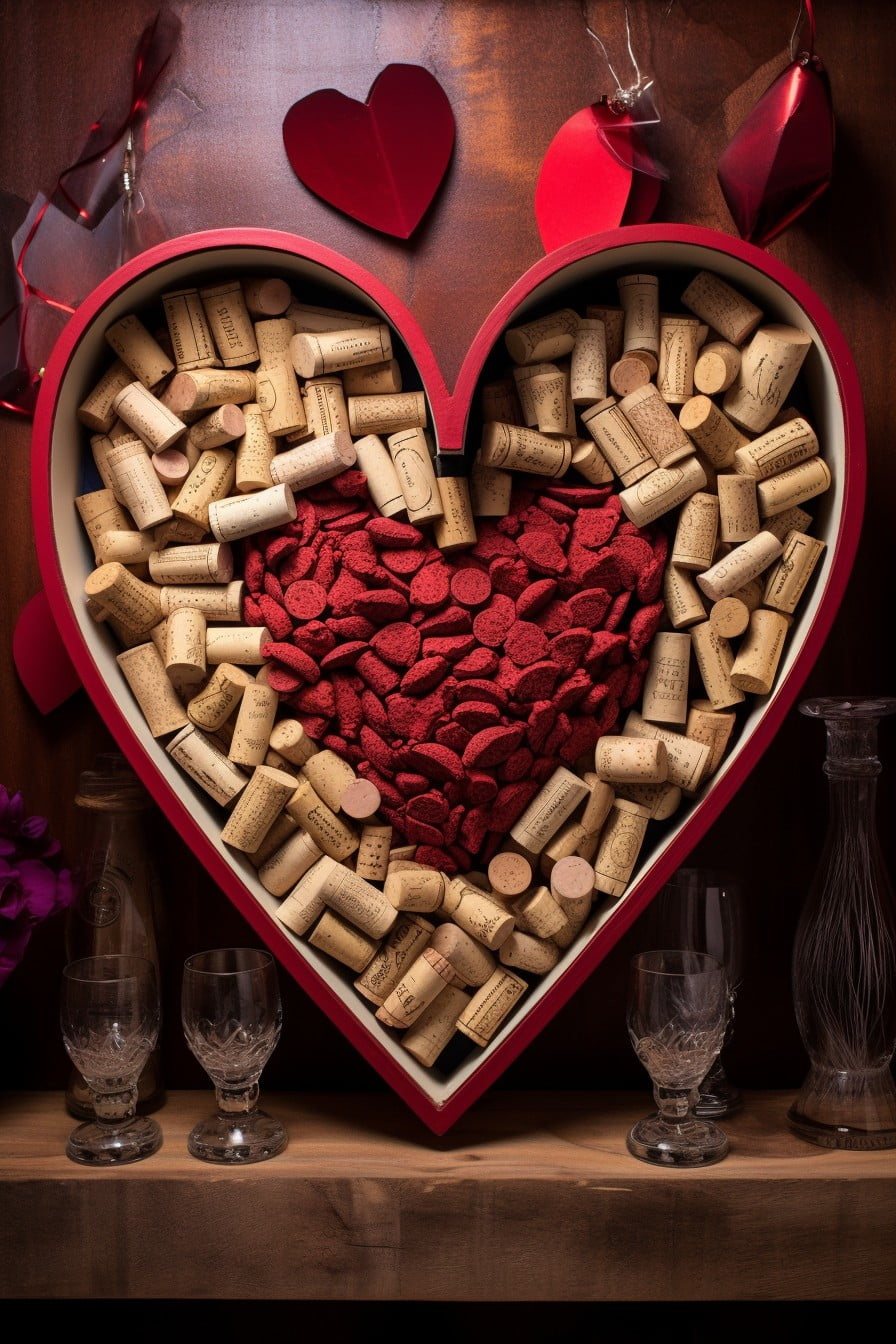 Collecting wine corks can carry memories of celebratory moments, special occasions, or simply your favorite wines. Turning this collection into a unique shadow box display is both a stylish and sentimental endeavor.
Use A Heart-Shaped Box: Pick a shadow box with a heart-shaped back panel. This will help to keep the corks in place and give a striking design.
Color Coordinate: Sort your corks according to their color gradients. This will to create an appealing visual effect.
Layer: Do not worry if your corks are varying sizes. Layering them can give your shadow box depth and texture.
Secure The Corks: Some people prefer to just pile them up, but securing with hot glue can ensure they stay in place, especially if you want to hang your shadow box.
Personalization: Consider labeling each cork with the date and occasion it was opened on for an extra personal touch.
This is a wonderful way to keep those moments close while adding a chic touch to your home décor.
Handwritten Poetry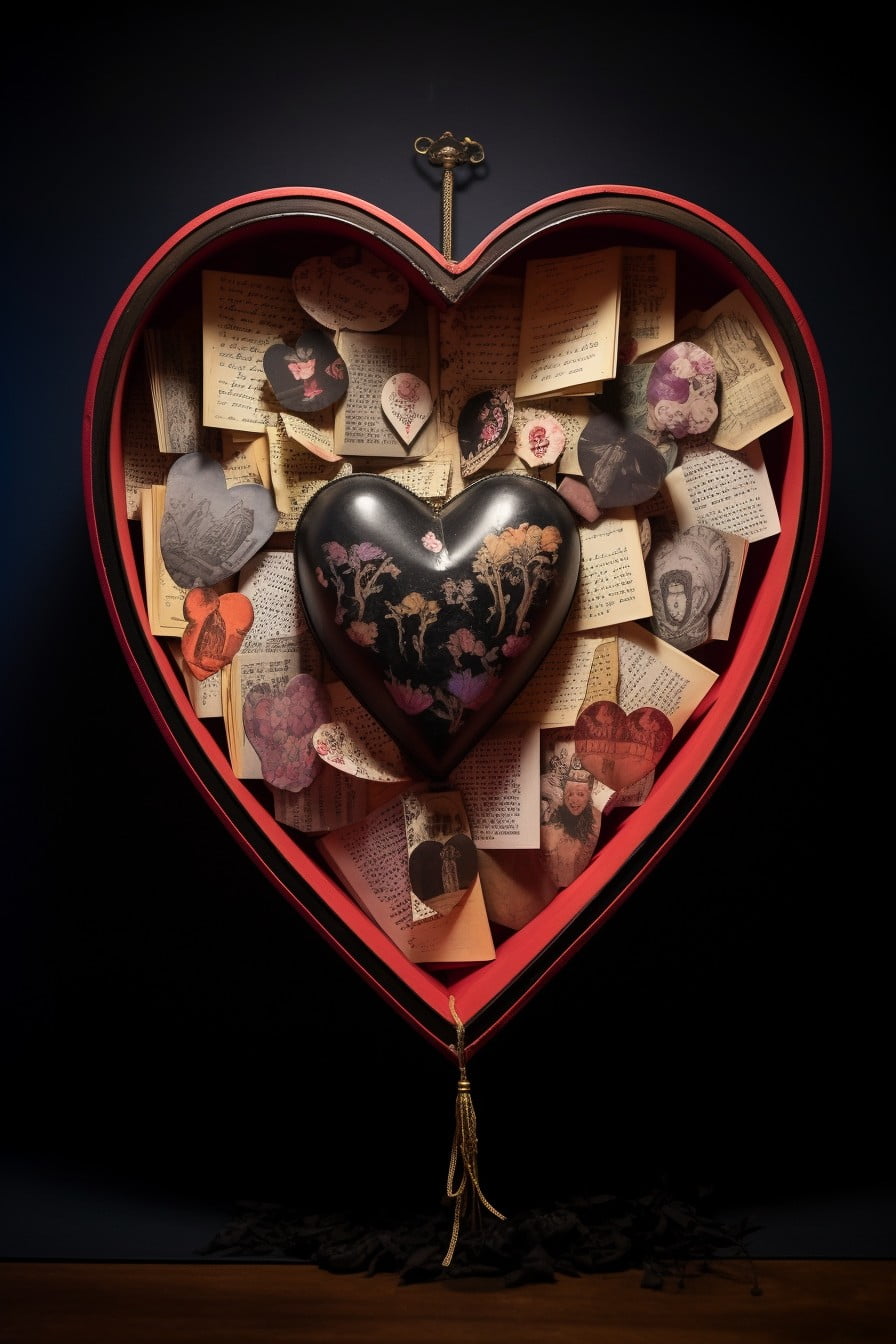 Incorporating beautifully written verses can add a personal and intimate touch to your heart-shaped shadow box. Here are a few pointers to get you started:
1. Choose pieces that have a personal meaning. They could be from a poem, song, or even a phrase that holds a special significance.
2. Consider penning down the lines in your handwriting for a more authentic feel or alternatively, you could use a typewriter for a vintage look.
3. Play around with the orientation. Sometimes, having lines run diagonally or in a circular pattern around the box can create a unique visual effect.
4. Accentuate your poetry with illustrations or symbolic embellishments. Tiny hearts, stars or flowers could add a luscious bit of character to your shadow box.
5. Keep it legible. As much as you want it to be a decorative piece, it's important that the poetry can be read and appreciated.
By mindfully choosing and displaying hand-written poetry, your shadow box becomes not just a piece of art, but a poetic capsule of cherished emotions.
Photo Collage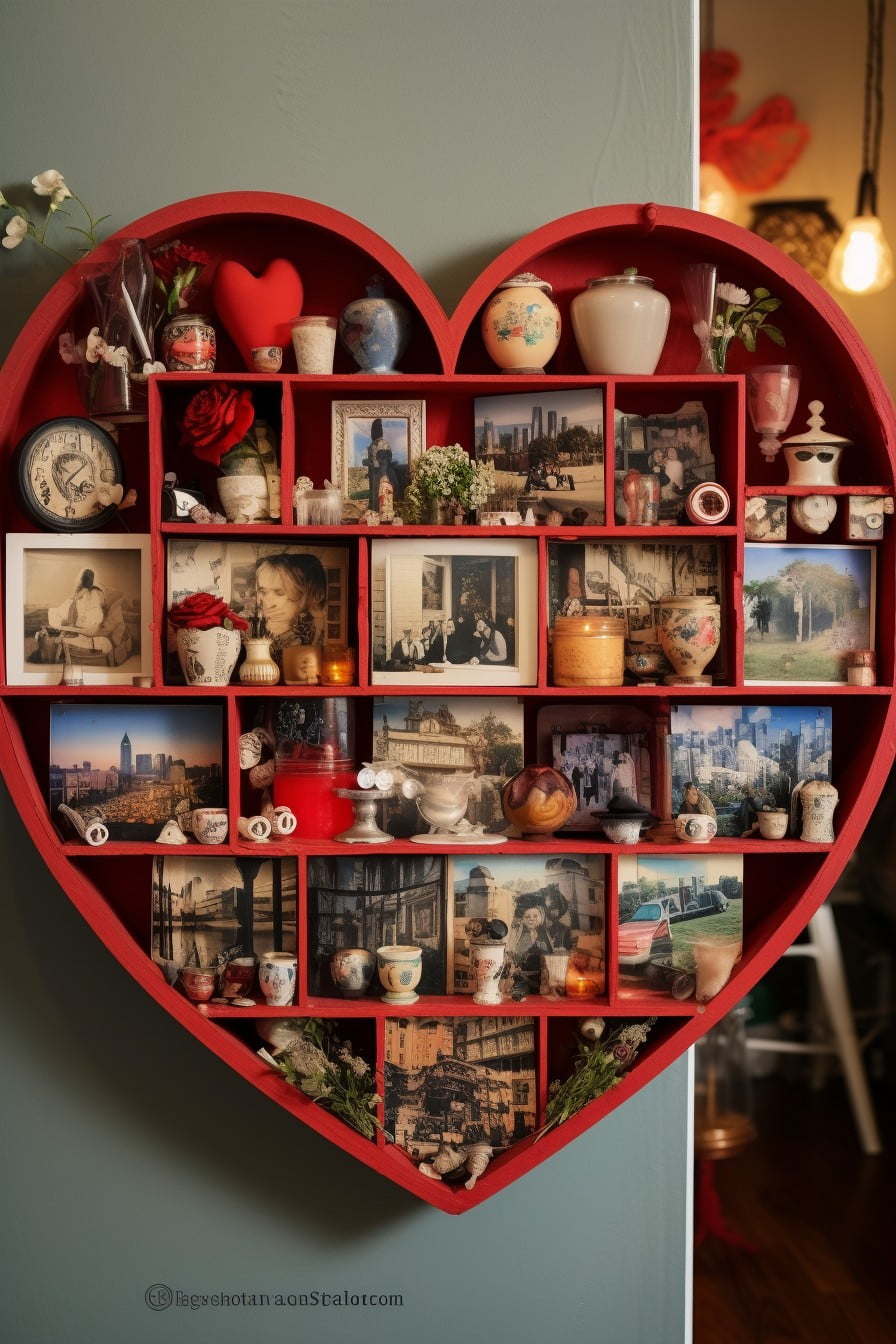 Start by gathering cherished memories in the form of pictures. Both black and white and color prints can add a visual impact. Ranging from candid family shots at Sunday barbecques to panoramic views of your favorite vacation spots, every image has a story to narrate.
Organize these pictures in a heart-shaped pattern within your shadow box. Use a layout that flows naturally, perhaps chronologically or thematically. Avoid overcrowding; less is more. Keep in mind, the core idea is to accentuate each picture while positively contributing to the overall collage.
To create a coherent theme, use scrapbooking adornments such as stickers, washi tapes, or themed photo corners. Be mindful and respectful to the face and body of the photographs while applying.
Tip: Preferring duplicates over original photo prints can save you from potential regret of damaging the originals. Plus, photo-editing software can help you adjust image size without compromising its quality.
And there you have it! A personalized, heart-infused tribute of treasured snaps that breathes life and love into any room.
Continue reading:
Recap