Last updated on September 17, 2021
You'll need to put in some effort to look your best during your staycation, so check out these poolside fashion tips to amp up your style while on holiday. 
Hotel staycations continue to be the holiday of choice for many people as it enables them to relax and unwind without having to stray too far from home.
Last year, it was reported that 31 percent of travelers had a staycation at an Airbnb or a hotel, and this travel trend is expected to remain popular as a poll shows that one-quarter of Millennials said they wanted shorter and closer vacations in 2021 since they want to save money.
Indeed, a weekend spent in a beautiful hotel or resort can be a relaxing experience, and while you may be tempted to spend your holiday cooped up in your room, it may benefit you to take advantage of your accommodation's amenities, such as the gym or the pool.
Table of Contents
Wear a Chic Cover-up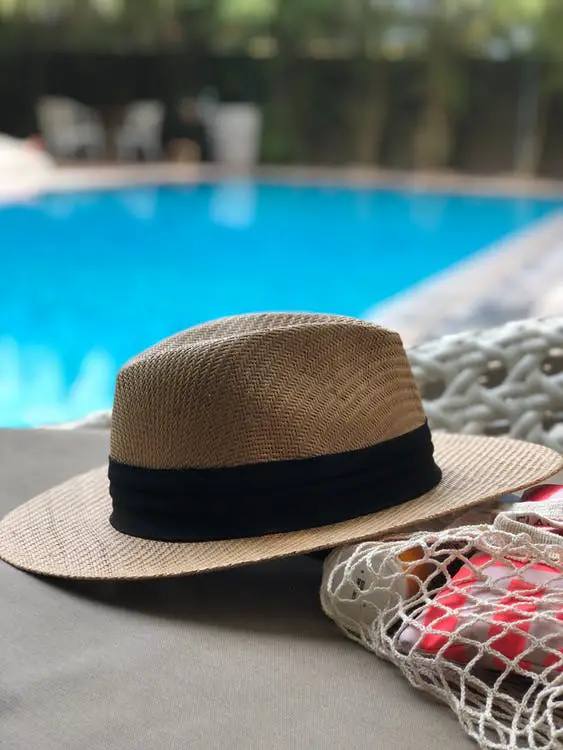 A swimsuit cover-up is a must for a hotel vacation. Not only will it protect you from the sun, but it'll make you look chic if you want to just lounge by the pool and enjoy some drinks. For poolside fashion inspiration, check out what's hot on Instagram and choose your bikini for your holiday. Next, pair your Instagram-worthy swimwear, such as a halter bikini or a bikini top with a keyhole cutout, with a sheer caftan or a tunic in a gauzy material. If you want something a little more cool but still sexy at the same time, try wearing a men's chambray or denim shirt or a long-sleeved button-down with white and pale blue stripes over your bikini. Meanwhile, if you'd rather cover your legs, try wearing sheer mesh pants in a color that works well with your bikini.
Add Some Fun Jewelry
Accessories can add some interest to your outfit and help you express the vibe that you're going for. For an elegant yet stylishly sexy look, try wearing gold hoop earrings, a few thin bangles on one arm, and a thin body chain. For a playful vibe, wear a colorful bead necklace, some chunky rings, and ceramic stud earrings in an interesting shape, like a flower, a leaf, or a cactus. Remember to take off your fine jewelry if you're going for a dip in the pool since chlorine can damage gold and platinum pieces. Surprisingly, gemstone jewelry, such as rubies, emeralds, and sapphires are more tolerant of chlorine. If you don't want to go without jewelry while swimming, you're better off wearing gemstone stud earrings, and perhaps a few ceramic bangles. 
The Finishing Touch
To finish off your poolside look, wear sandals or a nice pair of flip flops, and don some oversized sunglasses to protect your eyes from the sun. A little bit of makeup can also go a long way, but don't overdo it– you don't want to deal with runny mascara and cakey foundation while you're lounging by the pool. For a makeup look that makes you look fresh and healthy, apply a tinted, waterproof sunscreen on your face, a little bit of cheek tint or cream blush, and some rosy lip tint topped off with a lip balm or gloss. Groom eyebrows and keep hairs in place with some clear brow mascara, and you're all set for the day.
The staycation will continue to be the holiday of choice for this year and in 2022, so why not treat yourself and book one today? Follow these tips to look your best for your mini holiday so you'll look amazing whether you're in or out of the swimming pool.
Continue reading: