Last updated on June 14, 2020
Looking for the best wine glasses for the best wining and dining experience at home? These are the top picks for all types of wine. Read on!
Let me tell you straight-up, the best wine glass for each variety of grape is different. So if you want the ultimate wine conosseur experience you will need to have a set for every bottle of wine. It's mighty impractical, I will say that much. However, by making some seamless sacrifices and generalizations it's possible to get by with a decent set of glasses.
If you're an occasional wine drinker that cares more about the way the glasses look on your bar shelf, you'll be glad to know that any of these picks are excellent for a decent tasting experience. You will do good to get familiar with the basics, though.
So, how do you choose the right wine glasses?
Answering these questions will help:
Red or white wine? The main difference is the size of the glass.
Do you like light red wines or full-bodied? This will determine the preferred shape.
Do you like fortified dessert wines (like Port wine)? These need entirely different glasses.
Are you willing to sacrifice the perfect taste for modern looks and convenience? Glass designs such as stemless and other unconventional shapes may not reveal the full spectrum of aroma but they are visually attractive and practical.
Your budget for crystal glass?
Where are you going to rack up your wine glasses?
All these questions will help you choose easier and faster. There's no sense in wasting your time sifting through tons of glasses because there are literally that many of them. I've picked the best based on my knowledge, research, and experience. And I do love wine!
Mandatory disclaimer: I get paid for qualifying purchases on Amazon (I've tagged the links with #ad) at no expense to you.
Ready for a fine wining and dining experience?
Table of Contents
Stemless Wine Glasses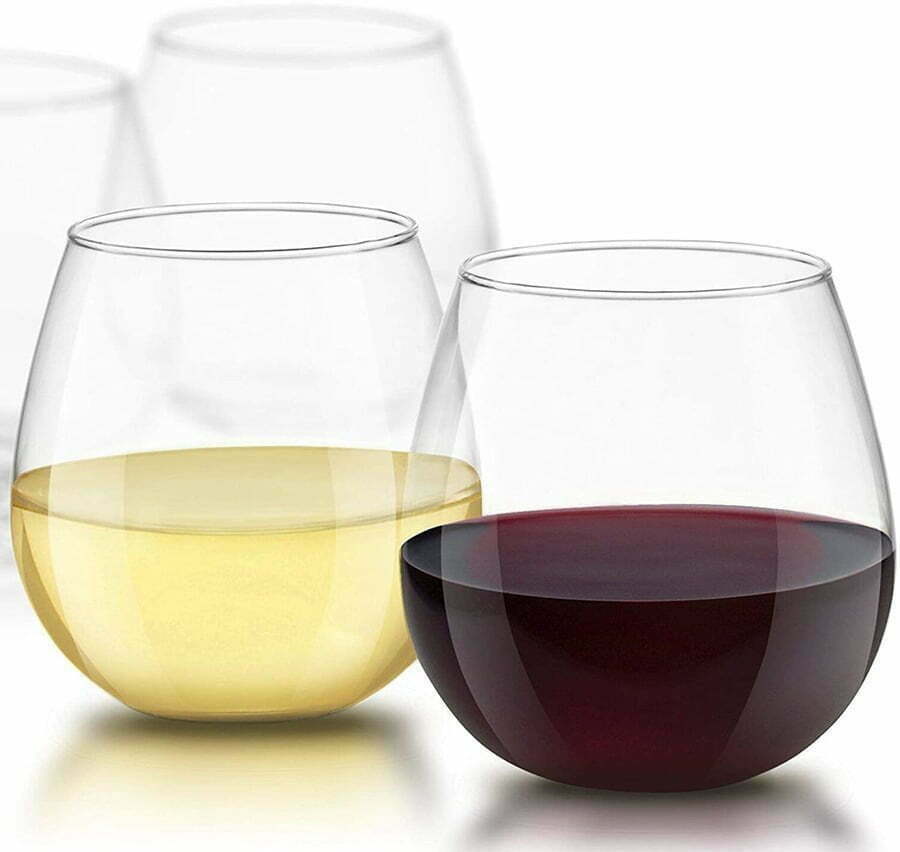 Modern stemless glasses that are universal for red and white wines. Though red wine is preferred for the stemless design (due to the heat of the hand).
Pros: modern style wine glass; perfectly fits in your hand; shatter-resistant wine glasses; it has a stemless base for stability; has a broad base which prevents spills; easy to clean and easy to hold.
Cons: some have uneven rims; extremely lightweight.
Riedel Wine Glasses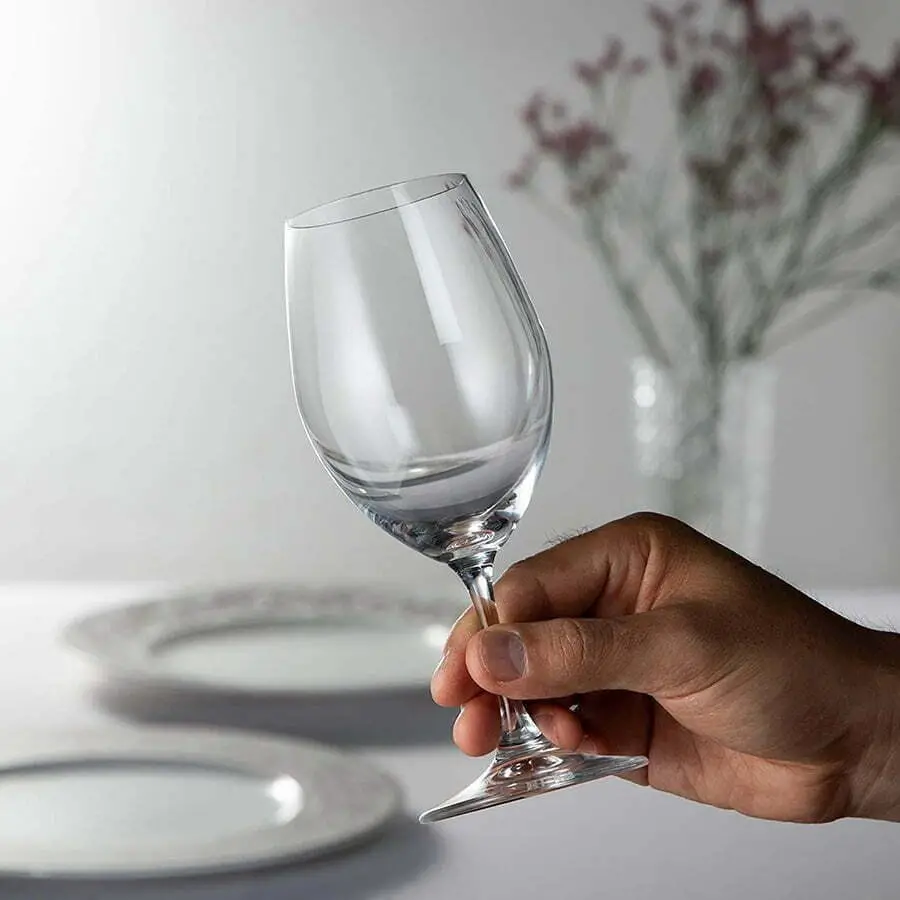 Red wine glasses by Riedel are classy yet durable. These glasses are perfect for lighter red wines and help to put forward their rich aromas.
Pros: the shape of the glass helps to release the aromas of the red wines; dishwasher safe; perfect for everyday wine drinking; elegant; well packaged; a high-quality crystal glass.
Cons: smaller than most modern red wine glasses.
Crystal Wine Glasses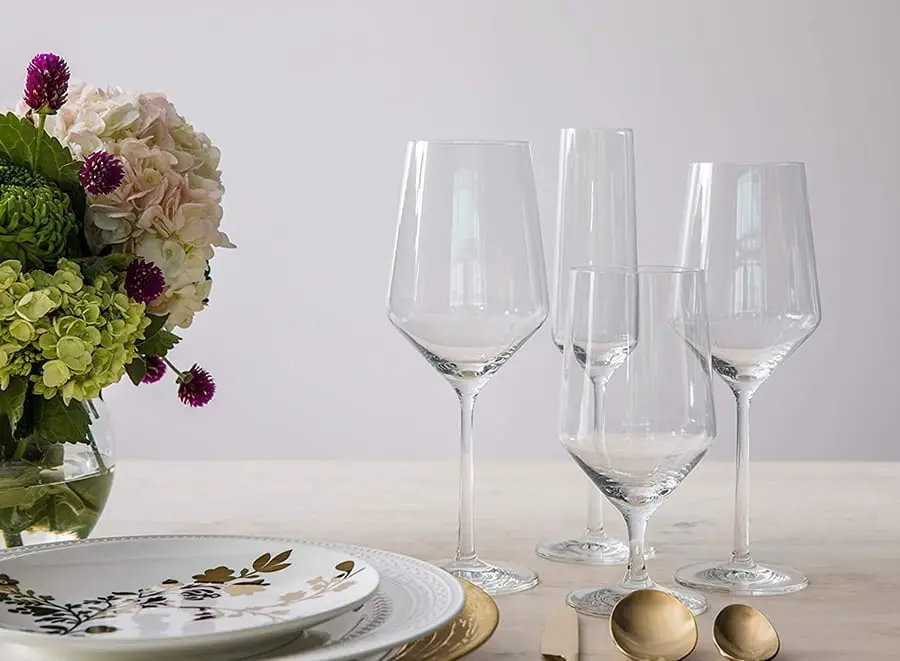 A collection of crystal glasses for different varieties of red and white wines. It's a classy set for a home bar.
Pros: chip, scratch, and break-resistant during normal use; durable; a lead-free glass made from Tritan crystal glass; beautiful shape at the perfect size; high quality.
Cons: too fragile; has an uneven base.
Best Red Wine Glasses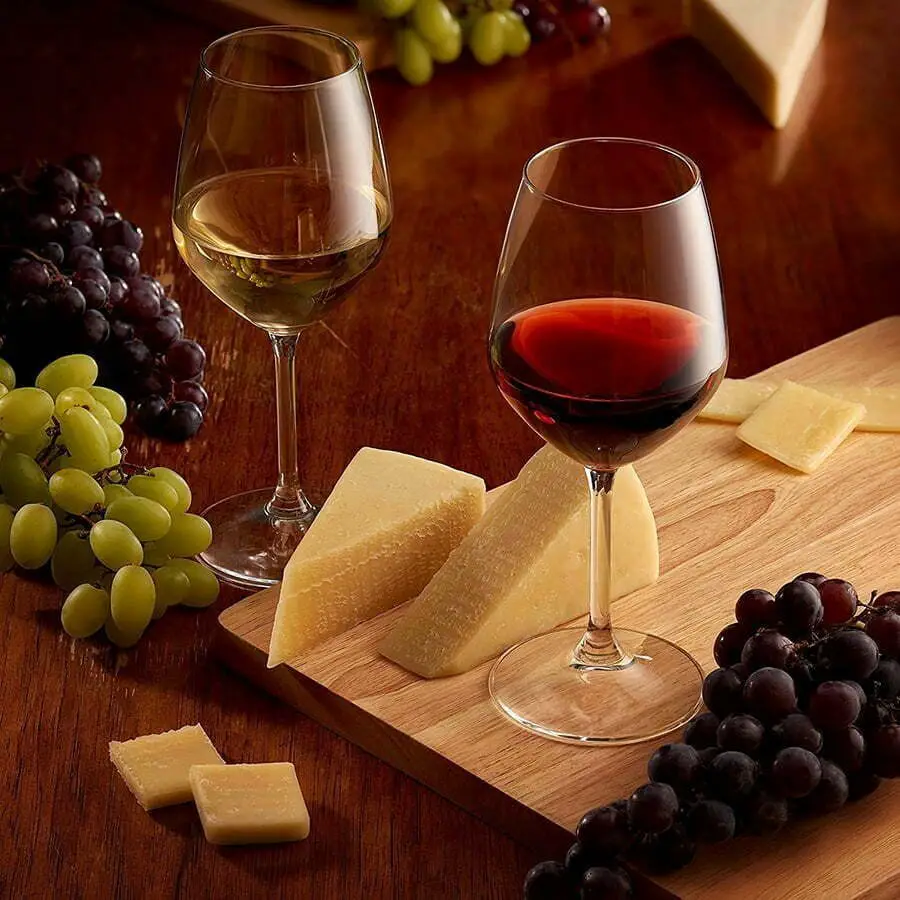 It's hard to pinpoint one glass set for all red wines. There are different designs that better fit different varieties of grapes. Mostly the size and shape influence the release of aromas. But these Italian-made glasses are ideal for any occasional lover of lighter wines (such as Pinot Noir or Zinfandel.)
Pros: a lead-free chemical composition glass; ultra-clear, pure, stunning wine glass; easy to hold; base is sturdy; the price and quality are good.
Cons: almost every glass had minor imperfections, bubbles and/or pinhead chips in the glass.
Zalto Wine Glasses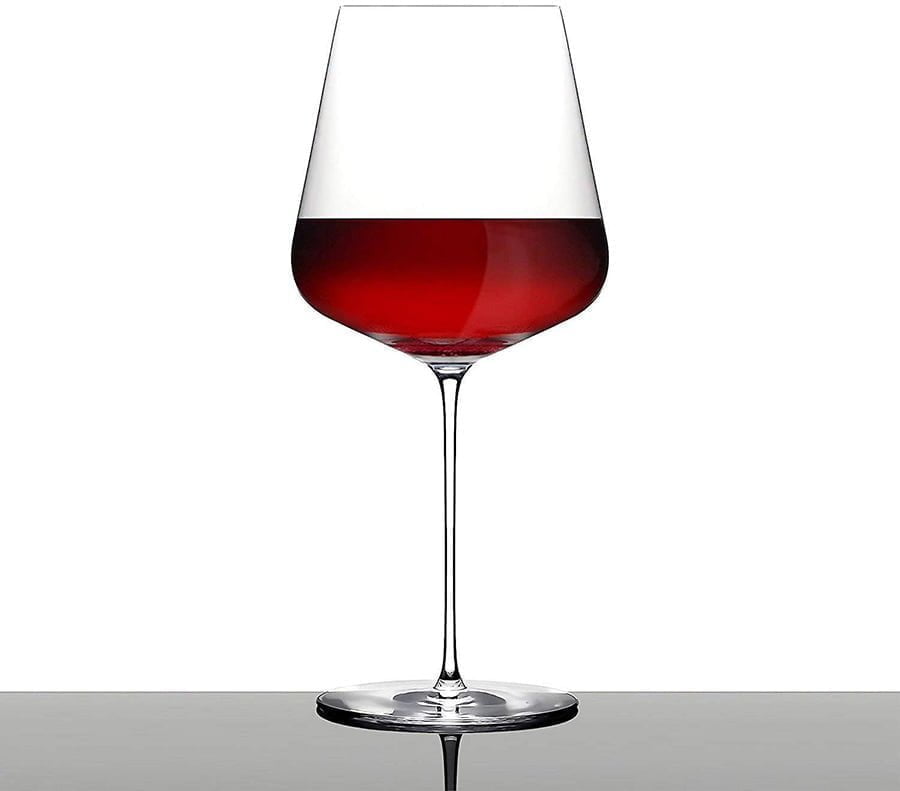 Zalto makes great quality wine glasses that are just elegant. Just look at that gorgeous tall stem. This model is ideal for Bordeaux, Cabernet Sauvignon, or Merlot wines which are classic full-bodied reds. The size and shape help release the aroma while dissipating some of the ethanol for a lighter taste.
Pros: lead-free and dishwasher-safe wine glasses; incredibly light and delicate in feel; possess extraordinary elegance; durable.
Cons: they are ifficult to clean as the opening of the glass is narrow.
Crate and Barrel Wine Glasses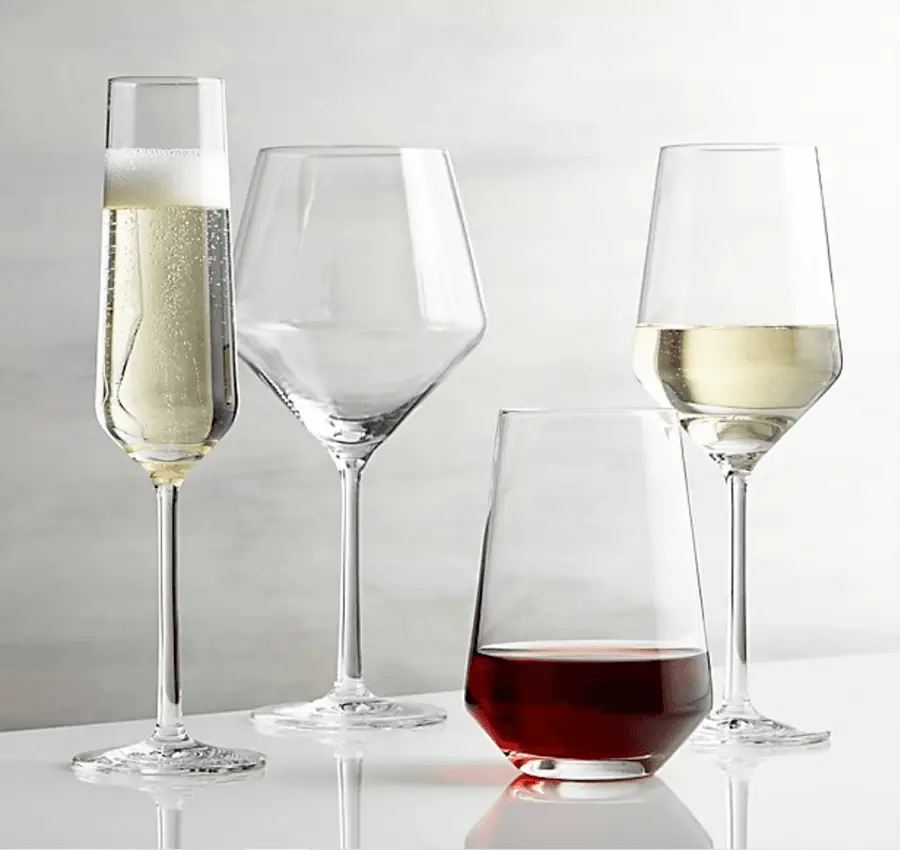 Crate and Barrel has a line of fine wine glasses and it would be a sin to not include them here. The set is quite versatile for reds and wites of different varieties.
Pros: made of a break, chip, and scratch-resistant Tritan glass; elegant set of glasses; perfect pour line at the top of the angled bottom; a modern look that fits well in hands; loads in the dishwasher without adjusting the top shelf.
Cons: too fragile.
Mikasa Wine Glasses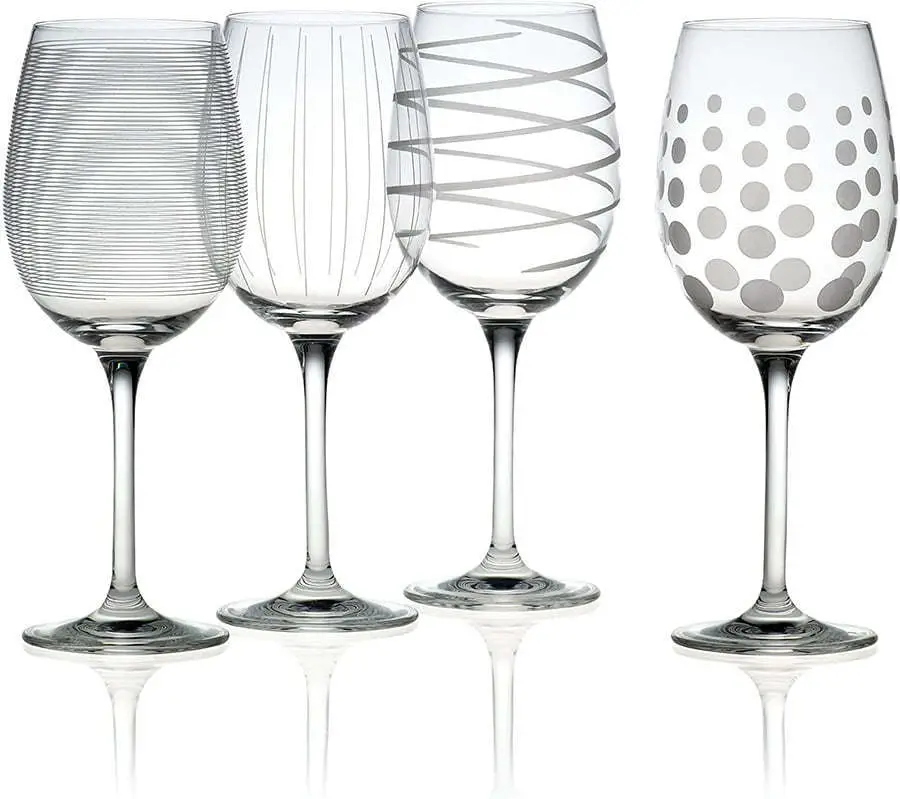 Mikasa is a producer of glasses worth attention if you're into unique decorative glasses. It doesn't do much for your wine tasting experience but it does visually.
Pros: each piece has a different pattern, guests can easily identify their glass; a dishwasher safe top rack; comfortable size for drinking wine; lightweight without seeming too fragile.
Cons: too fragile and thin.
Port Wine Glasses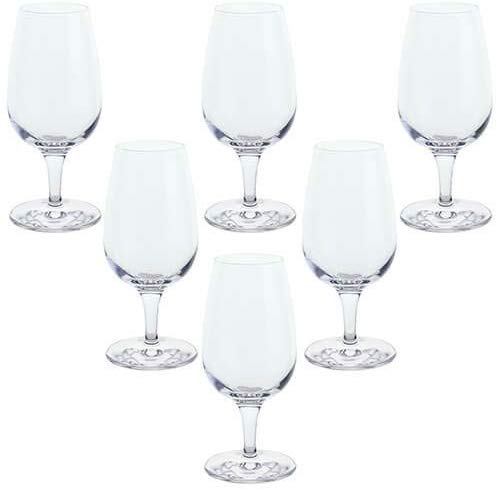 These glasses are ideal for any dessert wine, of course, including port wine. The classy design only adds to the tasting experience, and it's ideal to release the full range of flavor sweetness.
Pros: perfect Port, dessert wines or any fortified favorite; these glasses are dishwasher safe; lovely glasses, well made and smooth.
Cons: a little too big.
Unique Wine Glasses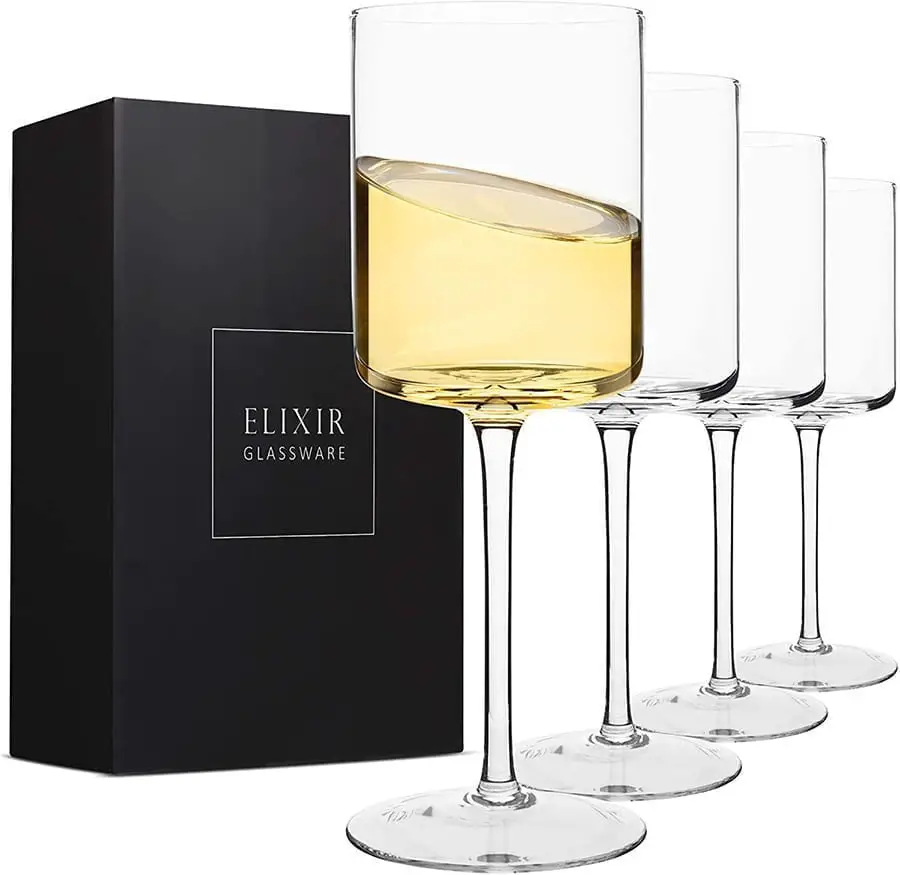 While wine tasting has some well-established rules for the design of glasses they are not set in stone for occasional drinking. Indeed, it then becomes all about the overall experience which is greatly enhanced by a unique modern look.
Pros: contemporary, exceptionally clear cylindrical body, and slender stem; hand-blown by artisans using traditional methods; has an exquisite packaging which is a perfect gift for any occasion.
Cons: these are too delicate and light.
Best White Wine Glasses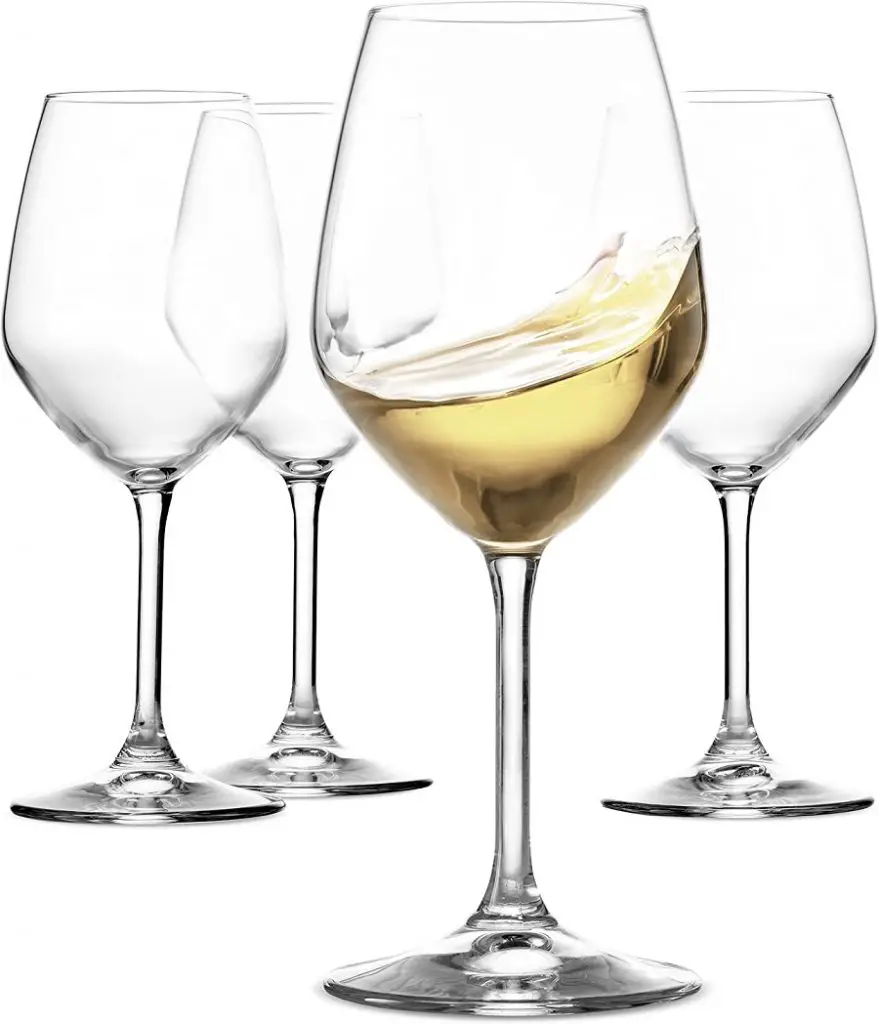 As white wines are lighter they need smaller glasses to release their full aromas. So these are well suited and elegant glasses for it.
Pros: a laser-cut glass process delivers uniform and thin rims; beautiful and nicely weighted glass; shatter-resistant; elegant at a reasonable price; durable.
Cons: glass is exceptionally thin and the glasses are not flat on the bottom.
Continue reading: