Last updated on January 31, 2023
If you are short of space but still want an additional toilet downstairs or a small ensuite bathroom, we have ideas for creating a small toilet that feels just as relaxing as it does functional.
The key is maximizing your space using tips and tricks to make your bathroom still stylish yet practical.
A downstairs toilet is excellent for ease of use and for anyone that has kids running in from the garden or elderly relatives who don't want to be going up and down the stairs all the time. But any small bathroom can benefit from these ideas.
You don't need endless square footage to have a perfectly designed bathroom. Whether it's a little ensuite or a downstairs cloakroom, we have put together 5 ideas for transforming a small space into a toilet that you can be proud of.
What Is the Minimum Space I Need?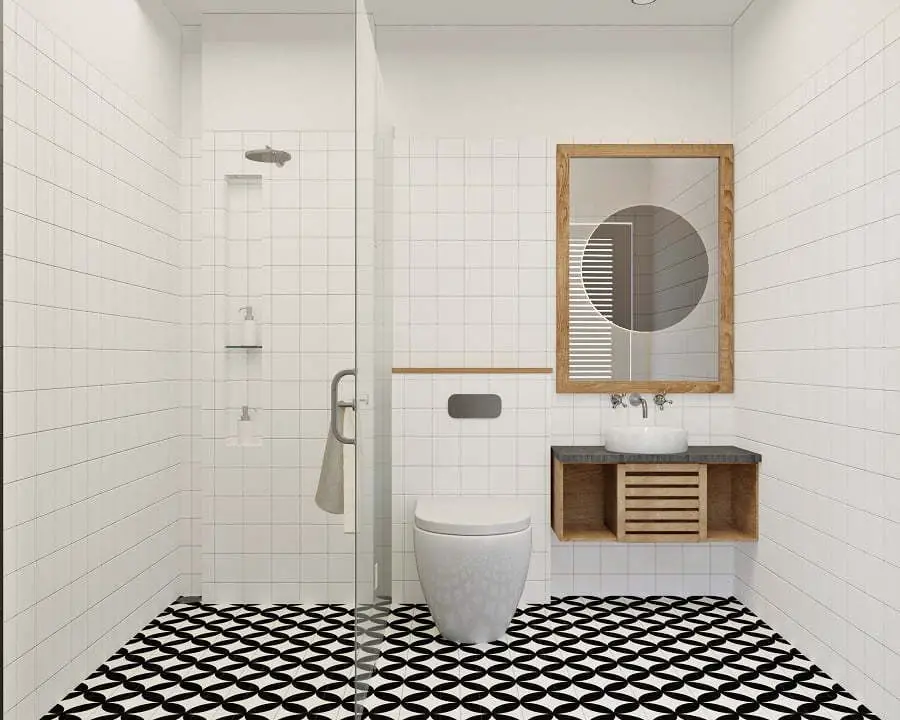 The minimum space required for a toilet room is at least 80cm x 140cm; it is often good to find out where existing pipes are running and pick a spot that minimizes disruption. A great place is often under the stairs, but there are a few suite ideas for bathrooms in small areas that make it easy to choose the perfect spot in your house.
Wall Hang the Bathroom Suite
To maximize your area, it is suitable to wall hang the toilet and basin to create the illusion of more floor space. You can also put wall mounties, shelves, and units for storage without making the room feel cluttered.
Many wall-hung options, like floating or corner placement suites, will suit any room shape or size. In addition, you can incorporate storage underneath to enable you to hide away all the essentials.
If wall hanging the toilet is not your thing, you can opt for a self-contained and space-saving macerating toilet from Saniflo instead. You can get tons of benefits from this type of toilet. Apart from maximizing your small bathroom space, it also helps you cut down on expenses. You can install a macerating toilet on your own. Plus, it uses less water than an ordinary toilet.
Bounce the Light
To reflect light and give the bathroom that spacious feeling, you can hang a big mirror to add depth to the area. Hanging one big mirror or several small mirrors gives the illusion of space and is a great design feature.
LED downlights above the mirror will also bounce the artificial light around, increasing the feeling of a bright and roomy area.
Use Light Colors
Using lighter paint colors will make the room feel a lot less cramped, and painting the ceiling, walls, and skirting board all the same color can make a small toilet room feel very spacious and clean.
Going for an all-white bathroom suite will accompany this look very well. If you still want a splash of color you can do that with your accessories like towels and toilet holders.
Keep It Tidy
This might seem like a no-brainer, but keeping the room neat is necessary for a small space. Using tiered storage and clever baskets is a great way to do this. The less you have lying around, the more extensive your room will look. Banish the messy people in your life! 
Carefully Design the Heating
Ditch the radiators and opt for underfloor heating, freeing up a considerable amount of space. For example, there isn't as much need to hang a towel over a radiator in a small toilet, or you can opt for ladder radiators if you still need to dry off a towel in an ensuite. These come in various styles and colors and are very stylish accessories.
The Takeaway
Not having a lot of space can be a little trickier but not impossible to create a restful and relaxing bathroom space. The tips above are universal and can be used in the smallest rooms to create that airy feeling. Happy bathroom planning!
Continue reading:
Recap