Last updated on September 24, 2023
How do you choose the jewelry to look your best? And how do you choose the pieces without being boring? Well, these are some of the questions that every lady goes through.
You have filled your wardrobe with the jewelry collection but not wearing it to your heart's content. Or you might know where to begin from. Or you don't just feel confident about wearing the pieces or shopping for them. Most of you have experienced this situation.
But here comes the good news: we have come up with jewelry style tips for all women on any occasion. Without any further ado, let's get started.
Table of Contents
What Your Outfit Focuses On?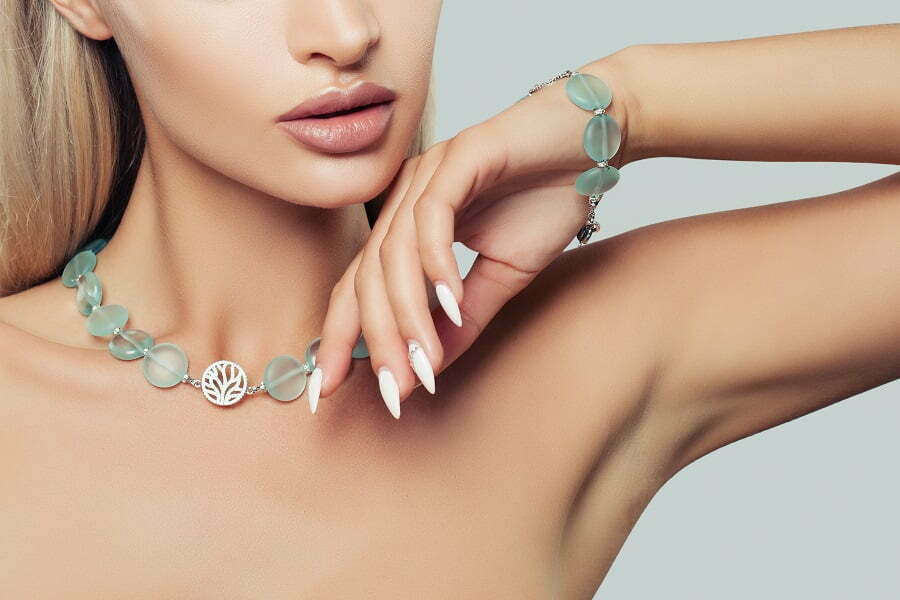 This should be the foremost consideration for your jewelry. What do you want your outfit to focus on? With the right pairing of jewelry and accessories, simple clothing can be turned into something ravishing.
Do you know that you can even put life into a plain outfit with accessories? Obviously, you can. A vibrant attire can go well, along with modest jewelry, and make you look like a diva. Ultimately, dress yourself to feel confident.
How Will Your Jewelry Affect the Occasion?
Do you have any events or something major coming up? If yes, you obviously want everyone to draw their eyes on you. And the shortest trick to do this is to focus visually on one body part like the neck, hands, ears, and eyes, to name a few.
For instance – if you want to wear a statement necklace, wear subdued rings or earrings. Also, you can simply consider not wearing them at all.
Mix and Match
If you have some free time on the weekends or so, experiment with your wardrobe. Put on some clothing and try various pieces of jewelry with your collection. You can also try to pair your accessories that you might not normally pair together. Try pairing different handbags, watches, and scarves too. It will add depth to your clothing. Go shopping if you don't have enough jewelry collection. It will give you an excuse to find something glitzy.
Sentimental Jewelry Can Slay the Day
Many people wear sentimental jewelry pieces that they are in love with. But how can you fit them into a well-accessorized outfit? You can layer the sentimental jewelry with other pieces to elevate your style statement.
For instance – if your sentimental piece is a necklace, you can consider a longer chain to hang beneath the clothing. There are innumerable ways to add sentimental jewelry to your outfit.
Enliven Yourself with the Rings
Mixing and matching rings to create a different look can transform your style. The best way is to stack the rings to add versatility. Why not mix the colors, gemstones, and textures to enliven yourself? You can wear rings like Plumeria ring, or gemstone cocktail ring, and the choices are endless.
What's more? You can consider wearing an even number of rings on one hand and an odd number of rings on the other hand.
Amp Up Your Neckline with a Necklace
Now comes the neckline. Wear a necklace to complement your attire. For instance – a low V-necked top looks fantastic with a pendant hung in the V-shape over your cleavage.
If you are considering wearing a crew-necked top or clothing, go for a lengthy necklace. The circular necklace looks phenomenal with scoop necklines. You can pay attention to yourself in the mirror and see what works best for you.
Bold and Printed Look with a Basic Piece
Many women are of the notion that wearing a basic piece is great with a strong dress so that it should not look cluttered. But things don't always go the way you want. You can also experiment with flashy jewelry and a strong dress. Who knows, trying something new might turns out to be amazing.
If you think of wearing a vividly patterned dress with dangly earrings, ensure that the shape of the jewelry and colors complement each other. Therefore, wear the accessories in the shape of your garment design.
Layer It Up with Rings, Necklace, and Bangles
What about layering rings, bracelets, necklaces, and various accessories into attractive layers? Make your arm party with different bracelets and bangles. Stack the rings. Layer the necklaces of different lengths and textures and make a note of different combinations that looks amazing. So, take your layering game up with the bangles, necklaces, and rings.
Don't Overdo Your Jewelry
If you are doing anything, you must know if anything is going too far. No doubt, creating something extraordinary is remarkable, but you should know when to stop. If you are sprucing up your neckline with the necklace, don't overdo your arm with bangles. Besides, if you wear a pair of dangly earrings, steer clear of wearing a necklace. Going to a workplace? Wear studs or hoops to slay the day. Don't forget to look in the mirror before going out of your home.
To Make a Long Story Short
Getting ready is the process to enjoy, and ultimately, it should reflect your true self. Keep in mind the aforementioned tips to avoid blunders while styling yourself with the accessories. So ladies, get ready to stand out among the crowd and be the best version of yourself.
Continue reading: