Last updated on October 26, 2023
Revitalize your bathroom with unique knee wall ideas because they offer an unexpected element of design while boosting functionality.
I'm proud to have crafted these 20 unique Bathroom Knee Wall Ideas and can't wait for you to dive into them, hoping it'll spur as much joy and inspiration as it did for me during their creation.
Looking to add a unique touch to your bathroom? Knee walls can be the perfect solution! These half-height walls can serve multiple purposes, from providing privacy to creating storage space.
Whether you're considering a knee wall to separate your toilet area, or to add built-in shelves for extra storage, this article will guide you through a myriad of creative and functional ideas.
From simple to sophisticated designs, you're sure to find a knee wall idea that suits your style and meets your needs. Stay tuned for all the details!
Shelving for Extra Storage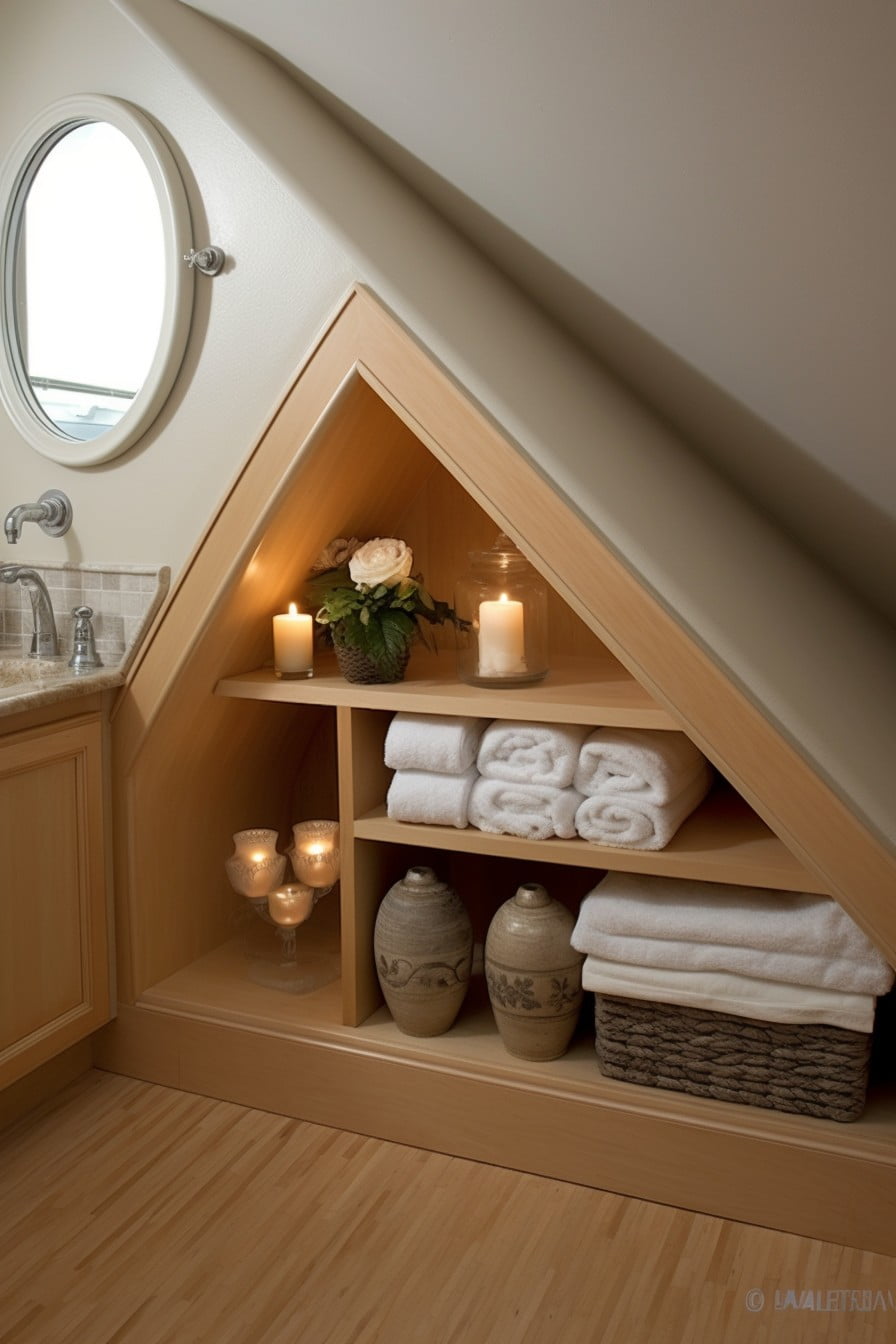 Incorporating shelves into the bathroom knee wall offers a practical solution to your storage needs. This inventive approach uses space that might otherwise go to waste, while providing a home for toiletries, decorative items, or even small potted plants.
There are just some guiding principles you, as a homeowner, might find useful:
Choose sturdy materials like wood or metal which can handle the damp environment of a bathroom.
Opt for open shelving to keep items within easy reach, or cabinets for a more concealed storage solution.
Consider the size and shape of items to store when deciding on shelf depth and height.
Make it stylish by playing with color – either match the existing bathroom palette or use contrasting shades for a pop of color.
Try incorporating a combination of larger shelves and smaller ones to accommodate various items.
Practical, stylish and space-saving, shelving in knee walls may just be the game-changer for a clutter-free, stylish bathroom.
Mosaic Tile Design Knee Wall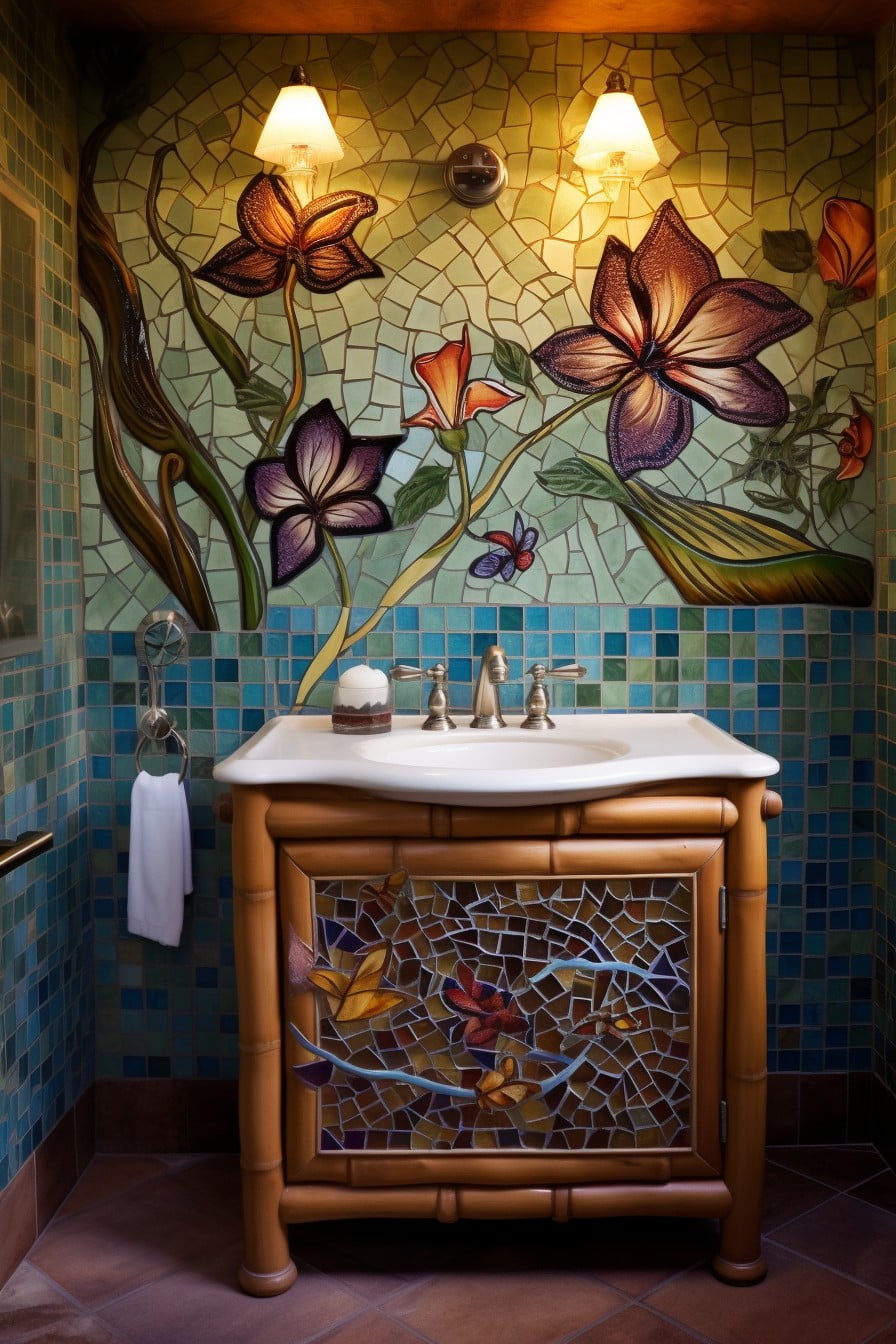 Experimenting with different types of tiles can give your knee wall an appealing twist. Mosaic tiles add an artistic touch owing to their vibrant colors and interesting patterns. By adding these mosaics, you introduce a lively aesthetic that can also serve as a conversation starter.
A few things to consider when choosing mosaic tiles:
1. Opt for waterproof mosaic tiles due to the high humidity in bathrooms.
2. Select a grout color that enhances your mosaic design.
3. Consider the overall bathroom color scheme to ensure harmony.
4. Use mosaic tiles not only on the face of the knee wall but also on the top for a cohesively stylized look.
5. Hiring a professional for installation may be a good idea to secure a neat and durable finish, since mosaic tile installation can be intricate.
With mosaic tiles, your knee wall can become a standout feature in your bathroom.
Knee Wall to Separate Sink and Toilet Area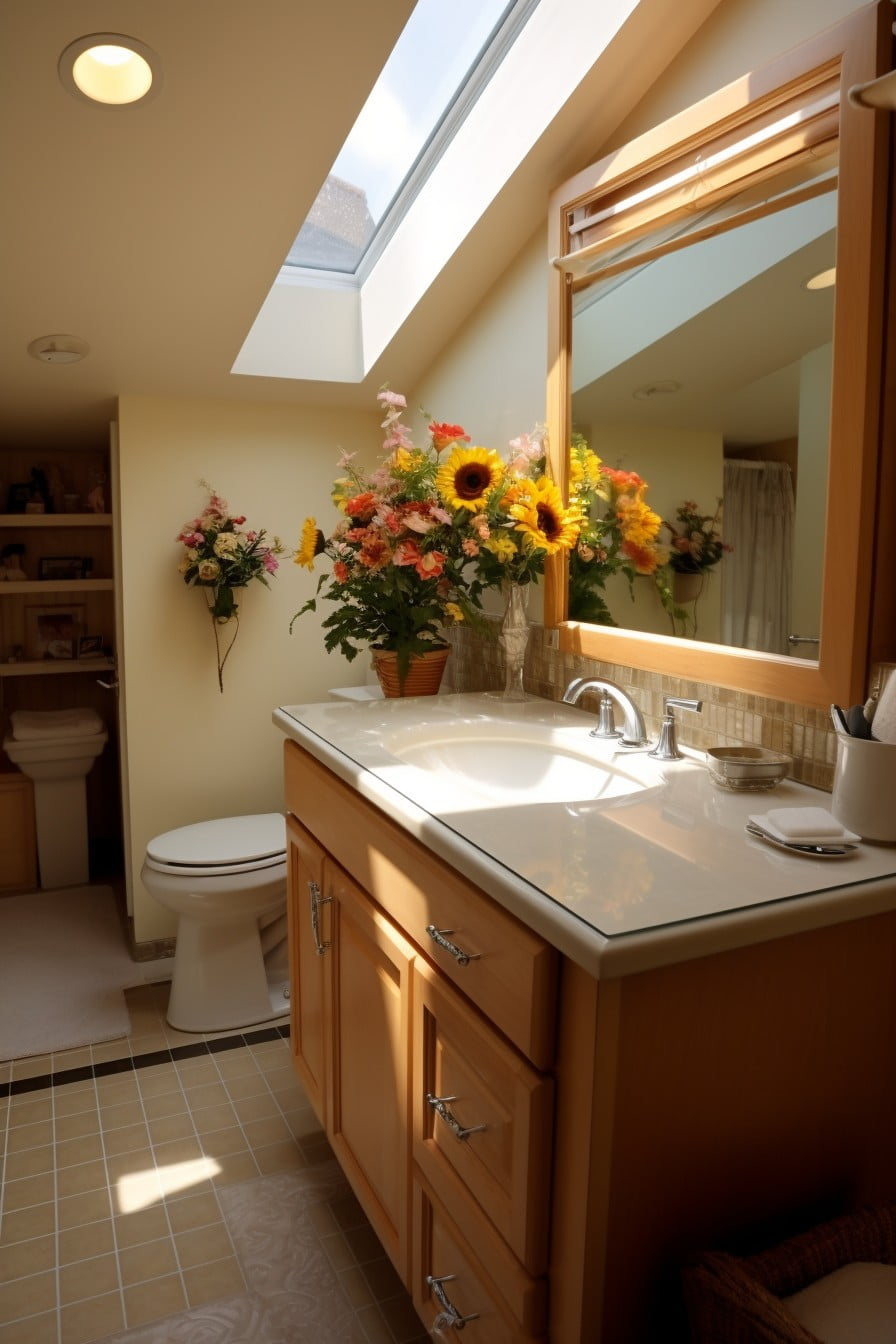 Separating the sink and toilet area with a knee wall adds a touch of sophistication to the bathroom. Here are a few key points to consider:
1. Provides more privacy: The knee wall offers a discreet barrier, allowing for comfortable use of the facilities.
2. Space division: This division can help in creating distinct zones in the bathroom, making movement more efficient.
3. Decor freedom: The wall could be decorated distinctively, creating an interesting design aspect, while maintaining a cohesive theme.
4. Additional storage: One side of the wall could even include built-in storage compartments for quick access to essentials.
Remember, the height of the wall should be carefully considered to ensure it functions as a comfortable addition to space.
Built-in Soap and Towel Holder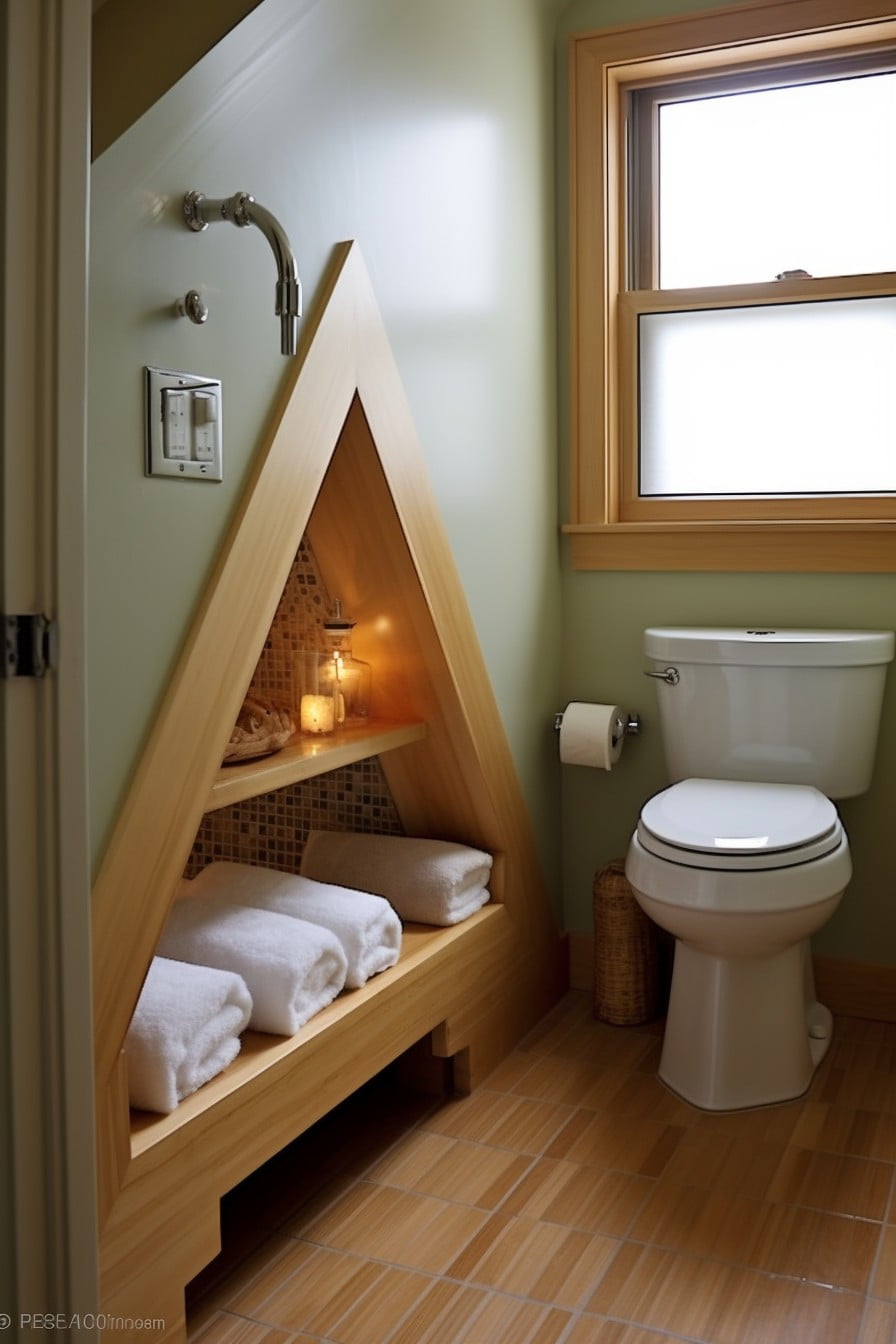 Incorporating these amenities into the knee wall itself saves valuable real estate in your bathroom while providing convenient access. Here are some tips to master this concept:
1. Position Matters: Place the holder within reach of the sink or shower, aiming for a place that is easy to reach yet out of direct water spray.
2. Material Choice: Opt for material that withstands water and humidity while matching your overall design scheme. Stainless steel is a popular choice as are ceramic tiles with water-resistant characteristics.
3. Functionality: Ensure holder spaces are large enough for standard soap bars and towel sizes. Also, consider easy-clean designs for optimal hygiene.
4. Decorate: To pair practicality with style, select designer soap dishes and towel rings that complement your interior.
Remember, the emphasis is on convenience without compromising the aesthetics of your bathroom.
Knee Wall for a Wall-mounted Faucet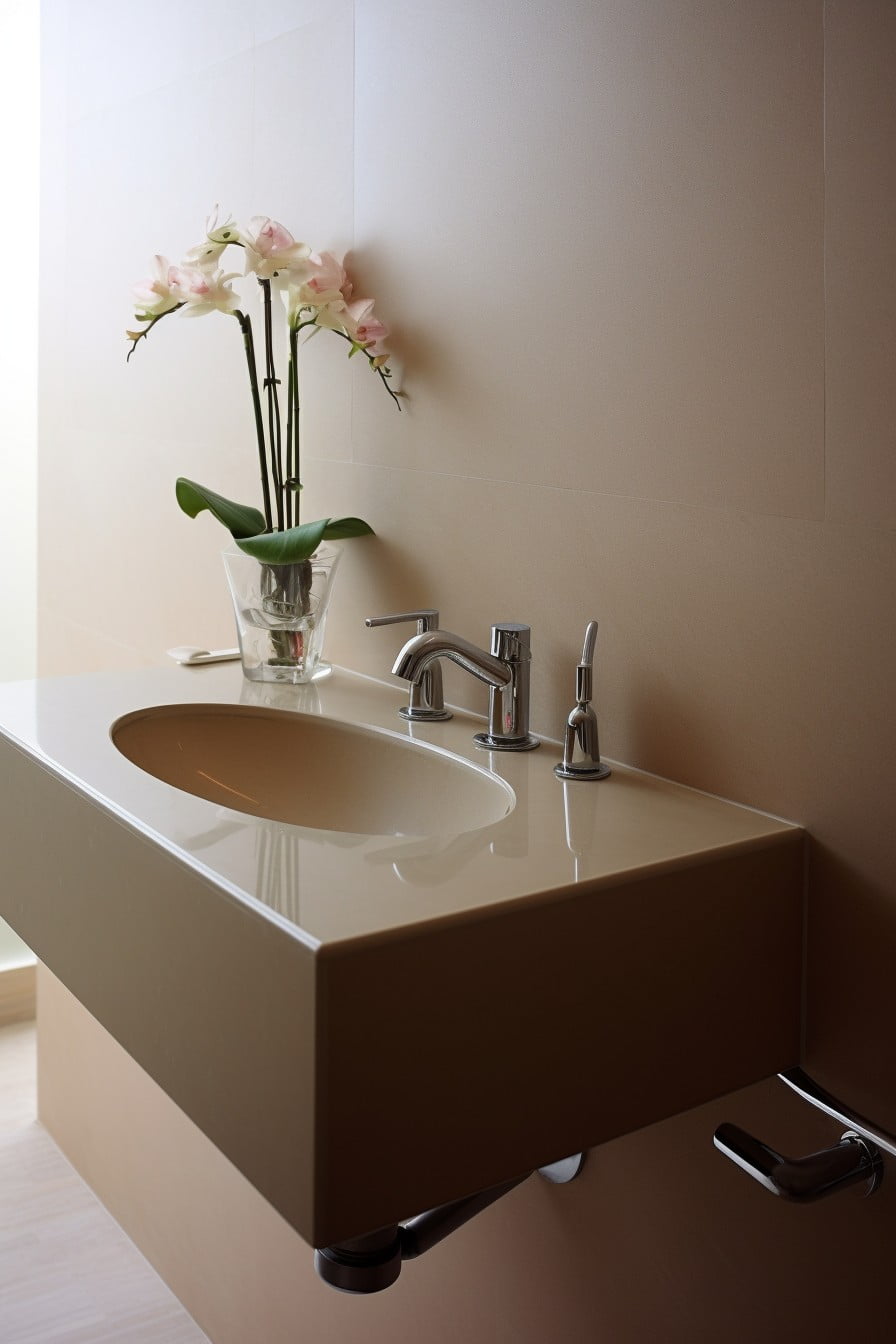 To bring this unique idea to life, let's delve right in! A knee wall provides the perfect height for mounting your faucet. Meaning, instead of your water supply lines running through the floor, they run through the knee wall. This innovative approach adds an interesting design feature to your space, leaving the floor clear and giving a minimalistic, seamless look.
Additionally, the hardware's position in the knee wall makes the faucet a statement piece. Plus, the sight of water appearing to flow directly from the wall offers an engaging aesthetic appeal. Remember, though, this configuration depends on the wall structure and plumbing capabilities, so consult with a professional to ensure it's a viable option for your bathroom.
There are a variety of wall-mounted faucet designs available in the market to suit different taste preferences. Whether you want a sleek contemporary design or a classic antique style, the choice is yours. Whichever you choose, this setting will bring an elevated sense of elegance to your bathroom.
Marble Topped Knee Wall to Match Floor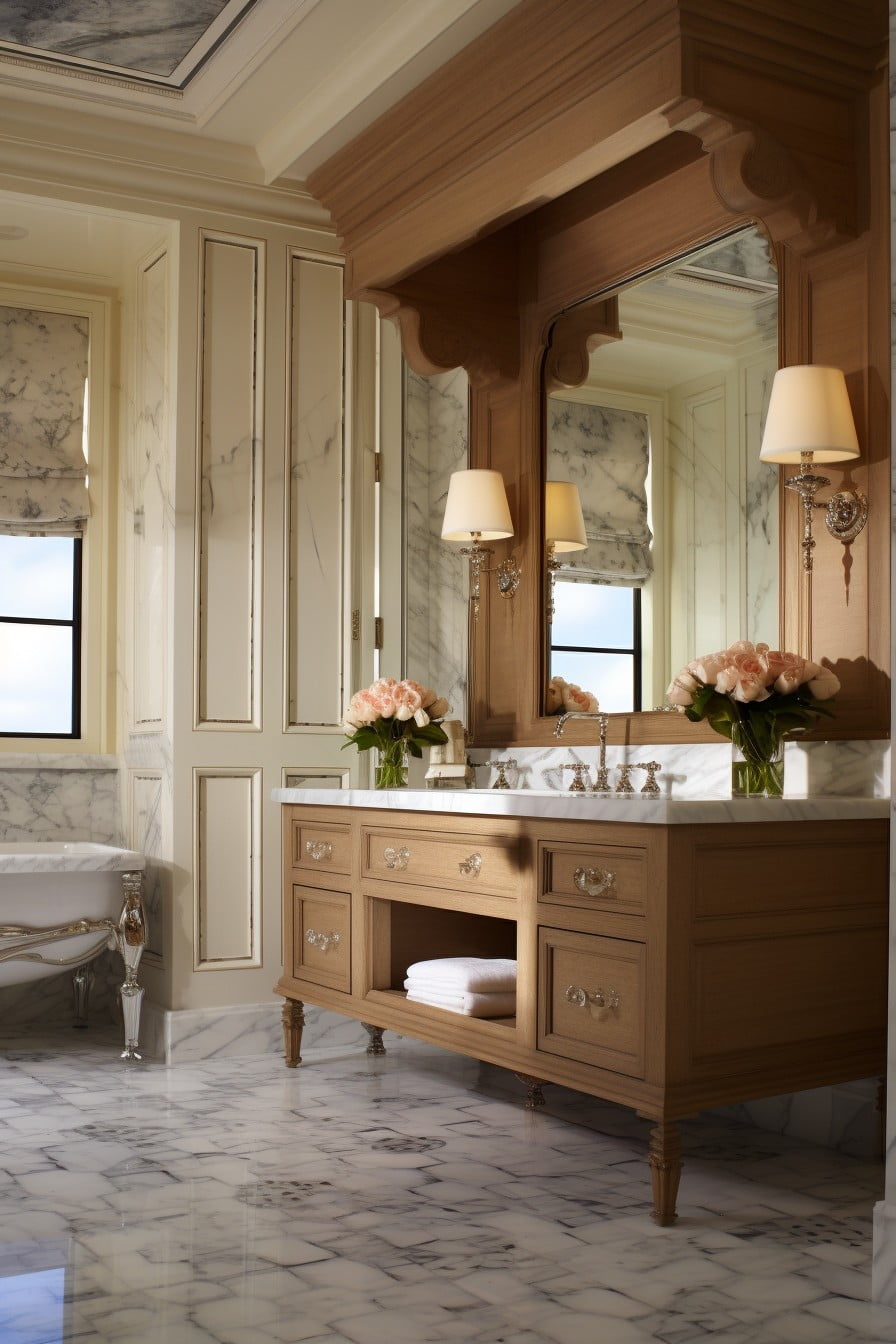 Elevate the aesthetic of your bathroom with the uniform appeal of marble. Using the same stone for both your floor and knee wall seamlessly weaves design consistency, lending a luxurious finish that is at the same time, both subtle and striking. When executed well, a matching marble floor and knee wall can visually expand a small bathroom, creating the illusion of a more spacious setting.
Here's how to make it work:
Choose the right texture: Polished marble provides a high shine and is indeed more resistant to stains while honed marble, with its matte-like finish, is less prone to scratches.
Think about marble color: Light hues can brighten and appear to enlarge the space. Darker shades, on the other hand, infuse a touch of drama and sophistication.
Consider marble patterns: Remember that less complex patterns will give a cleaner, more streamlined look.
Mind the installation details: To achieve a seamless look, align the grout lines of the knee wall with that of the floor.
Hire a professional for installation: Proper installation is key to ensuring durability and low maintenance. A professional can accurately cut and fit the marble pieces, enhancing the appeal and lifespan of your design.
Undeniably, a marble-topped knee wall that matches your floor offers a timeless way to instill a sense of calm and opulence in the bathroom. With the right information and inspiration, creating that dreamy bathroom becomes an exciting design journey.
Vertical Shiplap Knee Wall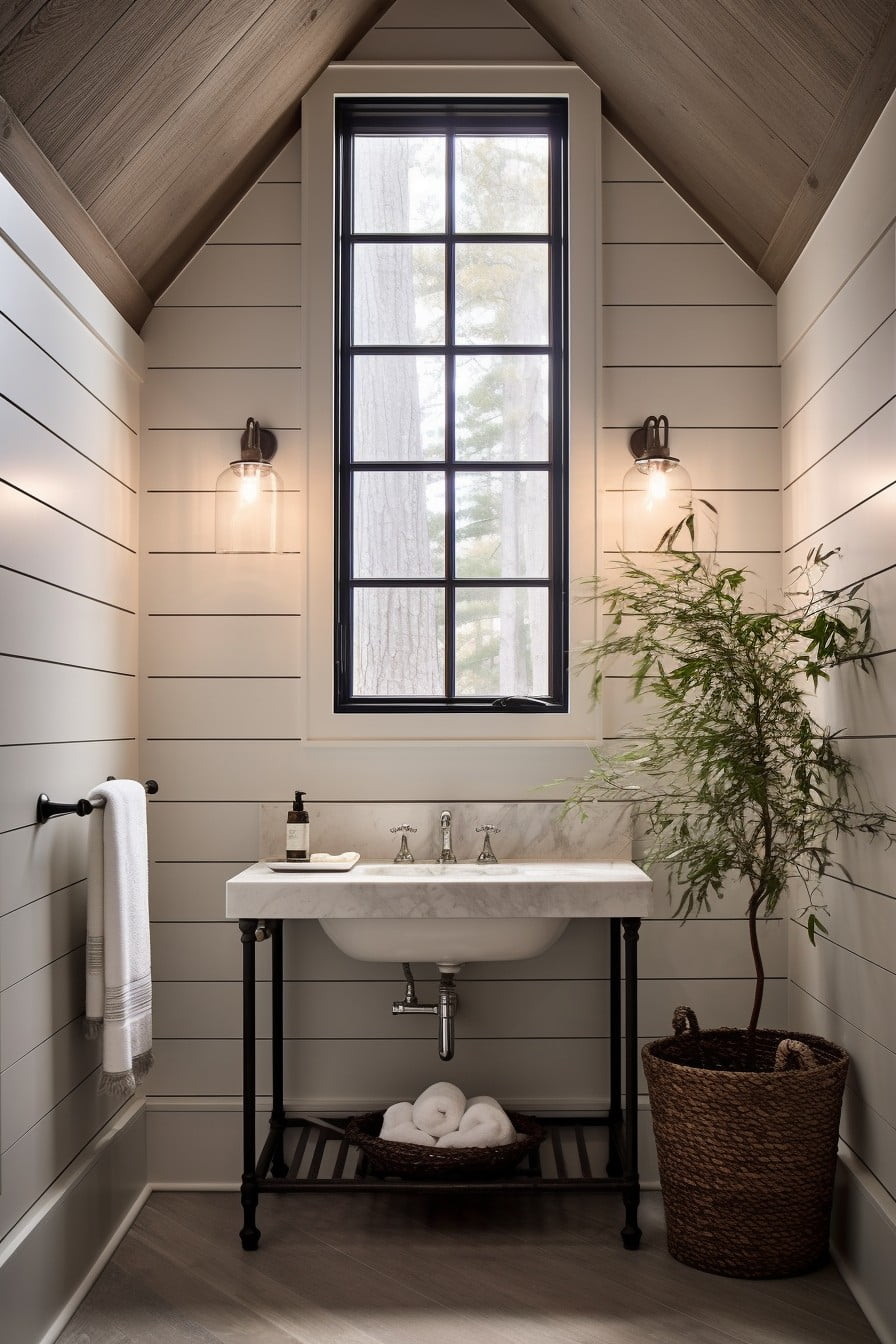 Providing an exciting visual element, Vertical shiplap embodies classic sophistication. Quick to install, it gives your knee wall a unique texture. Paint it in subtle neutral tones to enhance its clean lines, or opt for bold colors to make a standout statement.
In a small bathroom, it visually heightens the space, lending an illusion of a higher ceiling. When extending to the ceiling itself, it further amplifies this effect.
For a harmonious look, consider echoing design cues from other elements in your bathroom. Matching fixtures, handles, or wall decor can make the shiplap knee wall feel like an intentional, cohesive part of your overall design.
Maintenance is as straightforward as your regular walls. Its design, with grooves and ledges, could collect dust so consider a semi-gloss paint finish, which offers a balance between matte (more dust-prone) and high-gloss (more smear visible) paint. Just wipe with a damp cloth regularly to keep it looking fresh.
Remember to seal your vertical shiplap knee wall appropriately if situated near a water source like a bathtub or sink, to prevent dampness and ensure its longevity. Water-resistant paint or sealer is ideal for this.
In addition to aesthetics, a vertical shiplap knee wall also offers practical benefits. It provides a versatile surface for mounting bathroom hardware like towel rails, toilet paper holders, or robe hooks. The use of softwood (like pine) or hardwood (like oak, cherry, or maple) provides enough sturdiness for such mountings.
The vertical shiplap knee wall is more than just a partition; it's a stylish feature that can take your bathroom from ordinary to extraordinary.
Knee Wall With Integrated Lighting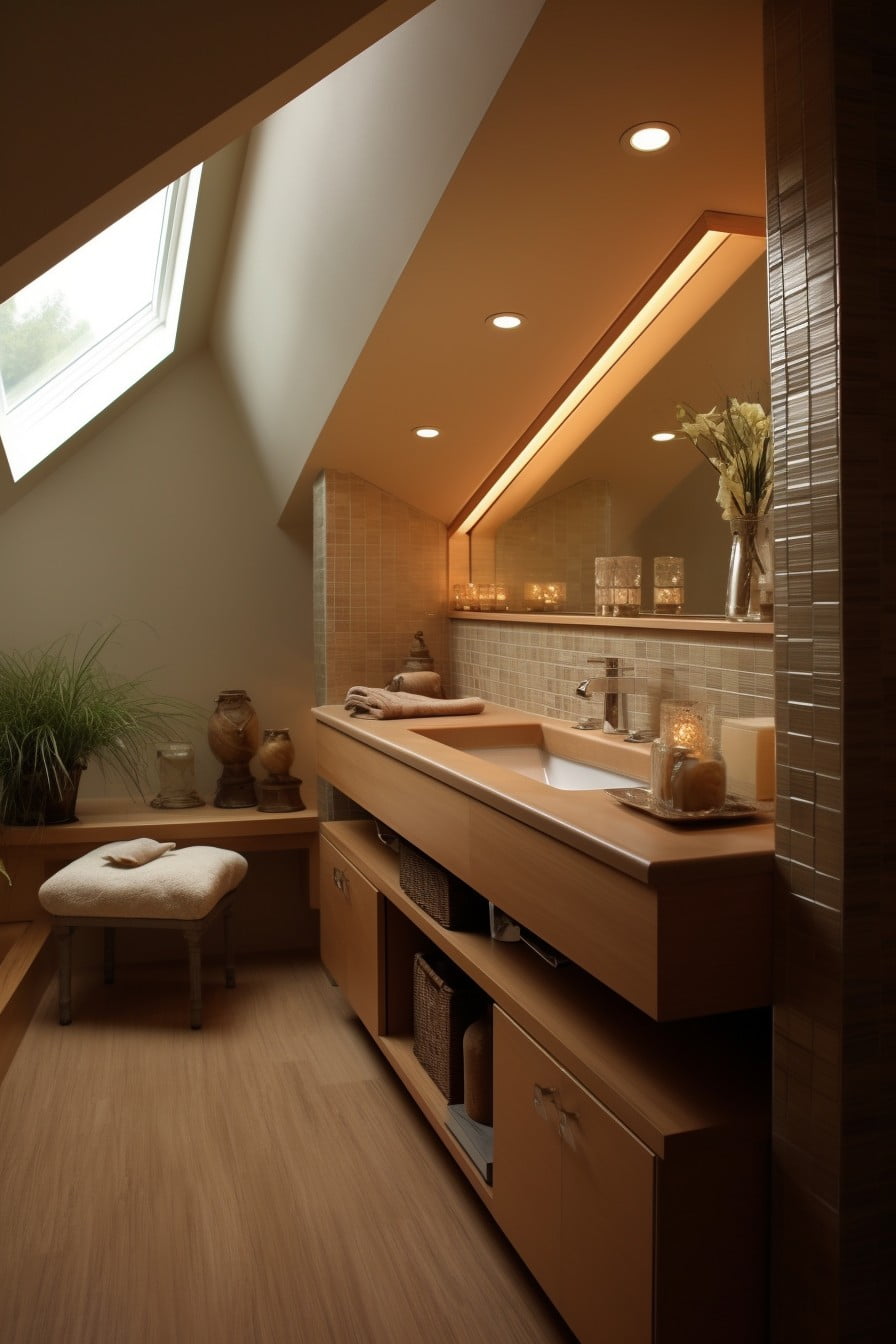 Integrated lighting offers a practical solution to brighten up your bathroom. Firstly, consider using energy-efficient LED lights as they are both sustainable and long-lasting.
Regarding color temperature, warm lights around 2700 to 3000K will create a cozy atmosphere, while cooler lights, at 5000K or above, provide a crisp, invigorating ambiance.
Depending on the existing aesthetic in your bathroom, choose between recessed or surface-mounted lights. The former type flushes seamlessly with the knee wall's surface, bringing about an elegant, minimalist look. On the other hand, surface-mounted fixtures are easier to install and come in a variety of designs and finishes.
It's a good idea to install dimmable lights. This allows for a more adaptable lighting arrangement, ranging from full brightness on busy mornings to softer glows during relaxing baths. Keep in mind to have these lights installed by a qualified electrician to assure safety and correct functioning.
To further enhance the visual impact, consider pairing the lighting with strategically placed mirrors. These can reflect and amplify light, adding depth and dimension to your bathroom.
Remember to coordinate the lighting materials and finishes with other elements in your bathroom to create a harmonious design. Whether brushed nickel, chrome, or matte black, consistency is key to an aesthetically pleasing bathroom.
Lastly, always check your local building codes and any homeowner's association rules before undertaking this project to ensure compliance to avoid future complications.
Frosted Glass Knee Wall for Privacy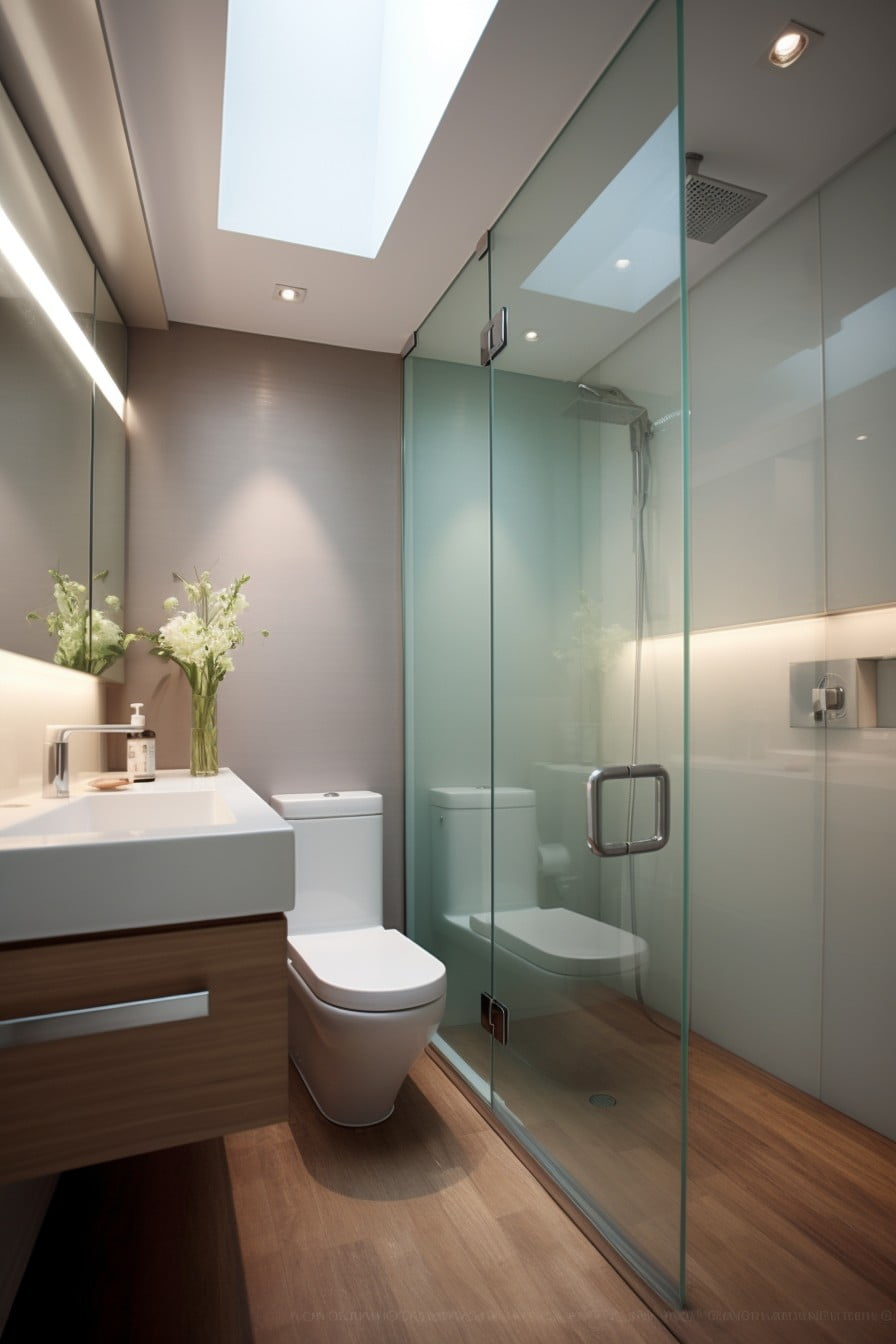 While retaining the openness of your space, the careful use of frosted glass in your knee wall can significantly enhance privacy. This is an exceptional design choice especially for bathrooms that serve as en-suites or if your house has multiple occupants.
1. A frosted glass knee wall obscures the view, ensuring privacy without sacrificing natural light. It allows light to permeate creating a bright and airy ambience.
2. Different textures and styles of frost can refine the aesthetics of the bathroom. Some options include plain frost, as well as patterned or etched designs.
3. Frosted glass is also a practical choice for wet areas as it's impervious to water.
4. It is easy to clean, a wipe with a glass cleaner and a microfiber cloth will remove water spots and finger marks, making maintenance a breeze.
5. To double up on functionality, consider installing a shelf on the knee wall where toiletries can be conveniently stored without detracting from the minimalist aesthetic.
When correctly incorporated, a frosted glass knee wall can marry functionality and design, elevating your bathroom to new stylistic heights.
Tiled Knee Wall With Accent Trim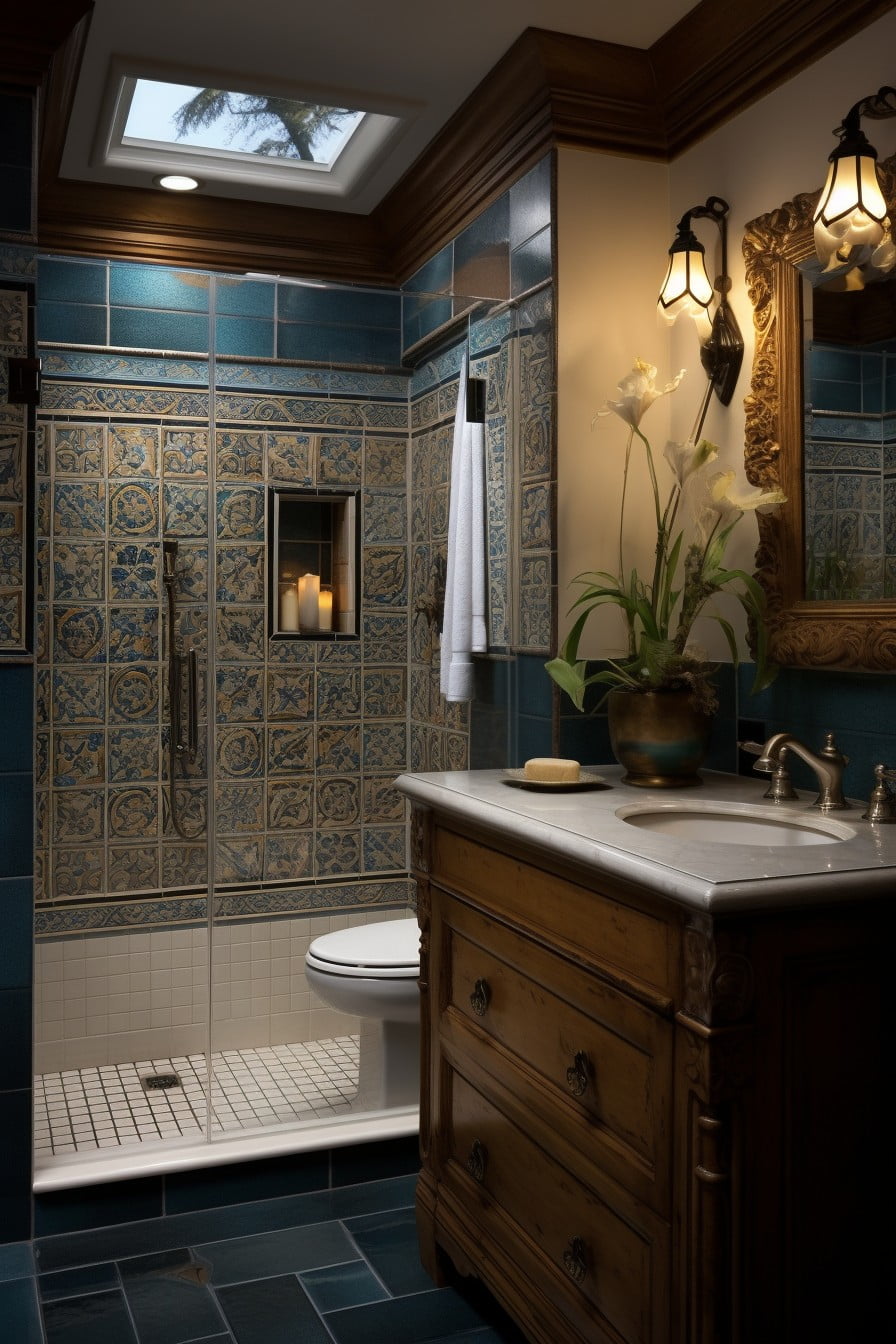 Opting for a tile finish creates a solid, waterproof surface – an essential attribute in a bathroom. The tiles provide an elegant yet robust look while the accent trim brings in a touch of contrast and definition. Moreover, the variety of materials, colors, and patterns available in tiles enables you to customize according to your aesthetic preferences.
For a visually engaging effect, choose a trim color that either complements or provides sharp contrast to the dominant tile color. Metallic finishes like chrome or brass can add a luxurious feel while porcelain or ceramic blends nicely for a subtle approach.
To make your tiled knee wall stand out even more, explore different tile shapes beyond the traditional square or rectangle. Unconventional shapes like hexagons or scalloped tiles can add dimension and interest to the knee wall. Introduce a dash of creativity with patterned or textured tiles to give added depth to the design.
Remember, the knee wall isn't just functional; it can be a design element in your bathroom that promotes style and elegance while providing partition or storage solutions. Understanding your space and choosing the right design elements are fundamental in bringing out the best in your bathroom knee wall.
Knee Wall With a Built-in Basket for Toiletries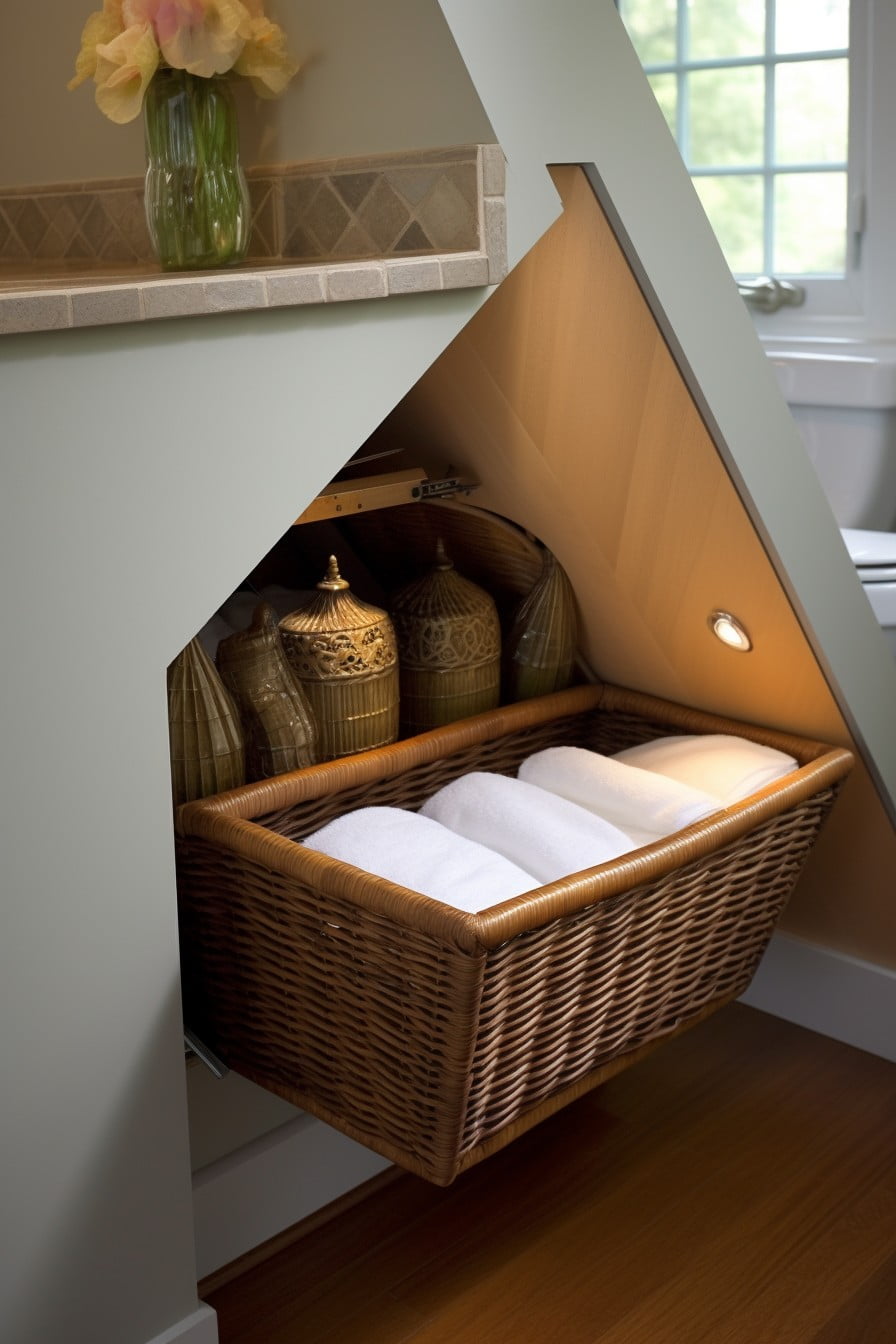 Accommodating all your bathroom toiletries can sometimes present challenges in terms of space. Here's where integrating a basket into the knee wall works a charm. It is a practical storage solution that makes it easy to have your bath essentials at arm's length, making your self-care routines more streamlined.
1. Size: Opt for a basket size that suits your bathroom dimensions and holds all your toiletries efficiently without cluttering the area.
2. Material: Consider water-resistant materials, such as plastic or coated wire, to ensure long-term durability.
3. Placement: For maximum convenience, place the integrated basket at a comfortable reach, whether standing or seated.
4. Design: Choose a design that complements your bathroom décor. It's a small detail, but it enhances the overall aesthetic.
Remember, this approach is an effective way to declutter your vanity or shower caddy and capitalize on the often-unused knee wall space, giving your bathroom a neat and organized appearance.
Wall-mounted Vanity Above Knee Wall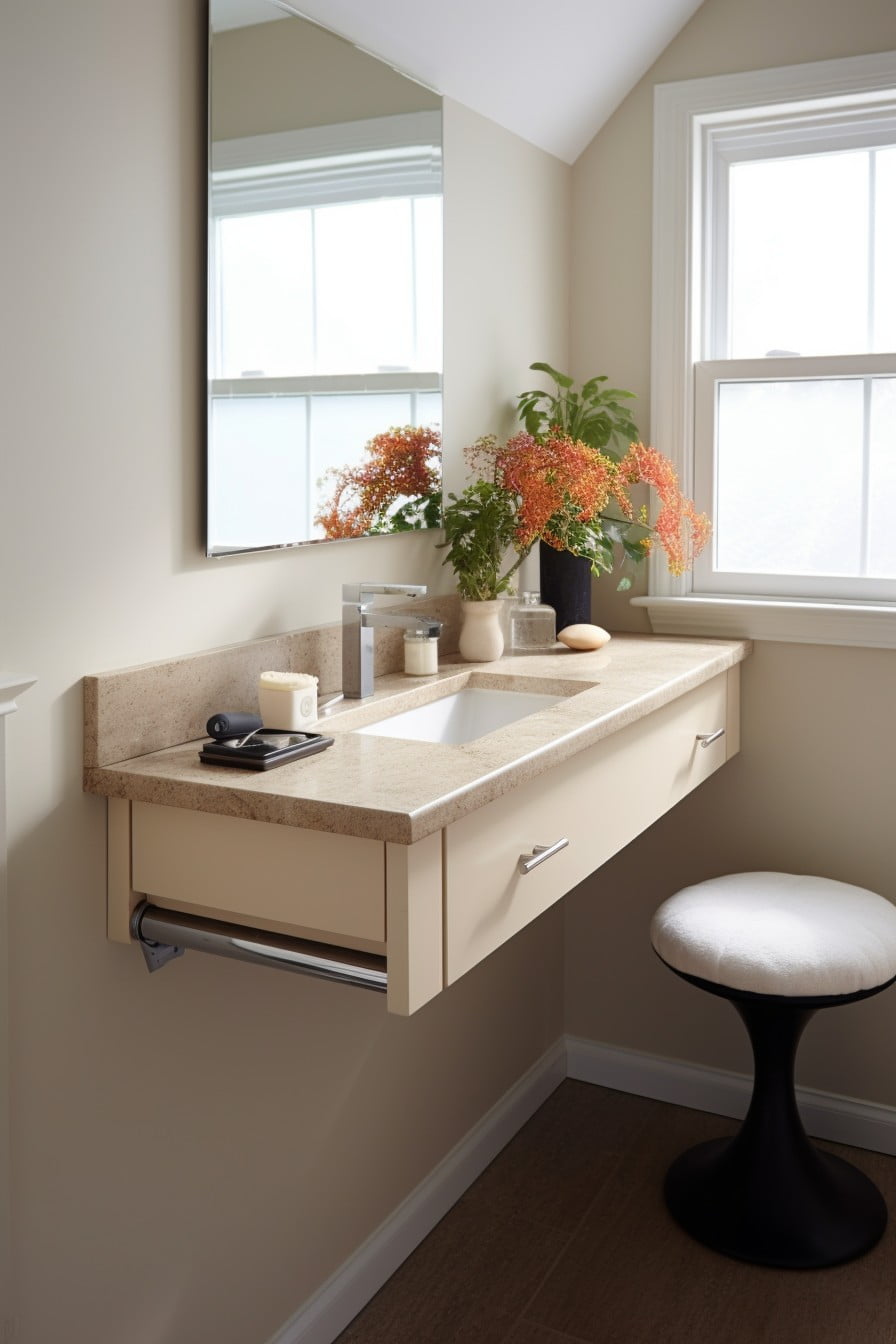 When optimizing your limited bathroom space, embracing wall-mounted vanities could be just the clever solution you need. Securely set these directly above your knee wall for a modern touch that's both functional and aesthetically pleasing. This arrangement facilitates easy cleaning beneath the vanity, making your maintenance tasks simpler.
Pair your vanity with a stylish above-counter sink, cutting through the monotonous bathroom look, and insinuating an up-to-date feel. Moreover, this layout provides an additional platform for storing bath supplies or displaying decorative items.
To guarantee durability, consider materials that resist moisture and wear, such as stainless steel or polished stone. For those who are environmentally conscious, reclaimed wood, treated to withstand bathroom conditions, adds a unique touch of charm while being eco-friendly. Opt for sleek designs if you lean towards a minimalist approach or detailed vintage styles for a more classic semblance.
Don't forget about lighting. Good lighting removes shadows and illuminates the vanity area, making grooming tasks easier. Try installing sconces on either side of your mirror or an LED strip light underneath the vanity.
Remember everything should align with your plumbing constraints and bathroom layout, consult a professional when needed. This setup, when done right, gives a floating effect, injecting an air of refinement and space into your bathroom while providing practical storage solutions.
Incorporate a Knee Wall Bench in the Shower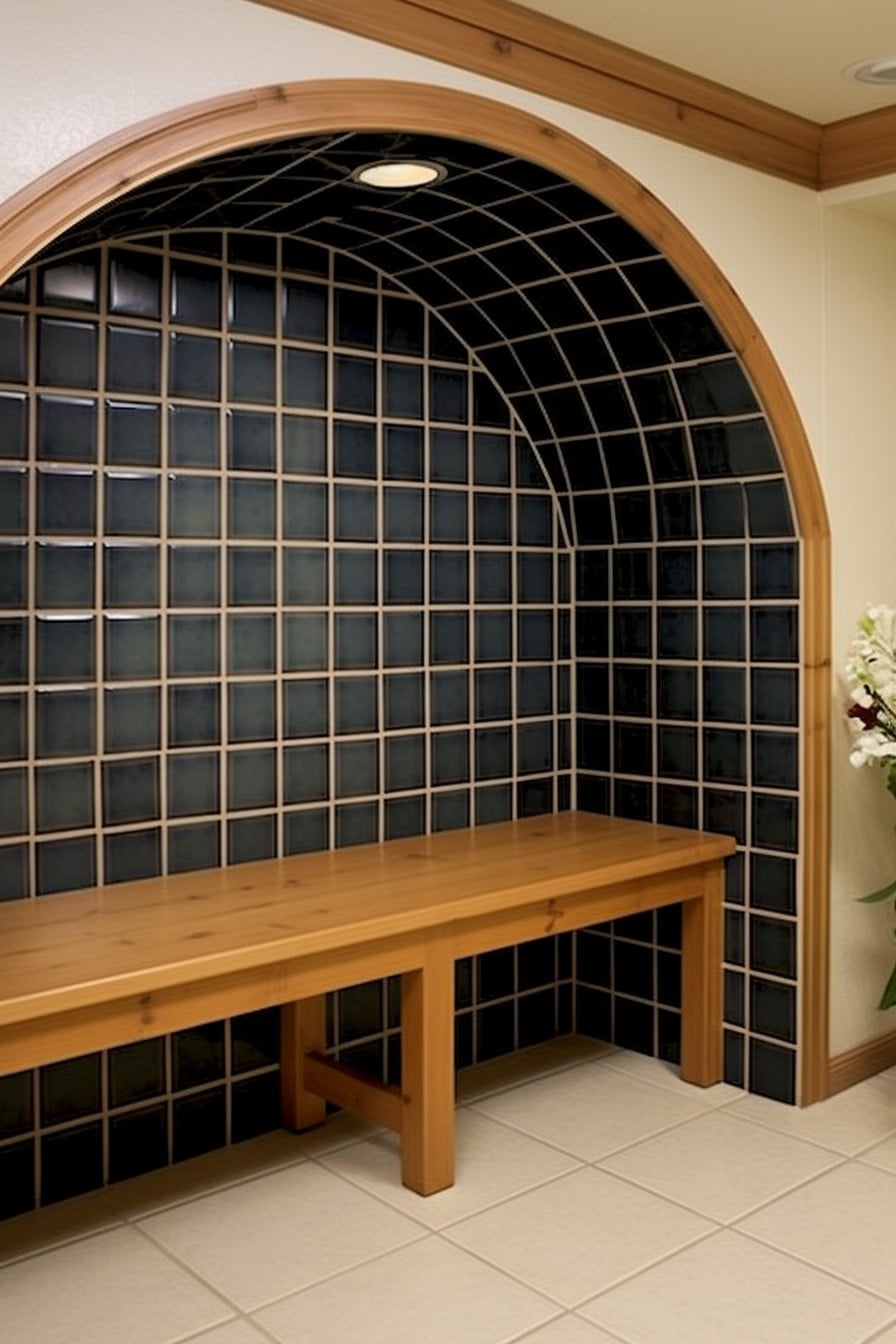 Creating a functional shower space can be amplified by the addition of a knee wall bench. It's a smart installation for various reasons. Firstly, it provides a spot for shower items like shampoos, soaps or loofahs. Secondly, it offers a comfortable perch – perfect for those rejuvenating steam showers or when you need to shave your legs. Opt for materials that resist moisture and are easy to clean, like treated, sealed wood or quartz. Remember to ensure the bench slants slightly for effective water runoff. Choose your wall placement carefully, usually the opposite wall of the showerhead is recommended to avoid hot water directly hitting it.
Knee Wall Next to Bathtub for Candles and Bath Products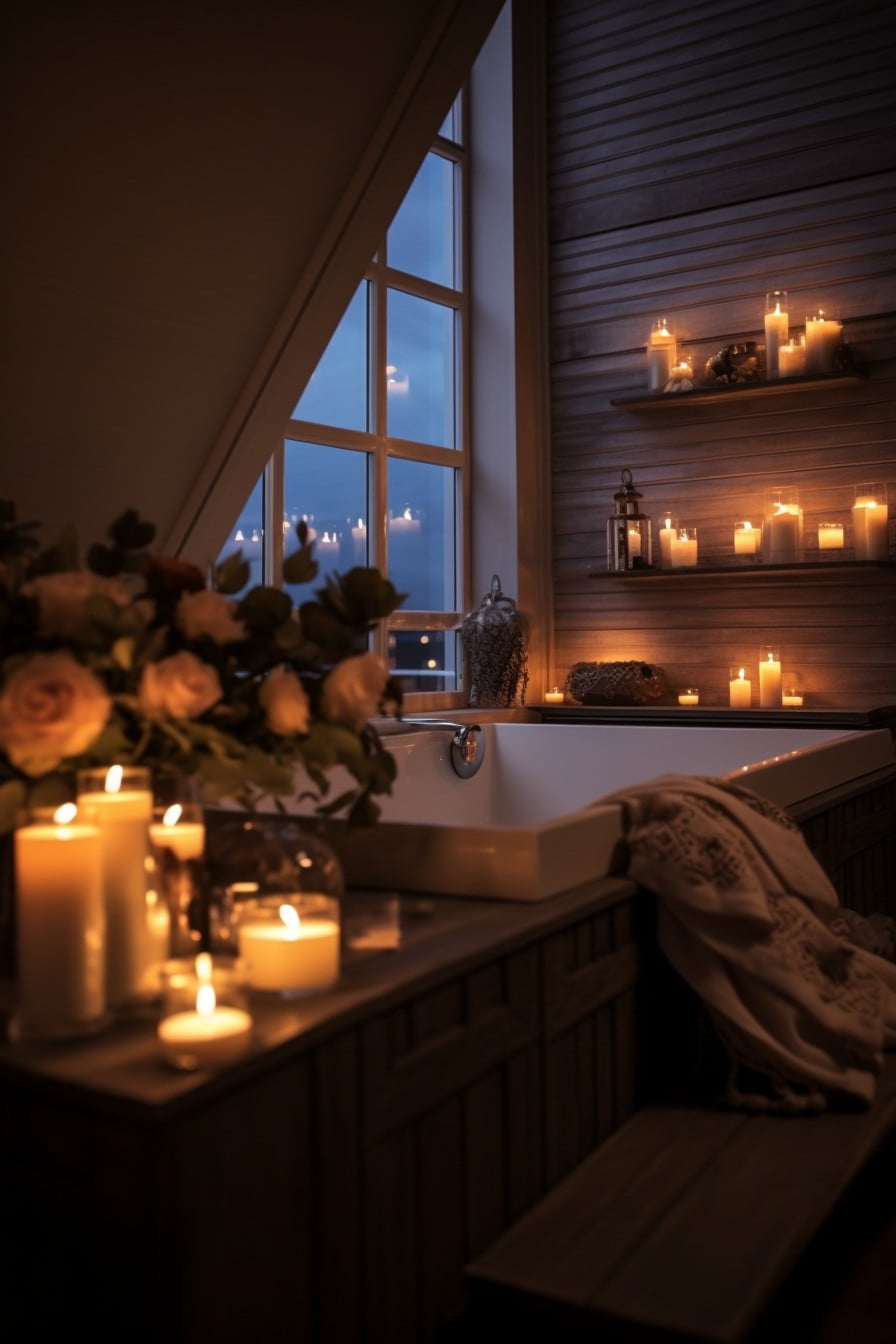 Optimal placement next to the bathtub allows for easy access while maintaining a clutter-free bathing space. Here's how to create just the right ambiance and add functionality:
Choose high-grade materials resistant to moisture and steam, like ceramic or stone, to maintain durability and aesthetics over time.
For added ambiance during bath time, create hollow compartments within the wall to hold candles. This also keeps your surfaces free from wax drips.
Design different sized partitions to hold a variety of bath products and avoid a cluttered look. Ensure there's room to fit larger bottles like shampoos and smaller spaces for essential oils or decorative items.
Install a waterproof ledge on the uppermost layer of the wall to prevent items from slipping into the bathtub.
Consider incorporating a separate section for bath toys if you have kids. The knee wall can discreetly store them away while still keeping them within easy reach.
Remember, it's important to carefully secure all items to prevent them from slipping into the tub. This not only ensures safety but also contributes to a clean, organized, and atmospheric bath space.
Knee Wall Behind Toilet for Extra Shelving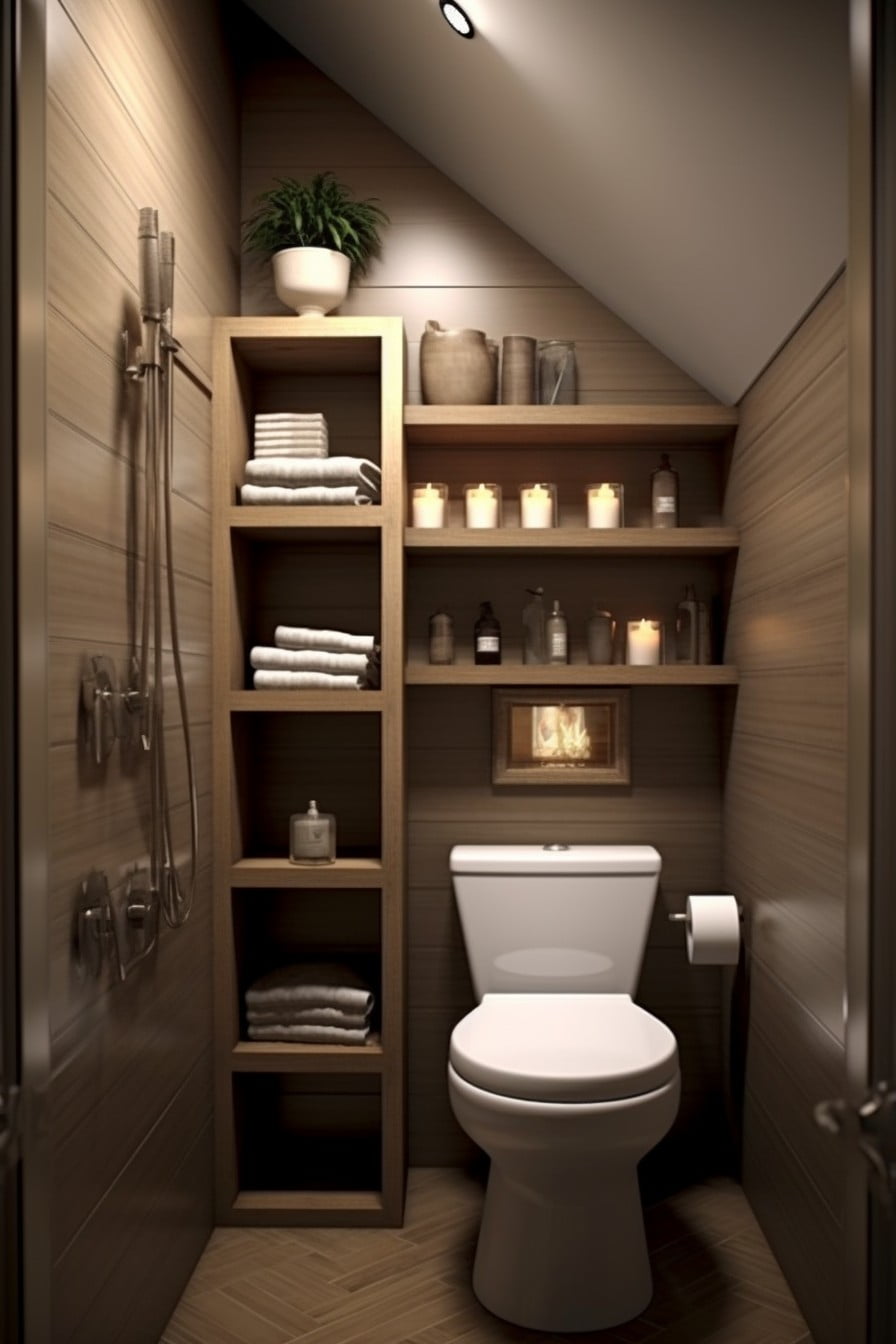 Shifting focus to the often underused area behind the toilet, a knee wall can provide valuable space for extra shelving. This is an excellent way to keep toilet paper, towels, and other bathroom essentials within easy reach. Here's how to make the best use of this area:
1. Keep the Shelf Height Functional: Ensure that the shelves are at a comfortable height for easy access. They should not be too high to reach yet not so low that they encroach on the toilet's space.
2. Make Use of Baskets and Bins: To keep the shelves organized and aesthetically pleasing, consider using baskets or bins to store loose items.
3. Choose Suitable Materials: As this area can get wet, opt for materials such as stainless steel or sealed wood that holds up well in moist environments. Avoid materials that may warp or discolor with humidity.
4. Coordinate with Bathroom Style: The knee wall and shelves should match the overall decor of the bathroom. Whether you prefer a sleek modern look or a rustic farmhouse style, ensure the materials and colors complement the rest of the space.
Remember, it's not just practicality but also design that counts in creating a stylish, functional bathroom.
High Gloss Painted Knee Wall
Accentuating the aesthetic appeal of your bathroom becomes a breeze when you opt for a high gloss finish. This not only elevates the style quotient but also provides a striking contrast if your other walls are matte or semi-gloss. Complement this glossy knee wall with chrome fixtures for a cohesive and polished look.
Consider using a dark hue like navy or emerald; these work magic in small doses and the shine makes the color even more captivating. The gloss finish also enhances lighting, reflecting light and making the space feel larger and brighter. However, remember that preparation is the key to a perfect high gloss finish – any imperfections on the wall will be magnified, so ensure the surface is perfectly smooth before painting.
Finally, the best part about a high gloss painted knee wall is the ease of cleaning. It allows you to wipe away soap scum, water splashes and more, without suffering any damage. This not only keeps your bathroom looking pristine longer but also saves your time and effort in maintenance.
Knee Wall With Hooks for Drying Towels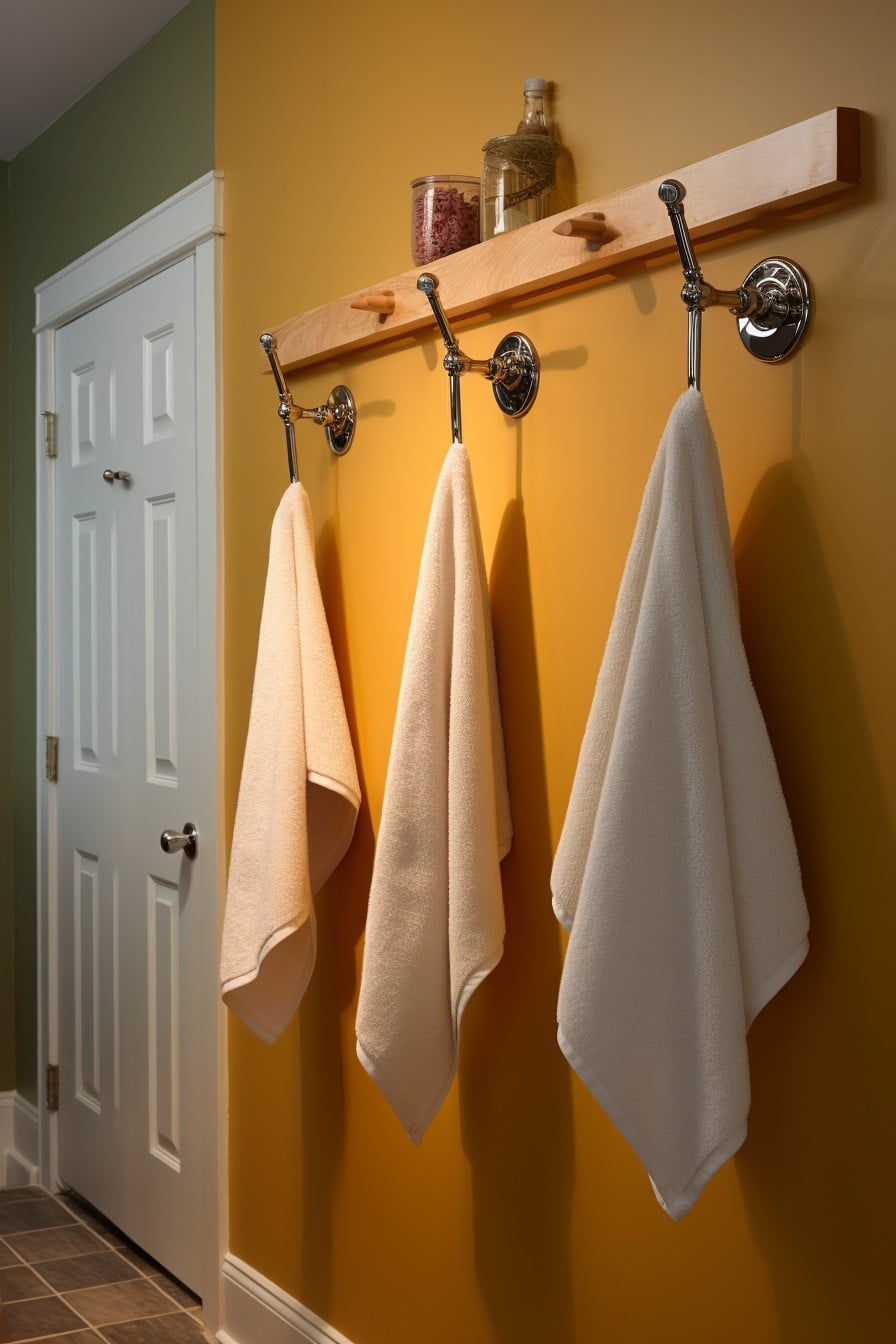 A highly practical and easy-to-implement option! First, locate the studs behind the knee wall and secure sturdy hooks onto it. This will provide a convenient spot for hanging wet towels, encouraging faster drying and freeing up other surfaces.
Select hooks that complement the rest of your bathroom décor, whether it's sleek modern metal, warm rustic wood, or something else entirely. Place them at varying heights to accommodate different sized towels – from hand towels to bath towels.
Remember, these hooks aren't solely for towels; they can also hold bath robes or clothes set aside while showering. Carry the functionality beyond the ordinary expectations without compromising the aesthetic appeal of your bathroom.
Don't be concerned about limited space. Incorporating hooks can seamlessly integrate the knee wall into your daily routine, while retaining its elegant design.
Mirror-topped Knee Wall for Extra Light Reflection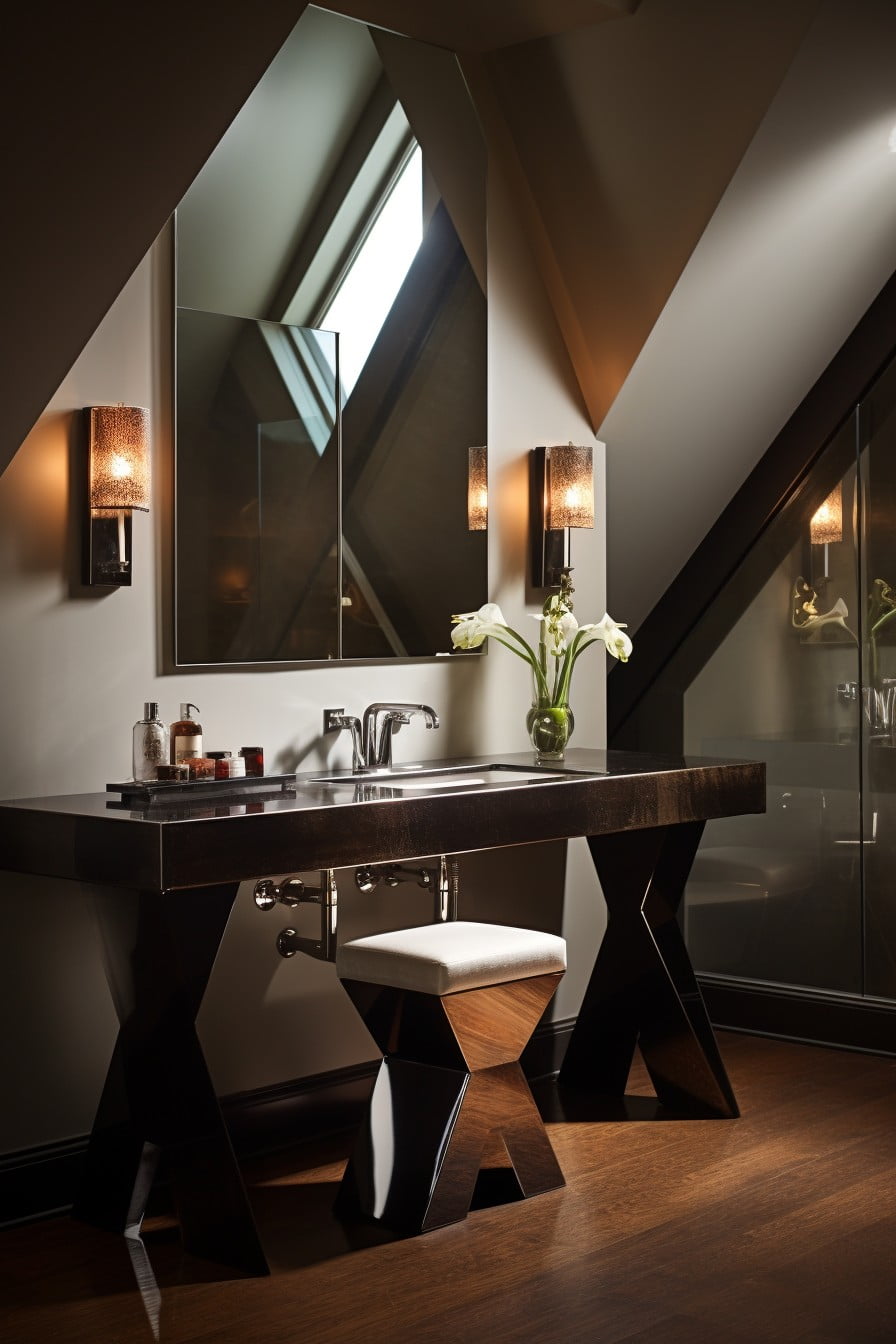 Mirrored tops can visually amplify a space while adding a dash of glamour. This method is particularly effective in bathrooms with limited natural light. Here's how it works:
1. Reflectivity: Mirrors bounce light around the room, effectively doubling the amount of natural or artificial light. This makes your bathroom appear brighter and more spacious.
2. Versatility: Mirrors blend effortlessly with any style. Whether your bathroom's aesthetic is modern, rustic, or traditional, a mirror-top will fit right in.
3. Functionality: Besides their decorative appeal, they also serve a practical use. A quick check of your reflection as you wash your hands or brush your teeth can be quite handy.
4. Customization: Mirrors can be cut into any shape and size to fit your knee wall perfectly. This means more flexibility in design.
5. Easy Cleaning: Mirrors are easy to clean, just a quick wipe down with a soft cloth and some glass cleaner will leave them sparkling and streak-free.
This type of knee wall enhancement not only serves a practical purpose but also injects a polished finish into your bathroom decor. It's a smart design move that elevates daily comforts while maximizing your space's aesthetic potential.
Paneled Wood Knee Wall for a Rustic Look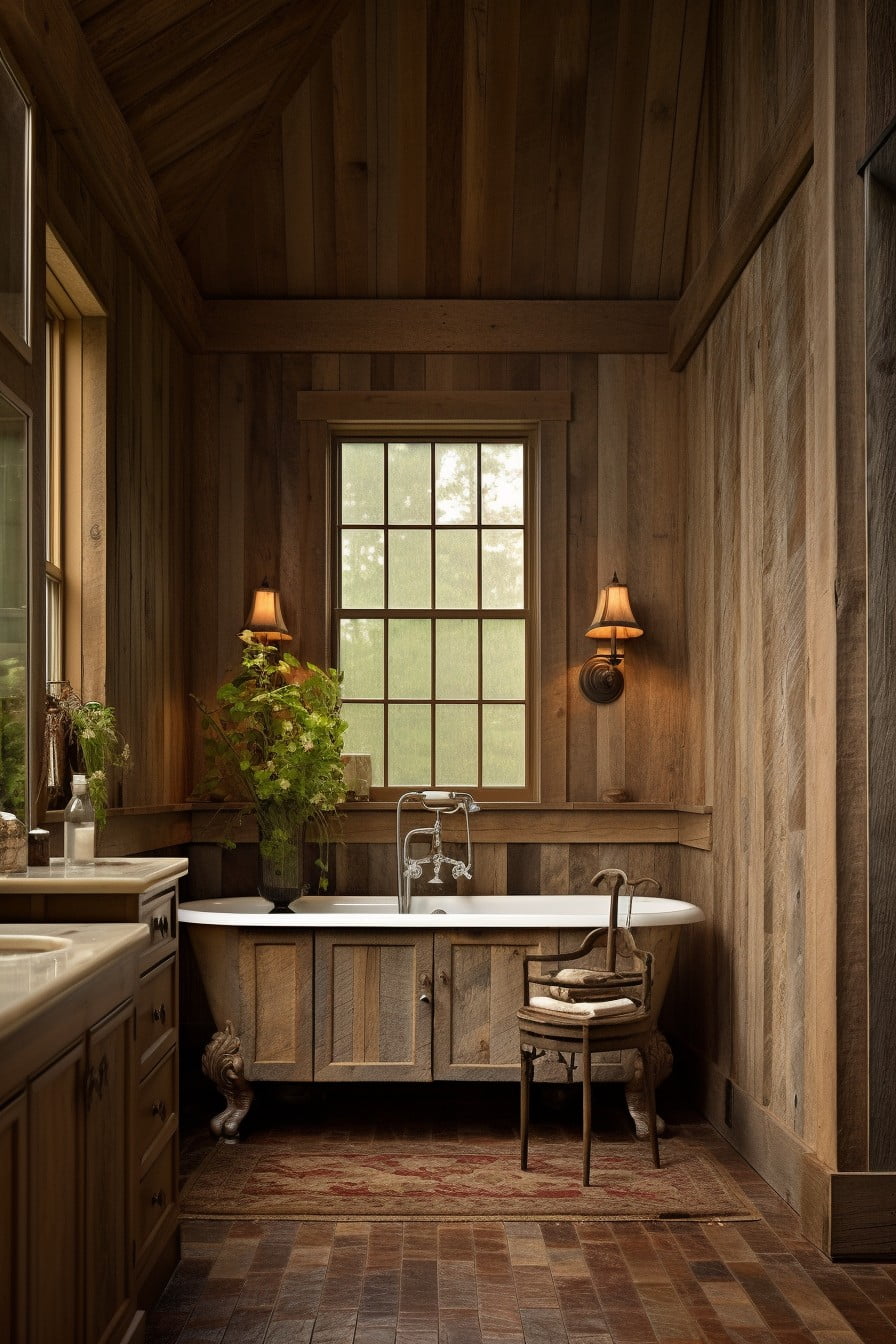 Incorporating the warm, natural aesthetic of wood can be a game-changer. Opt for rich earth-toned panels to further enhance the rustic feel. Remember, though, the key is to balance it with light-colored fixtures or accessories to prevent the room from appearing too dark or heavy.
1. Select panels: Choose from options like reclaimed wood, barn wood, or even cedar. Each has its unique grain and texture, contributing to a different rustic ambiance.
2. Waterproof properly: Importance to seal wood properly can't be overstated. This will guard against moisture damage, which is an essential factor in a damp environment like the bathroom.
3. Balance elements: Couple wood with light-hued components or fixtures. This could be anything from a white sink, light beige tiles, or even metallic accents. This balancing act ensures an inviting, rather than an overpowering, rustic feel.
4. Enhance with lighting: Complement the wood with warm, mellow lighting to highlight its natural charm. This could be achieved with candles, a pendant lamp, or downlights mounted on the knee-wall itself.
Such a design can have a grounding influence, fostering a sense of calm and tranquility, so crucial in your personal oasis.
Knee Wall With a Small Built-in Fireplace for a Luxurious Touch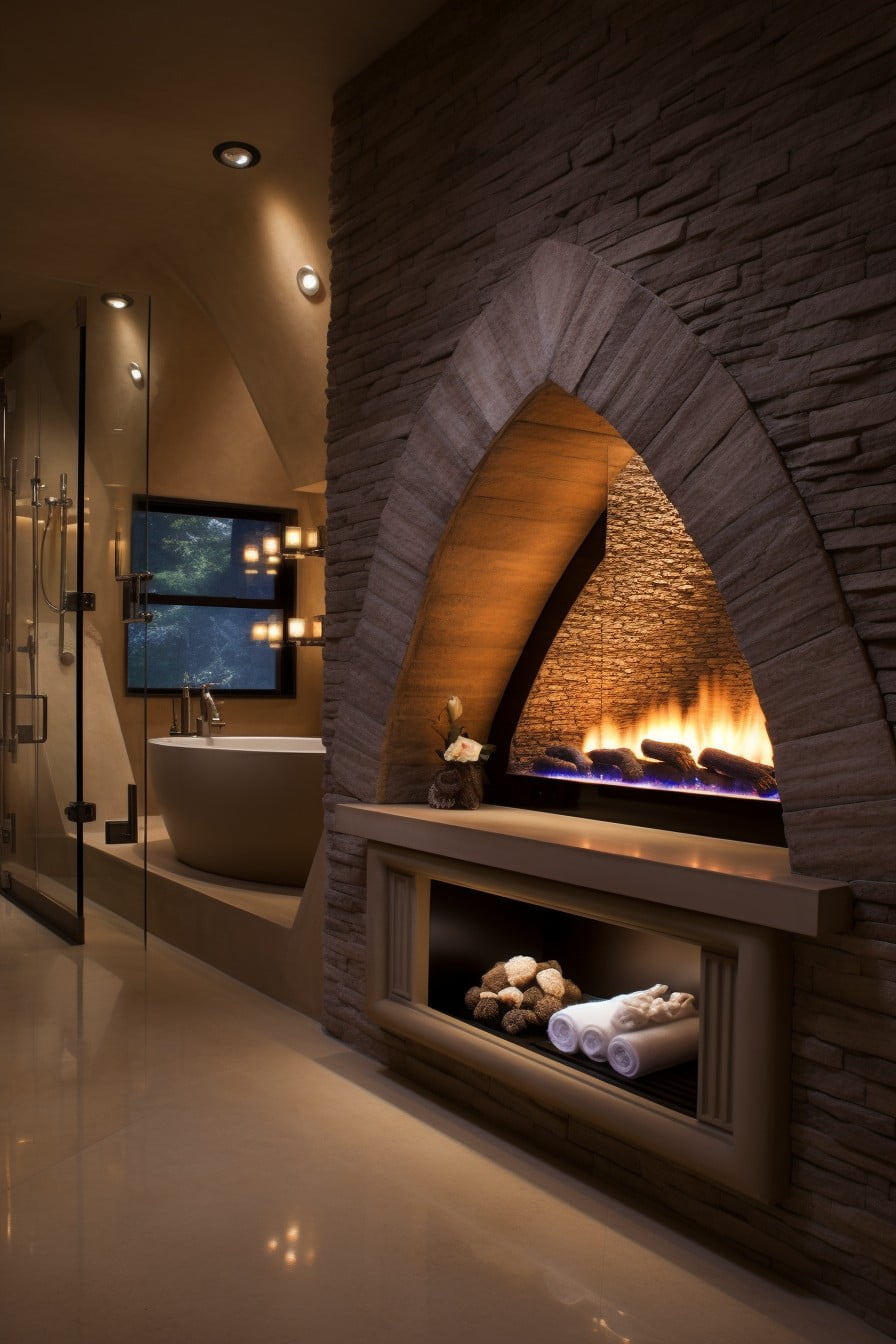 Achieving an opulent look, the built-in fireplace is a captivating feature in a bathroom knee wall. It's more than ornamental, providing warmth when relaxing in the bath.
1. Safe to Use: Despite the proximity to water, it is meticulously designed to adhere to safety standards, ensuring water and fire never contravene.
2. Space Maximization: Moreover, resorting to a knee wall for this addition helps utilize space innovatively, not compromising on the bathroom's foot area.
3. Energy Efficient: Usually, these fireplaces rely on electricity or gel fuel, both of which are sustainable and energy-efficient.
4. Serves as a Night Light: Another versatile use of a built-in fireplace is the dim light it emits, sufficing as a night light.
5. Easy Installation: The install process is relatively straightforward and quick with minimal disruption to your existing bathroom structure.
Remember, this idea is all about creating an ambience of luxury and comfort in your bathroom. While it requires consideration and careful planning, a built-in fireplace can really elevate your bathroom's aesthetic.
Continue reading:
Recap