Last updated on March 16, 2020
Looking for the best wine bottle opener to replace your old one? Why not check all the available options of different types? And what's better than the good old corkscrew? Read on to find out.
I've written a massive list of ways to open a wine bottle without a corkscrew, now is the time to give you the best options to do it with an opener. It's a shorter list and a lot easier, of course, you don't have to be as creative to use a tool. But it's fun and interesting nonetheless – you might find some exciting new options here!
We all know the good old corkscrew or the wine key very well. They are great tools that do the job if you have them around. But they do have their drawbacks, mainly the skill and strength needed to use them properly. Some people don't actually even know how to use them (those occasional wine drinkers.)
I've made this list with everyone in mind. From the hardcore old-timers and wine lovers to the beginners and occasional drinkers. Let me start with a little quiz to help you choose.
Choosing your best wine bottle opener:
Do you know how to use a corkscrew? Choose it for a compact and classic tool that you trust.
Do you have the skill to use a wine key (waiter's corkscrew)? Choose it to have an opener in your pocket.
If you want convenience and you will keep it at home only, get an electric opener.
Some nicely designed openers will look pretty on your home bar or make a great gift to someone.
So make your considerations and feel free to choose from my shortlist of the best openers. I have to be transparent that I might be compensated by Amazon for qualifying purchases (I've tagged these with #ad) and that comes at no expense to you whatsoever. I promise to get a good bottle of red for that one!
Table of Contents
Best Corkscrew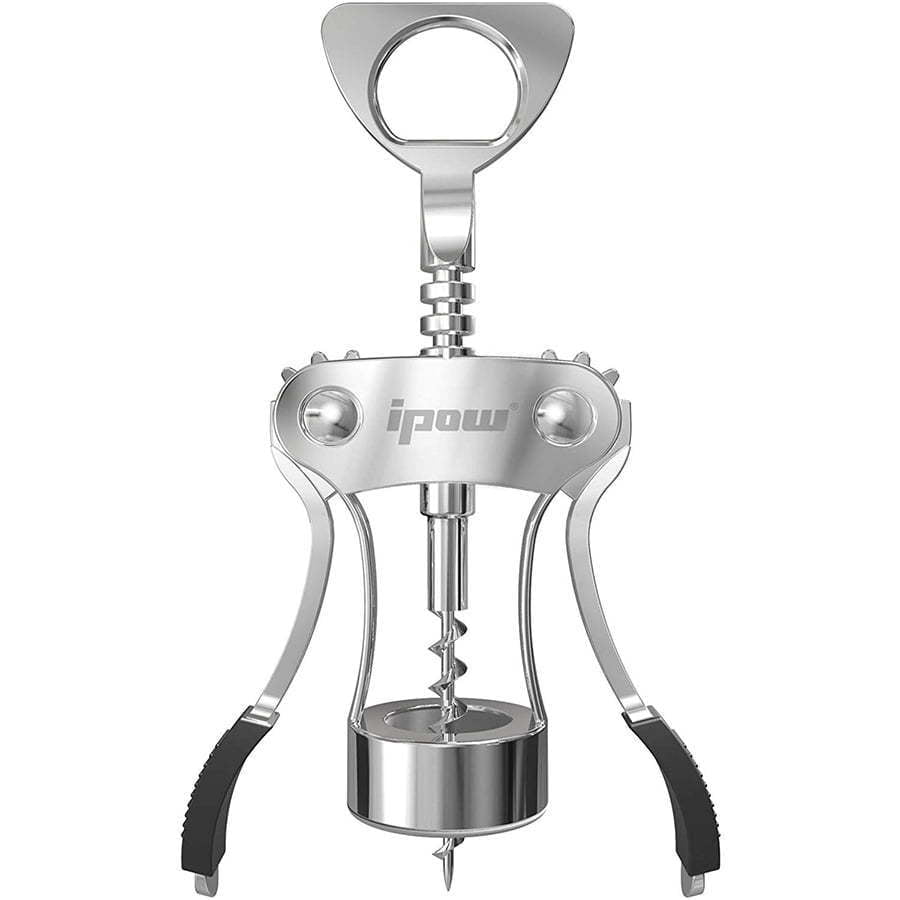 When you think about a wine bottle opener this is most likely what you imagine. It's the classic option that every home has somewhere in the kitchen. And if you're looking to get a new one (perhaps the old one is broken) this is the best option I can find.
Pros: Made of premium zinc alloy; anti-slip cover; high quality; it doesn't tear the cork; heavy-duty and works effortlessly.
Cons: The edges are sharp; handles may bend after a few months of use.
Electric Wine Opener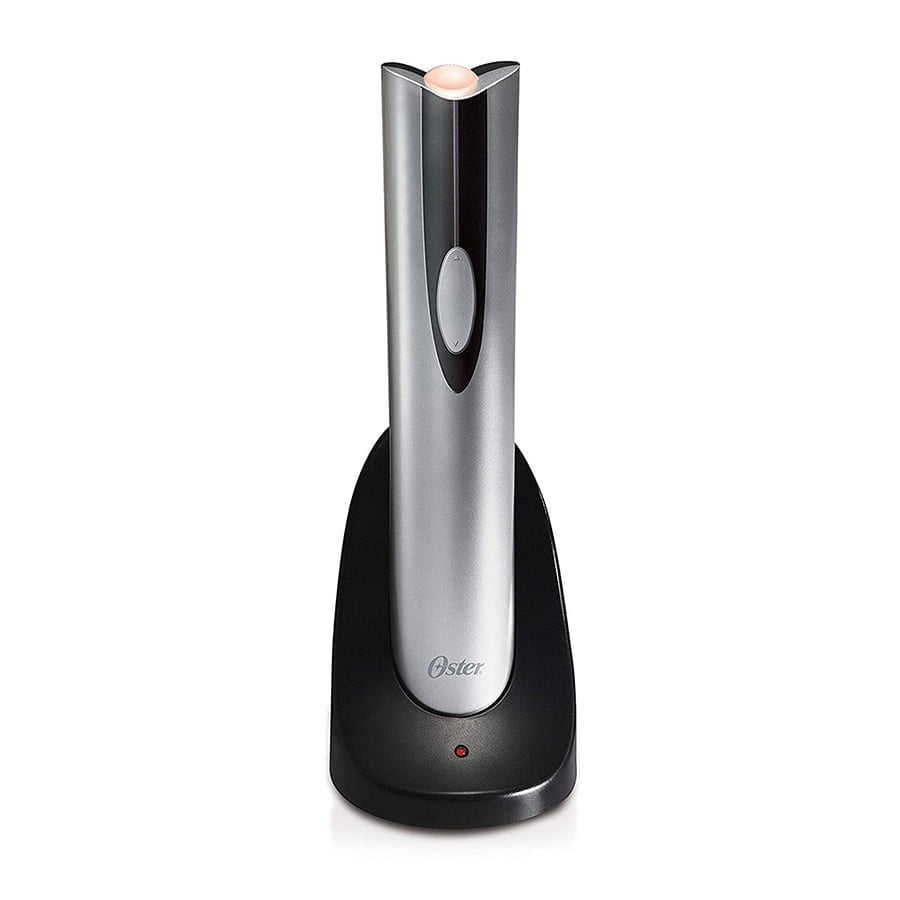 Now we're getting fancy quickly with an electric automated opener. It's the lazy man's dream. You literally have to do nothing to use it but put the cap on and turn it one. It pops the cork right off. Brilliant.
Pros: Designed to fit all traditional bottles; made with a handy foil cutter which makes it quick and easy; soft-grip handle; simple push-button operation; and if fully charged, it can open approximately 30 bottles of wine.
Cons: May experience problems with a small percentage of plastic/synthetic corks and undersized corks.
Rabbit Wine Opener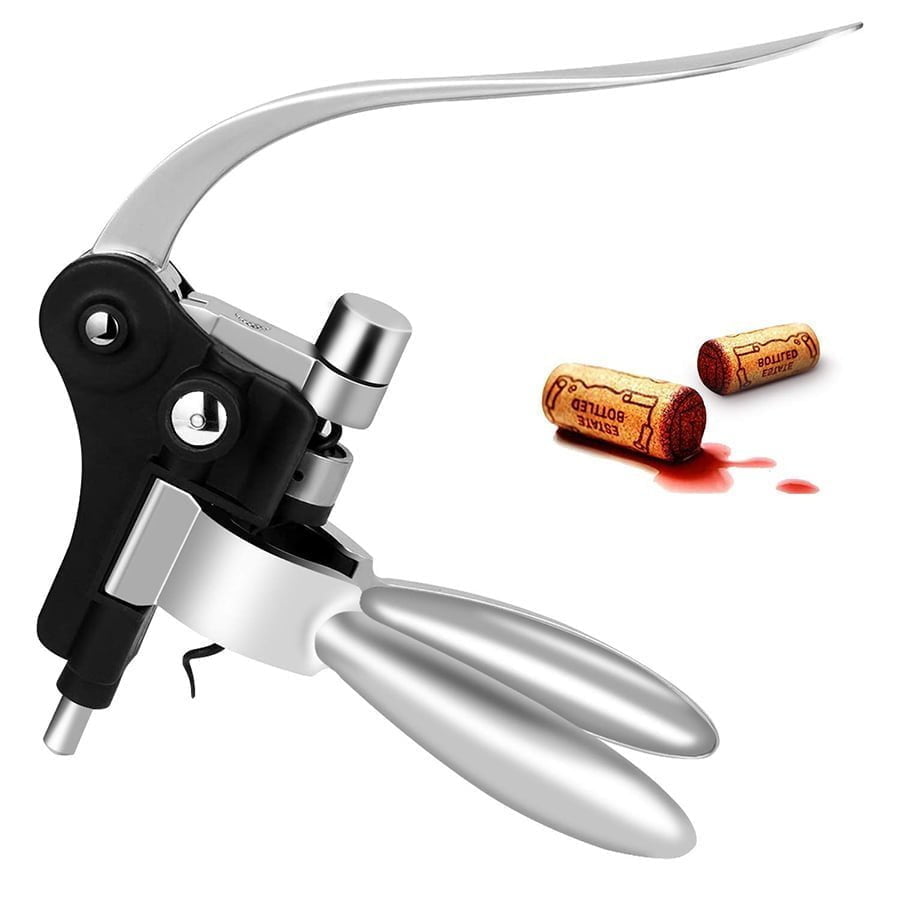 It gets the name for its looks – it does look a bit like a rabbit with those handles (airs). And the rabbit arguably is a lot easier to use than the traditional corkscrew. Wanna try it out? Do it with the best option.
Pros: Made of zinc alloy which is not easily broken; comes with replacement corkscrew and some accessories; can effortlessly remove the cork; great gift idea because of its attractive packaging too.
Cons: Instructions not included; clamp could be stronger to hold the cork.
Best Wine Key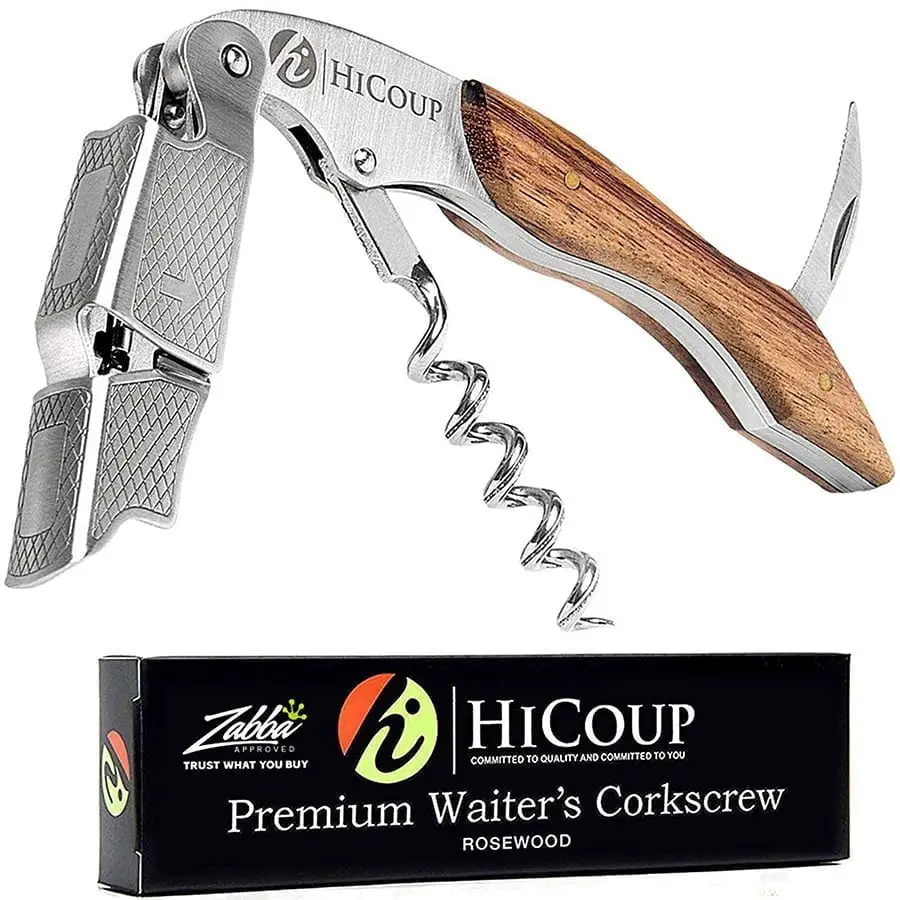 The wine key is a swiss-army-like wine bottle opener and it's called so because it fits in the pocket when folded. It's the waiter's best friend. The downside is that being so compact it takes some skill (and likely strength) to actually open the bottle.
Pros: Made of heavy-duty steel; multi-functional; fast and efficient to use; double hinge system which pulls it easily and quickly; compact and portable.
Cons: The handle is plastic; the knife is difficult to take out; foil cutter is ineffective (not too sharp.)
Automatic Wine Opener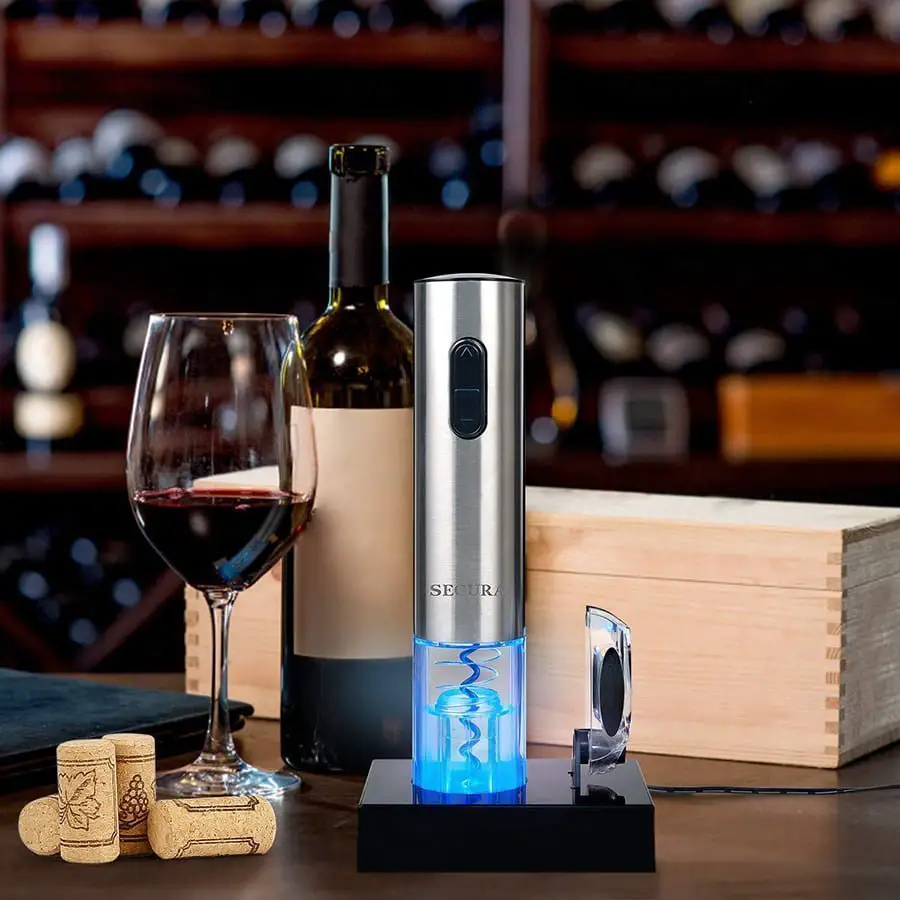 If you thought an electric opener is fancy enough, check this out. The automatic opener doesn't even need you to mount it on the cork. It does everything for you and has a nice transparent cap so you can see how it does it. Stylish.
Pros: It is a built-in rechargeable electric wine bottle opener; very easy to set up; strong and reliable; modern-looking device; simple push-button operation.
Cons: No indication of battery life; the base is very lightweight so you must be extra careful.
Bottle Rocket Wine Opener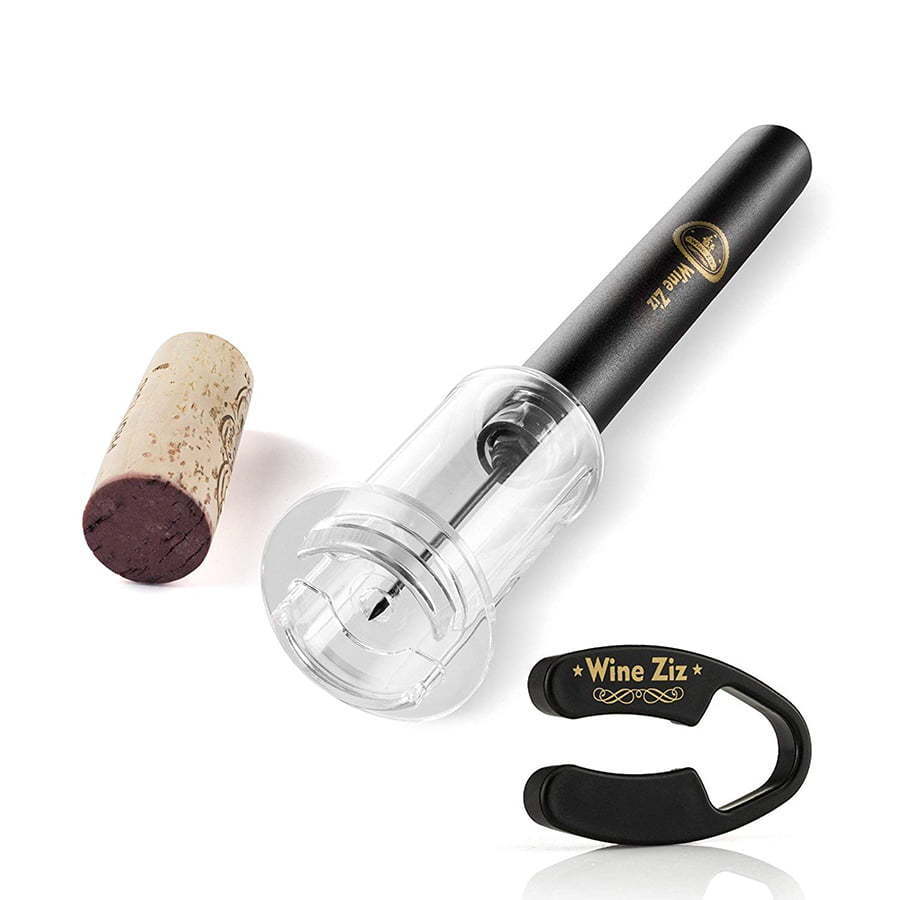 The bottle rocket is a fun alternative opener if anything. It uses air pressure to pull the cork out. So as a mechanical opener it takes very little effort (it works almost as efficiently as an electric option). All you have to do is pump it up.
Pros: Air pump wine opener which is simple, easy, and fast to use; it is the most efficient and convenient to use mechanical opener; portable and lightweight; durable.
Cons: Not suitable for plastic corks.
Brookstone Wine Opener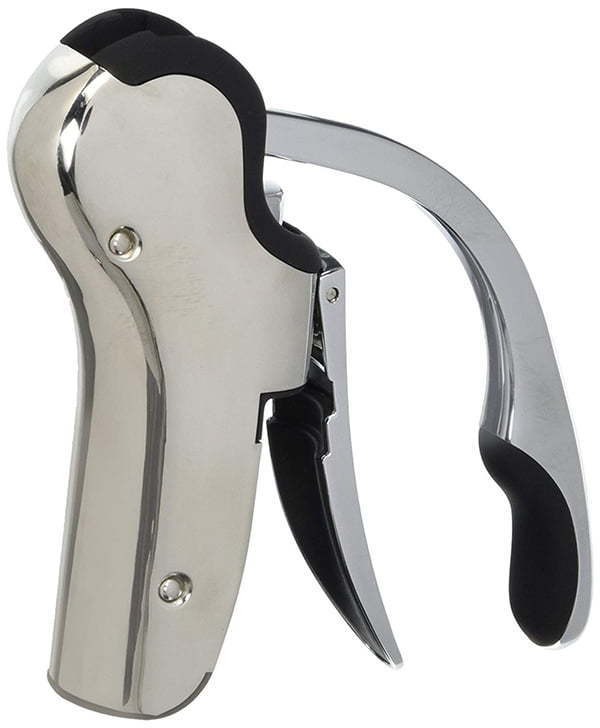 Everyone is crazy about the Brookstone's compact and stylish opener. So I have it on my list too. It looks great if anything. And it does its job to open the bottle.
Pros: Lever pull design which makes it easier to use; sleek design; foil cutter is also effective and easy to use; much more compact than most openers.
Cons: Does not work with synthetic corks.
Best Wine Opener Set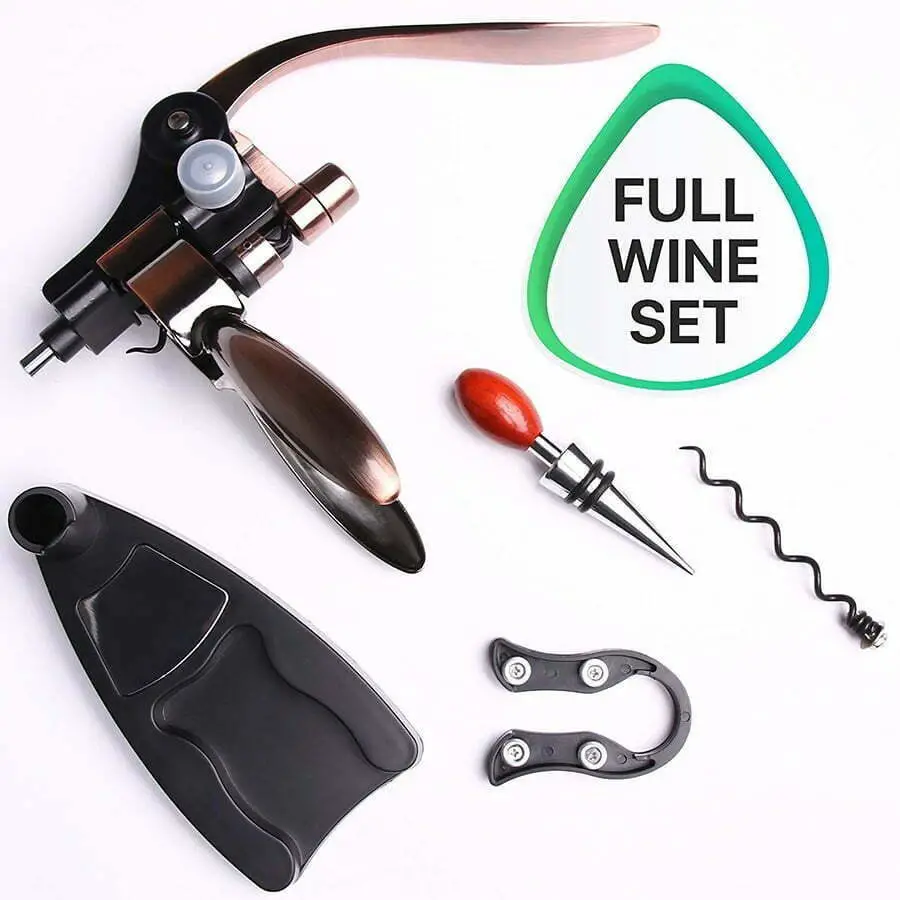 If you're serious about your wine opening then you need a full set which includes several useful accessories. A replacement corkscrew, a bottle cap, a stand, a foil cutter. It's a great gift idea too.
Pros: Made of durable stainless steel; sharp and safe foil cutter; has an attractive copper finish; works smoothly and comes in great packaging.
Cons: A little bulky; the grip is not that strong enough to grab the cork.
Houdini Corkscrew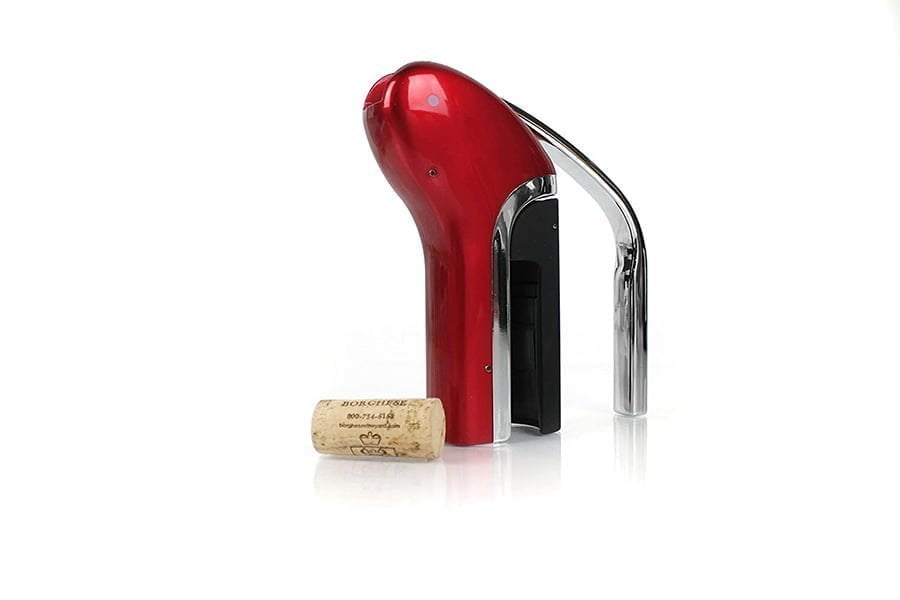 Houdini is also famous for its vertical compact corkscrews (similar to Brookstone). So it's a mandatory addition to the list. It is beautiful, I give it that.
Pros: Useful on all bottle sizes; it has a die-cast metal handle raised; it can remove the cork from different materials; it includes extra spiral and matching foil cutter.
Cons: Hard time pulling the cork, not that durable.
Pulltap Corkscrew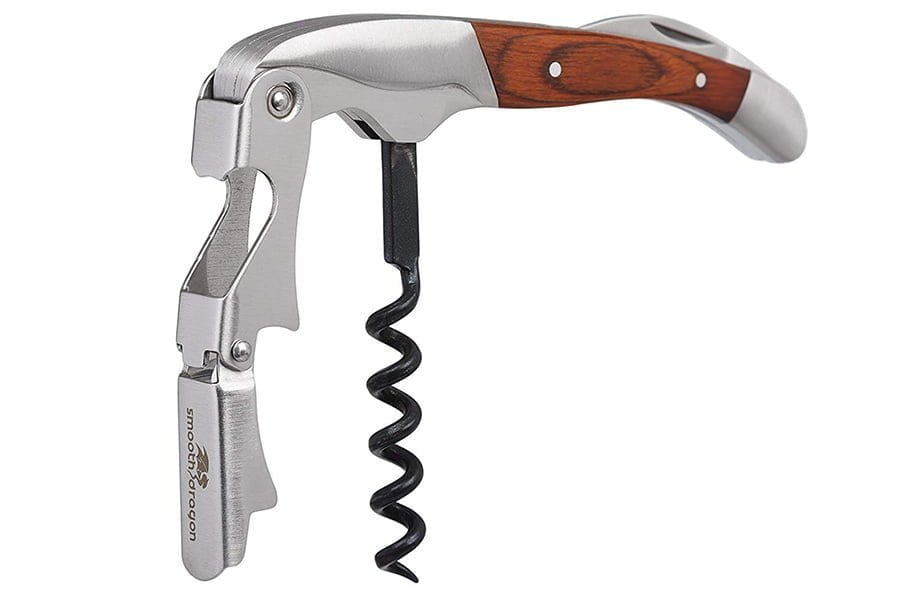 Also known as the wine key wor waiter's corkscrew, the pulltap is a compact and simple tool to pop a bottle open.
Pros: Double-hinged fulcrum which makes it easy and effortless to use; foil knife is very sharp; premium quality with rosewood holder; Teflon on the screw and a Serrated knife.
Cons: The lower lip of the fulcrum will slip off of some bottle shapes.
Continue reading: