Last updated on January 5, 2023
Make DIY repurposed wine cork charm tags as a great alternative to tag wine glasses for your next party.
I always keep my corks after I uncork a bottle. So this might be my favorite way of repur­pos­ing used wine corks (besides the wine cork mulch idea and DIY wine rack ideas). Instead of using pre­dictable store-bought charms, name-tags, or dif­fer­ent col­ored rib­bons, I used dif­fer­ent win­ery corks for my wine tags.
The next time you have a party and don't want to run out of glasses, this is the per­fect thing to have on hand. Every­one will know which glass is theirs by their winemaker. It's also a great con­ver­sa­tion starter. Every­one can chat about their par­tic­u­lar win­ery and if and what they drink from there, etc.
Go from this:
Table of Contents

To this: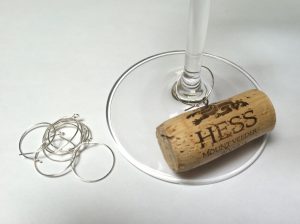 Supplies
Scis­sors to cut wire
Jew­elry pliers
Wire with a hole at the tip
Twine or wine tag clips (a.k.a. ear­ring rings)
Nee­dle or safety pin
Old wine corks (no two can be the same)
Directions
You first need to make a hole in the cork with a nee­dle or safety pin. Then you take your wire that has been cut down as seen in pho­tographs and insert it into the pre-poke hole with your jew­elry pli­ers.
From there, if you're using twine, you feed it through the hole and tie/cut around your wine glass. If you're going to use the ear­ring rings for you holder, then you just put it on the ring and fas­ten.
I think the twine is more rus­tic and cool look­ing, but it's harder since you have to cut and re-tie every time you use them. The ear­ring method is how typ­i­cal wine tags are made and sold since you can take them off and on easily.
I think mak­ing a dozen of these and putting them in a clear bag or dec­o­ra­tive chi­nese take out box would be a great gift! Think host gift, thank you, co-workers, neigh­bors, mother-in-law, boss, brother, teacher, me… well, you get the idea.
If you plan on making a trip to the wine coun­try, you could col­lect all your dif­fer­ent corks and make tags from them. Then when you use them, you'll think back on the good mem­o­ries you had on that spe­cial vacation.
I like repur­pos­ing wine corks. I usu­ally find ideas like plant mulch or DIY wine cork charms for glasses. This time I saw the ulti­mate in repur­pos­ing those old corks! Scott Gun­der­sen is an artist who makes por­traits using wine corks. The above photo shows him in action cre­at­ing a mas­ter­piece out of 9,217 corks. How cool is that? I just had to share this with every­one. It's amazing!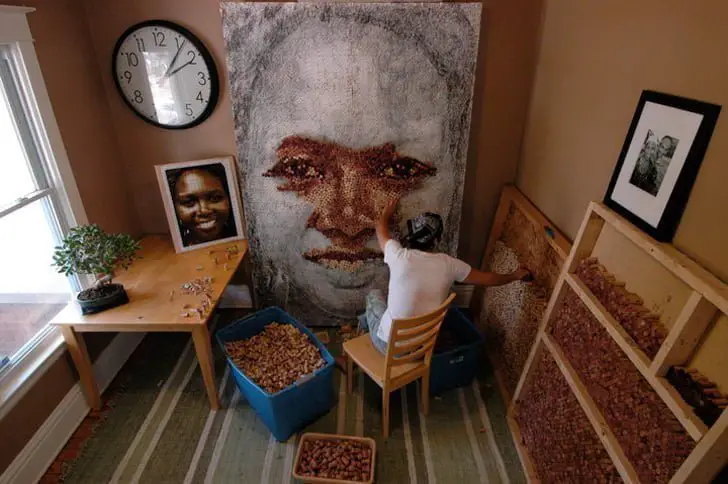 Scott Gun­der­sen/artist
Continue reading: