Last updated on September 19, 2023
These DIY jewelry organizer ideas will solve all your organization problems. Make your boxes, holders, and racks. Read on to find out how!
If you're a crafty lady and you have a large jewelry collection you will want to make the best of jewelry your storage. Organizing them all away neatly is not enough. You have to make a decor statement with it. Display your precious collection and let it define your home.
Here's what you need to know about jewelry organizers. Every type of item needs special treatment. So you have to keep your earrings, necklaces, bracelets, and rings separately, lest they tangle up into one big mess. This might seem complicated but it's not. I've made this guide to make the task simple.
Table of Contents
How to Make a Jewelry Holder
I've put a lot of time into finding all jewelry organizer solutions possible (you'll see the best of them below). But my goal was also to find one that's the easiest to make and that has a lot of value.
Here's the plan:

Materials needed for this project:
A board of plywood
Beautiful picture frame
Screw hooks
Wood glue
Easy instructions to make this jewelry holder:
Cut the plywood board to meed the dimensions of the picture frame.
Glue the plywood board to the frame using wood glue.
Screw in the hook screws to your desired positions.
Hang the jewelry.
Easy enough! And now you can hang it just like you would a picture frame on the wall. It has a lot of decor appeal, and it gives you a way to organize your accessories in a way that makes them readily available.
What's next? You can customize it for more style and storage, such as using these organizer plans.
Need more ideas? Treat yourself with my list next.
DIY Jewelry Organizer
If you're going to make a jewelry organizer yourself, you might as well make one that satisfy all your organization needs. This means it has to be able to hold everything – bracelets, rings, earrings, necklaces, and a bunch of other accessories.
This organizer has to have several compartments, lots of hangers and hooks, it needs a little shelf too. And most important of all, it has to look attractive. It will occupy the most visible and accessible place on the wall of your bedroom, or powder room.
Here's one such idea that features a nice walnut finish and a modern wood look. It's simple to make, but it gives you all the holders you need for all your accessories. It's a highly customizable and a well though-out project.
Over the Door Jewelry Organizer
Over the door solutions are one of my all time favorites. They are very useful, and you can use them literally everywhere (there's always a door). Be it a closet or a room door. So here's how to make one too.
In this video you'll see a brilliant organizer that hides behind a mirror. So you get storage, and a mirror. Most important of all, you don't have to think about decor at all – it's only a door mirror from the outside.
Full Length Mirror with Jewelry Storage
Speaking of mirrors, here's another hidden storage solution for your jewelry and accessories. It's a full length standing mirror (that will make any corner look good), and it opens up into a neat makeshift closet for the accessories.
It's as simple to make as it is to customize a mirror frame. It does take a fairly advanced level of woodworking skill, but it's nothing you can't learn by following the instructions.
Jewelry Box for Necklaces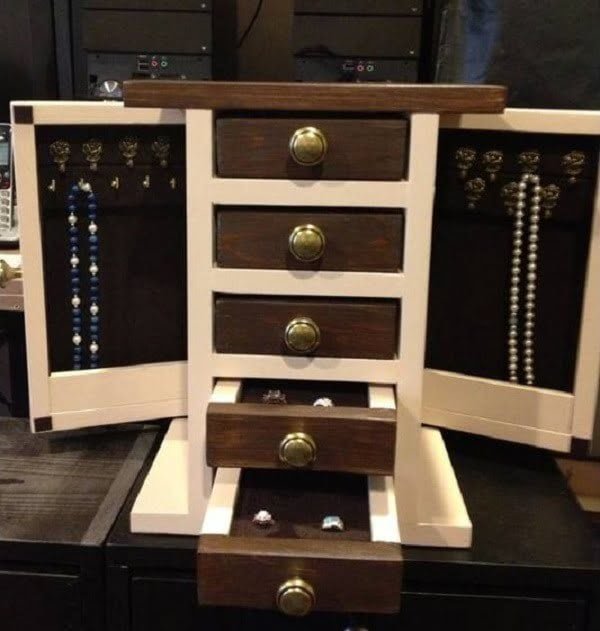 You can't have simple box for necklaces. They will get all tangled up if you don't use a special solution. The idea is to have little hooks for the necklaces in this box. It works like a cabinet of sorts. Little compartments open up to reveal the hooks where you can hang the items.
You can make this fancy box, even though it takes some woodworking skill. If you don't care to build a whole box from wood, I have a tip for you. Take any jewelry box and modify it to add those hanger compartments to the sides.
Want something even more easier? Add hooks to the sides of a larger jewelry box. You can find some great stuff in thrift stores.
DIY Bracelet Holders
This idea for bracelet holders is really simple. And its simplicity it's so attractive. There are many ways to hand and hold the bracelets but this one is really neat.
The design of this contraption is to provide you with a bar to hold those bracelets in a very accessible way. It makes somewhat of a display too. So if you have a lot of bracelets, and you want not only to store them but put them on a show too, this is a very cool way.
Picture Frame Jewelry Box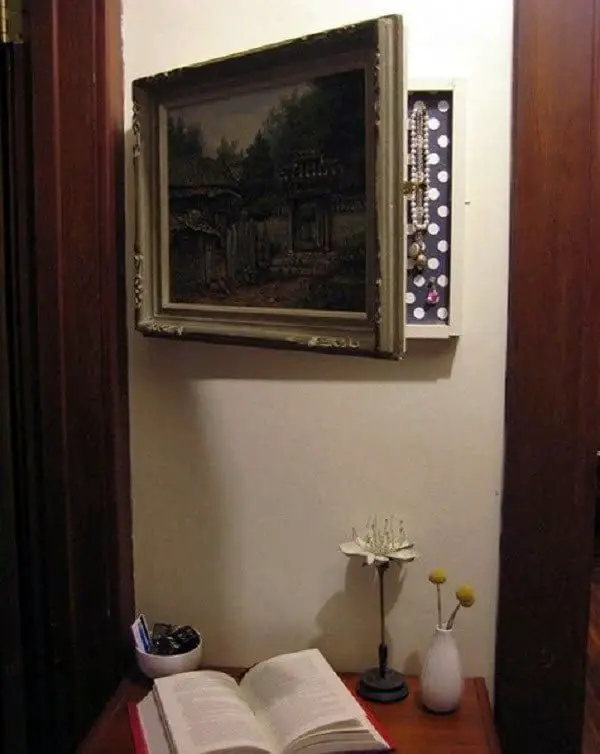 This idea is great on so many levels. If you're not the one to put your accessories on display, but you still want to keep them close and accessible, this is the solution for you.
Hide the organizer behind a picture! It's a nifty contraption that will make you feel all like a top spy – hiding all your precious jewelry in a secret place.
All, in all, the idea for the organizer itself is like most wall mount board on this list. The main difference is the picture frame for the door.
Earring Organizer Box
These earring organizer boxes are like those you see in jewelry shops. I really like those. And who says that you have to be selling them in order to keep them neatly and looking good.
I love this idea and I'm so making it for myself. It's really easy too. You just need to pick up a box with a glass lid (see-through), and roll pieces of felt on pencils to create the organizer.
DIY Earring Display
Here's another beautiful way to create earring display. It uses a vintage picture frame and wire mesh. It can't be any easier to put this together. And the holder it makes is so attractive.
Pegboard Jewelry Display
A pegboard with those little pegs seems like the ideal organizer for those necklaces, bracelets, and more. And the best part is that you can make this as large as possible, and add as many pegs as you need. This can store your entire collection while making wall art of it too!
Jewelery Display Box
I'm a fan of displaying your jewelry and everything pretty you've got at home. This project makes a display box (or case) to put on a real show. Is it too tacky to keep something like this at home? Nah! I can think of a bunch of necklaces that I'd want to be displayed like that.
Wall Mounted Jewelry Cabinet with Mirror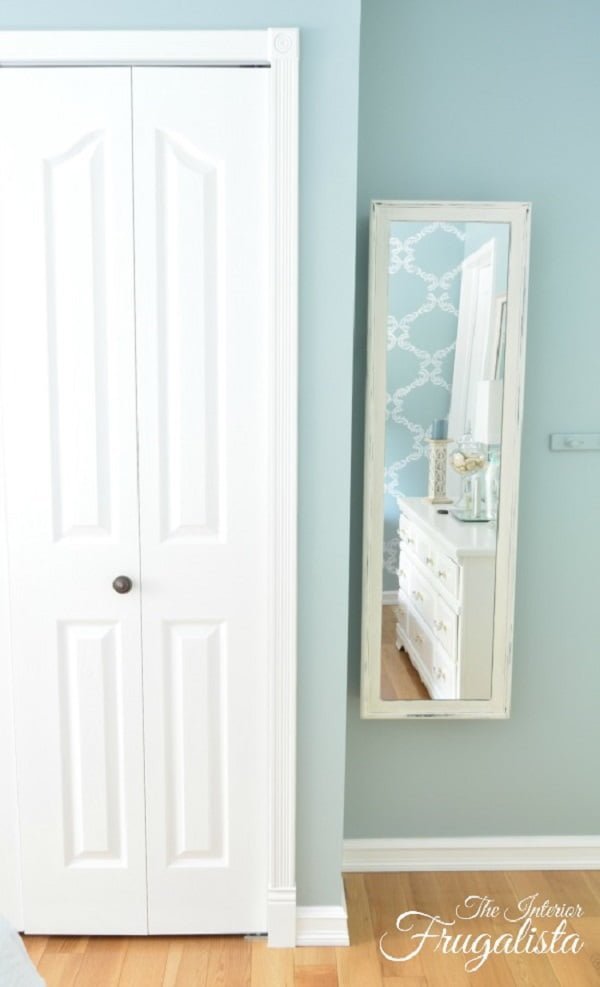 I love how practical are those mirror cabinets in the bathroom. The make the vanity beautifully neat and useful at the same time. So here's a though. Why not make something like that for the jewelry. You can use this in the bedroom, or a walk-in closet.
Wood Necklace Display
Displaying necklaces can be quite a piece of art. And these little wooden pyramids are taking over the world. The idea is so simple, and it's really attractive. You can put these on any shelf or a vanity desk and make a lovely vignette from your jewelry.
DIY Wall Hangers
Hanging jewelry straight on the wall is a genius idea. All you have to do is find some attractive hooks to put on the wall. This idea can be used in any room, walk-in closets, or sides of the cabinets.
Wall Mount Necklace Holder
Need a very simple but effective way to organize your necklaces on the wall? This is a creative idea that makes hanging a few of them a bliss. Here's what you need.
Hang a piece of copper pipe on rope, and attach small hooks on it. These little hooks will serve as a real organizer.
Acrylic Jewelry Organizers
The benefits of acrylic boxes are several. First of all, you can see what's in it. And when it comes to storing your jewelry it's a big plus. Secondly, they look attractive, and they don't use up visual space (avoid creating clutter.)
DIY Necklace Displays
We've already mentioned how cool these holder pyramids are. They fit any kind of necklaces, especially those of precious metals. The looks is very modern and minimalist. That's all the rage right now.
DIY Wall Organizer
The thing about organizers (especially those hung on the wall) is that you want them to be small but packing lots of things. And when it comes to jewelry, that's all the more important.
This idea for a jewelry organizer uses a pegboard and multiple frames. You can then use small hooks (for earrings and rings), and pegs for necklaces and bracelets. Also add a couple of cylinder holders for other things, and you're good to go.
Necklace Rack
If you have a really big necklace collection, and it's growing, you need a full rack to organize it (and display it). So this wall rack is an ideal solution. Again, you can create it as big as you need, and add as many hooks as you want. That's the best part about a DIY project.
Jewelry Frame
Jewelry frames are awesome because you can easily DIY one. You can pick up a beautiful vintage picture frame for the project too. And what goes better with your pearls than something vintage?
Hanging Jewelry Box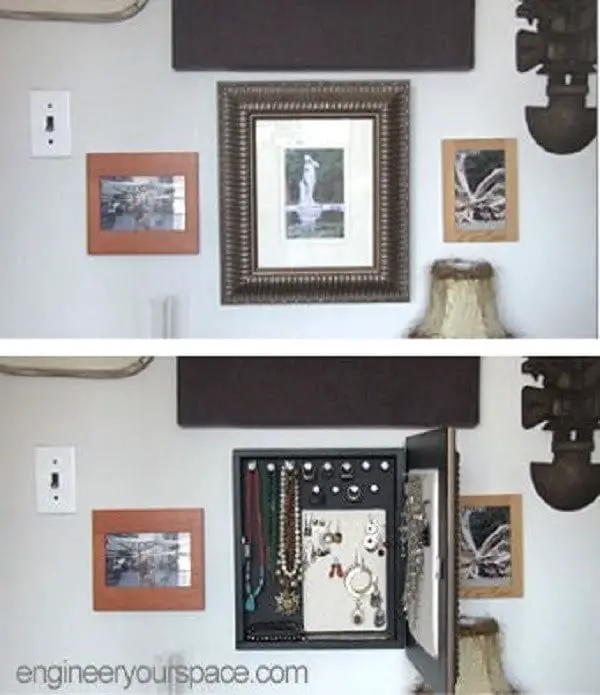 A hanging box jewelry organizer is one which enables you to hide your accessories in the most obvious places. So you can hide it behind a picture on the wall and no one will know better. It's a cool project to tackle.
DIY Wooden Jewelry Box
This one can work as your personal organizer or a gift box. And because it's basically a simple box, it's easy to make too. It's a small project, so choose quality wood to make it look exquisite.
Earring and Necklace Holder
For your earrings and necklaces you only need a board with little hooks to hang them. Make it count decor-wise by using a stunning frame. This will make you a real piece of wall art.
Notice also that this project includes a little shelf in the corner which is a cute little and useful addition.
Bracelet Display Stand
How do you display your bracelets. This little rack would help. The design is simple. You have two little bars on a pole. And you can hang a lot of bracelets to show them off.
Plastic Jewelry Organizer
Reusing plastic for your DIY projects is a great way to create something from free materials, as well as be more eco-friendly. And that's always a good thing.
This project idea for a jewelry organizer made of plastic bottles is simple brilliant. It looks better that you think it would too!
Large Jewelry Organizer
Need something large to store all your accessories? It might as well take up your entire wall. Build this to create yourself as much storage space as possible. It looks gorgeous and whimsical with all the jewelry racked up on the wall.
DIY Earring Organizer
Creating storage for your earrings is much easier than you think. All it takes is some cardboard, a net, and some fabric. That's it! Not only it's very convenient and useful, you can make a little display of your earrings too. It will decorate any shelf or tabletop.
Wall Earring Holder
Want to hang something on the wall to keep you organized? This simple decorative way to hold your earrings is too easy not to try. All you need is an attractive sheet of aluminum and ribbon to hang it from. It's a very crafty project.
Jewelry Display Table
It's a spinning display table. Even if you're not going to a craft fair, having something like this at home would make organizing jewelry lots of fun.
DIY Stud Earring Holder
Never lose your stud earrings again. This simple holder will make a pretty sight on the wall. The project takes a sheet of plywood and drilling tiny holes. It offers loads of space for your entire stud collection.
Hanging Earring Organizer
Need something highly functional? Try this hanging organizer for your earrings. As most projects of this type, it will take a net to hold those items. it's great too, because the structure provides lots of flexible storage space.
DIY Jewelry Stand
This stand is made of copper pipe. It's simple, and it looks luxurious. Try this project if you want to add some pizzazz to your vanity table.
Closet Jewelry Organizer
This unique idea makes an entire closet for your jewelry. It's shallow, so it won't take up much room. It looks great, though. Who wouldn't like to have a closet dedicated to their jewelry in their room? I know I would.
Kids Earring Holder
Don't forget your little girls! Make something cute and fun like this holder. It's a DIY project you can make together too!
Homemade Jewelry Box
A jewelry box is more than a place to store your accessories. It's a decor item in and of itself. Make an adorable one with little drawers and compartments. It won't give you much storage space but it's great to keep small items like rings and earrings. It can make a lovely gift too.
DIY Jewelry Tree
You know what a jewelry tree is. Its value is more decorative than functional. But it's a quick and easy way to rack up your necklaces. You'll love this DIY idea too because it uses real twigs to make a realistic tiny tree.
Jewelry Board
A jewelry board is a versatile type of organizer. It's quick and easy to make, it has decor value (as much as a picture frame), and it can store many items. Check out this idea with burlap and clothespins for a rustic feel.
DIY Jewelry Organizer Box
The idea organizer box needs to have many compartments to keep all jewelry separate neatly (lest they tangle). It's especially useful to keep those earrings in pairs. A box like this makes a nice display case too.
DIY Necklace Hanger
You don't need much of a rack to hang necklaces. The only important thing is that it must look good. So use a wood board painted in chic paint job, and choose beautiful vintage knobs. Use as much color as possible.
Door Jewelry Organizer
This idea is so simple. Use command hooks on a door, cabinet, or wall. It's so versatile you can create an organizer just about anywhere.
Jewelry Tray Organizer for Drawers
Most of us like to keep jewelry in drawers and we need drawer organizers for that. It's a simple idea. You only need a lot of small compartments to keep all items separate. Neat!
Hand Jewelry Holder
This project idea is useful as it is whimsical. Make a hand (your hand) statue to keep your jewelry. It's pretty cool, and rather simple to make too.
DIY Necklace Holder
There are many ways to organizer and hang necklaces but only this one makes wall art from it. It's so lovely, you'll definitely want this at home.
DIY Jewelry Hangers
Using a coat hanger to hang jewelry is a brilliant idea. All you have to do is add little hooks. And you can use it anywhere – whether you hang it in the closet or on a wall.
DIY Cardboard Jewelry Organizer
Cardboard makes any project cheap. But it doesn't mean it has to look cheap. Organizer your jewelry easily by using some cardboard and gift wrap to create this box.
Continue reading: