Last updated on July 18, 2021
The many benefits of peel stick wallpaper have helped wallpapers make a massive comeback. Read to know how different textures and colors of wallpaper are transforming homes in today's times.
Gone are the days when paint was the only thing used on walls and ceilings to make them look as good as new. Contemporary living and workspaces are now vouching for different types of wallpaper designs to make interiors look appealing. Yes, wallpapers have made a solid comeback and are here to stay. In what follows below, we will take a closer look at how stripe peel and stick wallpaper and other wallpaper designs are passing on their main benefits to homes and offices.
In case you are considering investments in wallpapering, then it's important to know these three major benefits of going the full way with wallpapers. 
Table of Contents
Why Should You Choose Peel and Stick Wallpaper for Your Home?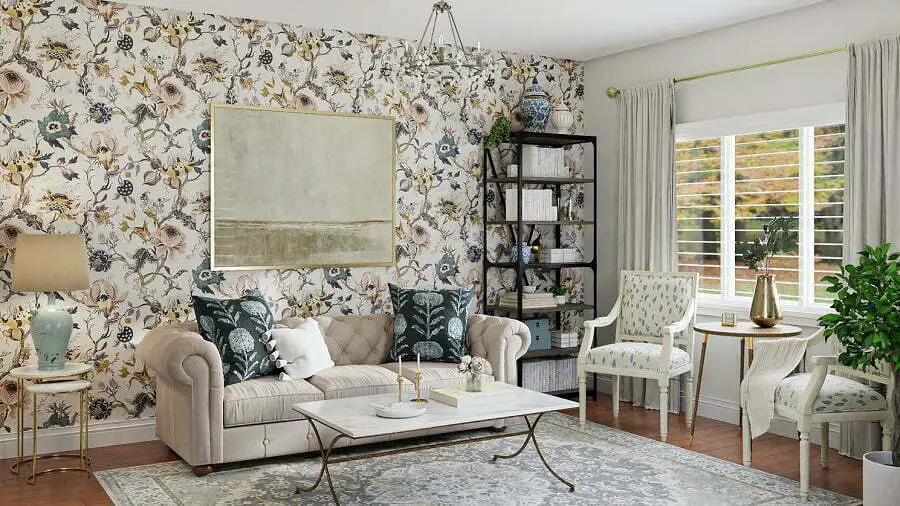 There is absolutely no dearth of options to choose from when you are ready to invest in wallpapers. Easy to install and available in different textures, colors, and designs, they showcase your preference and taste in more ways than one.
Get a Unique Look
Not all homes have the unique and exquisite look imparted through wallpapers. Wallpapered rooms are special in their way and present something different. A steady and continuous rise in the popularity of wallpaper designs has inspired manufacturers and designers to come up with varied colors, patterns, and textures in wallpapers. Be it the unique traditional filigree peel stick wallpaper or the more contemporary designs, you can find just what you want without looking too hard or long. The exclusivity of your walls can be enhanced with floral wallpapers, wallpaper designs with stripes, geometric patterns, and a multitude of classic and modern wallpaper designs. Take your pick.
Budget-friendly and Affordable
An interesting feature about most wallpapers is that they are affordable and capable of matching all budgets. With more products being added to online catalogs of wallpapers, it is no small wonder that their prices are declining every day. The multitude of brands selling high-quality wallpaper at different budgets has fueled the popularity of wallpapers as well. Now, you can buy just as much paper as you need to highlight any part of your wall, hide scars and marks, or cover the areas with peeled-off paint. You need not buy thick and long wallpaper rolls to make your budget go haywire!
Durable and Long-lasting
Did you know that properly installed, modern wallpaper can last up to 15 years? On the other hand, you may have to retouch the paint on your walls every 4 years or so. High-quality options of wallpapering are quite easy to clean as they are tough and durable. Do check out the vinyl varieties that are more long-lasting and easier to clean.
Pro tip – Avoid installing wallpaper in areas that gather moisture. This causes the wallpaper to lose its adhesive and peel off easily.
Going Forward
The expert installers and designers available online can help you get the best returns for your investment in wallpaper. Reach out to them to understand how to transform your walls within your budget and instantly.
Continue reading: