Last updated on December 1, 2023
Uncover inspirational bridal gold necklace designs because the perfect design holds the power to elevate your wedding attire to stunning heights.
Diving straight into the dazzling world of bridal gold necklace designs, this article will serve as your comprehensive guide to selecting the perfect piece for your special day.
From traditional to contemporary, intricate to minimalist, we've got it all covered.
We'll explore a variety of designs, discuss how to match them with your wedding attire, and even offer tips on preserving your precious jewelry.
So, whether you're a bride-to-be, a groom on the hunt for the perfect gift, or just a jewelry enthusiast, this article is your one-stop destination for all things related to bridal gold necklace designs.
Floral Motif Gold Necklace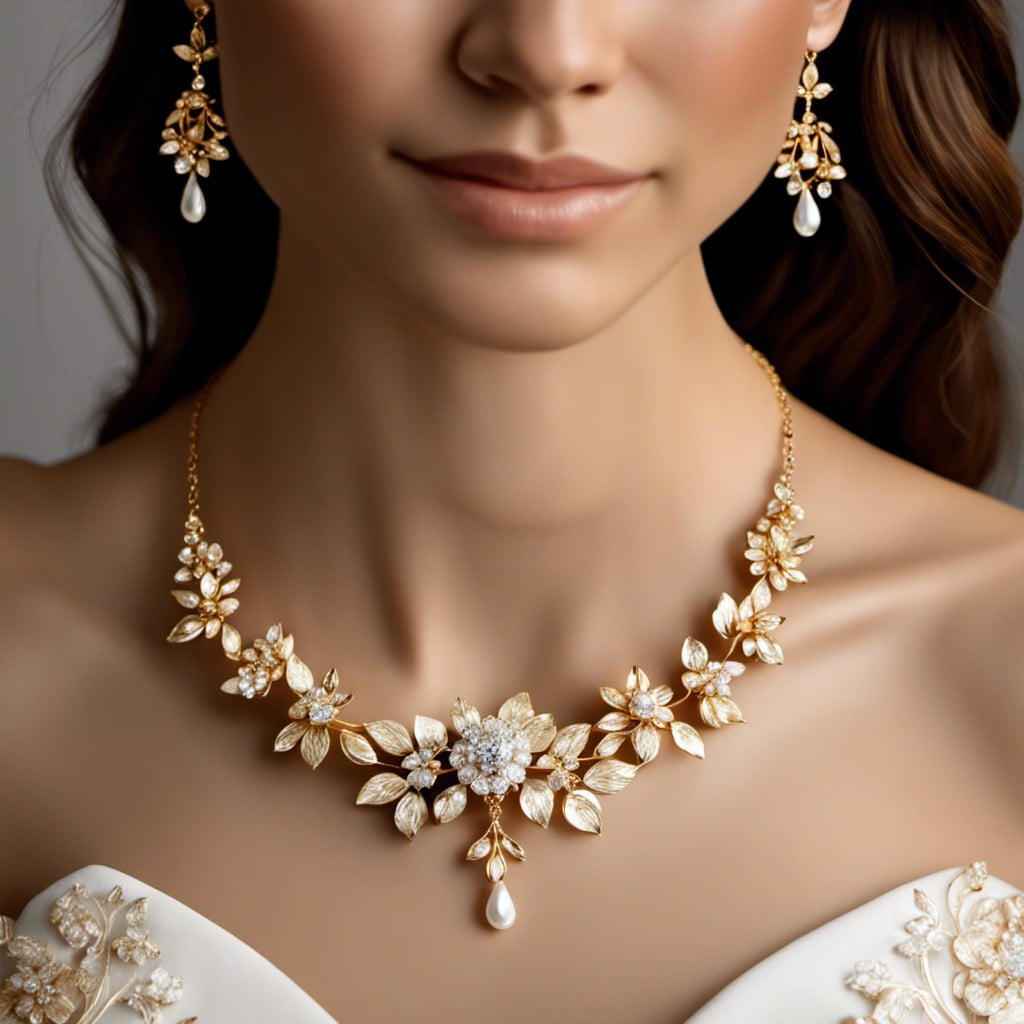 Packed with intricate patterns inspired by nature's beauty, these show-stopping pieces truly embody a springtime essence. Delicate flowers and leaves are often crafted into stunning clusters, coupled with either diamonds or precious stones to elevate their aesthetic appeal. It's the sort of timeless piece that effortlessly unites tradition with a dash of modern appeal, making it perfect for the contemporary bride-to-be.
Symbolism: Floral motifs are an ideal choice for those drawn towards symbols of renewal and femininity.
Customization: You can have fun personalizing each flower with different stones to create a unique piece.
Versatility: Its beauty transcends wedding festivities, you can pair it with formal attire post-wedding.
Appeal: They are often designed to be lustrous and eye-catching, making you stand out on your special day.
Style: Looks exceptional with both traditional and western bridal ensembles.
Vintage Inspired Gold Locket Necklace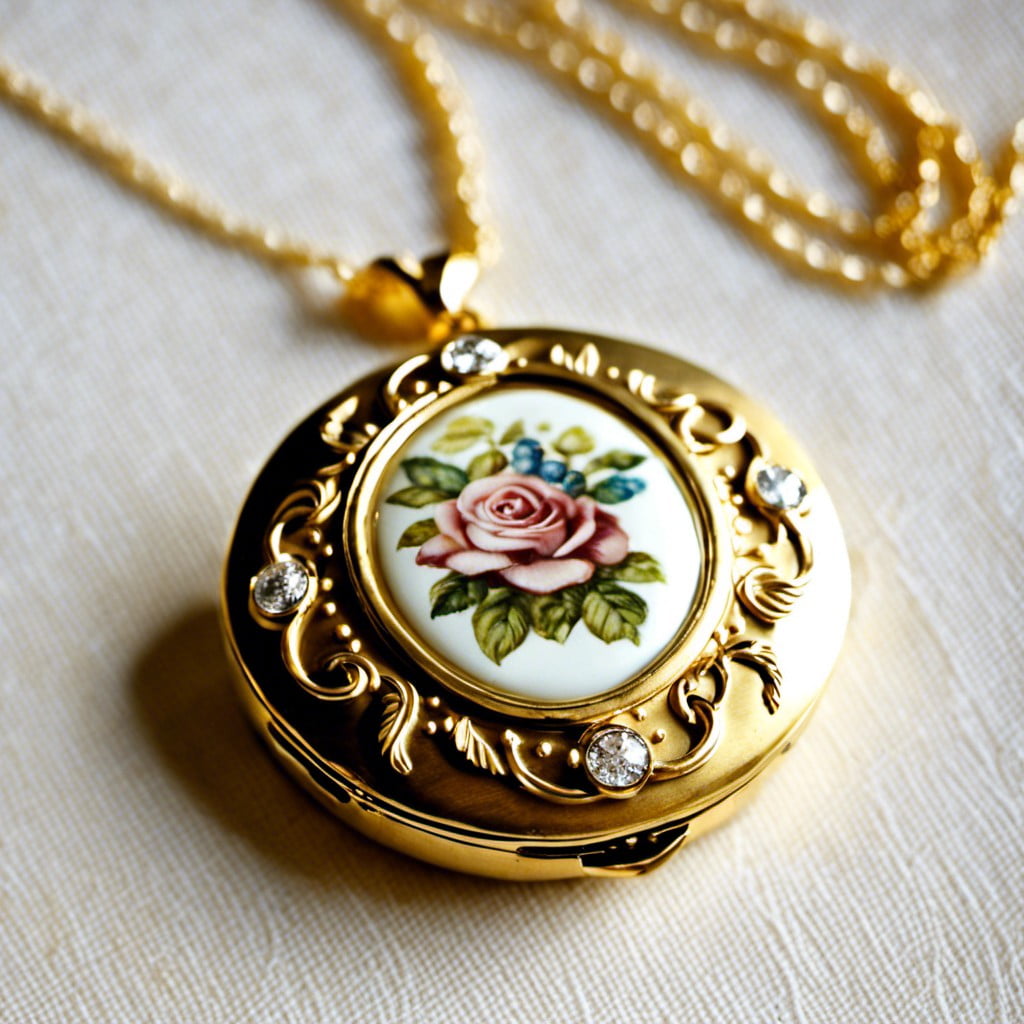 Imbibing timeless elegance, this piece offers a whisper from past eras that becomes a show-stopping centerpiece of any bridal attire. Charismatic in a distinct way, they perfectly pair with both classical and modern dress styles.
One of the charm factors is the ability to personalize them with a cherished memory, a favorite photograph maybe. Alternatively, some brides choose miniature carved portraits or beautiful miniature scenes as the locket's hidden gems.
Its design can range from simple to intricately carved patterns, oftentimes influenced by distinct periods like Victorian, Art Nouveau, or Edwardian. Enhancements can be added with gemstones or diamonds. Whatever your choice, the result is an intimate pendant exuding vintage charm.
A golden locket necklace also serves as a sentimental memento from your special day, a keepsake to treasure for the years to come. It offers a beautiful and personal touch to the traditional gold bridal jewelry ensemble.
Multilayered Gold Choker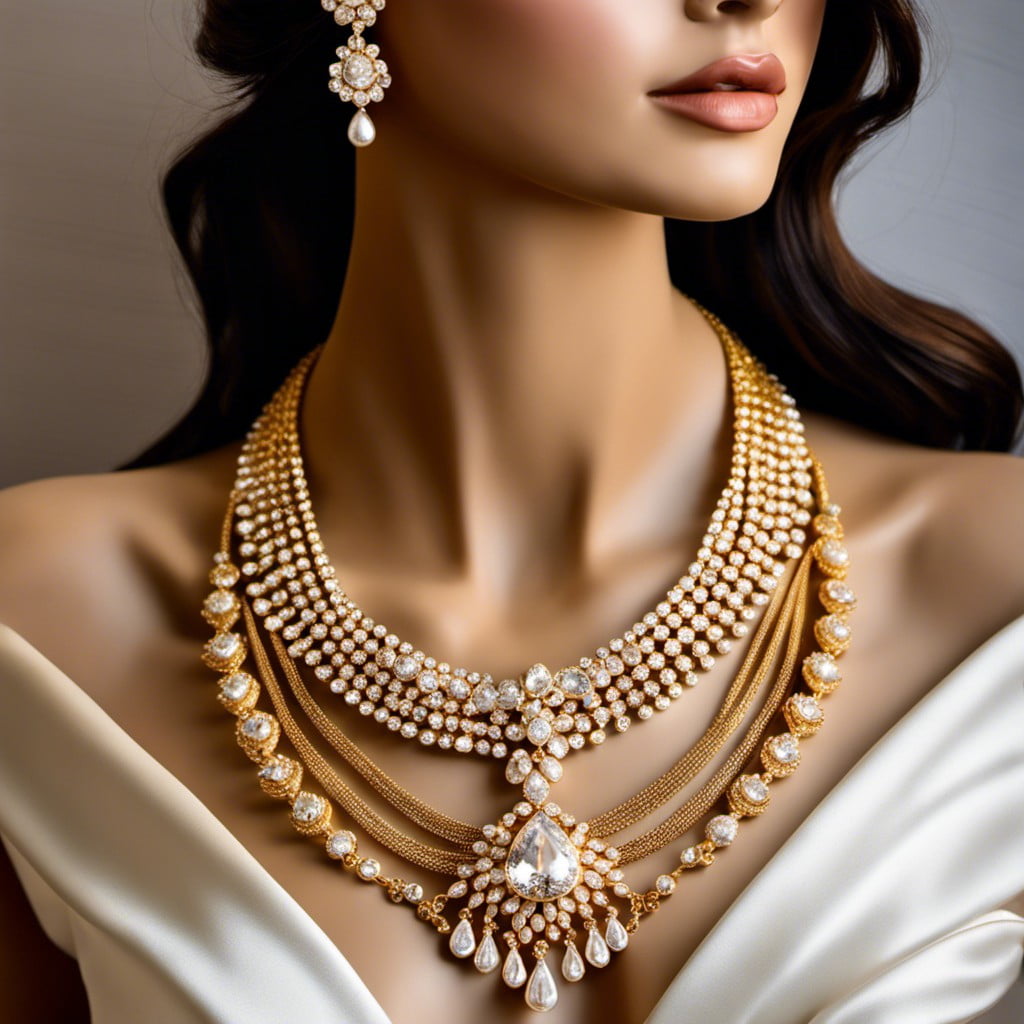 Layering is the key to acing this bold and glamorous piece of jewelry. Think of it as a work of art adorning your neck, making you the center of attention at any event.
Multiple strands of gold chains, each with unique detailing, harmoniously stacked together create a dramatic emphasis on your neckline. For added appeal, consider variant lengths, textures, or interspersed gemstones.
Pair it with a simple outfit to let this statement piece truly shine. Remember, the rest of your jewelry should be understated – think subtle stud earrings or a thin bangle – to maintain a balanced look.
A versatile piece, it can seamlessly transition from a traditional bridal ensemble to a modern cocktail dress, making it an opulent investment for any bride-to-be.
Peacock Designed Gold Necklace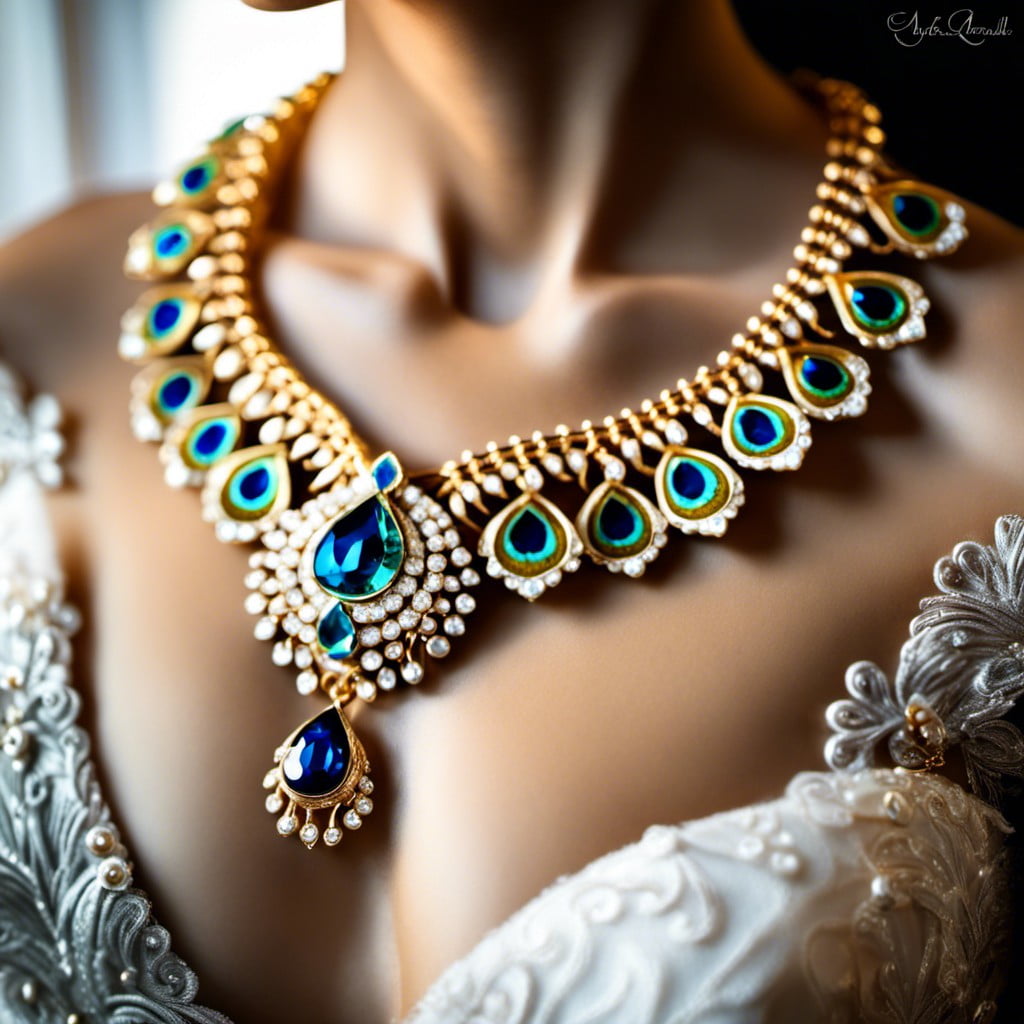 As a symbol of grace and beauty, the peacock motif subtly enhances the grandeur of gold necklaces. Rich in detail and artistry, these designs can really add a touch of mystique to your bridal attire.
Let's take a closer, but brief, look at the specific highlights of this unique design:
Exquisite Craftsmanship: The intricacy involved in creating a peacock design can be astounding, making the necklace a stand-out piece.
Cultural Significance: Peacock motifs retain a strong cultural and traditional relevance in many cultures, hence, making the necklace radiate an ethnic appeal.
Versatility: Whether it's the large fan-like tail or the delicate beauty of the bird, peacock elements can be tailored to fit various styles – be it an opulent choker or a slender chain.
Stones and Enamel: To capture the vibrancy of a peacock, these designs often use colored stones and enamels. This can be customized according to the bride's preference or to match the wedding apparel.
Symbolism: Beyond the aesthetic appeal, the peacock is seen as a symbol of renewal and immortality, making it a fitting choice for the beginning of a new life chapter.
Gold Necklace With Diamond Pendant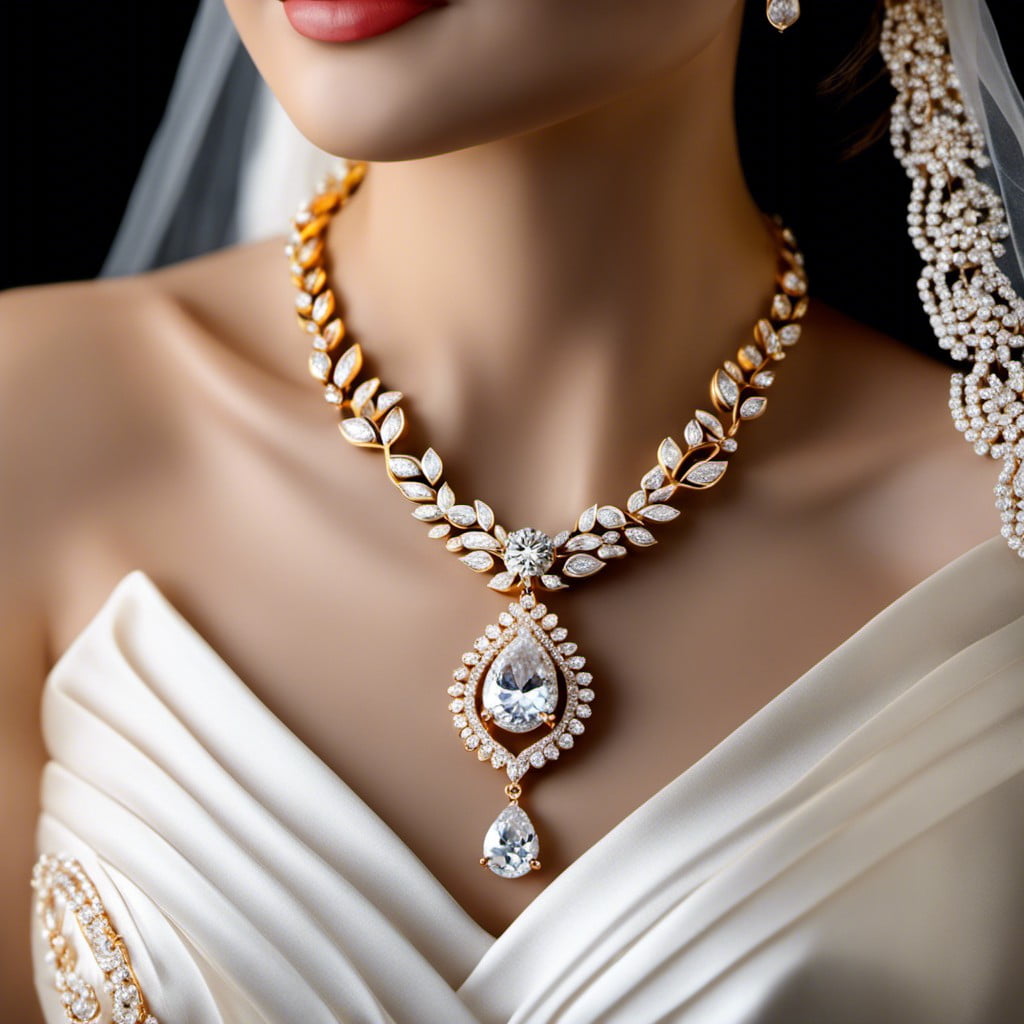 A gold necklace with a diamond pendant can add sparkle to any bridal ensemble. Varying in design complexity, these necklaces can go from elaborate to minimalist. Let's dissect the salient features of this exquisite bridal adornment:
1. Diamond Size: Determines the sparkle and hence the focal point. The larger the diamond, the more attention it commands.
2. Pendant Design: Role is two-fold. A uniquely shaped pendant carries artistic value while also setting the stone securely.
3. Setting: Matters in terms of both design and safety. Bezel, pave, or prong settings are common, each presenting a different visual appeal.
4. Chain Type: Can complement or detract from the pendant. Options include box chains, rope chains, or traditional link chains.
5. Neutrality: The combination of gold and diamonds is versatile, suiting a wide range of bridal gowns and themes.
Remember, the necklace should not only coordinate with your bridal outfit but also resonate with your personal style. It should reflect you, not overshadow you. A well-chosen diamond pendant necklace is truly the icing on the bridal look.
Minimalist Gold Chain With Jeweled Pendants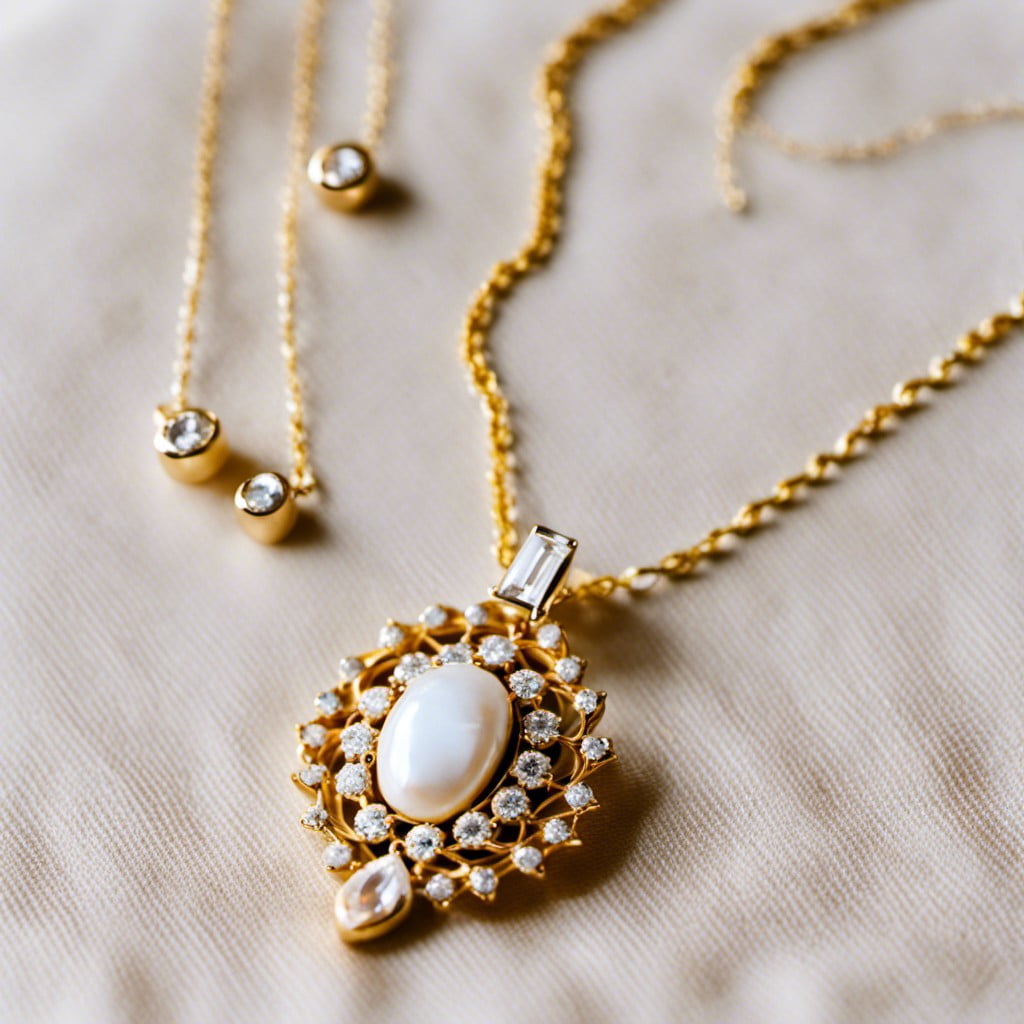 This design embodies simplicity with a glamorous twist. It features one or more gemstone pendants hanging elegantly from a thin gold chain. Depending on the personal taste of the bride, the gemstones can be diamonds, rubies, emeralds, or even semi-precious stones.
The length of the chain can also be adjusted to suit the neckline of the bridal outfit.
For a visually dynamic look, consider pendants of different shapes or sizes. An oval sapphire, a pear-shaped emerald, or a princess cut diamond could add a distinct personality to the necklace. The beauty of this style lies in its versatility – it could just as easily complement a heavily embroidered bridal lehenga choli as it would a simple, sophisticated saree. It also pairs well with other jewelry, allowing the bride to layer pieces if desired.
Remember, achieving the minimalist look doesn't mean sacrificing luxury or elegance. It's all about making a statement with carefully chosen pieces and allowing their true beauty to shine.
Elaborate Rajasthani Gold Collar Necklace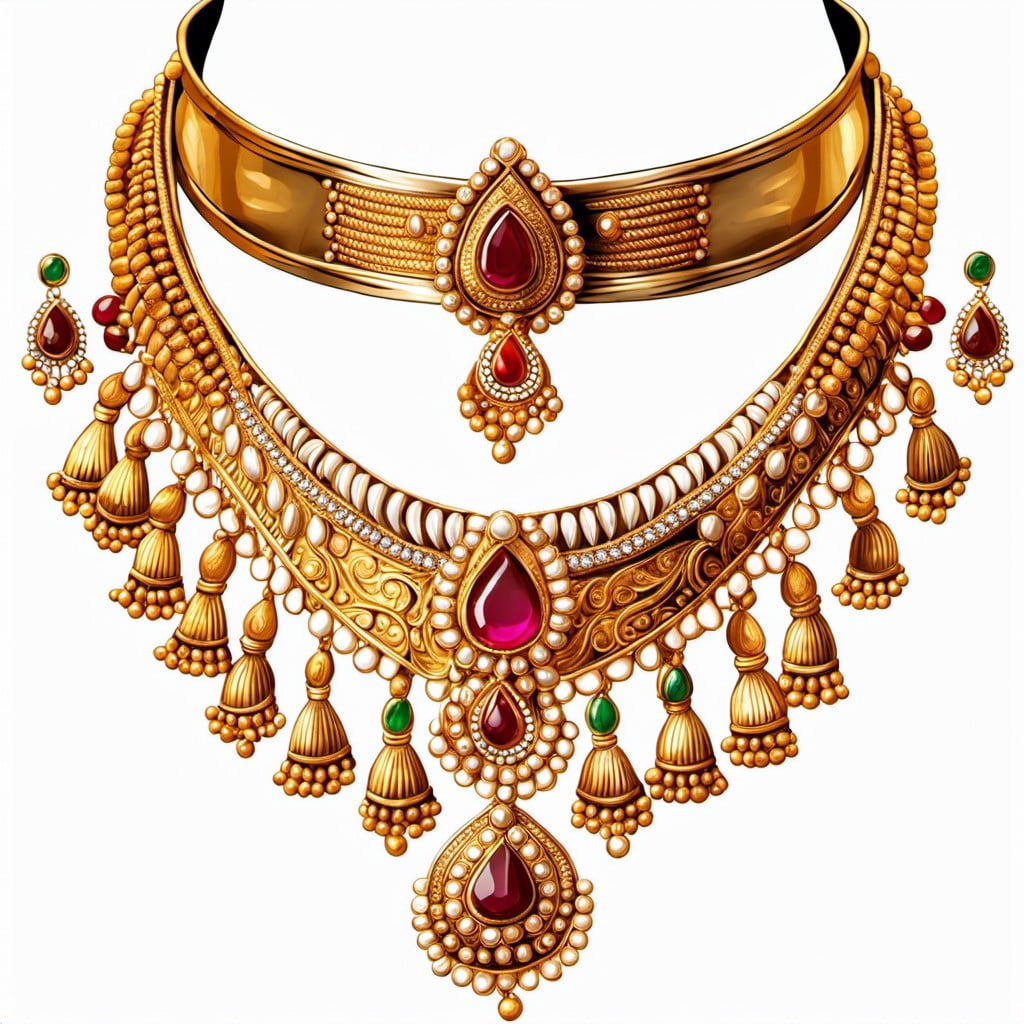 Heralding from the vibrant landscapes of Rajasthan, these collar necklaces brandish grandeur and opulence. These pieces proudly display intricate craftsmanship and attention to detail, typically featuring complex, filigree work. Favored for bridal wear, they encircle the neck, presenting a regal look, transforming any bride into a queen on her special day.
1. High Carat Gold: The core material is gold, usually of high carat, which makes it notably heavy and radiant.
2. Craftsmanship: They boast detailed traditional patterns handcrafted by master jewelers, each piece is a work of art.
3. Ornate Designs: Often bedecked with colored gemstones and diamonds to enhance the ornate design.
4. Versatility: Despite their size, they are surprisingly versatile, pairing exquisitely with both traditional and modern attire.
5. Customizable: Depending on your preference, they can be designed with a matte or polished finish.
Commanding attention, these necklaces add an undeniable charm to any bridal ensemble.
Choker Necklace With Emerald Drops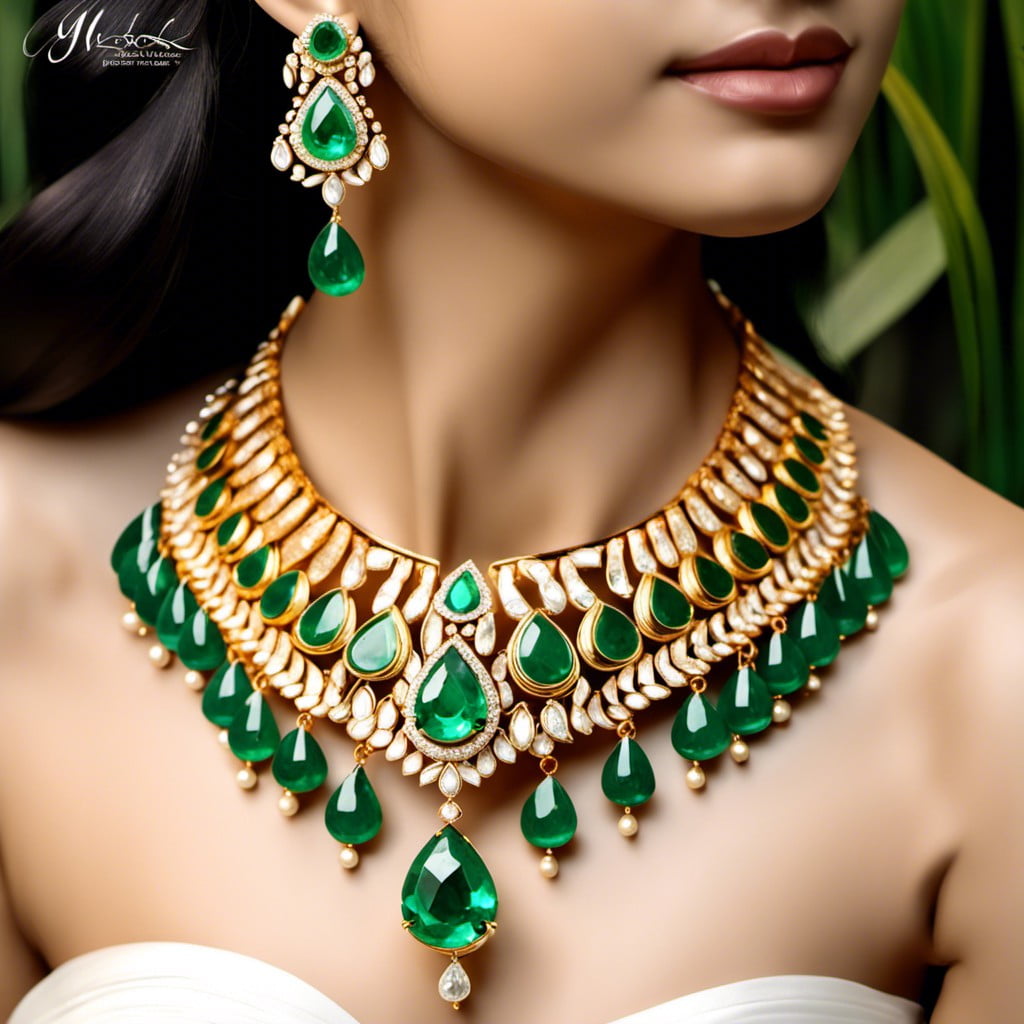 Emerald drops, when paired with a gold choker, instantly elevate the bridal look. The mix of vibrant green and rich gold creates a stunning visual contrast, while the choker design emphasizes the gracefulness of the bride's neck.
Consider these key points when styling this type of necklace:
Pair with a traditional red Lehenga or saree – The red and emerald green offer a charming color play that is both festive and regal.
Match with complementary jewelry – Opt for earrings and maang tikka in similar gold and emerald designs for a coordinated look.
Timing is crucial – Due to its statement nature, this type of necklace is more suited to the main wedding ceremony or reception.
Don't shy away from stepping into the spotlight on your big day. With this choker, every turn of your head will draw attention and admiration.
Kundan Gold Necklace With Matching Earrings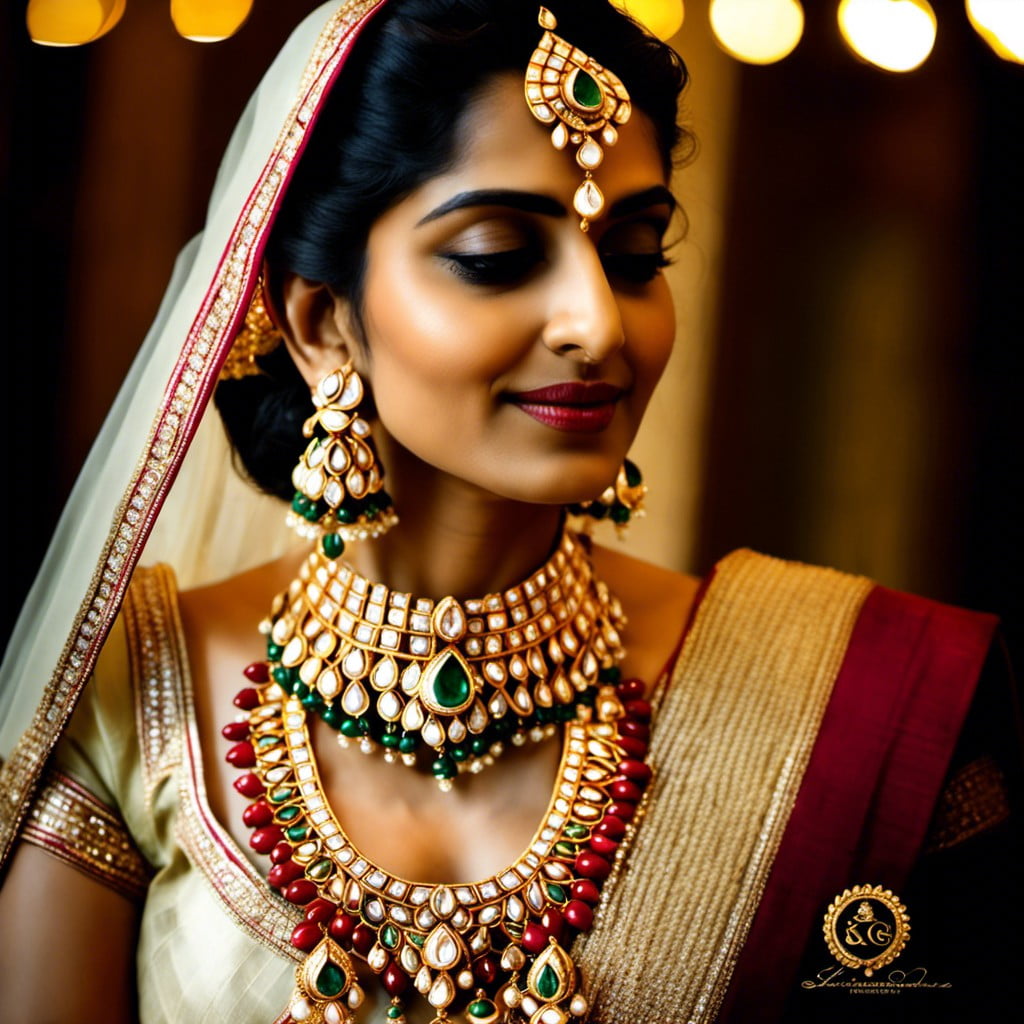 Showcasing centuries-old craftsmanship, this style originated from Rajasthan, earlier known as a princely state. Brides often favor this for its centerpiece features, like gems set in high-quality gold. Its unique appeal arises from the use of uncut diamonds, also known as Polki, semi-precious stones, and 24-carat gold foil.
Consider the following points:
Craftsmanship: An intricate setting involving pure gold and precious gemstones contributes to its fine design. Each piece is carefully handcrafted to achieve a perfect mixture of art and elegance.
Earrings: Matched with complementing earrings, this style creates harmony in your bridal ensemble. The earrings usually follow the same design aesthetics of the necklace.
Flexibility: It can be paired perfectly with traditional Indian bridal wear or even a fusion wedding outfit, enhancing the grace.
Customization: The size and design of the Kundan can be adjusted, adding to its appeal.
Investment: A Kundan gold necklace turns out to be a valuable addition to a bride's trousseau, since their value tends to increase over time.
Remember, the choice of necklace should not only blend with the outfit but also enhance the bride's features, making her feel like royalty on her special day.
Geometric Design Gold Necklace
For an authentic modern touch, a geometric design can never go wrong. The beauty of this style lies in its simplicity and elegance. Be it perfect circles, squares, hexagons or abstract shapes, the versatility of geometric designs is endless.
These designs often feature repetitive patterns, offering an aesthetically pleasing symmetry. They appeal to brides seeking a balance between modernity and tradition, aligning well with sleek, structured dresses or minimalist themes.
Moreover, gold geometric necklaces often incorporate diamonds, emeralds, or other precious stones, imbibing colour and enhancing their elegance. Whether you choose delicate, detailed patterns or bold, statement shapes, the marriage of precious metals and artistic design is sure to surprise and delight.
Remember, it's all about personal preference and how it complements your overall bridal look. So research, experiment, and don't shy away from trying on different styles until you find the one necklace that feels indisputably yours.
Satlada-style Seven Layered Gold Necklace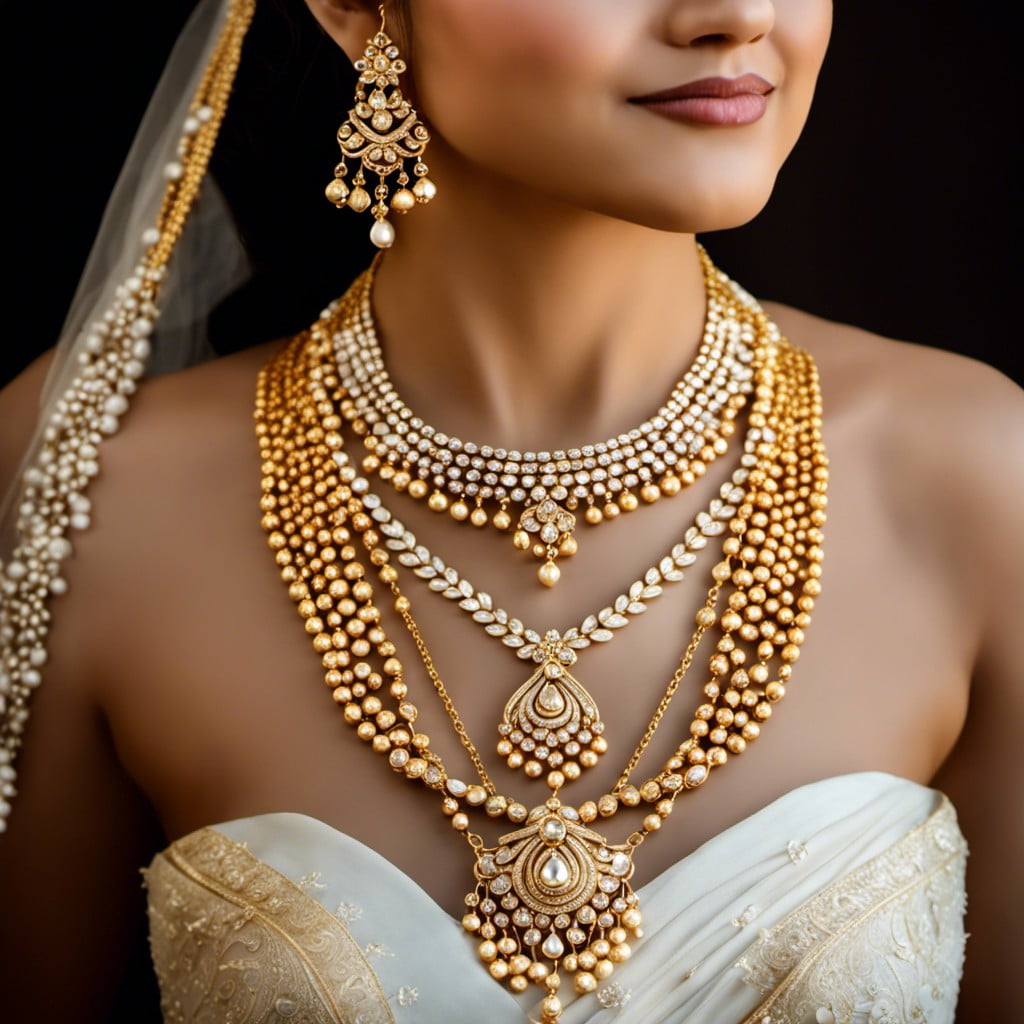 Satlada necklaces, steeped in royal Hyderabadi lineage, herald an opulent statement.
The seven-layered stunner consists of approximately 465 pearls, often adorned with emeralds, rubies, or diamonds, and connected by intricate gold links or strings.
Its beauty lies in the cascading layers, creating a waterfall of allure starting close to the collarbone and flowing towards the waist.
It's versatile too—wear it alone for a regal touch, or pair it with a choker to elevate your bridal look.
Be warned, these necklaces can be hefty – but remember, with royalty comes sumptuous grandeur.
Gold and Pearl Meshed Necklace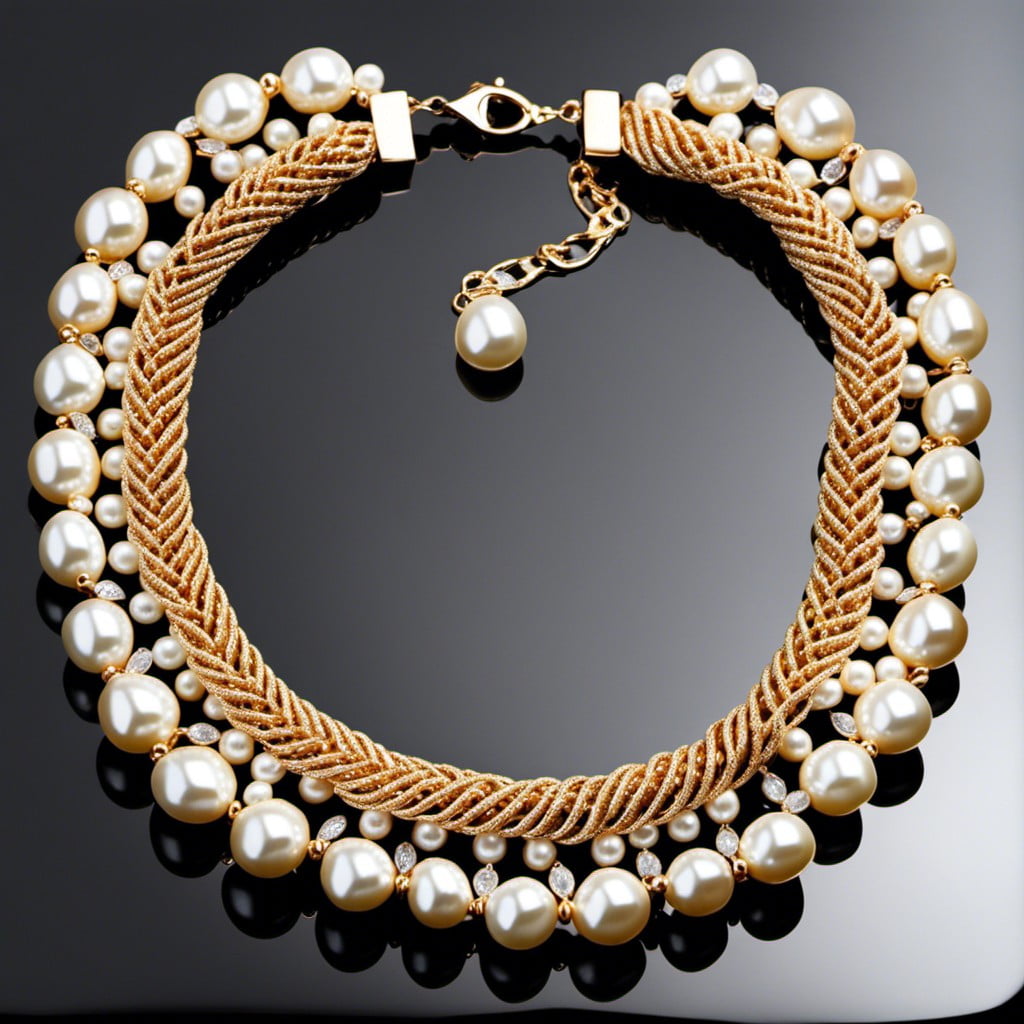 Dipping toes into the realm of traditional charm blended seamlessly with modern elegance, this necklace choice emphasizes the harmonious cohesion of two timeless elements – lavish gold and exquisite pearls.
Here are key aspects to consider:
1. Mesh Design: The intricate weaving technique showcases exceptional craftsmanship. Link by link, a golden lattice forms the base, often embellished with patterned motifs for added sophistication.
2. Pearls: Strategically nestled within the golden mesh, pearls bring an ethereal touch. Being natural diversities, you may find ensembles flaunting pearls of varying sizes, hues, and lustre.
3. Versatility: Perfect to grace necklines at both, an austere daylight event or a glamour-spangled evening soirée. The mesh design's adaptability is unmatched, straddling simplicity and grandeur effortlessly.
4. Complementary Accessories: While the necklace alone promises an opulent statement, pair it with delicate pearl drop earrings or a simple gold-and-pearl bracelet to round off the look.
Ultimately, the gold and pearl meshed necklace infuses an air of delicate luxury into the bridal attire. Its meticulous balance of subtlety and grandeur makes it an exquisite addition to the bride's trousseau.
Bridal Gold Choker With Ruby Drops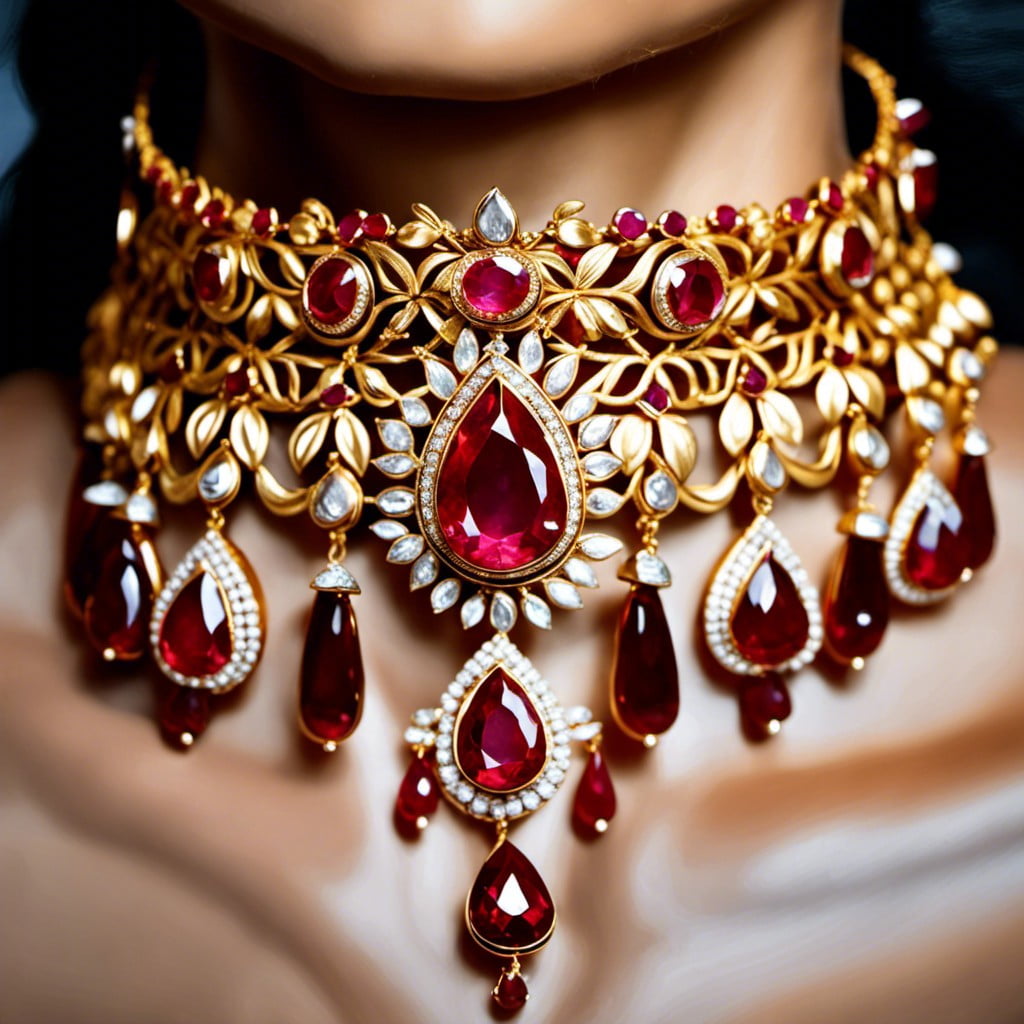 Rubies, acclaimed for their deep red hue and rarity, can lend a regal appeal to a gold choker. A design to consider is a fine gold choker band adorned with ruby encrusted drops at regular intervals. These drops subtly draw attention to a bride's neck and collarbone.
For those who cling to traditions, these rubies also symbolize passion, love, and courage – adding a symbolic touch.
To contrast the richness of the rubies, balance can be struck with delicate filigree or enamel work in the choker's design. Additional small diamonds or gold beads can be interspersed between the ruby drops to add an extra dimension.
Your look can be further enhanced with matching ruby earrings or a tiara. Also, wearing a monochromatic outfit will allow the choker to stand out. If you prefer a coordinated look, opting for a dress with similar ruby accents can bring the entire ensemble together seamlessly.
Gold Necklace With Coin Pendants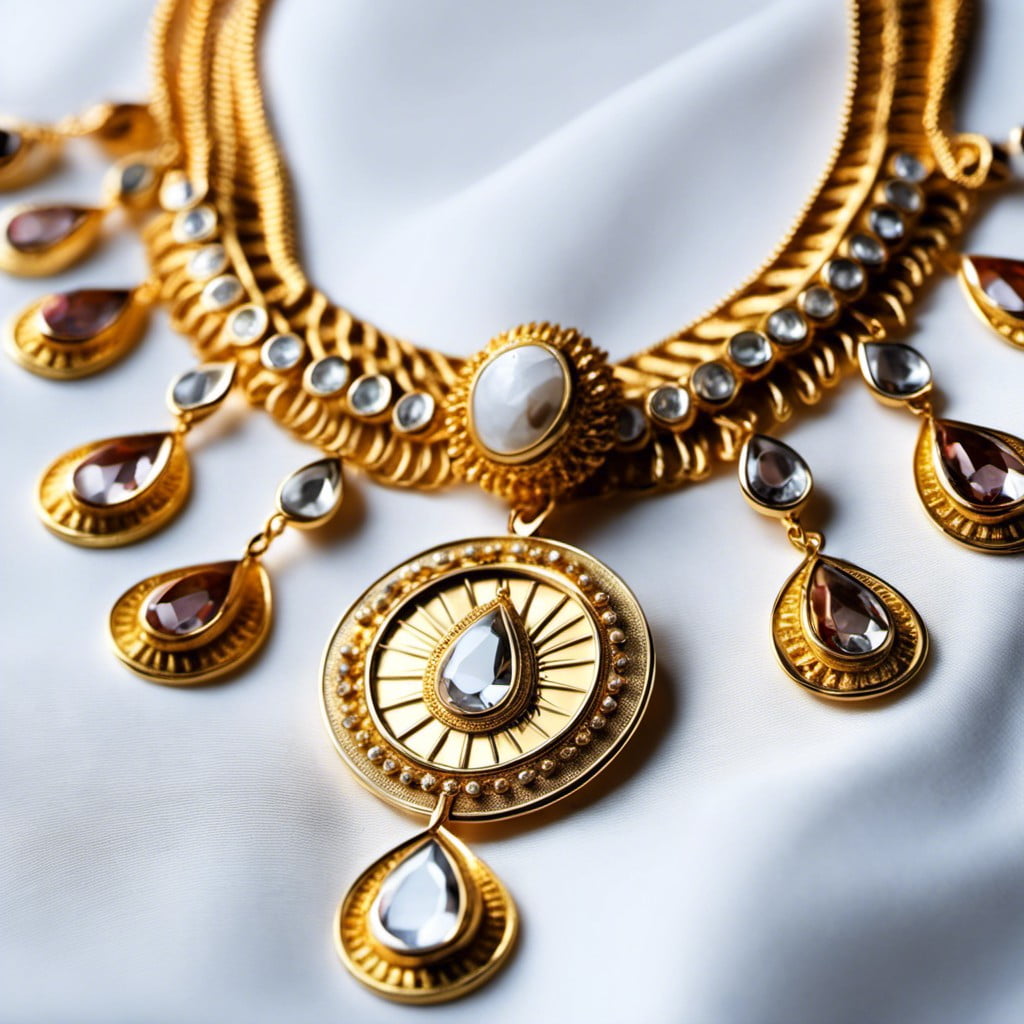 While these distinctive pieces may have an old-world charm, they have been elegantly adapted to modern trends, making them a must-have for present-day brides.
Here are some aspects to understand:
Authenticity: These pendants often display real antique coins or replicas, adding cultural or historical significance.
Versatility: Can be paired with traditional clothing or sophisticated gowns for a unique appeal.
Customizability: The coins can be inscribed or engraved to add a personal touch or commemorate the special day.
Complementing Elements: They can be lined with small pearls or beads for a more refined appeal.
Design Range: From a single coin pendant to multiple coins cascading down the necklace, designs vary widely.
Symbolism: Coins often symbolize prosperity and good fortune, making them an auspicious choice.
Chunky Gold Necklace With Unique Pendant Designs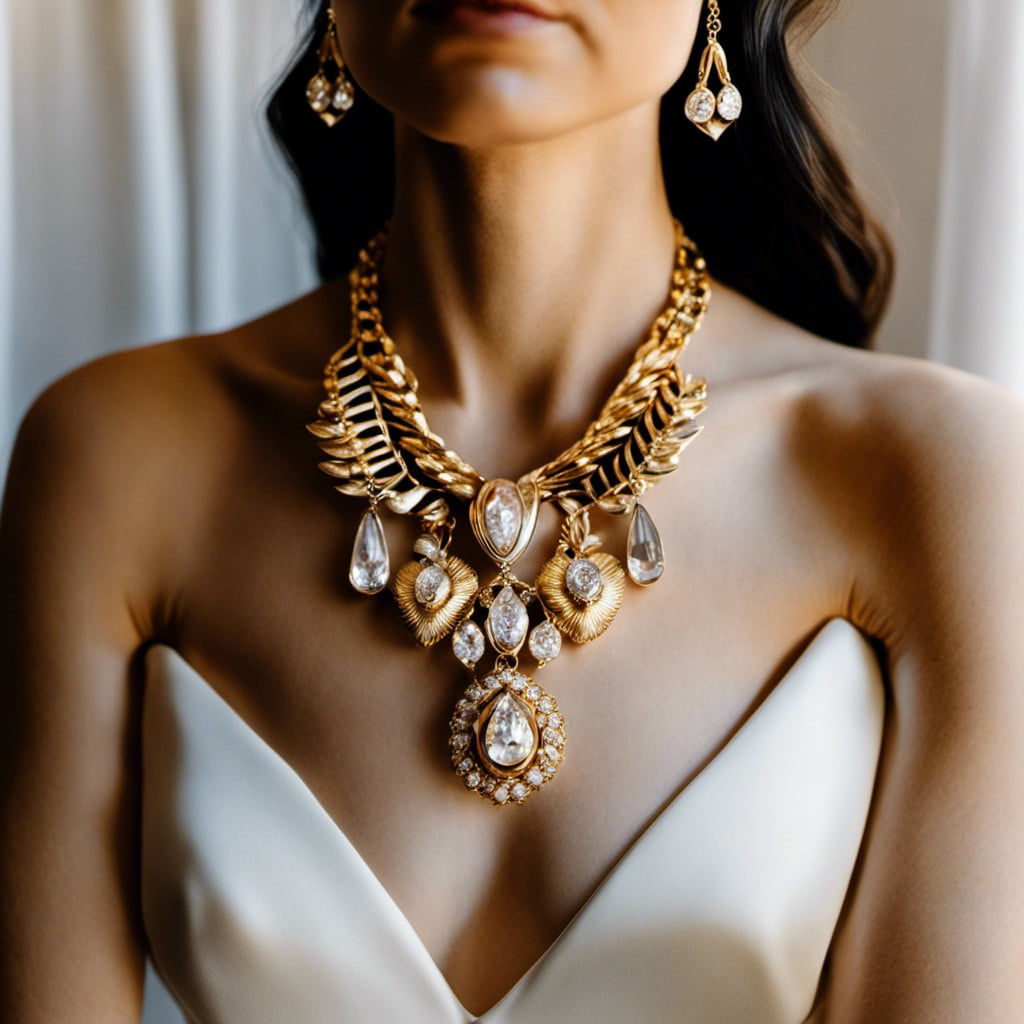 Opting for a chunky gold necklace can provide a regal edge to your bridal look. Their statement-making appeal has been embraced by brides across cultures. What makes them even more engaging are unique pendant designs – these can be focal points that lend authenticity and individuality to your bridal ensemble.
Consider the following when selecting such pieces:
Theme: The pendant could follow a particular theme – like floral, celestial, or even abstract, reflecting your personal style.
Gems: Incorporating gems into the pendant design can add an extra layer of glamour. Choose from diamonds, emeralds, rubies or even semi-precious stones.
Customization: Bespoke pendant designs make your necklace one-of-a-kind, adding a 'made just for me' appeal.
Balance: Since the necklace is chunky, ensure other jewellery doesn't overshadow it. Let it take center stage while you complement it with subtle earrings or bangles.
Finishing details: Attention must be paid to the detailing of the pendant. Detailed artwork or intricate carvings can elevate the overall design.
Equipped with these pointers, selecting a chunky gold necklace with a unique pendant can be a rewarding experience, making you stand out on your big day.
Intricate Filigree Gold Necklace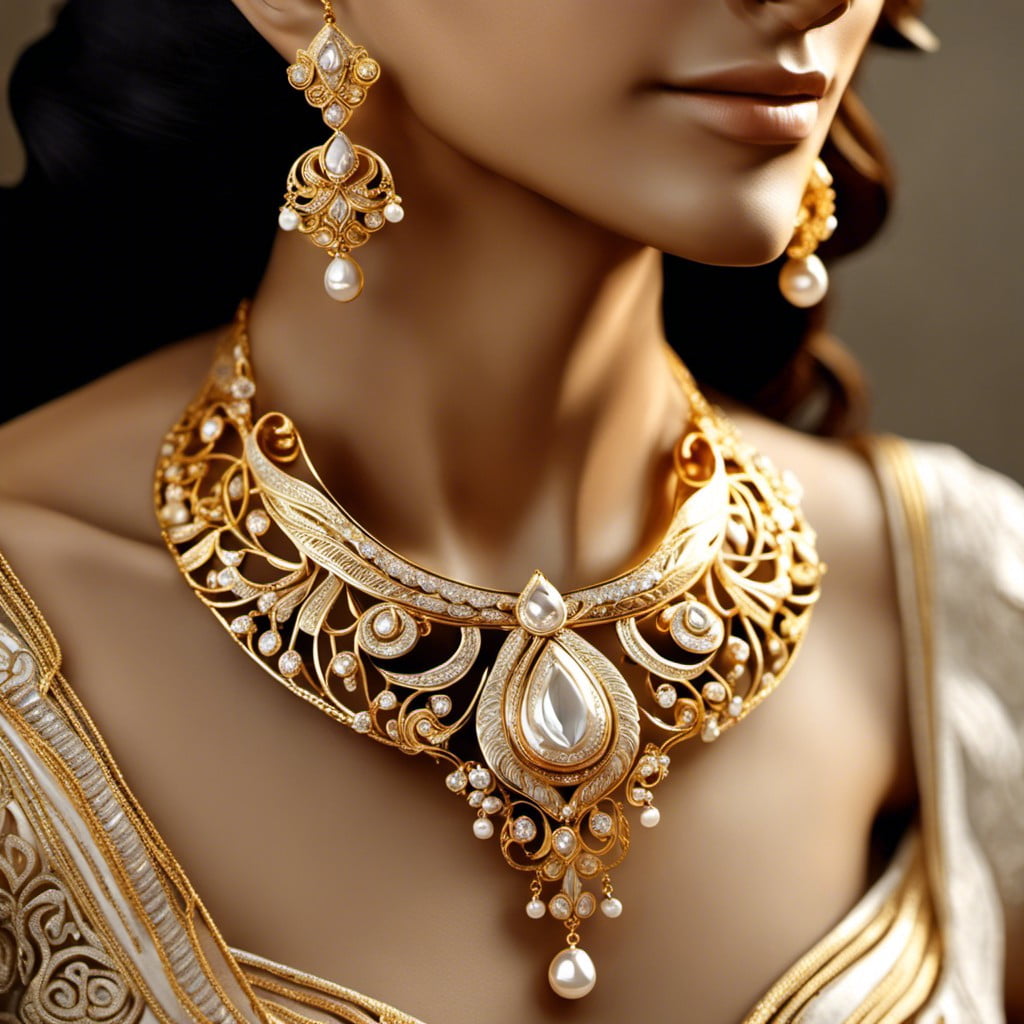 Exhibiting a craftsmanship that's high on precision, the fine latticework distinguishes this piece. Not just a piece of jewellery, but a manifestation of art, capturing the aesthetics of delicate design and luxurious style. It's no wonder that brides that appreciate detail are drawn to this necklace.
1. Skilled Artistry: Every curve and twist is meticulously carved by master artisans, revealing an appealing complexity.
2. Delicate Aesthetic: The appeal lies in its delicate allure, setting off an ensemble rather than overpowering it.
3. Versatility: Despite being a traditional design, it aligns perfectly with both classic bridal wear and contemporary designs.
4. Customizability: Trained craftsmen can integrate gemstones or alter the design depending on personal preference, making it truly one-of-a-kind.
5. Timeless Elegance: A filigree design transcends trends, ensuring its relevance for generations to come.
6. Symbol of Luxury: Its intricacy often indicates higher craftsmanship and therefore, a higher price tag, adding to its status as a luxury item.
Bib-style Gold Necklace With Colored Gemstones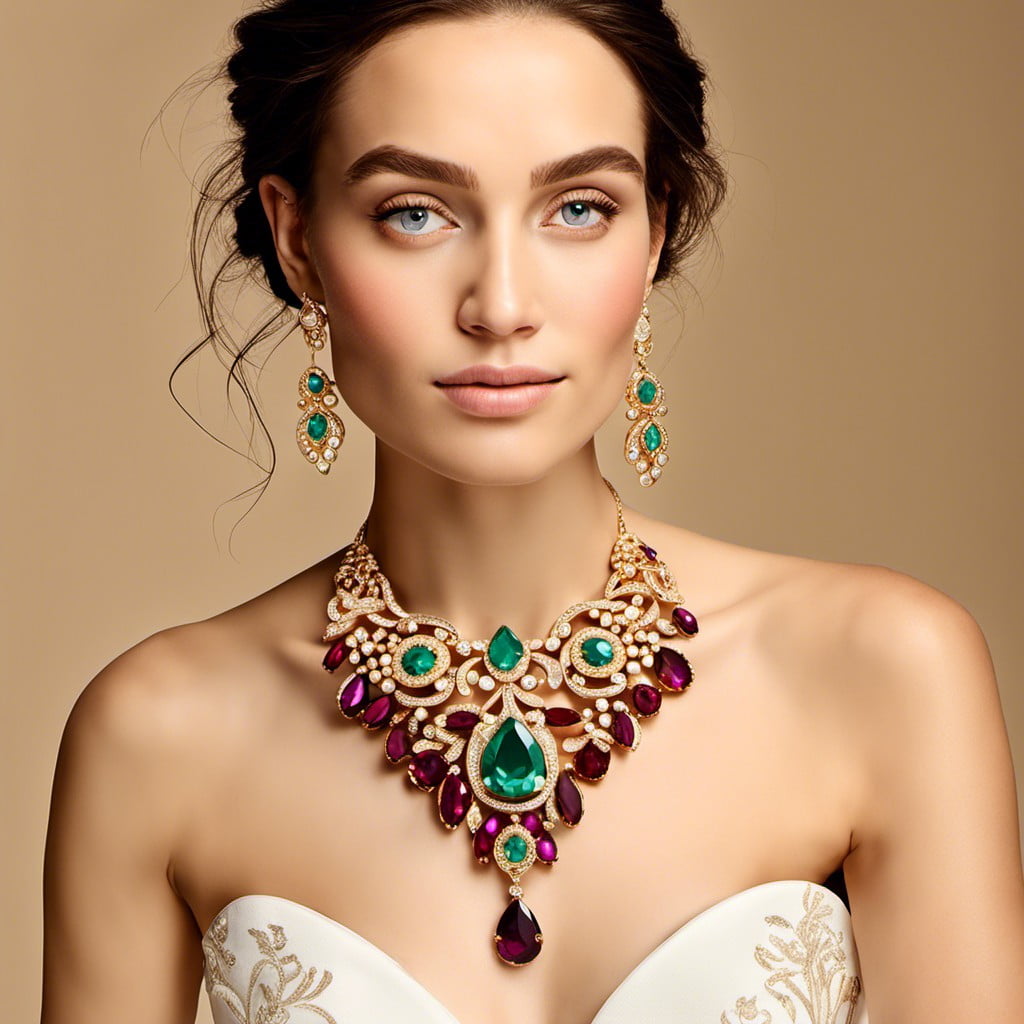 Continuing on our journey of exploring bridal gold necklace designs, the bib-style piece certainly stands out. With its broad structure covering a significant part of the chest, the bib-style gold necklace mirrors opulence. The addition of colored gemstones makes this design even more captivating, adding visual interest and highlighting the radiance of the gold.
Key considerations for these designs:
1. Striking Contrast – To achieve a visual pop, select contrasting gemstone colors. For instance, the warm golden shine beautifully juxtaposes cool blues or greens.
2. Texture – Introducing different cuts of gemstones adds texture, making the necklace a touch more sophisticated.
3. Balance – Despite the size, maintaining balance in the bib-design is crucial. Consistent color distribution and pattern symmetry contribute to aesthetic cohesion.
4. Timelessness – Choose classic colored gemstones; timeless designs never go out of style. Ruby, emerald, or sapphire are perennial favorites.
With these pointers in mind, your choice of a bib-style gold necklace with colored gemstones is sure to make a lasting impression.
Traditional Temple Jewelry Gold Necklace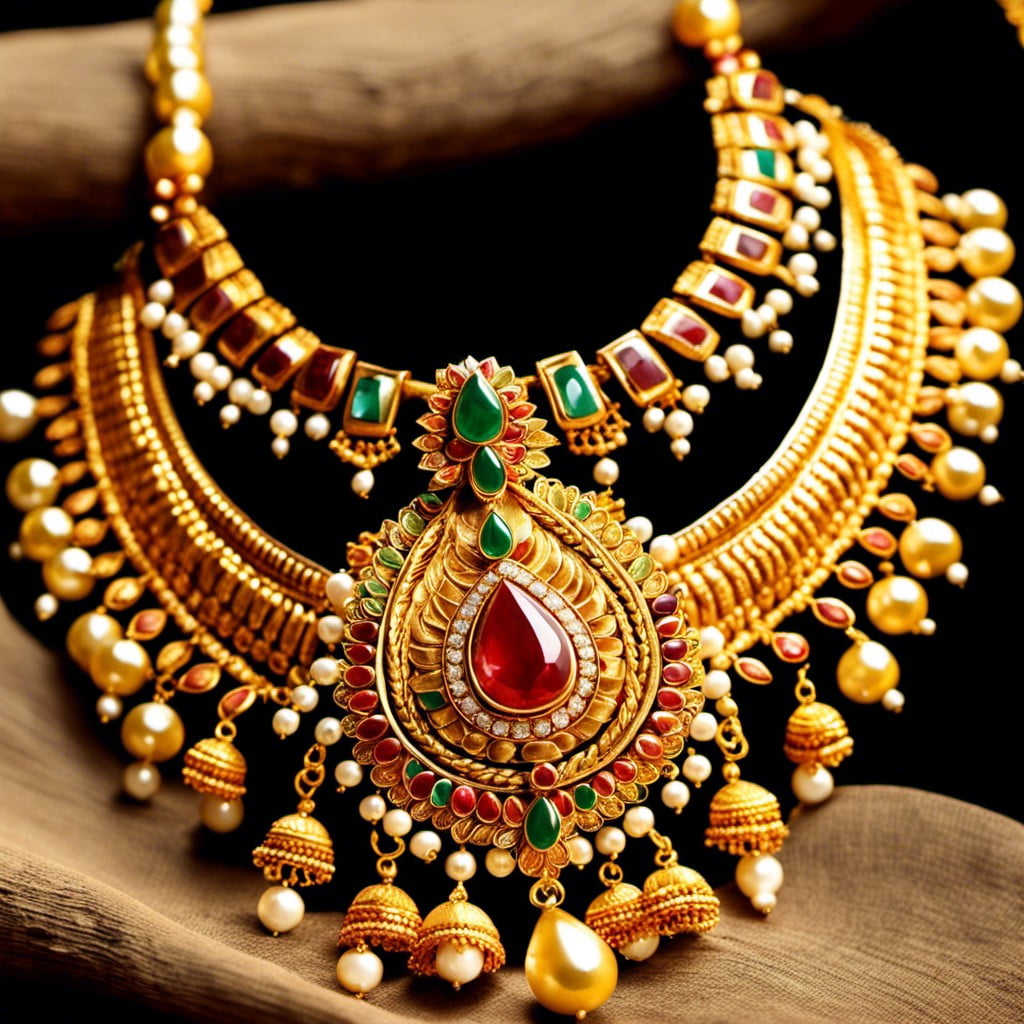 A fixture in southern India, these gold necklaces offer a nod to divine nuances. Steeped in history and art, they often feature motifs of Indian deities, peacocks, or lotuses.
Temple jewellery is typically handcrafted and encrusted with precious stones for added elegance. They can be tailored to suit individual bridal tastes, while retaining their spiritual essence.
The necklaces add a regal, vintage edge to your bridal look, symbolising both divinity and style. They pair excellently with traditional bridal attire, adding a dash of glimmering splendour.
Elegant Gold Torque Necklace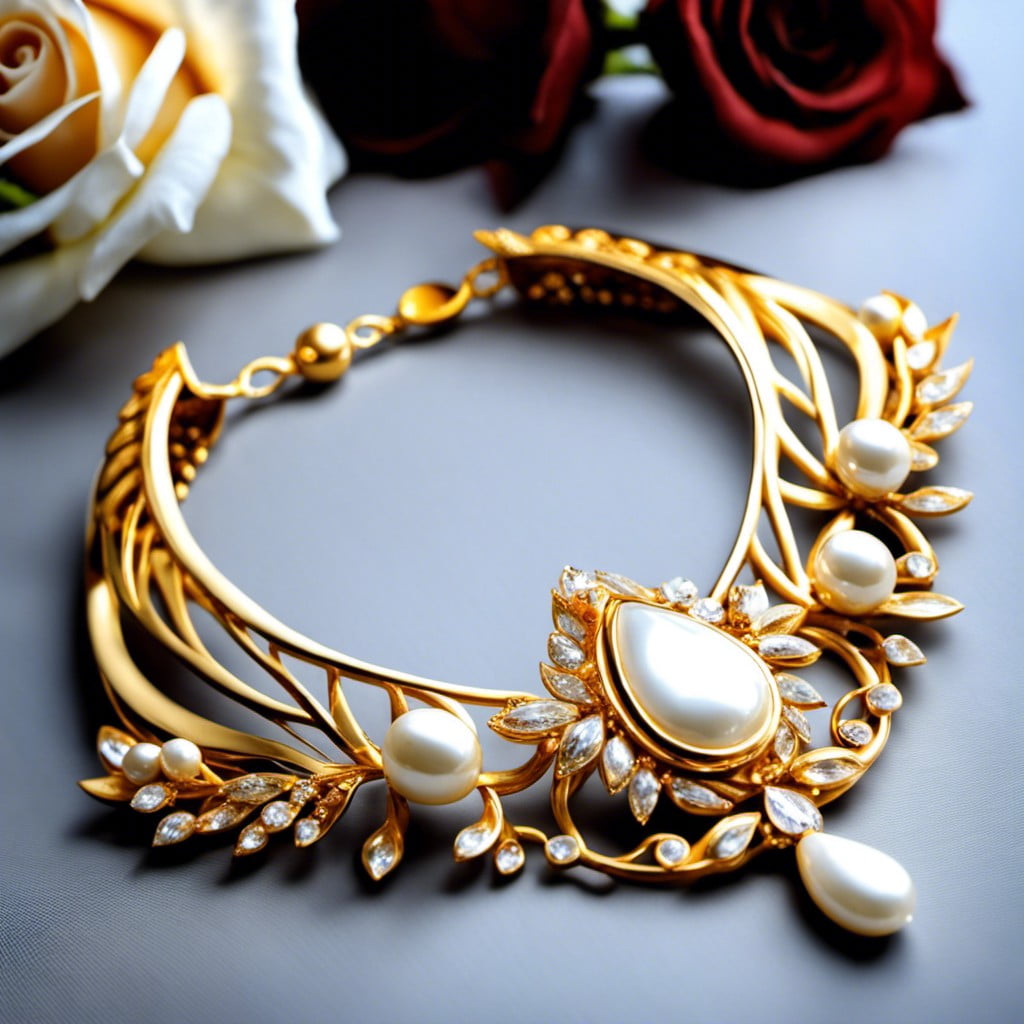 Wrapping wonderfully around the neck, the very design exudes elegance in its purest form. A perfect balance of contemporary and traditional style, it offers versatility that stretches from bridal wear to after-wedding parties.
Typically heavier in weight, the torque necklace brings forth a regal aura, making the bride the center of attention.
With endless options for customization, illustrative examples can further detail its majesty:
Studded Symmetry: Incorporating symmetry within the design is often employed to maintain a distinct balance. One can gem-studded designs where intricate detailing meets modern aesthetics.
Infusing Colors: To play with contrasts, the addition of colored gemstones such as emeralds, rubies, or sapphires is an excellent touch. These vibrant hues pop against gold and give the necklace a more delightful appeal.
Filigree and Lacework: Using delicate filigree or lacework designs fosters an air of elegance and refinement that complements the bride's grace and beauty.
Asymmetric Designs: Breaking traditional norms, opting for asymmetric designs yet maintaining the allure and beauty of the necklace.
Remember, it is your day to shine, so choose a design that will make you feel like royalty.
Baroque-inspired Gold Choker With Diamond Studs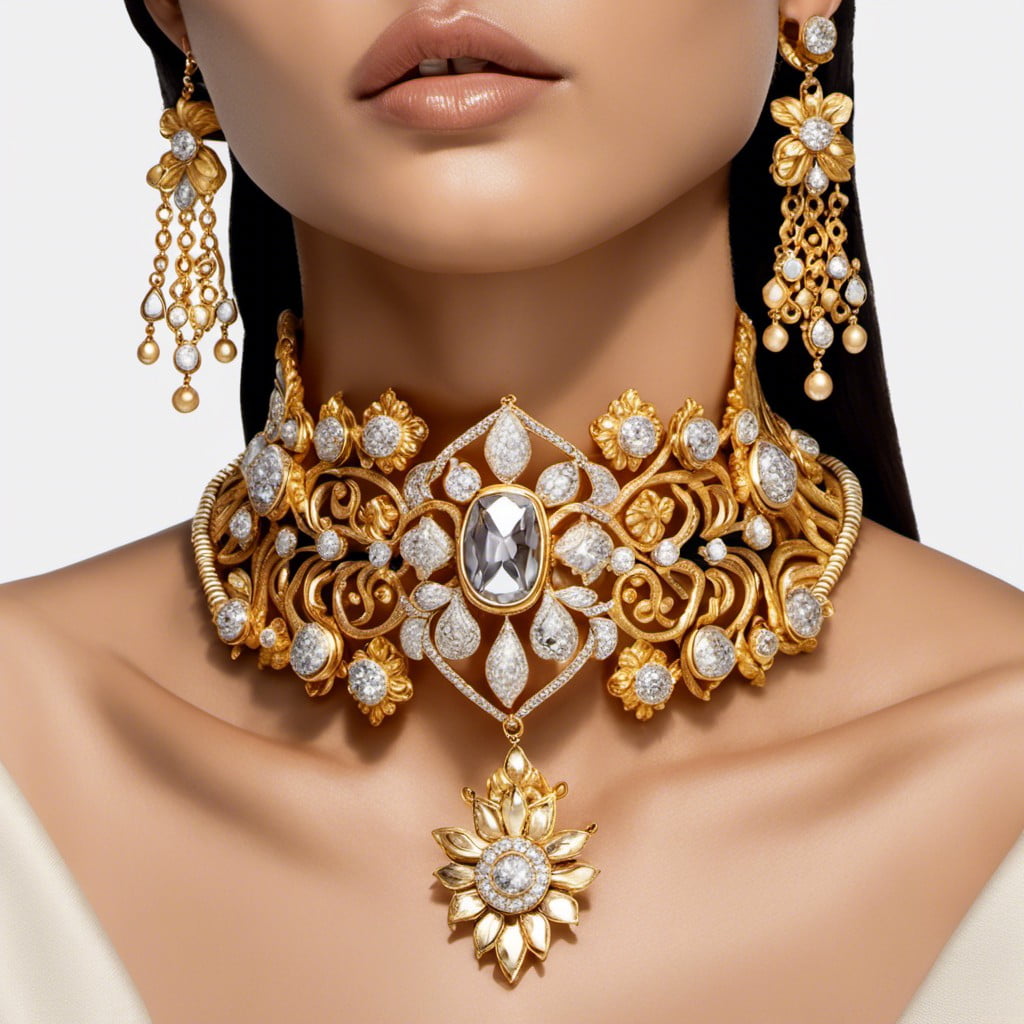 For a touch of sophistication, let's delve into the Baroque-inspired choker. This style is quite popular due to its mélange of intricate detailing and grandeur, featuring a thick molten gold structure meticulously encrusted with diamond studs.
A few points to consider include:
Intricate Workmanship: The highlight of this necklace is intricate detailing evocative of the Baroque era, known for its complex and highly detailed art.
Diamond Studs: The choker is dotted with brilliant diamonds, infusing a dose of elegance.
Broad Design: The choker design is broader than a typical necklace, hugging the neck closely, making it a statement piece.
Versatility: Despite its antique inspiration, it pairs well with both traditional and contemporary gowns thanks to its timeless appeal.
Customization: The arrangement and size of diamonds can be tailored to your preference, making it a versatile piece.
Heirloom Potential: Given its classic and intricate design, it's a piece destined to become an heirloom treasure.
Remember, these are not just adornments, but expressions of personality.
Continue reading:
Recap