Last updated on October 21, 2023
Explore innovative and stylish ideas to incorporate seating into your bathroom for a comfortable and luxurious touch.
As the author and illustrator of the 20 Innovative Bathroom Seating Ideas for Unmatched Comfort and Style, I deeply hope you will find inspiration and experience as much joy in exploring them as I did crafting them.
Struggling to find unique and stylish seating options for your bathroom? Look no further. This article is packed with innovative ideas that will transform your bathroom into a chic and comfortable space.
Whether you have a spacious bathroom that needs a statement piece or a compact one that requires clever solutions, you'll find everything you need right here.
So, let's dive into the world of bathroom seating, exploring everything from elegant stools to luxurious benches and even storage-savvy ottomans.
Teak Shower Bench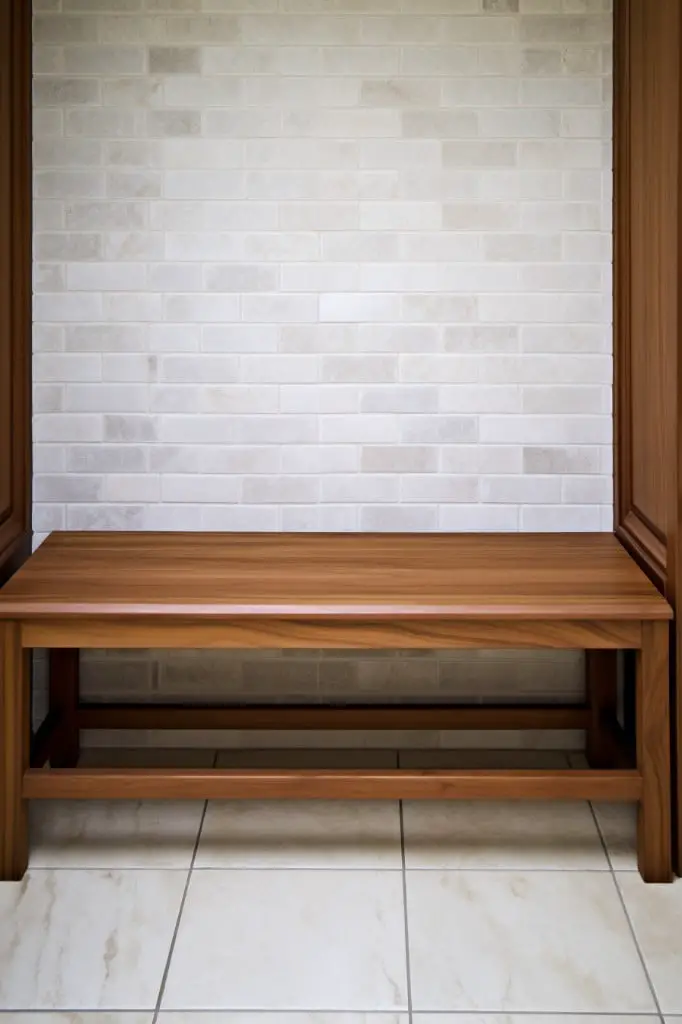 Fashioned from premium-grade wood that's resistant to mold and mildew, Teak shower benches are a lavish choice for moisture rich environments like bathrooms. The natural oil present in teak wood repels water, helping to maintain the original look for a longer time, and reducing the need for constant care.
Key points:
Natural moisture resistance
Luxurious aesthetic
Durability
Low maintenance
Can be a centerpiece or functional addition
Corner Stool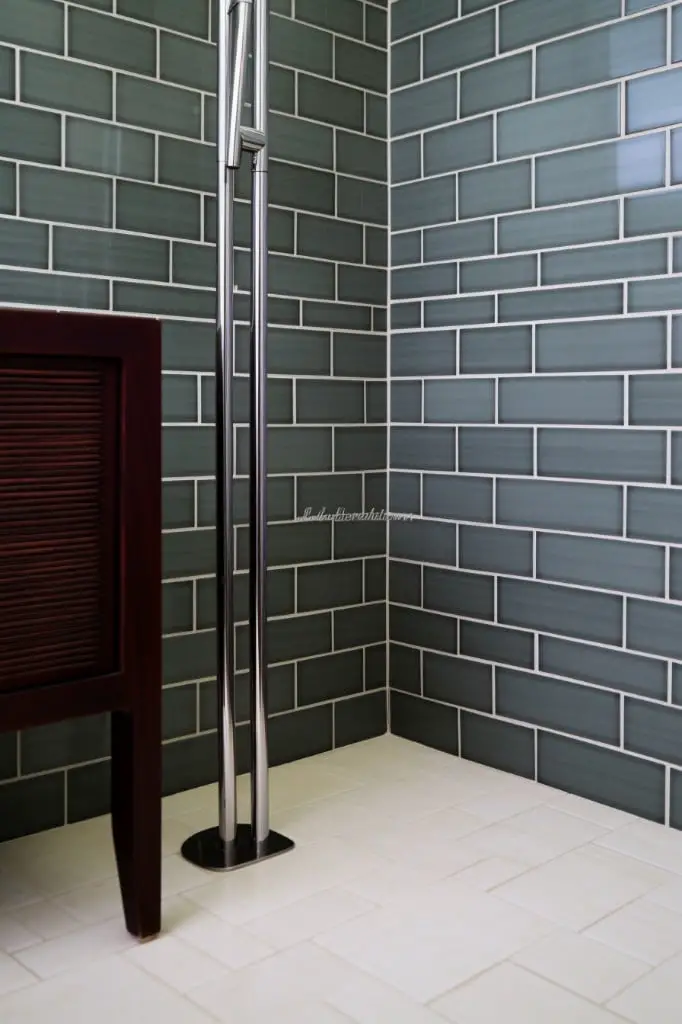 Perfect for utilizing unused areas, these stools offer a practical solution to lack of space.
1. Saving space – Built to fit into corners, these compact seats can effectively employ unutilized areas, enhancing functionality and flow.
2. Versatile – Besides seating, it can serve as a platform for keeping essential items during your shower; think soap, sponge, or a book for those longer indulgent baths.
3. Design options – Available in various materials like teak, bamboo, or even moisture-resistant metal, there's a style to match every bathroom decor.
4. Easy to install – Most models require minimal assembly and installation.
5. Mobility – The lightweight construction allows you to move it around or out of the bathroom if necessary.
Bathroom Vanity Stool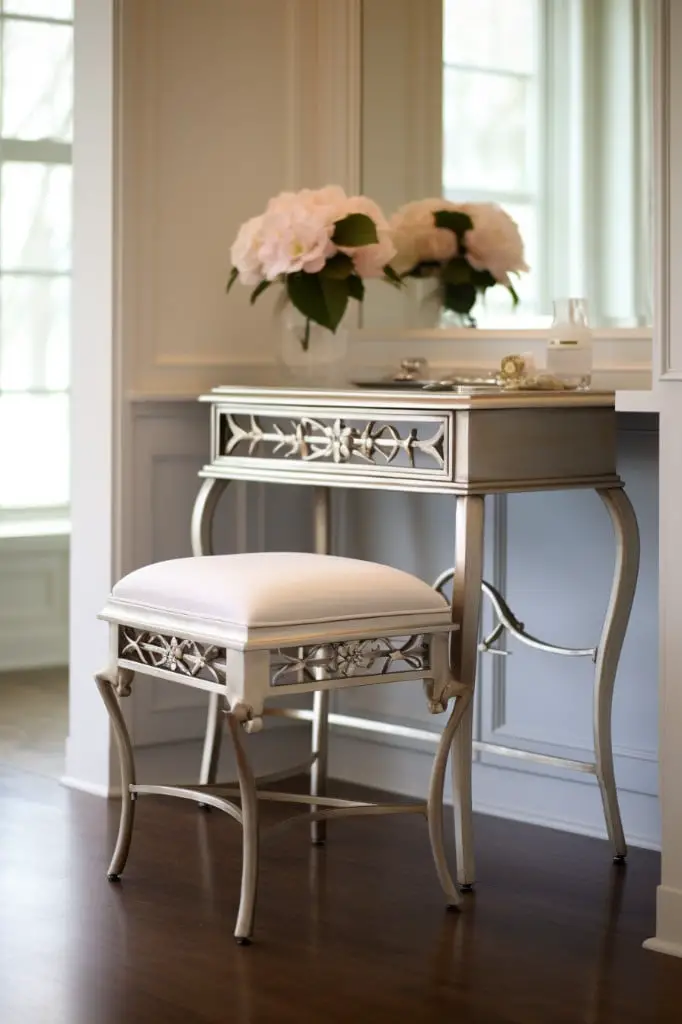 Offering both functionality and subtle elegance, vanity stools can be a versatile addition to any bathroom. Here are the key points to consider:
Comfort: Characteristically low-backed or backless, vanity stools are designed for you to comfortably sit and make use of your vanity area. Opt for padded or upholstered options for added comfort.
Space-saving: They're compact, making them perfect for even the smaller spaces. They can tuck under vanities when not in use, freeing up floor space.
Design: Available in a variety of styles and materials – from sleek metals to classic wood designs. Look out for details like tufting or nailhead trim that align with your existing decor.
Multi-purpose: Beyond vanity use, these stools can serve as extra seating as needed or a spot to place bath items.
Easy-to-Clean: Given the moisture-rich environment of bathrooms, prefer those that are water-resistant and easy to maintain.
Above all, ensure the stool height matches your vanity for the best utilitarian experience.
Mounted Folding Seat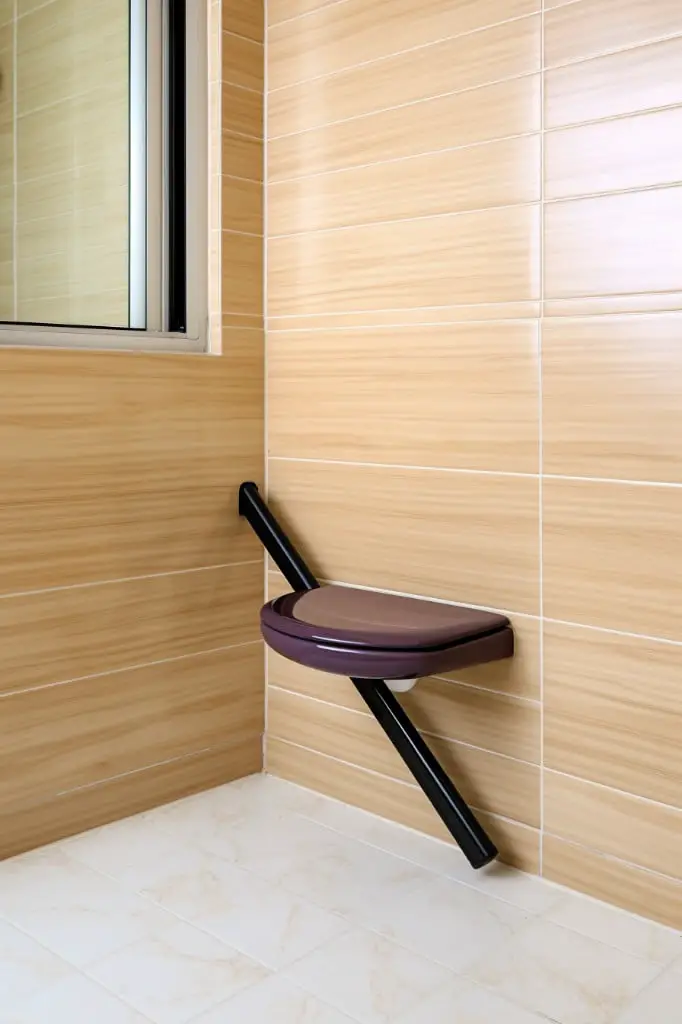 Regarded for its functionality and space-saving features, the seat effortlessly folds against the wall when not in use. This option maximizes room for navigation in small bathroom spaces. It can also serve as an accessibility feature in bathrooms designed for individuals with restricted mobility.
Key points:
Space-efficient – Ideal for tight spaces as it folds up when not needed
Versatility – Doubles as accessibility feature for individuals with restricted mobility
Design – Available in a wide variety of finishes to complement bathroom decor
Durability – Often constructed with water-resistant materials to withstand bathroom conditions
Easy Installation – Typically wall-mounted, simple to set up with basic tool knowledge
Ottoman With Storage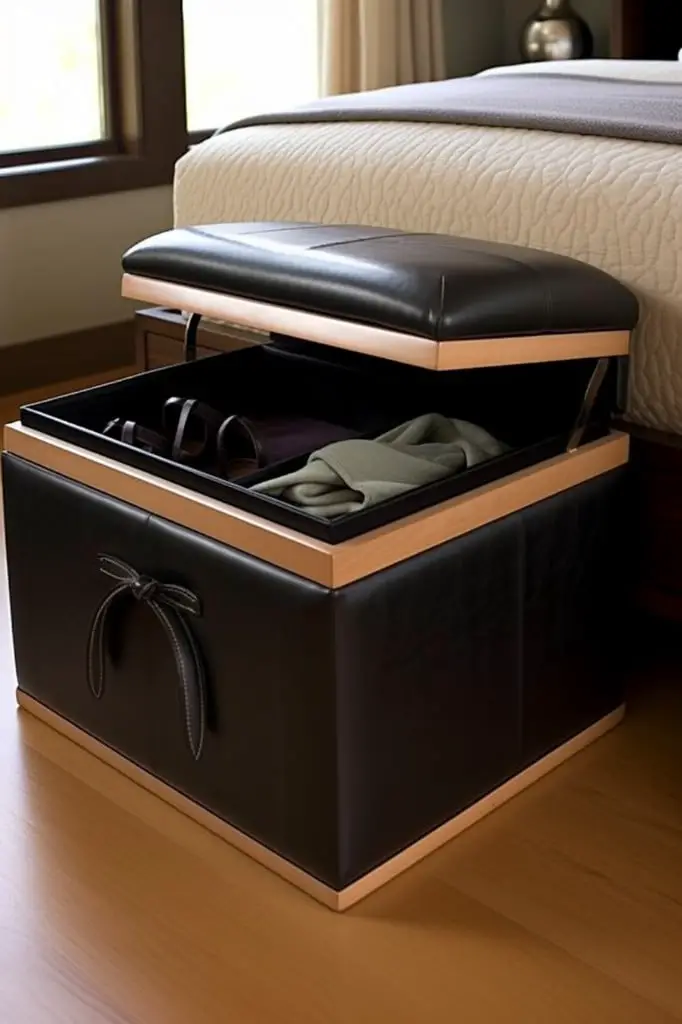 Perfect for small bathrooms, storage ottomans offer a dual purpose. Not just a place to rest, they also provide a handy hideaway for bathroom essentials.
1. Versatile – From storing toiletries to housing leftover towels, its use can vary based on personal needs.
2. Space-saving – Compact design enables it to fit even in tighter spaces.
3. Stylish – Available in various shapes, sizes, and materials, complementing any decor.
4. Comfortable – Provides an additional seat while getting ready.
5. Easy to Clean – Different materials like leather, upholstery, or vinyl are spill-proof and easy to maintain.
Ensure it aligns with the overall aesthetic of the room – consider colors and textures that match the bathroom style.
Acrylic Ghost Chair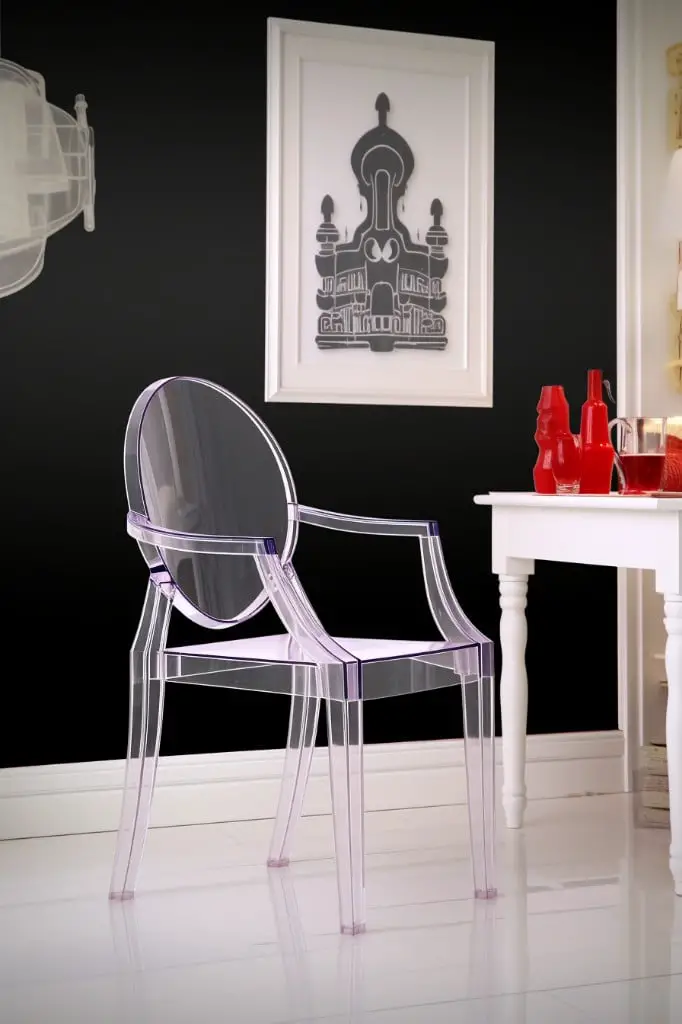 A clever choice for those seeking a balance of modern flair and functionality. Its transparent design keeps the bathroom looking spacious and uncluttered, while offering a practical place to sit.
The use of acrylic ensures it is robust and water-resistant – perfect for the bathroom environment.
Key points:
Modern and stylish appeal
Creates illusion of more space due to transparency
Durable and water-resistant material
Ideal for any bathroom design due to neutral aesthetics
Bamboo Bath Mat With Built-in Seat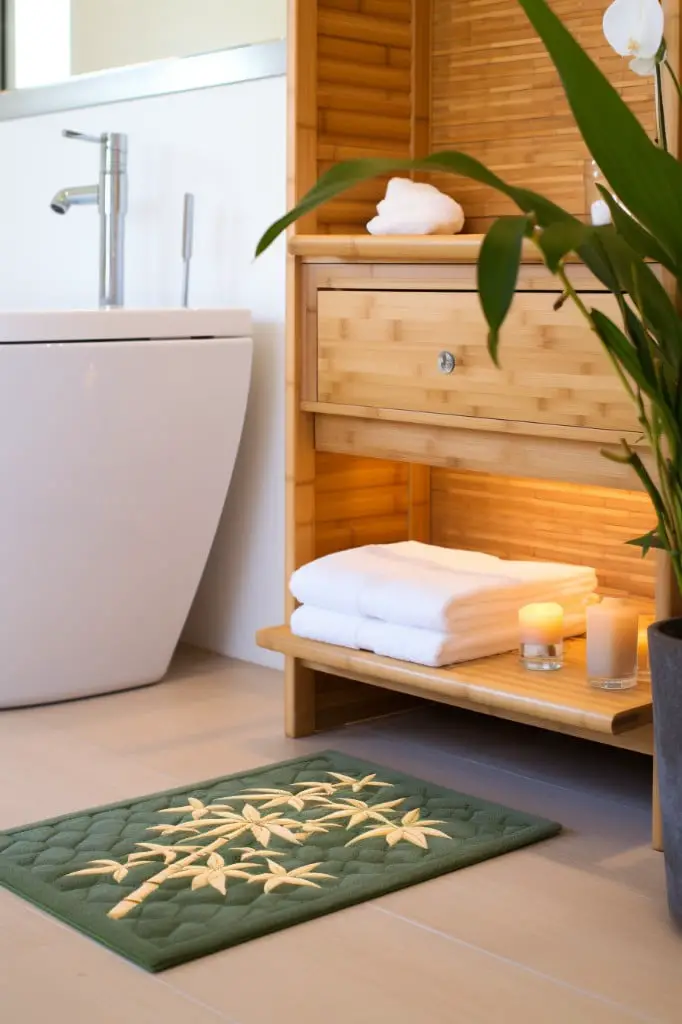 Constructed from water-resistant materials, this innovative mat/seat combination adds functionality and a natural aesthetic.
Efficient use of space: Solves seating and floor covering in one compact design.
Natural appeal: Bamboo introduces a warm, organic element to the bathroom.
Elevated comfort: Its raised seating adds ease while maintaining safety in a sometimes slippery environment.
Durability: Bamboo, known for its strength and longevity, withstands humidity and resists wear.
Easy cleaning: Maintaining the mat is as simple as rinsing or wiping with a damp cloth.
Avoiding fluff, it's evident that the amalgamation of a bath mat with a built-in seat made from bamboo caters to space efficiency and aesthetic pleasure. The bamboo bath mat not only offers a reliable seating option, but also provides resistance to the dampness and wear typically found in a bathroom setting. It's a practical and stylish addition to any bathroom.
Wicker Chair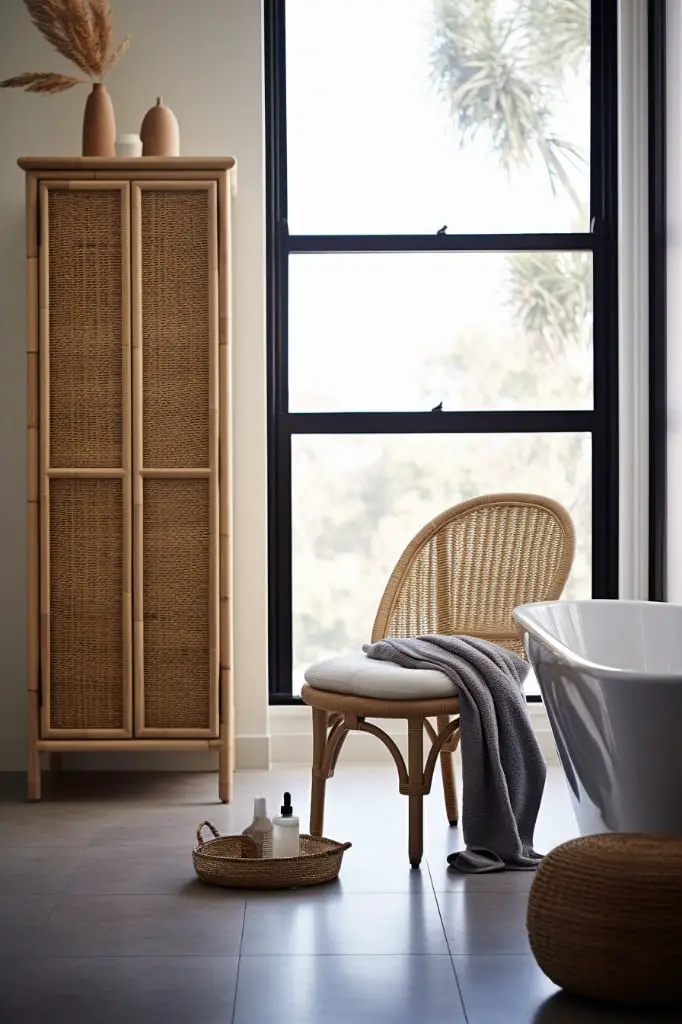 Complementing its lightweight and robust nature, a wicker chair provides a blend of rustic charm and functionality to your bathroom setting. Its inherent resistance to water damage makes it ideal for the humid conditions experienced in this area.
Utilizing this type of chair, you gain:
A textured natural aesthetic that enhances bathroom ambiance.
Versatility in design, allowing placement anywhere.
High durability and easy maintenance, a simple wipe being sufficient for cleanliness.
Eco-friendliness due to the renewable nature of wicker.
The ability to use it as a decorative display stand when not in use.
Pairing a wicker chair with fluffy white towels, lush indoor plants, or woven baskets to increase its appeal. If preferred, a cushion can be added for extra comfort. Smooth to the touch, it supports a serene morning routine and an evening bath ritual.
Upholstered Bench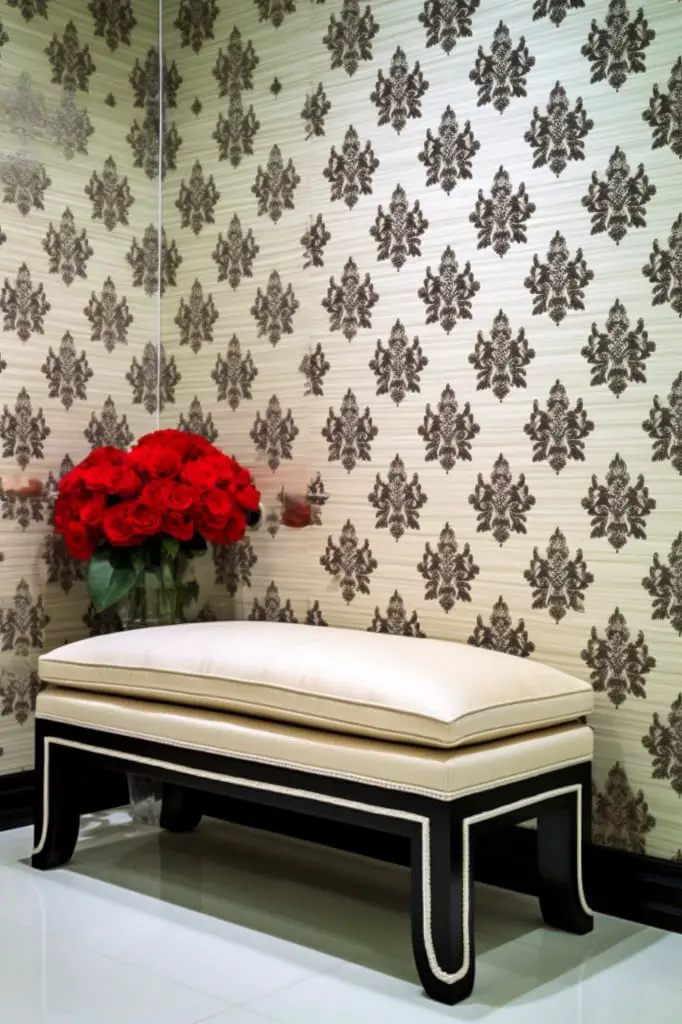 Offering a charming blend of comfort and style, an upholstered bench can be the perfect addition to your bathroom. This bathroom seating feature affords the following benefits:
Comfort: Equipped with a padded seat, it provides a comfortable spot to sit while preparing for the day or unwinding before bed.
Style: These benches can be found in various designs, from modern silhouettes to vintage-inspired options, easily matching with the decor.
Versatility: Can function as a spot to place towels, robes, or clothes.
Size Variations: Available in different sizes, it fits into both spacious and compact bathrooms.
Material Choice: Many designs feature water-resistant and easily cleanable upholstery for longevity.
Choosing the right upholstered bench requires consideration of your bathroom's size, existing decor, and personal preferences. By taking the time to choose wisely, this seating option can transform your bathroom into a more luxurious and relaxing space.
Sauna Style Bench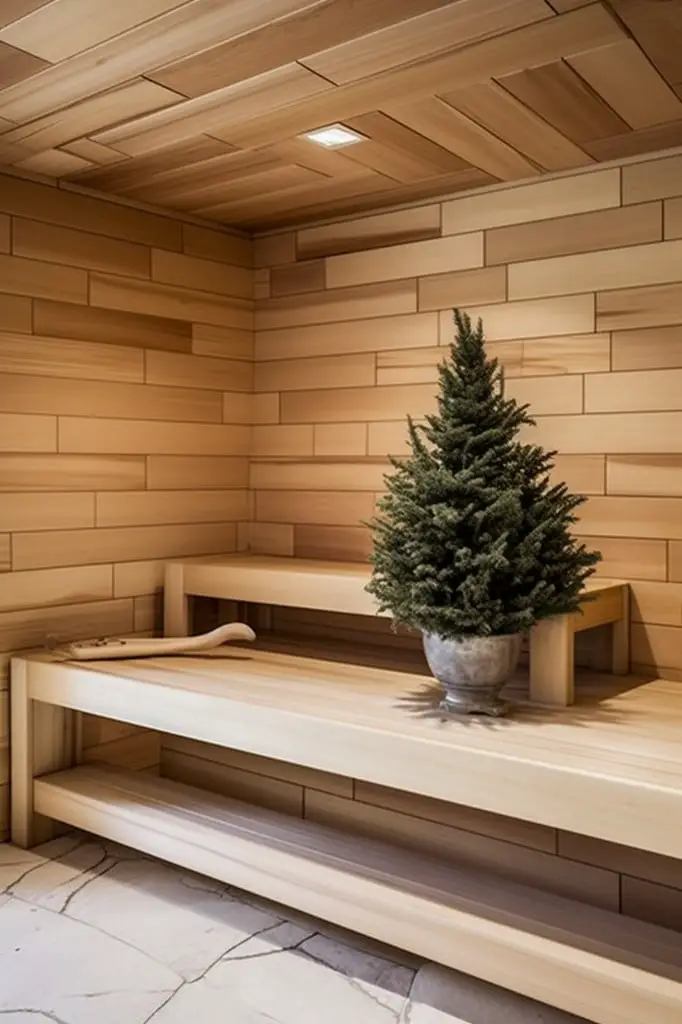 Crafted with heat-resistant materials, these benches embody the essence of a sauna in your bathroom. The usage of natural wood gives it an organic, warm look, complementing other bathroom elements subtly.
They are handy and can be custom-sized to fit any bathroom space, even smaller ones, substantially enhancing comfort and practicability.
Apart from its visual appeal, a sauna style bench is a practical addition to your bathroom, providing a relaxed seating area during bath routines.
Key points:
Heat-resistant construction
Organic, warm look
Ideal for small and large bathrooms
Enhances comfort during bathing routines
Wall Alcove Seating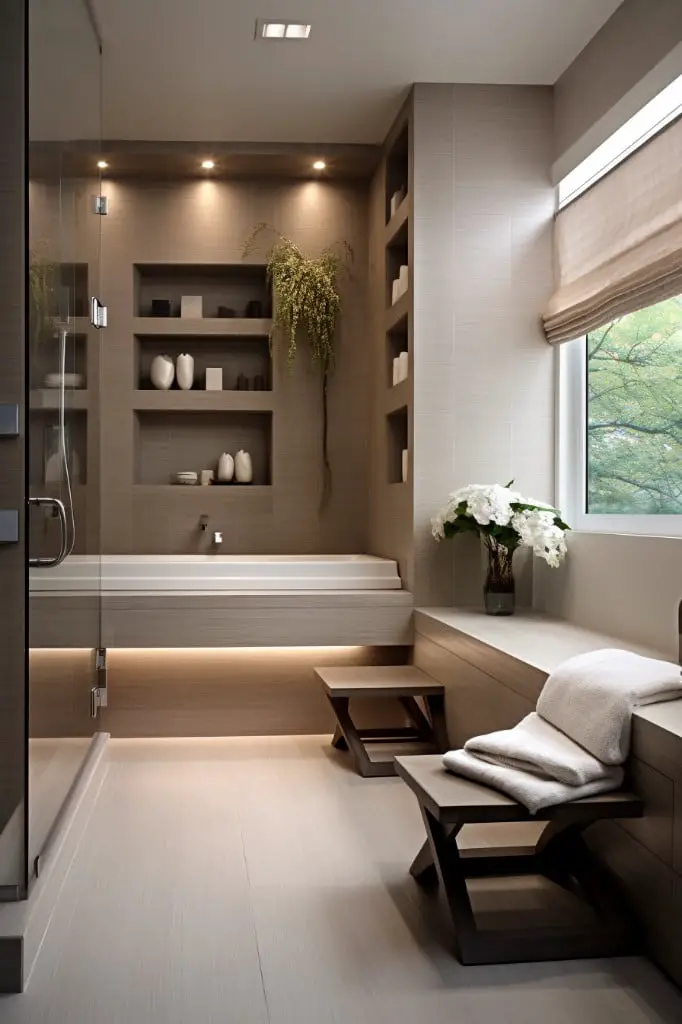 To maximize the function of your bathroom, consider incorporating an alcove in your walls. This practical solution blends seamlessly into your surroundings and provides an unobtrusive seating option. Having a place to sit down might be helpful during grooming routines, enjoying a steam shower, or simply relaxing.
1. Space-saving: Installed within the wall, it makes use of existing structures without taking up floor space.
2. Customization: From size to finish, it can be made to match your bathroom's design scheme.
3. Easy to clean: Being part of the wall, it's usually tiled, which means it's straightforward to wipe down.
4. Functional: Can be used for seating or as a shelf for bathroom essentials.
5. Safety: With no sharp corners, it's safe even in slip-prone bathrooms.
6. Versatile: Suitable for all bathroom sizes, even smaller ones.
Tile Shower Bench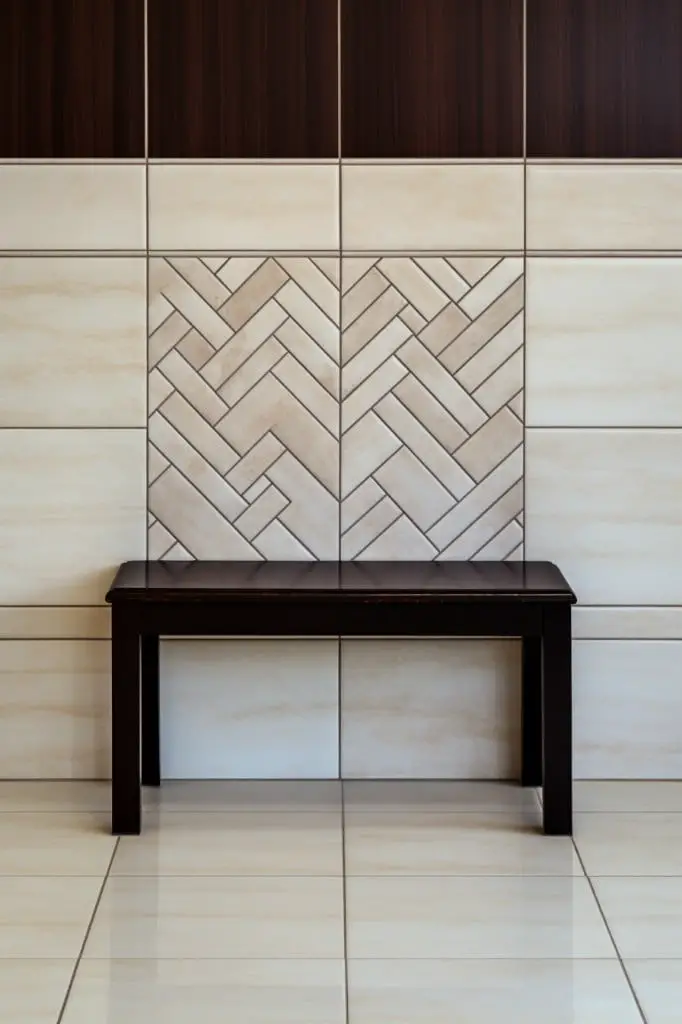 Of course, the following key points will aid in understanding the significance of tile shower benches and the ideas surrounding them:
Versatility in Design: Tiles come in a wide array of colors, materials, and designs, allowing you to personalize your bench to match the bathroom decor.
Heat Retention: In contrast to other materials, tiles retain heat, making it comfortable during a long, relaxing shower.
Durability: With proper installation and maintenance, tile shower benches are extremely durable, providing long lasting functionality.
Sanitation: Tiles are easy to clean, offering hygienic seating in an often wet and humid space.
Enhanced Shower Experience: Offering a space to rest or place personal items, it elevates the functionality of the shower.
Remember to consider the slope during installation to ensure water drains effectively, eliminating any standing water.
Floating Wooden Seat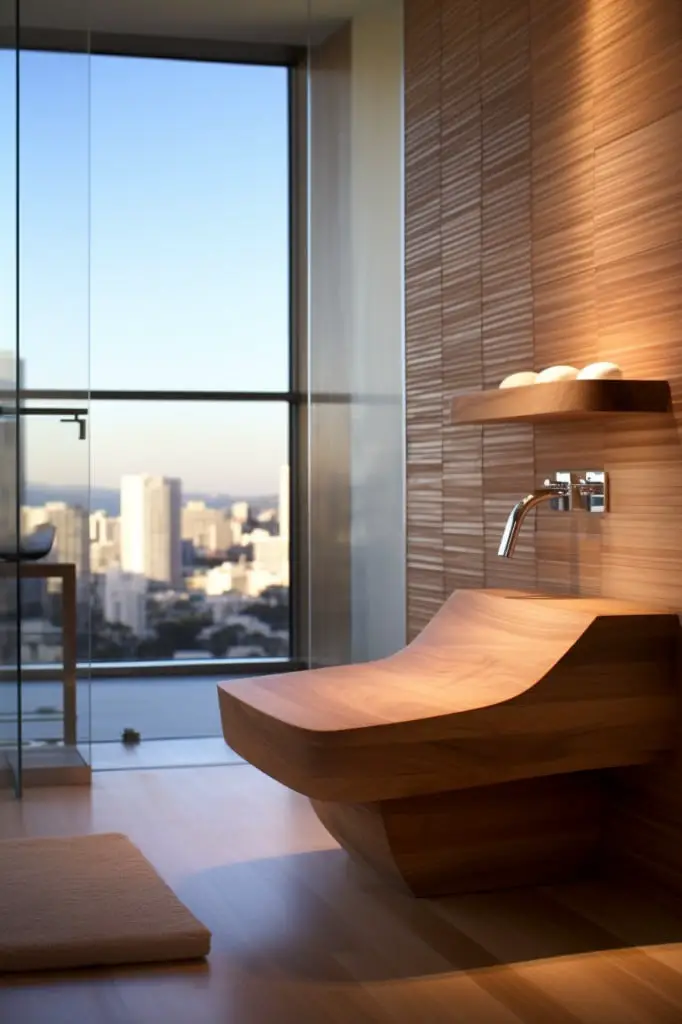 The floating wooden seat is an epitome of modernity and minimalism in bathroom design. This simple yet functional piece creates an atmosphere of calm and tranquillity in your bathroom.
Three key points to consider when introducing a floating seat into your bathroom are:
Space Efficiency: Optimizing the available space, as it doesn't consume floor area.
Customization: Tailoring dimensions and style to fit individual requirements for comfort.
Durability: Deciding on premium quality timber like teak or bamboo to withstand humidity and usage.
Iron Garden Stool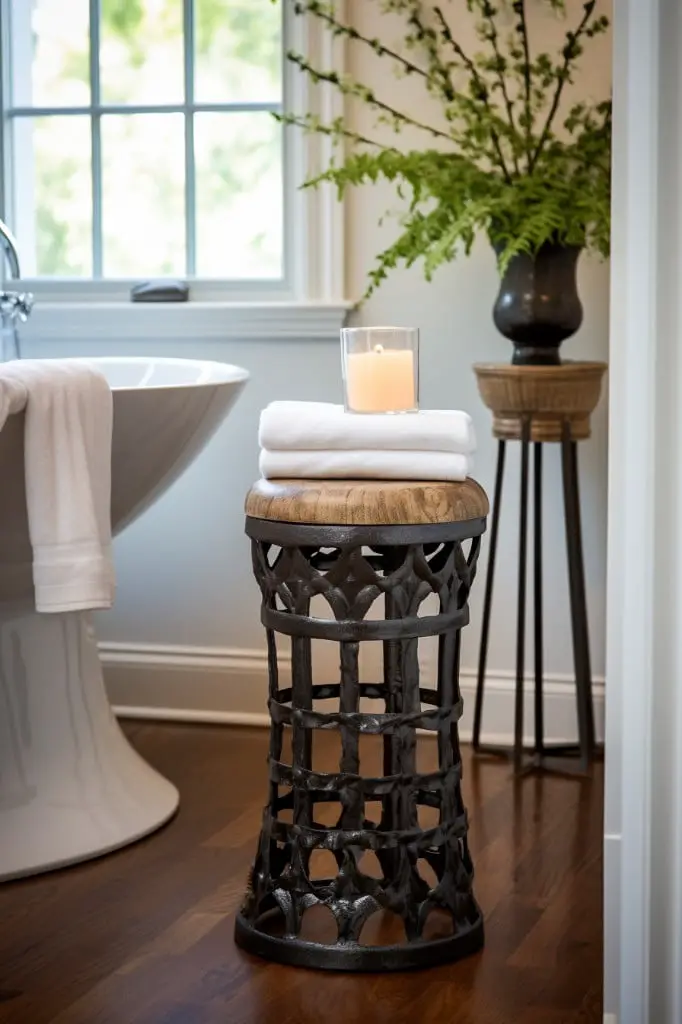 Rust-resistant and durable, an iron garden stool can make a striking addition to a bathroom. With a variety of shapes available, it perfectly complements a vast array of bathroom styles.
Key Points:
Versatility: Suitable for both traditional and contemporary settings.
Durability: Due to the material's resistance against rust and heavy wear.
Aesthetic appeal: Often features intricate patterns or detailing.
Ease of maintenance: Simply requiring a wipe down with a damp cloth.
Form & Function: While compact and space-saving, can also serve as an additional surface for bath essentials.
Ceramic Garden Stool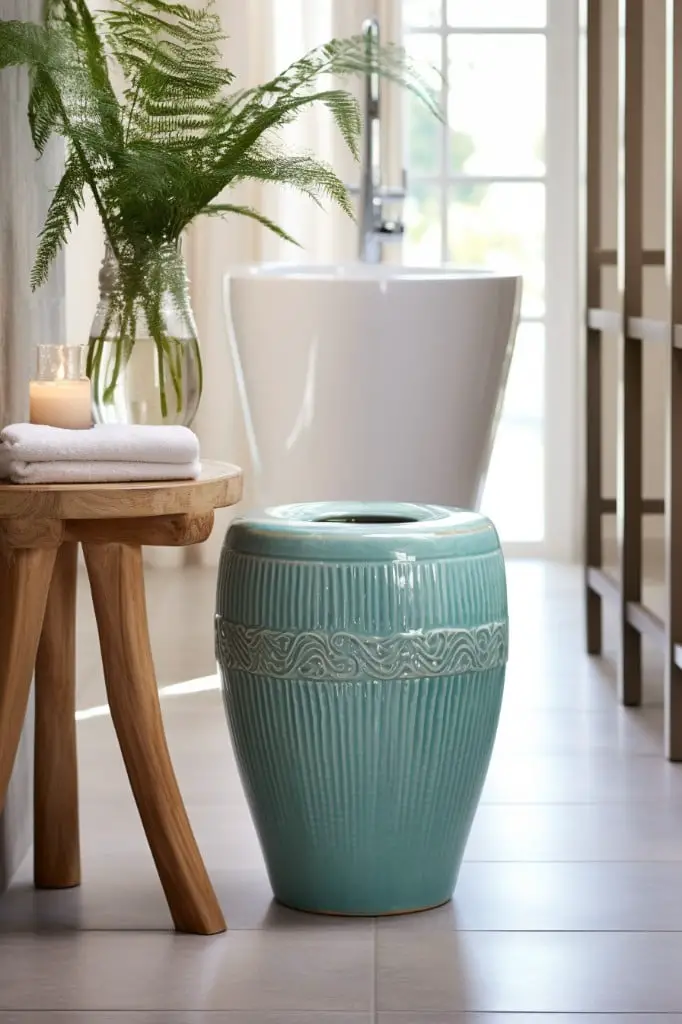 Ceramic garden stools offer great versatility; serving both as a decorative and functional aspect in your bathroom. Known for durability, these stools withstand damp conditions without losing their aesthetic appeal. They bring in a sense of natural beauty, adding color and vibrancy to the bathing space.
Key points:
Versatile and multifunctional.
Durable in damp conditions.
Adds natural beauty.
Enhances vibrancy in space.
Vanity Chair With Back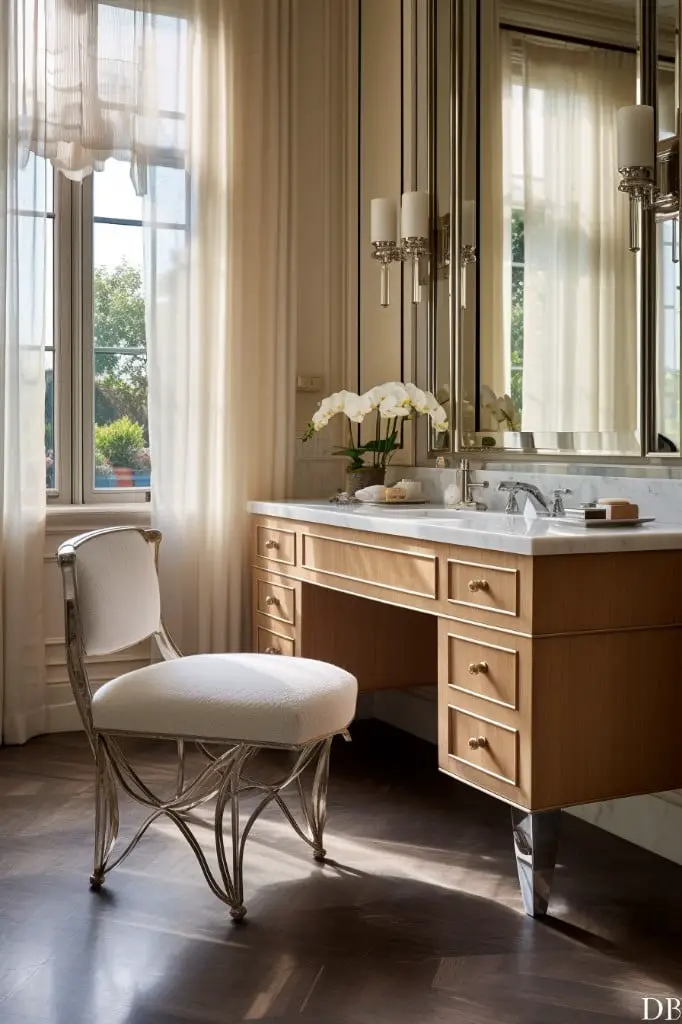 Elegance and comfort epitomize a vanity chair with back. Perfect for any chic bathroom, it offers both style and functionality.
1. Design Variety: From modern minimalist to vintage ornate, they are available to match any aesthetic preference.
2. Back Support: Acquiring a chair with a built-in back ensures maximum comfort during grooming routines.
3. Upholstery Options: Cushioned leather, plush velvet, or breathable cotton, varied materials for personal comfort and style.
4. Space Use: Convenient for larger bathrooms, but with compact options available too.
5. Extra Storage: Some models come with additional under-seat storage for bathroom essentials.
Hammock Style Bathtub
Featuring a unique and luxurious design, this piece takes inspiration from the relaxing quality of hammocks. It's expertly engineered to provide maximum comfort and makes an impressive statement, turning an ordinary bathroom into a spa-like retreat.
Key Points:
Exceptional Comfort: Its ergonomic design offers superior relaxation, reminiscent of lounging in a hammock.
Space-Saving: Its innovative built-in design saves room, ideal for smaller bathrooms.
Luxury Appeal: Adds a high-end, distinctive touch, boosting the aesthetic value of the room.
Functional: Despite its unconventional looks, it functions like a standard bathtub, ensuring all basic needs are met.
Material Options: Available in a range of materials such as acrylic, porcelain, and fiberglass, catering to various tastes and budgets.
Remember to consider the strength of your floor joists and the weight capacity they can support before installation. While certainly a luxurious addition, a hammock bathtub is a substantial piece that requires proper support in your infrastructure.
Antique Wooden Stool
Exuding a sense of history and charm, antique wooden stools offer both function and aesthetics. With their rustic aura, they infuse a layer of character and familiarity, thereby creating a comfortable atmosphere.
1. Diverse style range: From primitive, folk art to Victorian, the variety is comprehensive.
2. Unique designs: Each piece has a distinct character, displaying the artistry of the era it was crafted in.
3. Durability: Often made from robust hardwoods, they promise long-term use.
4. Versatility: They can be used as vanity seats, accompanying the sink, or standalone decor.
5. Upcycle potential: They provide ample scope for DIY enthusiasts to restore, paint, or even reupholster.
6. Easy maintenance: Simply dusting them regularly and applying a coat of wood-friendly polish annually will ensure their longevity.
Remember, when opting for an antique wooden stool, always consider the existing decor. Although it's an accent piece, it should complement the overall design language of the bathroom.
Adjustable Height Bath Seat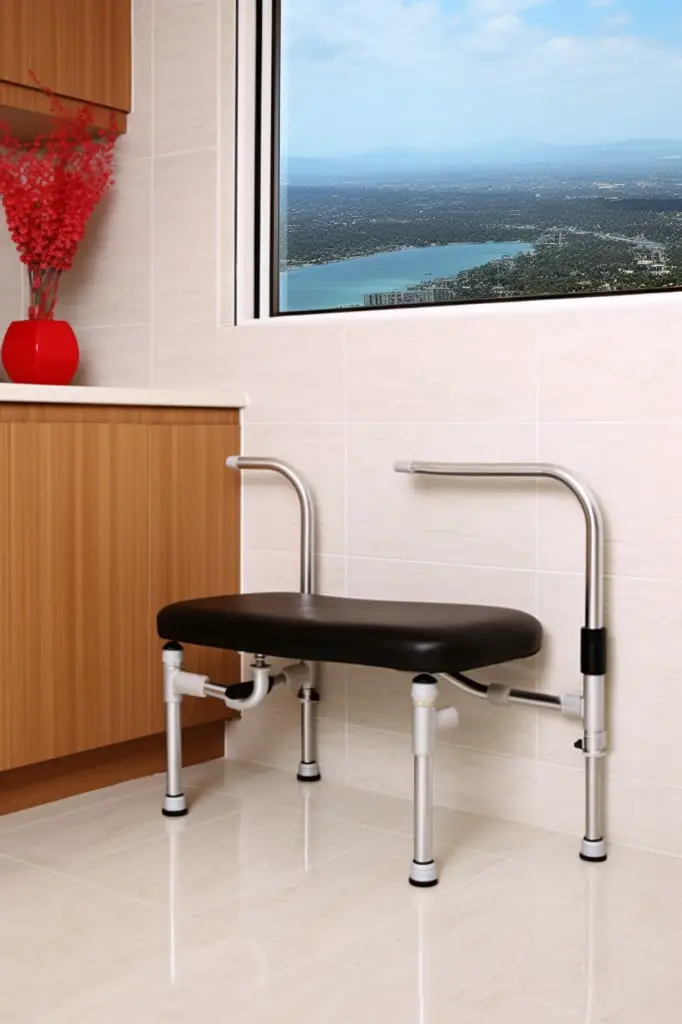 The true beauty of an adjustable height bath seat lies in its flexibility. Catering to various individuals' needs, from those with mobility concerns to children, this seating option demonstrates practicality and convenience at its best.
Versatility in sire: The key selling point is its versatile nature. The height can be conveniently adjusted to accommodate different users' sizes, allowing everyone to use the bathroom comfortably.
Promotes safety: For those with mobility challenges, an adjustable height bath seat can be a tool for safer bathing. The adaptability can help to minimize the risk of slips or falls.
Easy installation: This type of bathroom seating requires minimal setup. It's usually a matter of securing the seat in the desired location, ready to be used.
Comfort: Many designs of adjustable bath seats also prioritize comfort, often incorporating soft padding and ergonomic shapes to support the user.
Space-saving: Despite its functionality, this seating choice is also typically compact, making it a suitable choice even for smaller bathrooms.
Plush Tufted Bench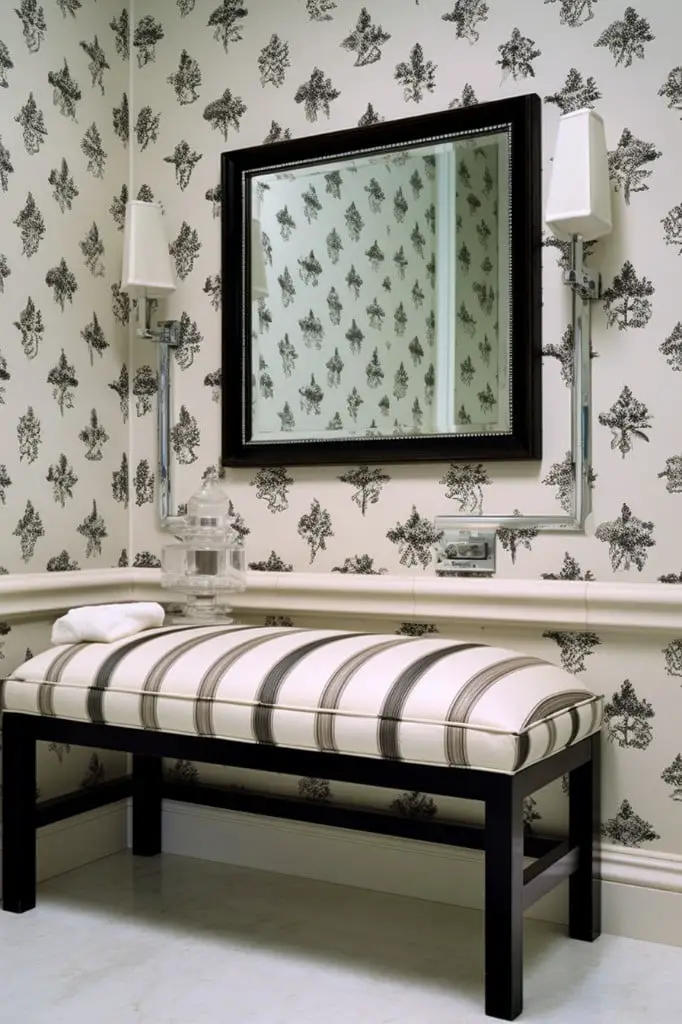 Ideal for larger bathrooms, the plush tufted bench brings a luxurious touch. Constructed with soft cushioning and often featuring velvet or silk fabric, it offers both comfort and elegance.
It works well at the foot of a soaking tub or opposite your vanity for extra seating.
Adds glamor and sophistication
Suited for spacious bathrooms
Provides extra seating
Features fine quality fabrics such as velvet or silk
Offers superior comfort due to cushioning
Continue reading:
Recap