Last updated on November 30, 2023
Dive into the world of creative prom send-off ideas because every teen deserves a magical start to an unforgettable night.
I'm proud of the uniquely designed article and illustrations I've crafted on "20 Unique Prom Send Off Ideas for a Memorable Special Night" and hope you'll find the ideas as inspiring and fun as I did creating them.
Looking for innovative and memorable prom send-off ideas? You've hit the jackpot! This article is packed with unique, stylish, and fun ideas that will make your prom departure unforgettable.
From elegant car decorations to creative photo ops, and even some unexpected surprises, we've got it all covered.
So, if you're ready to add a touch of magic to your prom night, keep reading to discover all the details you need to make it happen.
Red Carpet Photoshoot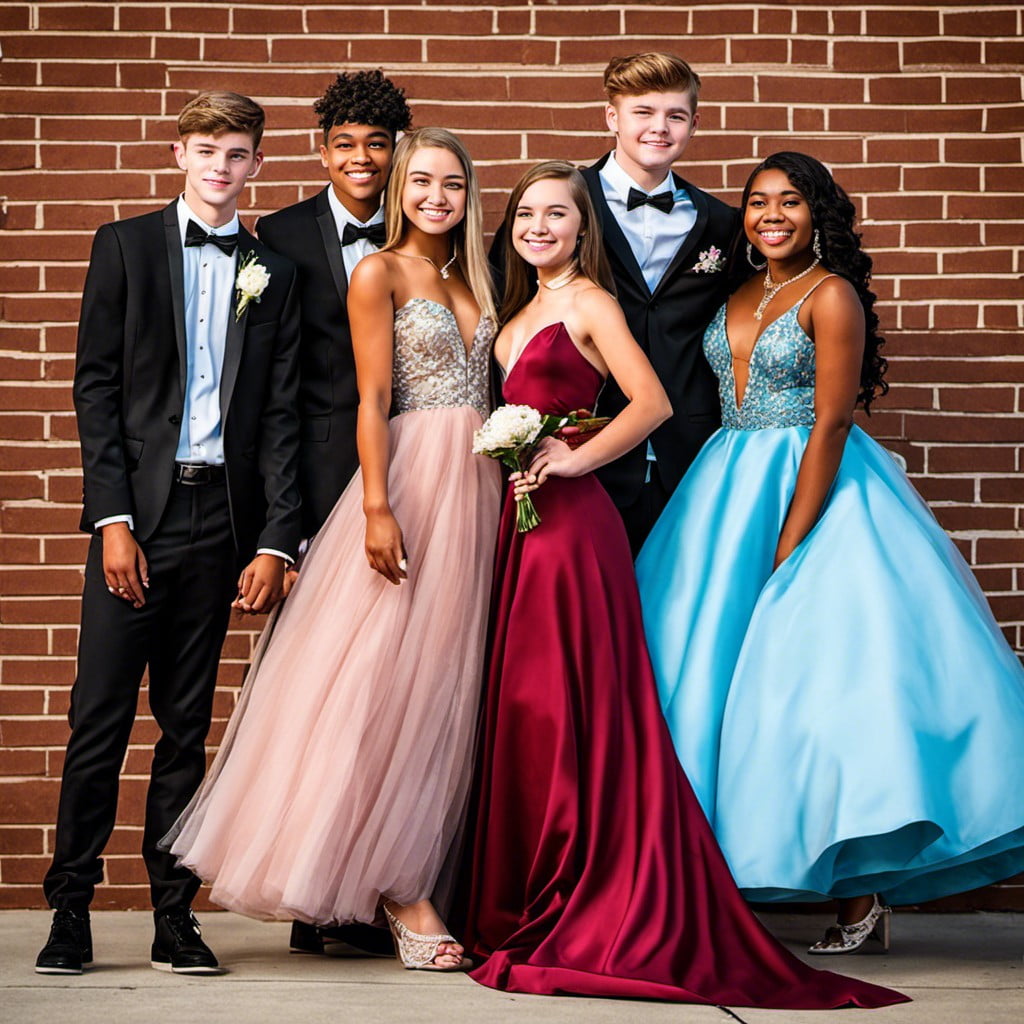 Adding a glamorous touch to your event can be as simple as rolling out a red carpet in your front yard. Hire a local photographer, or enlist a family member to snap high-quality photos of the prom-goers in their finery.
Make sure your backdrop is appealing – a well-maintained garden or a wall art might do the trick.
Key Consideration:
Choose lighting that complements the event timing.
Using props such as oversized glasses, speech bubble signs can add a fun twist.
Confirm the camera's battery is fully charged and that there is ample storage space for all the pictures.
Encourage guests to try different poses to capture a variety of images.
Share the digital album with all attendees after the event.
Pre-prom Family Dinner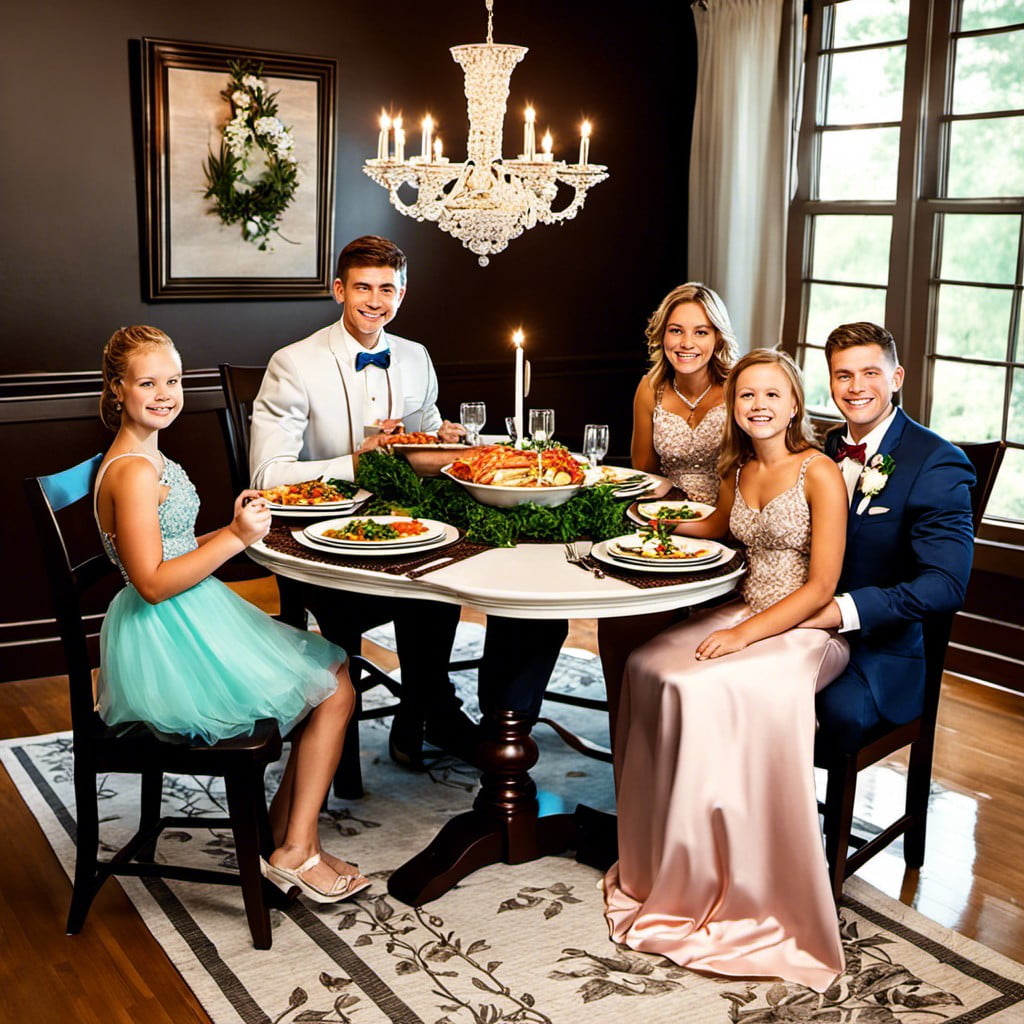 Hosting a family dinner before heading off to prom is a tradition in many households. The idea perfectly combines the celebratory atmosphere of prom night with the warmth of family togetherness. Here's how to make this event memorable:
i) Menu Planning – Prepare a special meal incorporating the student's favorite dishes. These extra thoughtful touches make the event more personal.
ii) Table Decorations – Use prom-inspired decorations for the dining table. Mix and match different textures and colors for table linens, centerpiece, and other decors to make dinner more festive.
iii) Dress Code – Make it more fun by having a dress code. Whether it's semi-formal or simply matching colors, it adds to the overall feel of the event.
iv) Toast Time – Arrange for a short toast before mealtime. This could be a heartfelt speech wishing luck or sharing fond memories.
v) Photo Session – Don't forget to capture the moment. The focus of the evening should be on snapping pictures of your student, in their prom outfit, surrounded by family and love.
Customized Car Banner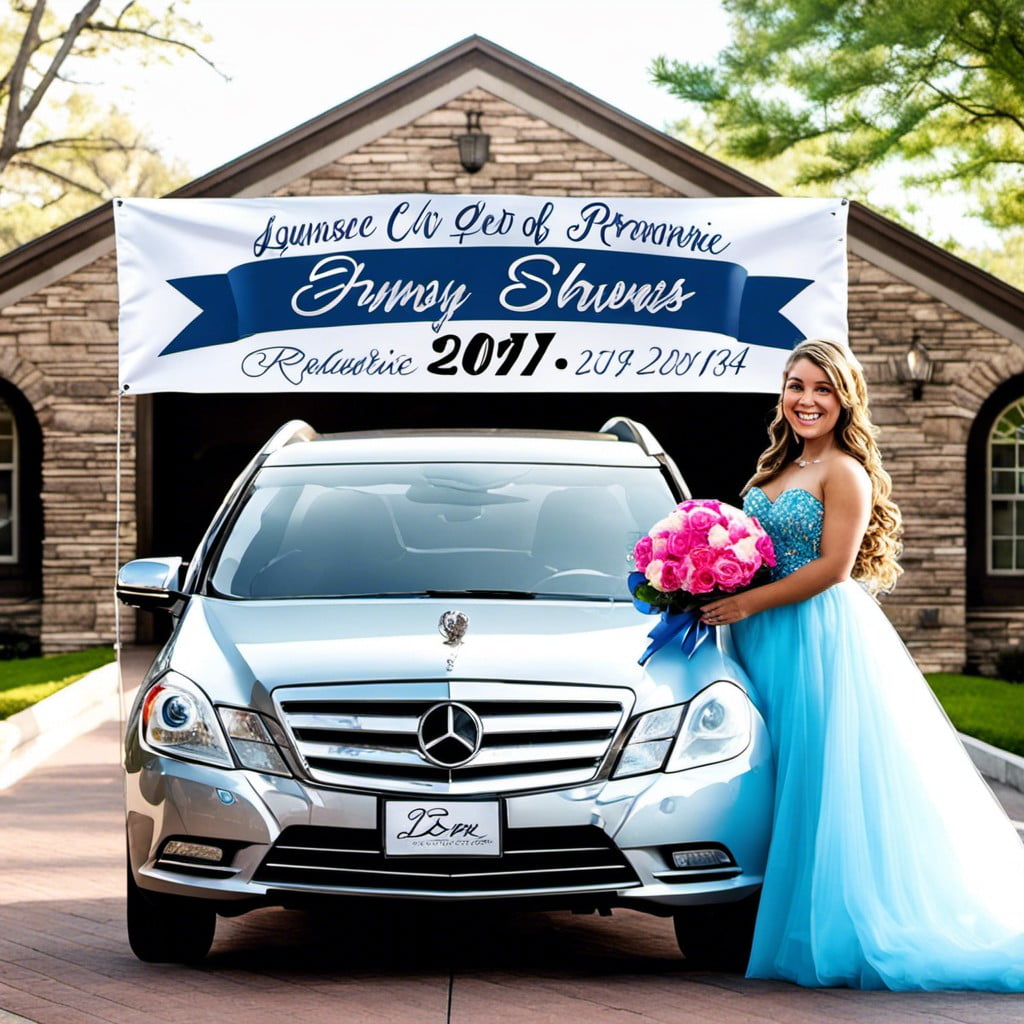 A striking feature of any prom send-off is the vehicle that transports the attendees to their fun-filled night. Spruce up the ride to the venue with a personalized banner. Here's how to effortlessly pull off this concept.
1. Pick Appropriate Material: Fabrics like vinyl or polyester can withstand most weather conditions, and they're perfect for creating large banners.
2. Design Wisely: Incorporate a prom-themed design. Perhaps include the year, the student's name, or a fun, prom-related pun.
3. Select Consistent Colors: Stick to color schemes that match the school's colors or the passenger's attire to maintain consistency.
4. Fasten Securely: Ensure the banner is firmly attached to prevent it falling off or obscuring the driver's view. Use a suction cup with a hook or a strong tape for this purpose.
5. Position Strategically: Place the banner either at the car's front or back. However, avoid any placement that might interfere with the vehicle's operation.
6. Consult Local Regulations: Before doing any decorations, check local laws related to car personalization to avoid running afoul of any regulations.
Going that extra mile with a customized car banner will not only make students feel special and excited about their prom night but also create enduring memories for years to come.
Limo Ride to Prom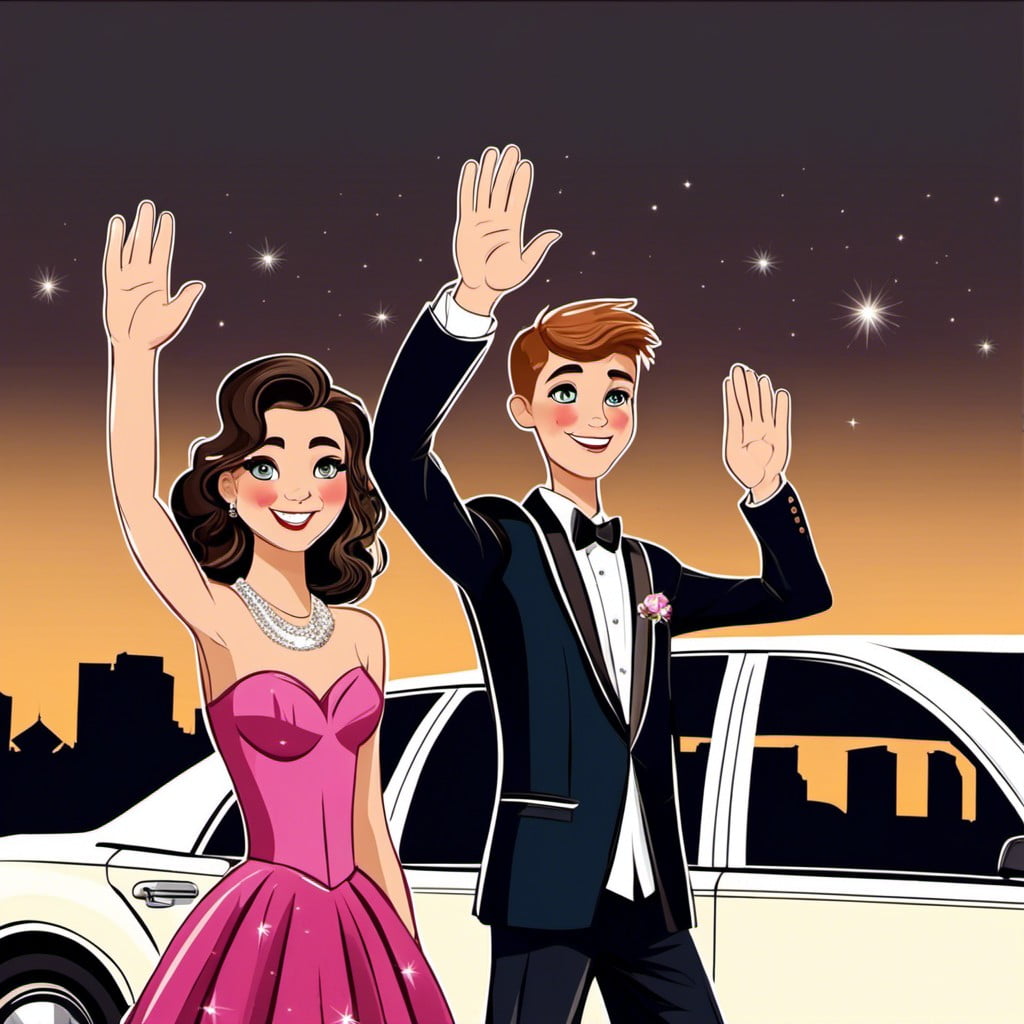 A top-notch idea, isn't it? Now, how about making your travel to the prom as exciting as the event itself? Booking a limo ride could be the show-stopper you're seeking! A limousine can scream sophistication and worth every pre-prom snapshot.
When hitting the road, surprise the fellow rider prom-goers with a few inside-the-car activities. Games, pop quizzes about each other, or even a karaoke session could lend a fun spin to this ride. You'd arrive at the venue, all pepped up and high on good vibes.
To add an element of personal touch, consider arranging some light refreshments. Include their favorite bites, drinks or desserts. You could even have a mini pre-prom celebration right inside your chariot!
Finally, utilize this ride as your last-minute vanity check point. From a tiny mirror to a spare lipstick or hairbrush, stocking up your essentials would guarantee a perfect entrance. Remember, the prom begins the moment you step into that limo. And it doesn't hurt to make this 'step' an unforgettable experience.
Creating a Send-off Playlist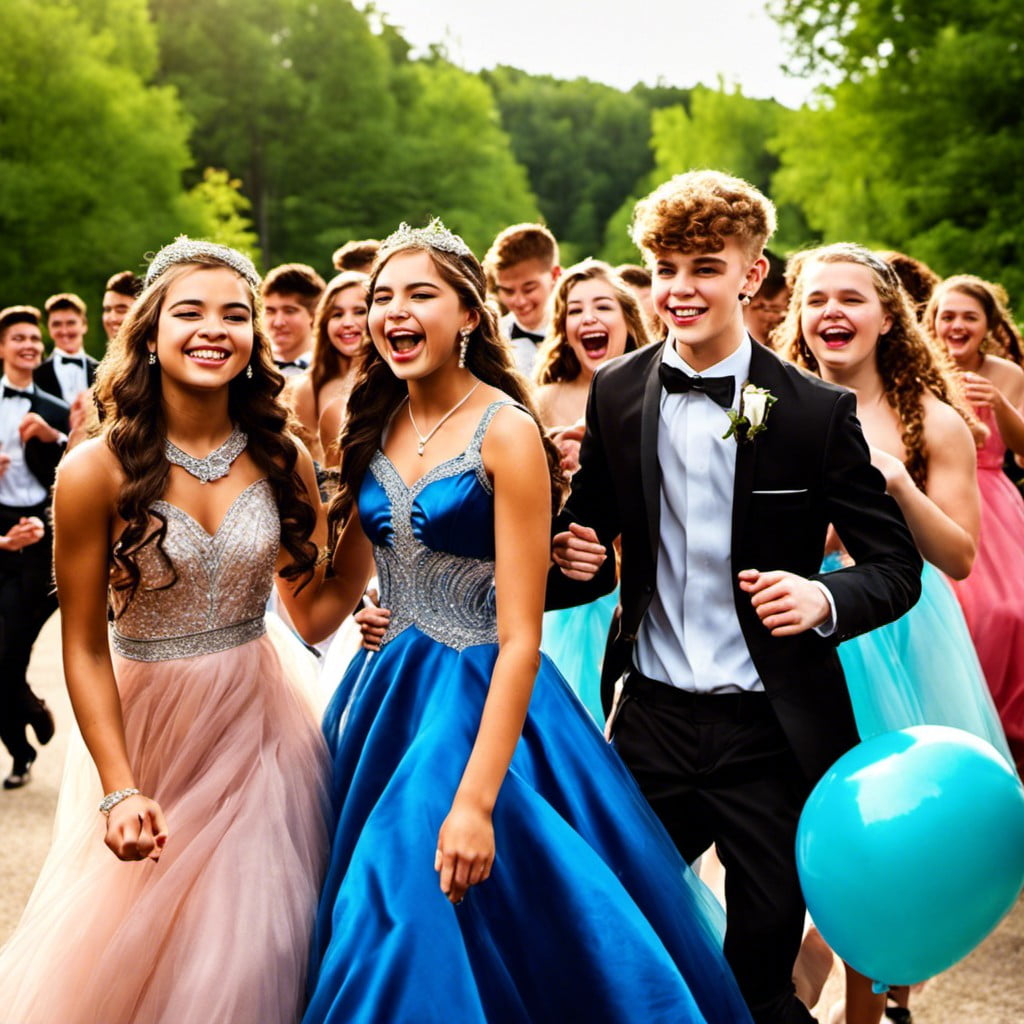 To get the party started, curate an energetic beat to keep spirits high. Involve the prom-goer in the process, allowing them to pick songs that make them feel fabulous. Mix in the favorites of family and friends to make it even more personal.
Remember to sequence the tracks starting with uplifting tunes to build excitement gradually. You may even add a few surprise songs that bring back fond memories or incite laughter. An amalgamation of different music genres could keep things exciting and unpredictable.
Use streaming apps like Spotify or Apple Music that allow easy sharing so everyone can tap into the rhythm. This sensory experience will not only set the tone for the evening but also create memorable moments right from the start.
Balloon Arch for Photos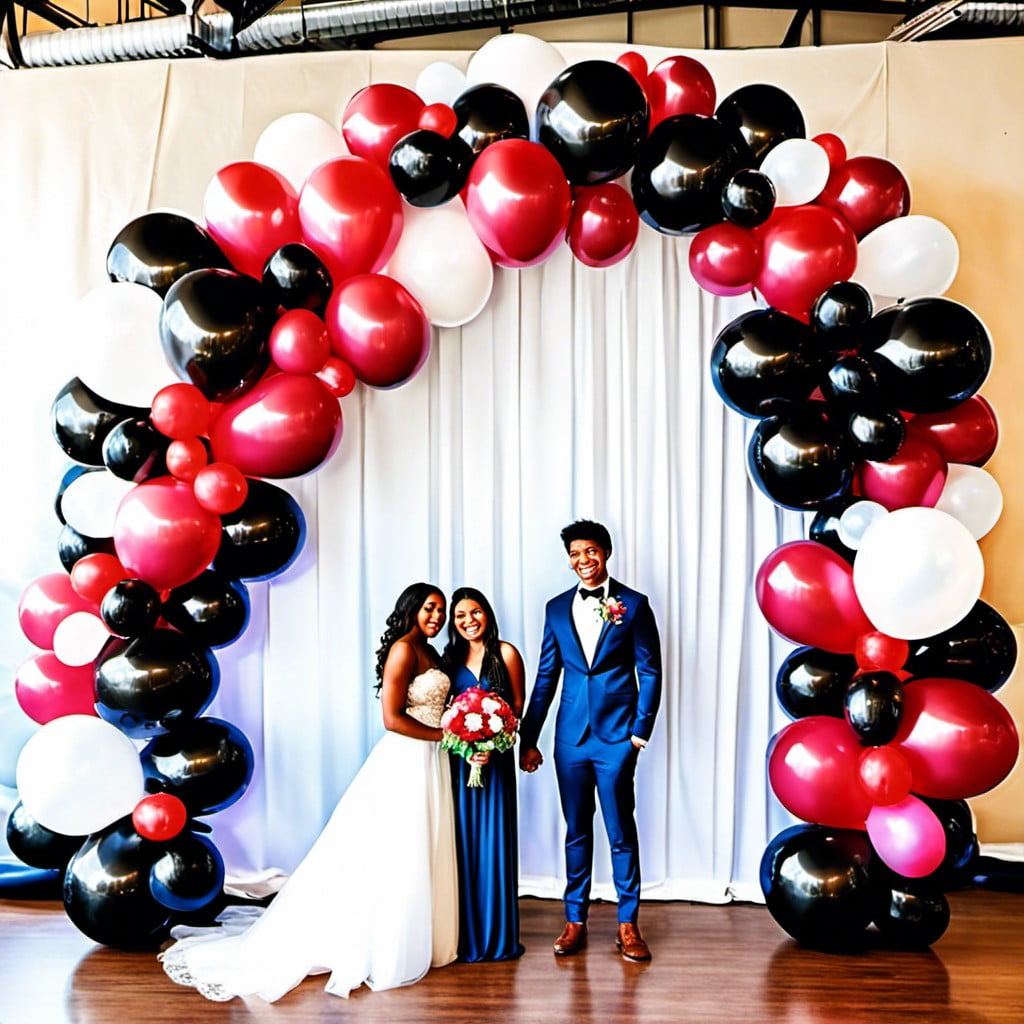 Creating a stunning visual focal point for your prom send-off photos is a breeze with an artful arrangement of latex orbs.
Firstly, select balloons in colors that complement the theme or dress code of the prom night. Consider adding different sizes for a dynamic effect.
Next, arrange the balloons into an arch, either free-standing or supported by a cord, depending on your preferred design. You could also add some ribbon or shimmering trims for an extra sparkle.
Finally, place the arch in a well-lit location that will guarantee beautiful, Instagram-worthy photos.
Remember, while it's important for it to be visually appealing, it's equally essential to ensure the arch is sturdy and secured safely to prevent any mishaps on the night.
Fireworks Display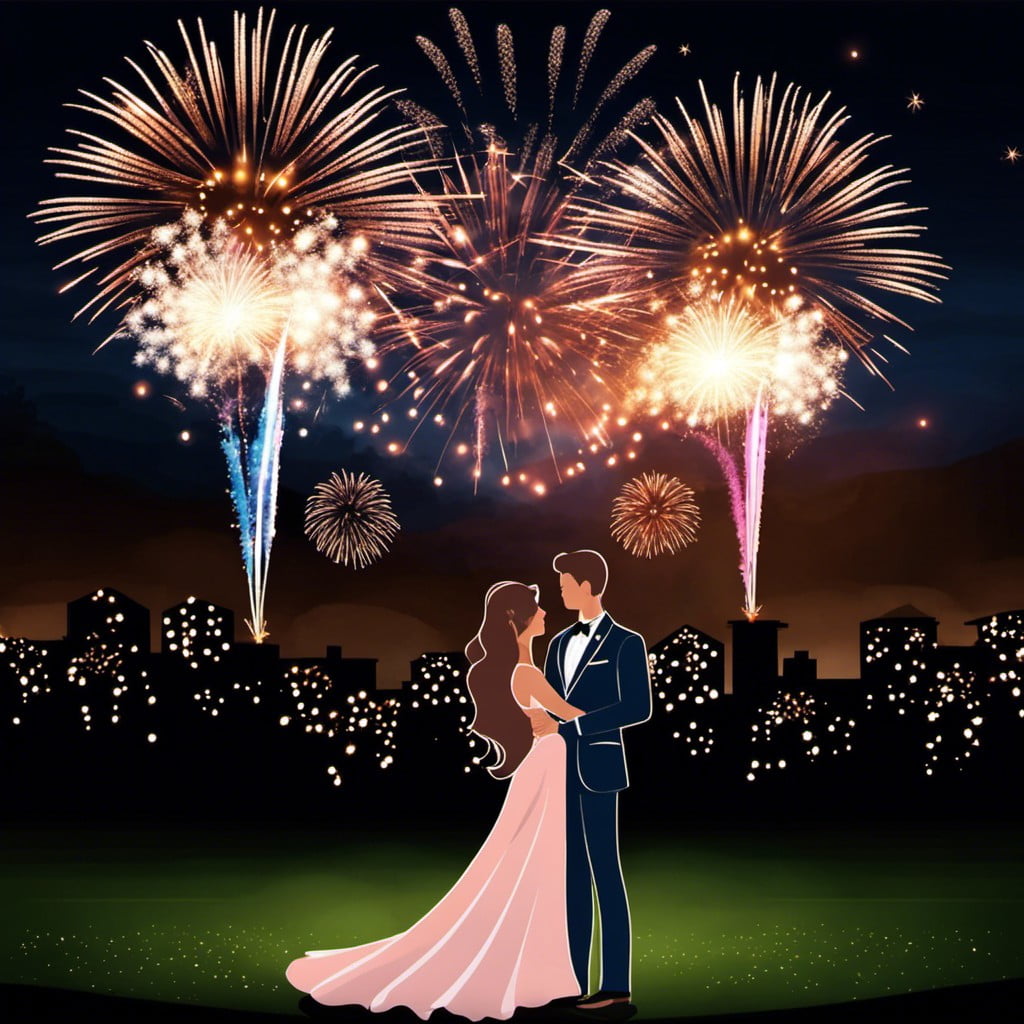 To maximize the impact of this spectacle, arrange a display of bright, colorful explosions just as the event heads towards its climax. The timing is key – aim for the golden hour which will provide a perfect backdrop for the display enriching your photos.
Safety is paramount, so hiring professionals is advised. Check the legality in your local area as most places require permits.
If a full display isn't feasible due to restrictions or budget, consider alternatives like sparklers or fountains which can create a similar vibrant, exciting atmosphere.
After all, this is not just about the visual effect but creating a thrilling highlight of the evening that, much like the explosions above, will linger in the memories long after the night ends.
Outdoor Garden Party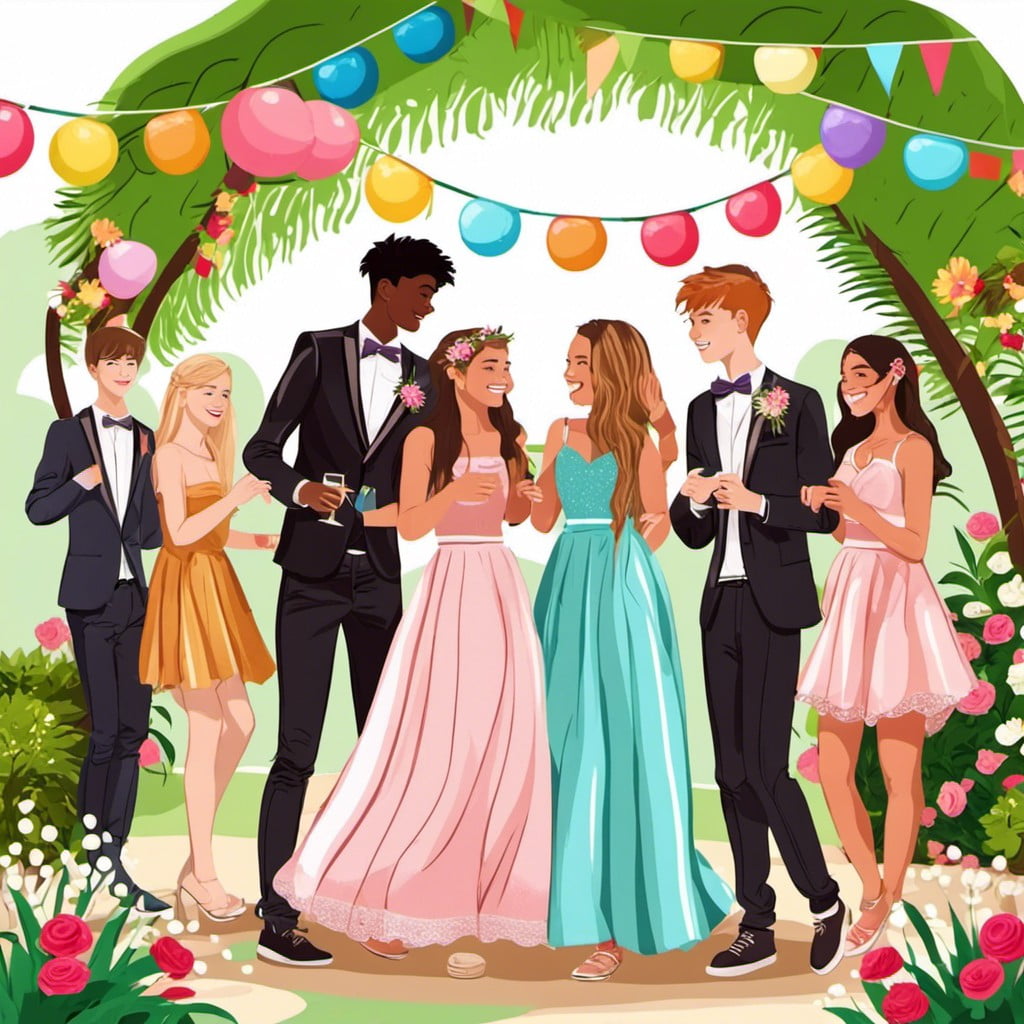 To set the perfect stage for your grand arrival, consider utilizing your garden as a naturally aesthetic background. Select an area with ample space and set up a makeshift stage for photographs, speeches or even a little pre-prom send off dance.
Remember to keep the decor in line with the overall prom theme, while giving it a personal touch. From twinkling fairy lights, floral arrangements, to elegant garden furniture, the choices to create an inviting ambiance are endless.
Think about serving small bites and non-alcoholic mocktails to make it more enjoyable. A mini garden concert or a live band playing in the background can also be an interesting addition, bringing an exciting ambiance to your party.
Note that you should check your local weather forecast to avoid any unappealing surprises and have a backup plan in case of unexpected rain.
Grant your guests the privilege of being a part of this unforgettable moment by inviting them to join you in the garden for this garden send-off party.
Themed Prom Pre-party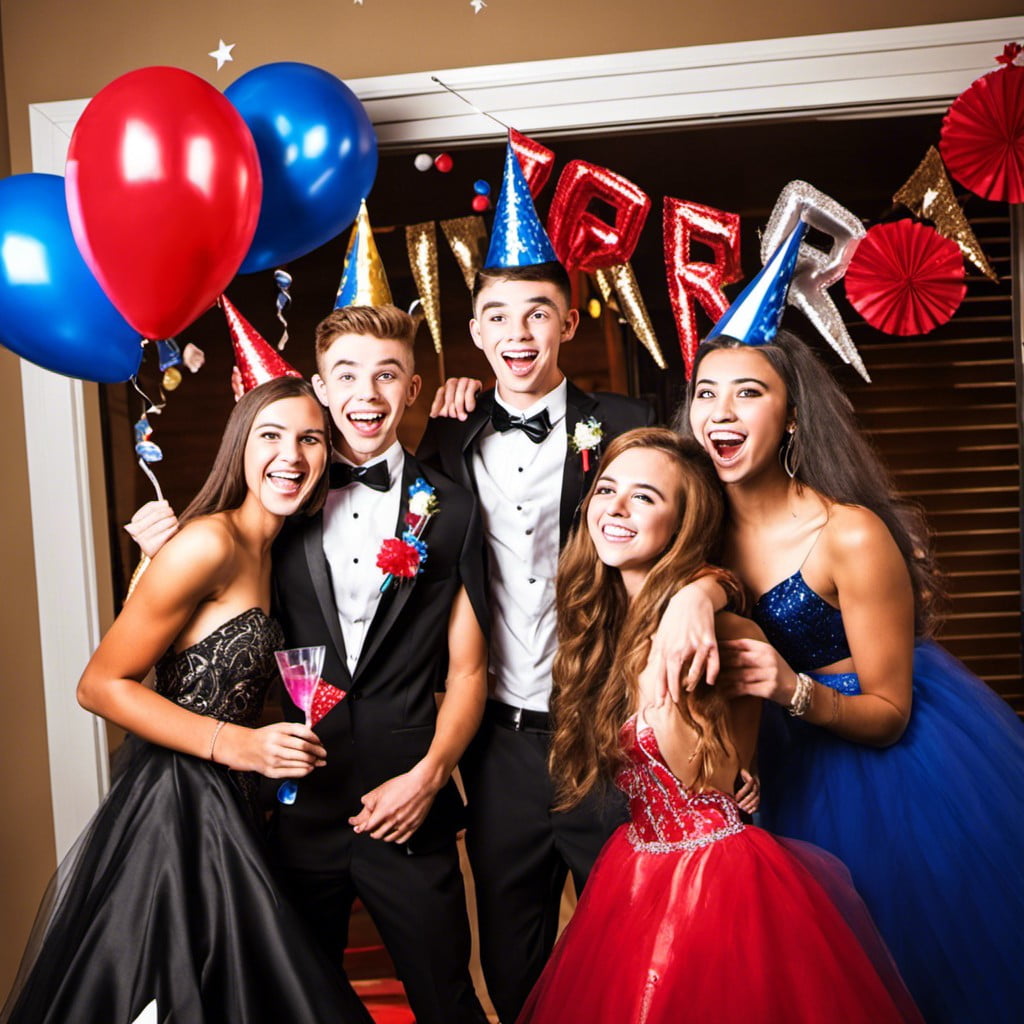 Gather a group of friends and re-create the vibe of your favorite movie or travel destination right in your backyard. French Riviera or Hollywood Glamour, choose your aesthetic, and allow it to permeate every corner of your pre-party.
For example, transform your space using decor, music, food, and costumes that reflect your chosen theme. This coordination invites fun, laughter, and excellent photo opportunities, setting the right mood for the night ahead.
But ensure that your school's actual prom theme differs from your pre-party theme, just to keep things more exciting and unpredictable. Moreover, think about incorporating interactive activities – from a karaoke session to a costume contest – that go with your theme.
This way, your themed pre-party becomes the perfect preamble to the actual prom, ensuring that the participants start their prom night in high spirits.
Limelight Walkway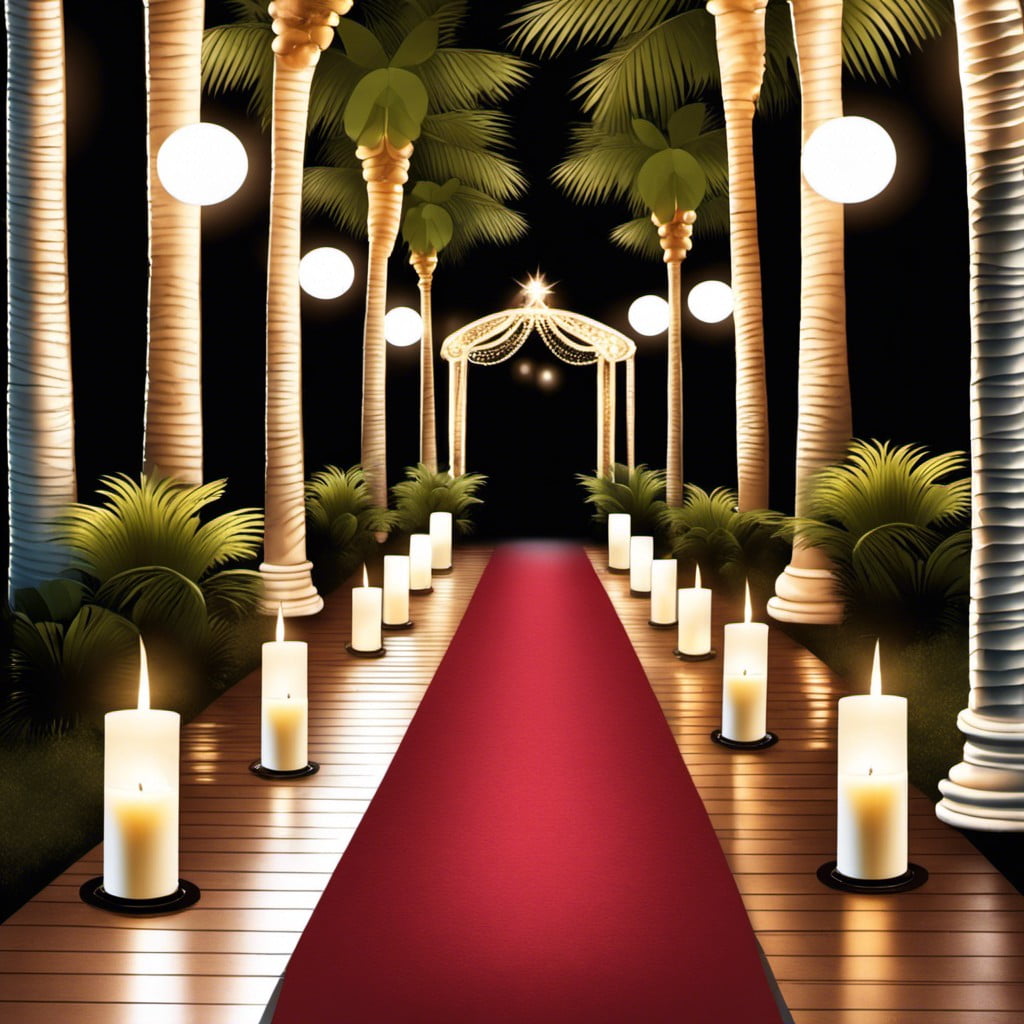 Unleash your inner celebrity with this sophisticated idea. Create a walkway lined with low LED lights which gently illuminate the way and create an eye-catching spotlight effect. You could either use lamps or light stakes for this effect, try to alternate their positions on both sides of the walkway for a more dynamic feel.
Play with colors if you please. There's more than white light! Colored filters can add a fun or dramatic vibe, depending on the chosen hue. Use the high school colors, or classics such as warm gold for an elegant atmosphere or bold red for a more glamorous setup.
Don't overlook the end of the walkway! A mini-stage or platform can help to raise the photo opportunity to another level. A backdrop with a curtain or even a life-sized prom poster could work perfectly.
And finally, music. This should reflect the pace and style of the atmosphere. Instrumentals of popular songs or classics could be the magical touch, creating a memorable and sophisticated limelight moment.
Classic Car Parade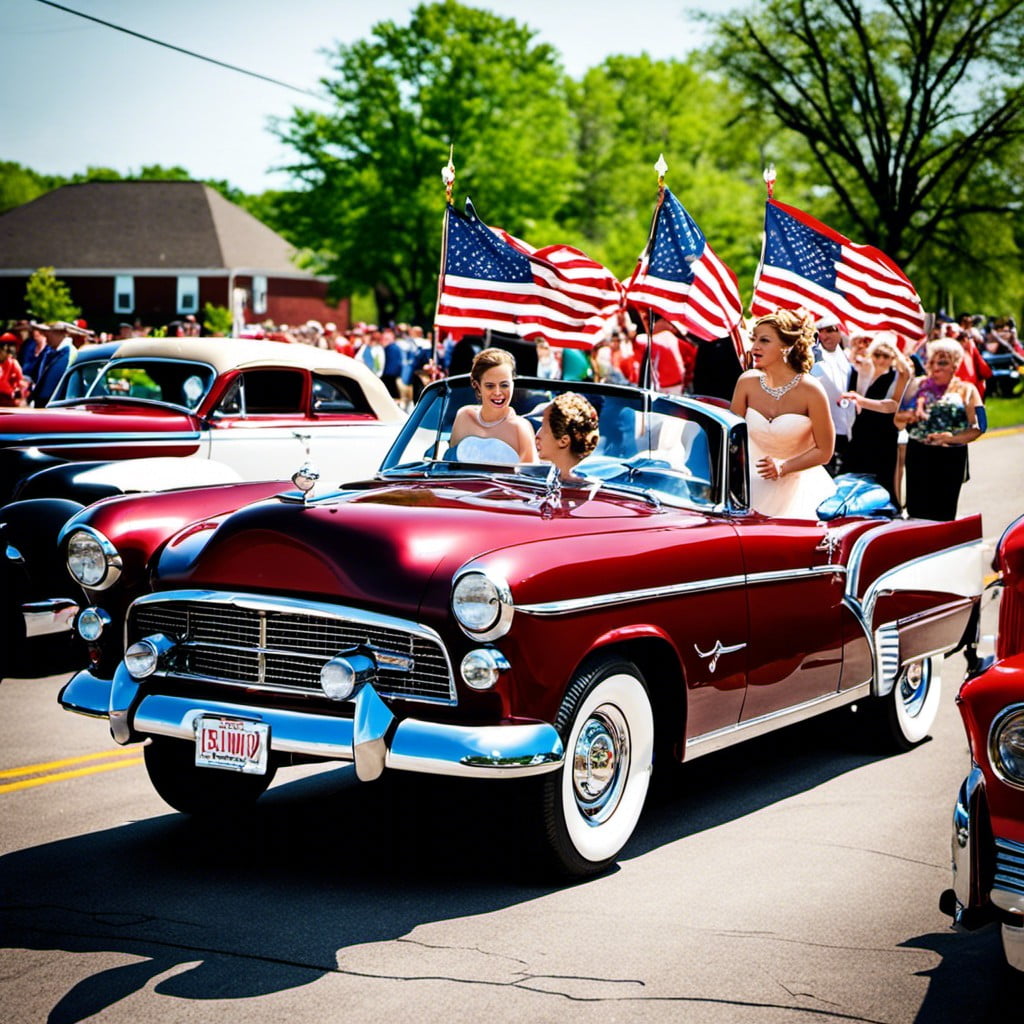 Choosing an array of dazzling retro vehicles can give the send-off a supremely cool edge. One can line up different styles, makes, years, or colors for a stunning effect.
Involving the prom goers in choosing the cars will add a personal touch, allowing them to ride to the event in style and take unique photographs. Not only does this create a one-of-a-kind memory, but it also gives the opportunity to learn more about classic cars, capturing the essence of vintage elegance.
To give an additional spin, consider hiring professional drivers dressed in period-appropriate attire. This special touch can boost the authentic vintage vibe. Remember to verify all the necessary permissions and regulations to ensure a smooth and safe transition to the prom venue.
Group Send-off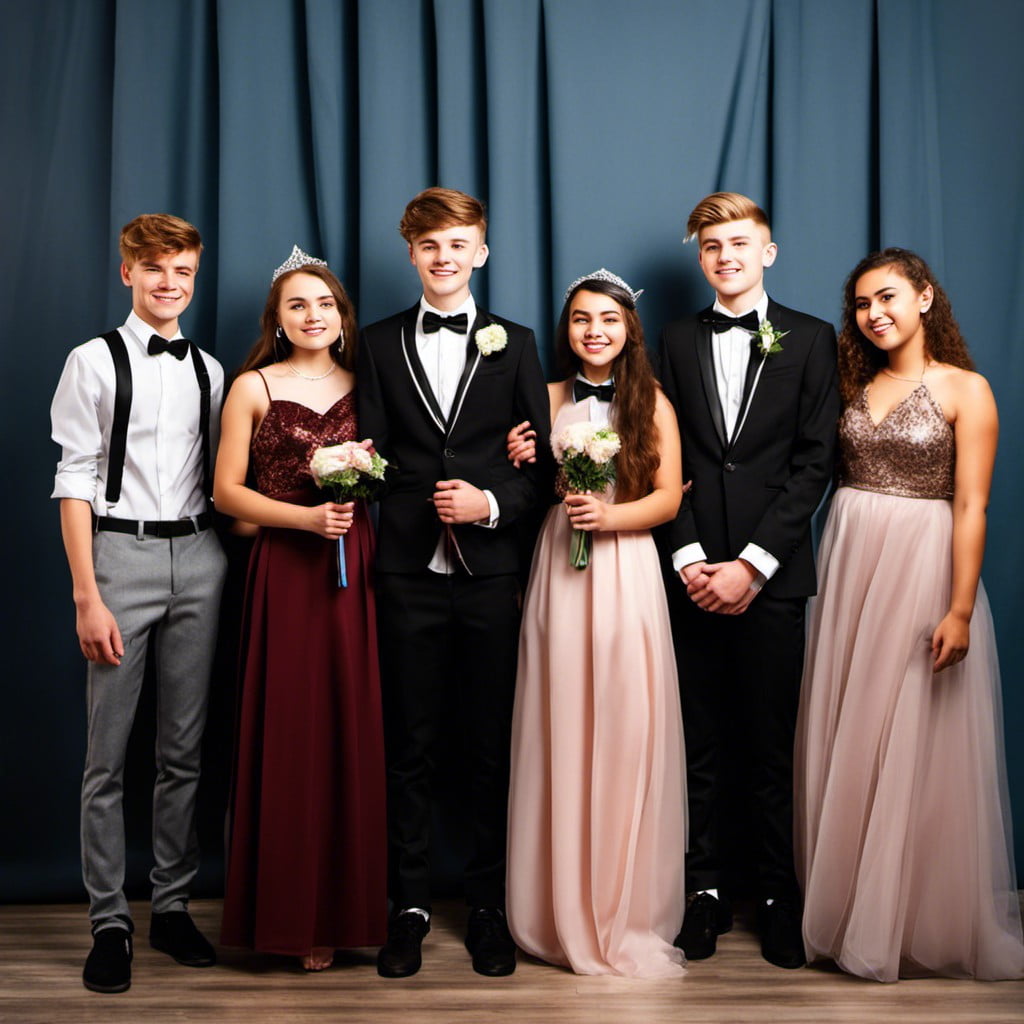 Capitalizing on the camaraderie shared between friends, a group send-off certainly steals the show. Coordinate with other parents and plan a joint departure that can amplify the shared experience of this special night. Here are some points to consider:
1. Joint Photo-op: Prepare a spot where each prom attendee can have their moment of glory captured. This not only saves time but also provides a stream of shared memories.
2. Unified Theme: Consider a unified theme for your group. Whether it's matching colors or accessories, this can bring a sense of unity and make the send-off more memorable.
3. Combined Transport: Hiring a limousine, party bus, or classy vintage car might be a brilliant way to transport everyone together. It's exciting, it's fun, and it's stylish.
4. Small Celebration: Before the moment of departure, have a small celebration with some light refreshments and music. Keep it simple, keep it fun!
Remember, the goal is to make it as unforgettable and fun-filled as possible for all parties involved. A group send-off brings together the collective energy of the young attendees, providing them with an enthusiastic start to their prom night.
Making a Memory Board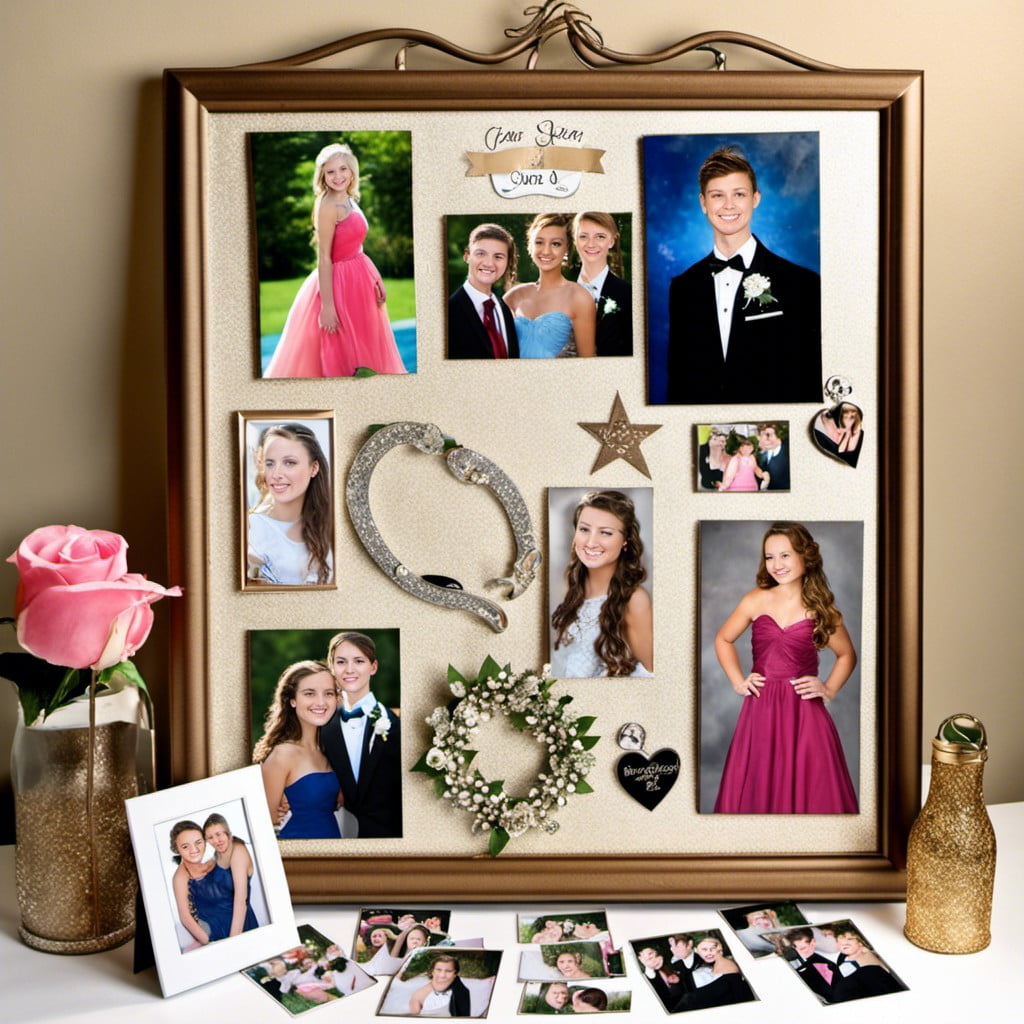 For a personal and unforgettable prom send-off, a memory board is an excellent feature. It serves as both a visual journey down memory lane and also as a conversation starter amongst prom-goers. Fill it with cherished photographs, school mementos, awards, and personal keepsakes that tell the story of your high school journey.
Here are some simple steps to create an impactful memory board:
Choose a Board: Options range from cork to magnet boards. It can be as big or small as you prefer.
Gather Mementos: Collect photos, academic achievements, sports medals, concert tickets, or anything that holds special meaning.
Arrange and Attach: Plan your layout before you start attaching items to the board. Ensure it represents the story you want to tell.
Add Touches: Do not hesitate to embellish the board. Sticker quotes, washi tapes, fairy lights could add that extra touch of personality.
Remember, there are no defined rules. Create a memory board that truly represents you. It should evoke nostalgia, laughter, and lots of 'remember when'.
Flash Mob Dance Send-off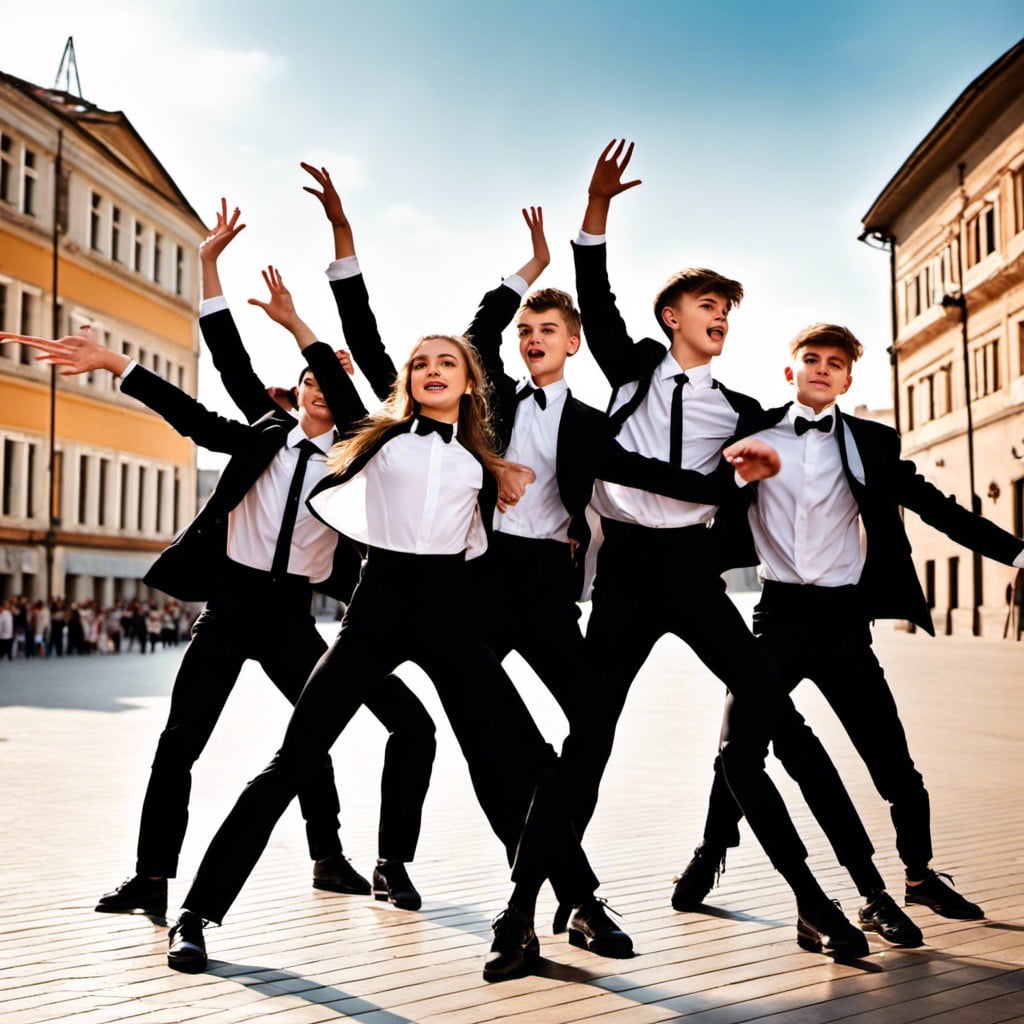 Arranging a flash mob dance as a send-off can certainly spice things up. It's simple, festive, and adds an element of surprise to the occasion.
1. Decide on a Song: Choose an upbeat tune that everyone can groove to. Remember, it's all about having fun!
2. Coordinate Participants: This could consist of friends, family members, even neighbors. The more, the merrier!
3. Simple Choreography: The dance steps need to be simple yet synchronized. It doesn't have to be perfect, it's the spirit that counts.
4. Practice: Allocate some time to practice. It ensures smooth execution on the day.
5. Reveal: Typically, one or two dancers start, and others gradually join in. Watch as amazement unfolds on the prom-goers face!
This lighthearted and dynamic way to bid farewell will ensure the event remains unforgettable.
Floating Lantern Releases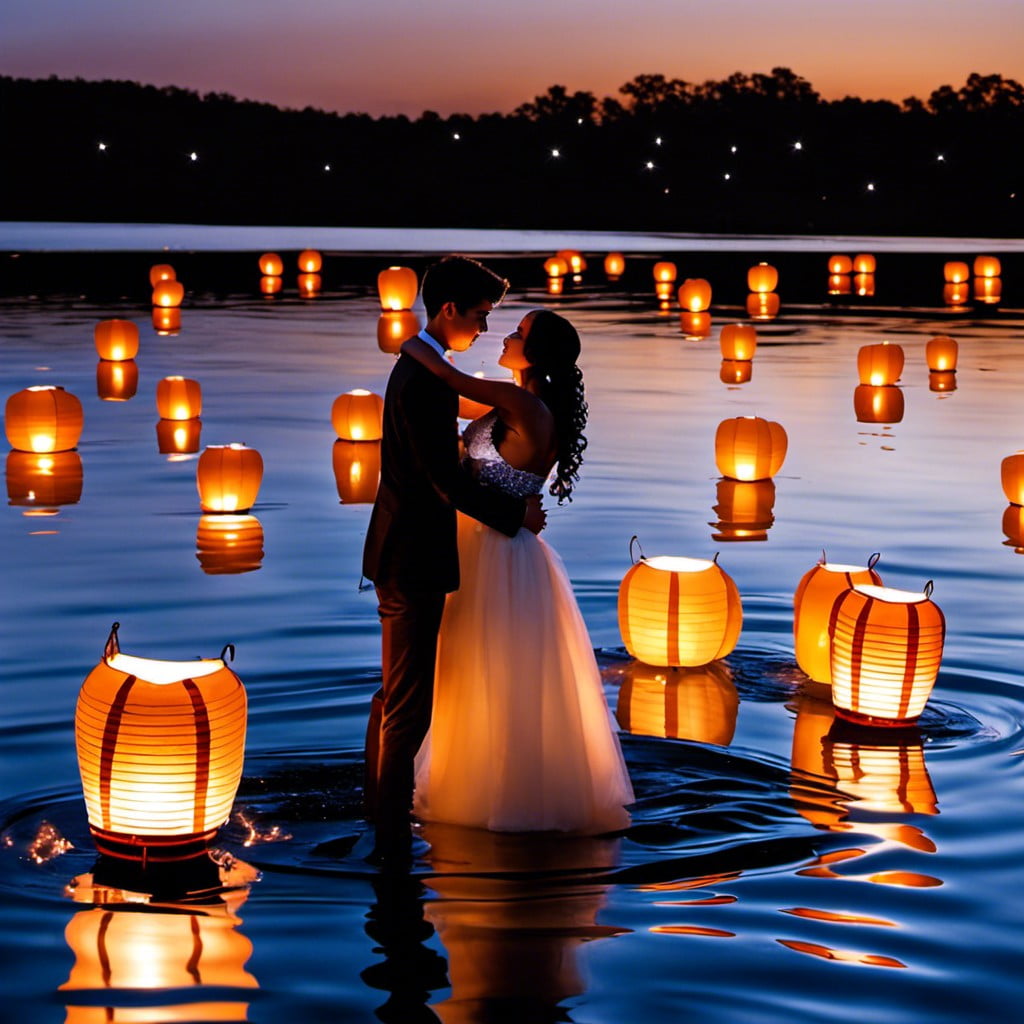 A floating lantern release can make the prom send-off magical and memorable. To ensure a successful and safe release:
Choose biodegradable lanterns: These are not only environmentally-friendly but also reduce the risk of littering.
Look for wide open spaces: Conducting the release away from trees and power lines is best to lower any associated risks.
Check wind conditions: A calm day is ideal to prevent the lanterns from being blown off-course.
Each prom-going couple signs a lantern: This personalized touch makes each lantern more special.
Light and release in synchronization: This creates a visually stunning effect.
Always remember to follow local laws and safety measures while planning for this captivating spectacle.
DIY Photo Booth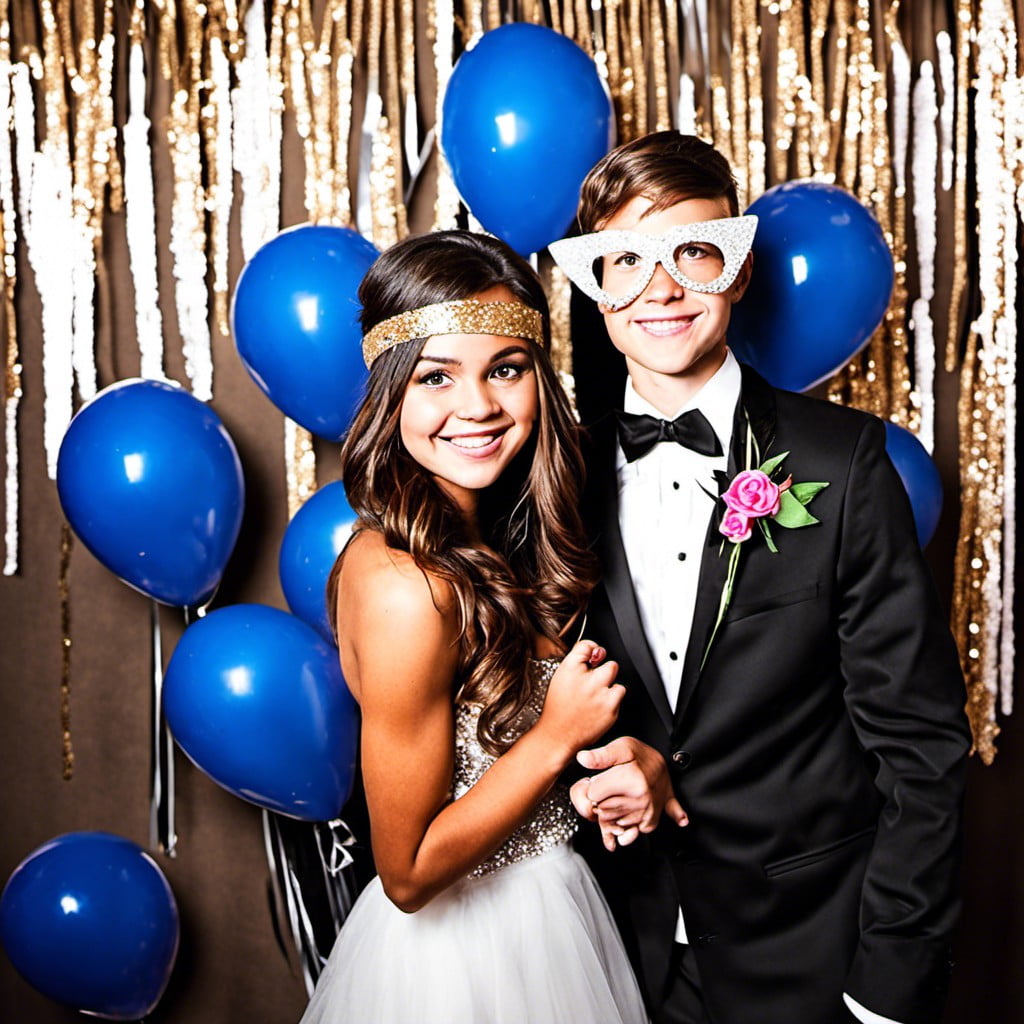 To set the stage for an unforgettable send-off, nothing beats a DIY photo booth. It's an easy project that adds a fun, interactive element to your event. Plus, the photos serve as instant keepsakes.
1. Select a Spot: Choose a spacious area with good lighting, preferably near a power source if you plan to use additional lights or props that require electricity.
2. Backdrop: Make a fun backdrop using paper streamers, balloons, or fabric. Feel free to get creative with your school colors or the prom theme.
3. Props: Provide a box of props like funny glasses, hats, feather boas, or signs for guests to use in their photos.
4. Camera: Set up a camera on a tripod with a remote release so that everyone can control when the photo is taken.
5. Lighting: Consider adding some lights to ensure you get clear, high-quality photos.
6. Table of Props: Remember to provide a table or something similar for guests to leave or pick up props.
Following these steps will allow for plenty of laughter and lasting memories while keeping everyone entertained before the big send-off.
Fairy-tale Carriage Ride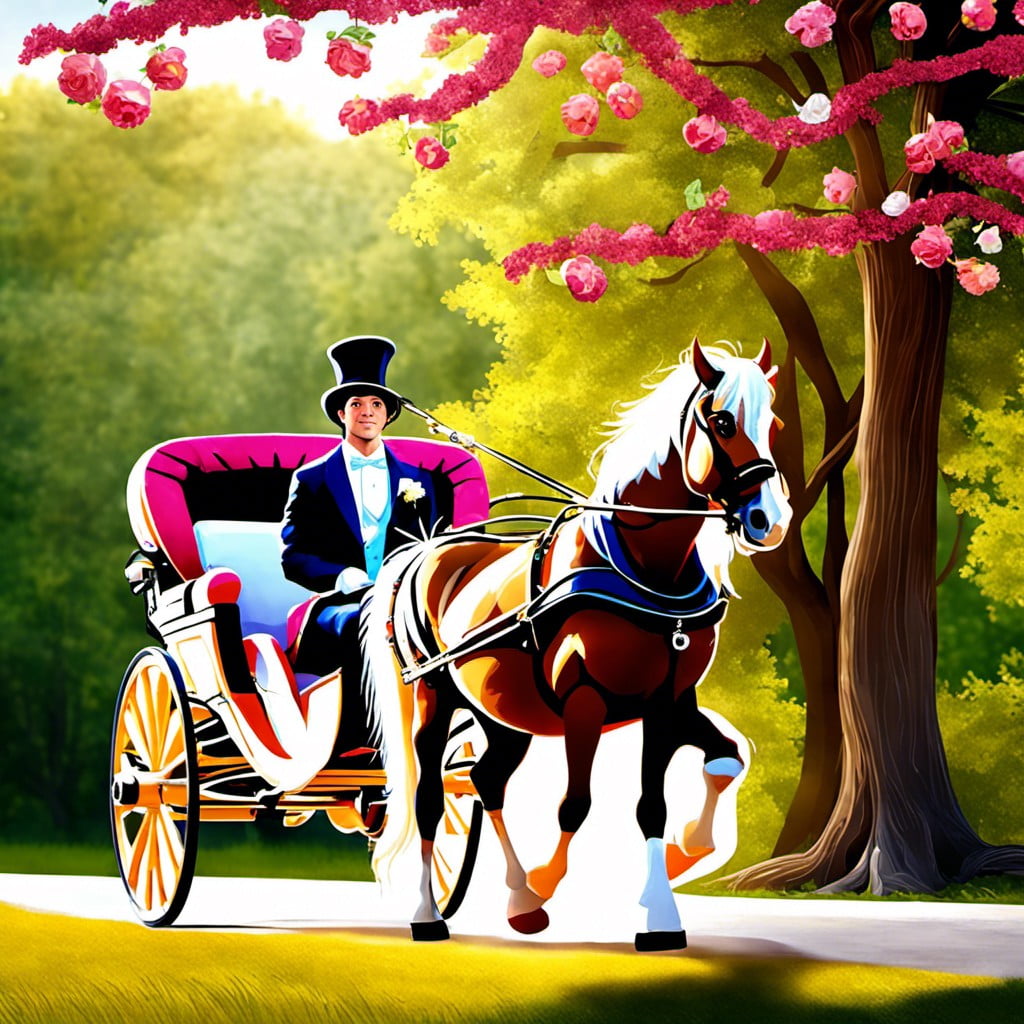 Delving into the world of enchantment and magic hasn't been easier. Transform an ordinary ride into an extraordinary journey with a horse-drawn fairy-tale carriage. This whimsical transportation brings a touch of elegance and fantasy to your send off.
Here are a few points to consider:
Set a Location: The venue should match the theme. Opt for a scenic park or castle-like facade for an authentic feel.
Choose Carriage Type: Glass pumpkin carriage or classic wooden style? The choice depends solely on your preference.
Dress Code: Coordinate with the fairy-tale theme. Think ball gowns and tailored suits for a seamless look.
Coordinate Horses' Decor: Add ribbons and flowers matching the prom theme to horses' bridles to make everything consistent.
Safety First: Ensure the carriage company follows proper safety protocols and is licensed.
Arrival Timing: Time the arrival of the carriage perfectly to ensure maximum impact.
Remember, these pieces of advice are pointers to not only create a memorable sendoff but also encapsulate the spirit of prom – a magical night spent among friends. Embrace this idea and ride off to your prom in style.
Memory Lane Walk-through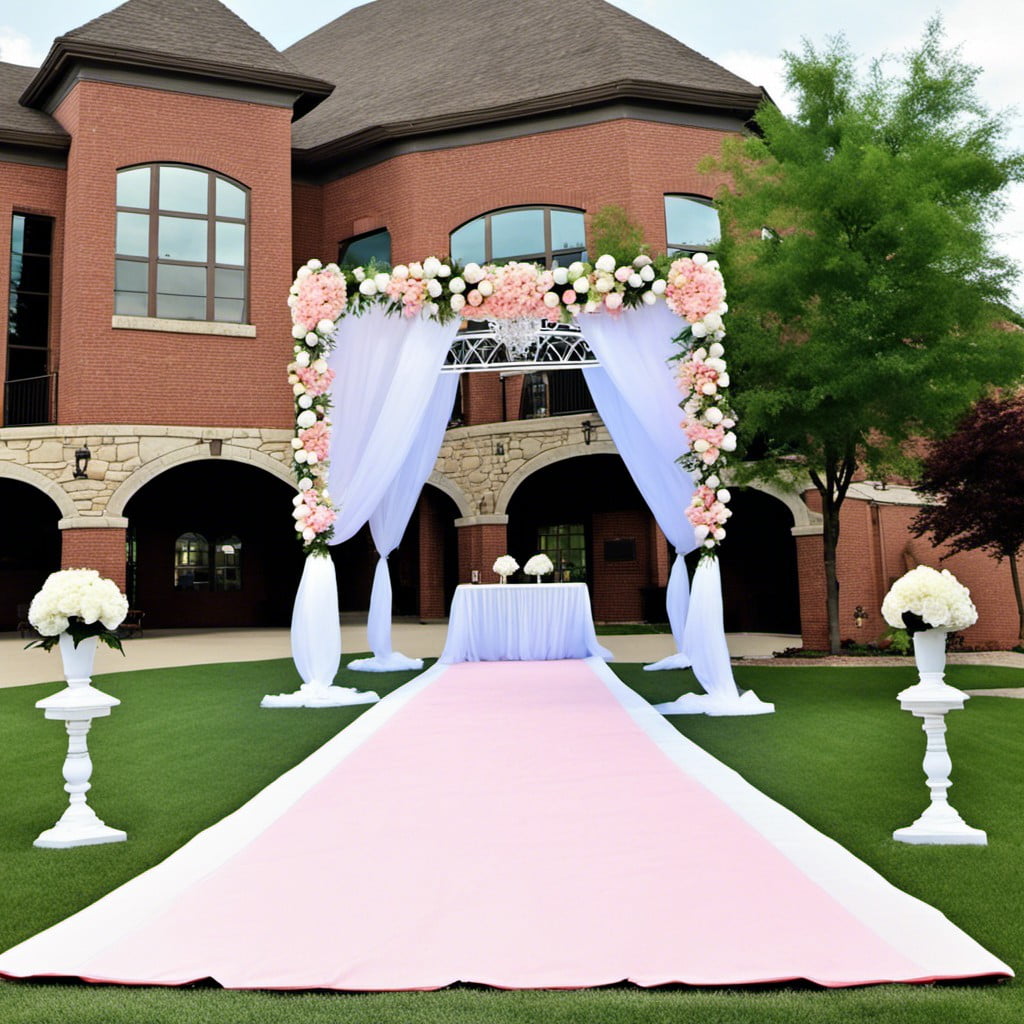 For this incredible walk-down memory lane, prepare a path adorned with cherished photos and mementos from your teen's past. Baby pictures, artworks, sports trophies, report cards, and even favorite toys weave a sentimental tapestry that portrays their journey to this milestone moment.
Gather sentimental items – Reach out to family members, too. Ask for any memorable objects from their time with your child.
Use diverse decoration – Mix and match photo frames for an eclectic display, or opt for identical frames for a clean, unified look.
Organize chronologically – Arrange the items from the earliest to the most recent. This gives a clear, linear narrative of growing up.
Include captions – Write brief, touching captions for each item. It might be a funny story or the context in which it was received.
Create ambience with light – Play with fairy lights or colorful light bulbs for the perfect dreamy touch to this memory lane.
With these tips, you'll capture your child's heart again, stirring emotions before they step out on their journey to adulthood.
Glitter Shower Send-off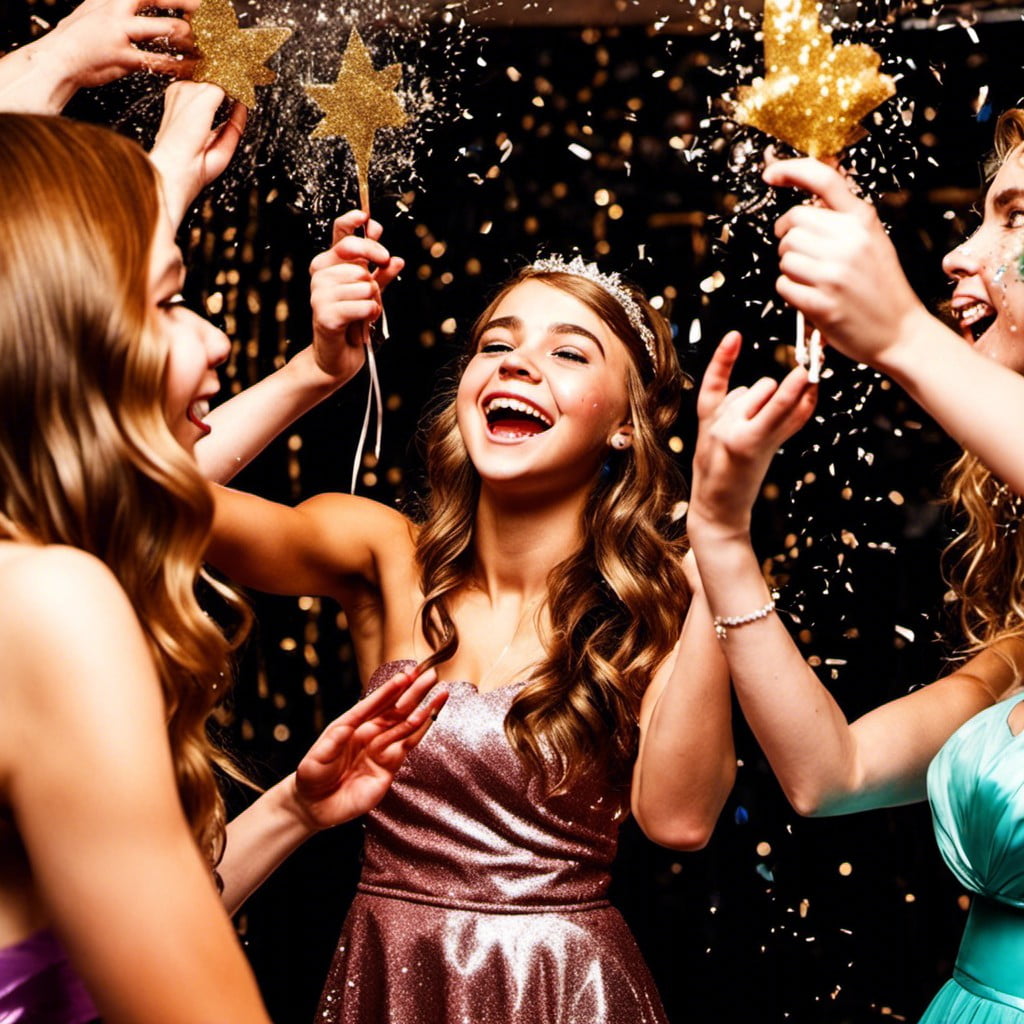 Drawing from the exhilaration of confetti showers at big events and performances, this concept brings the spectacle right to your backyard. At the chosen moment, such as when the prom-goers are about to depart, surprise them with a burst of bright glitter, ensuring an unforgettable grand exit.
Here's how to make it happen:
1. Choose biodegradable glitter in colors that suit your student's prom ensemble for a beautiful and eco-friendly effect.
2. Pre-load hand-held confetti cannons or use pre-packaged glitter poppers for easy operation.
3. Make sure you've got the timing right! Coordinate with everyone involved to synchronize the glitter shower for maximum impact.
4. Take safety precautions. Check wind direction and be mindful of slip hazards after the glitter shower.
5. Prepare your camera! This will be a picture-perfect moment you won't want to miss.
This idea combines surprise, fun, and a sense of occasion, making it a fantastic element in a memorable prom send-off.
High-fashion Runway Walk-off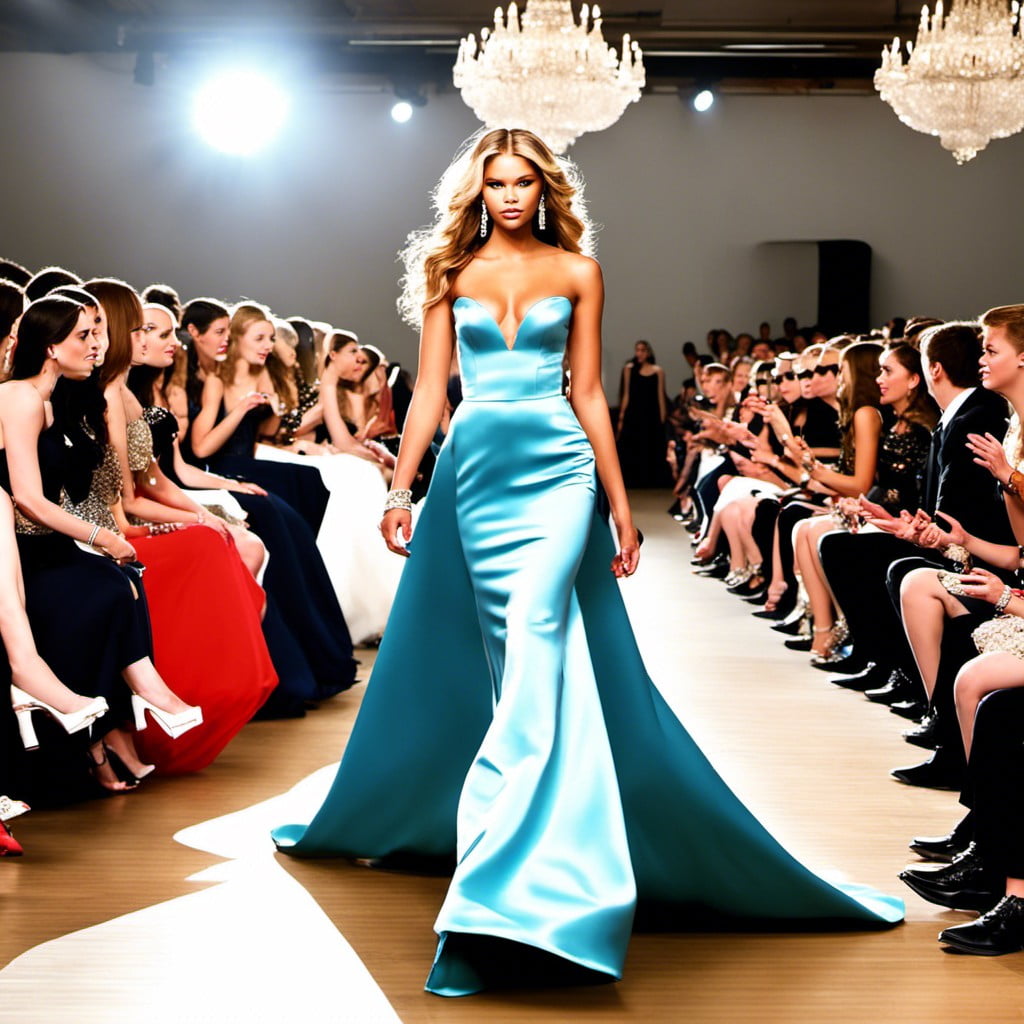 To achieve this magnificent prom send-off idea, you need a straight and clear path anywhere around your premises; it could be the driveway or garden path. Here's how you can make it happen:
1. Set the Scene: Use string lantern lights and arrange them along the chosen path. Stake dramatic yard decorations into the ground for added interest.
2. Outfit: Choose a style that exudes confidence. Whether it's a chic suit or an elegant dress, let it resonate with your personality, then own your look for the evening.
3. Music: Play a popular catwalk tune to set the momentum for your grand entrance. The music should be upbeat to match your thrilling walk towards the car.
4. Audience: Family and friends stationed along the runway, cheering you on as you strut down your high-fashion runway, creates an exhilarating atmosphere.
5. Photography: Hire a professional, or have a talented family member capture this memorable moment.
Remember, this isn't just about making an entrance, it's about making a statement. Make every step count. While it's for fun, channel your inner top model. Confidence is the key!
Continue reading:
Recap