Last updated on November 30, 2023
Transform your home into an enchanting winter wonderland this Christmas season because this article is brimming with creative spirit week ideas that will elevate the festive atmosphere like never before.
Spreading the Christmas cheer throughout your home doesn't have to be a daunting task. From decking the halls with boughs of holly to creating a festive tablescape, this article provides a plethora of innovative and stylish ideas to transform your home into a Christmas wonderland.
Whether you're looking for traditional decorations or unique twists on holiday classics, you'll find detailed instructions and tips for a week full of festive fun.
So, let's dive in and explore these Christmas spirit week ideas that will surely make your home the highlight of the holiday season.
Ugly Sweater Day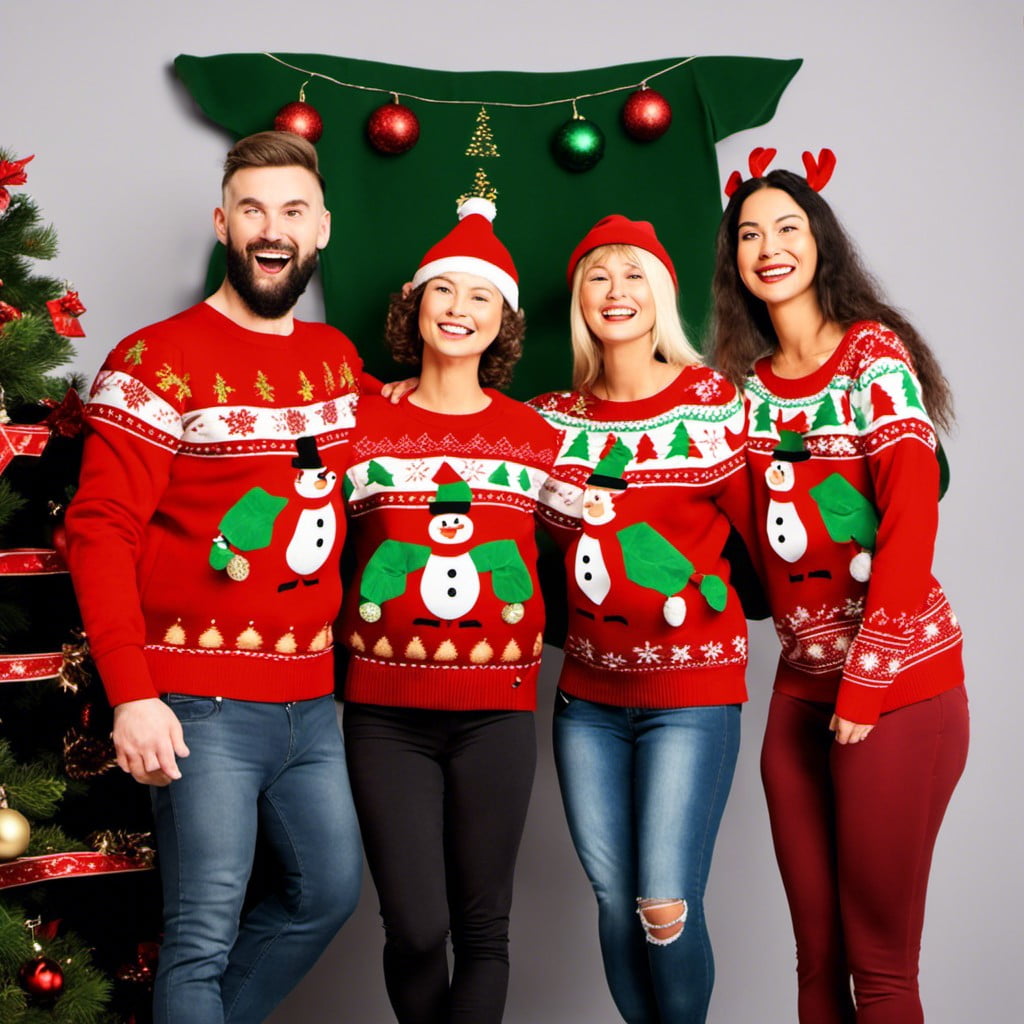 An annual classic, this event encourages everyone to scour their closets or local thrift shops for the most outlandishly adorned knitwear they can find. The goal is pure, unabashed fun. With sequins, bells, garlands, lights—even a depiction of a whole Christmas scene—creativity knows no bounds.
It's a lighthearted, jovial day where the phrase 'the more, the merrier' rings particularly true. From a competition standpoint, you can integrate contests like the funniest, most bizarre, or most creative sweater. This adds an element of excitement, and don't forget to capture the day's colorful hilarity for an eclectic photo album!
Festive Pajama Day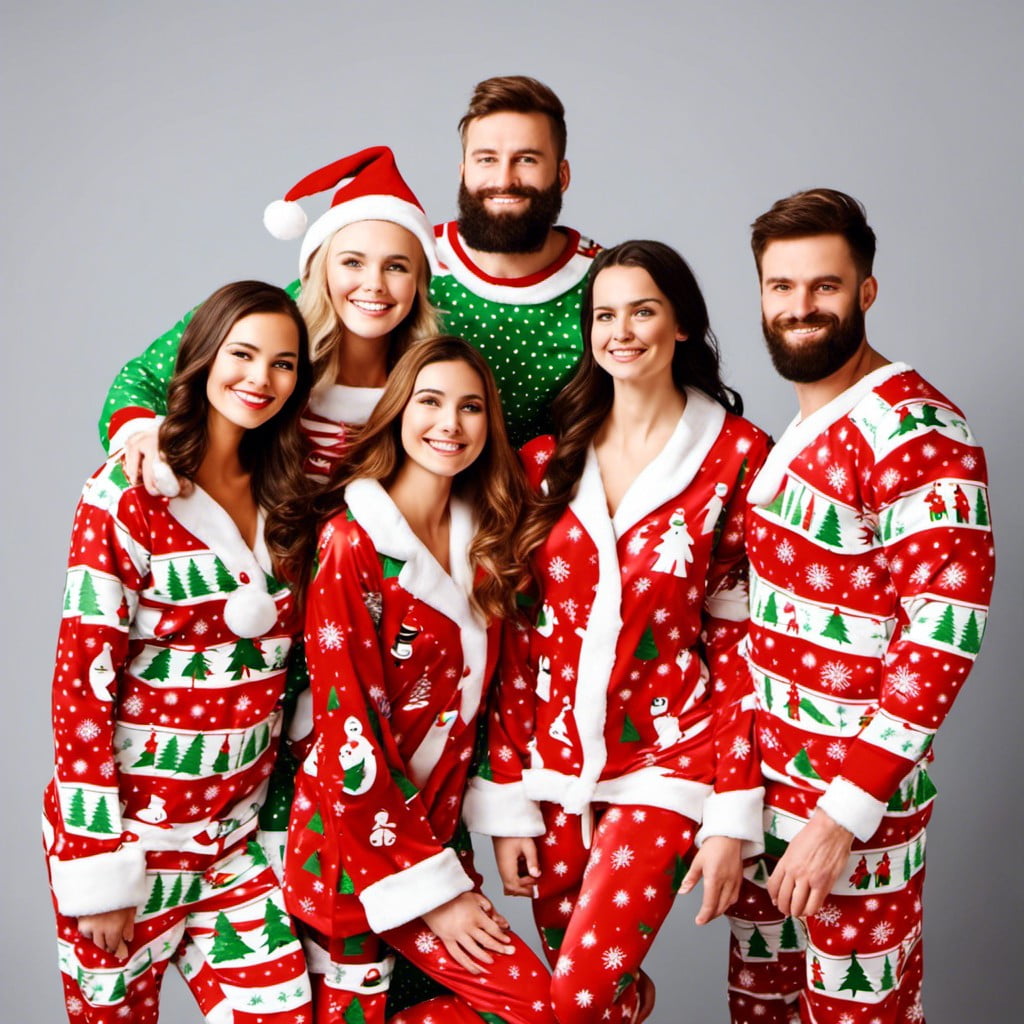 Cozy up in your most cheerful nightwear for a day of unmatched comfort and holidays warmth. Be it jingle bells, reindeers, or quirky Santas, let your PJs ooze festive vibes.
Here are some tips to make the most out of this fun day:
Opt for crowd-favorite holiday patterns like snowflakes, gingerbread man, or candy canes.
Partner your nightwear with comfy elf slippers or Santa socks.
Don your Santa or reindeer sleep hats.
Add a festive spin with complementary accessories.
Remember, it's all about the spirit of joy, so have fun and let the Christmas cheer shine through your choice of pajamas.
Red and Green Clothes Day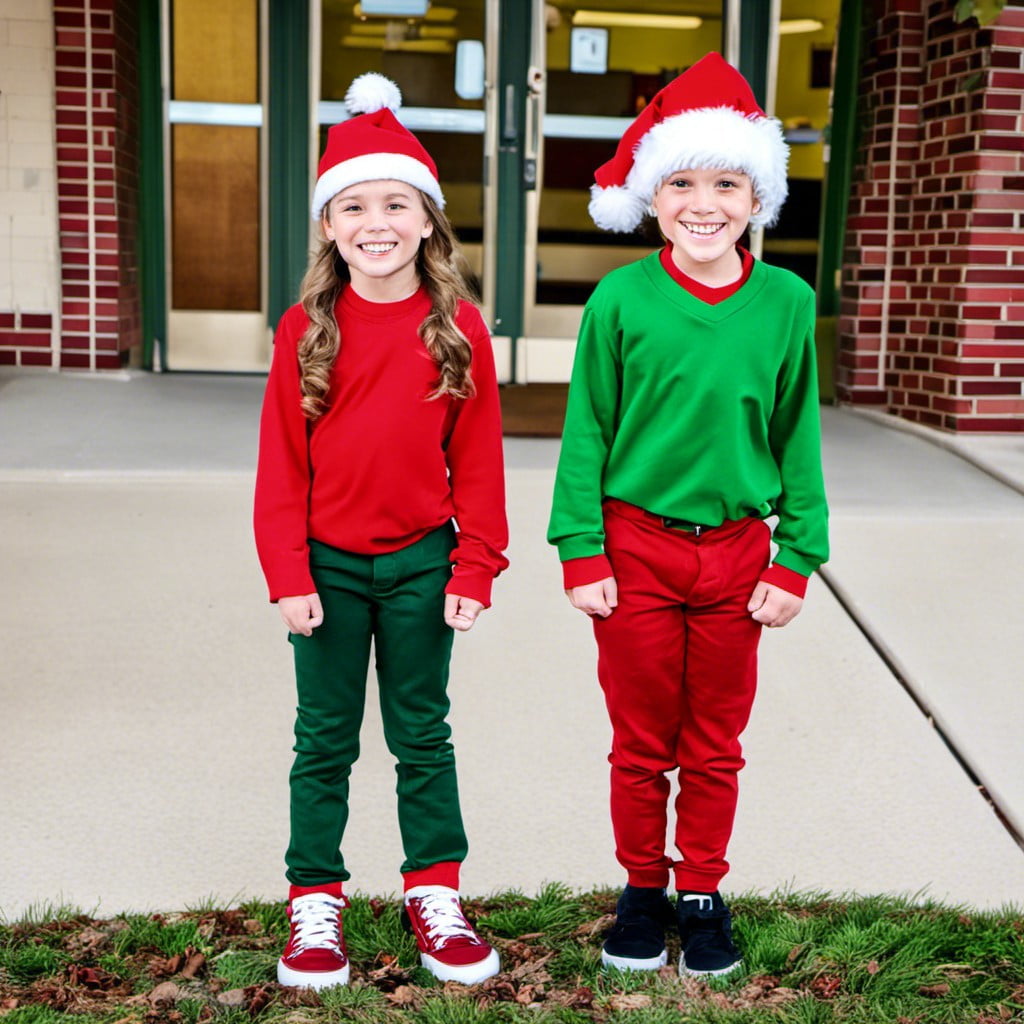 Donning the classic Christmas colors, red and green, is a great way to spread festive cheer.
Here's how:
Start with your closet: Look for any item of clothing that is red or green. It can be simple, like a T-shirt and jeans, or more festive, like a red dress or a green suit.
Accessorize: Consider adding red or green accessories if your outfit lacks these colors. Think scarves, belts, hats, or even shoes.
Mix and match: Evoke the holiday spirit by wearing both colors together. A red sweater with green pants, a green skirt with a red blouse – the combinations are endless.
Temporary hair dye: If you're feeling bold, red and green streaks in your hair can be a fun addition.
Remember, the aim is to have fun and show off your holiday spirit!
Santa Hat Day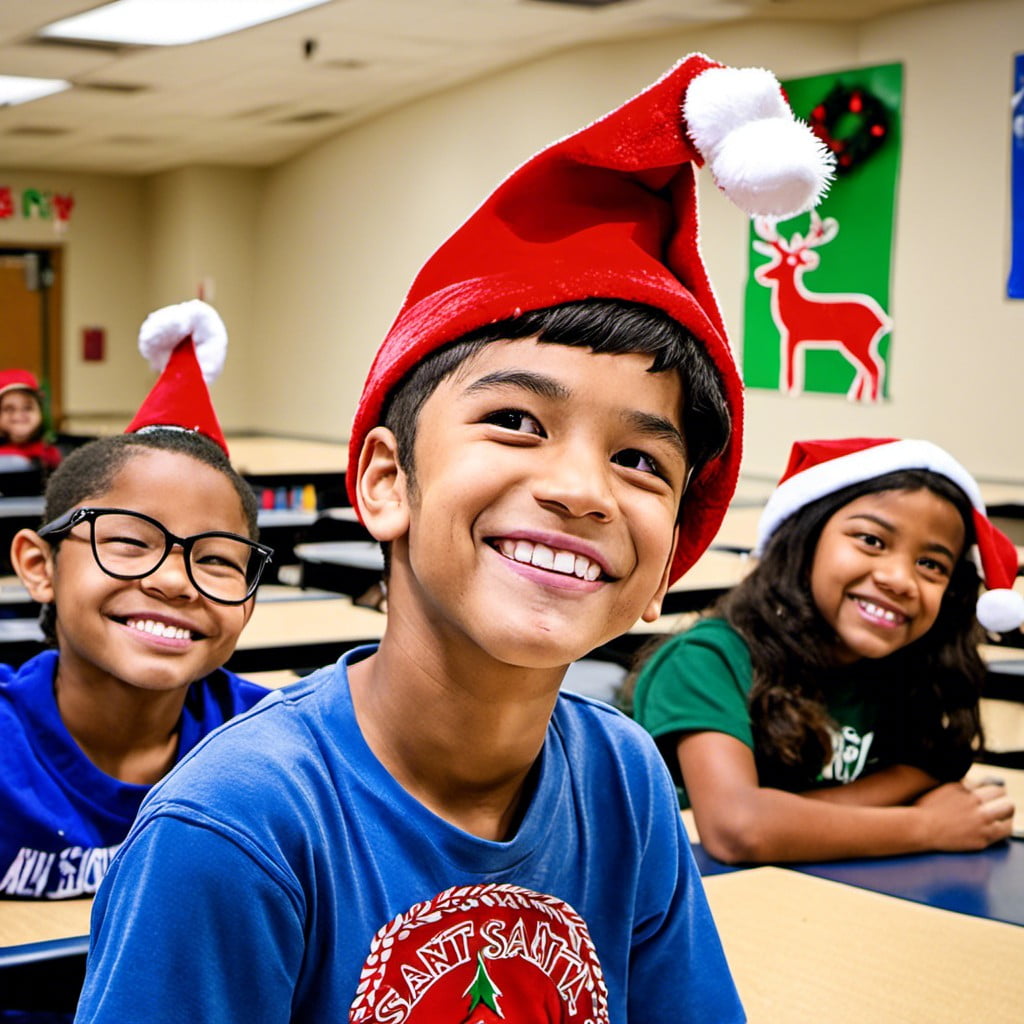 It's time to don those festive red and white caps! Breathe a fresh lease of life into the traditional holiday headgear by encouraging creativity.
Here's how:
1. Personalized Santa Hats: Let everyone add a bit of flair to their hats. Think sparkles, initials, or even a humorous twist like an upside-down Santa!
2. DIY Santa Hat Craft: Share easy DIY guides to creating Santa hats at home. This could make an engaging family activity especially for people staying home.
3. Hat Decorating Contest: What's better than a day of Santa hats? A contest that rewards the most creative or unique one!
4. Group Photoshoot: Organize a photoshoot at the end of the day to capture all the uniquely adorned Santa hats in one festive frame.
5. Share Online: Encourage participants to share their hat-clad photos on social media platforms, spreading the Christmas cheer far and wide.
Remember, the idea is to have fun and let the holiday spirit brighten up each day!
Holiday Movie Dress-up Day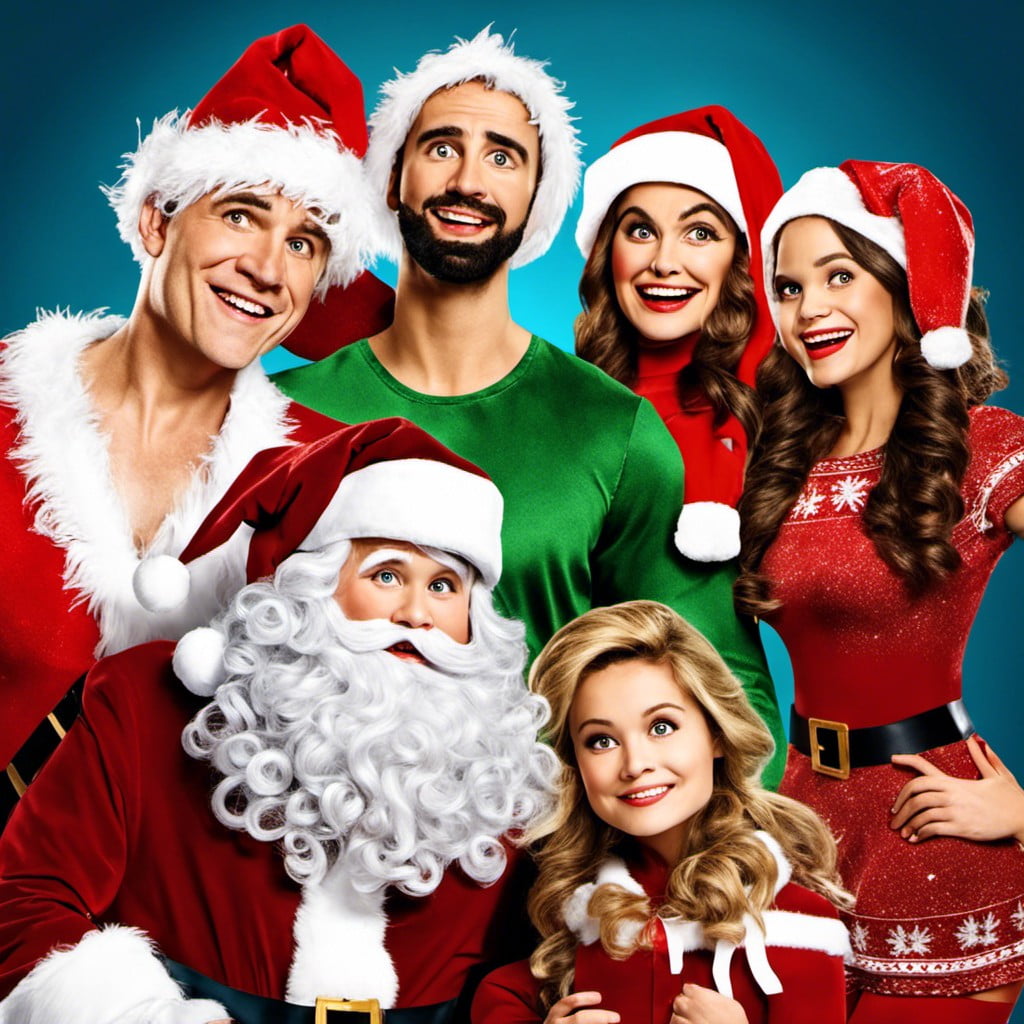 To partake in this day, choose a favorite character from a classic holiday movie and mimic their outfit. Here are a few ideas to spark some inspiration:
1. The Grinch: A unique choice that just requires a green outfit and perhaps a Santa hat.
2. Buddy the Elf: Grab a pair of green tights or leggings and a green jacket, then add a hat to complete the look.
3. Kevin McCallister: A homey outfit with a knitted sweater and jeans. An iconic additional accessory could be a BB gun.
4. The Ghost of Christmas Present: A red robe, a green or brown wig, and holly in your hair would be quite a sight.
5. Frosty the Snowman: A simple costume can be made with a white outfit, black hat and scarf.
6. Rudolph: Layer brown clothing items, and add a red nose, perhaps even antler headbands for an applausible finish!
Of course, there are endless options. So dig deep into holiday movie nostalgia for a fresh, creative approach!
Christmas Socks Day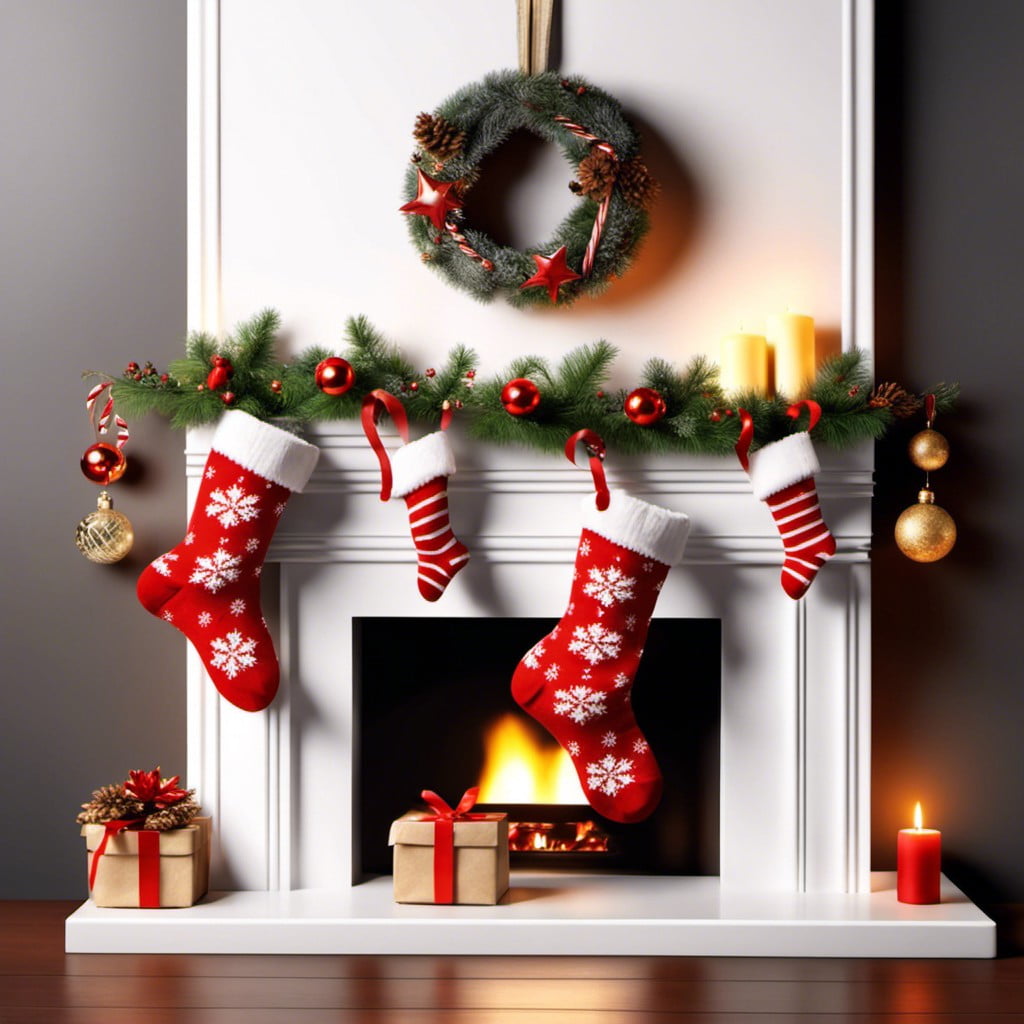 Brighten up the typical workweek attire by incorporating Christmas socks into the mix. This allows everyone to participate, no matter their wardrobe choices, as fun, festive socks can easily be hidden under jeans or pants.
Everyone is encouraged to find the most unique or festive pair they can. They can be simple with holiday-colored argyle patterns, reindeers, snowflakes, or a bold choice with over-the-top, Christmas-themed designs.
As a challenge, try matching them with the rest of your outfit to create a cohesive holiday look. It's an easy and fun way to carry the holiday spirit with you throughout your workday.
The idea is to share a laugh, spread some joy, and most importantly, be comfortable while doing so. This is a great way to get everyone involved in the holiday spirit, even those who are usually reserved or hesitant.
The day can end with a friendly competition for 'Best Socks', judged on creativity and festiveness. This encourages everyone to step up their game and have fun with it.
Remember, this day is about spreading holiday cheer in a unique and simple way.
Gingerbread Decorating Contest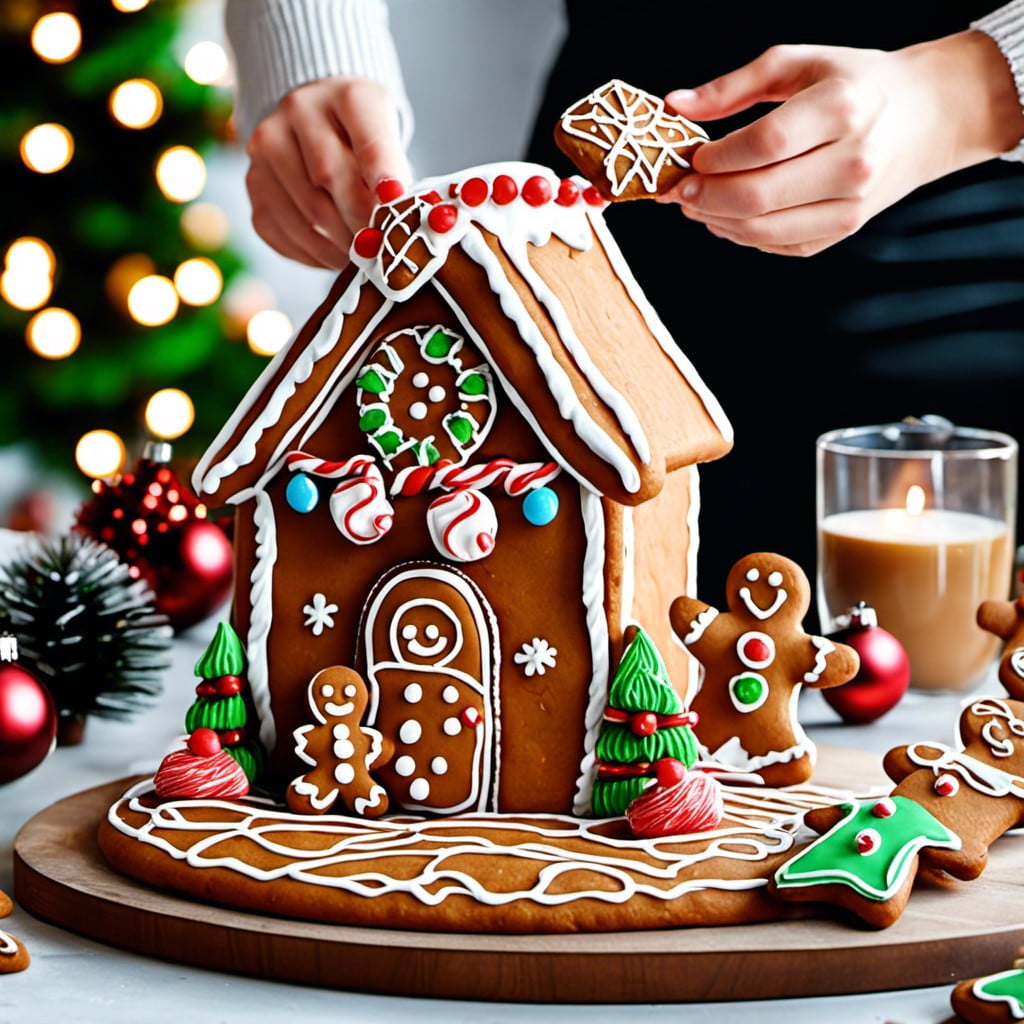 Hosting this contest is a sweet way to stir up friendly competition. Seek out ready-to-decorate kits for an easy setup, or for the more daring, homemade gingerbread and icing can add a personal touch. Don't forget to gather an array of food colors, sprinkles and candy for decoration!
Consider setting different categories for judging, like most creative, most festive, or best architectural design. For added excitement, think about inviting a guest judge or conducting a blind vote. Amidst the creativity and friendly rivalry, remember the fun lies not in the winning but in the shared experience of festive cheer.
Christmas Carol Karaoke Day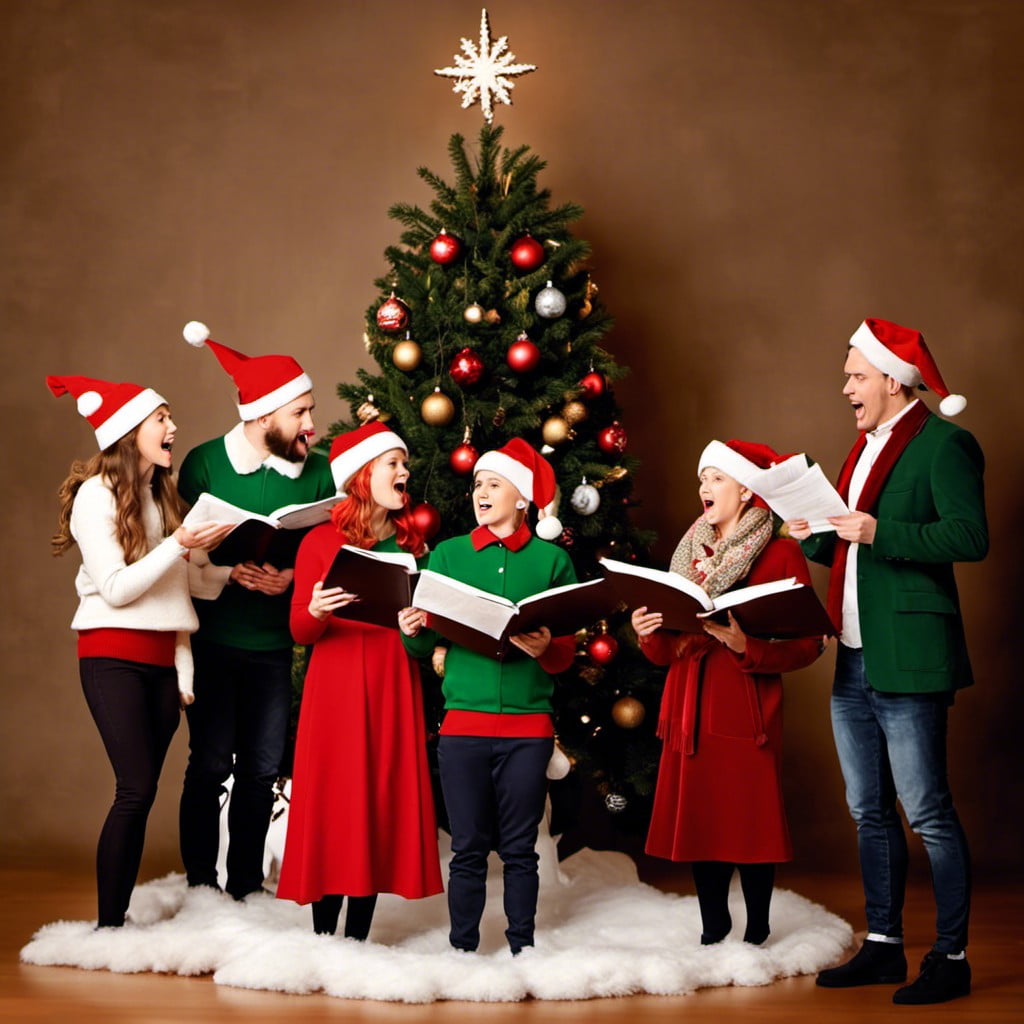 A festive hit, this activity encourages everyone to participate in a fun-filled musical day. There's no need for professional-level singing skills, just a bunch of holiday spirit!
1. Setting: Set up an improvisation of a small stage with a microphone in a common area. It's more fun when the crowd can comfortably gather around.
2. Playlist: Create a carol list that includes a mix of popular classics and modern holiday tunes. This ensures a wide variety for everyone to enjoy.
3. Participation: Encourage each participant to take turns singing their favorite holiday tunes. It's not a competition, so everyone must remember it's all about the holiday cheer.
4. Games: Introduce a level of competitiveness by designing games that involve song guessing or even a light-hearted 'battle of the carols' between individuals or groups.
5. Support: Ensure that everyone applauds and supports each other regardless of their singing prowess – this is a day to spread joy and unity while celebrating the holiday spirit.
6. Snacks: Offer holiday-themed snacks and hot cocoa to keep the energy levels up and make the event feel like a real holiday party.
Remember, the goal is to fill the house with merriment and holiday spirit, so let loose and enjoy the carol-filled air!
Secret Santa Gift Exchange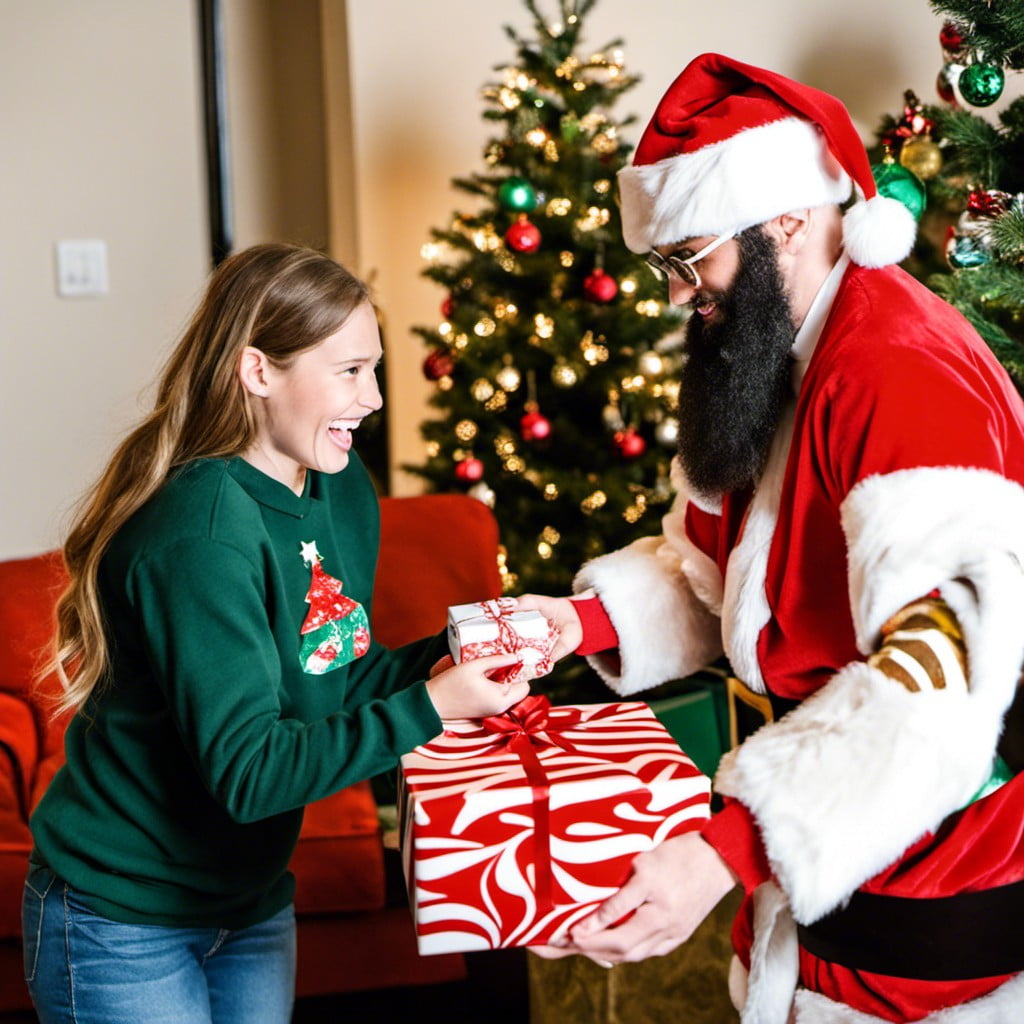 Secret Santa Gift Exchange is a heartwarming tradition that brings joy and anticipation to the festive season. The rules are simple:
Write everyone's name participating on separate slips of paper.
Put those names into a hat or bowl.
Have each participant draw a name. The name they draw is the person they'll be buying a gift for.
Set a reasonable budget for the gift. This ensures no one overspends or under delivers.
Keep the gift-giver's identity a surprise until the exchange day.
On the day of the exchange, gather around and open gifts one by one.
This game not only adds a fun element to gift-giving but also gives you an opportunity to learn more about each other's tastes and preferences. Consider infusing a theme to make gift searching more exciting. This could be "handmade gifts only", "books", or "eco-friendly". The element of surprise, mixed with the excitement of decoding who your Santa was, makes this a Christmas Spirit Week highlight. Remember, it's the thought and effort that count, not the price tag!
Hot Chocolate and Cookies Day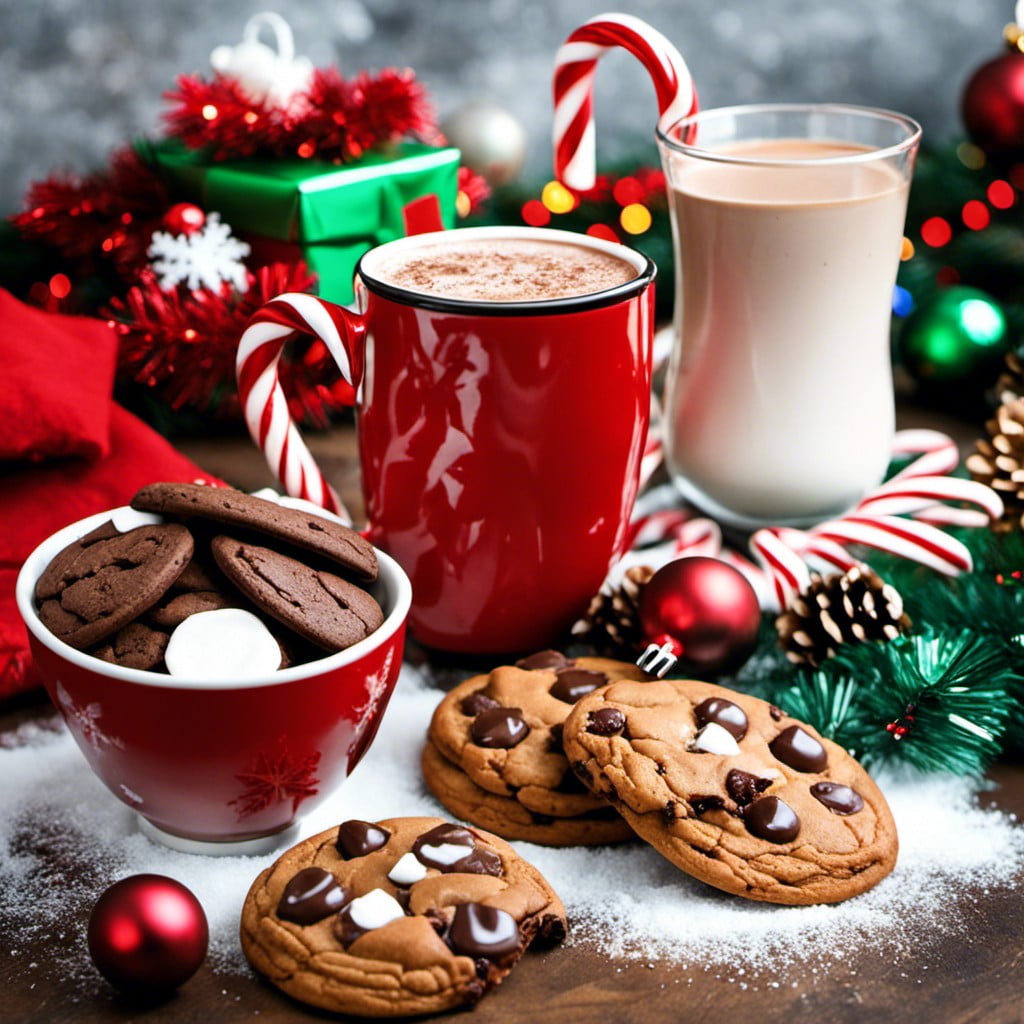 For this one-of-a-kind festive day, transforming your living room into a cozy cafe can be an inspiring idea. Set up a corner with a hot chocolate station, stocked up with warm, rich cocoa, marshmallows, whipped cream, and delightful garnishes like chocolate shavings or peppermint sticks.
Have a variety of cookies in a separate tray, with classics like gingerbread, chocolate chip, and sugar cookies being the stars. Make sure to include some delightful surprises like macaroons or holiday-themed sugar cookies.
For those interested in crafting the perfect cup, you can also provide recipes. These can be simple, like regular hot cocoa, to more complex, like a peppermint or white chocolate mocha, ensuring everyone has the freedom to customize their cocoa.
Towards creating an inviting ambience, soft Christmas music in the background and dimmed lights can enhance the room's coziness.
Involve the entire family, as baking cookies together or creating a customized cup of hot chocolate can make everyone part of the fun and create cherished memories, steeped in that warm, comforting aroma of fresh cookies and cocoa.
Ensure to place festive napkins and dishes and you are all set for a heartwarming day filled with mouthwatering treats.
Always remember that holidays are about enjoying time with your loved ones and this day is no exception. So sit back, relax, and let the magic of the season envelop the room as you sip your comforting cup of hot cocoa and munch on delicious cookies.
Christmas Crafts Making Day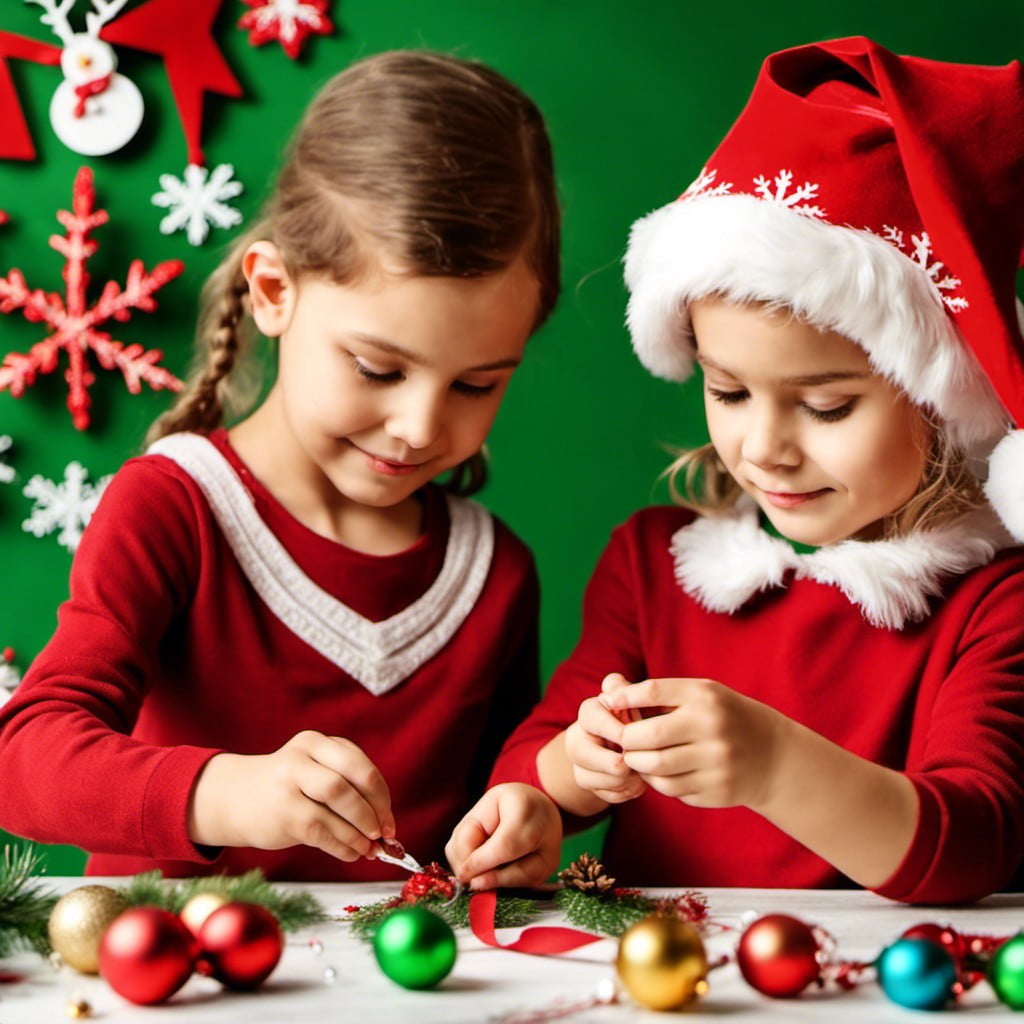 Delving into artsy ventures, this day presents an opportunity to get hands-on and stir creative juices.
1. Gather Supplies: The first step involves acquiring the necessary craft supplies ranging from colorful paper and glue, to pom-poms and sparkling sequins. Encourage participants to reuse old things around the house.
2. Organize Craft Stations: Set up variety, puppet making in one corner, greeting card designs in another, and so on. It'll be fun for participants to explore each station.
3. Provide Templates: Have some easy-to-follow craft templates for those who might feel stumped. This will ensure that nobody feels left out.
4. Prioritize Safety: For crafts involving sharp tools or hot glue, adult supervision is key. It's best to remember: safety first, fun second.
5. Collaborate and Create: It's a day of creativity and collaboration. Emphasize that the goal isn't perfection but enjoying the process and celebrating Christmas spirit.
6. Showcase Crafted Work: At the end of the day, organize a mini exhibition. This will allow everyone to feel proud of their work and appreciate the efforts of others too.
Remember, Christmas crafts making day is all about coming together to make, appreciate, and have fun!
Winter Wonderland Day (white Attire)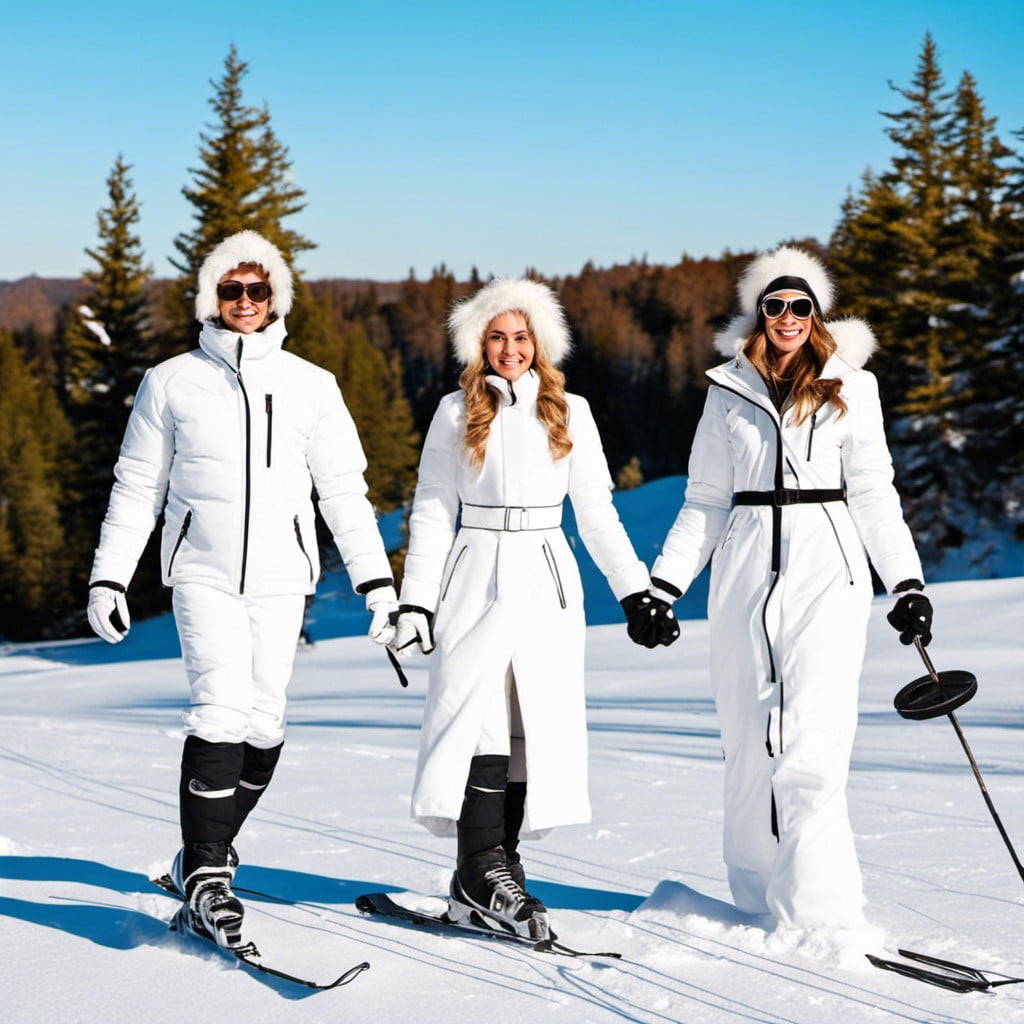 Transform your day into a dazzling display of frosty fashion by wearing all things white. This is more than donning a snowfall-colored ensemble; it's a canvas for creativity.
Here are some pointers to help you with your Winter Wonderland look:
Mix Textures: Combine different material types like cotton, wool, or even satin to add depth and interest to your all-white ensemble.
Accessorise: White scarves, hats, belts, or jewelry can enhance your look while staying within the winter white palette.
Layer Up: Stacking pieces of varying shades of white from cream to ivory, adds dimension and warmth to your outfit.
Be Fashion Forward: Consider white patterned clothes or winter-themed attire to stand out while keeping the winter wonderland concept.
Remember the Shoes: Complete your look with white or near-white shoes.
Enjoy the fun of bringing a snow-inspired ensemble to life! Remember, this is more than just a white-out; it's a chance to let your creativity and fashion sense shine.
Candy Cane Day (red and White Attire)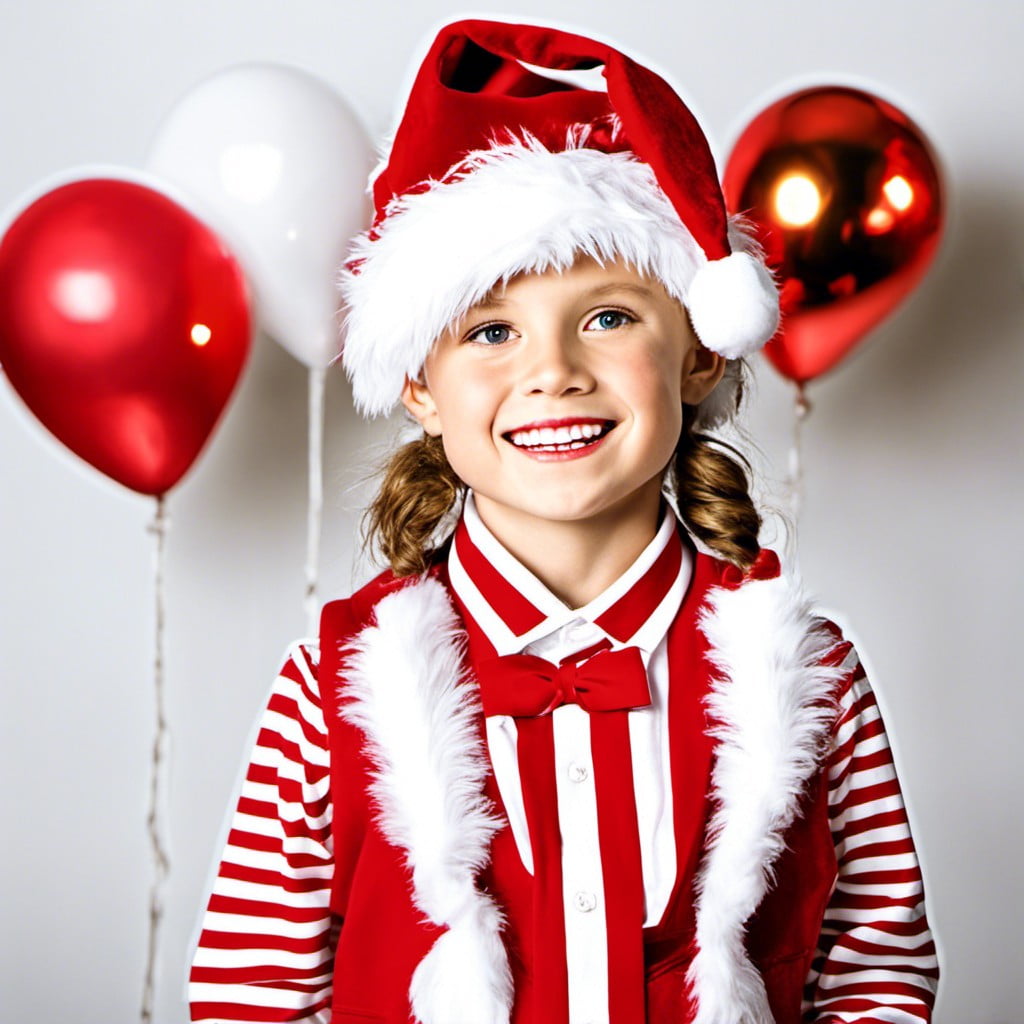 Spreading cheer with festive shades, this occasion brightens up the week with vibrant red and white colors. While the bold, eye-catching red represents joy and love, the crisp white epitomizes peace and purity, resonating with the enchanting Christmas spirit.
Here are some ideas to light up this day:
Consider wearing red and white striped outfits to mimic the iconic candy cane pattern. Whether it's a shirt, pants, or socks, let your creative streak shine!
Surely, accessories can't be left behind! Think red scarves, white shoes, candy cane brooches, hair accessories, and even self-designed badges.
If clothing isn't your forte, try experimenting with a red and white-themed makeup look or a jazzy manicure featuring these colors.
Gentlemen can get wearing red and white ties or pairing a white shirt with a bold red blazer, adding a dash of festivity to their attire.
Also, a home or office decorated with red and white streamers, balloons, cut-outs, posters, and twinkling fairy lights enhances the vibe of the day.
Last but not least, an exchange of red and white goodies or hosting a candy cane-themed food fest can add a delightful cherry on top! Just imagine: red velvet cupcakes, white frosted cookies, candy cane milkshakes — mouthwatering, isn't it? Remember, the essence lies in immersing oneself in the festive mood and spreading joy with the striking hues of candy cane day. So, flaunt your best red and white, let the spirit of merriment take over, and make the day truly memorable!
Reindeer Games Day (team Games)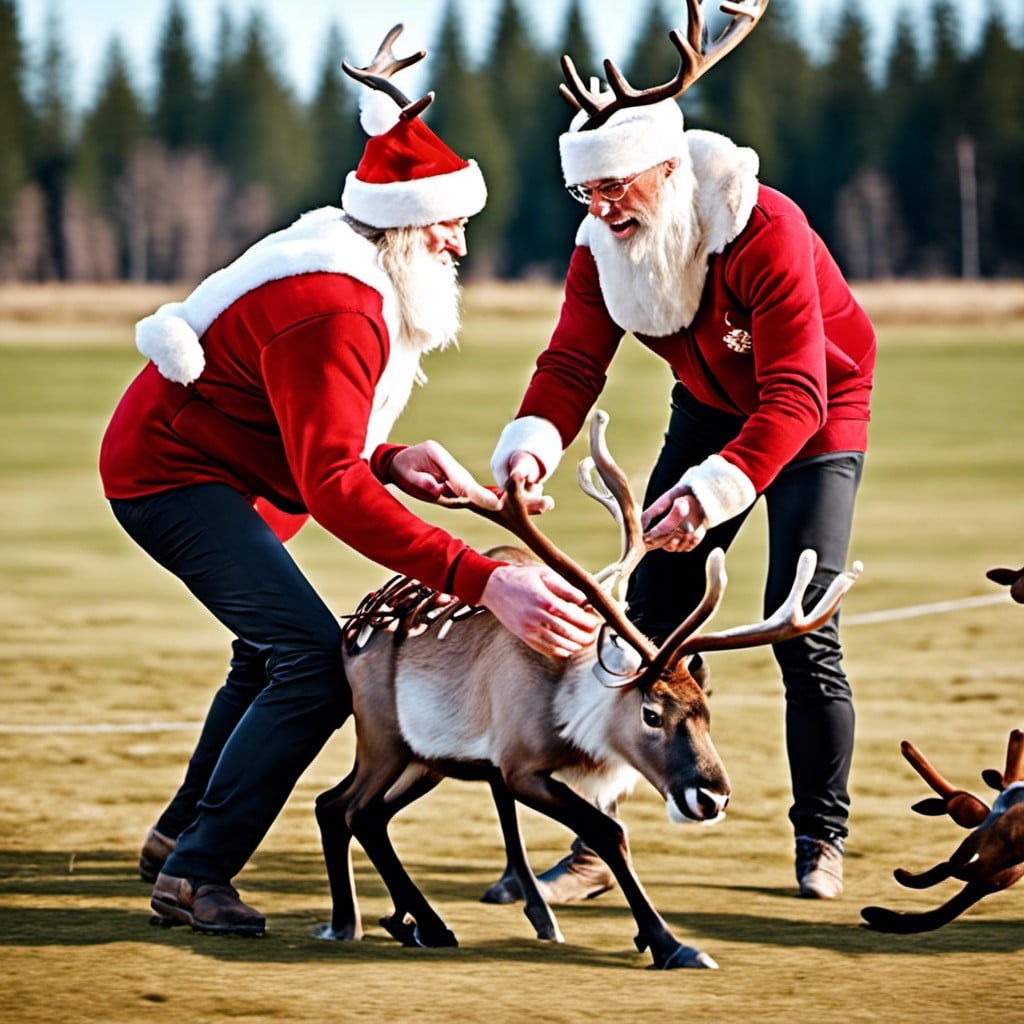 Harness the merriment of the season with a day full of bonhomie and excitement – welcome to a day of team games! This one's all about cooperation, a little competitive spirit, and lots of laughs.
Engage in festive games that can be organized in-house such as a relay race, or a sack race. Why not try a spin on classics like a festive egg and spoon race?
If you're open to a DIY project, set up a Christmas obstacle course. Make it fun with reindeer antlers as everyone's headgear to keep the holiday spirit alive. For a less exerting option, a simple Christmas-themed quiz or a festive scavenger hunt can be a great inclusion. Remember, the goal is to have fun and unite the group, fostering deeper connections.
A vital part of this day is ensuring everyone feels included. Game design should account for all age groups and abilities. Of course, adapt any games to fit your space, amenities, and the capabilities of the participants. It's all about making merry with teamwork!
Elf Dress-up Day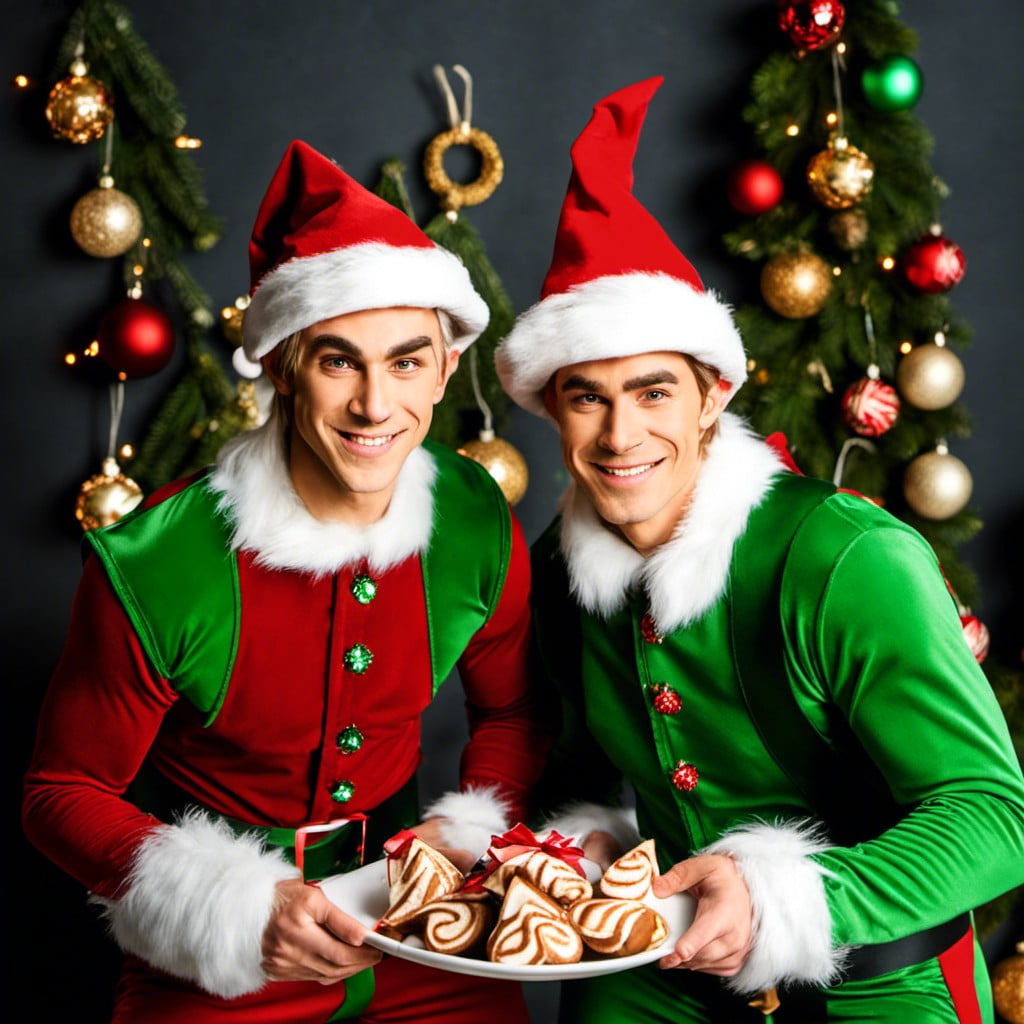 Embodying the energetic spirit of Santa's helpers offers an immersive way to enjoy festivities. Try some of these cheeky yet straightforward ideas:
Opting for a simple approach? Think green and red! A green outfit combined with a red accessory –say, a cap or belt– immediately gives off the elf vibe.
Craft paper elf ears are a must! They're simple to create and can be easily attached to a headband for an instant elf-like transformation.
Go the extra mile by adding festive face painting. Triangle noses, rosy cheeks, and exaggerated eyebrows would definitely amp up the elvish look.
And remember, the elf's charm lies in their cheery disposition. Keep up that holiday enthusiasm to win the day!
Christmas T-Shirt Day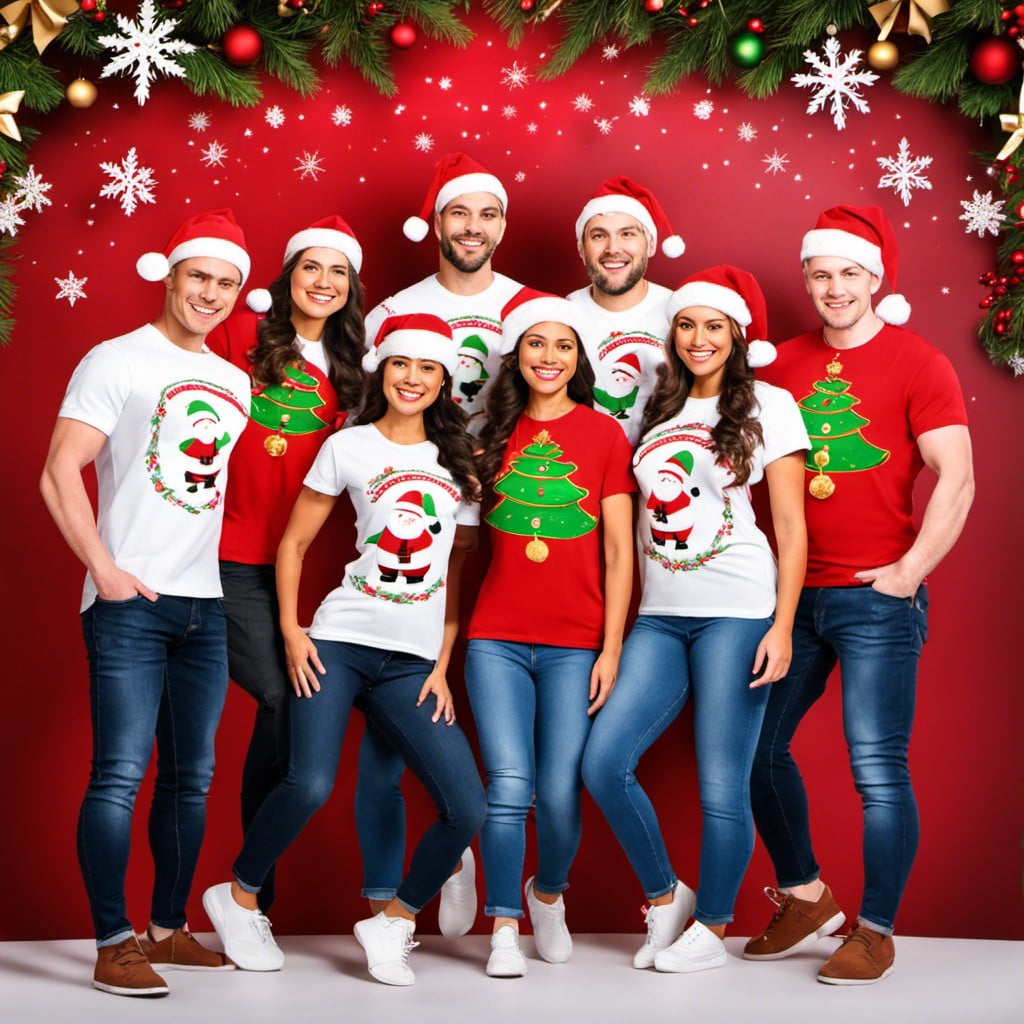 Don't worry if you didn't get that designer ugly sweater or the elaborate elf getup. For this, all you need is a simple t-shirt, but with a Christmas twist. Just dig out a shirt with a festive print. Think reindeers, Santa Claus, snowflakes, Christmas lights, or cheeky holiday puns. Wearing them is an effortless way to keep the yuletide spirit burning with fun, laughter and ease.
Plus, Christmas t-shirts come in a variety of styles and designs; there's a match for everyone. So roll up your sleeves, well in this case roll them down, and let your t-shirt do the talking!
Christmas Character Day (any Holiday-inspired Characters)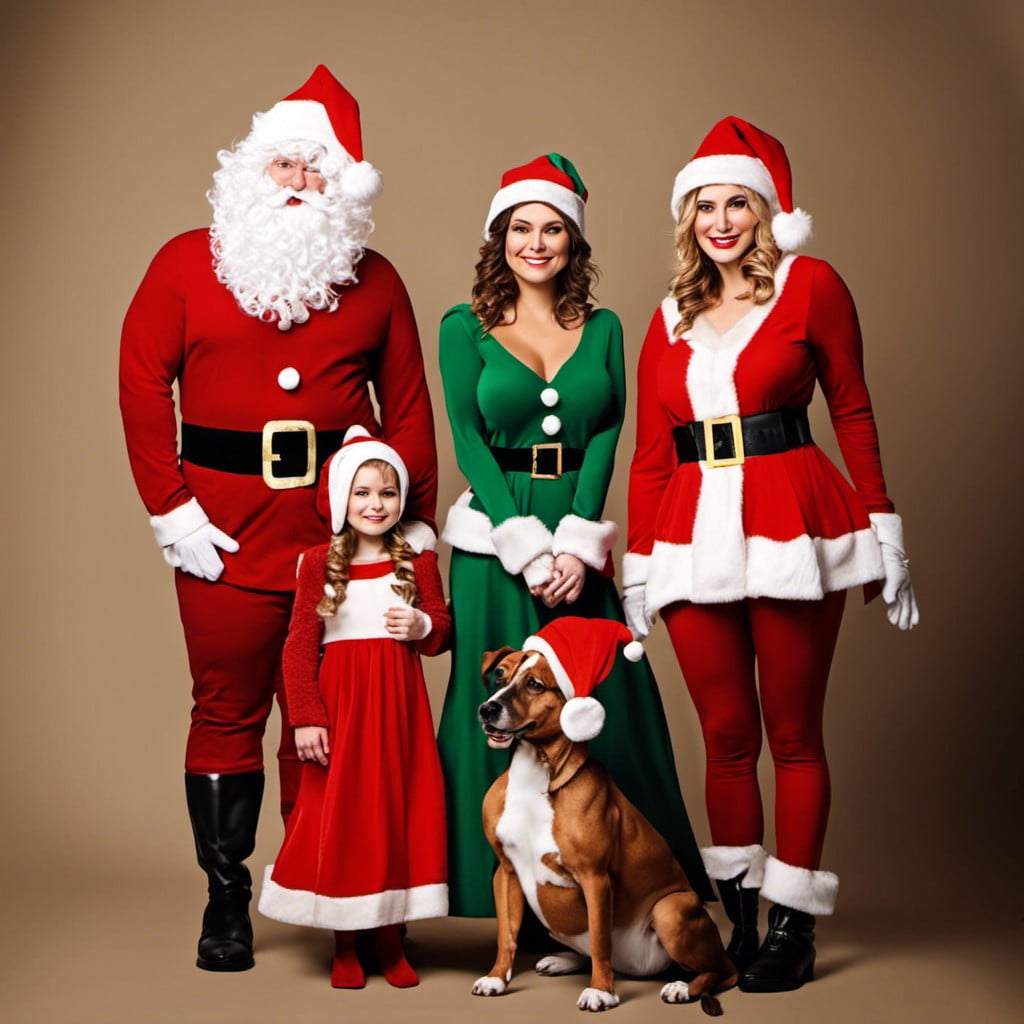 Bring your holiday favorites to life by dressing as characters from beloved Christmas stories or movies. This can range from classic figures like Santa Claus and Frosty the Snowman to movie icons like the Grinch or Buddy the Elf. Here are a few simple tips to make the most out of this fun day:
Keep it Comfortable: Dressing up does not have to compromise comfort. Choose attire that you feel at ease in throughout the day.
Be Creative: Use items you already have at home to put together your character outfit. The goal is to enjoy and not to break the bank.
Group Fun: Encourage your family or housemates to join in. Coordinate outfits for an ensemble cast of Christmas characters.
Capture the Moment: Don't forget to take lots of photos to preserve the memories of your festive fun for years to come!
Respect Others: Make sure the character you choose is respectful to all cultural traditions and family-friendly.
Remember, the primary aim is to have fun while promoting the holiday spirit!
Tree Ornament Making Day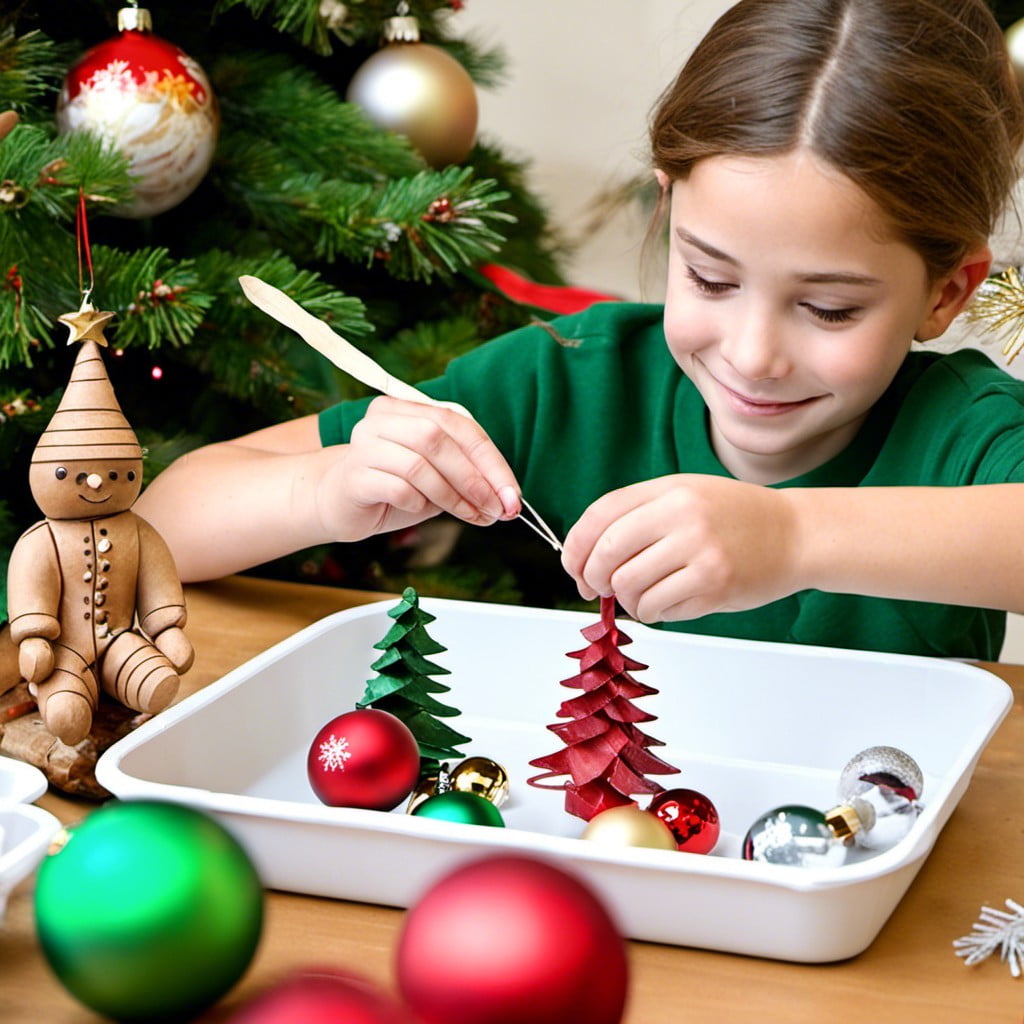 Get mentally prepared for a dash of creativity and a pinch of family fun! On this day, everyone can gather an array of craft supplies like glitter, felt, ribbon, beads, and glue. Cut out shapes from felt or craft paper, glue them on a sturdier material, and sprinkle some magic with glitter. Want a 3D effect? Try crafting the ornament out of clay.
Hosting a contest for the most creative or most festive ornament could spark some competitive spirit. Remember, colorful beads or ribbons could be an excellent way to add some holiday sparkle. Go ahead, let the crafting spirit soar high!
Gift Wrapping Contest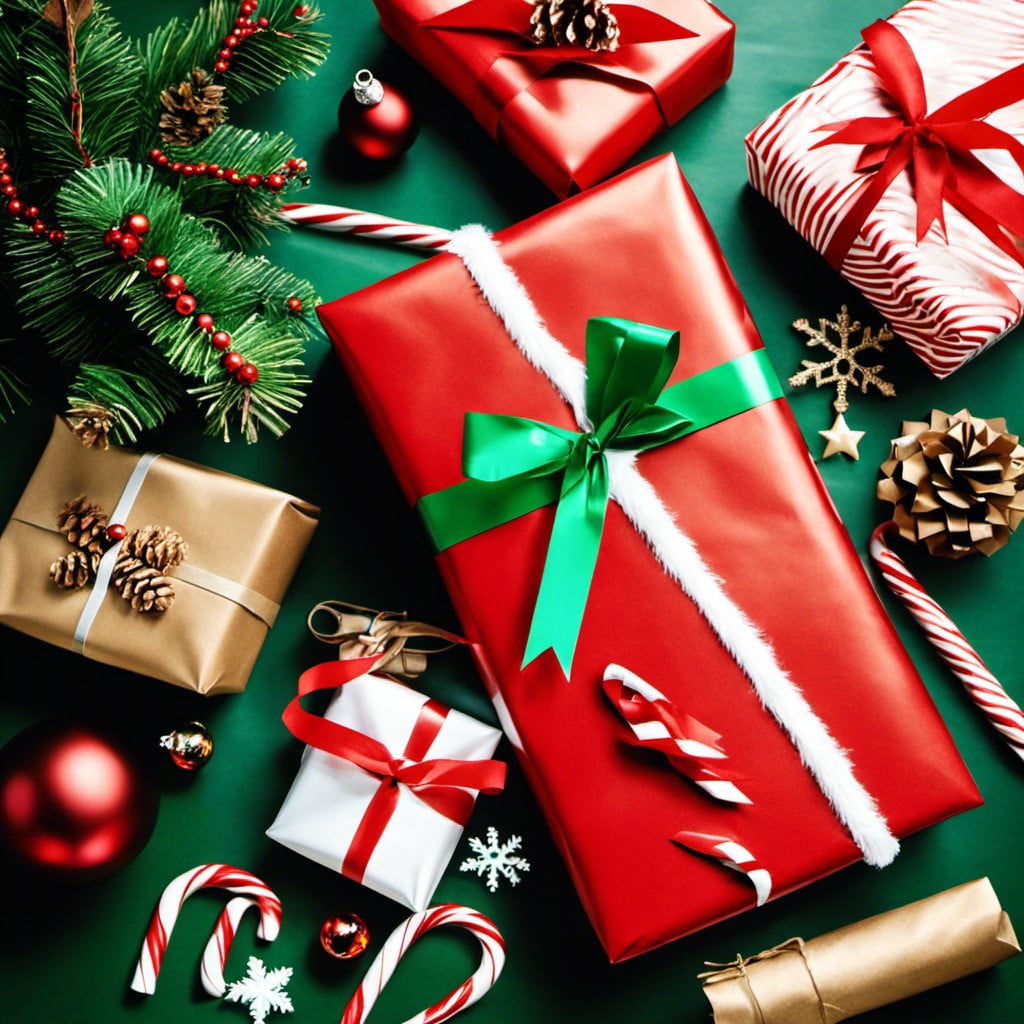 This contest will put a fun spin on the otherwise tedious task of wrapping presents. Participants will need a few rolls of wrapping paper, clear tape, bows, and ribbons.
Implement a time limit for added excitement and challenge contestants to wrap various oddly shaped items. Award points for speed, precision, creativity, and overall presentation.
The results will not only spark laughter but also produce beautifully wrapped gifts. Participants can even donate the nicely wrapped "dummy" presents to a local charity for those less fortunate.
This activity is a fun-filled way to develop your wrapping skills and spread the Christmas spirit.
Snowman Building Competition (if Possible)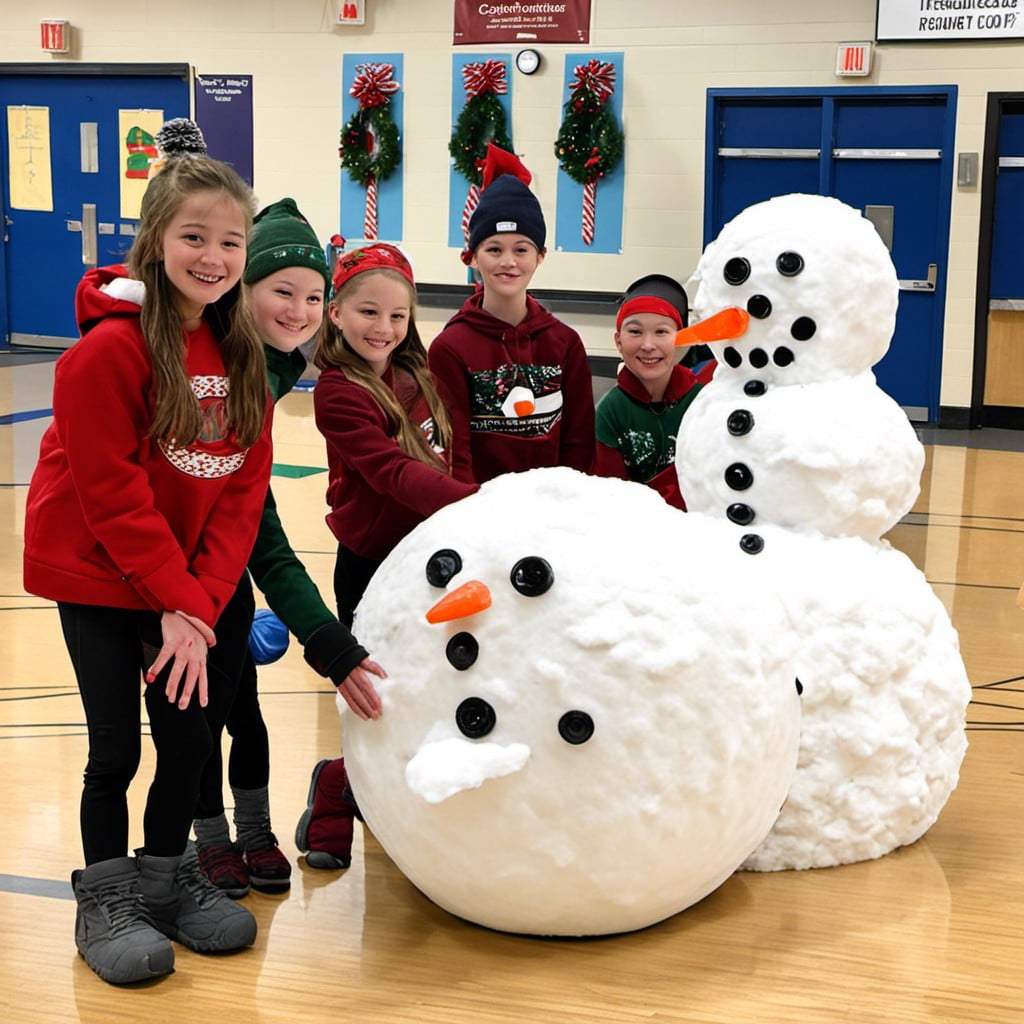 Wishing for a white Christmas? Capitalize on that snowy bounty by hosting a snowman building competition. It's a wonderful opportunity for both children and adults to express their creativity while enjoying the winter weather.
1. Teams: Organize participants into teams. You can opt for individuals or groups based on the number of participants. Keep it fun and friendly to encourage everyone's participation.
2. Materials: All that's really needed is sufficient snow. You could consider providing extras like carrots for noses, buttons for eyes, scarves, and old hats to accessorize the snowmen.
3. Rules: Consider setting guidelines regarding the size and time limit for constructing the snowmen. These can vary depending on the age and skills of participants.
4. Judging: Decide on the judging criteria in advance. It could be based on size, creativity, or likeness to a theme.
5. Prizes: While the experience of building a snowman can be rewarding in itself, offering small prizes can add a bit of competitive excitement. This could be as simple as a hot chocolate treat or a homemade trophy.
Remember, the emphasis is on having fun rather than winning. This competition offers a delightful blend of creativity, outdoor fun and Christmas cheer for everyone involved.
Continue reading:
Recap