Last updated on September 23, 2023
Jumpers and cardigans made of knitwear, loose-fitting pantsuits, midi skirts, ponchos, capes, fur coats with artificial fur, and coats will be relevant in the coming season.
Today, plus-size women can look sophisticated and elegant in Adrift curve clothing. What fashionable to give plus-size women? What will fit her figure perfectly, emphasizing all her advantages?
So, we will talk about this in this article.
Fashionable Dresses for Curvy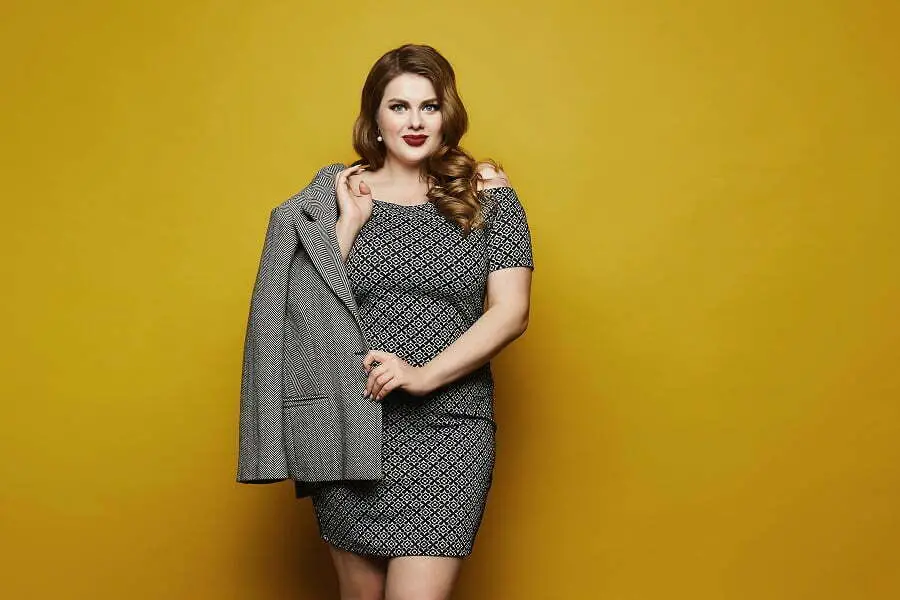 In fashion collections of this season were presented a huge number of dresses. For curvy ladies, the most suitable are the following models:
A flared dress – dense imitating silk, satin, or velour look great in monochrome colors and allows to place accents on the chest and waist, and the flared lower part of the dress focuses attention on the attractive drapery of the skirt;
A-line dress is perfect for overweight women and allows the creation of harmonious outfits in both light shades and dark colors solutions. These can be either simple fabric variations or printed versions. Pay attention to the trapeze dresses, that complemented with embroidery or applique look unusual.
The trend will be dressed for curvy with a small print, for example, floral ornaments or abstractions. Such an outfit will allow creating a very tender image of a lady.
By the way, midi dresses that are made in the style of boho and romanticism will be popular. Often in this style, there is a wide flounce on the hem, beautiful lantern-sleeves, and a neat thin belt.
Knitted dresses with a straight cut are ideal for a gift. Designers note that such models suit almost everyone, the main thing is to choose options from knitwear without unnecessary elements. A slightly loose silhouette that smoothly envelops the silhouette will be perfect.
It is worth paying attention to the styles of a plus-size dress with a raglan sleeve, a bat, a flashlight, as well as with a V-shaped and rounded neckline.
To improve the image is possible with an emphasis on the waist that can make the help of a leather belt or a belt made of similar in texture to the dress fabric.
Coat
Looking for a present for curvy women you should pay attention to fashionable models of coats. This item of outerwear is considered one of the most universal formats for plus-size ladies.
For curvy fashionistas, it is better to give preference to models in medium length, as well as A-silhouette or cocoon style, and on models with a belt, if there is a need to highlight the waist.
Knitted Plus-size Clothing 
Autumn and winter are the perfect time to give each other cozy and warm sweaters and sweatshirts made of soft materials. Knitted sweaters, pullovers, cardigans, dresses, and skirts will be included in the most fashionable images of autumn and winter for the curvy.
Plus-size knitted mono looks, consisting entirely of knitted things, will be charming. Such a set for curvy visually softens the shapes and makes them smoother.
Current Blouses
Choosing a blouse as a gift, you should give preference to options made of high-quality fabrics with a smooth texture. The best option for plus-size fashionistas is a plain blouse, but a fashionable floral print is also suitable for the curvy. Designers recommend paying attention to the blouses with stripes. Models in a vertical stripe, or in a stripe converging to the waist will great attitude for plus-size ladies.
Feminine Skirts
This is a basic detail of the wardrobe of all fashionistas, ladies with curvy shapes are no exception. The range of plus-size skirts is very different nowadays. The designers presented both laconic business models and gentle romantic ones. Suitable material for skirts in the coming season will be satin, silk, gabardine, leather. As for the styles, the owners of the pear-shaped figure are more suitable for models that highlight the waist: a flared sun, a trapeze to the knee, a floor-length skirt.
Practical Tunics
Warm and elongated plus-size tunics presented by designers in fashionable collections simply charmed fashionistas, because this element of the wardrobe can be confidently called universal. Tunics with an asymmetrical and elongated edge in the back area look best on curvy ladies. In addition, plus-size women look spectacular with tunic shirts, tunics with A-shaped silhouettes, or jumper tunics. Such styles are perfectly combined with leggings or slightly tight trousers of a straight cut.
Trendy Accessories 
To complement the fashionable image of magnificent ladies,  well-chosen accessories are needed. In the coming season, women's wide shoes with a stable heel or boots with a low heel will look great with fashionable clothes for the curvy.
A leather handbag in a minimalist style will fit perfectly into such a bow. This accessory is suitable for outfits for work and leisure. Universal accessories include fashionable berets and flat caps.
A boho-style outfit can be complemented with a felt hat. As for jewelry, it is better for ladies with plus-size to choose long jewelry, for example, long earrings or elongated pendants. 
Continue reading:
Recap