Last updated on October 28, 2023
Explore these innovative dorm bathroom ideas that will transform your space into a stylish, functional haven.
I am incredibly proud to share this article and unique designs on 20 Creative Dorm Bathroom Ideas, hoping you find as much inspiration and enjoyment in them as I did when creating them.
Transforming a dorm bathroom into a stylish and functional space can be a fun and creative project. This article is packed with innovative ideas that will help you maximize space, maintain cleanliness, and add personal touches to your dorm bathroom.
From clever storage solutions to DIY decor, these tips and tricks are designed to create a bathroom that feels more like a spa retreat than a shared dorm facility.
Read on to discover how to make the most of your dorm bathroom, no matter its size or layout.
Install Shower Caddies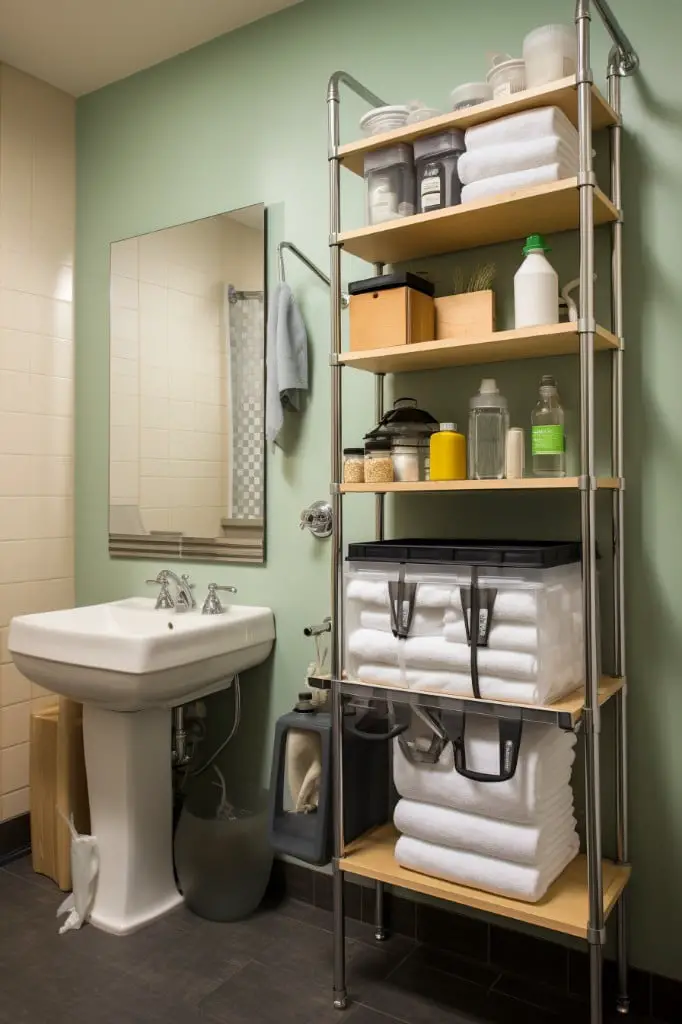 Maximizing space in a dorm bathroom can be achieved with the use of shower caddies. Here are a few helpful tips:
Consider various styles: Opt for hanging or standing ones based on your needs.
Keep items dry: Choose a caddy with proper drainage to prevent molding.
Materials matter: Pick rustproof materials for longevity, such as plastic or stainless steel.
Size and compartments: Ensure it fits your shower area and has enough compartments for all your toiletries.
Selecting the right shower caddy can result in a clean, organized, and space-efficient bathroom, enhancing your overall living comfort.
Use Stackable Storage Bins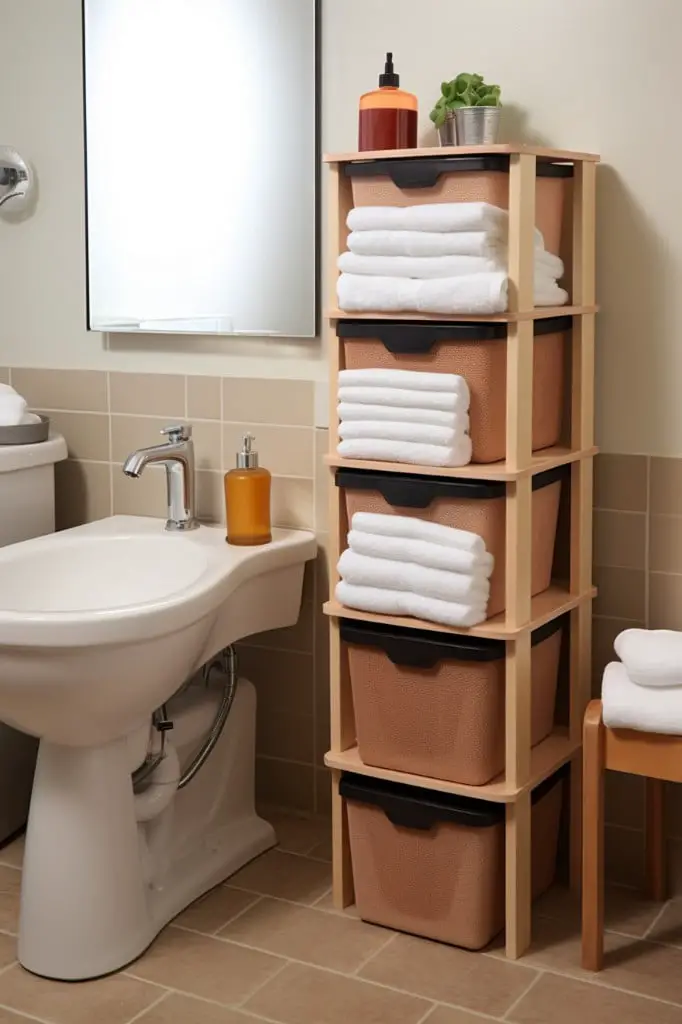 Stackable storage bins are a lifesaver in cramped dorm bathrooms. They offer great vertical storage, ensuring the maximum use of the available square footage.
Here are a few nifty tips to maximize their usage:
Choose clear bins where possible, providing an easy view of contents.
Organize similar items together, such as hair products, skincare, or toiletries.
Opt for bins of different sizes for variety and to fit snugly in various spaces.
Consider bins with lids to keep your items dust-free.
Use labels or markers to identify stored items, making them easy to find.
Adopting such an approach not only keeps the bathroom clutter-free but also creates an organized and serene space. Stackable bins are an affordable and versatile option perfect for the tight spaces of a dorm bathroom.
Hang Over-the-door Towel Racks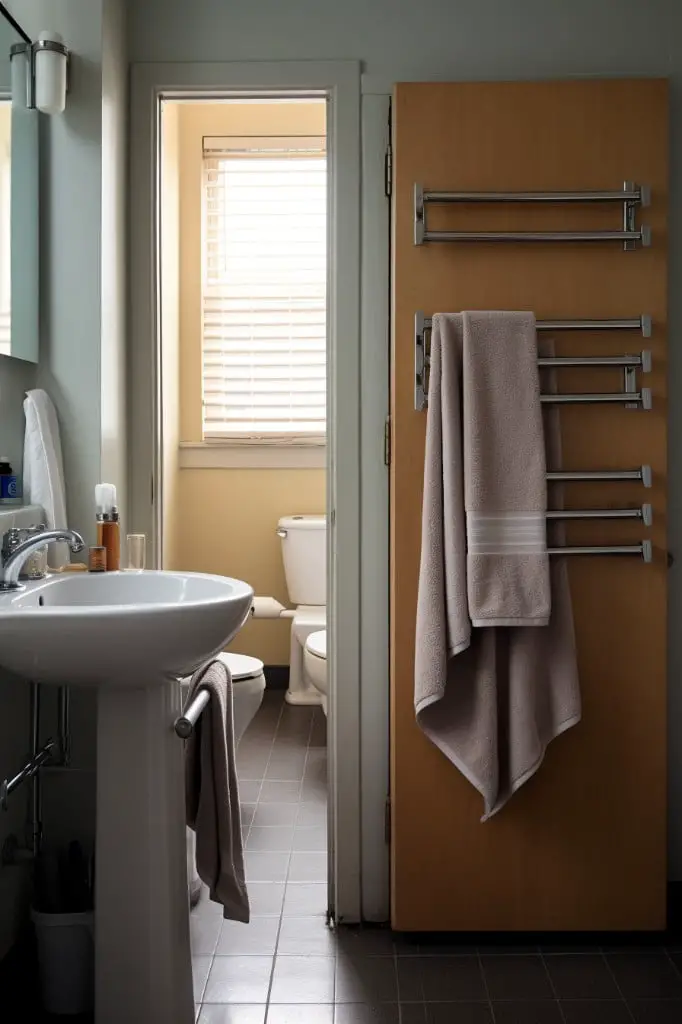 Convenient and space-saving, these racks free up room that could otherwise be wasted. They provide an effortless solution when coping with limited space.
Here are essential points to consider:
Pick a robust rack to effectively hold damp, heavy towels.
Choose a design that complements your overall decor theme.
Ensure it's installed to not obstruct any door movement.
Regularly clean them to maintain hygienic conditions.
Remember, it's not just about utility but also enhancing the aesthetic appeal of your small oasis.
Use a Bathroom Mat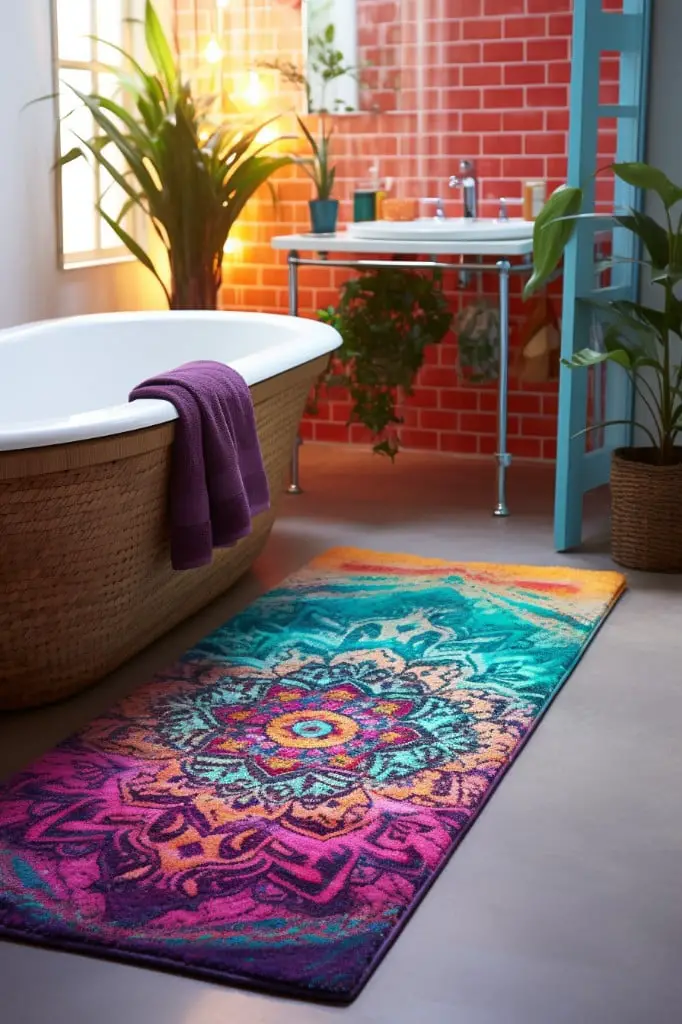 Soft, absorbent mats are essential to ensure a safe exit from the shower, averting potential slips or falls. Consider opting for a machine-washable, non-slip type, which can easily be cleaned and is safe for use in bathrooms. There are myriad of designs available that can significantly uplift your bathroom decor while promising functionality.
Mitigates slip and fall accidents.
Promotes cleanliness by absorbing water.
Incorporates decorative appeal.
Machine-washable for easy care.
Install a Toilet Paper Holder With Shelf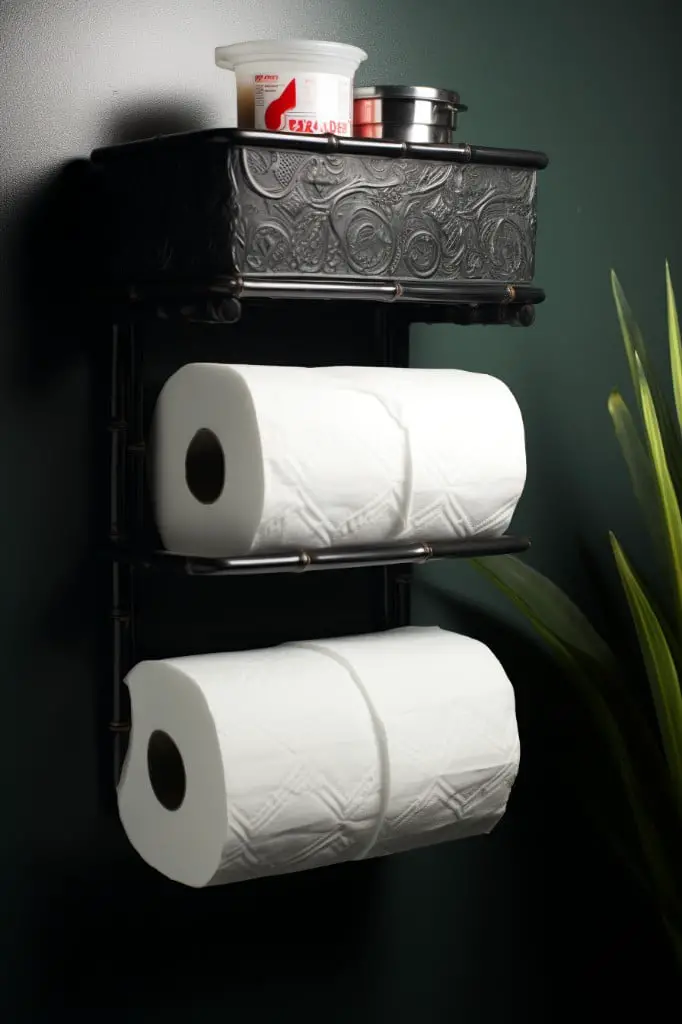 The savvy toilet paper holder upgrade is your solution to balance function and creativity. These multifunctional fixtures not only hold the toilet paper roll but also provide a shelf space for essentials.
First, it provides accessible storage for items such as smartphones, small books, or other lightweight objects one might need within reach. The shelf reduces the risk of items falling into the toilet, offering increased convenience.
Second, they're easy to install. Most often, these types of holders are self-adhesive, meaning no holes are drilled into the wall. This ease of setup is particularly handy in a rented dorm suite where modifications could be a hurdle.
Finally, they're cost-effective. A toilet paper holder with a shelf upholds utility, aesthetic, and budget in an unmatched harmony, therefore an ideal upgrade for your dorm bathroom.
Key points:
Accessible storage
Easy installation
Cost-effective solution
Add a Colorful Shower Curtain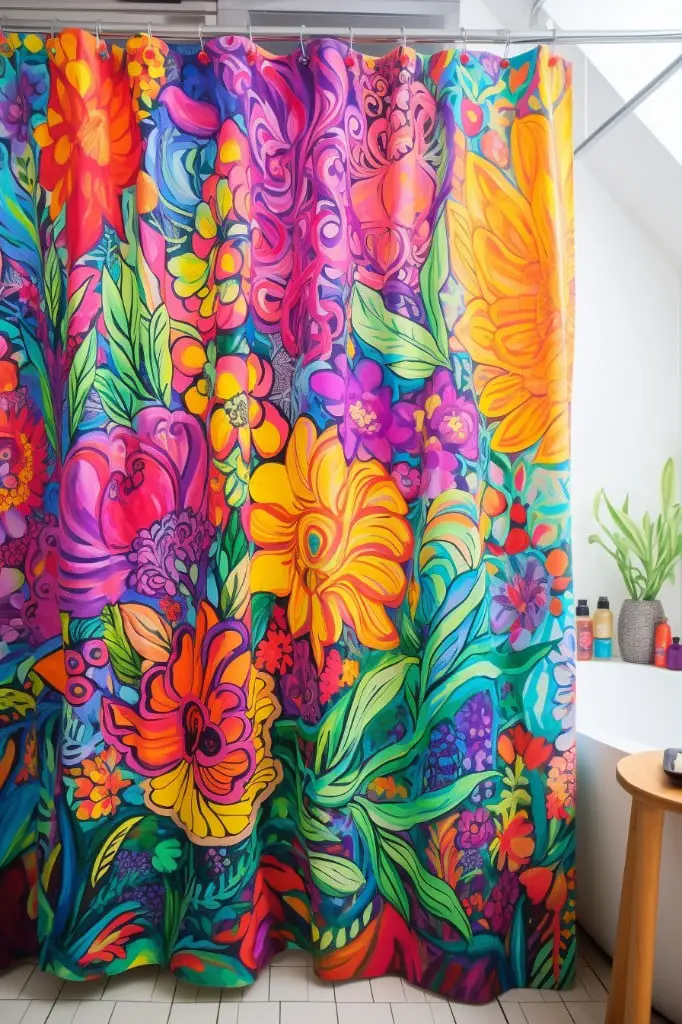 Incorporating vibrant hues via textiles like shower curtains not only enhances the space's aesthetic but also gives it an energetic feel. Here are some essential factors to consider:
Material: Choose between cotton, polyester, or vinyl. Cotton is eco-friendly but needs a liner. Polyester lasts longer and readily available in numerous designs. Vinyl is inexpensive, easy to clean, and doesn't require a liner.
Design: Options include geometric patterns, solid colors, or themed designs to add a personal touch.
Maintenance: Pick a machine-washable option for easy upkeep.
Size: Ensure that the measurements align with your shower stall.
Sustainability: Consider environmentally-friendly materials such as hemp or organic cotton.
Remember, select a curtain that expresses your personality and complements the overall look.
Consider a Removable Wallpaper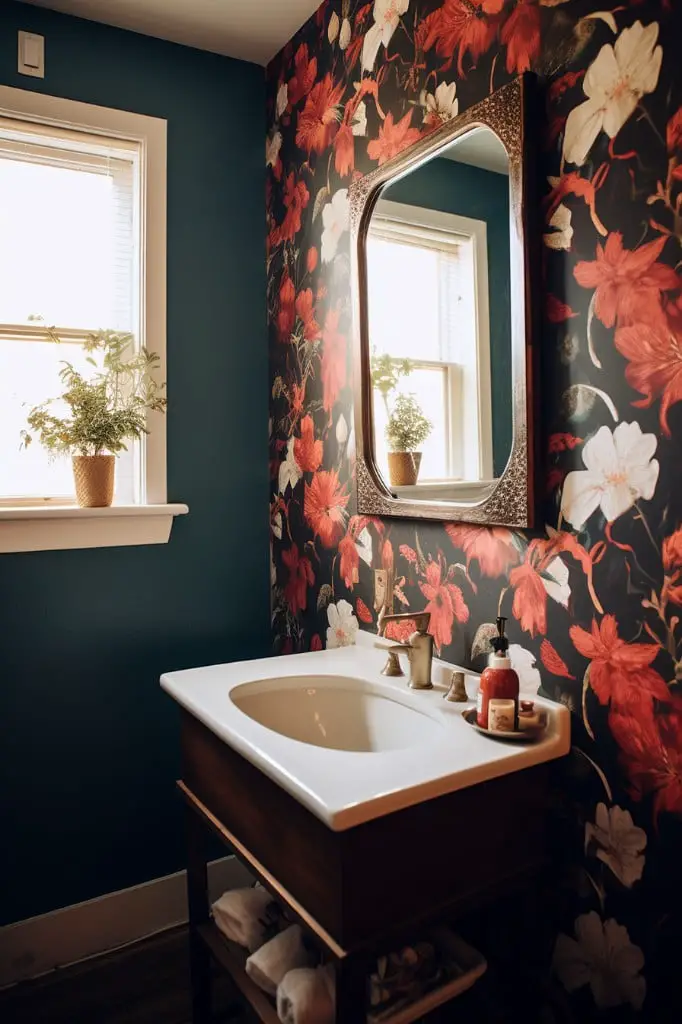 The right removable wallpaper can drastically change the look and feel of your dorm bathroom, transforming it into an aesthetically pleasing space. This choice is particularly beneficial for those wishing to add a personal touch to their surroundings, considering the temporary nature of dormitory accommodation.
1. Wide array of designs: Select from botanical prints to minimalist chic, ensuring it reflects your personal style.
2. Easy to install: No requirement for professional help, just peel off the backing and apply to a clean, dry surface.
3. Damage-free: It won't peel off the paint, perfect for dorm rules that prohibit permanent changes.
4. Cost-effective: A trendy yet budget-friendly option in comparison to traditional wallpapers.
5. Easy to replace: Influences from changing seasons or fashion trends can be accommodated without any hassles.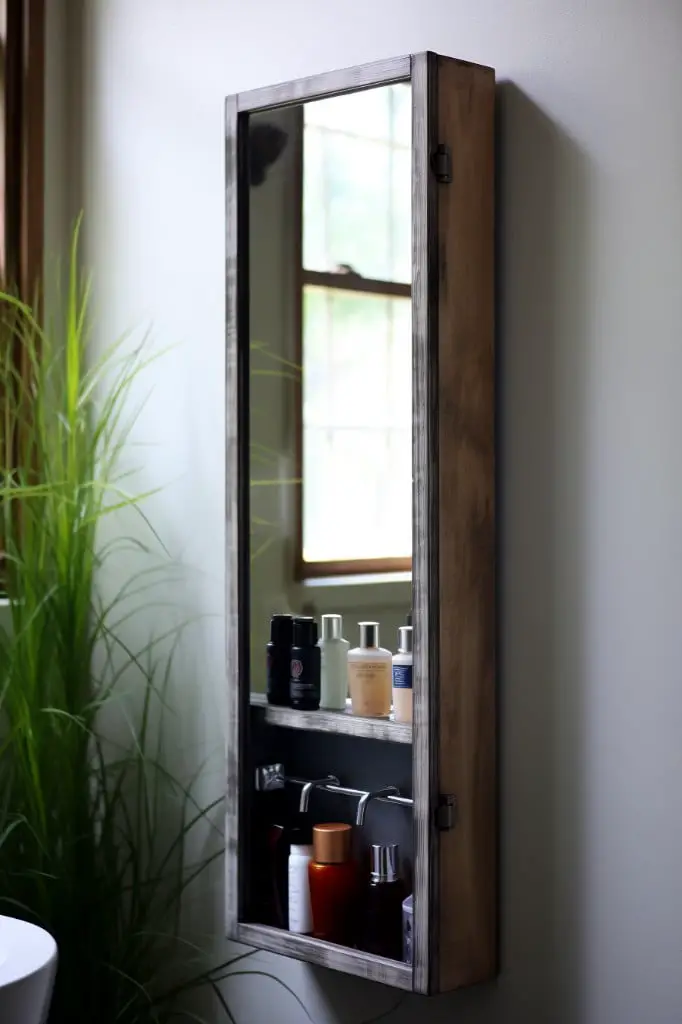 Possessing dual functionality, mirrors with hidden storage space are an excellent addition to dorm bathrooms. Their utility lies in:
Saving space: Limited bathroom size becomes less of an issue due to the integral storage provided.
Organizing items: Toiletries, skincare products, and medicines can be neatly arranged.
Concealing clutter: It keeps a neat and tidy appearance by hiding unwanted clutter out of sight.
Easy access: Crucial items like a first aid kit, toothbrush, or floss are within reach.
Aesthetic appeal: They enhance the overall look of the bathroom adding to its visual attractiveness.
By taking care of the storage needs while enhancing the look of a bathroom, mirrors with hidden storage are a smart pick.
Use Under-the-sink Organizers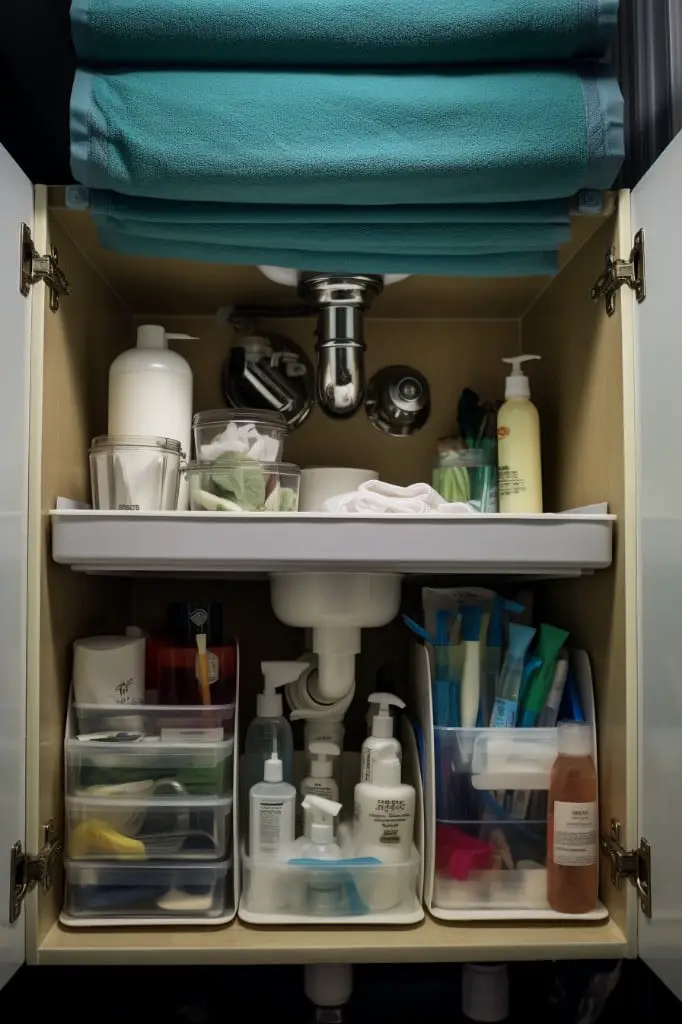 Starting with a clean bathroom, place sliding drawers that fit perfectly under the sink. These drawers are fantastic for storing toiletries like toilet paper rolls, hand towels, or even cleaning supplies. Adjustable shelves are also an excellent option, as they can be tailored to fit around plumbing fixtures while maximizing the often-ignored space.
Measure the area underneath your sink to determine the perfect fit for your under-the-sink organizer.
Choose a sliding drawer or adjustable shelf solution based on your storage needs.
Organize items accordingly, prioritizing frequently used items in easy-to-reach places.
Clean and declutter the area regularly to maintain hygiene and orderliness.
Making use of the space under the sink is not just about practicality, but can also enhance the overall aesthetics of your dorm bathroom.
Opt for Waterproof Speakers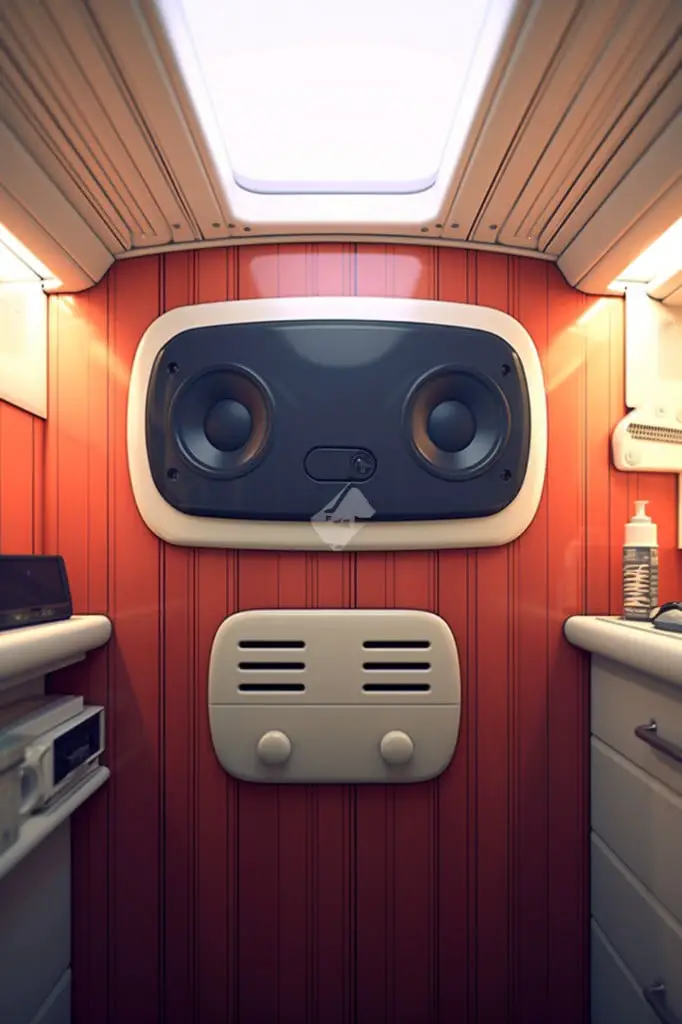 Enhancing your bathroom experience with the right set of tunes can make a big difference. Waterproof speakers are an ideal solution for this.
1. Resistant to water and steam damage, these gadgets are designed to function optimally in wet conditions.
2. Placement is key. Consider your shower's structure for the best acoustics.
3. No need for a professional installation. Many models come with suction cups or hooks to attach to tiles or shower glass.
4. Bluetooth capability pairs with your device, allowing you to stream your favorite songs, podcasts, or audiobooks with ease.
5. Battery life varies by model. Consider your needs before purchasing.
In these few simple steps, you've elevated your bathroom routine into a spa-like experience.
Add a Plant for Freshness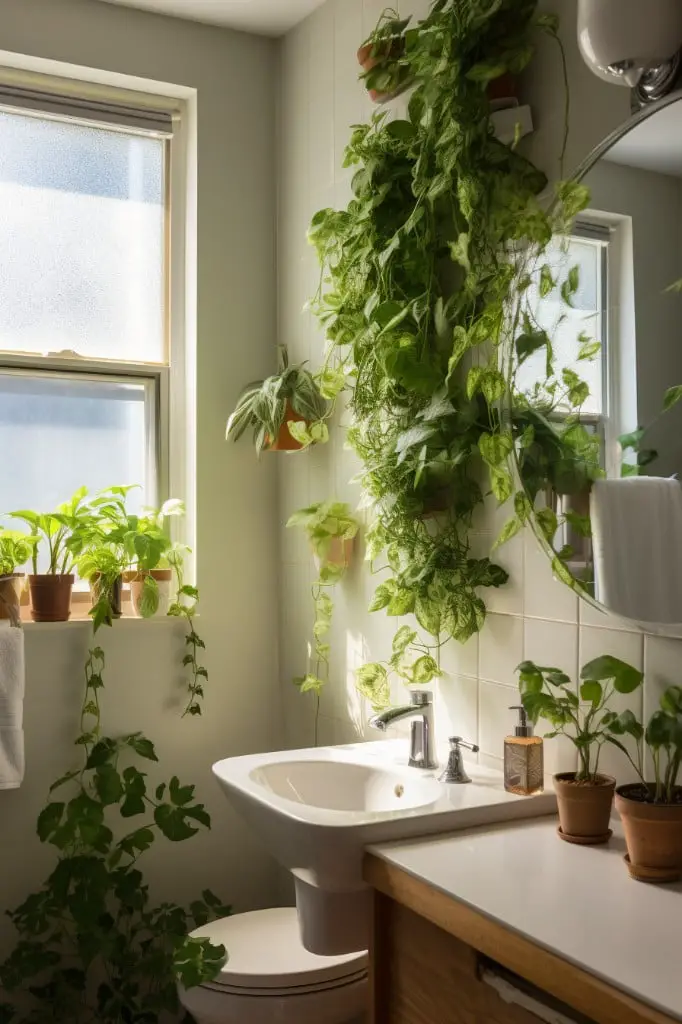 Introducing greenery creates an inviting and refreshing aesthetic. Plants purify the air, acting as natural air fresheners—and they're visually appealing, too.
1. Choose a low-maintenance plant like a snake plant or ZZ plant; they thrive in low light and humidity.
2. Consider the size of the plant; small to medium-sized foliage won't crowd the limited bathroom space.
3. Place the plant in a decorative pot to add a touch of personal style.
4. Position the plant strategically; putting it on a windowsill or shelf works well.
Remember, the key is to incorporate plants that not only enhance your dorm bathroom's overall look but also thrive in bathroom conditions. Happy decorating!
Use a Toothbrush Holder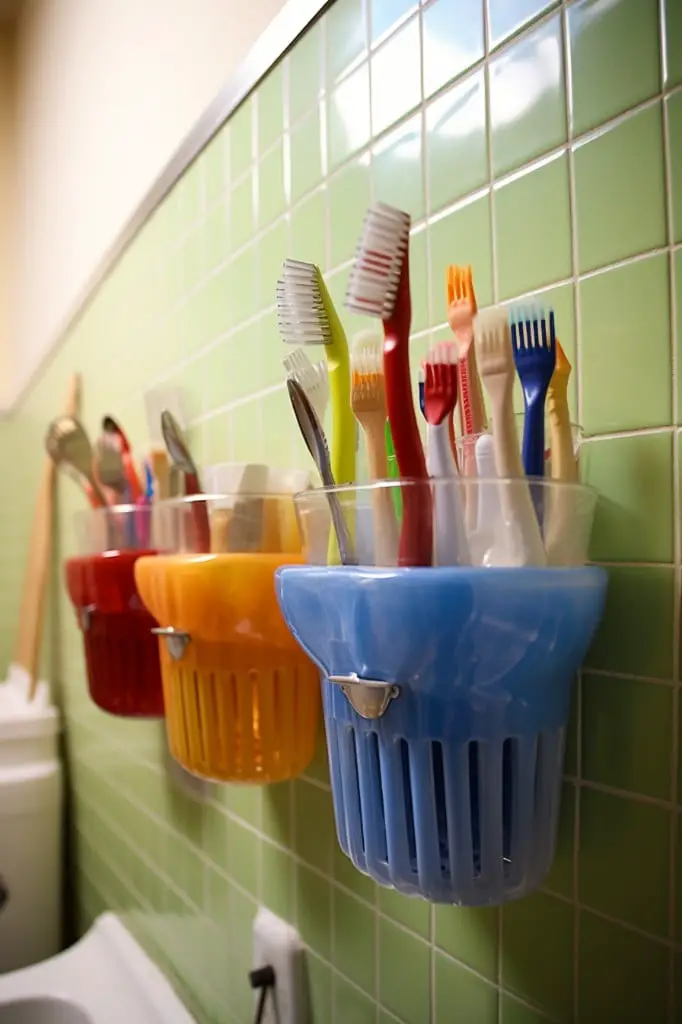 The toothbrush holder helps keep a tidy and hygienic bathroom counter. Select a holder designed to keep toothbrushes, toothpaste, and dental floss separated and clean. It can be freestanding or attach directly to the wall, depending on the available counter space.
1. Ensures hygiene by isolating toothbrushes from other bathroom items.
2. Provides organization, thus reducing clutter.
3. Enhances bathroom aesthetics with its design and material choice.
4. Saves space, especially with a wall-mounted option.
Implement Led Strip Lights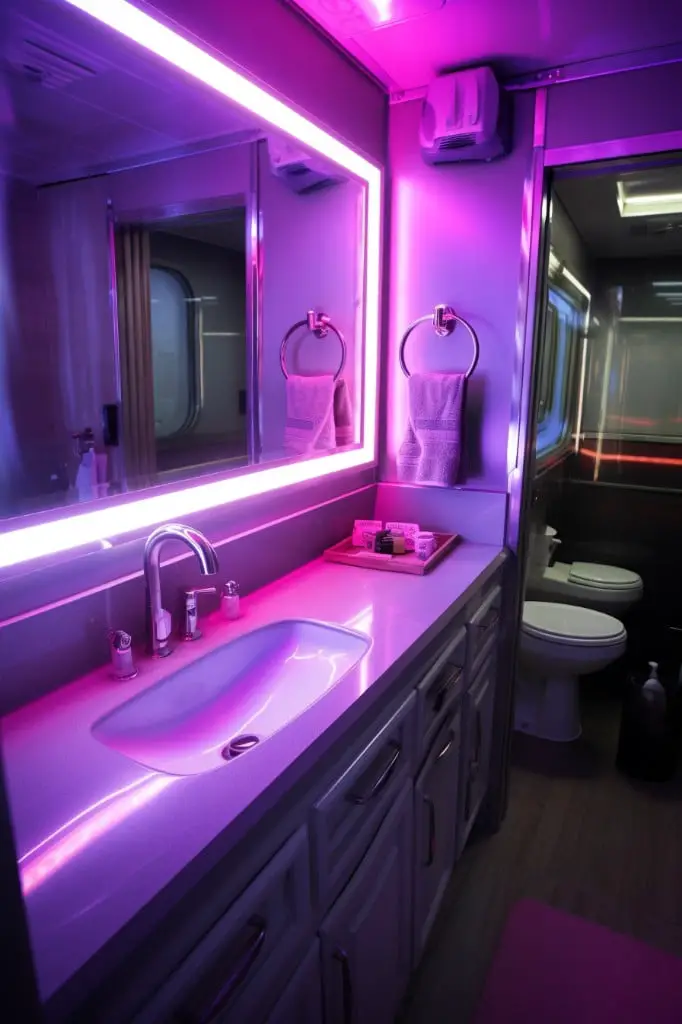 For a dazzling effect, install LED strip lights around your mirror or below your cabinets. These energy-efficient fixtures, easy to install and available in multiple colors, add a beautiful glow and make the bathroom look spacious.
LED lights are energy saving.
Easy installation process, often adhesive-backed.
Multiple color options available for a personalized touch.
Great for highlighting mirror or under-the-cabinet spaces.
Make the room appear larger and brighter.
Stick to a Color Scheme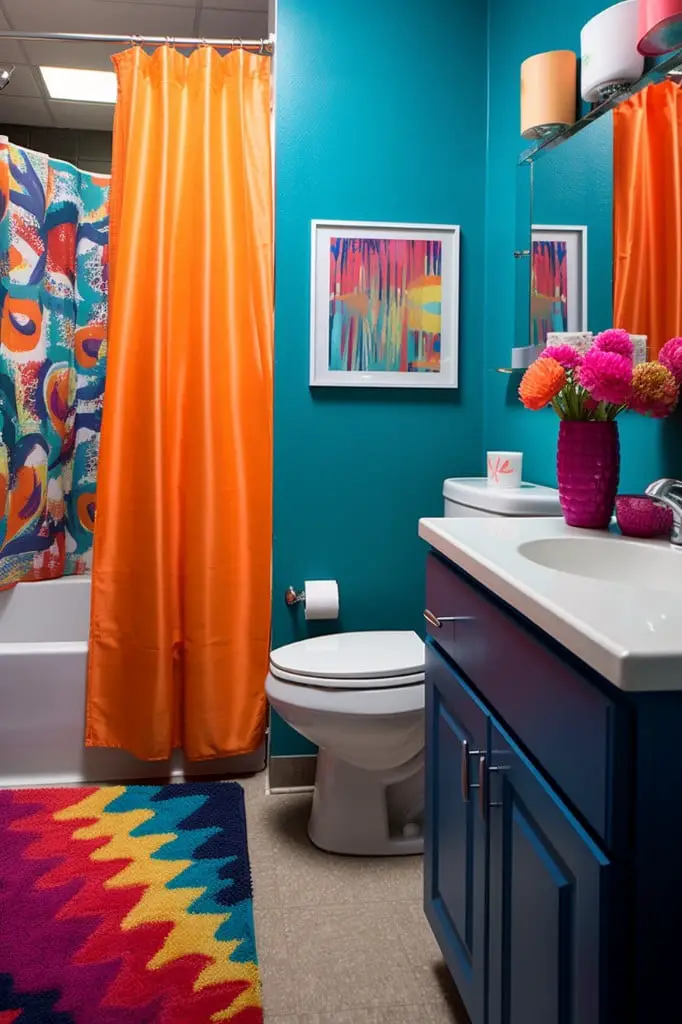 Choosing a monochromatic scheme can make disjointed spaces feel connected. Neutrals, like whites and grays, are safe choices, but don't shy away from lively colors if they suit your personality.
Few color schemes to consider:
1. Pastels – soft, soothing, helps in bringing a calming effect.
2. Jewel tones – rich, attention-grabbing, can give a luxurious feel.
3. Earth tones – harmonious, nature-inspired, provides a relaxed ambiance.
Remember, consistency is key to blending elements seamlessly. Accent pieces like towels or mat can tie the look together. Be mindful of the tones fitting your chosen color scheme. It's not merely aesthetic, a well-designed space can impact how you start and end your day.
Use Suction Cup Wall Hangers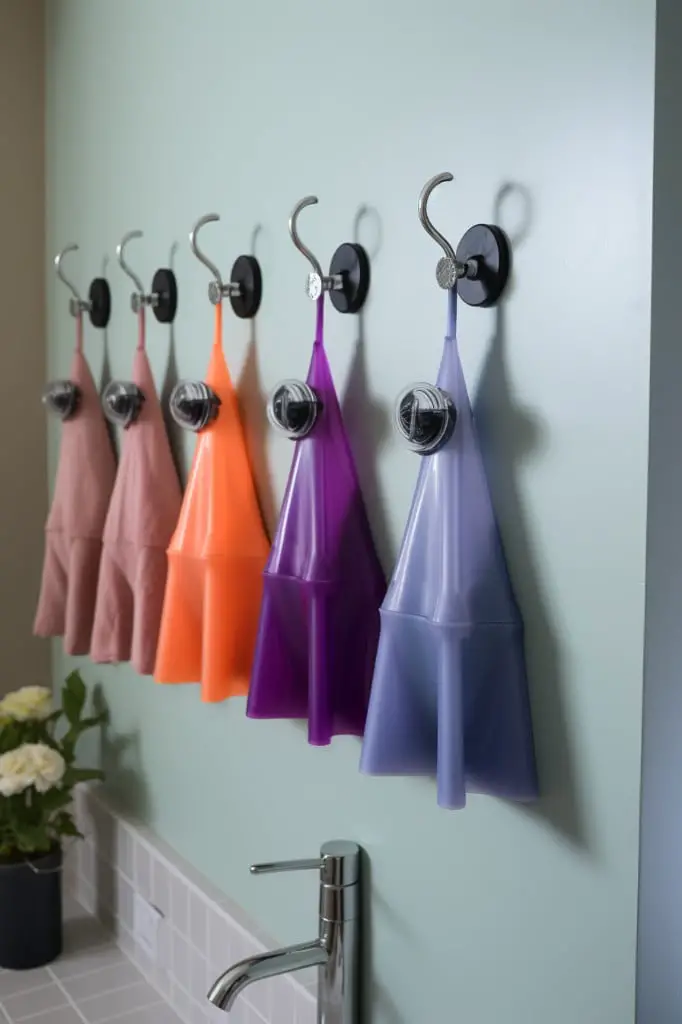 Harnessing the power of suction cup wall hangers can radically enhance dorm bathroom storage, especially when dealing with limited space. These handy utilities offer a quick, non-permanent solution for hanging towels, robes, and personal belongings.
Key benefits:
Quick and easy installation without tools or drills.
No damage to walls making them perfect for a rented space.
Good load-bearing capacity, suitable for bath towels and robes.
Reusable and removable, allowing for repositioning as needed.
Various designs to match your aesthetic taste.
Smart tips:
Ensure the surface is smooth, clean, and dry before attachment.
Opt for quality hangers with a locking mechanism for extra security.
Periodically check the suction for tighter adherence, ensuring things stay put.
Hangers are not designed for heavier objects, mind the weight limits.
Get a Small Laundry Basket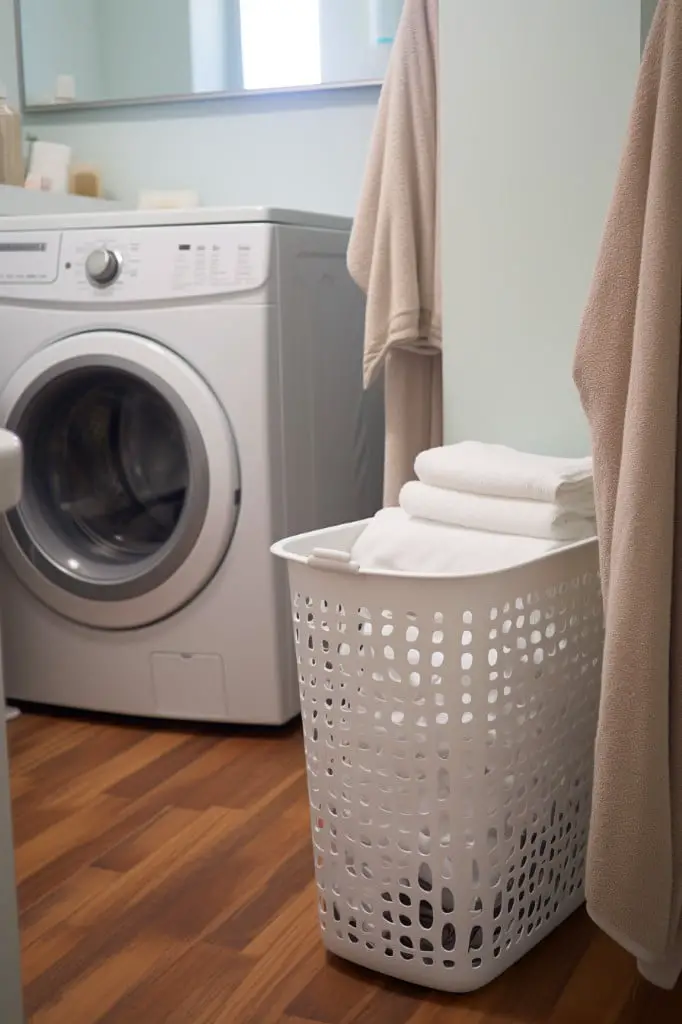 Going compact is a crucial aspect when managing space in your dorm bathroom. Opting for a small laundry basket allows easy segregation of laundry without taking up too much space.
Here are some intrinsic elements of this approach:
1. Saves space – A compact basket can be easily fitted in any corner, ensuring convenience.
2. Aesthetic appeal – Modern designs can add to your bathroom decor.
3. Practicality – Having a dedicated space for dirty clothes can help keep the room tidy.
4. Mobility – Lightweight baskets can be moved around and tucked away as needed.
Add Compact Bathroom Shelves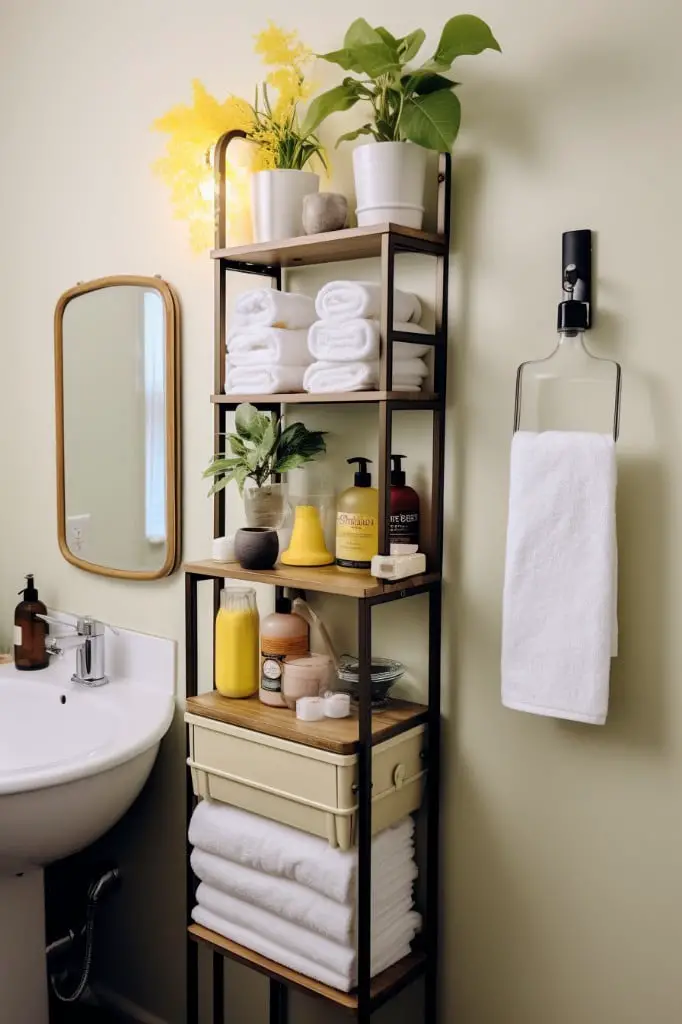 In dorm bathrooms, space is always at a premium. To maximize storage, consider compact shelves designed specifically for small areas. They can be floor standing, wall-mounted or even over the toilet units, providing an extra area for storing toiletries, towels, and other necessary items.
Key Points:
Choose shelves that are rust-resistant, to endure the humid bathroom condition.
Opt for units with multiple tiers to optimize the vertical space.
Consider adjustable shelves that allow customization according to specific needs.
Look for designs that have a minimalist appeal, to minimize visual clutter.
Consider shelves with attached hooks or towel bars for added functionality.
It's also viable to get creative with the positioning of these shelves. Use them near the sink for easy access to hand soap or toothpaste or install them near the shower for shampoos and body wash.
Provide Hand and Face Towels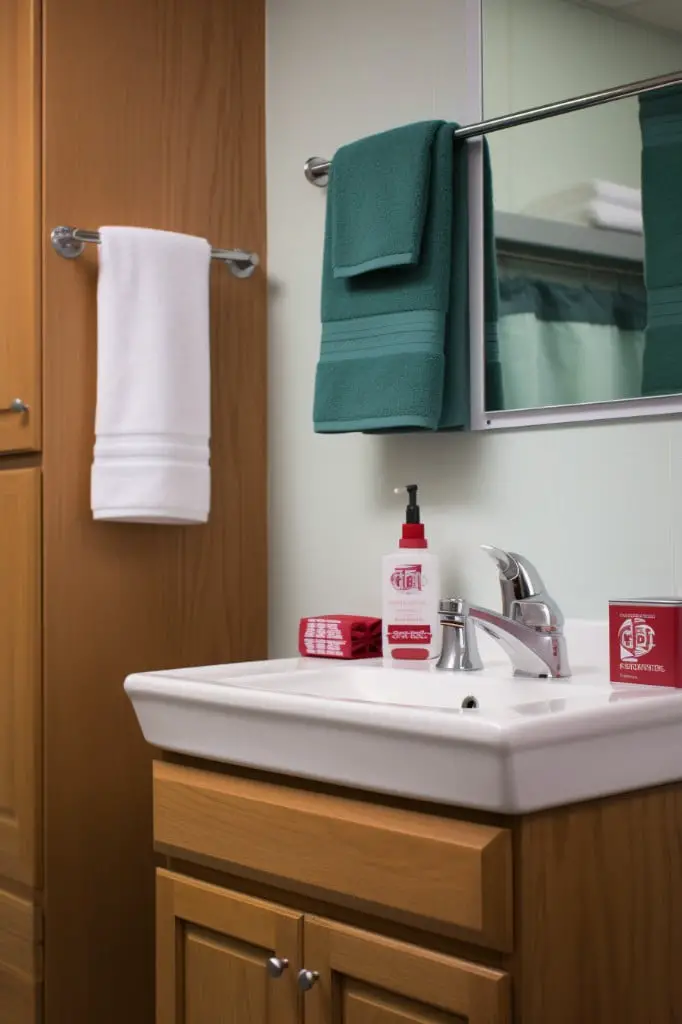 To ensure convenience and hygiene, delegate a specific spot for hand and face towels. Instead of scattering them randomly, place them near the sink or vanity for easier access. Opt for matching sets to maintain your color scheme.
Here are some key points to keep in mind:
Cotton towels absorb moisture well and are gentle on the skin.
Frequent replacement prevents bacterial growth.
Use towel hooks or rods to display towels and keep them dry.
Towel warmer racks can add a touch of luxury.
Separate colors from whites to avoid color bleeding during washing.
Use Scented Candles or Diffusers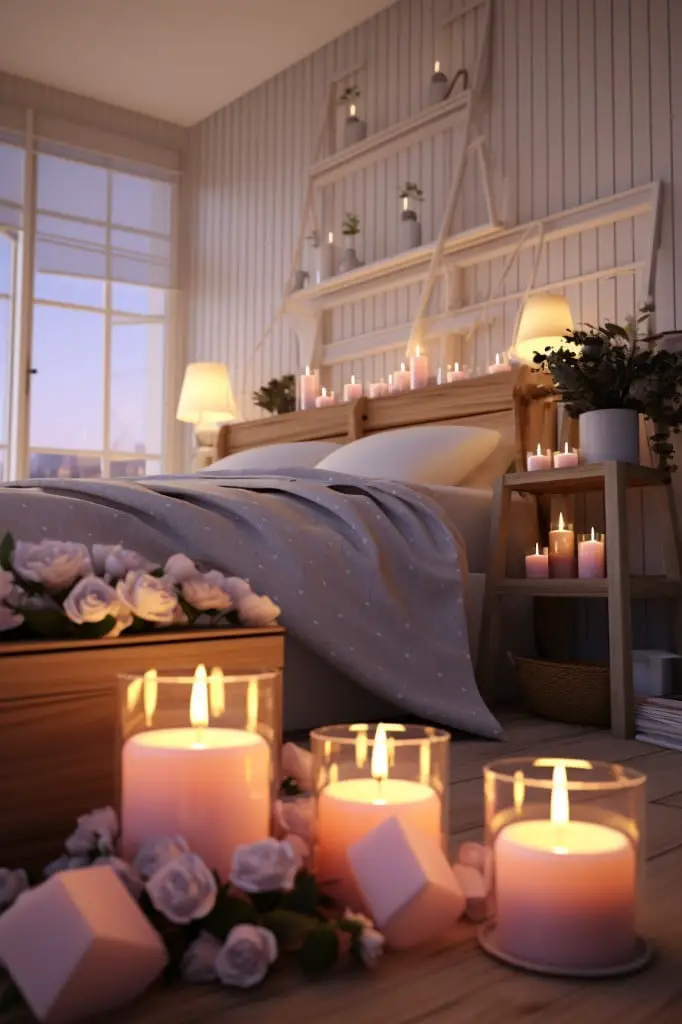 Having a refreshing scent in the dorm bathroom can drastically improve the overall experience. Essential oil diffusers, which spread a pleasant aroma, can create a spa-like ambiance. Opt for soothing oils like lavender or peppermint for a calming environment. Plus, many of them double as a humidifier, adding moisture to the air, which is beneficial for the skin.
On the other hand, scented candles can provide a dual purpose – spreading a pleasant scent and adding a cozy, warm light. Lemon, vanilla, or cinnamon are great choices that appeal to most people.
However, always remember safety is essential. Never leave a burning candle unattended, and make sure it's kept far from flammable items such as towels or curtains. Use candle holders for increased safety and consider switching to LED candles that provide the same cozy light without the flame risk.
Choose diffuser with soothing oils like lavender or peppermint.
Opt for universally pleasing candle scents like lemon, vanilla, or cinnamon.
Ensure safety by never leaving a burning candle unattended.
Place candles far away from flammable items.
Use candle holders or consider flameless LED candles.
Implement a Designated Makeup Area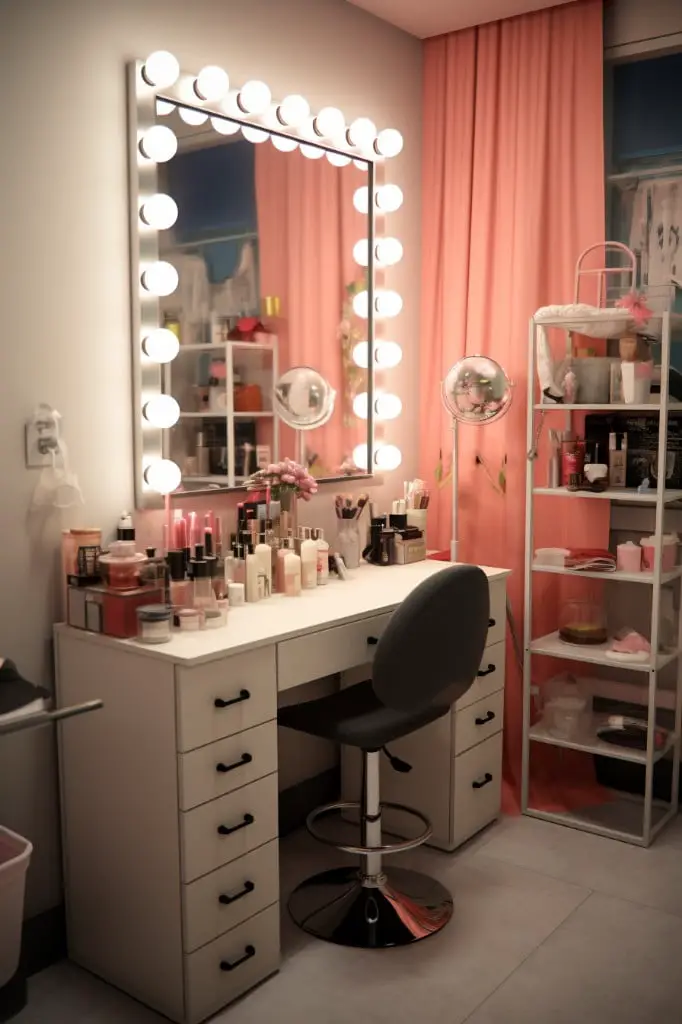 A designated makeup area is not a mere luxury, it's a necessity.
Choose a compact vanity table or desk to fit into the available space. Ensure it comes with drawered storage to stash your makeup and beauty tools.
Invest in a well-lit mirror – lighting is crucial for makeup application. Choose a mirror with built-in lighting or place a table lamp for optimal illumination.
Use makeup organizers to neatly arrange your cosmetics. This will not only save space but also makes it easy to find your makeup essentials when you're in a rush.
Keep makeup brushes upright in cups or brush holders for easy access.
Consider a hanging organizer for palettes and larger items which may not fit into drawers. It can be hung on the wall, saving valuable surface space.
Use a small bin for used makeup pads and wipes to keep the area clean and organized.
Remember to regularly maintain the makeup area, clean makeup tools, replace old products and declutter unwanted items. This will ensure the makeup area remains an inviting, functional, and efficient space.
Continue reading:
Recap