Last updated on November 30, 2023
You'll want to keep reading because this blog post is packed with creative preppy birthday party ideas that will make any celebration memorable and stylish.
I take great pride in crafting this article and its unique designs, and I sincerely hope you find it as inspiring and fun as I did creating them.
Throwing a preppy birthday party can be a thrilling endeavor filled with pastel colors, classic patterns, and elegant decor. This article aims to provide you with a host of creative ideas to bring that preppy charm to your celebration.
From stylish invitations to chic party decorations, delectable menu suggestions to fun-filled activities, we'll guide you through every step of planning an unforgettable preppy party.
As you delve deeper into the article, you'll uncover all the details you need to turn these ideas into reality and make your preppy birthday party the talk of the town.
Nautical-themed Decorations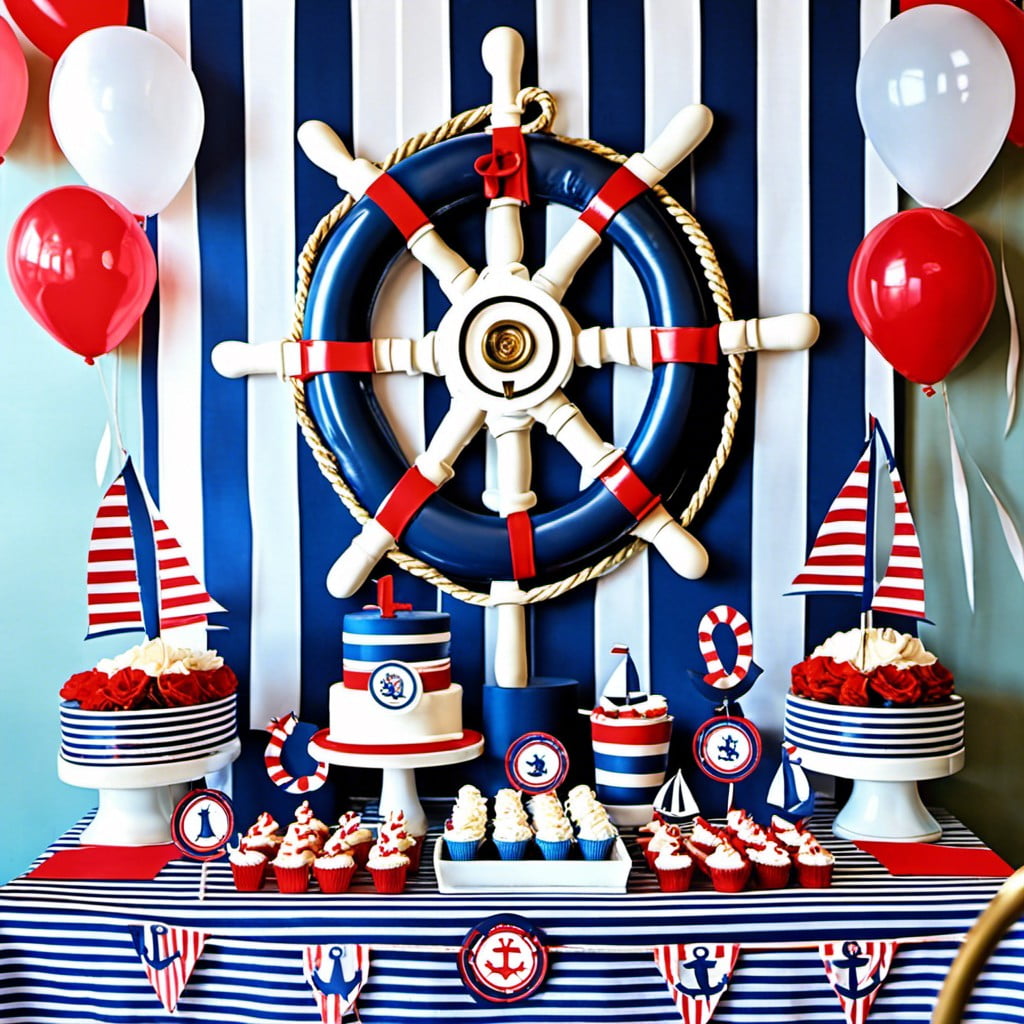 Ahoy, party planners! Cast off on the right foot with shipshape centerpieces like anchor-shaped candles or seashell-filled glass vases.
Maritime flags can add an authentic touch when hung along walls or across the ceiling.
Don't forget those iconic navy and white stripes – table runner, napkins or even chairs throws can tie in the theme effortlessly.
To amp up the theme further, consider miniature lighthouses or lifebuoy rings as fun, on-knit accents.
Finish off with a splash of red color for a true nautical feel – think red napkins or red cushions on white garden chairs.
It's smooth sailing from here with the rest of your planning!
Pastel Balloon Bouquet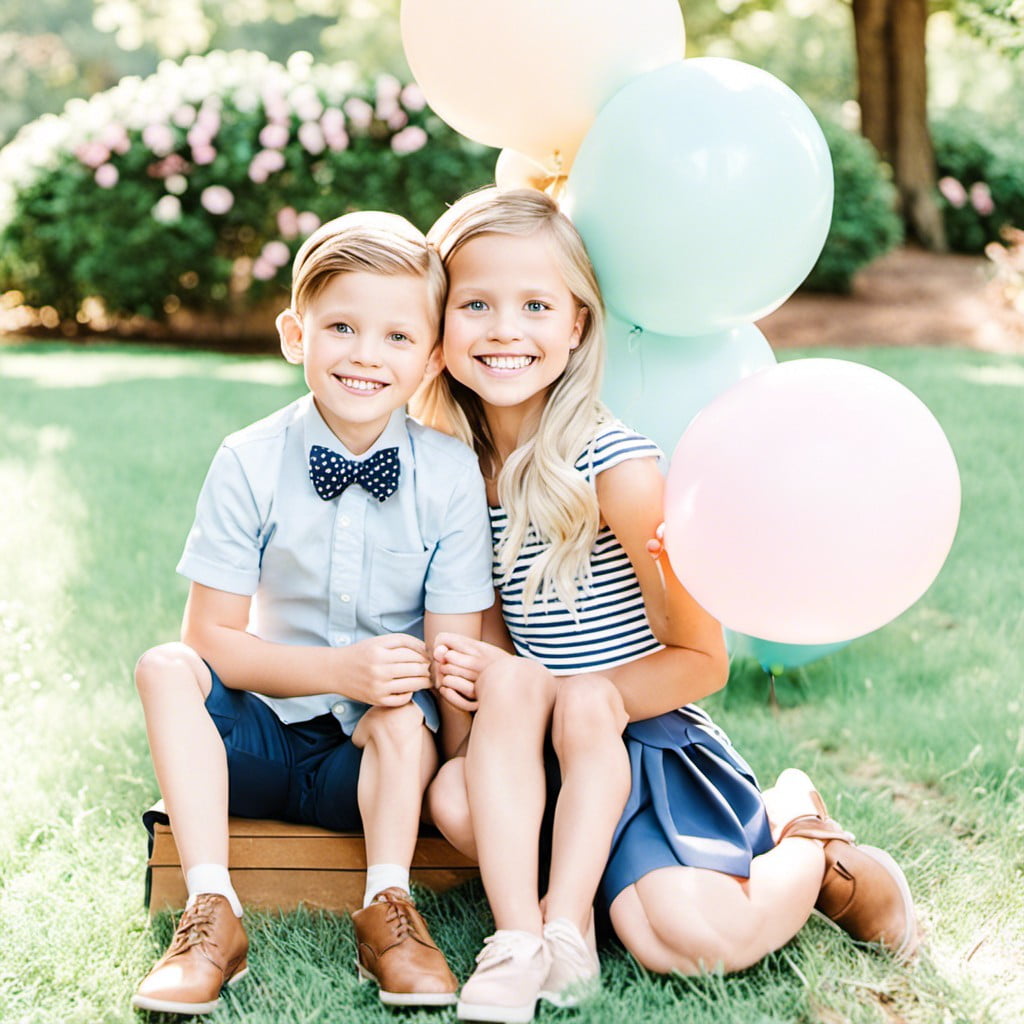 To achieve the desired look, choose balloons in soft, muted shades like blush pink, mint green, and baby blue. These colors embody the elegant simplicity of preppy aesthetics. Opt for latex balloons, which offer a more refined look than their shiny foil counterparts. Group them in bouquets of odd numbers, as it is visually more appealing.
Intersperse a few clear balloons filled with pink and green confetti for a surprise burst of preppiness. Remember to tie these groups of balloons to weighted bases covered in coordinated fabrics, ribbon, or netting, guaranteeing stability and continuity with the overall theme. Position these graceful bursts of pastels around your celebration space for a floating, fresh touch, sure to delight and inspire your guests.
Preppy Striped Tablecloths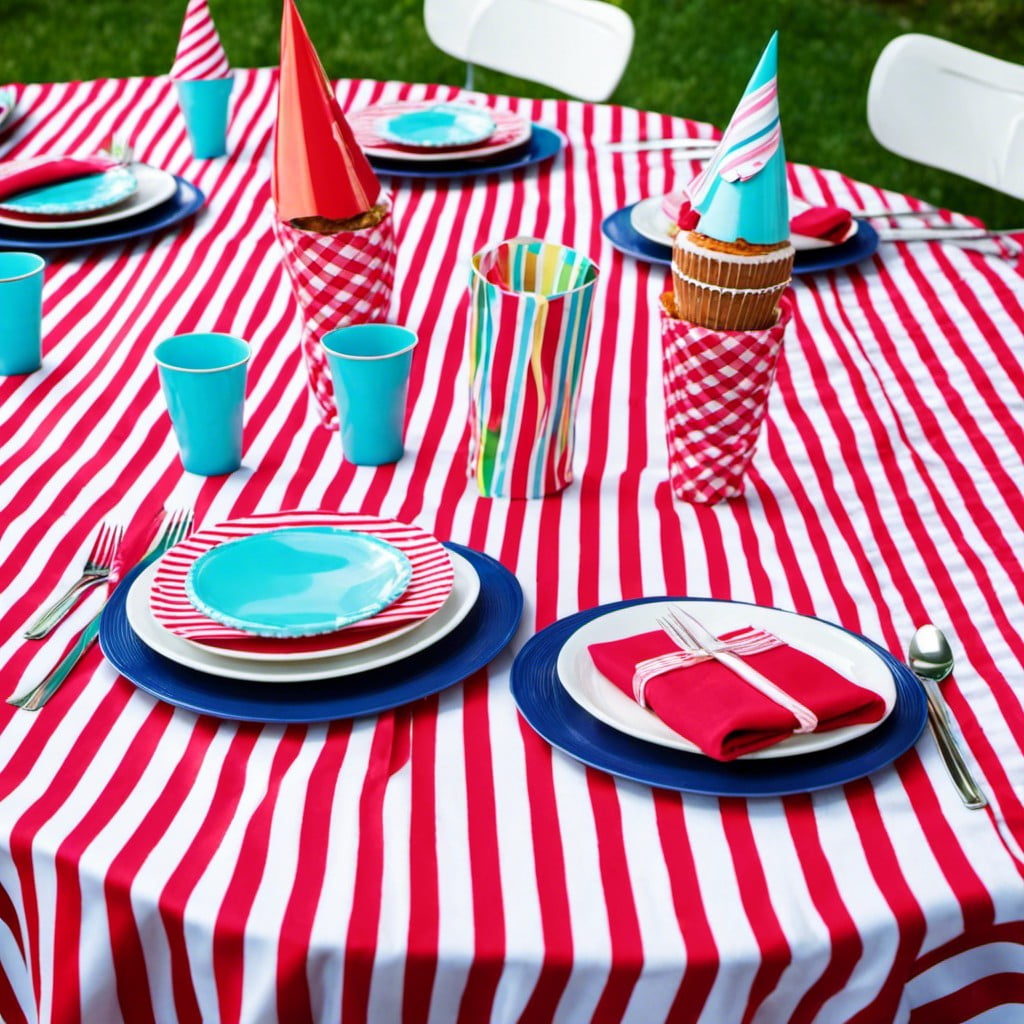 Opt for table covers that echo the classic charm of preppy culture. Stripes, in particular, are a quintessential pattern. Look into hues like navy, white, or sunny yellow for an authentic touch. Incorporating such design elements helps set a lively, refreshing ambience, keeping in sync with your party's preppy theme.
Here's how you can effectively use them:
Layer them for contrast: If your dining tables are wooden or plain-colored, a striped tablecloth adds an exciting contrast. It breaks the monotony and instantly lifts the look.
Choose appropriate width: Wide stripes lend a bold, contemporary feel while narrow stripes are more subtle and classic. Pick according to the overall party style.
Match with other décor: Introducing coordinating striped elements like flags, banners, or napkins can create a cohesive look.
Consider material: Consider cotton for an authentic preppy feel; polyester assists in carefree maintenance, especially at a party.
Remember, a striped tablecloth doesn't just protect your table; it adds an exciting visual underlay for your delicious spread.
Ivy League-inspired Dress Code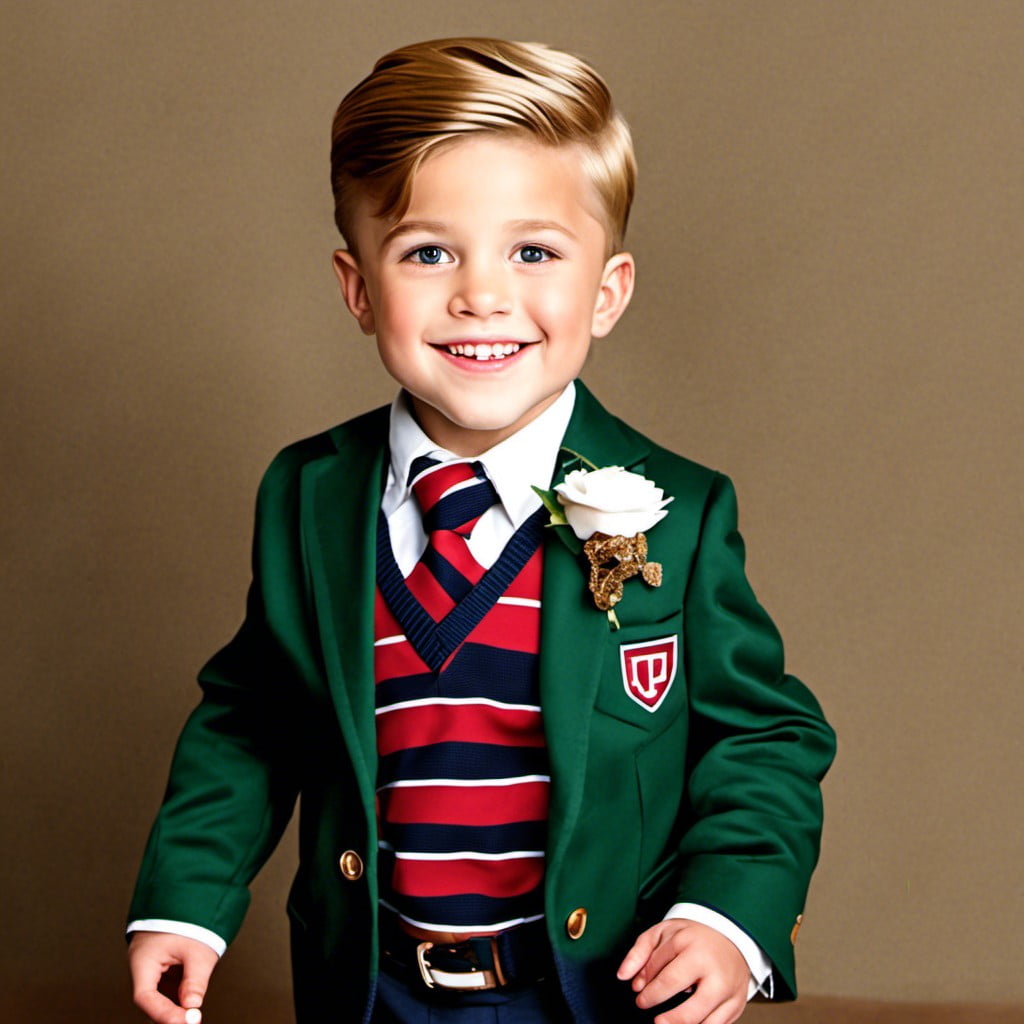 A key element that contributes to the ambiance of the preppy birthday party is the attire of the guests. Encourage attendees to draw inspiration from the characteristic style found on Ivy League campuses.
For men, consider well-tailored khakis or chinos paired with a crisp button-down shirt. Sweaters draped over the shoulders add an extra touch of class.
For the ladies, pencil skirts or preppy pleated mini skirts in pastels, matched with high-collar blouses could be an impeccable choice.
Don't forget the quintessential accessory – a pair of penny loafers for men and ballet flats for women. Alternatively, clean white sneakers can do the trick.
Add a touch of sophistication with a string of pearls for women and a classic wristwatch for men. This dress code sets the theme right, making the party feel authentic and immersive while remaining casual and fun.
Hamptons Style Outdoor Setting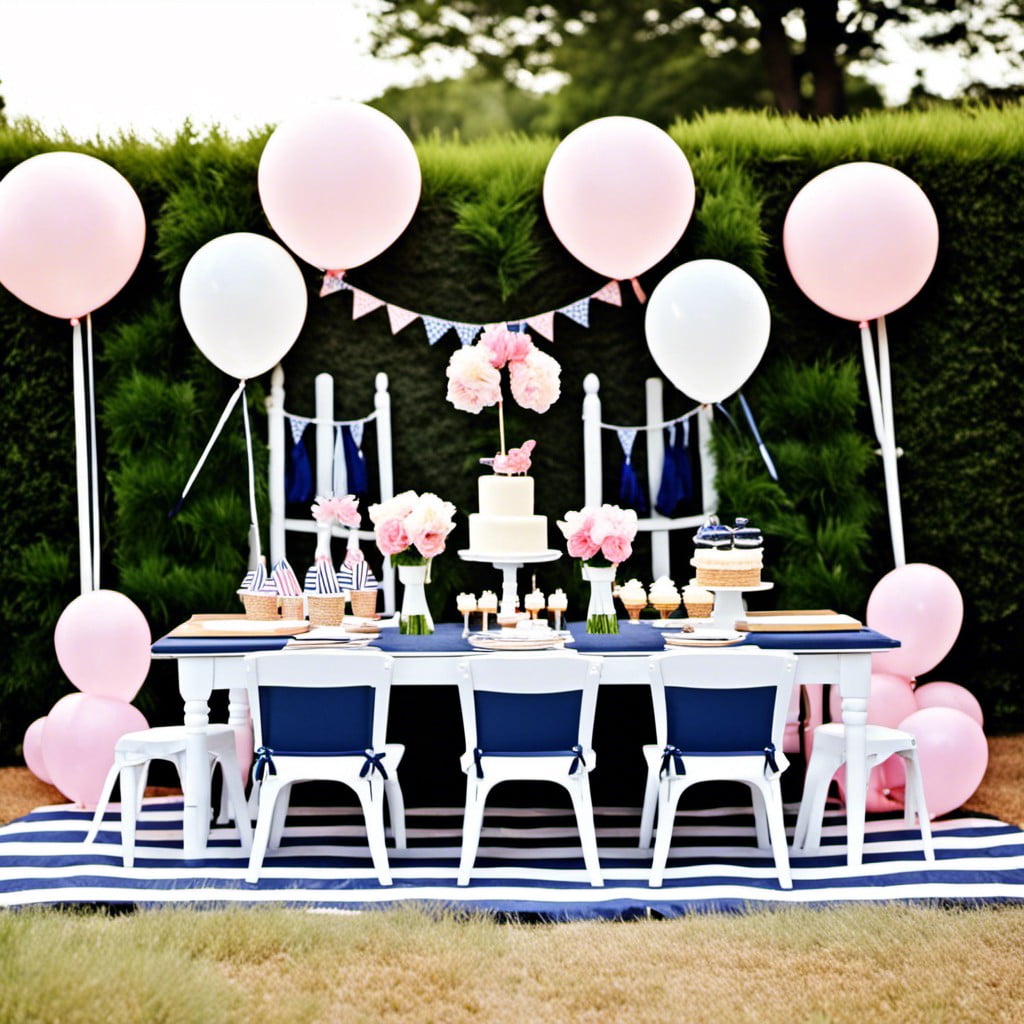 To emulate the casual elegance of a Hamptons retreat right in your backyard, you'll need a few key elements. Mix and match wicker furniture with comfortable outdoor seating like sun loungers and hammocks.
Use neutral tones, accented with splashes of blue and green to create a serene environment. Drape lightweight, breezy fabrics over seating areas and incorporate coastal decor, such as seashells or sea glass, for a beachy touch.
A fire pit serves as a cozy focal point, encouraging chatter and storytelling well into a summer's evening. Lastly, low-key string lights add the perfect sparkle, illuminating your backyard Hampton oasis as day turns to evening.
Remember, it's all about creating an ambiance that exudes relaxed sophistication.
Classic Mocktail Bar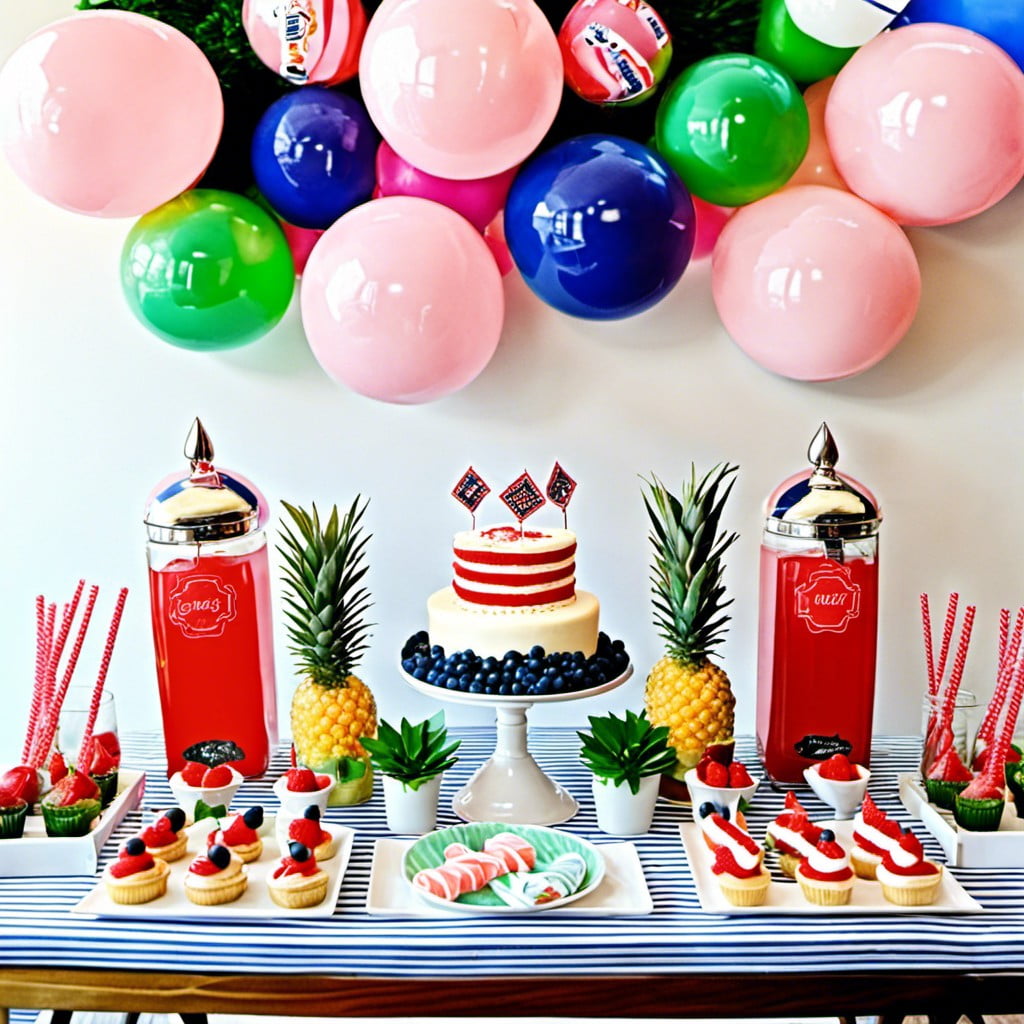 Indeed, this party element will have your guests lining up for refreshing sips all day. To start, pick clear glass beverage dispensers, allowing everyone to see the beautiful blend of colors in each drink.
Offer a variety of options for different palates, such as tangy citrus lemonade, sweet peach iced tea, and vibrant raspberry cooler. Don't forget the classic minty mojito mocktail, minus the rum.
Pay attention to details for an added preppy touch. Instead of ordinary plastic straws, go for striped paper straws matching your party color scheme. Ice can also be made fun by incorporating pieces of fruit or mint leaves, adding a splash of color to the mocktails.
Baby breath flower sprigs can dress up the dispensers. A pro tip – label your beverages using cute signage. Not only does this prevent guests from guessing what they're about to sip on, but it also contributes to the overall classy aesthetic of your party.
Finally, make sure the bar is easily accessible to guests. A stationed drink hub creates a central gathering point, sparking conversation and interaction. Besides, it's a wonderful spot for a photo-op. After all, it's not everyday you see such an exquisitely detailed mocktail bar.
Monogrammed Party Favors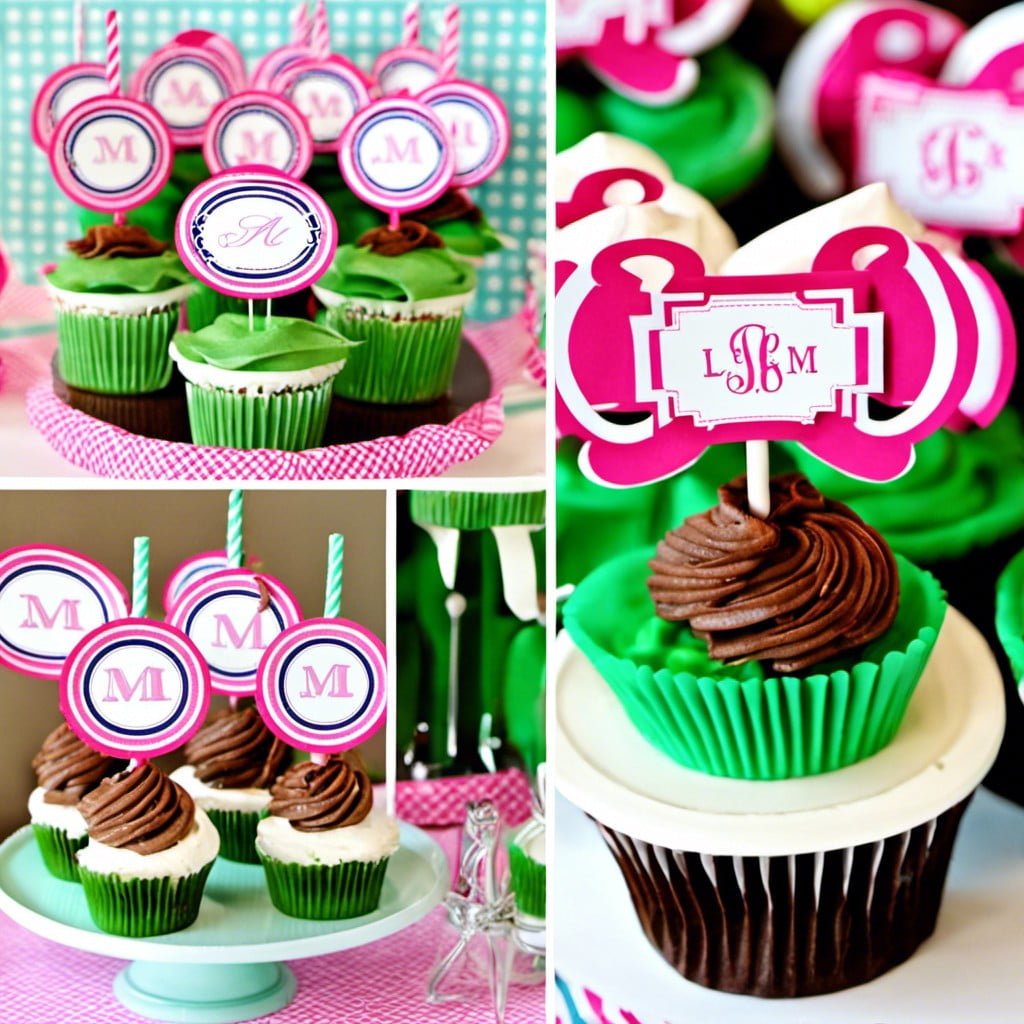 Adding a personalized touch to party favors is a fabulously preppy detail your guests are sure to appreciate. By imprinting your guest's initials or a catchphrase onto items such as koozies, tote bags, or even mini champagne bottles, you turn a regular gift into a souvenir that brings back memories of your stylish soiree.
Monogramming is a versatile tool, whether you're aiming for a formal vibe with a cursive script on satin ribbons or a more playful atmosphere with bright colors on baseball caps. It's worthwhile finding a reliable local printing service or an online customization retailer to facilitate this. It's vital to remember, preppy style is all about the details, and this extends to your party favors.
These monogrammed keepsakes could very well be the highlight of your event.
Polo Match Viewing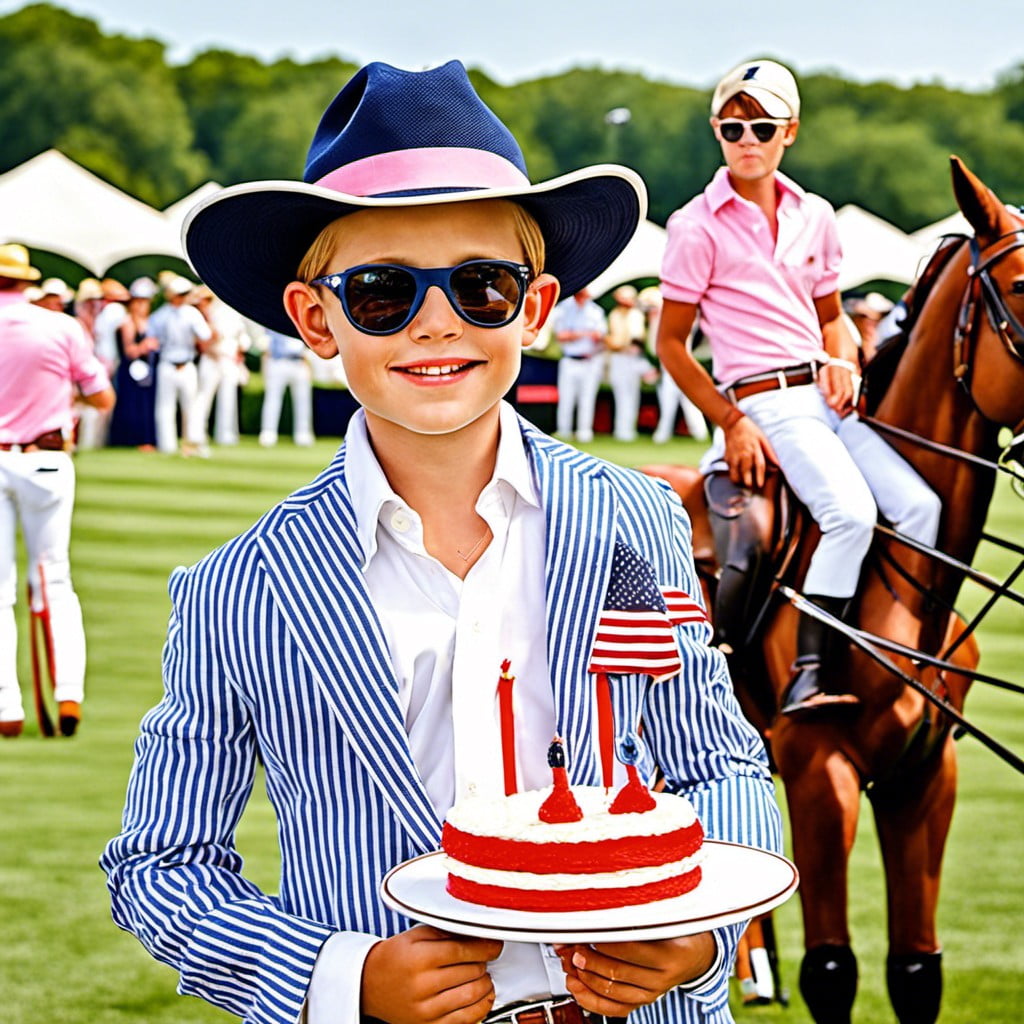 Diving right in, consider setting up a large outdoor screen for an afternoon of viewing classic Polo matches. This sporting event aligns perfectly with the preppy aesthetic and gives your party an authentic Ivy League touch. It provides entertainment while allowing your guests to socialize and engage with the party vibes.
To round out the theme, place traditional Polo accoutrements nearby such as mallets, helmets, and a Polo ball. This not only gives a bit more insight into the sport but also serves as innovative decor for your party ambiance.
Choose matches that are engaging and dramatic, preferably with fan-favorite teams or players, to keep your guests intrigued. Don't forget the popcorn served in cute, striped containers for that extra touch of charm!
Boat Shoe Piñata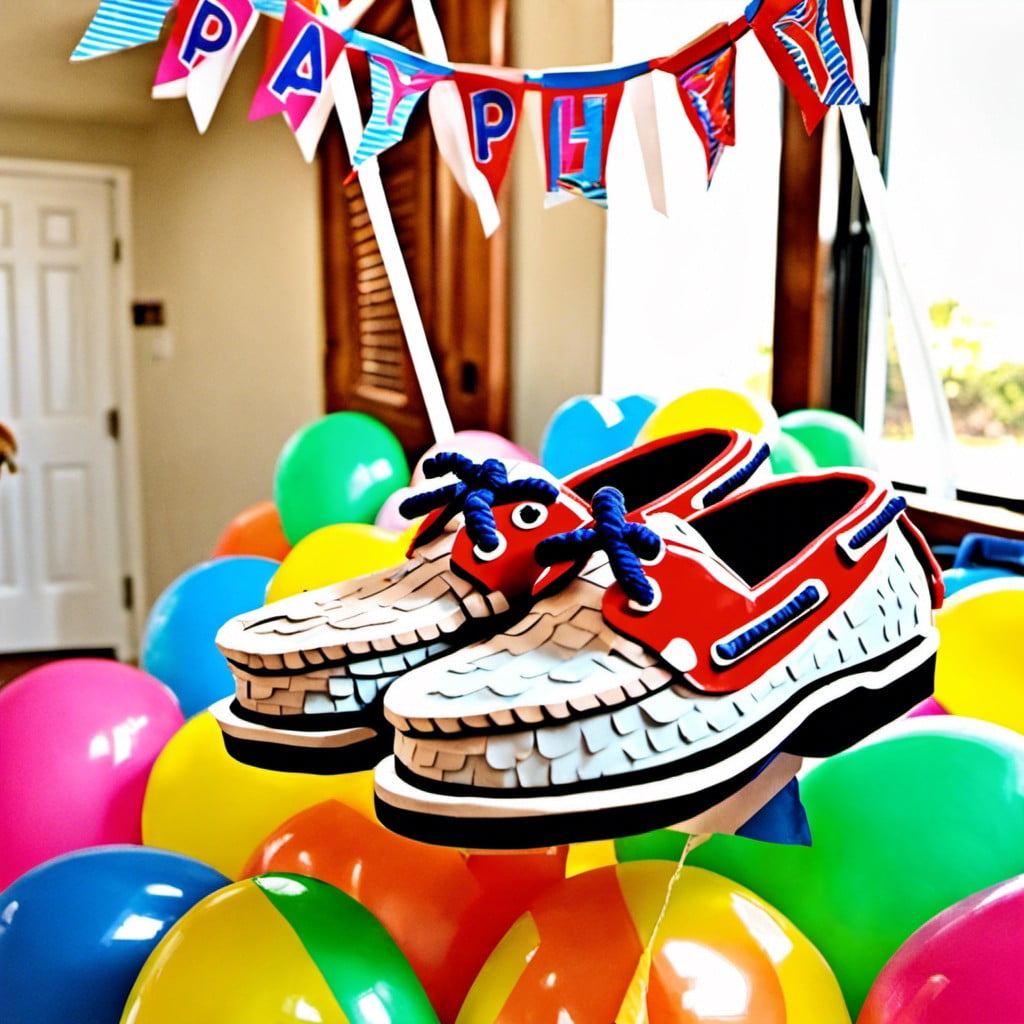 A great way to incorporate preppy style into the party activities, the piñata in the form of classic boat shoes, will undoubtedly draw lots of laughter and fun.
Here are a few pointers on setting it up:
Choose brightly colored paper to reflect the familiar hues of boat shoes. Think a cranberry red or a nautical navy.
Make sure to fill up the piñata with amusing goodies. Miniature bottles of do-it-yourself (DIY) prep-styled craft materials would be quirky yet fitting.
Rope in an expert to ensure a strong resemblance to the actual shoe design, highlighting the iconic white laces and soles.
To ramp up the festivity, organize a friendly contest to see who can hit the piñata the farthest, creating an engaging atmosphere.
Remember, it's not just about breaking the piñata; it's about creating an experience that your guests would cherish!
Classic Lawn Games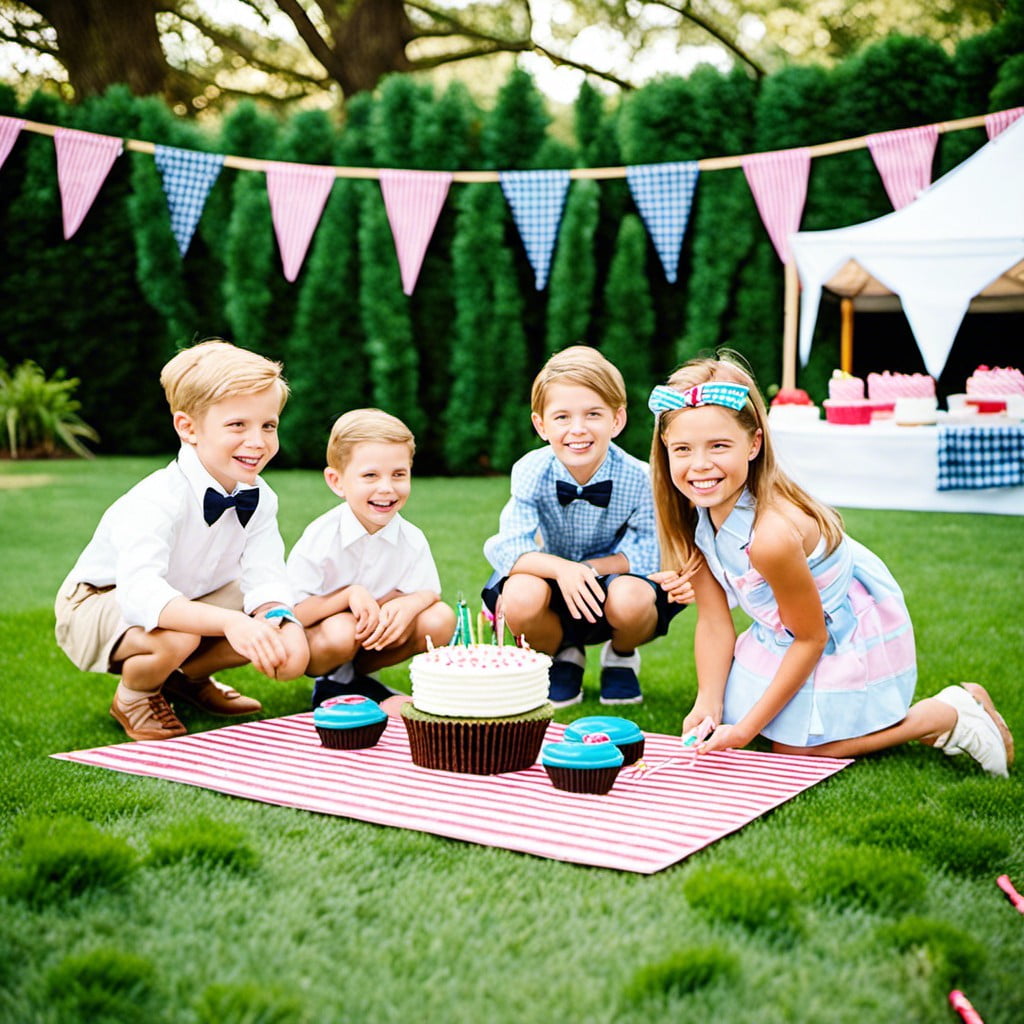 Injecting an air of tradition and nostalgia, lawn games are an essential component of a preppy birthday gathering. The charm lies in their simplicity and universal appeal, providing an enjoyable pastime for guests of all ages.
Opt for timeless classics such as croquet, sack races, and horseshoe toss. For the more adventurous, a round of frisbee golf or giant Jenga can add an enlightening twist. These games effortlessly evoke the Ivy League spirit and encourage lighthearted competition among attendees.
Consider stylish, customized game sets for a seamlessly on-theme aesthetic.
Seersucker Banners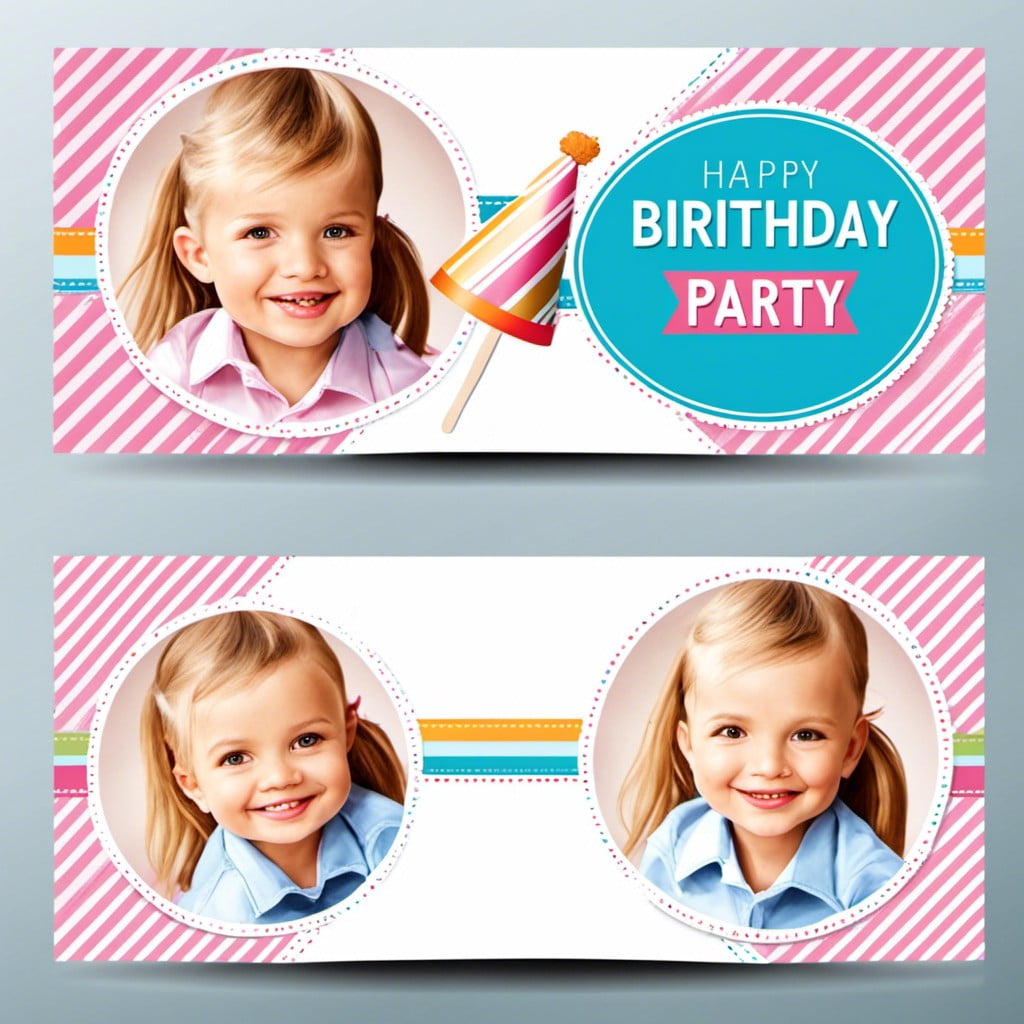 In true preppy style, incorporate seersucker fabric into your party decorations. Its fresh, striped pattern radiates a summery, nautical vibe that's perfect for your preppy-themed gathering.
Follow these steps for your perfect banner:
Collect Seersucker Fabric: Opt for classic blue and white, or mix and match different colors for a more vibrant look.
Cut Triangles: Keep the size consistent and ensure it's large enough to be visible for your guests.
Sew to a String: Leave equal gaps between each piece for a neat, organized look.
Hang with Grace: Position your new banner over the party area, ideally, it should guide the guests towards the heart of the celebration.
Remember, this is a simple yet impactful element that truly embodies the preppy theme. It's all about balance and class to create that understated elegance.
Pink and Green Floral Arrangements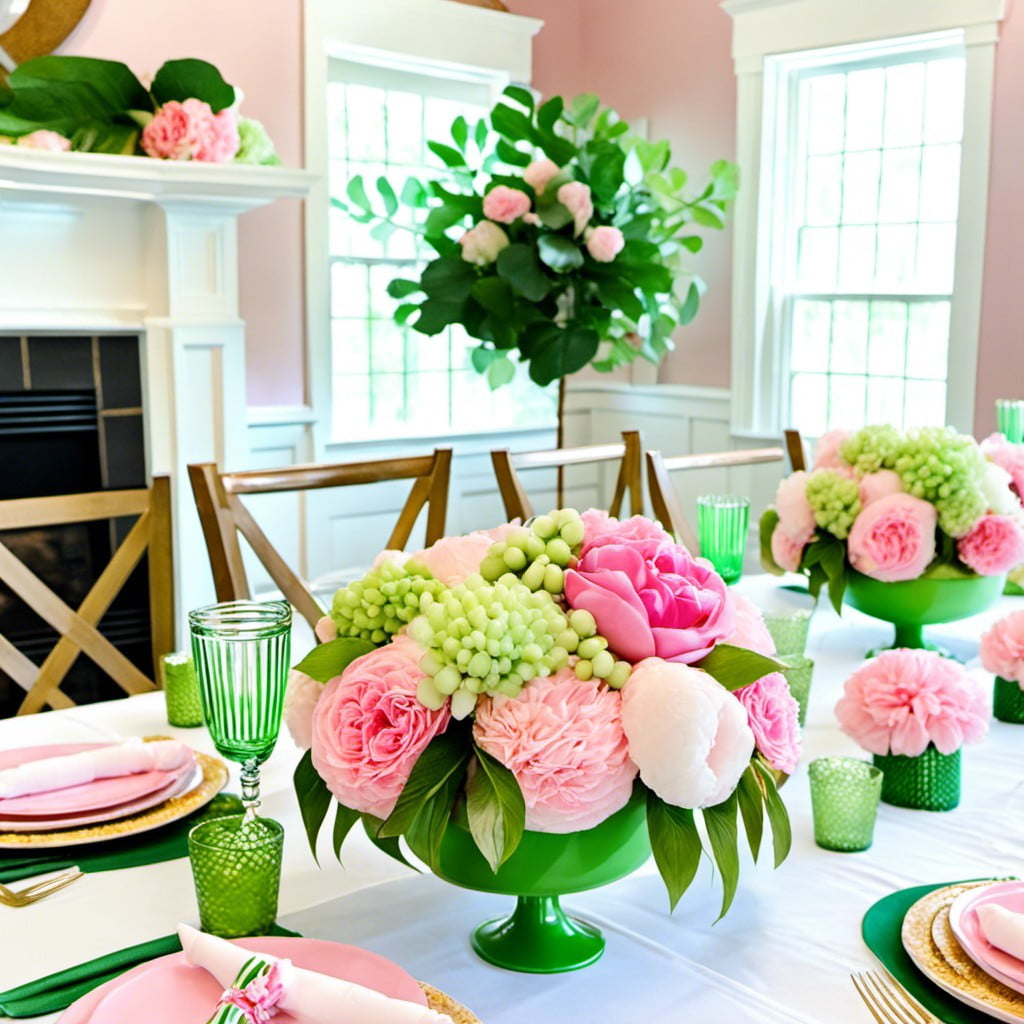 This color combination screams classic prep and brings a burst of cheerfulness to any party setting. Use flowers like roses, peonies, carnations, and hydrangeas to create this look.
Pink blooms symbolize happiness and femininity, while green foliage will freshen up the overall appearance. Remember to opt for clear glass vases to give the arrangements a clean, refined appearance.
If the party is being held outdoors, consider hanging baskets to add an extra preppy touch. For indoor celebrations, table centerpieces and corner arrangements work best.
A tip to tie it all together is to coordinate the greenery in the floral arrangements with your tablecloth or other decor accents.
Pearl-inspired Cake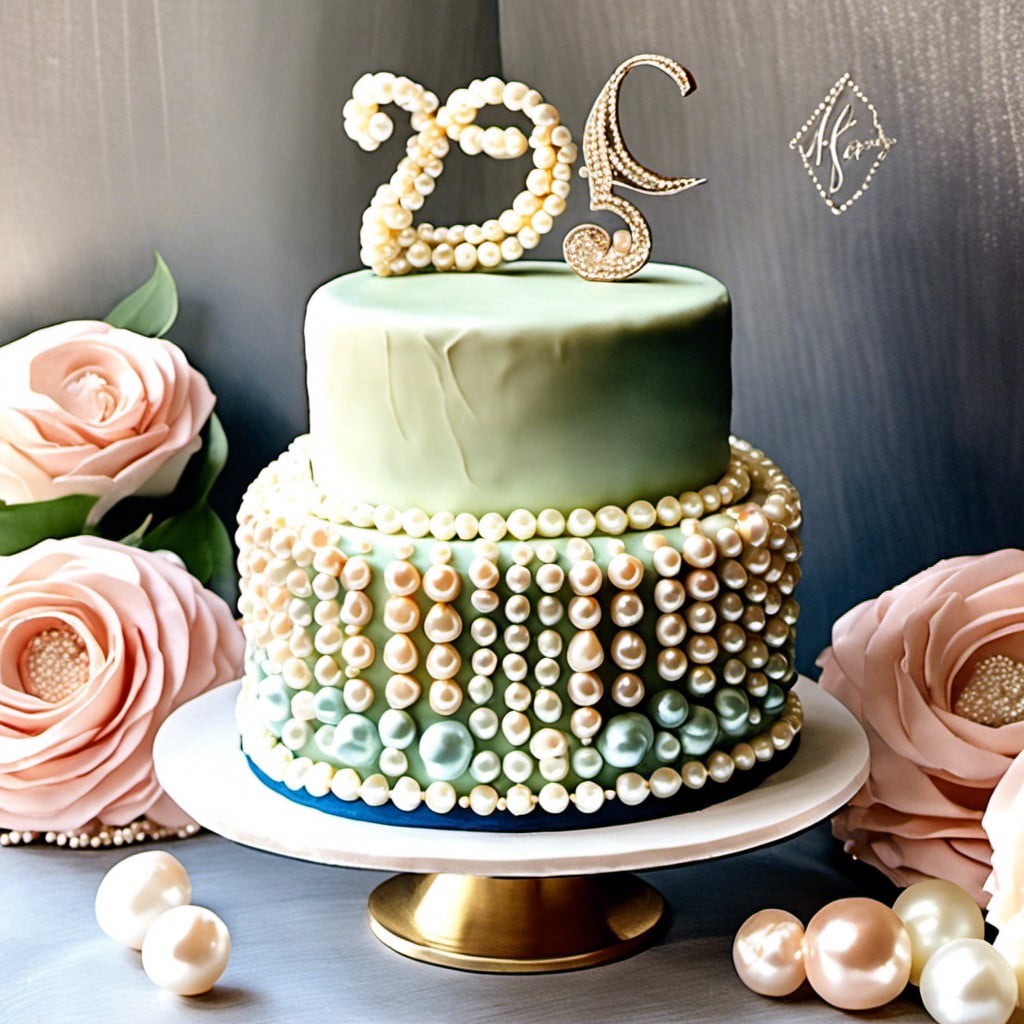 For an elevated touch to your dessert table, enlist the help of a skilled baker to incorporate pearls into your birthday cake design.
This could be through pearl-shaped frosting details, strands of edible pearls cascading down the sides, or elegant pearl sugar sprinkles strewn across the top.
To stay in line with the preppy theme, aim for a simple, sophisticated design, perhaps opting for a classic white or pastel-colored frosting as your base.
Hummingbird or lemon-flavored cake can complement your Pearl-inspired cake's subtly elegant design.
Consider coordinating the cake stand and serving utensils with your overarching color scheme to complete the preppy aesthetic.
Bow Tie or Hair Bow Crafting Station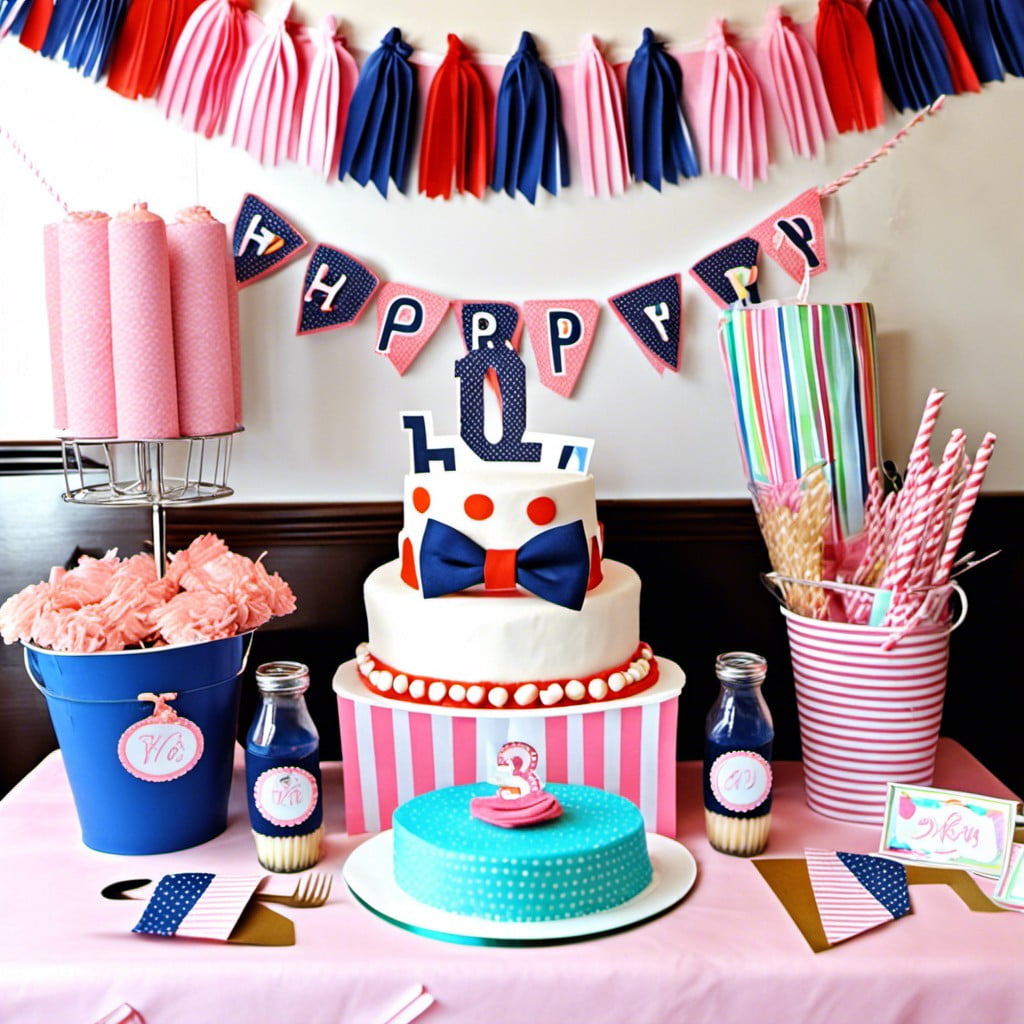 Delight guests with creative activity that brings out their artistic side. Provide a range of materials like pre-cut fabric strips, colourful ribbons, sewing kits, and hot glue guns. Include various patterns such as stripes, polka dots, and plaids for a true preppy vibe. Non-preppy patterns can also be added for a fun twist.
Encourage everyone to create their own unique bow ties or hair bows. Make sure to have safety measures in place to prevent any glue gun-related mishaps. This can also act as a fun party favor and a wonderful memory of the occasion.
Croquet Set-up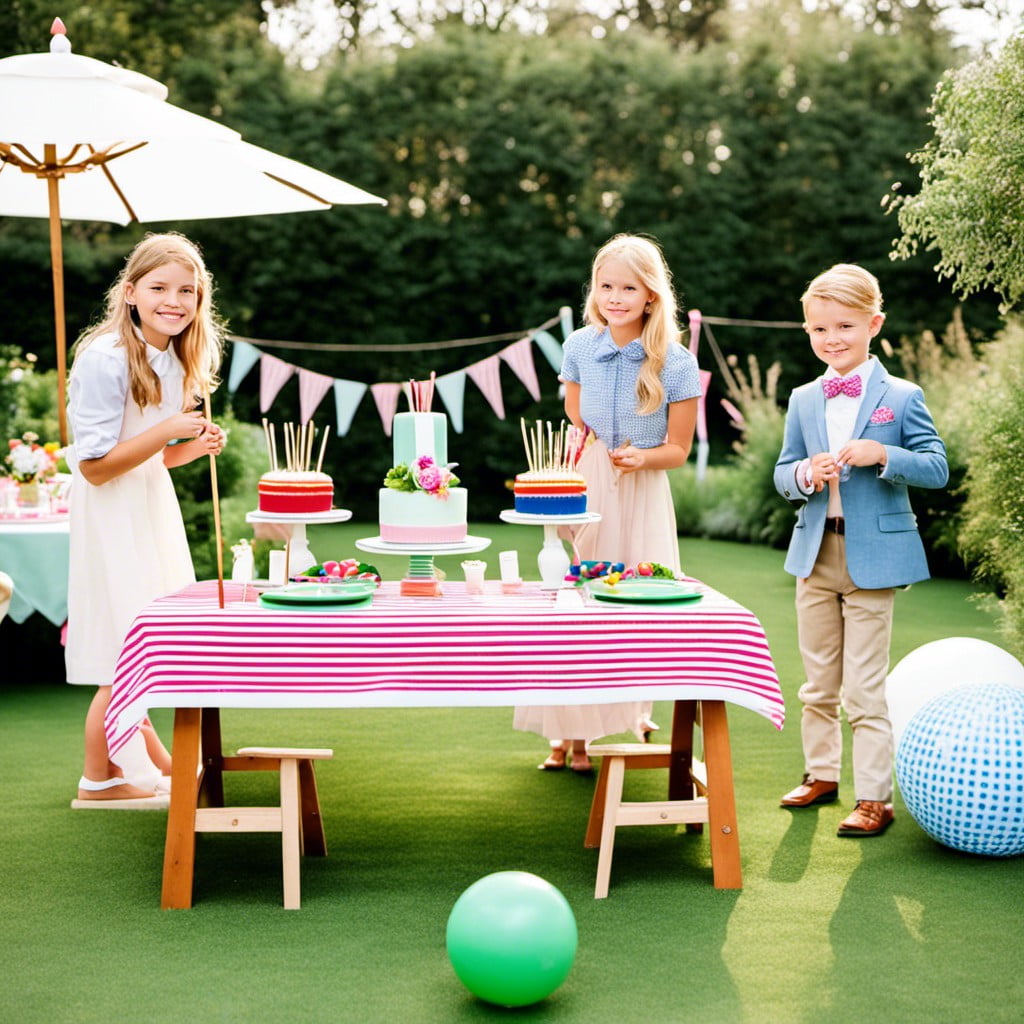 Ensuring your party is not only stylish but also entertaining is key. Adding Croquet, the quintessential upscale garden game, to your party agenda is sure to garner guests' smiles.
First, ensure you have ample lawn space for the setup. Then, get your hands on a classic Croquet set – the wooden mallets and brightly colored balls make for picturesque details too!
Arrange the wickets in diamond formations for beginners or more complex shapes for seasoned players. Remember to include colorful stake posts at the start and end points, not only for direction but also for an added pop of color.
Create a minibar close to Croquet area with refreshments to keep the players hydrated. Don't forget a little side table for a scoreboard to maintain the competitive spirit!
Lastly, consider setting up some comfortable lawn chairs for spectators to recline and enjoy the game. It's all about providing an engaging, fun, and chic experience for your guests.
Argyle Pattern Cupcakes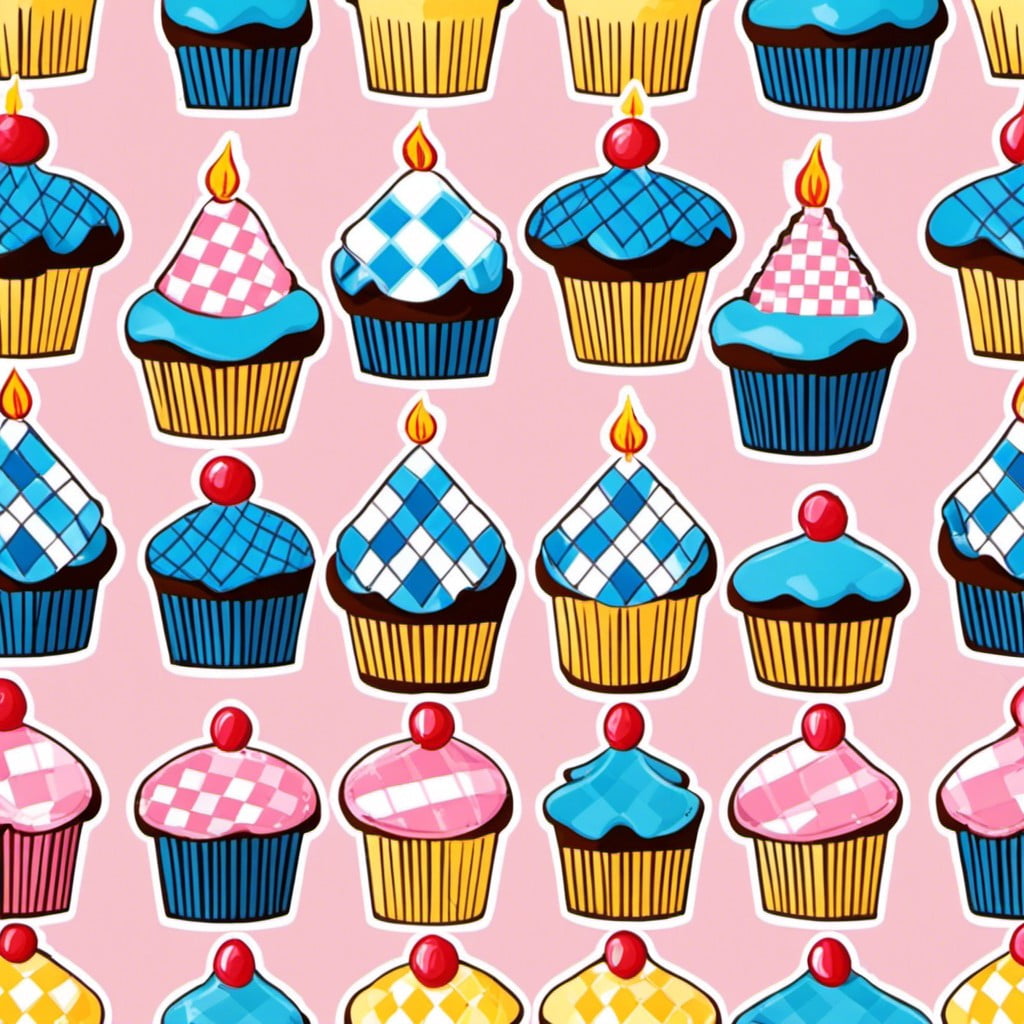 You'll need a steady hand and some cake decorating skills for this delightful project. Begin by baking your favourite cupcake recipe – vanilla or chocolate work best.
Once cooled, frost with a plain white icing.
For the iconic diamond pattern associated with Argyle, use icing tubes with thin tips.
Traditional colours include navy, green, or red, but feel free to get creative.
Carefully pipe parallel diagonal lines across the top of the cupcakes, ensuring they all slope in the same direction.
Next, pipe another row of lines diagonally in the opposite direction to create diamond shapes.
Complete the traditional Argyle look by adding small crosses or dots within the diamonds using a contrasting colour.
Remember, practice makes perfect!
It might be useful to do a few trial runs on wax paper before moving to the cupcakes.
This unique sweet treat will definitely be a conversation starter among your guests.
Enjoy the process and have fun with it!
Madras Plaid Decor Accents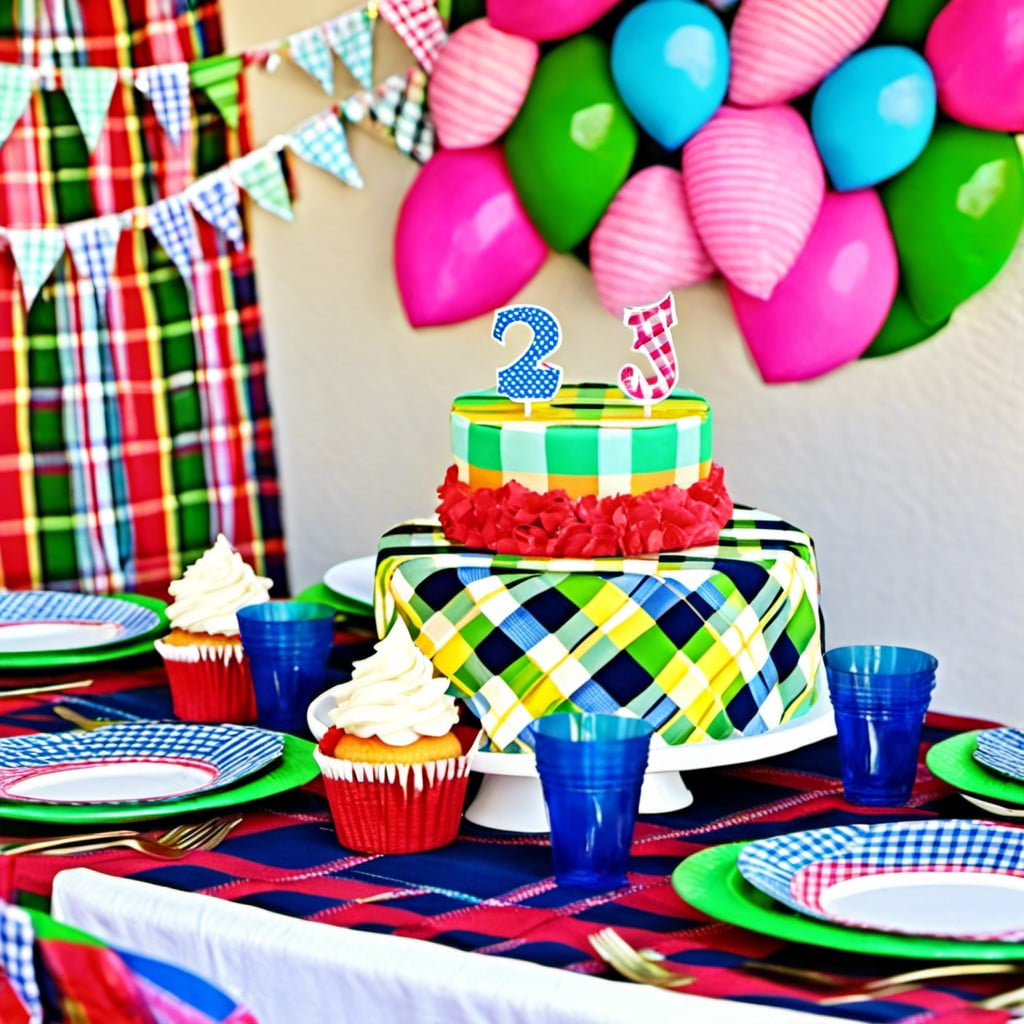 Plaids and patterns, particularly Madras, can capture the essence of preppy style and vibrantly enhance your party ambiance. So, how to integrate this style into your settings?
1. Table Runners: Create table runners using Madras print fabric. This would add a pop of color to your tables, enhancing the overall theme.
2. Napkins: Replace standard cloth napkins with Madras plaid ones. It's a small touch, yet incredibly effective.
3. Cushions: Dress up your outdoor furniture with plaid cushions for casual elegance.
4. Homemade Banners: Get crafty and create banners from plaid fabric cutouts. It can adorn your party space for an extra wow factor.
Remember, the key is to balance the bold, colorful pattern with more neutral decorations to avoid overwhelming the space. So, mix and match wisely!
Polo Shirt and Skirt Cookies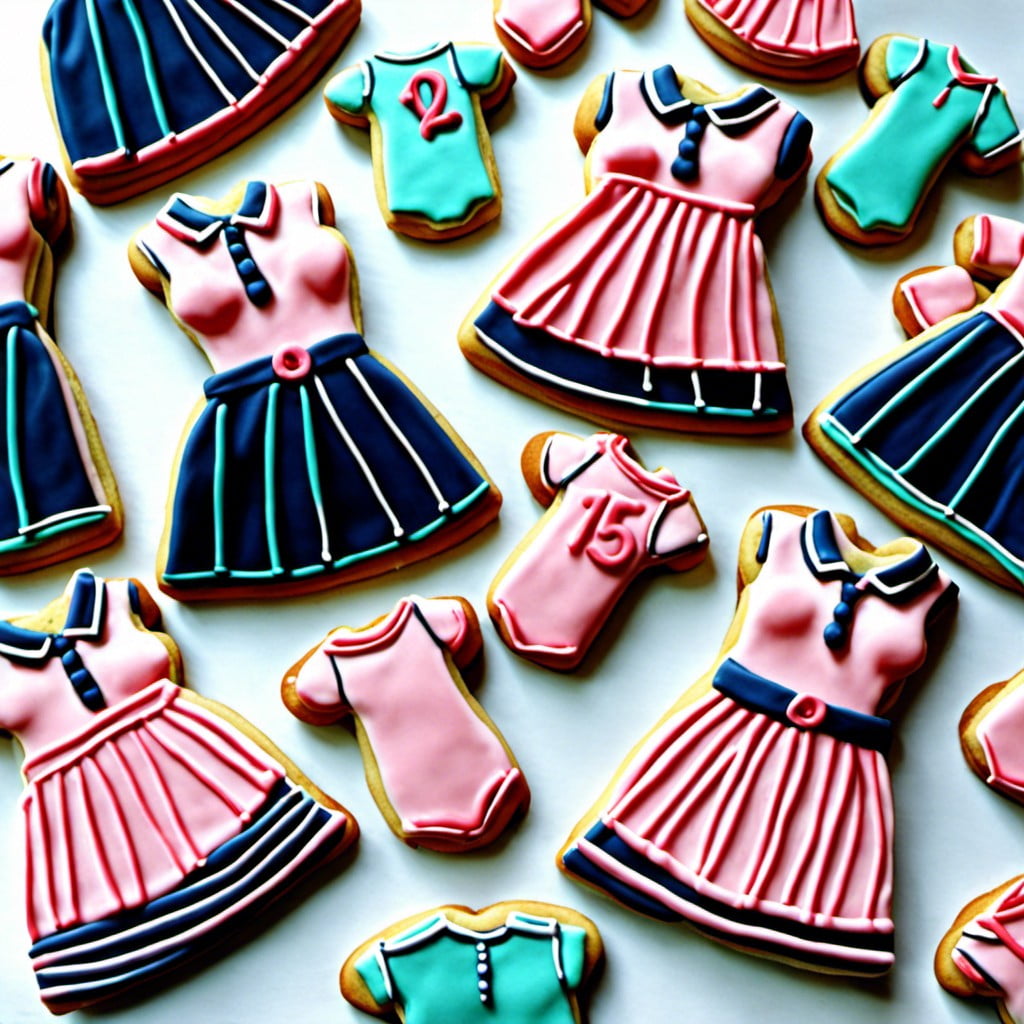 Start by selecting your favorite sugar cookie dough, whether it's homemade or store-bought. Roll out the dough to about 1/4-inch thickness and cut out the shapes using polo shirt and skirt cookie cutters.
Once baked and cooled, add a touch of preppy chic with royal icing. Pastel pink and green icing looks fantastic on white sugar cookies, giving a pop of color and perfectly magnifying the preppy aesthetic.
For the polo shirts, add two or three buttons with the icing, and perhaps even a tiny "monogrammed" initial. With a touch of creativity, transform the skirts into pleated tennis skirt cookies by icing thin lines to replicate pleats.
It's a fun way to infuse your party with a hint of preppiness. Remember, the more attention to detail, the more authentic and delightful the cookies are. And don't be too concerned about perfection, personality and whimsy are more important than precision.
Vineyard Tour (for Adults)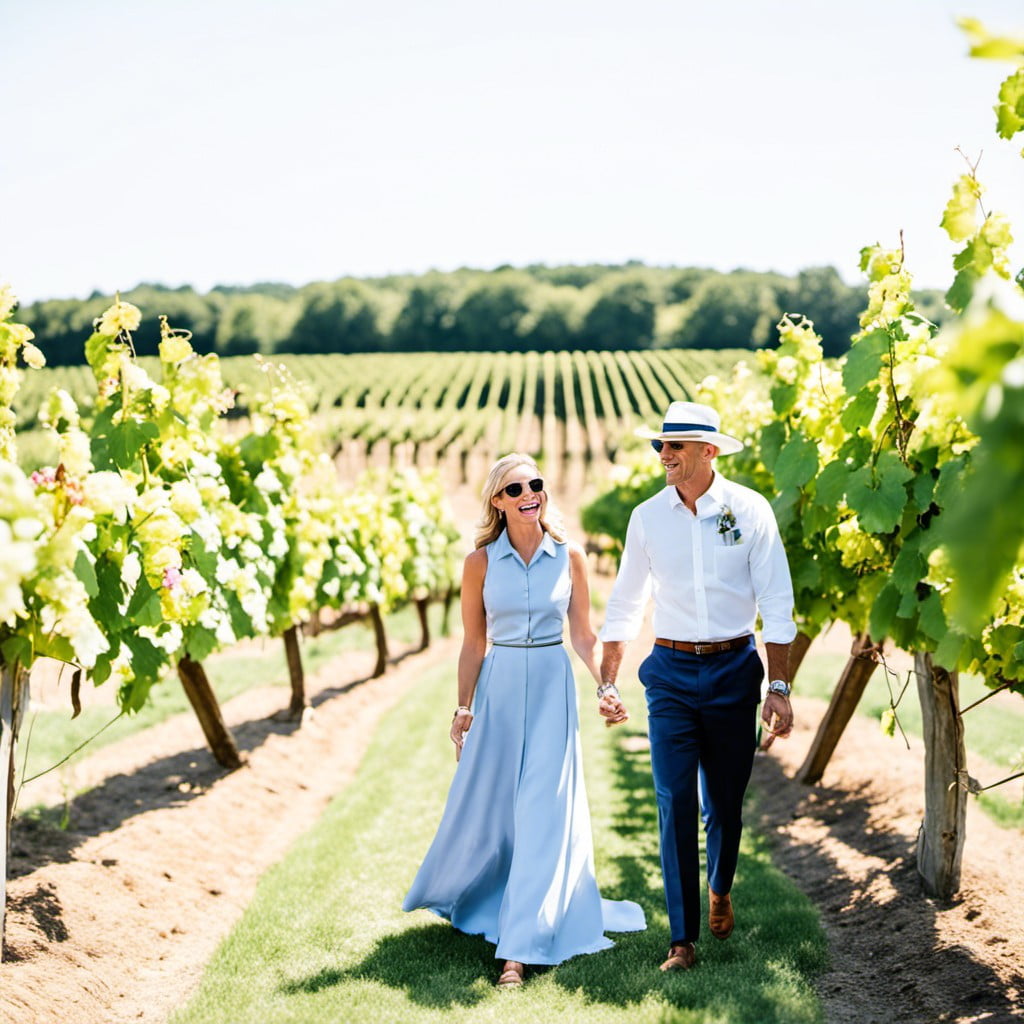 Adult attendees can indulge in a delightfully refined activity worthy of a preppy celebration – touring a local winery. With sophisticated elegance and a dearth of knowledge to be gleaned about wine varieties, tasting notes, and pairings, it's a delight to the senses.
While savoring each sip, you can get wrapped up in spirited conversations about terroirs and vintages. What's more unique? Your guests could even try their hand at grape stomping!
For the finale of the tour, present your guests with a bottle of wine from the vineyard, serving as a refined keepsake of a sophisticated and cultured celebration.
Popped Collar Photo Booth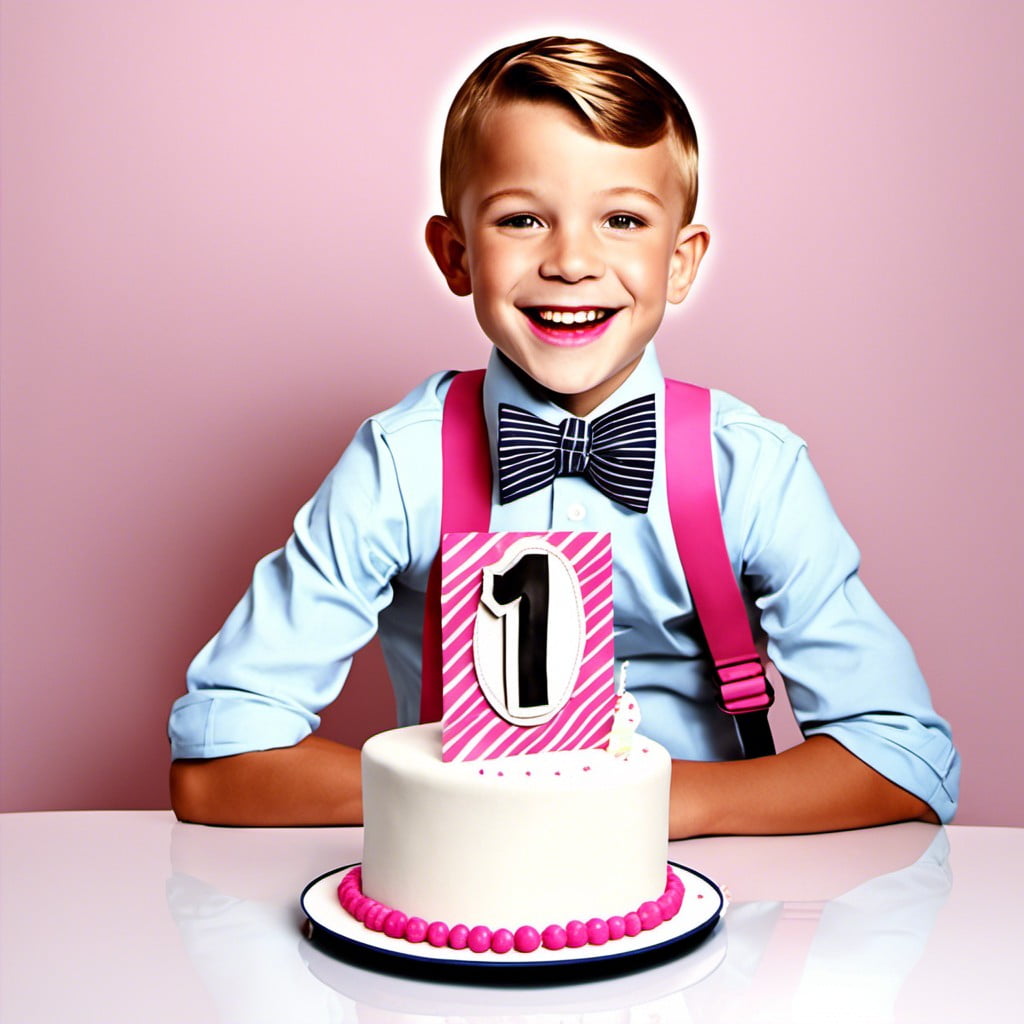 A photo booth never fails to ramp up the fun at parties. Introduce a pile of preppy clothes, think classic polos with large collars perfect for popping. Add in some oversized sunglasses, pastel-hued cardigans, and faux pearl necklaces for an authentic touch.
Instructions:
Set up your DIY photo booth with a cute, pastel-colored backdrop that complements your party theme.
Source a variety of polo shirts in various colors and patterns and make sure their collars are ready to be popped.
Include accessories such as preppy sunglasses, faux pearl necklaces, and pastel-hued cardigans.
Set up a mirror near the booth so guests can check their outfits before stepping before the camera.
Hire a professional photographer to capture high-quality photos and make your guests look their preppiest best.
Remember, it's not just for the laughs, although there will be plenty, but it's also about creating memorable mementos from your preppy party.
Continue reading:
Recap