Last updated on November 21, 2023
Explore the untapped potential of your wine rack because it's more than just a storage item, it's a gateway to innovative, space-saving transformations.
Unleash the hidden potential of your wine rack with innovative alternative uses. Whether it's a standing unit or a wall-mounted piece, a wine rack can be much more than a holder for your favorite vintages.
From a unique towel holder to an innovative bookshelf, this article will take you through a variety of creative ways to repurpose your wine rack.
Stay tuned for detailed instructions and tips to transform this underutilized household item into a stylish and functional addition to your home decor.
Bathroom Towel Rack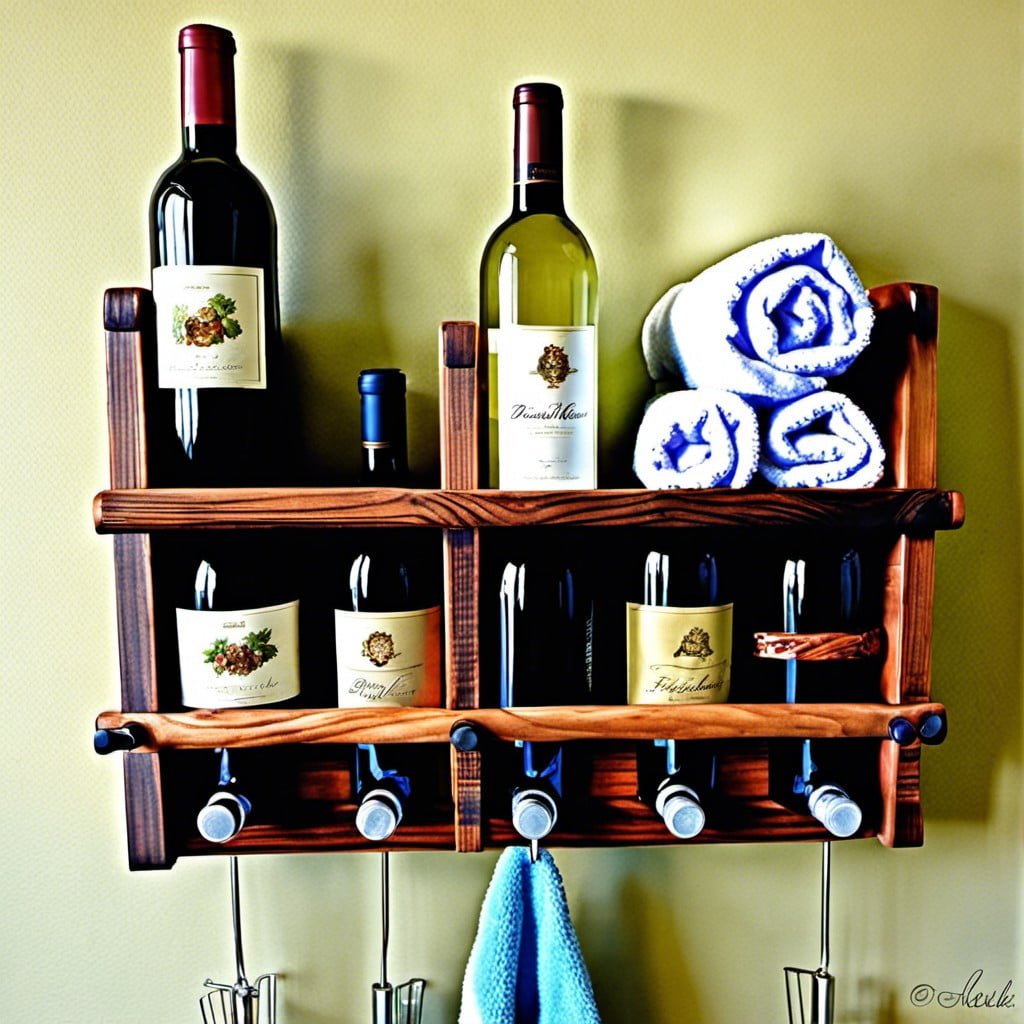 A vintage or contemporary wine rack makes a gorgeous and functional upgrade for your bathroom towels. The individual sections designed to hold wine bottles are a perfect size for rolled up bath and hand towels.
This method not only keeps towels neat and tidy, but it also allows for easy access. Plus, it brings a fresh aesthetic upgrade to your bathroom decor. For further personalization, consider adding a hint of color by painting the wine rack to match your bathroom theme.
Rustic or metal wine racks can add an industrial, chic look while wooden wine racks may bring a warm, homely feel. Mix and match sizes of towels and consider using patterned ones to make your new towel rack pop.
Time to say goodbye to your old, mundane towel bar.
Bookshelf
Adapting a wine rack for storing books adds a striking, unique touch to any living space. Depending on rack size, it's perfect for showcasing your favorite novels, comics, or picture books.
The compartments provide a visual division that enhances organization. Turn it vertically for a tall, slender shelf or horizontally for a low, long option. No need for bookends; the rack's structure keeps your books upright and in place.
Additionally, the rack's small footprint makes it ideal for tight spaces or creating a reading corner. Just be sure your books fit before purchasing or repurposing a rack; some wine racks may be too narrow for larger books.
With a little creativity and design sensibility, you can turn a wine rack into a stylish and practical bookshelf.
Potted Plant Stand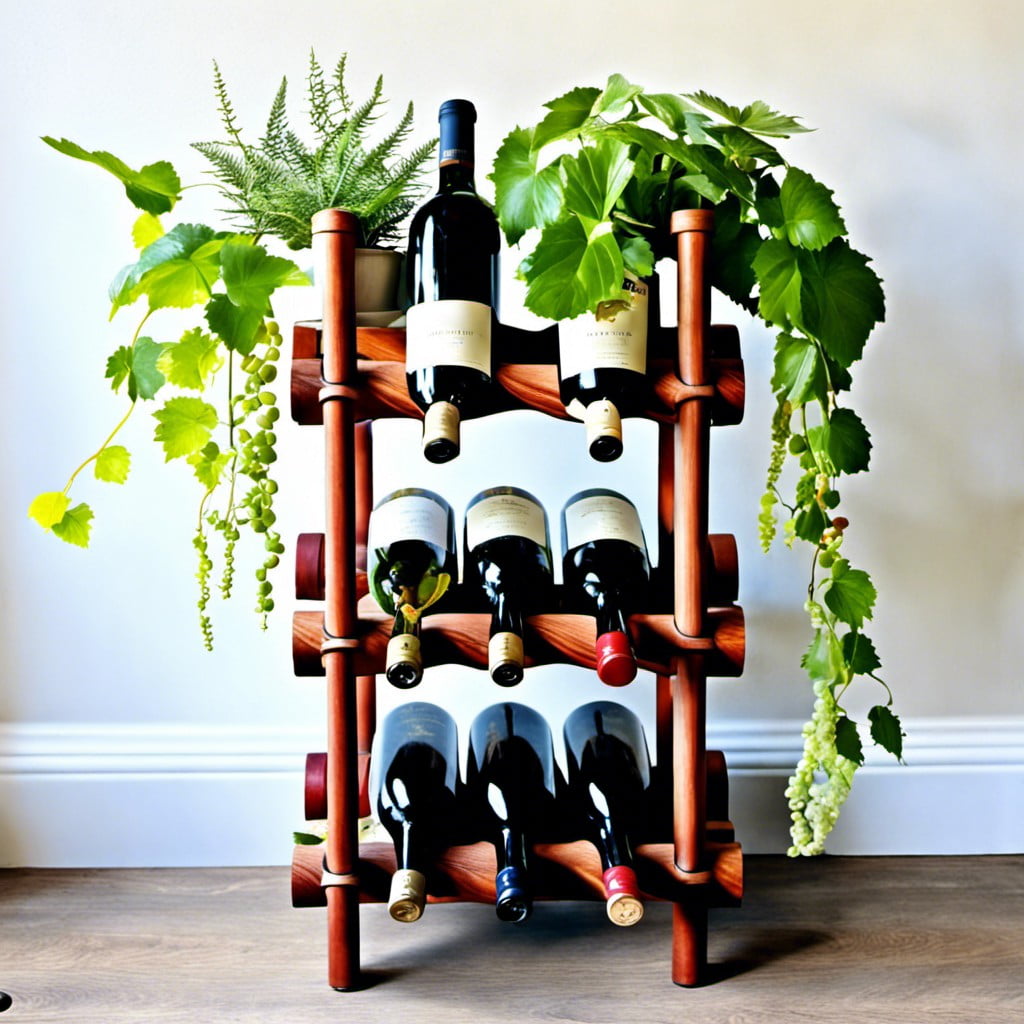 Giving your home a green touch often requires creativity, especially with limited space. A wine rack offers a solution, placing your potted plants into the individual bottle slots. It's a tidy and aesthetically pleasing display.
A standing wine rack can accommodate a variety of pot sizes, lending itself to an assortment of plants, from herbs to succulents. Hanging wine racks can introduce a lively wall feature.
Tip: Ensure your plants' water requirements align with the rack's material to prevent corrosion or water damage.
Shoe Storage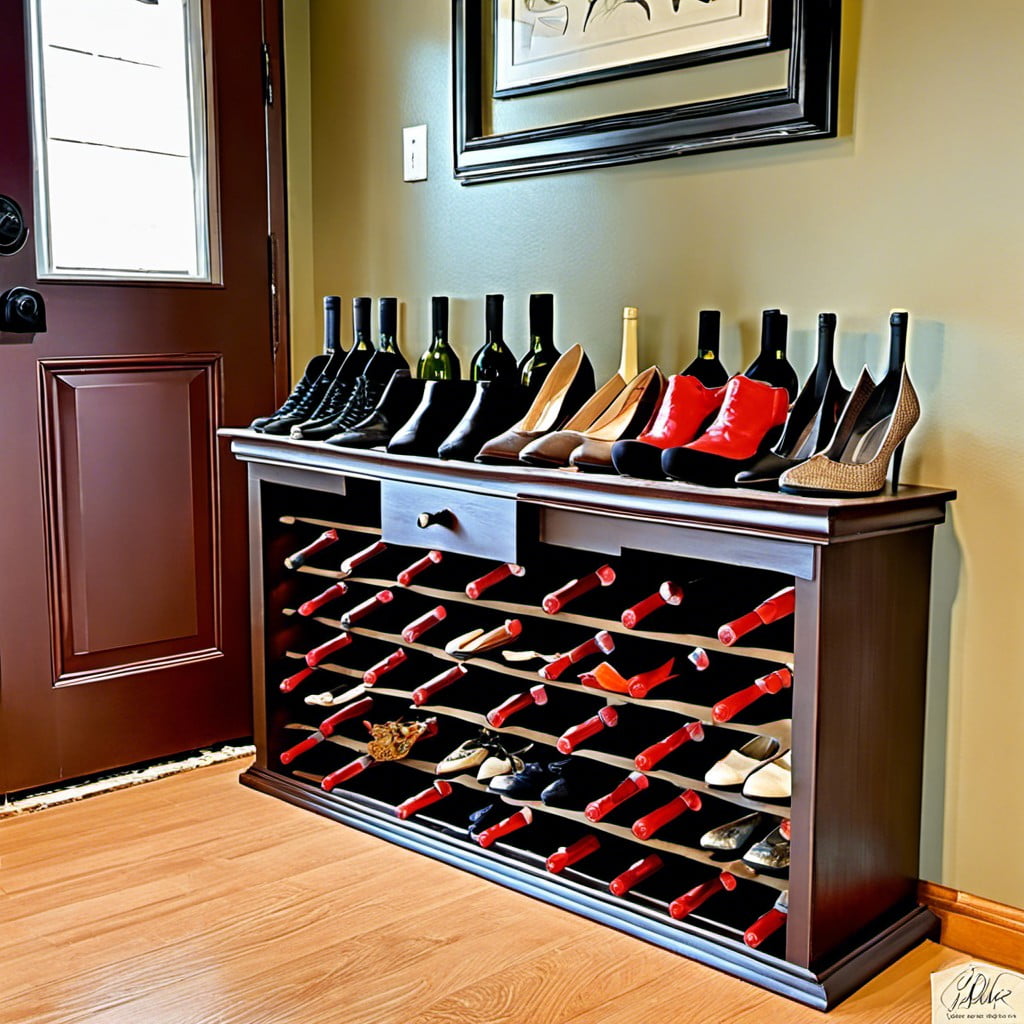 Running low on closet space? Look no further than your amazing multifunctional wine rack! Whether your collection runs in heels, flats or boots, those bottle compartments can double up as the perfect nook.
There are thoughtful ways to get this in place:
1. Wine-in-box racks make perfect cubbies for flats and flip flops.
2. Racks designed for individual bottles can easily house a pair of heels on each slot.
3. For tall boots, slide the pair into a single compartment — they'll stay upright and crease-free.
This untapped storage solution not only keeps your room clutter-free but also creates a chic display. Don't forget to alternate shoes toe to heel for a tidy look! So, next time you're short on space, remember your trusty wine rack has got you covered.
Magazine Storage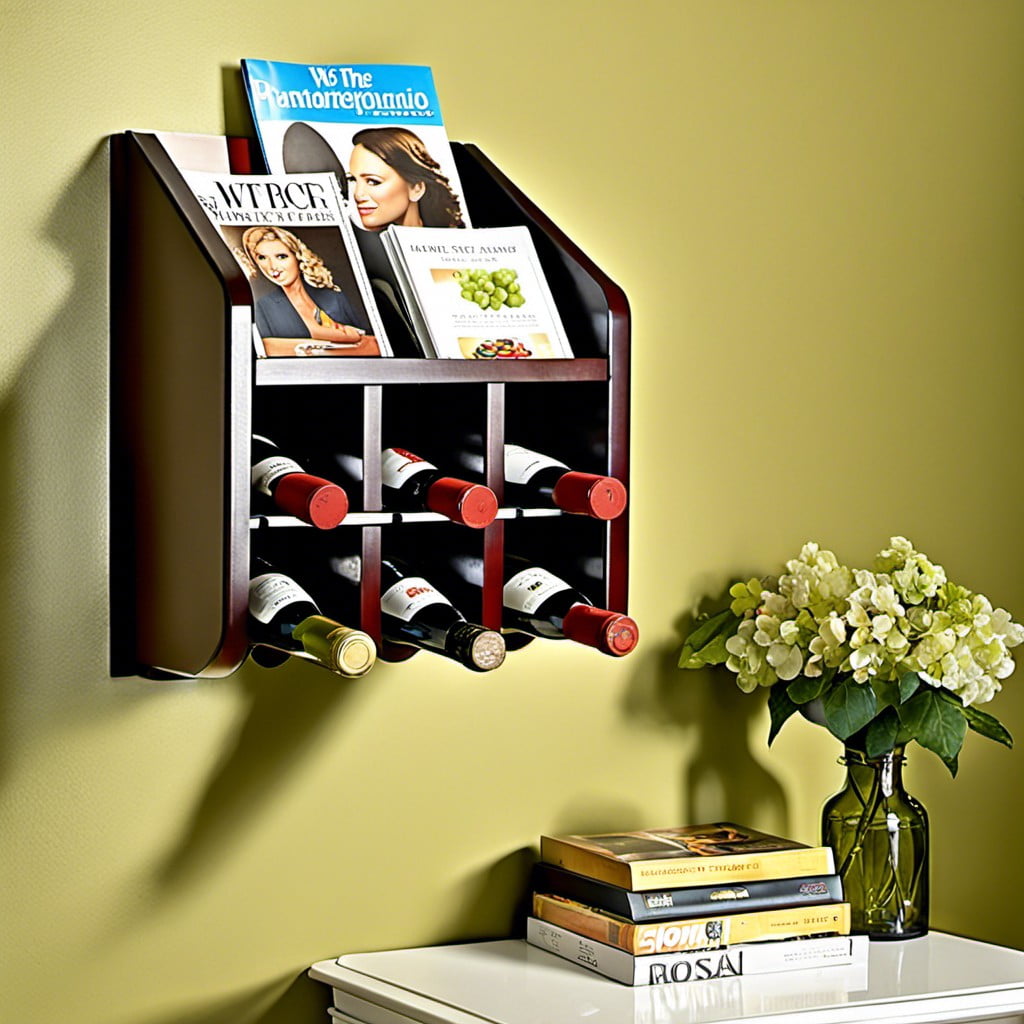 Storing your favorite monthly issues can be a hassle, but your wine rack begs to differ. The individual compartments, perfect for holding a bottle of cabernet, also make a stylish, easily accessible library right at your fingertips.
Store magazines by issue date or topic: You could arrange them by month, or by theme, turning an unorganized stack into a well-curated collection.
Save space: Forget those hefty magazine holders, the slim structure of the wine rack fits in almost any corner or niche.
Enhances decor: A wine rack filled with colourful magazine covers adds a vibrant touch to your living area.
Easy retrieval: No more digging through piles. Have them all neatly in view for your perusal.
So, ready to swap bottles for glossies? It's an innovative solution that turns mess into artistry.
Hat Rack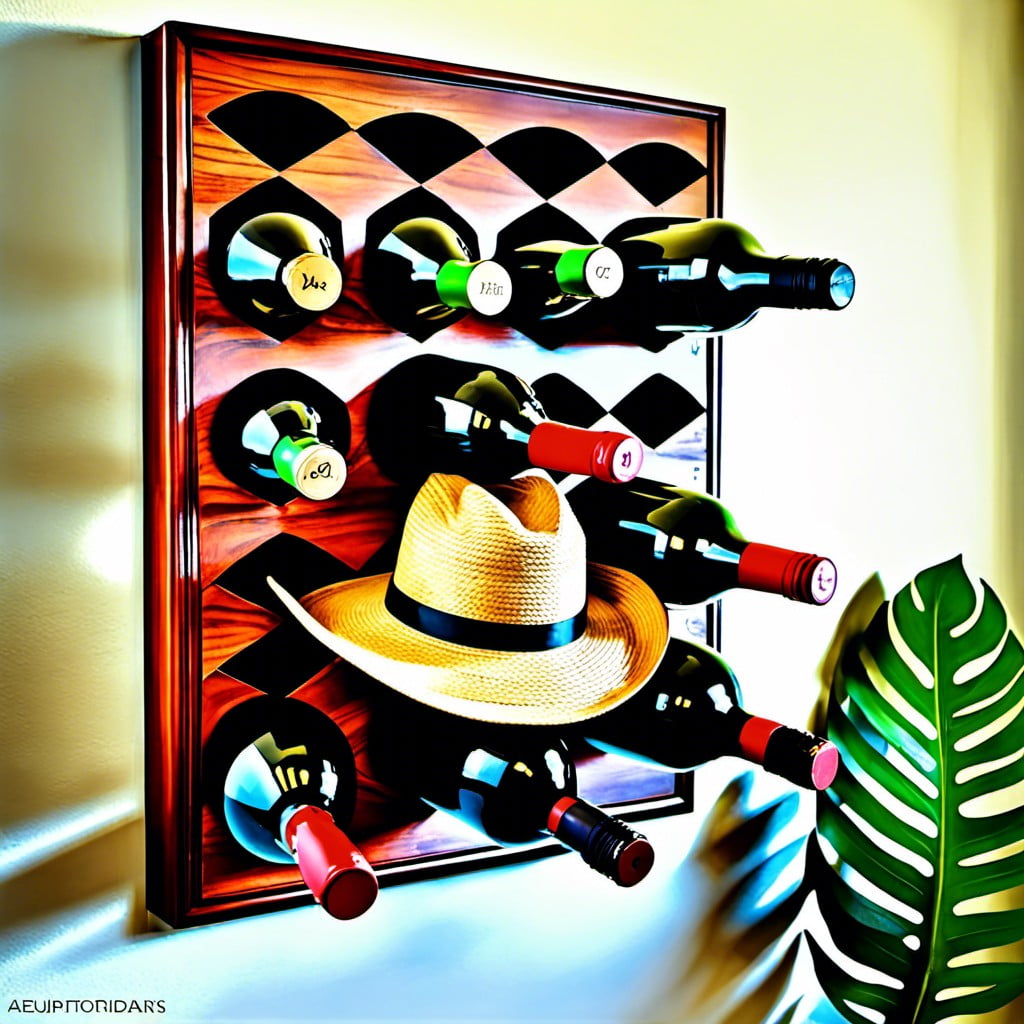 By rearranging the bottles sections or hooks, a wine rack is easily adjustable to accommodate a variety of hat sizes. Opt for a wooden wine rack for more substantial hats, providing them with sturdy and robust support. This solution pairs function with aesthetics, becoming not just a storage unit but a decorative display that showcases your unique range of hats.
Smaller hats, like beanies or baseball caps, might fit better in compact, wall-mounted wine racks. By using a wine rack, you maintain the shape and longevity of your hats, while also saving closet space. To add an extra touch of personal style, consider painting the rack to match your room's color scheme. Plus, it's an eco-friendly solution that repurposes an item you may already have in your home.
Serving Tray Organizer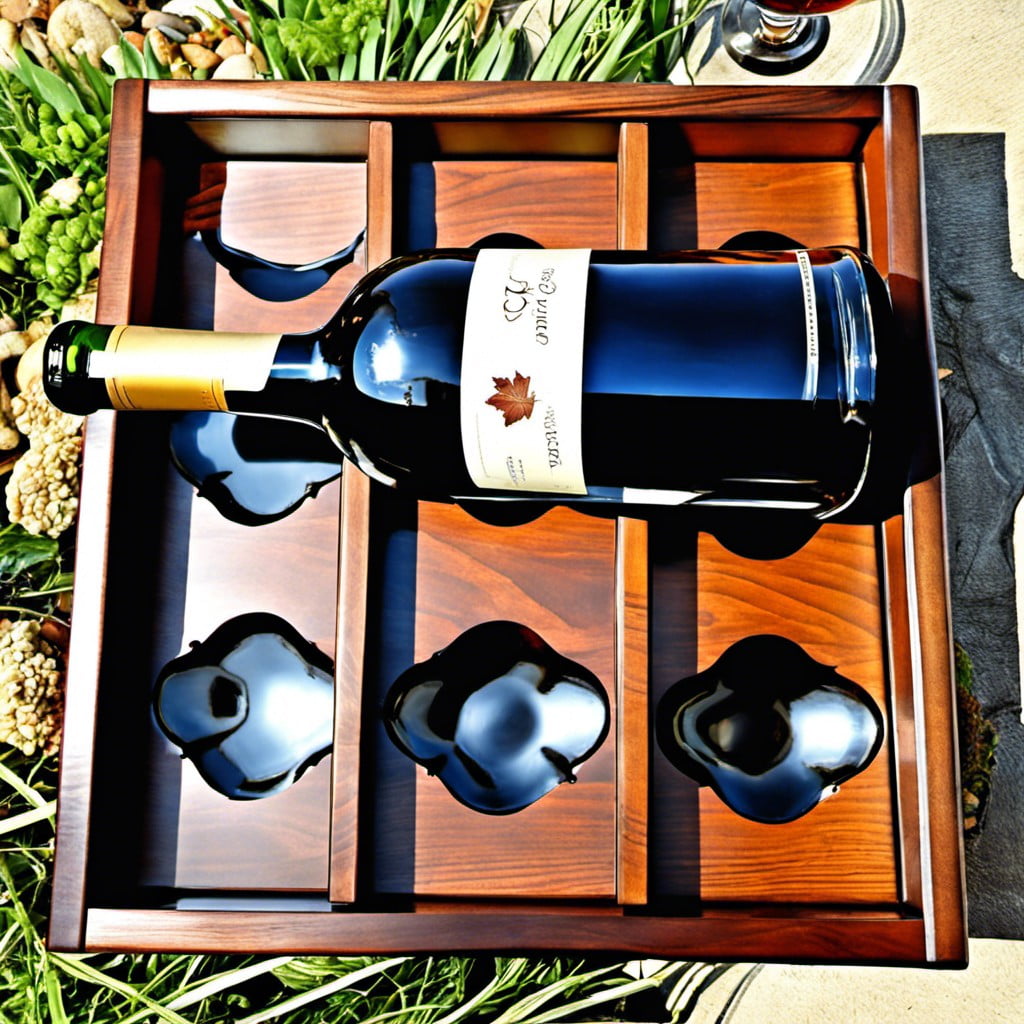 Having your serving trays scattered in various kitchen cabinets can be a nightmare. Organizing them neatly in a repurposed wine rack not only creates extra storage space for them but also makes them easily accessible.
To achieve this, place your wine rack in a convenient location in your kitchen. Stack your larger trays at the bottom tier, while the smaller ones should fit appropriately in the upper part.
Be mindful of the weight distribution to maintain the rack's balance. This setup also makes it easier to select trays when you need them, as you can see the options at a glance. It also adds an aesthetic appeal to your kitchen area.
Scarf Organizer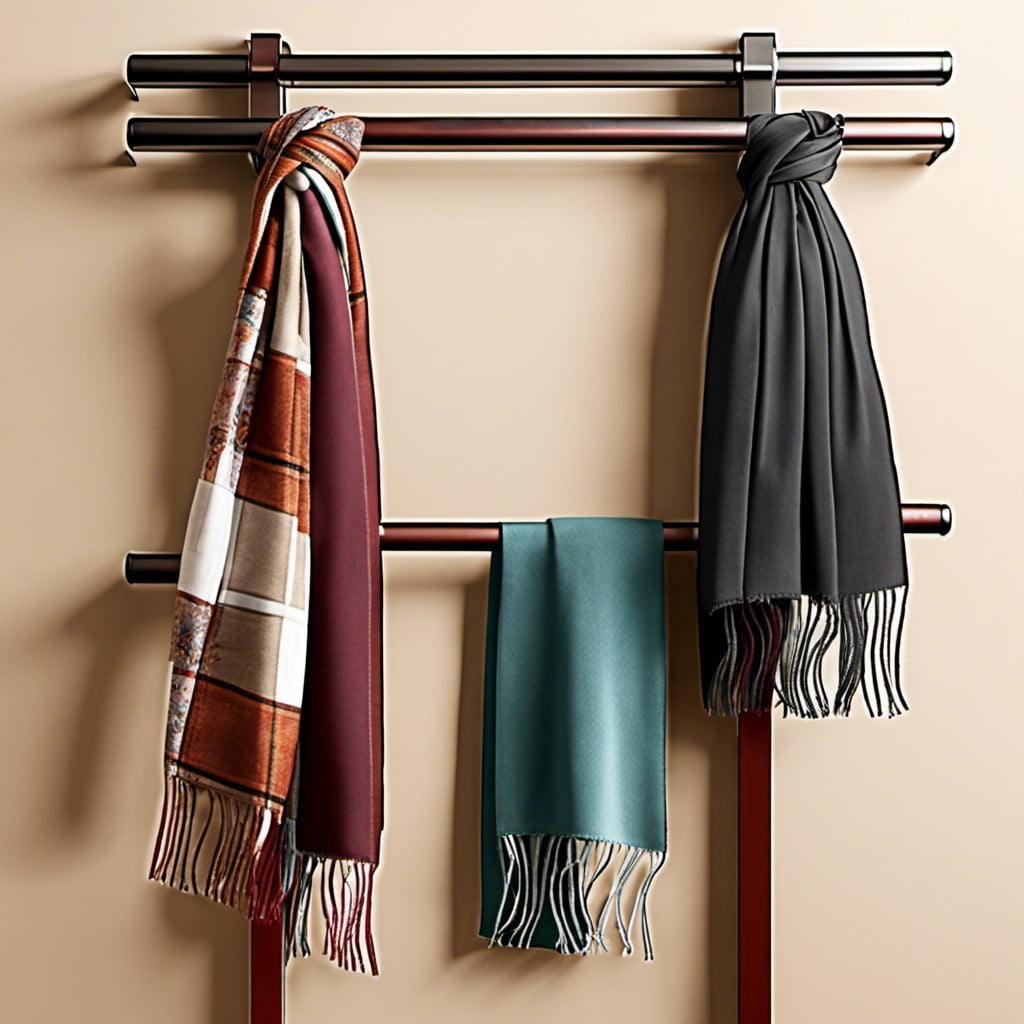 Storing scarves in a wine rack keeps them visible, organized, and tangle-free. Just roll each scarf, slide it into an opening, and voila – a neat and visually pleasing arrangement!
For larger collections, consider a floor-to-ceiling wine rack. The use of a wine rack ensures easy access, prevents wrinkling, and adds an elegant touch to your room décor.
Swapping scarves seasonally also allows for a constantly changing display. With a quick glance, you can pick out the perfect scarf to accent your outfit for the day. And the best part? You don't need any additional closet space!
Display Shelf for Collectibles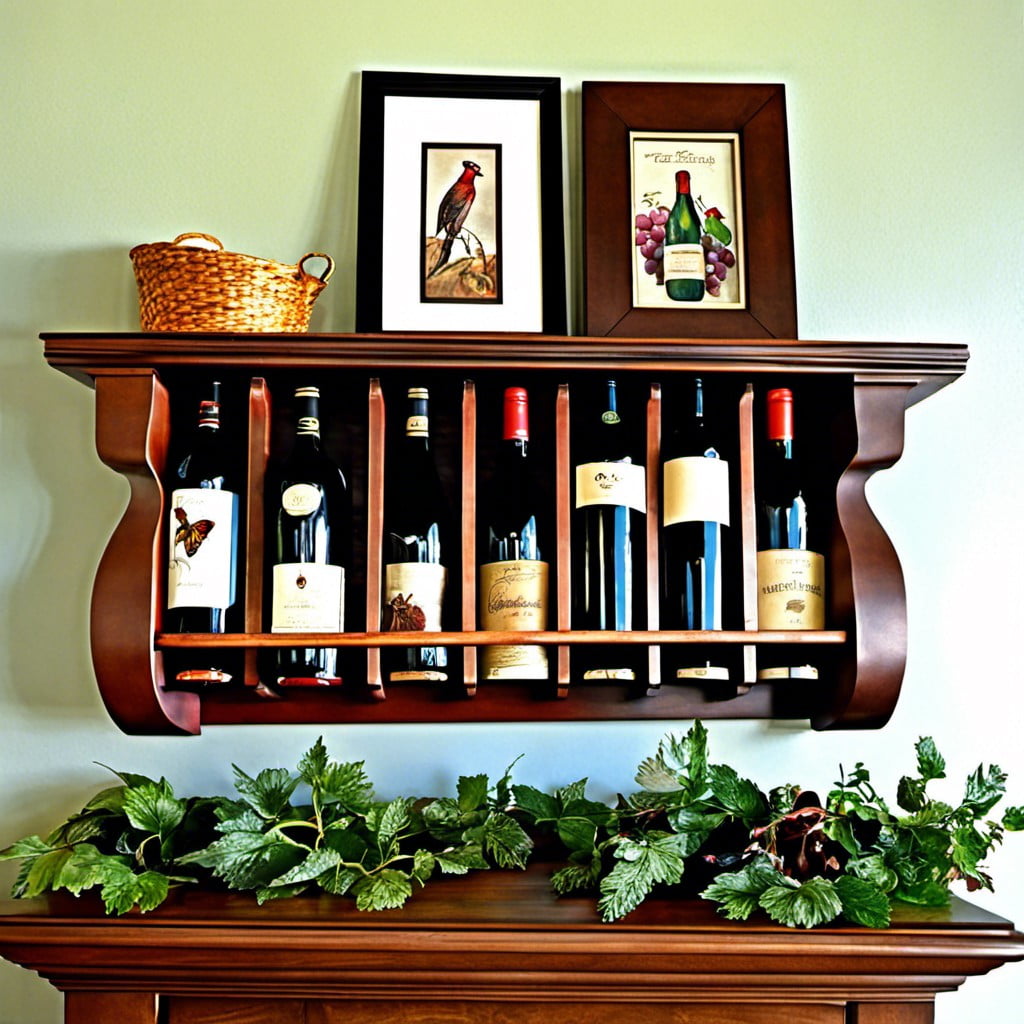 There's something charming about displaying your favorite knick-knacks on a wine rack. They bring a personal touch to your space and showcase your individual style. With many nooks for placing items, it's a unique and eye-catching approach.
Here's how to bring this idea to life:
1. Choose collectibles wisely: Opt for items that fit comfortably within each slot without overcrowding. Remember to consider size, shape, and weight.
2. Arrange tastefully: Arrange your items with a balance of color, theme, or size in mind. Avoid clustering similar items together; instead, disperse them to make the display more appealing.
3. Add a backing: Secure a piece of plexiglass or wood at the back to prevent items from falling out.
4. Use lighting: Highlight your display by placing a small lamp nearby or installing light within the rack.
5. Clean regularly: Keep your collectibles dust-free to maintain their charm and allure.
It's a chic way to showcase your favorites and a conversation starter for your guests!
Toilet Paper Holder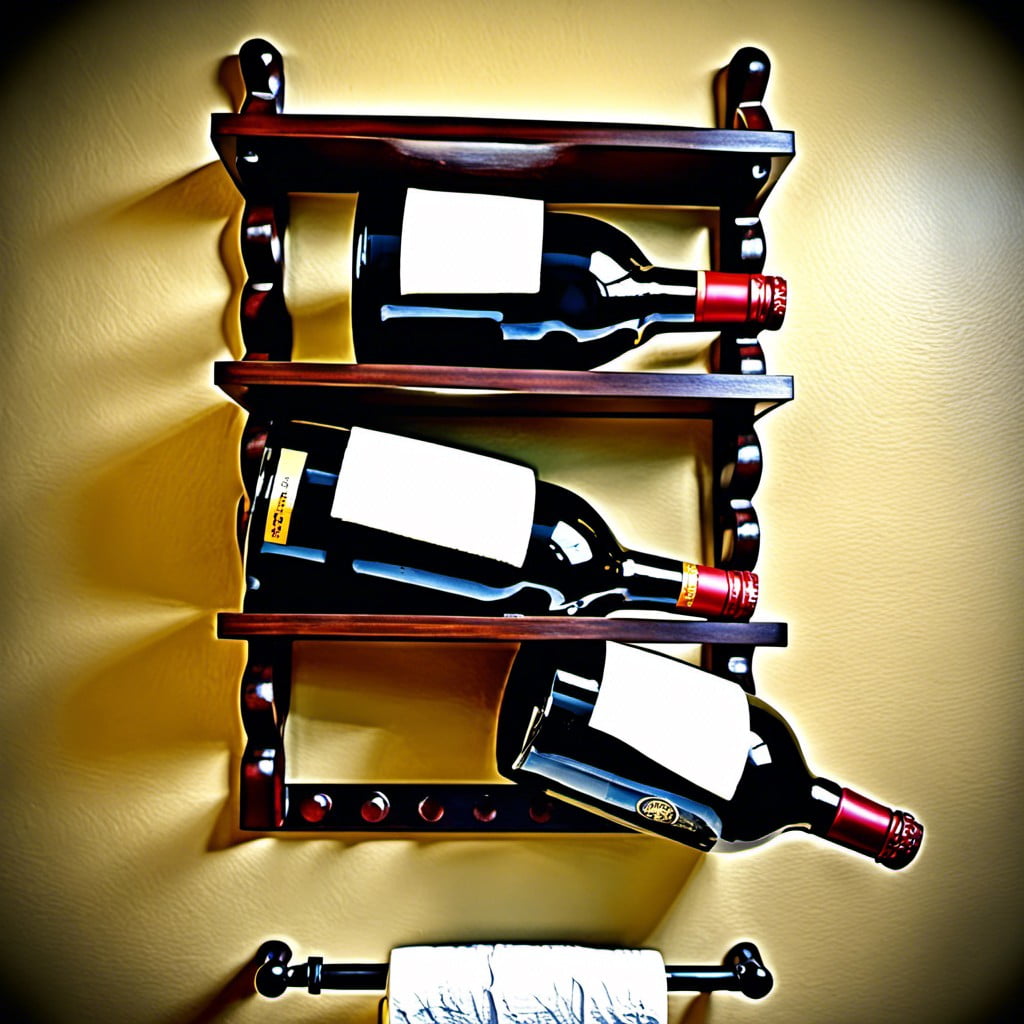 Utilizing a wine rack as storage doesn't have to be limited to the kitchen. Even the smallest bathroom could benefit from a dash of creative organization. No more fumbling around under the sink looking for a spare roll or facing the awkward realization that you're all out.
Just visualize the scene. A wall-mounted wine rack, turned side-on with cozy rolls of toilet paper nestled within the curved cradles originally designed for wine bottles. It's not only an ingenious storage solution but creates an eye-catching accent your guests will admire.
Those cradles prevent rolls from unspooling, ensuring they'll always be ready to use when needed. It's handy, it's quirky and it's a tiny touch of luxury for your lavatory, turning a necessity into a design feature. Using this alternative idea elevates the humble wine rack to a new level of versatility and proves that style can be applied to every corner of the home – even in the most unexpected ways.
Drying Rack for Clothes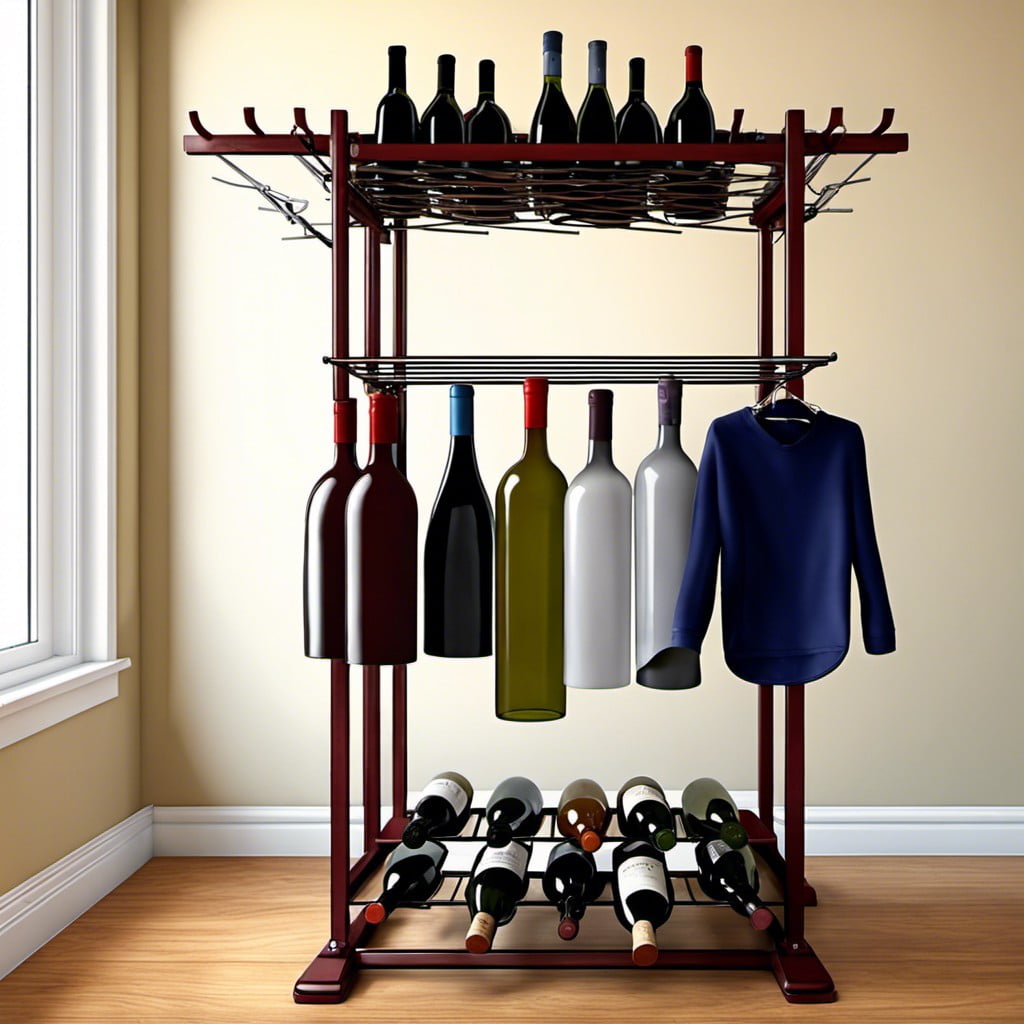 Consider this innovative way to dry out your clothes faster, especially if you're dealing with delicate items or restricted outdoor spaces. A sturdy, wall-mounted wine rack can serve as an effective alternative to a traditional drying rack.
Bear these steps in mind:
Sort clothes by weight: Lighter items on the top levels to take advantage of warmer air that rises and heavier items nearer the bottom.
Remember to spread out garments on each individual slot to promote adequate airflow. This ensures your clothes dry evenly and quickly.
The use of clip hangers can make your job easier. They let you hang smaller items like socks or undergarments efficiently.
Finally, fix the wine rack at an appropriate height, it ensures that longer items like trousers or dresses do not touch the ground.
Simply leveraging this wine rack solution not only makes drying clothes a breeze but also adds to your space's overall aesthetic!
Yarn Storage for Crafters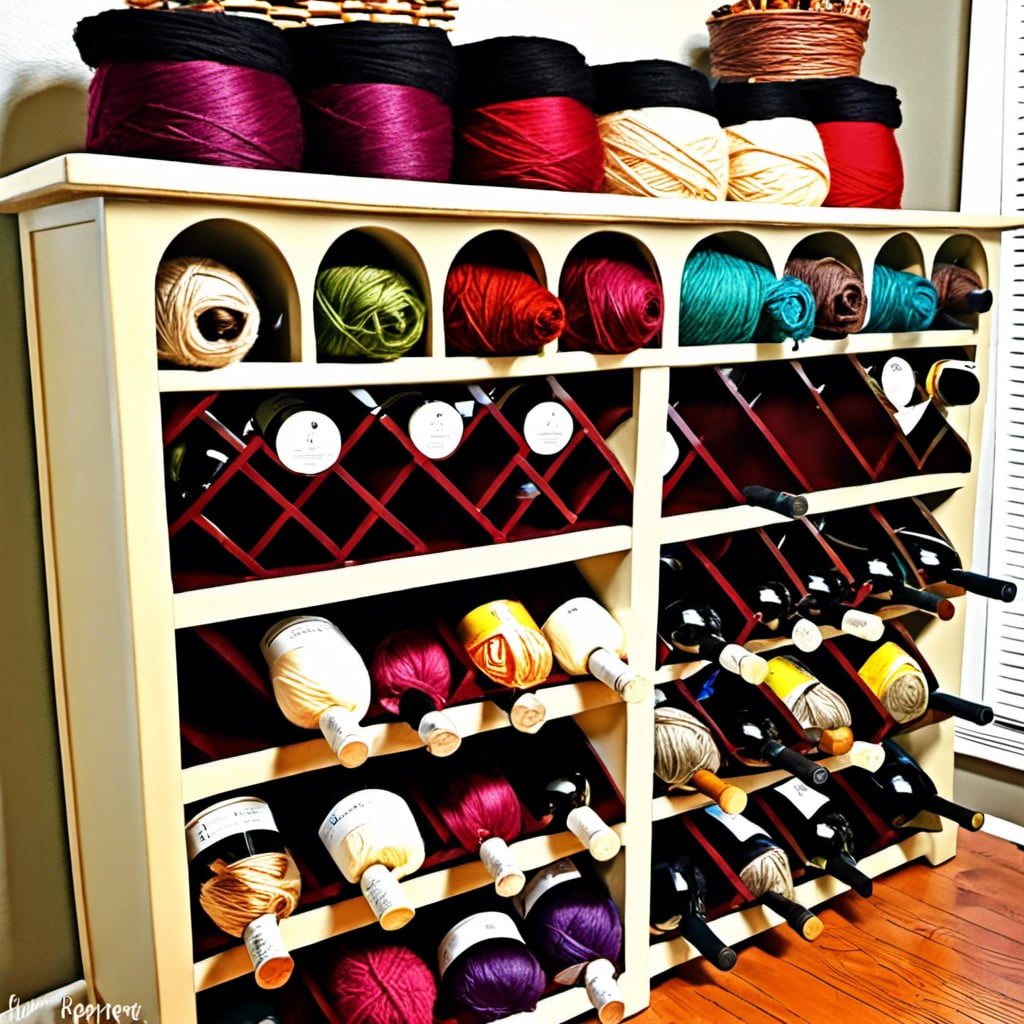 Isn't it just fantastic to have all your yarns in one spot, visible, and tangle-free? Using a wine rack eliminates all the hassle. Arrange your yarn balls or skeins by color, type, or whatever suits your sorting preferences. No more digging through bags and boxes to find the perfect shade for your next project. Plus, this arrangement can become a colorful, textural, art piece in your crafting space!
For even smoother workflow, add small tags to the yarns with relevant details if you like: material, hook size, washing instructions, etc. This way, it's easy to retrieve the information at a glance without unwinding the yarn to find the label.
For small yarn leftovers, use wine glasses in vacant rack spots. It adds whimsical decor flair while keeping those tiny bits organized and easy to find.
Just remember, keep your wine rack out of direct sunlight to prevent fading and store wool blends in a pest-safe environment. Happy crafting!
Water Bottle Organizer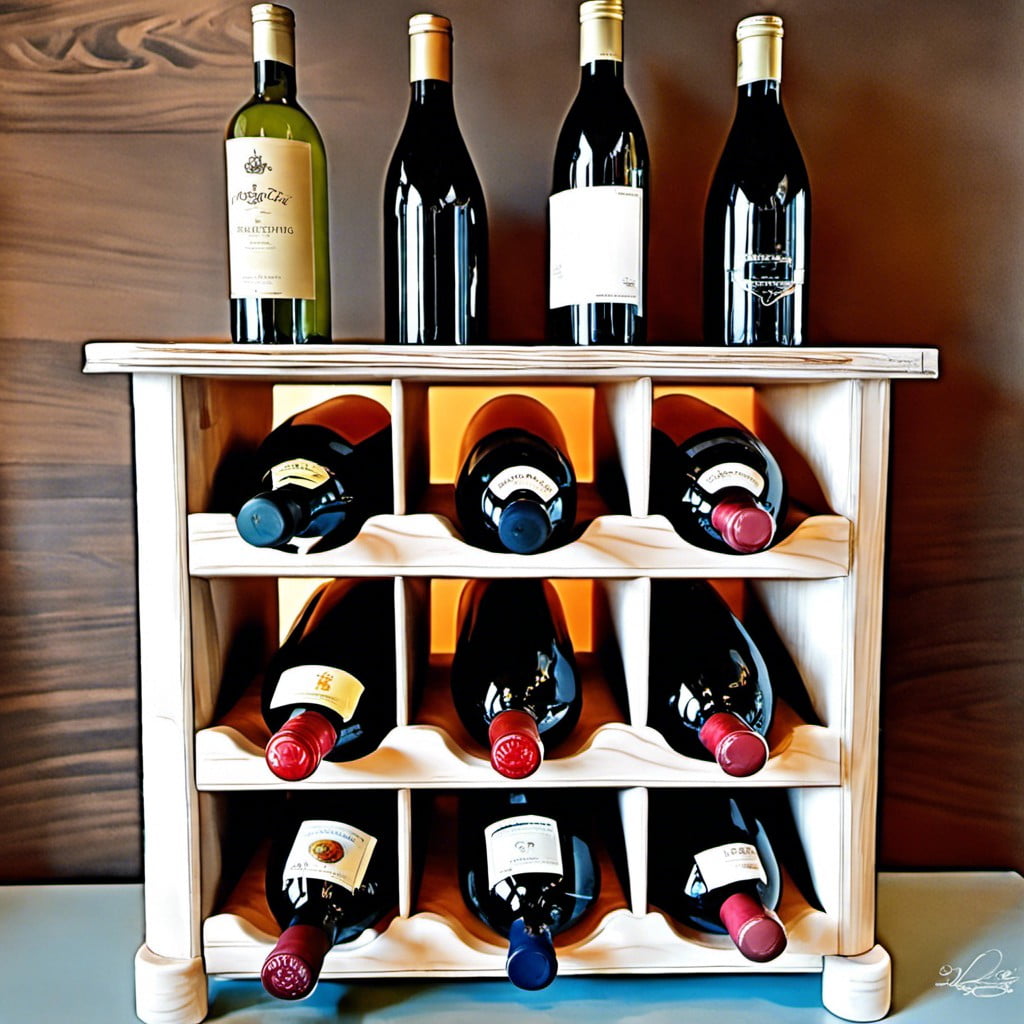 Swapping your usual haphazard pile of reusable water bottles for a neat and tidy wine rack instantly boosts your kitchen's style and functionality. You'll gain efficiency from the easy access to all your bottles at once without grappling with a cluttered cabinet.
Plus, this kind of organization can handle bottles of various shapes and sizes. A wooden wine rack brings a touch of rustic charm, while a metal one yields a sleek, modern vibe. Be sure to select a design that seamlessly complements your décor.
Knitting Needle Organization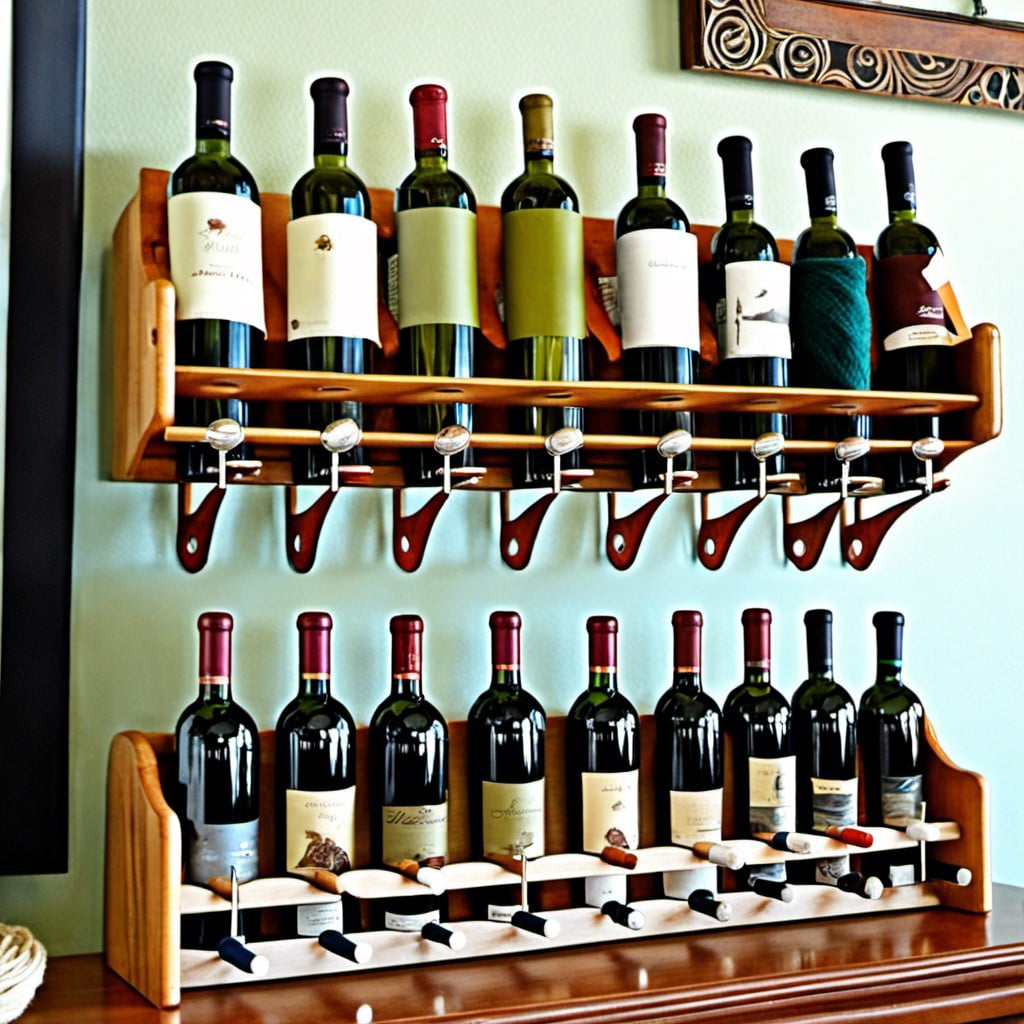 The beauty of a wine rack lies in its perfectly sized slots, able to hold all those cumbersome, varying sizes of knitting needles that tend to clutter your craft area. A practical and elegant solution, here's just how to arrange them:
1. Sort your needles by size: This makes it quicker to find what you need for your next project. It also prevents needles from crowding each other out in their designated slots.
2. Make it pretty: A bit of aesthetically pleasing organization never hurt. Arrange your needles in a rainbow of colors or in a pleasing gradient from the biggest sizes to the smallest for an added visual perk on display.
3. Label your sections: Label each slot based on the size it carries. This tiny addition can turn hectic hunting into a breeze, creating seamless crafting sessions.
4. Store in pairs or sets: If you own a set of double-pointed or circular needles, storing them together in one slot ensures that you will never have to search for that second or third needle again.
5. Add convenience: Consider storing corresponding hooks and other knitting implements in the same section.
This approach gives a functional yet stylish home to your knitting needles, turning a hectic craft space into a sorted knitting station in no time.
Vertical Herb Garden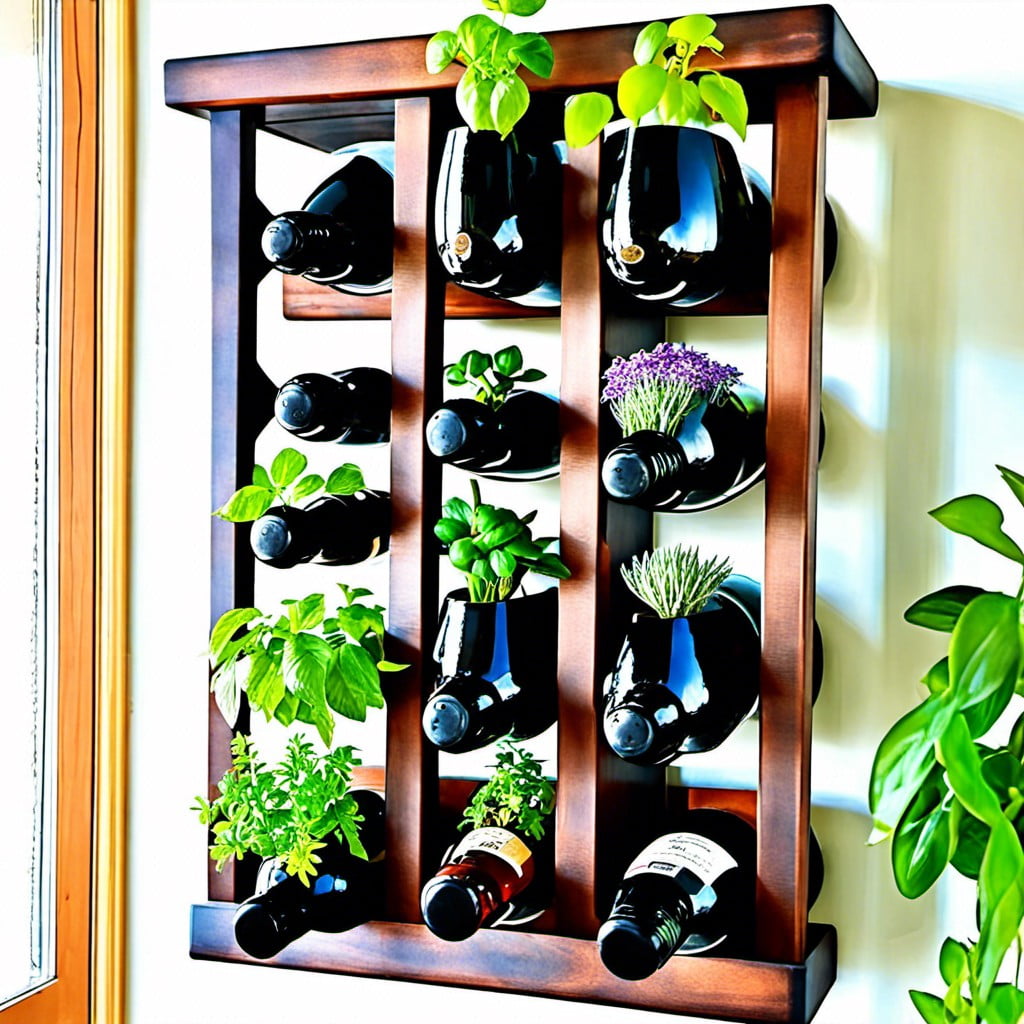 Transforming your unassuming wine rack into a vertical garden can provide a stylish and effective solution for those lacking outdoor space. But first, ensure your chosen rack is strong enough to support the added weight of soil-filled pots.
1. Ideal Plants: Opt for herbs such as basil, chives, parsley, or dill, which can thrive indoors with enough sunlight.
2. Position: Place the rack near a window, ideally one that's south-facing to maximize daylight exposure.
3. Pot Selection: Favor containers that fit securely into the holes of the wine rack.
4. Watering: Exercise caution while watering to prevent spills. Opt for slow drizzling methods or use a spray bottle.
5. Easy Harvest: Placing plants in descending order of their height makes harvest easier.
6. Rotation: Occasionally switch the pots around to ensure even growth, as some areas of the rack might receive more light than others.
This unique idea will not only save space but also infuse any room with a fresh, aromatic vibe.
Stand for Displaying Vinyl Records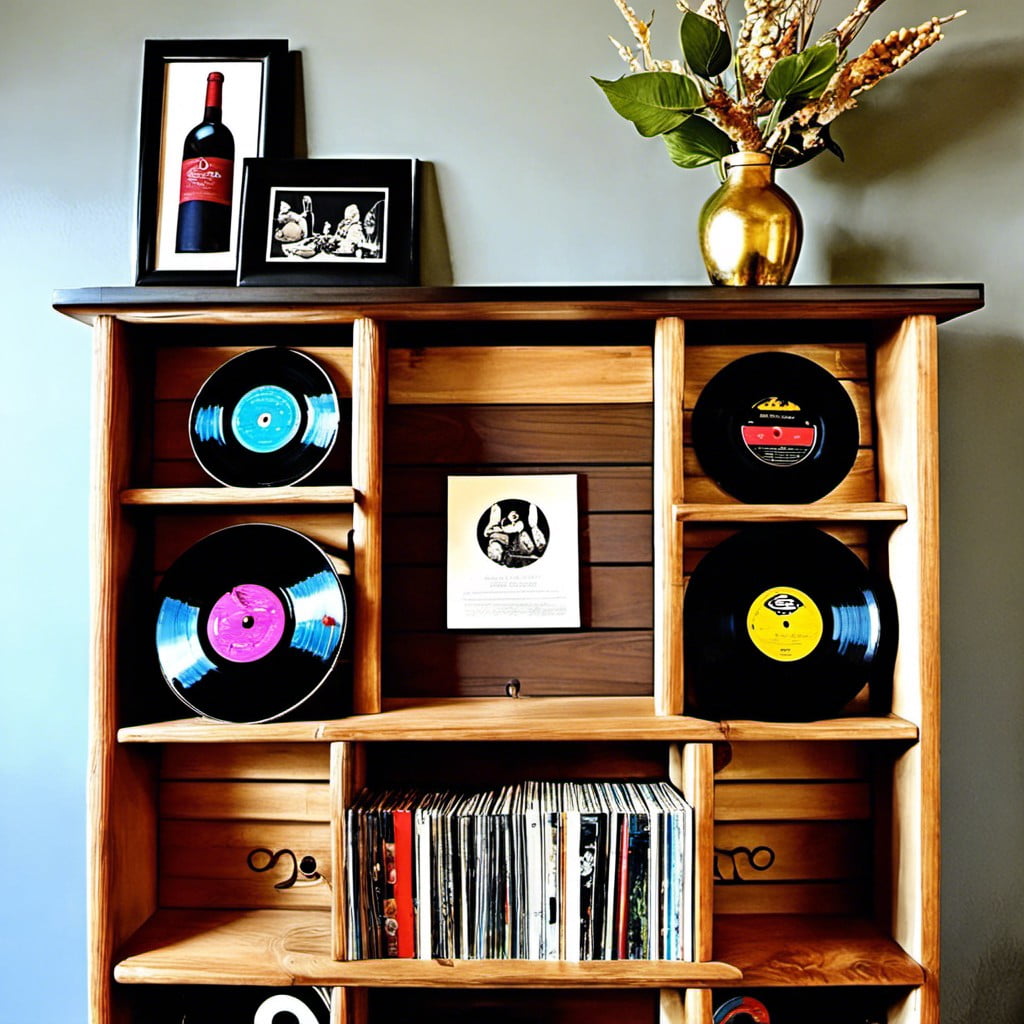 Utilizing a wine rack as a vinyl records stand not only ensures a safe place, it also organizes them in style.
An open rack can accommodate varying record sizes, simplifying storage.
It also provides ease of access, allowing you to flip through your collection effortlessly.
For a creative twist, arrange the vinyls aesthetically by color or genre, giving your home a unique, personalized decor accent.
Remember to choose a sturdy wine rack for the vinyl records, as they can be hefty as the collection grows.
A neat trick is to use index cards as dividers to categorize your music.
Spices and Jars Organizer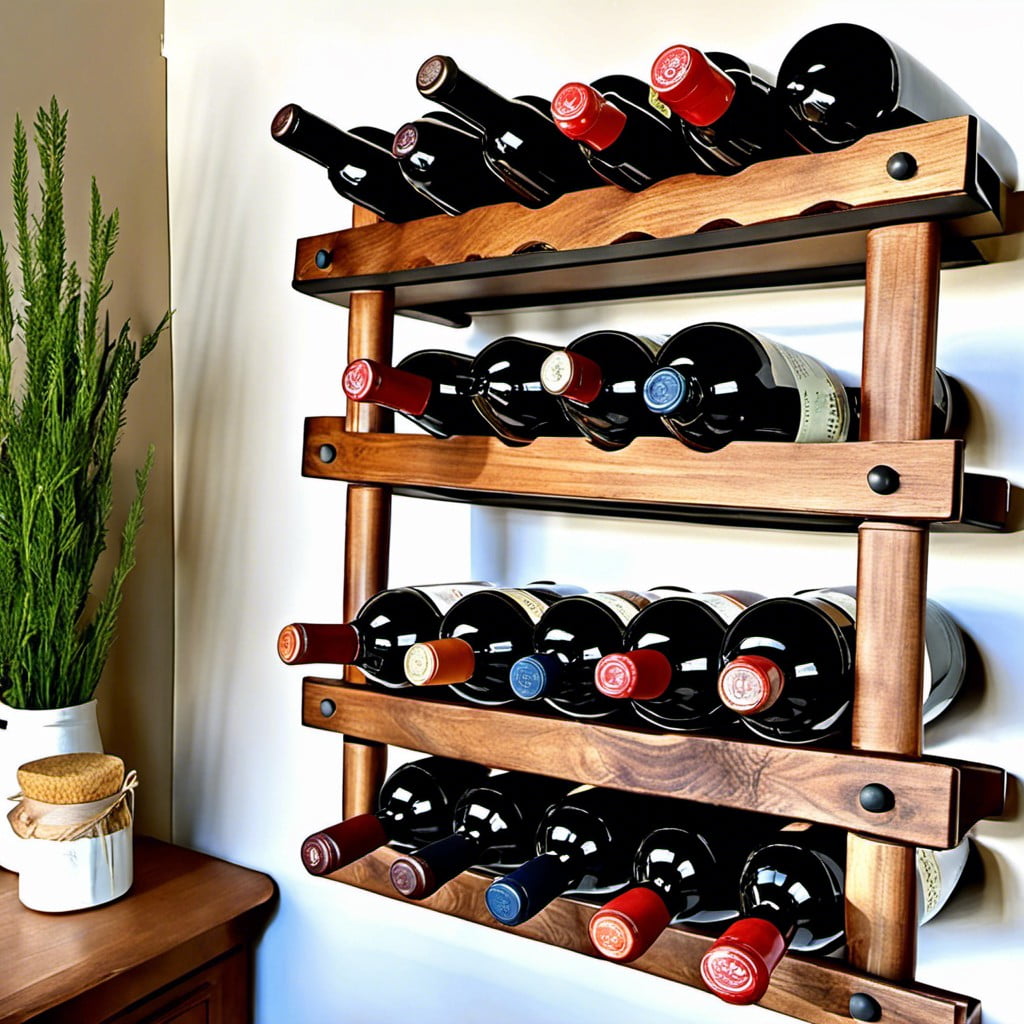 Approach your cooking station with a new mindset. Utilize a wine rack by storing and easily displaying various spices, herbs, and even diverse grains in mason jars. Fit the jars in each slot for optimal use of space and unhindered access to your ingredients.
Group them based on their usage or type, like sweet spices on one side, savory on the other. This way, you not only brighten your kitchen with colors, but also bring convenience and organization to your cooking routine.
Remember to label each jar to avoid guesswork, a simple tape and marker will do. Also, ensure that the rack is placed in a cool, dry space away from sunlight to preserve the freshness of your spices. This arrangement provides visual appeal while maintaining your spices at peak freshness.
Organizer for Rolled Blueprints or Posters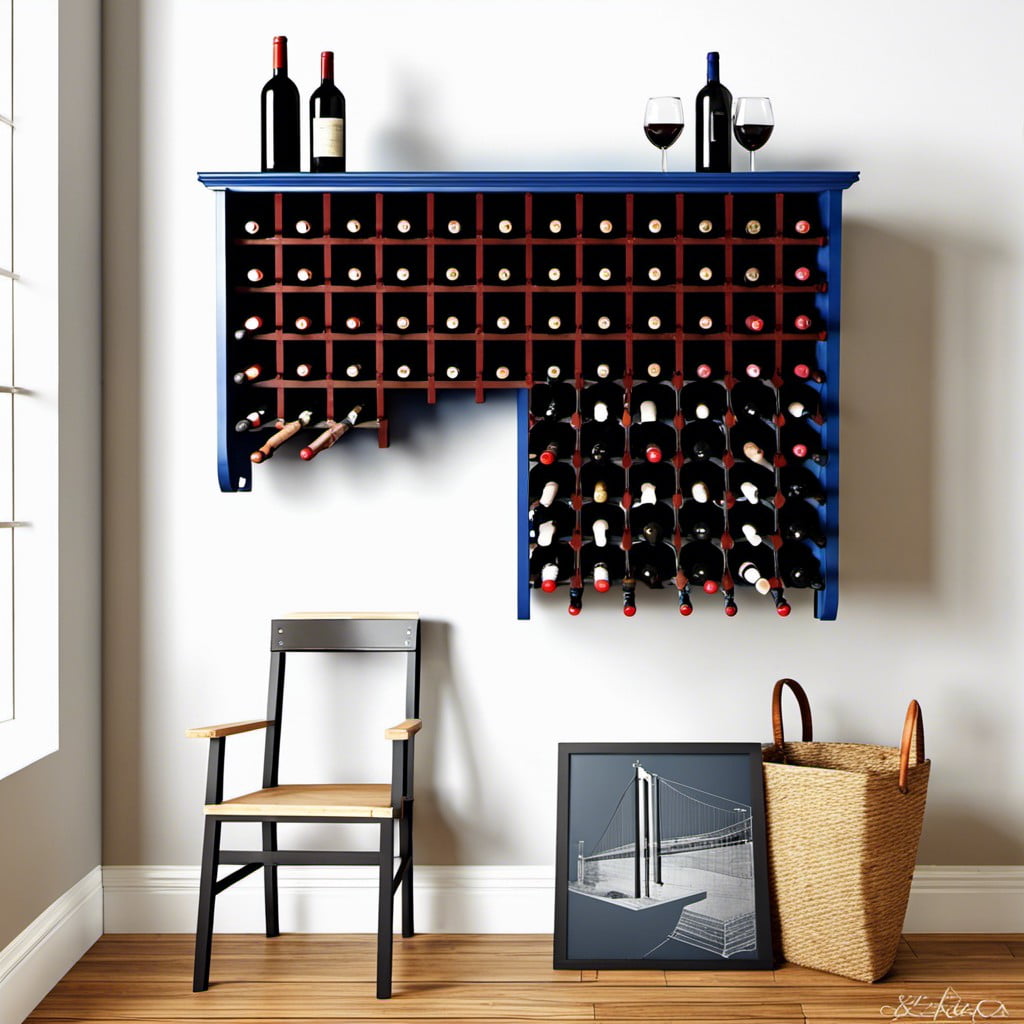 A stack of rolled blueprints or posters can become uncontrollable and susceptible to damage in no time. Thankfully, a wine rack swoops in to the rescue by providing an efficient storage solution.
Safely compartmentalized in individual sections of the wine rack, each item stays in a neat roll, easily identifiable and accessible. This means no more shuffling through a pile to find the correct document.
Be mindful to balance the number of rolls you place in each compartment to avoid tipping the rack. For added aesthetic, try arranging by color or size. Remember, select a rack robust enough to cater to the weight of your rolls.
Protective sleeves may also add a layer of security, keeping your blueprints or posters fresh and vibrant.
Mail Sorter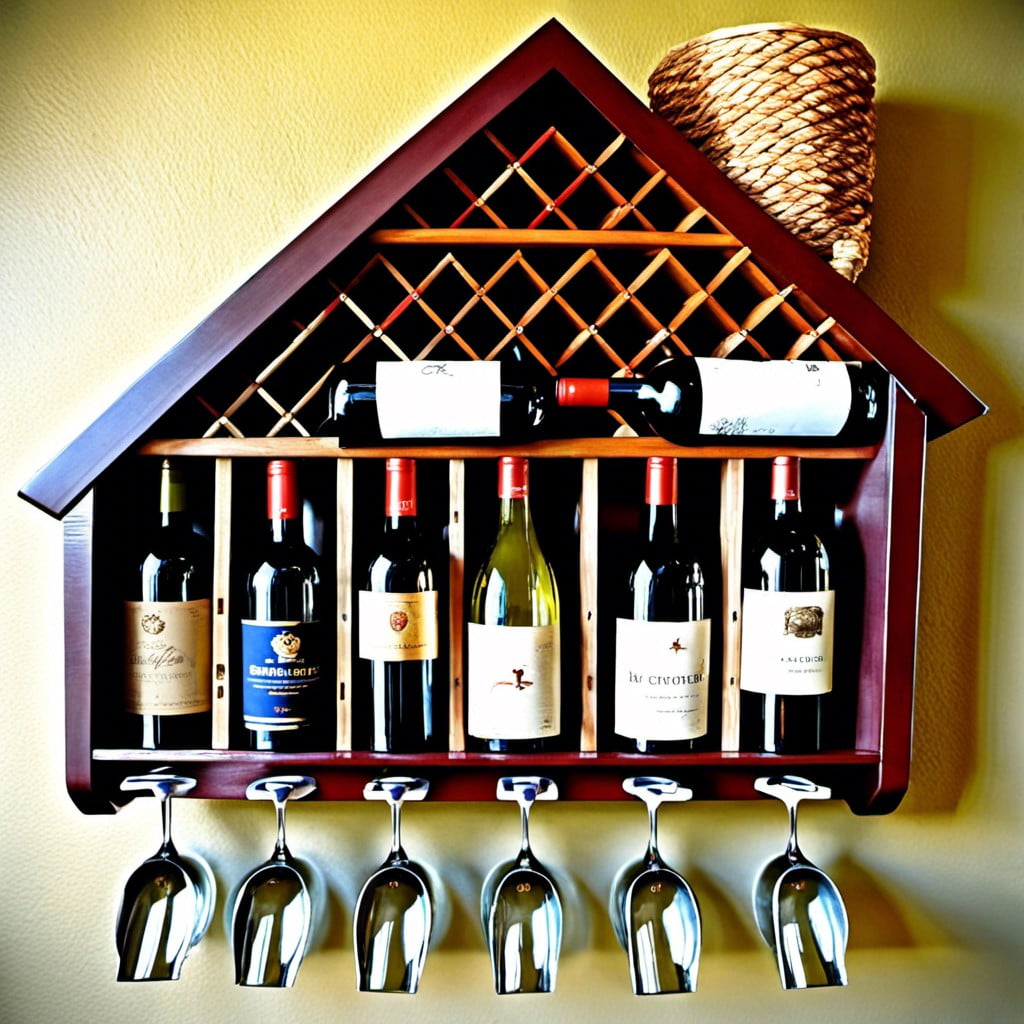 Repurpose your wine rack as a sleek and practical mail sorter in your home office or entrance hallway. It allows you to conveniently sort your letters, bills, and catalogs as soon as they arrive.
1. De-clutter Desk: Avoid messy piles of mail on your desktop. The slots on the wine rack provide a neat space for organizing letters and important documents.
2. Easy to Reach: Position it in a high-traffic location in your home, so you don't miss any vital correspondence.
3. Simplified Sorting: Sort your mail by sender or by urgency. Smaller racks are perfect for separating bills, personal letters, and junk mail.
4. Eye-Catching: Wine racks come in various designs, offering a stylish touch to your home's interior. It's not just about functionality; it's about adding a decorative element too.
5. Quick Assembly: No hardware needed! Simply place your repurposed wine rack on a desk or mount it on a wall and start organizing.
In this way, something as simple as a wine rack can improve efficiency in your home and bring flair to your decor.
Kids' Crafts Organizer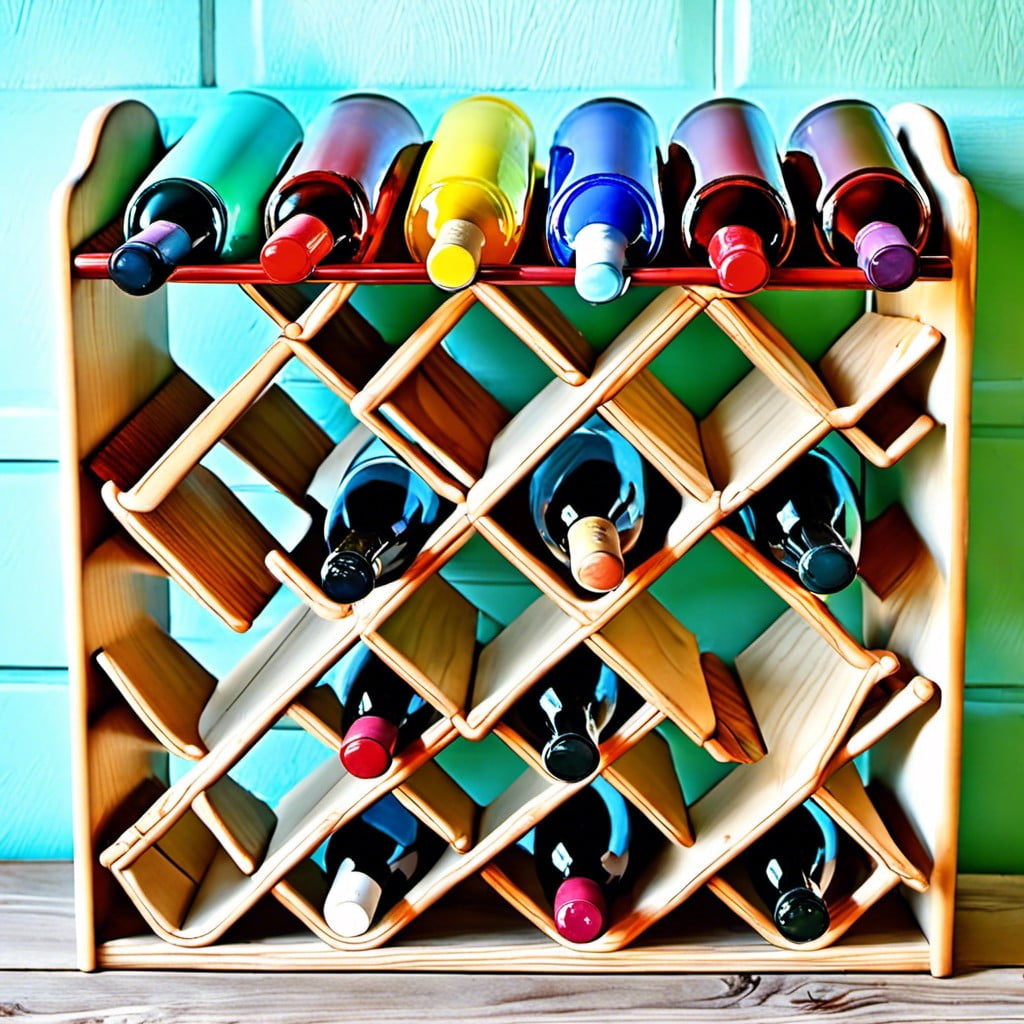 Paying heed to the aesthetics, functionality, and compactness, wine racks can serve as ideal storage spots for your children's artwork. Picture this: rolled-up coloring pages or small paintings are snugly tucked away in the wine rack. Each 'bottle spot' can accommodate craft materials, from colored pencils, markers or crayons to scissors and glue sticks.
Sturdy and readily accessible, wine racks make for perfect tools to unleash a child's creativity while keeping things orderly. It's a quick, functional solution which looks chic, and helps children independently manage their craft tools. Make sure to place materials for younger children's reach and supervise to keep them safe when accessing their craft materials.
Continue reading:
Recap