Last updated on November 15, 2023
These DIY towel rack ideas will turn your bathroom into organized heaven. Read on to find out how to make your own!
Let's just say that a bathroom without a proper towel rack or holder is a mess. There's no way around it. Shelves never cut it. Our house has always had one of these (that is, I've always made sure it had one). And it's amazing how much decor value a handsome bar or a set of hooks can have.
And I'm not talking about those builder-grade bars that make you wish you'd rather keep your towels in a stack on the countertop. I want to show you the kind of racks I am making myself. And I recommend these ideas to you too.
How to Make a Towel Rack
These are the steps you need to take to make a towel rack:
Pick a bar – wooden, pipe, or PVC.
Measure and cut it to the length you need.
Choose a wood board to mount the bar on the wall (it can include an optional shelf for more storage and organization).
Stain and paint the mounting board.
Attach it to the wall.
Simple enough? You bet. Check out how these steps unfold to make unique towel storage solutions.
DIY Towel Rack from Leftover Wood
Do you have some leftover wood to use for a DIY project? How about this one? It makes a brilliant rack for the towels. And it's very stylish too. You just need a wooden board and a few hooks to complete this project.
DIY Towel Shelf
An addition of a shelf is a terrific idea. It increases storage space in the bathroom greatly. Such a project consists of a single board and a dowel for the hanger.
DIY Towel Holders
These hangers are so classy. You can make them by repurposing vintage items that you can probably pick up in a thrift store or on a flea market. Good thrift hunt!
DIY Shelf with Hooks
A shelf with hooks is classic. It also gives you ample of storage space in limited room (such as a small bathroom). Can't be easier to conjure it up as well.
Rustic Towel Rack
Ok, so I love rustic, and I'm not even hiding it. This rustic rack is a thing of dreams. If I can make it myself, I'm just so happy. And it takes just good old wood and the right stain to achieve the effect.
DIY Towel Storage with Rustic Faucet Knobs
Rustic faucet knobs make a stylish industrial touch in the bathroom. This whole project is so brilliant and it packs a lot of style. The shelves are have this rustic look too.
DIY Towel Bar
So you need just a bar to hang those towels? How about taking it a step further as far as decor goes. Find a vintage bed frame and use it as a whimsical bar. It has a shelf too!
Freestanding Towel Rack
Anything that is free standing is so practical. You can move it to any place you like. Of course, you need more space for this type of rack, but if your bathroom isn't tiny, you're good to go.
DIY Outdoor Towel Rack
Outdoor spaces need a little bit different decor style (as well as materials you can use). Keep in mind that it has to withstand the weather (whatever it may be). Cedar works great for such a project. And it looks good too. This project has a nautical theme to it.
Industrial Towel Rack with Oak Shelf
So you like industrial style? There's nothing than some pipe to make a hanger. This one includes a lovely small oak shelf too. Great project all in all.
Kids' Towel Hooks
When it comes to making your kids keep their towels tidy, you need to get creative. It's all about making it fun for them. Our kids have cute shiny hooks to hang their towels. And you should make something like this too.
DIY Towel Hooks
Simple hooks take little effort. But it doesn't mean they can't be stylish. This is just a great way to hook them up (yes, the pun is intended).
Pipe Towel Bar
You know what makes a great bar? Pipe. It's made for this. And all you have to do is attach it to a cabinet or a wall.
Farmhouse Towel Rack
Raise your hand if you have anything farmhouse in your home. Ok, put it down, you look weird. But you can use another farmhouse accent in the bathroom. These hooks are all about that.
Initial Plaques
You know what else makes it fun for kids to keep their towels tidy? Initial plaques! It becomes somewhat of a competition for them. And it's all good fun.
Glass Shelf
I would say this project is mid-century inspired. Certainly the glass shelf is a nice touch. You can DIY this bathroom towel rack too.
Pallet Towel Rack
We cannot forget the pallets. They make anything easy and stylish. This project is no different. It's oozing rustic coziness, and I love it.
Wooden Towel Hook Rack
More natural wood never hurts in any interior. The trick is to mix and match materials. So use nice metal hooks with it. There's so much decor interest in this piece.
Nautical Towel Rack
What brings the message across better than nautical decor for anything that relates to water. If you're going for the theme, here's a nice project for you.
Wall Towel Rack
Adorn your walls with nice (shabby chic, I would say) hanging hooks made of glass knobs. This is a great way to repurpose for style. And now you know where you can use those knobs you got during your latest thrift shopping session.
DIY Pool Towel Rack
Have a pool? Lucky you! You need a powerful rack for it. It has to be free standing and pack enough storage space for more than just towels. How about this idea?
Hand Towel Rod
Those hand towels need to be always handy. A small bar would do. But let's make it pretty. This is a cute rod to use for the purpose.
Towel Labels
Making labels for the towels is a nice little touch that adds lots of charm to bathroom decor. Now your guests will always know which towel to use.
Old Door Towel Hanger
Another great project for an old door. Use the wood wisely to get a fine rustic look. I simply admire all repurposing projects.
DIY Hand Towel Holder
Something simple that you can make from a hanger. Because you do need another hanger for a hand towel. It looks great!
Rustic Iron Towel Rack and Shelf
Some iron pipe is powerful. Especially in bathroom decor. It's practical too. The project uses minimal materials too.
Door Towel Rack
Use the bathroom door space wisely. There's no reason it should be left empty. Especially in those tiny space. It's a great place for a lovely rack.
DIY Paper Towel Holder
This lovely holder for paper towels is made of beads and it can be used in the bathroom as well as the kitchen (or wherever paper towels are needed in your house). Check out this website to see the full plans and instructions.
DIY Ladder Towel Rack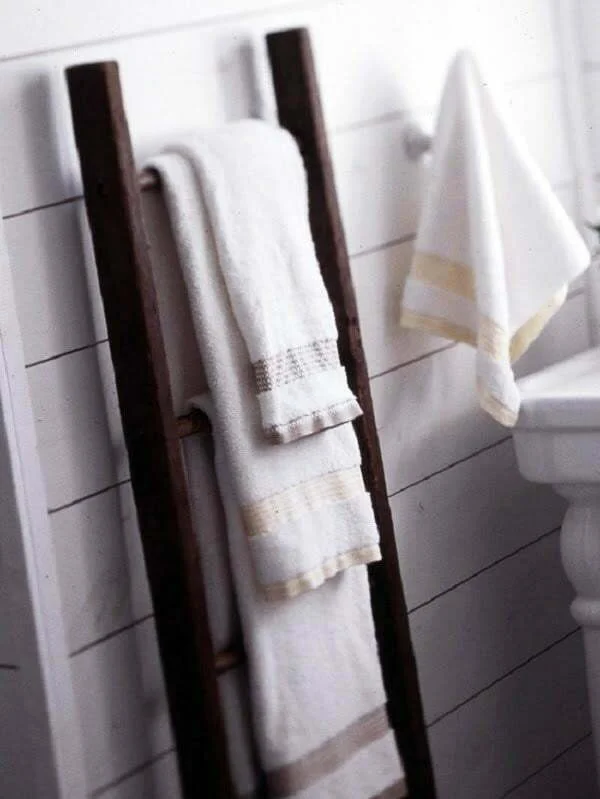 You didn't think I'm not going to mention the storage ladder, did you? It's so trendy and stylish. If you have room for it – do it!
DIY PVC Towel Rack
It's big, it's waterproof, and it's ideal for the pool or outside. See the tutorial to get the full plans.
Continue reading:
Recap